Bintan Triathlon
Entrance Fee: $30 - $439
Performer: -
Start: 2019-06-06
End: 2019-06-09
Event Place: Bintan Lagoon Resort
Telp. Number:
Address: Jl. Indera Segara Site A12, , Lagoi , Teluk Sebong, ID, 29155
Bintan Island at Riau, Indonesia hosts a famous sports event called Bintan Triathlon. It's been running 15 years and has garnered quite an international reputation. Bintan Triathlon is scheduled for 7-9 June this year. Like last year, hundreds of participants. From young and old, athletes and amateur, are expected to take part.
Bintan Island itself is a hidden tropical pearl northwestern of Indonesia. Imagine a stretch of white sand meeting pearly blue water, that's what Bintan is. It's also not so isolated from civilization, being only a 55-minute ferry away from Singapore. There's no more perfect backdrop for a triathlon and a holiday event combined.
Yes, Bintan Triathlon is not only about sport. It's close to a festival, a fun one at that too. It celebrates both sports and having an amazing holiday with friends or family. Do compete and race to be the winner.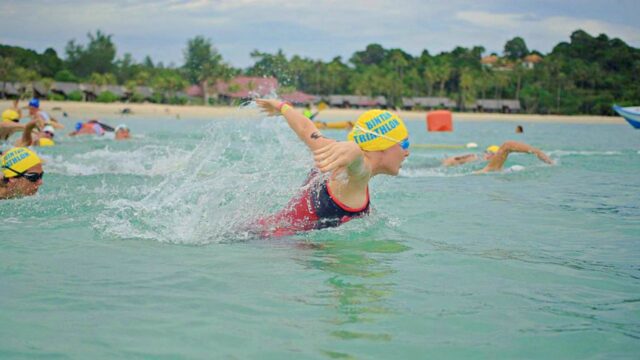 But most importantly, also enjoy what the island offers. Scenic beaches, the resorts, the countryside, and many more. Coming and participating means getting a complete tropical holiday package.
Bintan Triathlon – Swim, Run, Bike
The Olympic distance category consists of 1.5 km of swimming, 40km bike race, and 10km Running. Test endurance through these three challenges. Bintan's Lagoi bay might seem tame with its calm wave and lukewarm water.
But swimming 1,5 km there is not an easy task. In the bike race, get challenged by Bintan's rolling hills and tricky road corners. Then complete the triathlon by racing on a scenic route. Passing villas, resorts, Lagoi Lake, and a world-class golf course.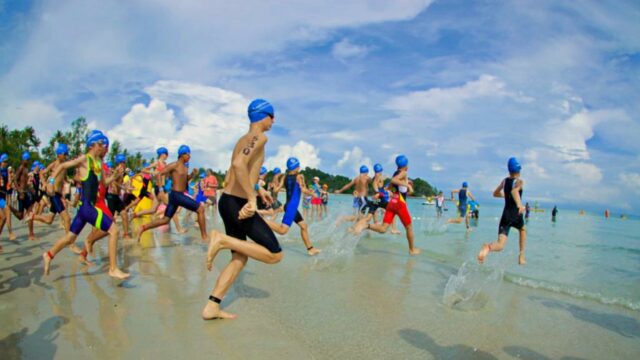 Category For First-timers, Teenagers & Children
The beauty of Bintan Triathlon is that it has so many categories. If the length of the Olympic Distance sounds too rigorous, not to worry. First timers can pick the Sprint Distance instead. It's half less challenging than the Olympic one. 750m Swim, 20km Bike, and 5km Run is a nice start for beginners.
Teenagers and young kids may sign up for Youth Distance and Kids Distance, respectively. Only the track is shorter, but the competition is as thrilling as other more "serious" categories.
For fun-filled triathlon experience, families can participate in the Fun Duo Challenge. Race together, have fun, and build teamwork with family. The winner is not the fastest, but the most creative team!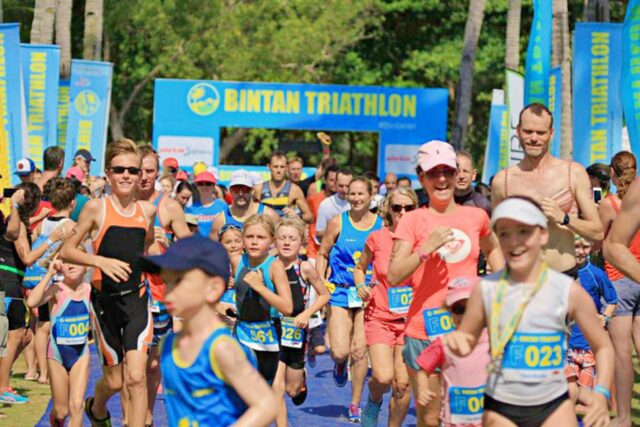 Bintan Countryside Ride
Aside from the triathlon, Bintan Triathlon has an independent bike race. It's called the 55-km Island Ride. Get on the bike and pedal away beyond the resort's wall. Explore local villages, farms, and scenic nature of the countryside. Here, no need to rush to the finish line. Just enjoy the view while pedaling at a leisure pace.
Beach After Party
In the evening after the race, Bintan Triathlon arranges a beach party. The organizer sets up tables by the sea and serves buffet-style food. Enjoy what they offer while watching the sun approaching the horizon of the South China Sea. This event is situated at the private beach of Bintan Lagoon resorts.
It's a 1,5 km beachfront with white sand and pearly blue water. The after party is not only the opportunity to relax after the race. It's also a good social setting to mingle. Meet other participants. Chat and make new friends while sharing delicious food. Marvel together over the beautiful scenery. Happiness is only better when shared.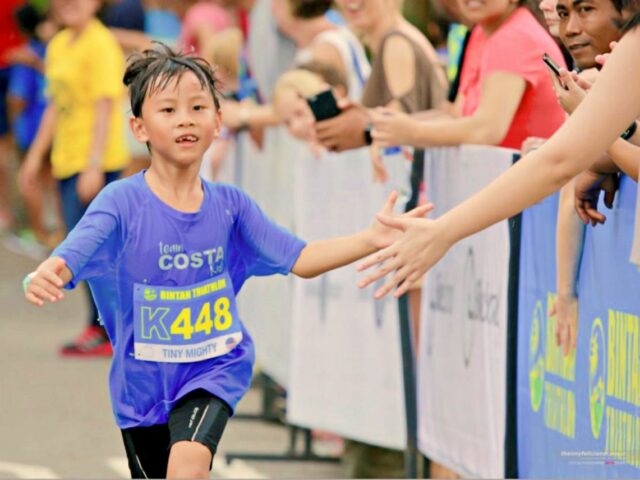 Prep & Fitness Activities
It's always important to prepare. Bintan Triathlon provides free prep-classes racers can attend before the race. Bike Course Recce give away useful information about the road condition of Bintan. For the triathlon, get ahead of the competitors with Race Prep Practice. Gather insight, develop strategies, and aim to be the winner.
In between the races, amp up the fitness with yoga and Pilates classes. Warm up, stretch, and after a race, get the muscle to relax. Keep the body fit, away from a strain, spasm, and soreness. The yoga and pilates sessions are open for all. Both for race participants and non-race participants.
Time For A Beach Holiday
The races aside, Bintan Triathlon is also a quick weekend gateway. Visit a beach and explore more of Bintan. The nearest public beach is Lagoi Beach, only a neighbor of Bintan Lagoon. Grab a cool beach suit. Pack a mat, sunglasses, and sunblock. Find a quiet corner at the beach and treat the tired self with the tranquility the ocean offers.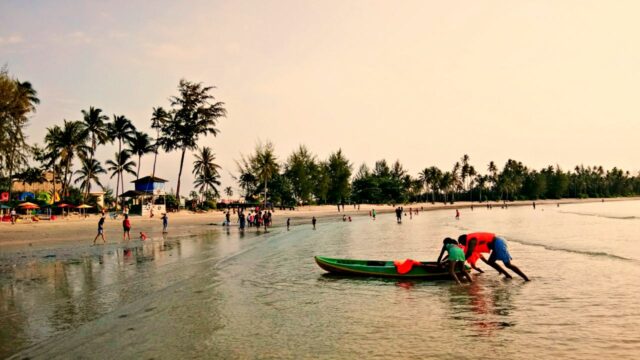 Bintan Triathlon Venue & Schedule
The triathlon starts and finishes at Bintan Lagoon Resorts, Bintan. The event starts from 7 to 9 June 2019.
Bintan Triathlon Venue & Schedule
Date
7 June – 9 June
Venue
Bintan Lagoon Resorts
Bintan Triathlon Ticket
Ticket price depends on the category. Olympic costs SGD 239, Sprint Distance costs SGD 159, Fun Duo costs SGD 45. The Island Ride also requires its own ticket upon participating, at SGD 30 per participant. All ticket prices are in Singapore dollar.
Bintan Triathlon Ticket
Sunset swim classic (12 yrs+)
$45
Fun Duo challenge (4+)
$45
The island ride
$30
Olympic individual (18+)
$239
Olympic relay
$365
Sprint Individual (16+)
$159
Sprint relay
$240
Youth individual (12-15)
$65
Kids (8-11)
$59
Family bundle (3 pax), Olympic, Sprint & Kids individual
$439
See: Lagoi Bay & Beach, Attraction & Things To Do.
Facilities
Bintan offers ranges of accommodation from budget to luxury. Book in advance since hotels could be overbooked during the event date. For dining, there are a dozen of restaurants spread inside the venue, Bintan Lagoon Resorts.
Facilities provided by the organizer include race kit consisting of the towel, shirt, bib, string bag, and finisher medal. During the race, refreshment booths are available every several kilometers.
How To Get To Bintan Triathlon Venue
Bintan Island is accessible by direct ferry from Tanah Merah Ferry Terminal, Singapore. There's a service run by Bintan Resorts which can be booked for SGD 45 per trip. Tourists coming from Batam may take public ferry from Telaga Punggur Ferry Terminal. Ferries depart every 15 minutes and a ticket is IDR 60k for a one-way trip.
By plane, a regular flight is available from Jakarta and Johor Baru, Malaysia, to Tanjung Pinang Airport. From the airport, tourists still need a land transfer to the venue. Prepare to pay around IDR 150k for a taxi or a rental car. Visitors can also take advantage of the airport's DAMRI bus service heading to Lagoi area. The fare is cheap at IDR 16k.