Dieng Culture Festival
Entrance Fee: Rp750.000
Performer: -
Start: 2023-08-25
End: 2023-08-27
Event Place: Desa Wisata Dieng Kulon
Telp. Number:
Address: Jl. Dieng , Batur , Banjarnegara , ID, 53456
The highland plateau Dieng is an amazing place to hold a festival. Dubbed as the kingdom above the clouds. Dieng Culture Festival offers a lifetime festival experience one can't easily forget. Imagine starting the event under the freezing temperature of -4 C, as it happened in 2018.
Moreover, Dieng Plateau is among the few places in Indonesia where tourists can experience a bit of frost. The event itself, Dieng Culture Festival (DCF) is an annual cultural event. It's been held since 2010. It aims to promote tourism around Dieng Highland.
This region is known for its 13th-century temple complex. All are named with the same name. It is also where the highest village of Java is located, at 2300 m above sea level. Dieng also features mountains, multi-colored lakes, hot springs, and numerous other natural wonders.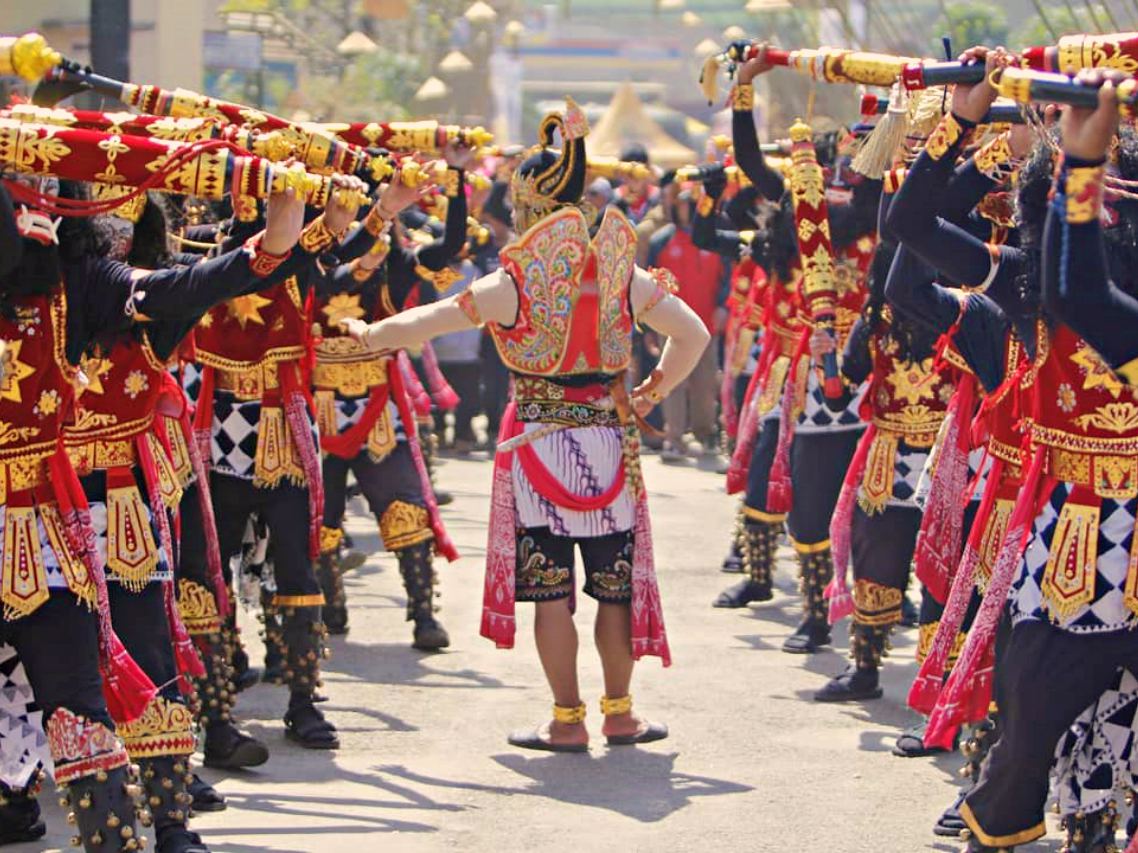 Dieng Culture Festival will run for three days in the dry season of September. The festival launched and schedule a series of interesting activities as its sub-events. From the music show Jazz Above the Clouds. To environmentally-aware Dieng Cleanup. The committee estimates around 100,000 – 150,000 participants attend DCF each year. 
Dieng Culture Festival Jazz

Above The

Clouds



Experience a unique Jazz concert surrounded by nature. Forget a classy concert hall; Dieng gives a better venue than that. The stage stands in front of Dieng's Arjuna Temple – nothing more exotic as a concert backdrop. Since it's situated 2000 m above sea level, the weather can be freezing.
Hopefully, the music will warm the atmosphere. Sing along and forget the cold as musicians start playing. The lineup consists of Indonesian jazz musicians and performers from abroad. Last year, it was Hiroaki Kato from Japan and Indonesia's Letto, among many others. Expect an exciting lineup for this year as well.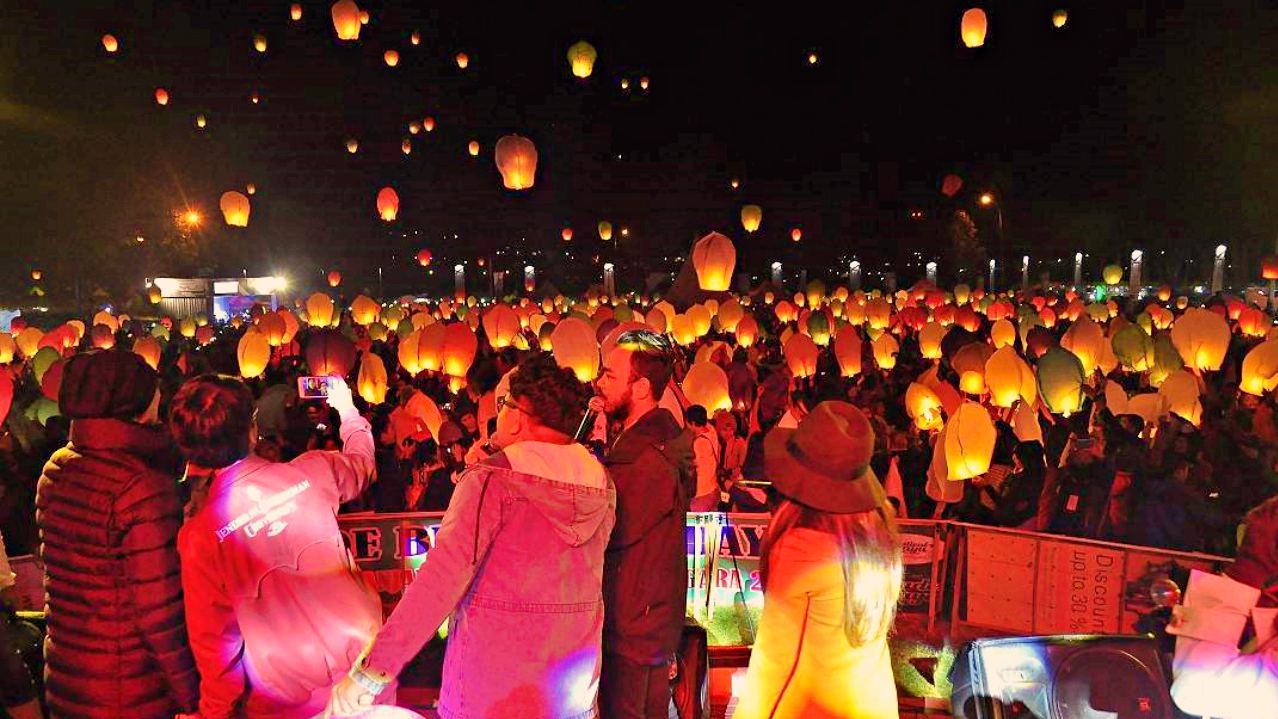 Thousands of Lanterns & Fireworks Festival
When the night deepens. it's time for the most romantic sub-event of Dieng Culture Festival. The festival of lanterns begins at 12 AM, after the concert. Write a wish and put it inside the lantern. Then fly the lantern along with a thousand other dreams. Watch as they ascend to the sky and cheer up the darkness with colorful lights.
Jamasan

– The Hair Ritual
The children of Dieng are famous for being born with an unusual dreadlocks hairstyle. They are referred to as Anak Gimbal, the Messy-haired kids. Why they have such hairstyles is unexplainable. Legend says that the hairstyle was a magical gift from a powerful king in the past.
When children get to 6-7 years old. Their family will hold a ceremony called Jamasan. In this ceremony, the dreadlock hair will be cut. So then the hair will get to grow as usual afterward. The ceremony is a lavish one and takes place in several Dieng Temples.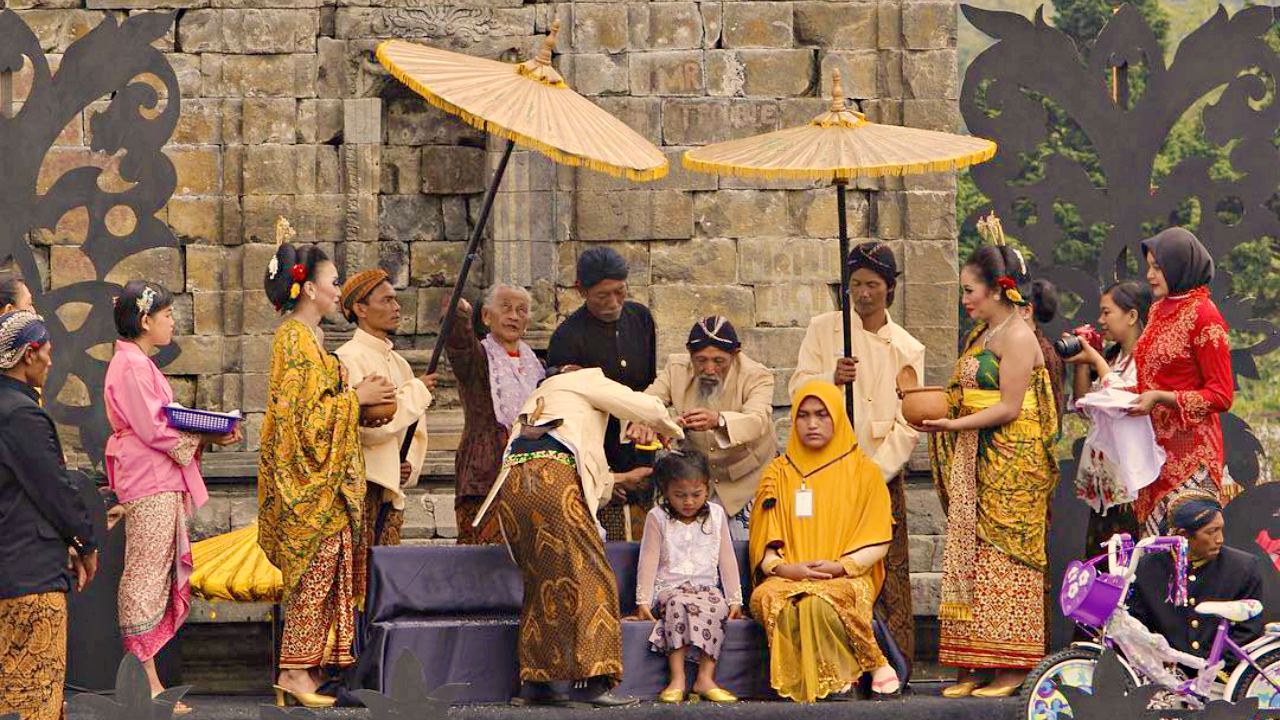 The participants of the Dieng Culture Festival are invited to come and see the procession. The family members will wear colorful traditional clothes. The child, however, wears white clothing. The child then sits on an ascending platform. Where the elders with scissors in their hands, start cutting the hair.
The amusing moment is the gift part. Every child is granted a wish their parents must fulfill. Listen and laugh as they tell out loud what their wishes are. Which sometimes can be innocently absurd. Ranging from a chicken, snack, and ice cream to an iPhone.
Dieng

 Clean Up
Every morning during Dieng Culture Festival. Right before the main event begins. It will start with a mass cleaning activity called Dieng Clean Up. Every participant must take part to clean up the mess from the day before.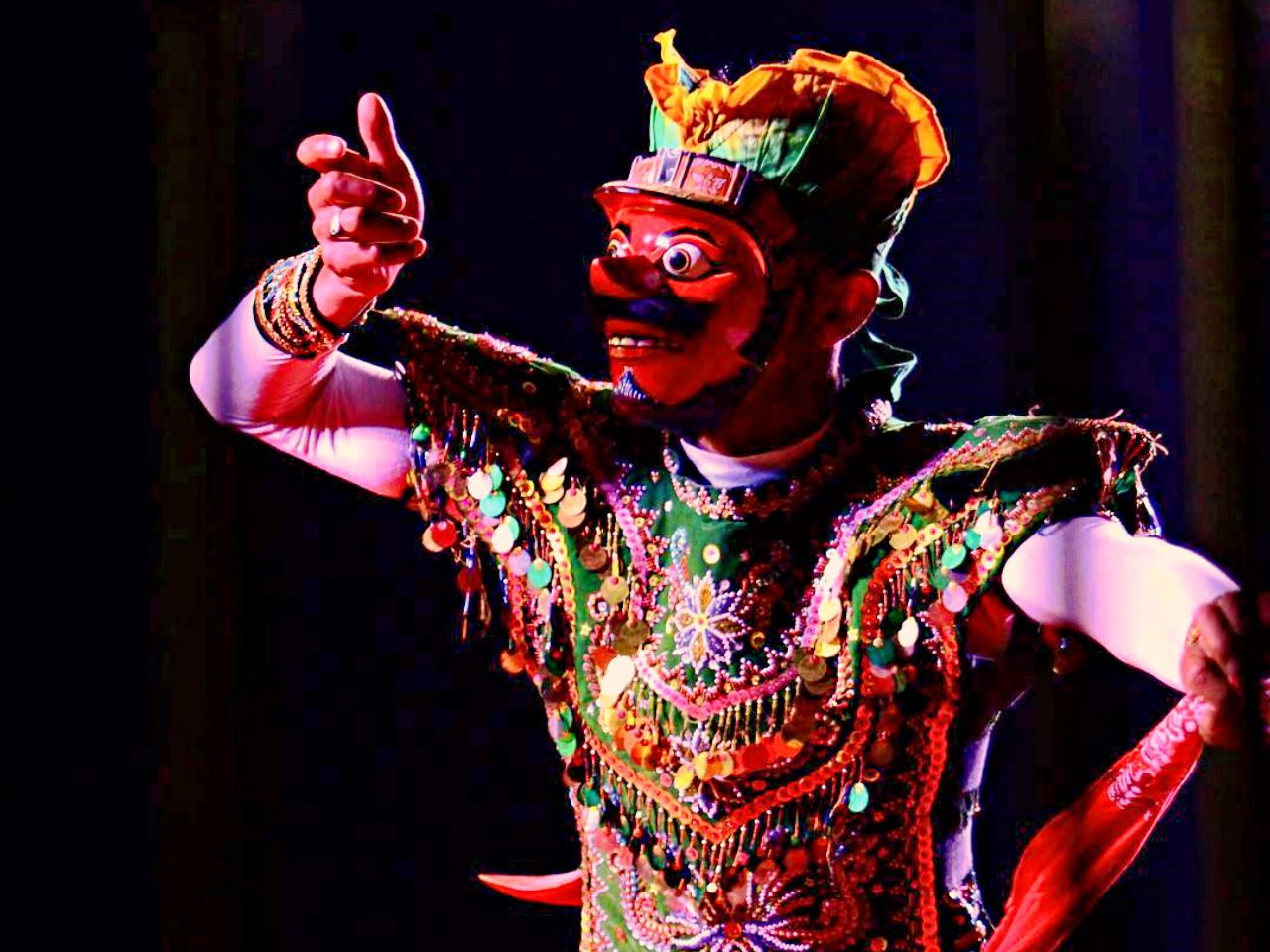 It's one of the efforts DCF makes to give back to nature. To pump up enthusiasm, the committee prepares nice gifts for people who collect the most rubbish.
Festivals

& Local Product Exhibitions
Throughout the three days of Dieng Culture Festival. There will be more mini-festivals within. These festivals exhibit the local specialties of Dieng. Domba festival or Sheep Festival introduces visitors to the prized sheep of Dieng. Which of course have thicker wool than sheep coming from another region.
Flowers are also a Dieng specialty, especially lily which is exhibited at Lily Festival. Lastly, Tumpeng Festival invites participants to taste the mountain-shaped rice dish. The villagers will prepare 50 portion meal for everyone to try.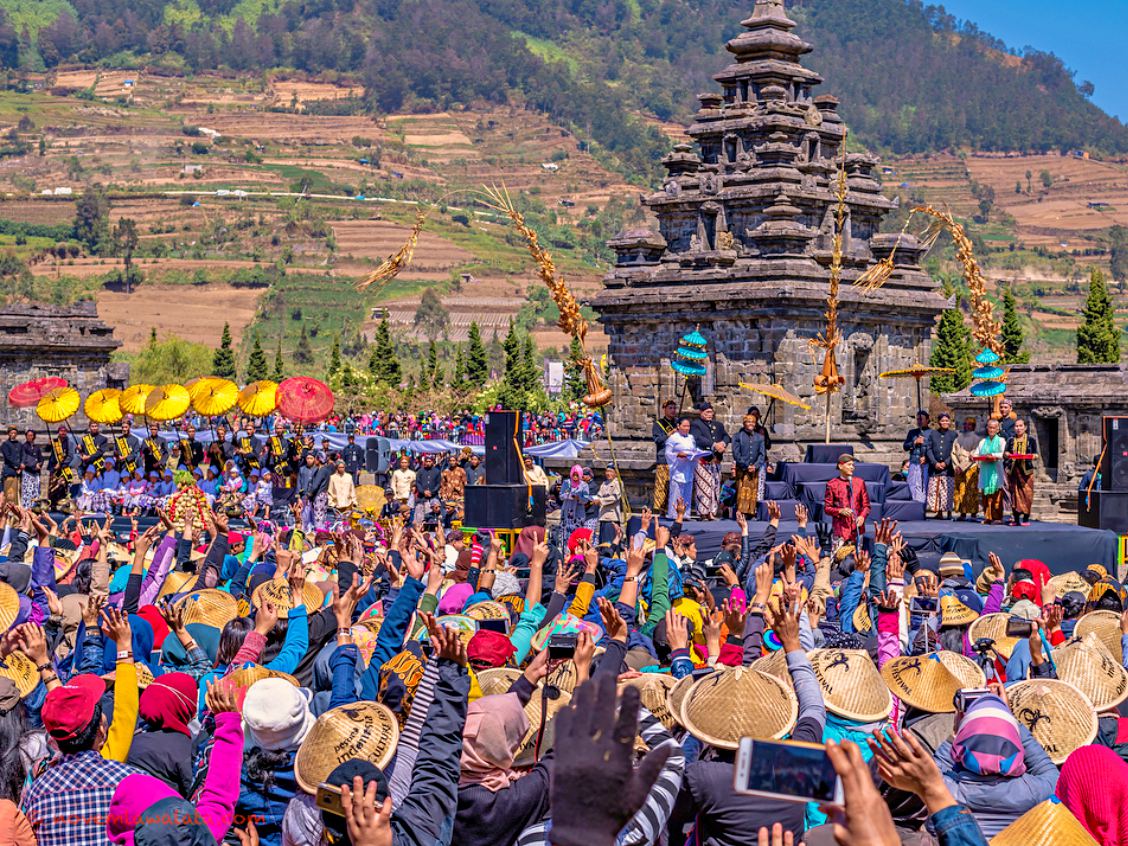 Dieng Culture Festival Venue &

Schedule August 2023
The venue for DCF 2023 is Arjuna Temple, Central Java. The ticket price is Rp750.000 which includes a free pass to Dieng tourist spots and events. It provides participants with a three-day entry to Dieng Culture Festival. Dieng Culture Festival 2023 starts on 25 – 27 August 2023. Pack some warm clothing and enjoy Dieng to the fullest.
See: Dieng Plateau Top Attraction, From Temple To Hiking Activity.
Facilities
Tourists can easily find accommodation to stay at night in villages around Dieng. Consider booking in advance since hotels can easily get overbooked around the event date. Included in the ticket is the entrance fee to Dieng tourist attractions, a t-shirt, a hat, and merchandise. The organizer also provides limited camping grounds, available for rent at a price.
See: SIM Card for tourists, Price & Providers.
How To Get To Dieng Culture Festival Venue
The most convenient way to reach Dieng is by joining a tour package. Many tour companies offer a shared minivan service that will deliver tourists from Yogyakarta to Dieng. The rate starts from Rp200.000/passenger for a one-way trip. From Yogyakarta, it takes 3 hours to get to Dieng.
A public transport option is also available. Although the journey takes a longer time. Head to Yogyakarta's Giwangan Bus Station and catch a bus to Wonosobo City. At Wonosobo Bus Station, transfer to a bus heading to Dieng. Prepare Rp50.000 ($3) for each bus trip. By bus, Yogyakarta-Dieng takes 5 hours.