Sanur Village Festival
Entrance Fee: Rp30,000 - Rp125,000
Performer: Sanur International Kite Festival, Food & Festival Bazaar, Music & Culture Show, Beach Clean Up, etc
Start: 2023-07-19
End: 2023-07-23
Event Place: Mertasari Beach, Matahari Terbit Beach, Segara Ayu Beach
Telp. Number:
Address: Jl. Sanur Beach Street Walk , Sanur, Denpasar Barat , ID, 80227
Sanur Village Festival (SVF) is one of the most awaited events in Bali. It's a comprehensive celebration of various socio-cultural sub-events. From music shows to the food festival, there are dozens of activities tourists could participate in.
It's an annual event and is held during summer. This year, Sanur Village Festival will be held from 19 – 23 July 2023. The first Sanur Festival is held back in 2006. The organizer, SDF has been helping locals in promoting and assisting tourism subjects in the area.
Sanur Village Festival's main mission is to promote Sanur as one of the oldest tourist areas in Bali. Through the event, SVF attempts to promote another side of Sanur. Which does not lose its authenticity and local value. Despite the modern tourism industry. SVF strives to provide a platform for exhibitors for their art and creativity.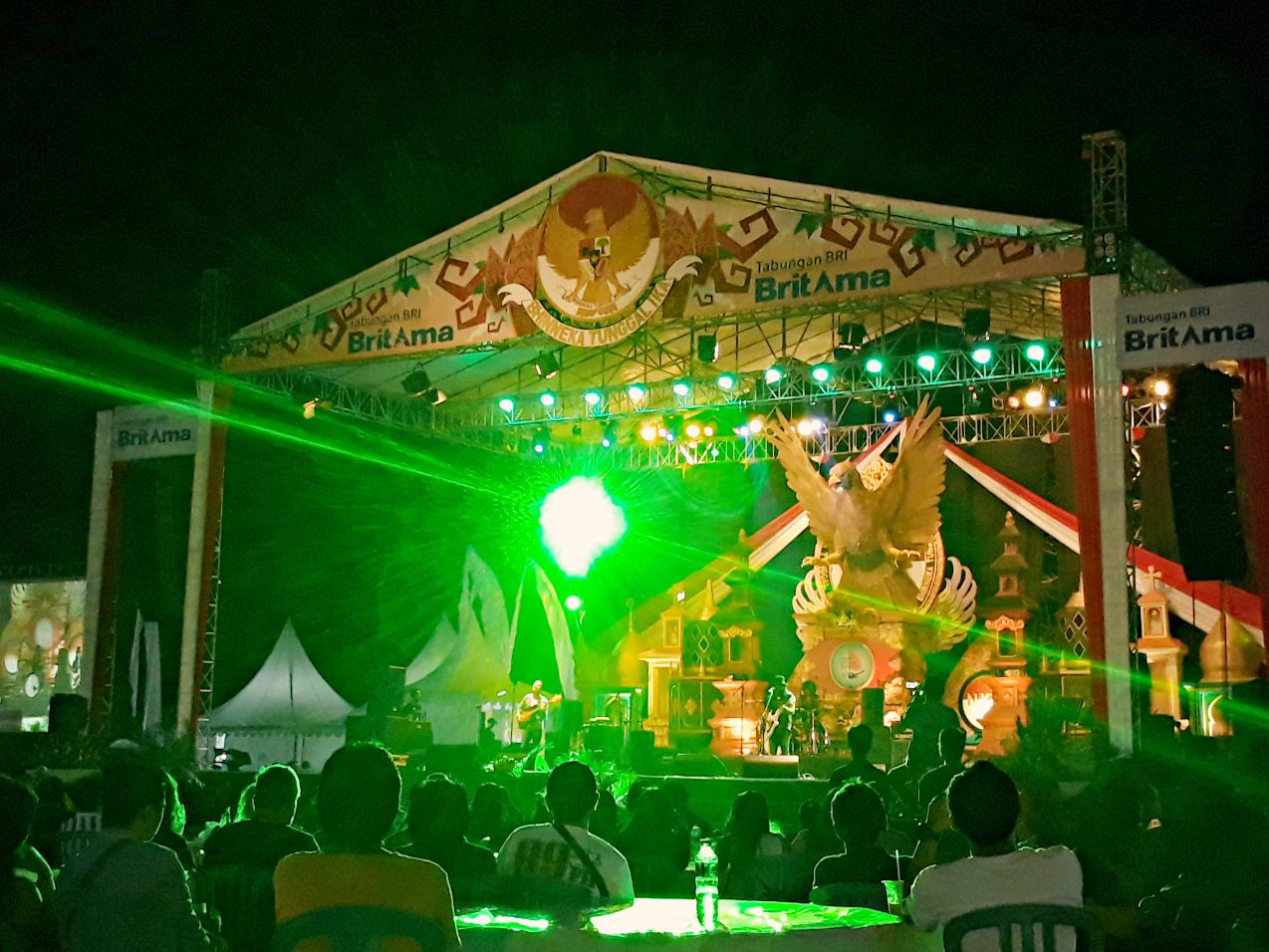 Among the participants are local artists and musicians. Sanur's small and medium businesses, especially in the tourism industry, also take part. Over the years, Sanur Village Festival has become one of the most anticipated events in Bali. Attracting over 100,000 visitors in 2018 alone.
Sanur International Kite Festival
During harvest season, Sanur residents thank their gods for the bountiful corps by flying kites. Sanur Village Festival adds this tradition into a sub-event called Sanur International Kite Festival. Watch as kites of vibrant colors decorate Sanur's bright blue sky. Their unique shapes, from animals to Hindu deities, dance as the sea wind blows.
The kite festival is open to participants of all kinds. Whether it is for religious purposes or simply for fun. Many kite enthusiasts from aboard take part in this festival at Mertasari Beach. Participants can bring their own kite – and fly it alongside other colorful kites in the sky.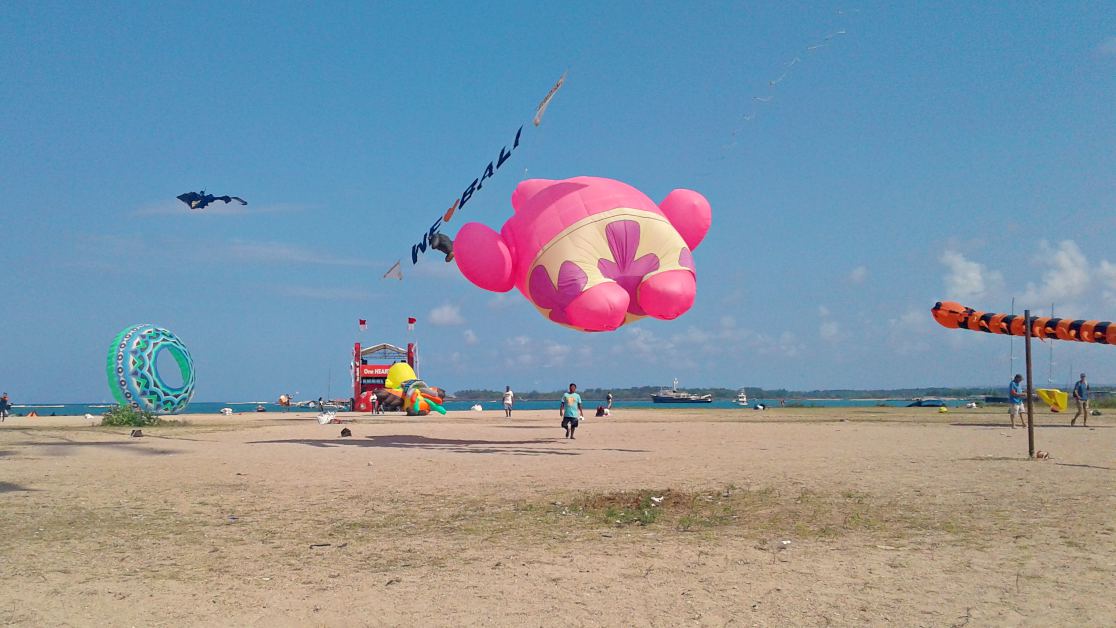 Jukung Show and Competition
The traditional fishing boat "Jukung" is not a strange sight along the shoreline of Sanur. This is because Sanur in essence is a fishing village. It remains as such despite the ever-growing tourism industry.
And during Sanur Village Festival, in an attempt to preserve the fishing tradition and community in this area. Every year Jukung competition will be held to add to the festivity of the event. The boat competition presents the best of Jukungs all over Sanur. For the fishermen, it's a pride of some kind.
For visitors, it's a chance to learn about Sanur's jukungs. A Sanur's jukung has distinct shapes and colors which differ compared to other regions in Bali. If lucky, take a chance to cruise the sea with it too. Recently the traditional boat has become a tourism transportation mode. Especially for doing water activities.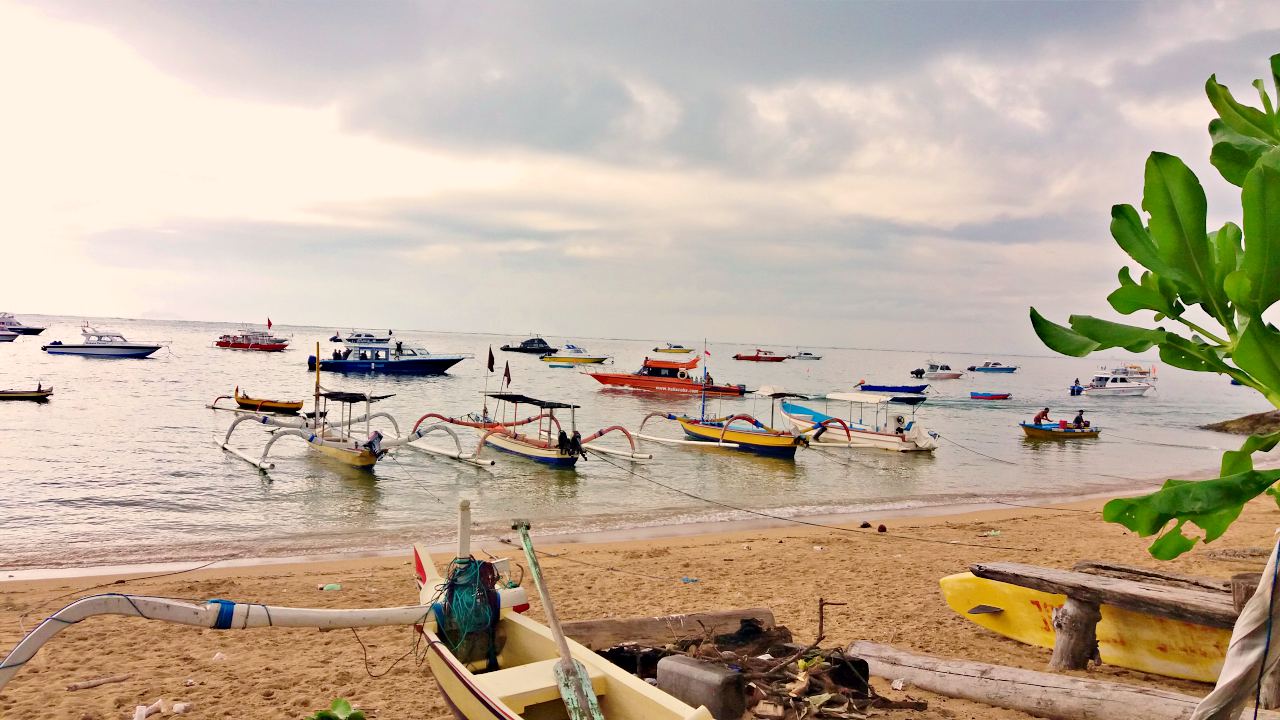 Sanur Cycling Tour
The cycling tour takes participants to explore the villages in Sanur. By participating, explore scenic villages, the fisherman community, and beaches in Sanur. The entourage also stops at Sanur's famous spot the Sindhu market.
A traditional market is known for its diverse and cheap food choice. When tired and hungry after all the pedaling. It's always a good idea to stop on the bike and find something to eat.
See : Bali Top Beaches, Top Activities & Entrance Ticket.
Music & Culture Show in Sanur Village Festival
The main stage of the Sanur Village Festival hosts types of performances. To point out, while enjoying the sea breeze, audiences will get entertained by musicians of various genres. From jazz to blues to the occasional pop music, the stage caters to everyone's taste in music. Apart from local Bali musicians, the organizer also invites singers and musicians from Jakarta.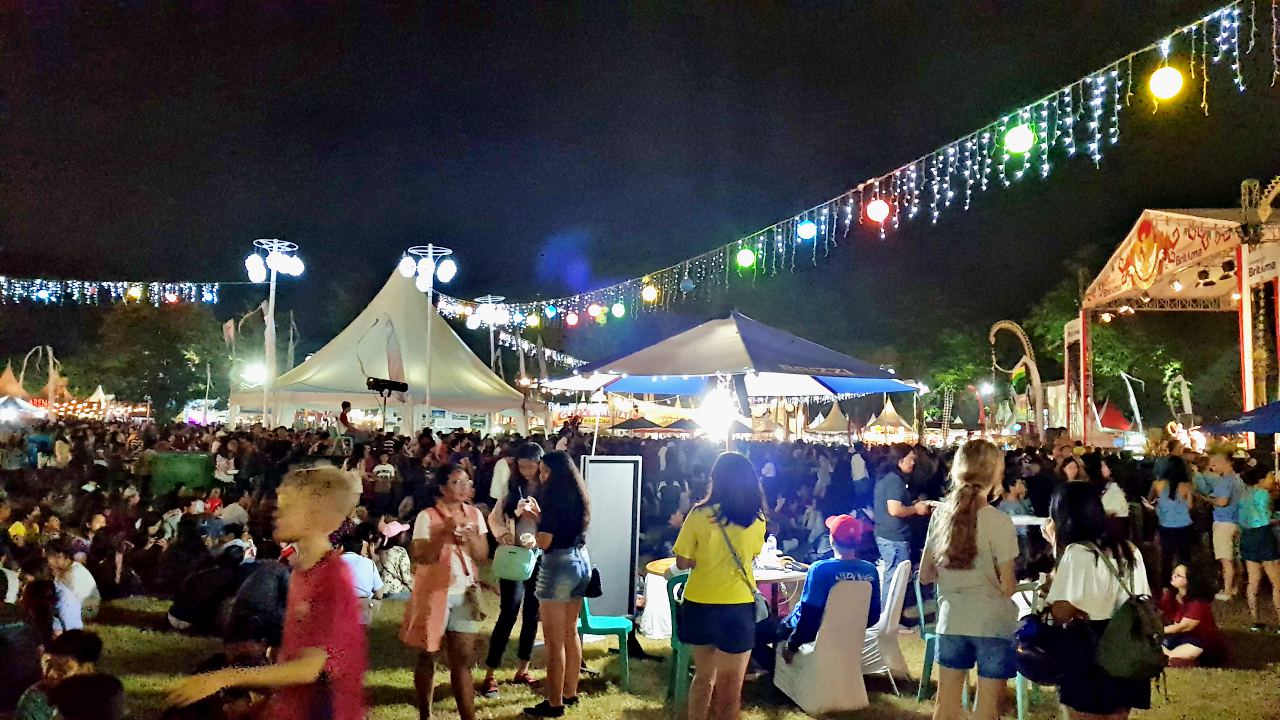 Traditional arts are not forgotten. Gamelan, a Balinese traditional set of instruments will get the audience adrift with its enchanting sounds. Enjoy traditional dances by the most talented performers. Theatrical performances are choreographed by local artists and actors are among the must-watch for the culture night.
Sanur Food Festival & Bazaar
Always visited by thousands of visitors annually. The Food Festival is one of the most popular events at the Sanur Village Festival. Get excitingly confused by stall after stall offering delicacies of all kinds. Satisfy the palate with menus offered by popular restaurants around Sanur.
The menu ranges from Indonesian food to international choices. Many 5-star restaurants open a booth here. Offering visitors a chance to try on their menu at a lower price than usual pricing.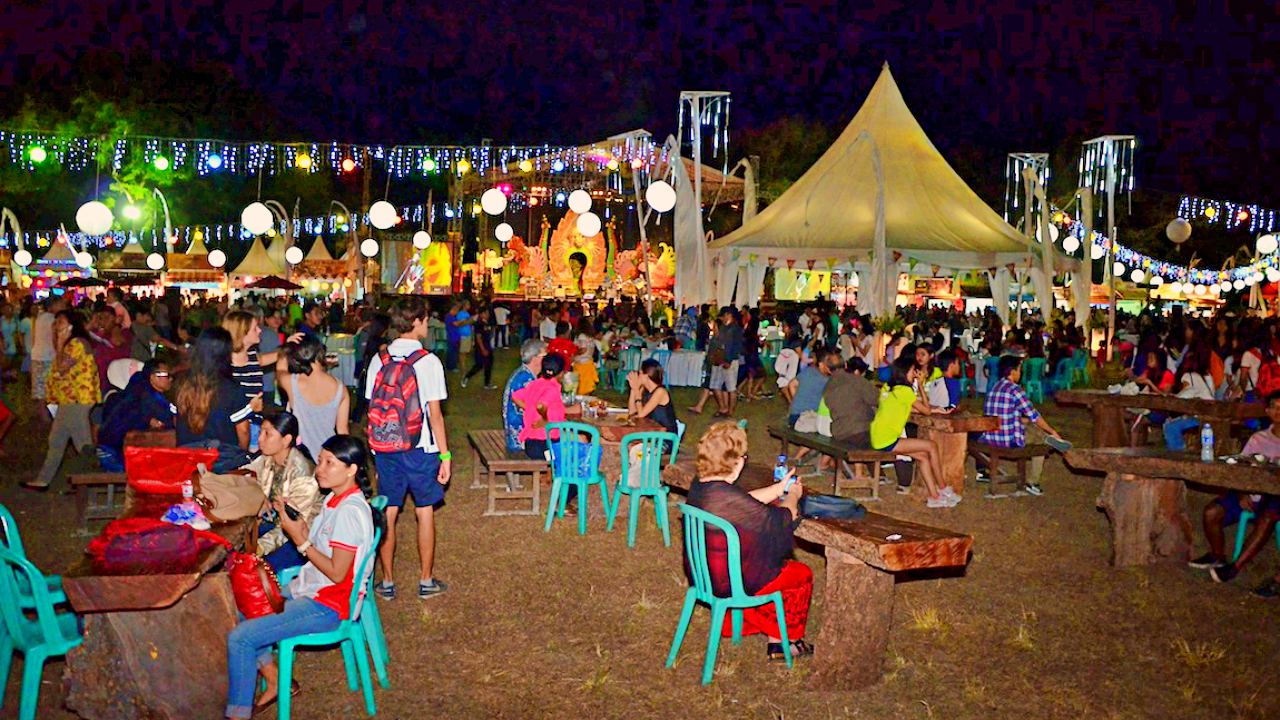 Yoga Mass Workshop
At Sanur Village Festival, participants embrace the day by doing yoga on the beach, with feet grabbing firmly into the sand and body facing toward the ocean.
Yoga students immerse themselves in asana after asana. The yoga mass at SVF is organized by no other than Sanur's own yoga community Seger Oger. It is free to join this healthy activity. So don't miss the opportunity.
Read : Balangan Beach, South Kuta & Activities.
Beach Clean-Up & Tree Planting,
A festival can leave a lot of trash on the beach. Sanur Village Festival does not neglect this possibility. Preserving and maintaining nature is also one of SVF's missions. As a beach cannot clean itself, every handpicking of the trash here counts.
Therefore, take part in this environmental awareness activity to make a contribution to nature. After the cleanup session, a tree-planting event also takes place. Join this collective effort of planting mangroves, rare trees, and coconuts along the shore.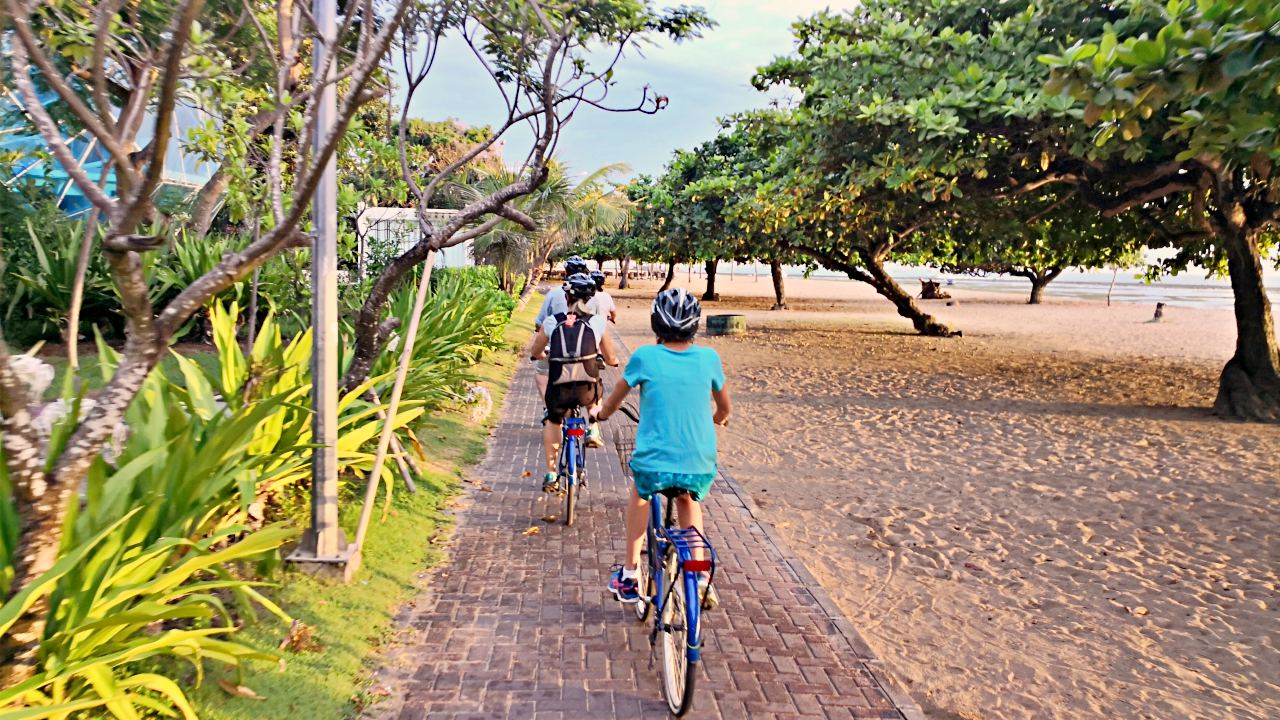 The vegetations help to minimize beach erosion by the waves. As well as making Sanur shorelines greener. Under the sea, baby corals are planted to boost rich marine life. The most heartwarming activity of the Sanur Village Festival is releasing baby turtles.
It's also one of the most popular, from little children to adults who are eager to come and watch. The 2018 event was also attended by the Indonesia Minister of Tourism. So do not forget to participate. And help the little ones make their first journey into the ocean.
See: Guide To Jimbaran Fish Market & Culinary Spot.
Sanur Village Festival 2023 Schedule
The SVF venue for 2023 will be taking place around the Sanur Beach area. Such in Mertasari beach, Matahari Terbit beach, and Segara Ayu beach. The event this year will be held from 19 to 23 July 2023. The entrance ticket to Sanur Village Festival 2023 is Rp30,000 ($2) for adults, and free for children under 12 years old.
Tourists are welcome to join the festivities of the Sanur Village Festival. Some cash is needed for events such as cycling tours (for renting a bike), the food festival, and the bazaar. Prepare small money too for parking fees and toilets.
Sanur Village Festival July 2023, Venue, Ticket & Schedule
Venue
Mertasari, Matahari Terbit & Segara Ayu Beach
Date
19-23 July 2023
Ticket
Rp30,000 (Daily Pass) / Rp125,000 (5 day pass)
See: Sanur Night Market, Culinary Spot & Cheap Food Price.
How To Get To Sanur Village Festival
It is easy to reach Sanur either by private vehicles or public transport. By public transport. Take any Trans Sarbagita buses that pass through Ngurah Rai Bypass (line corridors 1, 3, and 4). Stop at the closest shelter to the location. For example, the closest shelter to Matahari Terbit Beach is Matahari Terbit Shelter 2. The fare is cheap, only Rp3.500 for a one-way trip.
By private vehicles, follow the Ngurah Rai Bypass road northward from the city. A rental scooter can be a good idea too since it's cheap and costs around Rp50,000 a day for a small scooter. Ride hail car and motorcycle in south Bali is abundant. Tourists can easily install Grab/Gojek apps and order one. The payment option is plenty too, by cash, debit/credit card. So, passengers can roam freely without having to worry about carrying enough cash.
See: Internet Package & Price for Tourists SIM Card.