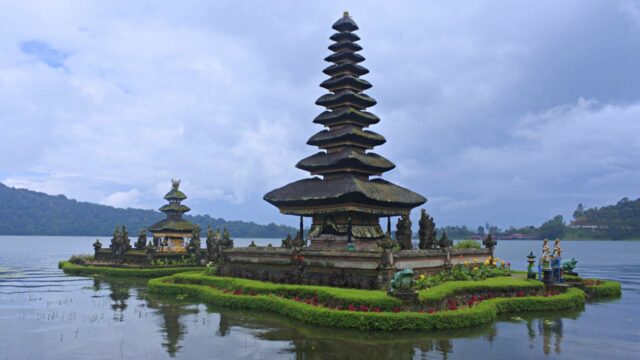 Ulun Danu Beratan Temple Entrance Fee: Rp50.000-Rp75.000 Opening Hours: 08:00-18:00 Telp. Number: - Address: Jl. Raya Bedugul, Candikuning, Baturiti, Tabanan , Bali, Indonesia , 82191.
A trip to the Island of Gods will not be complete without a visit to a temple. Luckily from the north to south Bali, scenic temples are scattered. One of the most visited ones is the Ulun Danu Beratan temple. Like its name, this site is iconic for its floating temple that sits on Beratan Lake.
Located 1.200 meters above sea level, the area owns mountainous scenery. It is surrounded by organic vegetable farming and flower nursery. Marigold flower and bigleaf hydrangea are the most common to be found around the area.
The temple itself Ulun Danu Beratan was built in 1633 as a site to worship Dewi Danu, the goddess of water. It also part of the 9 prominent temples in Bali. The water source, Beratan Lake playing a big role too until now. It responsible and still is the main source for the entire farm around the area.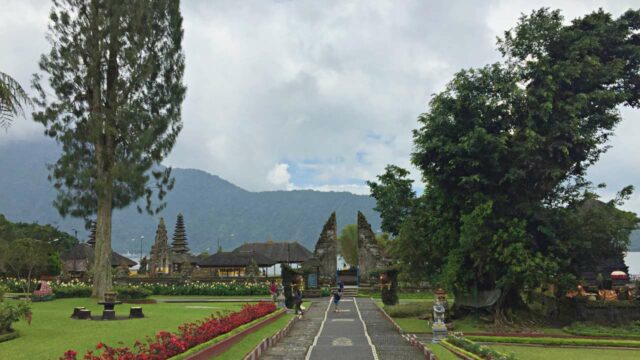 Ulun Danu Beratan Temple Zone
Ulun Danu Beratan Temple consists of five small temples. Penataran Agung, Dalem Purwa, Taman Beiji, Prajapati, and the most popular one, Lingga Petak temple.
Lingga Petak is the one that is depicted on the Rp50.000 currency note. And located on the east side of the temple complex. Usually, there is a long queue of tourists posing and taking pictures in front of this iconic temple.
Like any other temples in Bali, tourists are not allowed to go inside. The area is only for holding ceremonies or offerings. People only allowed to take photos in front of the temple gate from the outside.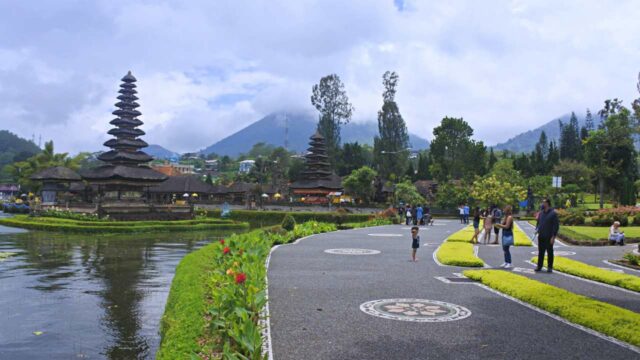 Using drones is prohibited as well. But don't worry, there is an express photo service. For Rp20.000, strike a few poses alone or with family in front of the iconic temple.  It will take no time for the photographer to print it. Plus they are willing to transfer it too to visitor mobile phone.
Exploring Beratan Lake by Boat
After exploring the temples, follow the pathway to the water attraction area. At the end of the pathway, there will be a ticket booth for a lake trip by boat. The fee varies, depending on the type. From speed boat, swan boat, until a traditional wooden canoe.
Go for a speed boat for a little jolt of excitement. It takes up to 5 people in one go. By paying Rp150.000, tourists can enjoy a thrilling speed while exploring the lake. For those who prefer a more serene moment, try the swan paddle boat! The boat fit for two people and cost Rp15.000 only.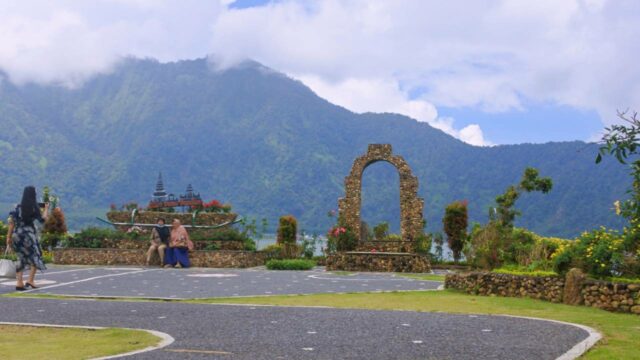 If paddling a boat is too tiring, choose a traditional wooden canoe. The ticket fee is Rp75.000 for a 15 to 20 minutes tour. Locals will also offer to drive the canoe and take tourists to hidden spots with an additional Rp15.000.
Learn to Fish from Locals
It is common to see local fishermen by the edge of the lake. On the bright side, tourists can try fishing too by renting the gear from the locals. Despite there will be no guarantee to catch something. But still, it can be an interesting activity to spend time on. Fishing in front of a grand scheme like a floating temple is not an everyday experience, right?
Walking in Garden
To complete the journey, there is a garden park near the restaurant area. A well-laid-out pathway will guide tourists to explore every side of the park. Walk around and enjoy the fresh air here.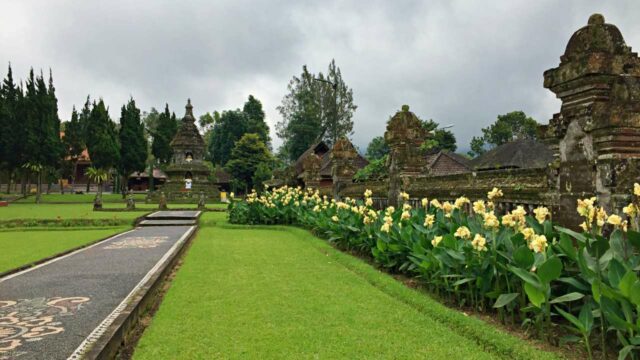 Take a beautiful shot with colorful flowers as the background. This botanic garden and the serene of Beratan Lake will refresh the mind after traffic during the trip.
See: Bali Airport Guide & Airport Transfer To Ubud.
Ulun Danu Beratan Opening Hours
The opening hours of Ulun Danu Beratan Temple are from 8 AM to 6 PM. Unlike most temple sites in Bali, visitors don't have to wear a sarong to enter. To avoid crowds, it is better to come early.
Ulun Danu Beratan Temple Opening Hours
Every day
08:00 – 18:00
Nearby : Bali Botanic Garden Guide & Things To Do.
Ulun Danu Beratan Temple Entrance Fee
For international tourists, the entrance fee costs Rp75.000 for adults and Rp50.000 for children. There is an additional charge for parking fee Rp5.000 for car and Rp3.000 for the scooter.
Ulun Danu Beratan Temple Entrance Fee
Children
Rp50.000
Adult
Rp75.000
See: Banyumala Waterfall Guide & Things To Do.
Facilities
The restaurant and café are located in the same temple area. Tourists could order food or cold drinks, such as cocktails or healthy juice. A hot beverage is available too both in the restaurant near the entrance gate. And in the cafe next to the lake. By far it's people's favorite choice since the location is usually colder than the coastal area.
Basic necessities such as restrooms and toilets are also easy to find. Make sure to prepare small notes of Rp2.000 for the pay toilet. There is also a kid's playground near the restaurant. Kids can have some fun after a long drive here.
Most of the Ulun Danu Baratan Temple is also accessible for wheelchair. Some souvenir shops and local kiosks can be found lining up near the parking lot.
See: Prepaid SIM Card Guide & Internet Package Price.
How To Get To Ulun Danu Beratan Temple
Ulun Danu Beratan Temple is located at the heart of Bali. From Denpasar, follow the main street connecting Denpasar and Singaraja. The distance is about 50 KM to the north. There is no reliable public transport nor ride-hail app available to reach Ulun Danu Baratan for now. But soon there will be public tourism bus to get to this temple.
In addition, it will be a long and winding drive to get here. It takes 1.5 hours from Ubud and 2.5 hours from Seminyak. Hence, the most convenient way is by renting a private car driver or a scooter. It will be even better to combine the trip with others place that has the same route.
Private car rent with driver will cost around Rp450.000 – Rp600.000 for 12 hours rent. While scooter rent, it available from Rp50.000 to Rp120.000 for a day. And it depends on the type of scooter.
Address & Location
Ulun Danu Beratan Temple situated in Jl. Raya Bedugul, Candikuning, Baturiti, Tabanan Regency, Bali 82191.