Brahma Vihara Arama
Entrance Fee: Rp20.000
Opening Hours: 08:00 - 18:00
Telp. Number: -
Address: Jl. Raya Tegeha, Tegeha, Banjar , Buleleng , Bali , Indonesia , 81152.
Bali is well known as a place that respects cultural diversity. And Brahma Vihara Arama temple is one representation of mixed cultures portrayed in their architectural design. This sacred site is a peaceful Buddhist monastery built in the 1960s in Banjar, Buleleng.
The monastery is located on a highland. It has the best view of the north ocean and a serene neighborhood. Brahma Vihara Arama's building is strongly influenced by Balinese architecture. From the entrance gate, lotus ponds, and statue fountains adorn this monastery.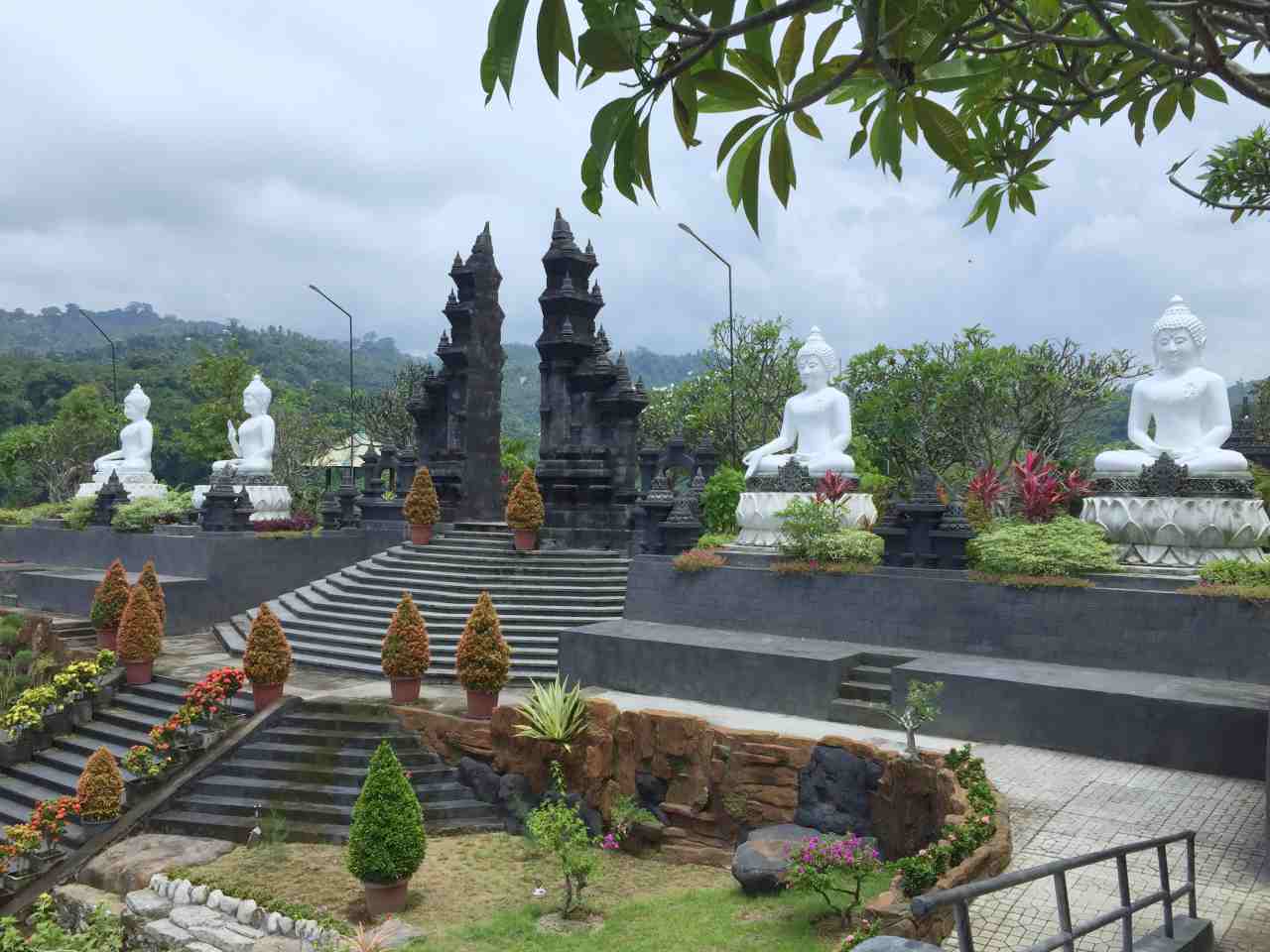 The temple has several halls for praying, meditation, and dining rooms. This religious destination is popular for a spiritual retreat. People from Indonesia and different countries even come to this monastery to worship, meditate, or simply look for enlightenment.
Brahma Arama Temple Entrance Fee
Entering this monastery will cost Rp20.000 per person. Visitors must wear a sarong to go inside this holy space, which is available at the ticket booth. During the time exploring this site, please respect people praying in the temple by not making noise. Then, don't forget to take off the flip-flops shoes upon entering the praying hall.
Brahma Vihara Arama Temple Entrance Fee
Ticket
Rp20.000
See: Lovina Beach, Dolphin Sightseeing & Top Things To Do.
Brahma Vihara Arama Opening Hours
The monastery is open every day from 8 AM to 6 PM for public visitors. The best time to visit Brahma Vihara Arama is early in the morning or after 3 PM. As it's getting really hot at midday.    
Brahma Vihara Arama Temple Opening Hours
Every day
08:00 – 18:00
See: Guide To Aling-Aling Waterfall & Top Things To Do.
Vipassana Meditation
This particular meditation is a popular ancient practice of mindfulness. In Buddhism, it allows self-observation through emotions and thoughts to develop wisdom. Vipassana meditation at Brahma Vihara Arama will take 10 days to accomplish and is held a few times a year.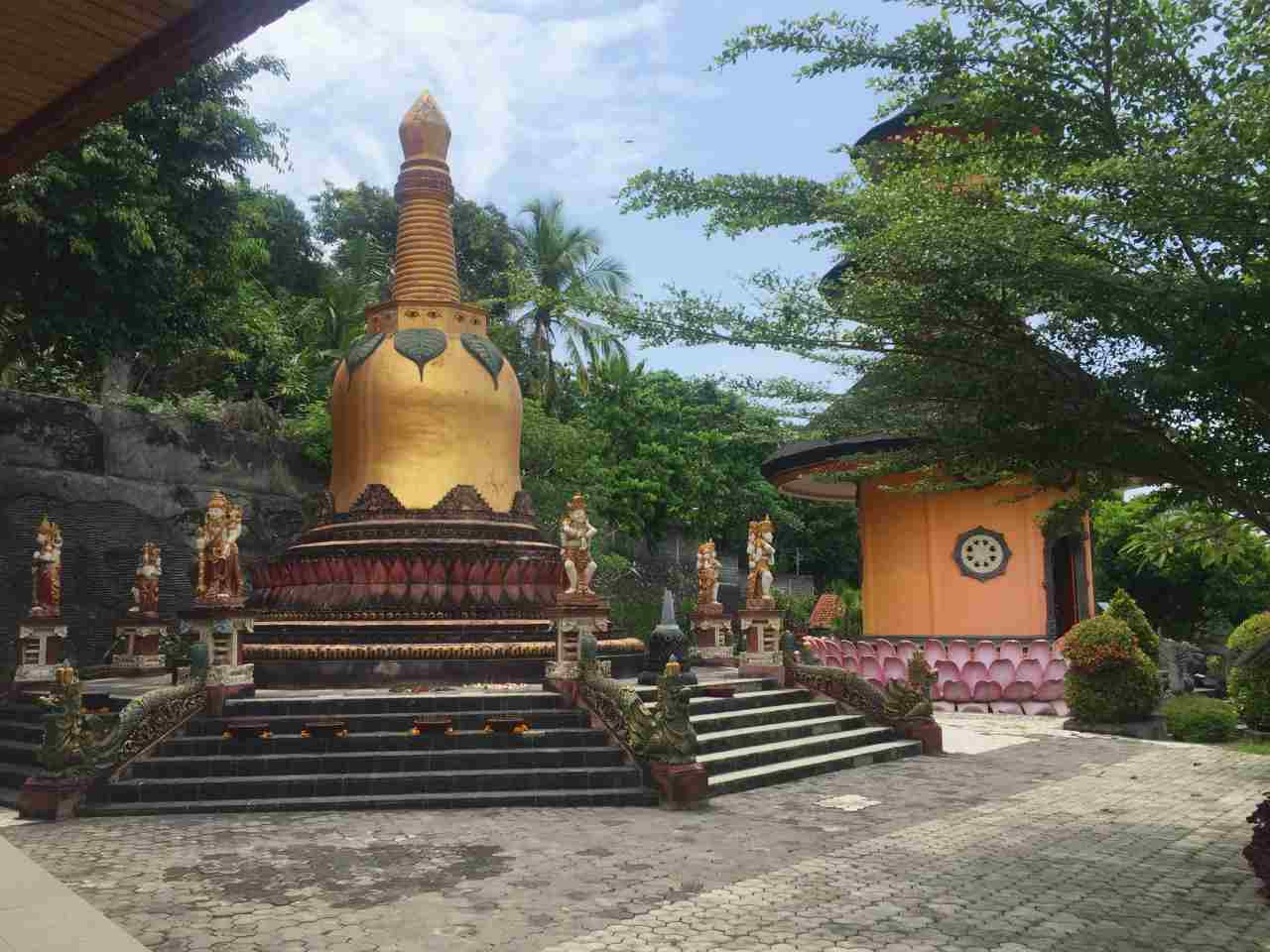 It has great benefits in restoring mental energy, training mindfulness, momentary concentration, as well as find inner peace. And the good news is anyone is welcome to join and practice meditation here.  
Enjoy Picturesque Culture Blends
Apart from being a spiritual space, Brahma Vihara Arama is a beautiful site to visit. It has a beautiful garden with the lovely sound of wind chimes. Buddha statues with different materials, wall carvings, a Thai stupa, and a multi-story pagoda. There is also some decoration of Balinese statues and lotus ponds.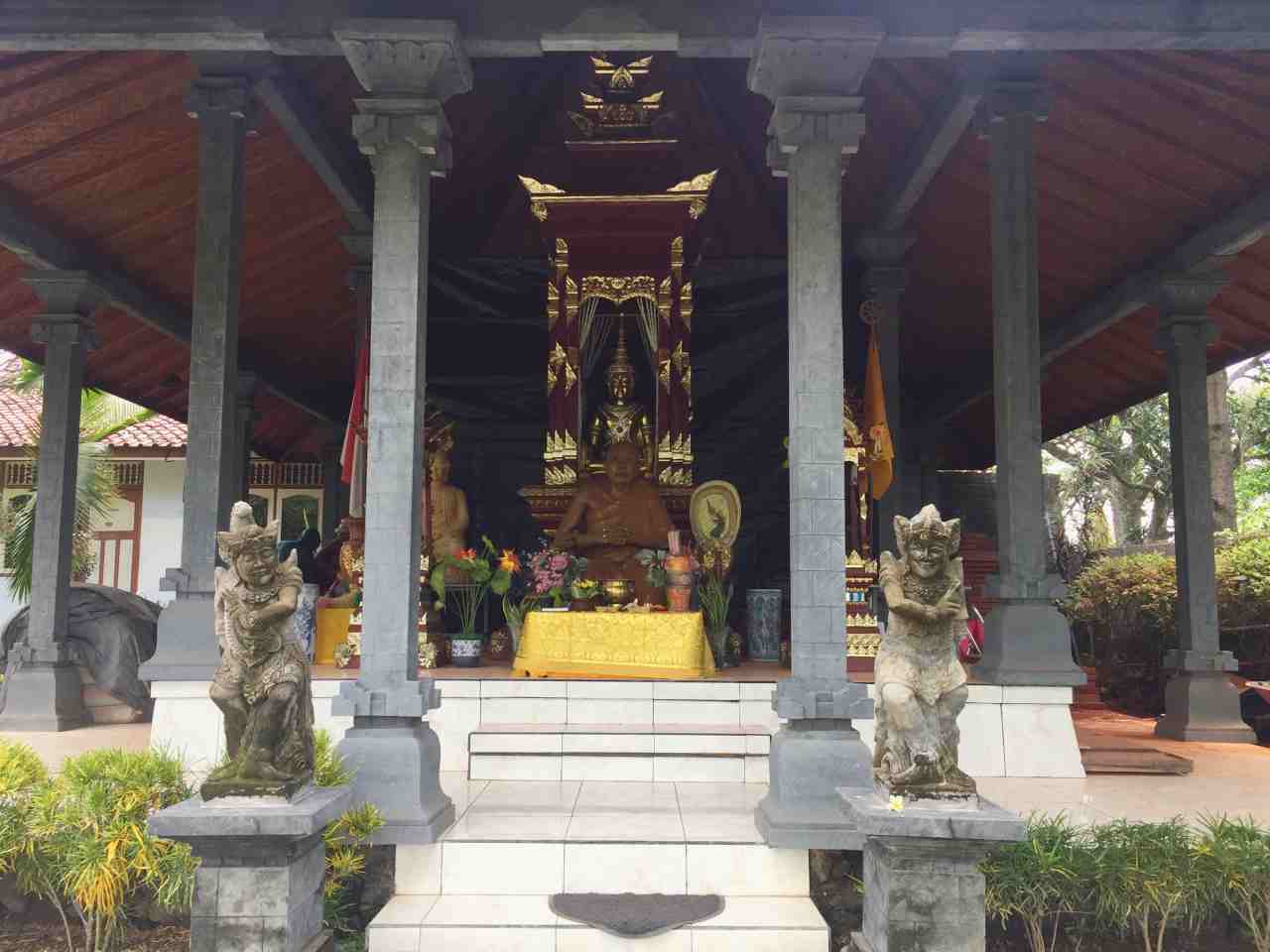 The dragon sculptures adorn some spots as well. It is the symbol of a cultural blend of both religions that represents guardian and enlightenment. Some Dwarapala statues adorn the gate and stairs. Even the gate and roof have a strong Balinese design.    
Borobudur Miniature
At the top of Brahma Vihara Arama temple, there is a scenic miniature of Borobudur. This part has a spacious open-air meditation area surrounded by greenery plants. Just underneath the area, there is a carved figure tribute to Dalai Lama. He is a spiritual leader from Tibet who visit the monastery back in the 18s.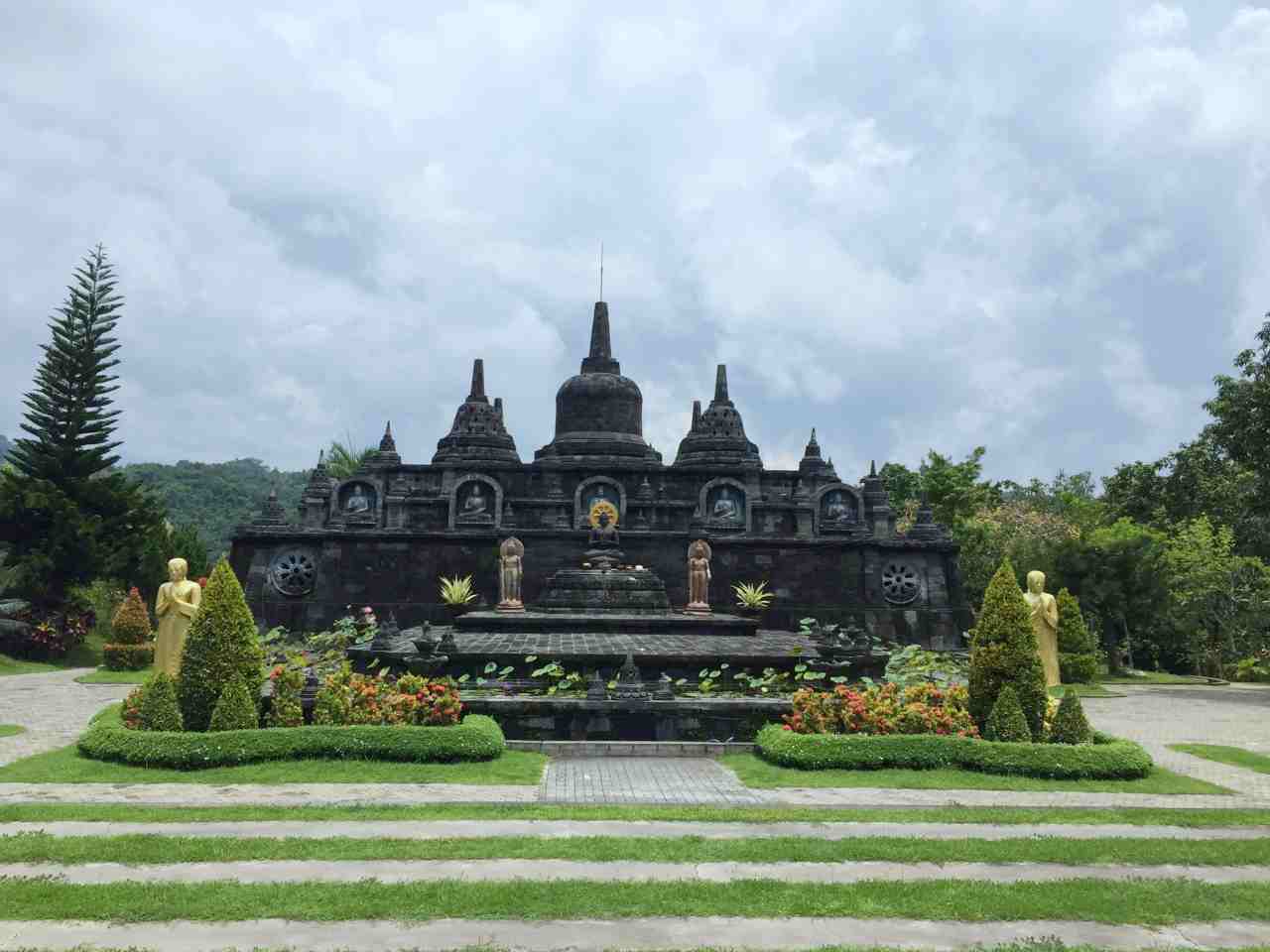 Banjar Hot Spring
A few miles away from Brahma Vihara Arama temple, there is a hot spring with several minerals and sulfur pools. It has 3 pools with different heights, from 1 to 3 meters. Each pool has strong splash showers that give a water massage sensation. Among locals, hot spring is popular. They believe soaking in hot springs could heal skin problems and rheumatic ailments.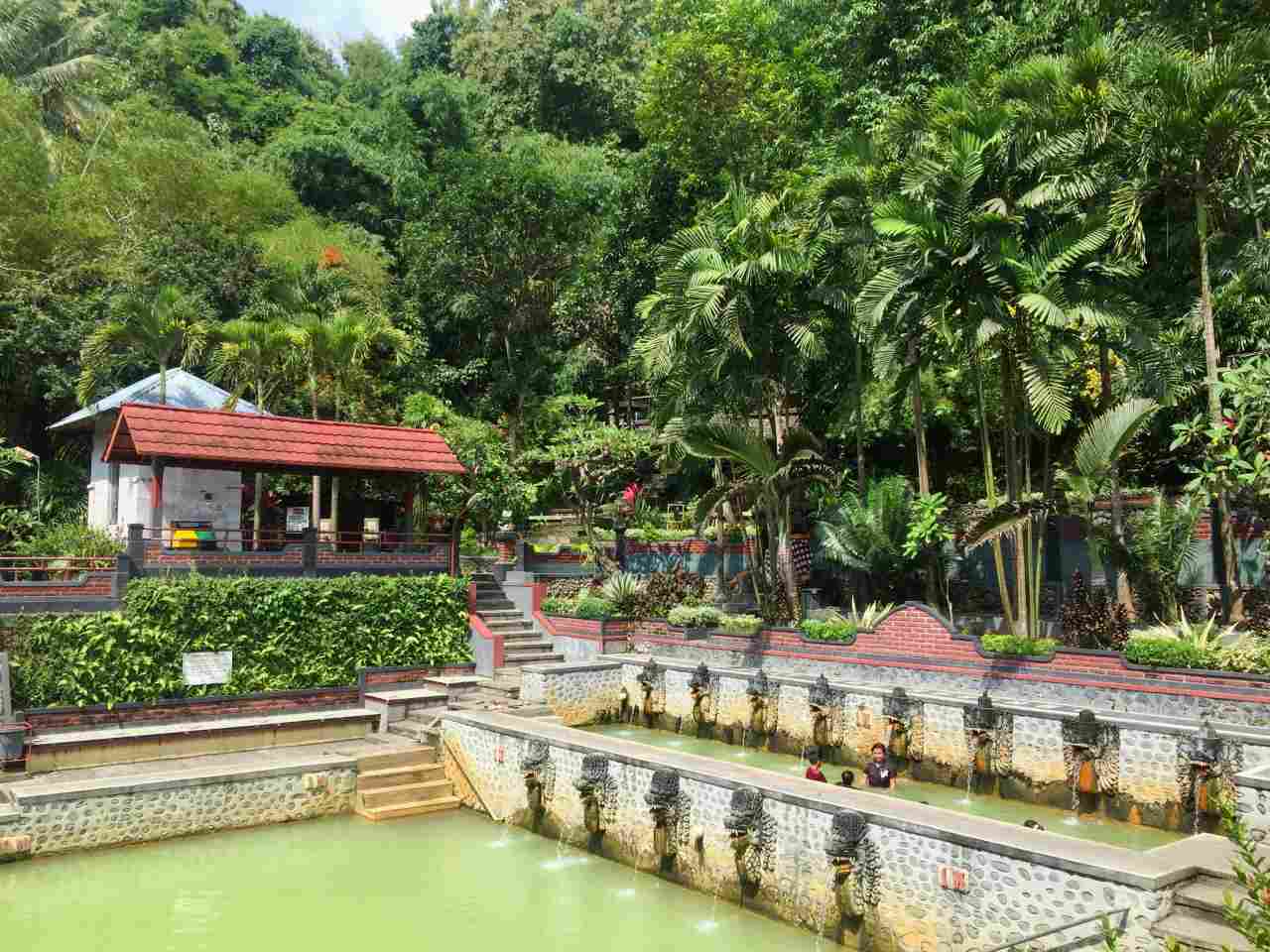 The entrance ticket to Banjar hot springs is Rp20.000 per person There is an additional parking fee of Rp2.000 for a scooter and 5K for a car. Banjar hot spring has a restaurant, toilets, changing rooms, a rinse shower, and massage services. Lockers are available for rent for just 5K.
Along the street, just outside the hot spring, there are lots of street vendors selling souvenirs, clothing, and food.
See: Guide To Explore Banyumala Twin Waterfall, North Bali.
Facilities
Brahma Vihara Amara has sufficiently complete facilities. There are toilets, a parking area, and a few shady spaces to shelter from sunlight. Speaking of buying food, the better option is going to the main street. There are a lot of beachfront seafood restaurants scattered in the main street Jl. Raya Seririt – Singaraja. 
There are a lot of seafood dishes served in an open-air restaurant with a signature menu of grilled fish, plecing kangkung (a spicy mix of veggies), fish satay, and soup. Some restaurants offer a package menu that starts from Rp25.000 to IDR 250K. The price for a kilogram of grilled fish starts from Rp70.000. Customers are welcome to choose the fish.
Accommodations from hotels to humble homestays close to this site are scattered on the main street. However, the most popular staying area is near Lovina beach. 
See: Guide To Explore West Bali National Park & Tickets.
How To Get To Brahma Vihara Arama
The Buddhist monastery is situated on the north side of Bali. It takes around 3.5 hours from Ngurah Rai Airport or 33 minutes away from the capital of Singaraja. The best guide is to stay near Lovina beach and explore the destination the next day.
There is no public transportation passing by this temple. So, to visit this place is better to rent scooters or cars. Renting a scooter will start from Rp60.000 and a car with 6 seats will cost Rp800.000 per day.
See: Tourists SIM Cards, Price & How To Top Up Credits.
Address & Location
Brahma Amara Buddhist monastery is located in Jl. Raya Tegeha, Tangeb, Banjar Tegeha, Banjar, Buleleng, Bali 81152.