Aling-Aling Waterfall
Entrance Fee: Rp20.000 - Rp125.000
Opening Hours: 08:00 - 17:00
Telp. Number: -
Address: Jalan Raya Desa Sambangan, Sambangan, Sukasada , Buleleng , Bali , Indonesia , 81161.
Located in the small village of Ambengan, Buleleng, Bali. Aling-Aling Waterfall might not seem convincing at first sight. Its entrance is tucked away on the small village street, not even enough for two cars to pass through. But behold, hidden inside the Ambengan forest, rivers and springs fall into cliffs and canyons.
They form several beautiful waterfalls in the area. Aling-Aling waterfall, Kroya, Kembar, and Pucuk waterfall are only a few minute's walks from each other. It is not a secret that northern Bali has a lot of waterfalls due to its mountainous landscape. There are dozens, if not more, of waterfalls to choose from.
Some may hear of the famous Sekumpul Waterfall or Gitgit Waterfall. But Aling-Aling Waterfall tries to distinguish itself from other waterfalls. It emphasizes more activities than just scenic and beautiful views.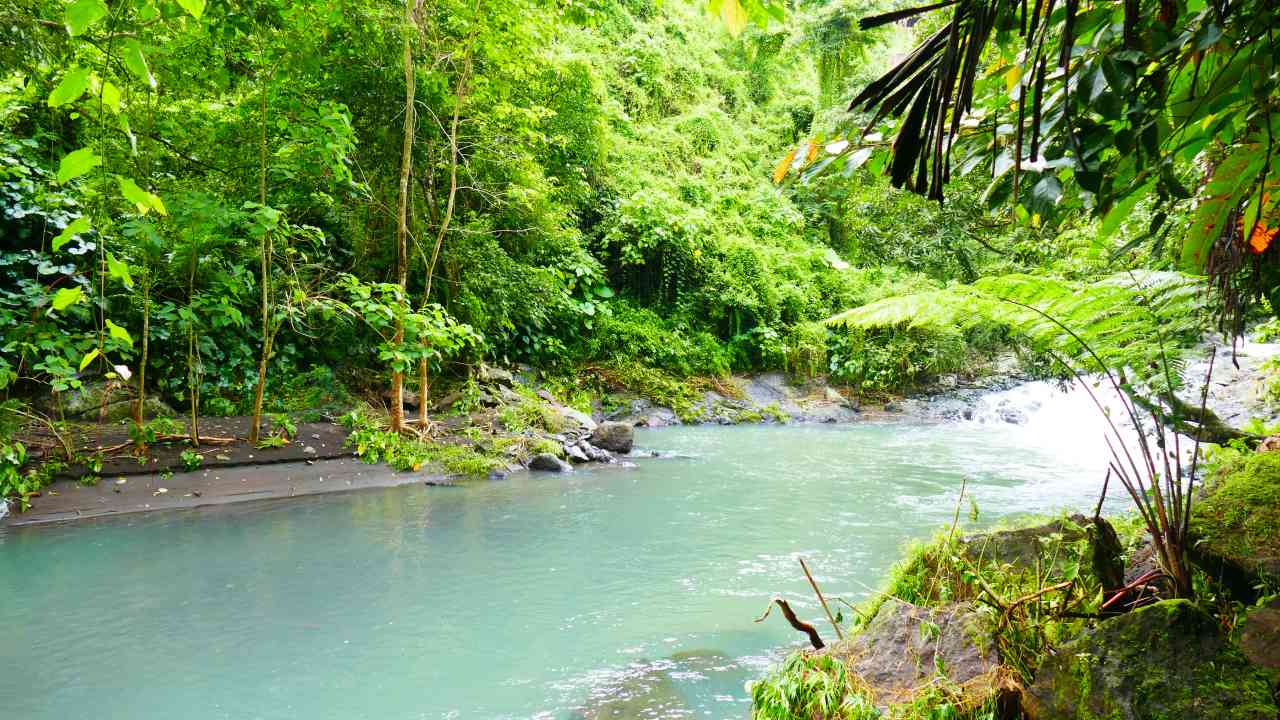 Adventurers can choose from adrenaline-inducing activities to relaxed swims. Families can either have a challenging trek or a simple picnic surrounded by nature. The experience is different at each waterfall. For a great outing, plan a whole day to visit, several hours will not be enough to explore all the waterfalls.
Aling-Aling Waterfall Entrance Fee
The entrance ticket for international tourists is Rp20.000 per person. However, unlike other waterfalls in Bali, guests are not allowed to swim and jump without a guide. In fact, the admission ticket only allows waterfall visitors to walk and trek around the waterfall area. The price range for waterfall fun activities ranges from Rp125.000 to Rp500.000 for 1 person.
The package price already includes the waterfall's entrance fee, guides, safety equipment, and mineral water. The cheapest price Rp125.000 is a short track that includes access to 4 waterfalls with guides and water activities. The second package, Rp250.000 is access to Blue Lagoon and coconut water. For a long track package Rp500.000, it includes lunch and refreshment drinks.
Nearby: Banyumala Twin Waterfall, Top Things To Do & Entrance Fee.
Aling-Aling Waterfall Opening Hours
The waterfall is open for visitors every day from 8 AM to 5 PM. Spare at least 3 to 4 hours to explore and relax at the waterfalls.
Aling-Aling Waterfall Opening Hours
Every day
08:00 – 17:00
Nearby: Gitgit Waterfall Guide, The Beauty of The Tallest Waterfall in Bali & Location. 
Aling-Aling The Mythical Waterfall
The main waterfall, who gives the site its name, is a waterfall with a height of 35 m. It is surrounded by a high and narrow canyon. Giving the impression that the rocks 'hug' the magnificent waterfall. Green vegetation covers the canyon. Trees and shrubs grow densely forming a hanging garden above the cliff.
Their canopies allow just enough sunshine to get through. The turquoise water might tempt trekkers to have a refreshing dip or even just a splash of water on the face. But sadly the adventure has to stop at the viewpoint.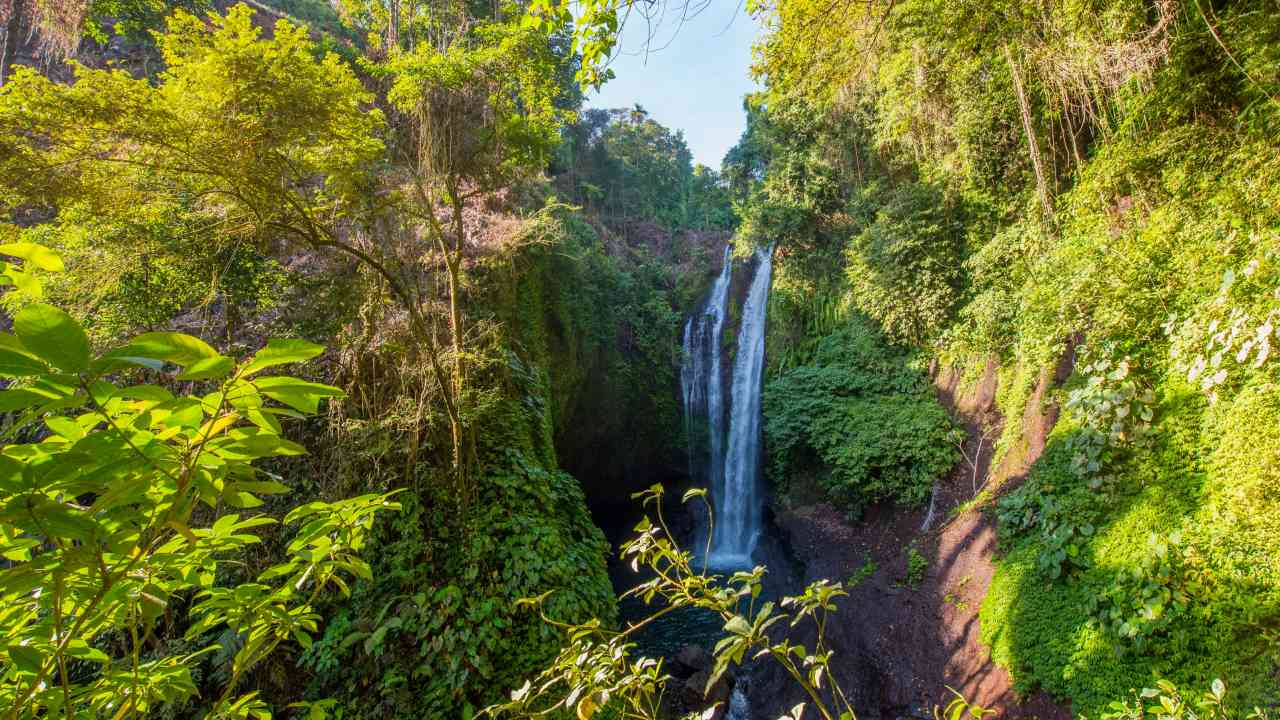 Aling-aling Waterfall is considered sacred by locals. And therefore activities such as swimming are prohibited. In fact, there is a small shrine near the top of the waterfall, adding some aura to the already mystical atmosphere.
Cliff-Jumping, Sliding & Swimming At Kroya Waterfall
Kroya Waterfall is only a several-minute walk from Aling-Aling Waterfall. At Kroya, it's time to play and test the adrenaline. The waterfall itself is not as high as Aling-Aling at only 10 meters. Scenery-wise, it is less scenic, let alone mythical. But Kroya is arguably a tourist favorite.
This is where visitors can finally engage in water activities. First, try to do a jump. Across the waterfall, a small stone marks a jump point. The height is only 5 meters, but the strong ripple below can put doubt in mind. However, just go ahead. Enjoy the cold refreshing sensation as the pool water welcomes the body.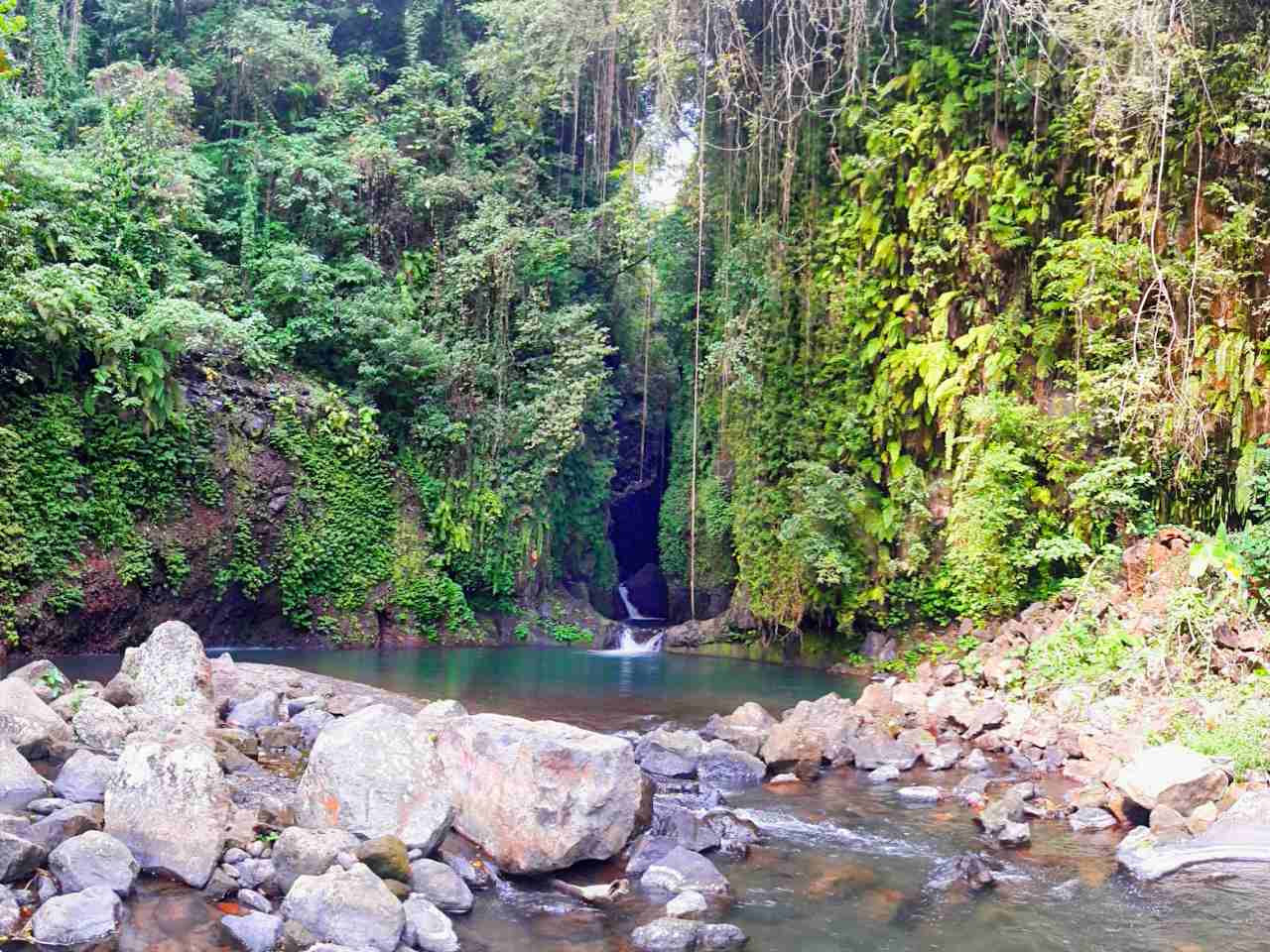 Second, head for the next challenge, sliding the waterfall. The rocks behind the waterfall form a natural slide for anyone who dares to go further from just jumping. Climb to the top of the waterfalls then ask the guide to find the right starting point.
Enjoy the split second of an exciting journey as visitors lay back. Not knowing what will be waiting in the mysterious foaming currents below. The pool under Kroya Waterfall has quite strong currents. The currents will drive people toward the canyon wall if they're not careful.
On the other hand, visitors will be provided with a safety jacket despite their swimming skills. Wear one, especially when doing waterfall sliding. Have fun and don't forget safety is still the number one priority.
The Twin Waterfall
Kembar waterfall is one minute away from Kroya Waterfall.  The water comes from one water source but then is split into two by a formation of big rocks at the top of the waterfall. This gives the effect that there are two waterfalls. Locals name this waterfall "Kembar", which means "twins".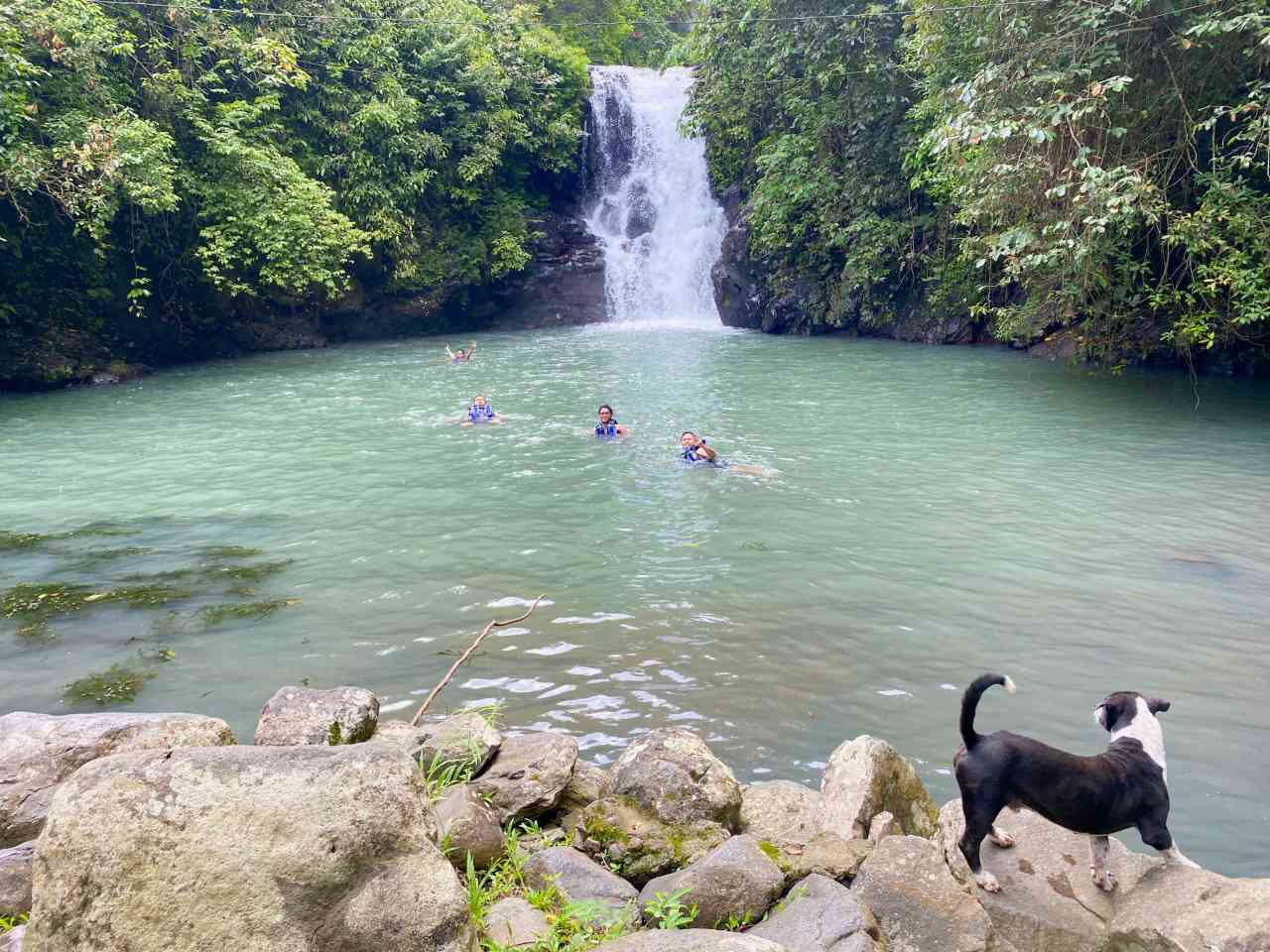 Go to the top of the waterfall and jump. The waterfall's vertical cliff makes it possible for a safe jump straight down. The height of the waterfall is 10 meters, a level higher than Kroya. Although it's high enough, the pool below has a calm ripple. Swim in the crystal clear water after exploring all jumping styles.
Pucuk Waterfall The Final Challenge
The ultimate and final challenge waits at Pucuk Waterfall. Like its name, Pucuk, which means "tip", the waterfall has the highest point for cliff-jumping. The jumping point stands at approximately 15m.  It is so high that only the fearless have the gut to take a leap.
Pucuk Waterfall also has a small flat area surrounding its pool. It's a perfect spot to have a picnic, especially for families. The calm water in the pool is safe for children to play and swim in. Visitors can lay a mat and enjoy sunbathing. Observe anyone doing a cliff jump and give applause to anyone who successfully does it. Even without having to jump, it is still fun to just watch.
See: Lovina Beach, Water Sport & Dolphin Watching Activities.
Facilities
A parking lot is available near the entrance, but it's small. There are changing rooms for tourists with toilet facilities. A small café is located within an area where visitors can enjoy coffee, beer, or fresh juices.  There's only one restaurant in the village nearby, and there's no souvenir shop.
See: Bali Airport Guide, Public Bus & Airport Transfer Option.
How To Get To Aling-Aling Waterfall
There's no public transport from the South or Lovina Beach heading to Aling-Aling waterfall. The only option to get there is by rental vehicle. There is plenty of rental services that include a driver service. That is to say that the price range for private car rental range from Rp500.000 – Rp600.000 for 10 hours.
However, unless tourists are experienced with Indonesia's road conditions, especially in the mountainous small town area. It is not recommended to self-drive to get here. In total, from Lovina Beach, it takes 25 minutes to get to the waterfall. There is more than 1 route to get here and both have hairpin turns and steep inclines.
Besides car rental, a scooter rental service is available too in the tourist area Lovina. The price for renting a scooter range from Rp60.000 to Rp120.000 depending on the type of motorcycle.
See: Prepaid SIM Card, Internet Package & Price.
Address & Location
Aling-Aling waterfall is located in Jl. Raya Desa Sambangan, Sukasada, Buleleng regency, Bali 81161.