Savana Tianyar
Entrance Fee: Donation
Opening Hours: Open 24 Hours
Telp. Number: -
Address: Jl. Segara Agung, Tianyar, Kubu, Karangasem , Bali , Indonesia , 80853.
The beach is probably the first thing that comes to mind about Bali. But how about Savana? Well, Bali is not popular for its savanna but this one would be a pity to miss. So bring on some hats and sunblock, because it's time to explore a hidden gem in the east of Bali, Savana Tianyar.
Savana Tianyar is another bucket list worth visiting in the Karangasem region. Unlike any other tourist site with falls and beaches, tourists will get an exotic view of the unfolding meadow with the background of the great Mount Agung. This hidden gem spot is gaining more popularity, especially after Tomorrow X Together (TXT), a popular South Korean boyband, made their music video here!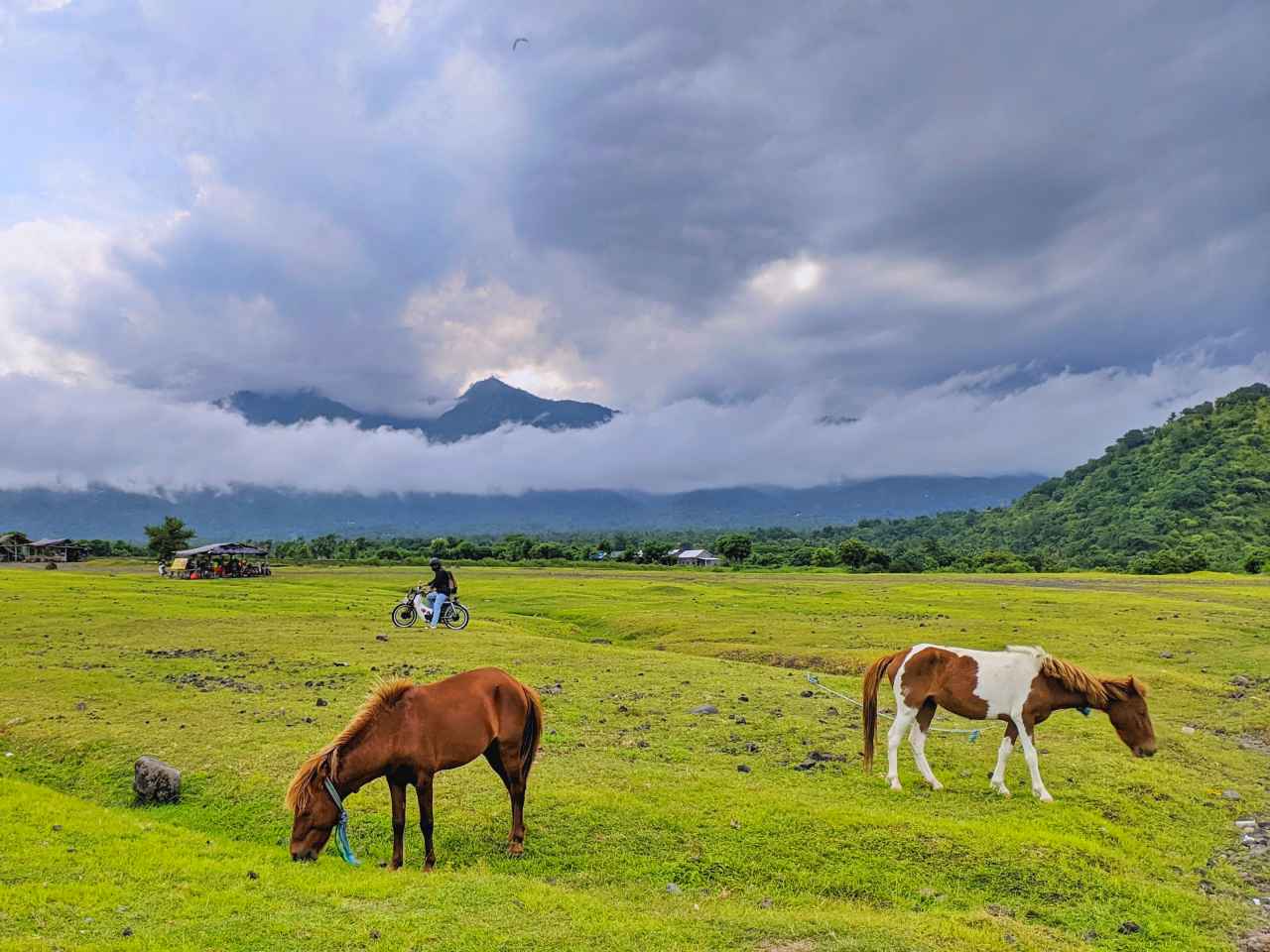 Savana Tianyar Entrance Fee
Due to a lack of proper management from officials, there is no entrance fee to enter Savana Tianyar. However, sometimes tourists are expected to give donations. The entrance gate is a bit hidden and the signage to the destination is poor. However, as the place gained more popularity, locals start to run warungs and toilets nearby. There are also some spots to rest and relax in the shade.
Savana Tianyar Entrance Fee
Ticket
Donation
See: Amed Beach, Entrance Ticket & Top Activities.
Savana Tianyar Opening Hours
Savanna Tianyar is open all day. However, it is recommended to visit during the dry season for the golden fields. It has a higher chance of having a clear sky and better viewing as well. The dry season in Indonesia is usually around May to September. The best time to visit Savanna Tianyar is early in the morning. After 9 AM the place is getting too hot to stay around. Don't forget to use thick sunblock, hats, and loose cloth for a comfy experience.
Savana Tianyar Opening Hours
Every day
Open 24 Hours
See: Mount Batur Sunrise Trekking, Guide & Ticket.
Changing Meadow
Before visiting the place, check on the calendar first. Savana Tianyar has two completely different faces, depending on the season. During the rainy season, this place has an evergreen scenery. The hills and mountains are covered with lush vegetation.
However, in the dry season, this carpet of grass will scorch to dry, leaving the dreamy Swiss-like picturesque into an African savanna. This is when tourists can find the true showstopper of Savana Tianyar, a perfect panorama of a widespread golden meadow.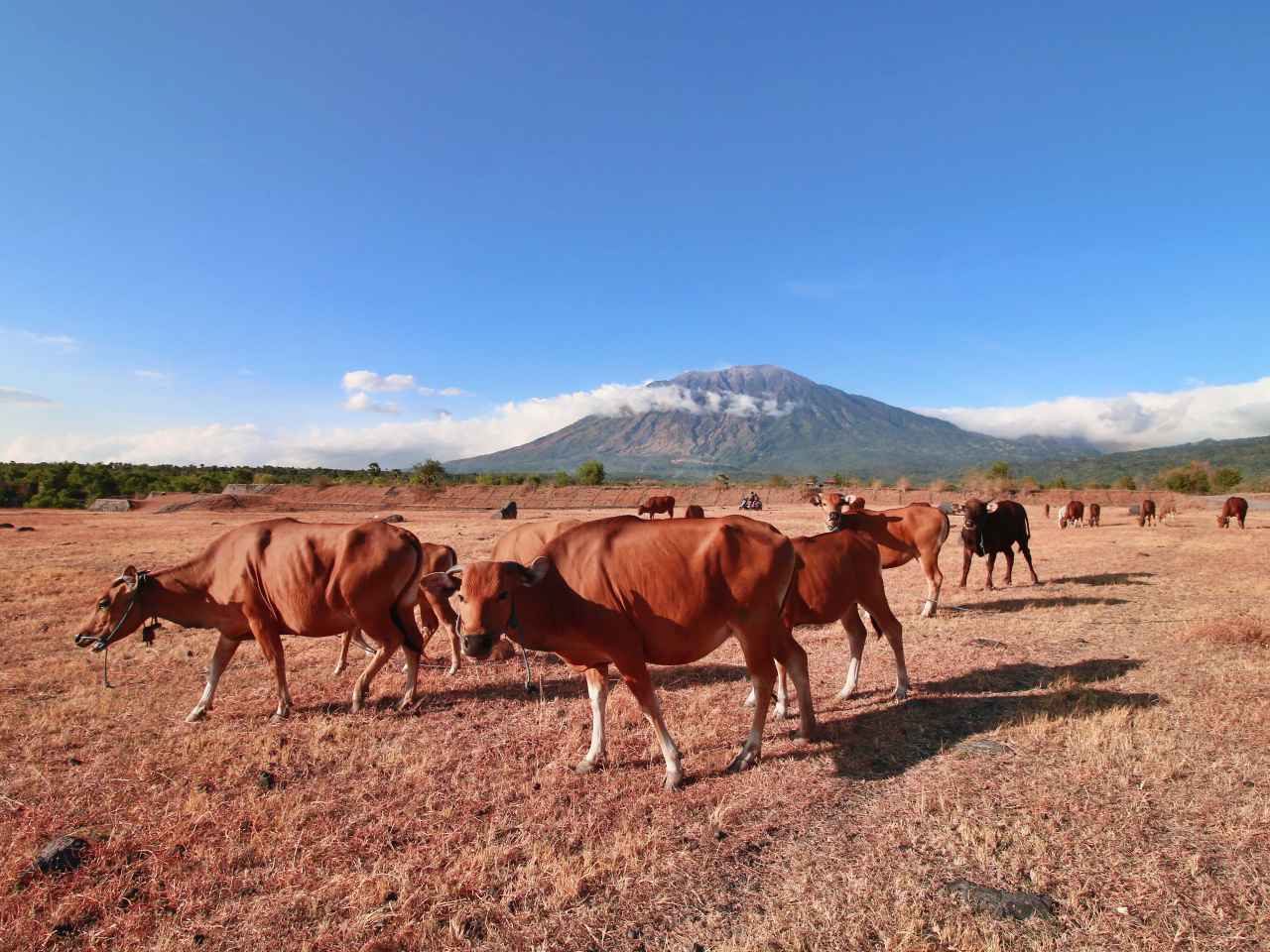 Unlike in Africa or most savanna sites, no wild animals roaming around Savana Tianyar. Hence, it is considerably safe for tourist with family and kids who wants to explore or set up a camp. However, tourists can find some cows and goats belonging to the locals, especially during the rainy season when the grass is green.
If lucky, tourists can also spot some horses. There is no place to rent or ride the horses since most of them belong to the locals. But still, visitors are allowed to take pictures from a safe distance.
Camping
Have some unforgettable moments by setting up a camper van in Savana Tianyar. Enjoy the panoramic Mount Agung over the horizon while having a picnic with friends and family. In the morning when the sun is not too hot, flying kites in this wide-open area is a good option as well. That is what local children usually play around here.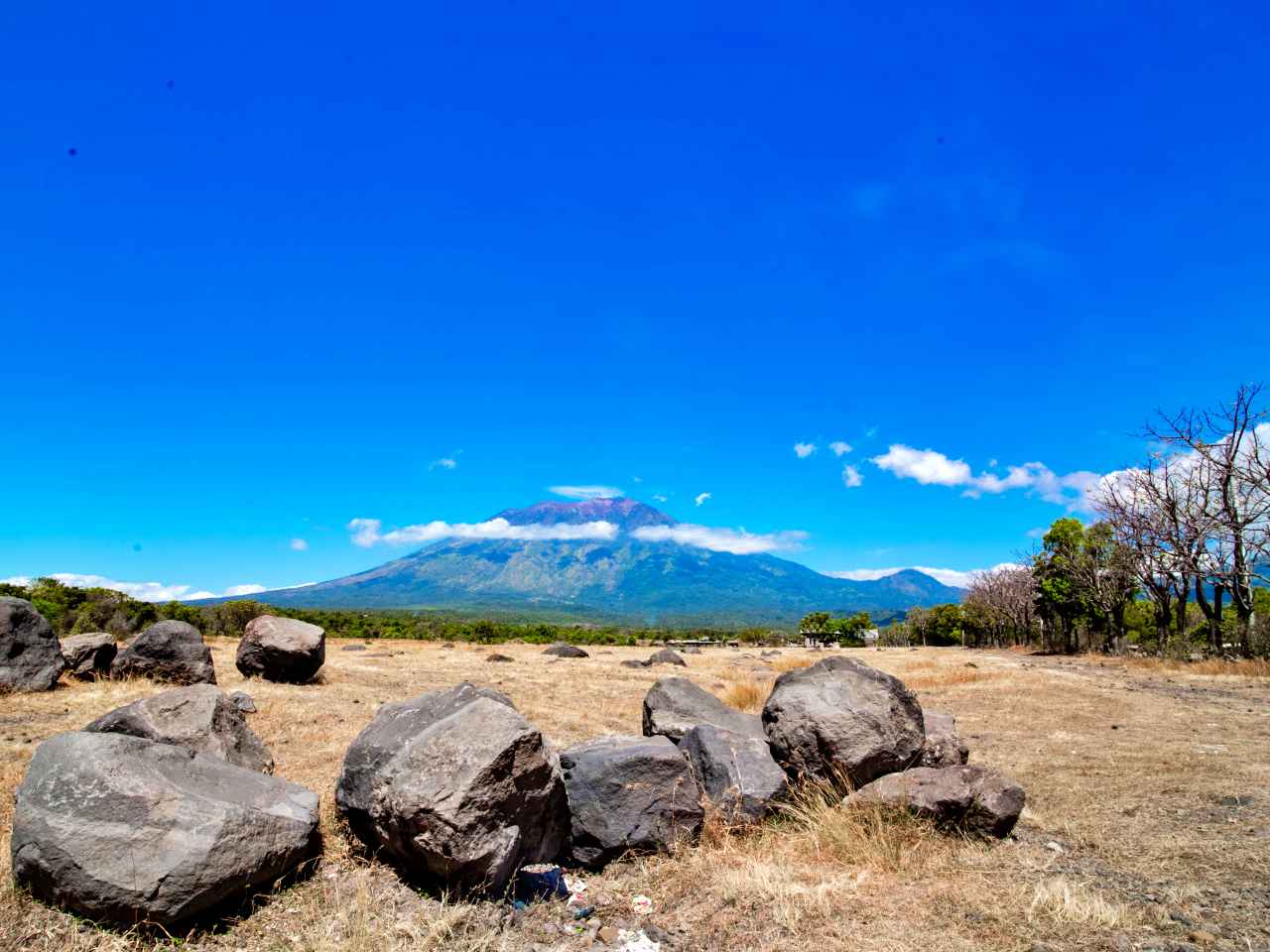 There are also some wooden swings provided for tourists to play. Savana Tianyar is the best place for sunrise and sunset seeing. The beaming sunrays behind Mount Agung surely cannot be missed. After dark, the stars are scattered all over the clear sky.
Undoubtedly, Savana Tianyar is best for taking a picture so bringing a camera is a must. People coming to Savana Tianyar are likely here for photoshoots, from panoramic photography, and prewedding pictures, to worldwide K-pop stars' music-video shoots.
Posing in front of horses and a mountain, with unfolding golden grass as far as the eye could see is definitely 10/10 Instagram-worthy!
See: Gate of Heaven, Lempuyang Temple Guide & Ticket.
Facilities
For visitors who don't want to spend a night camping in the savanna, there are plenty of inns and villas around Tianyar Beach. The beach is located on the main road just 3 km from this spot. The room rates vary from Rp300.000 to Rp1.000.000 per night. Small warungs are available on the spot selling food and beverages. Some warungs even have toilets with proper running water.
See: Bali Airport Ngurah Rai International Airport Guide
How To Get To Savana Tianyar
The road to get to Savana Tianyar is not easy. Make sure the vehicle is in good shape. It's quite a distance to get here from Amed or from Lovina. The path is bumpy and unpaved. There is no public transportation to get here. So it leaves tourists with the option either to rent a car or a scooter.
A day's rent for a scooter range between Rp70.000 to Rp120.000 depending on the type. However, driving a scooter to get here might be tough. From the main path, the road getting here is narrow, and steep with gravel. On the other hand, it's a bit tricky to get here as there is no road sign to Savanna Tianyar. Someway along the road the signal is poor, so better come with preparation.
Savana Tianyar's location is close to gravel mining. Along the road, there will be trucks parking and loading gravel. There are a few routes to get here, but the most convenient one is by following the main road next to the beach, Jl. Kubu. From the main road Jl. Kubu it takes another 3 km to get to Savana Tianyar.
See: Tourists SIM Card, Where To Buy, and Internet Package Price.
Address & Location
Savana Tianyar is located in Jl. Segara Agung, Tianyar, Kubu, Karangasem Regency, Bali 80853. From Amed, it takes almost an hour to get here.