Mount Batur Entrance Fee: Rp100.000 Opening Hours: Open 24 Hours Telp. Number: - Address: Batur Selatan, South Batur , Kintamani , Bangli, Bali, Indonesia , Bali 80652.
Mount Batur is one of the most popular hiking spots in Bali. Located in Batur village, Kintamani, it is known for its remarkable caldera. This site is even acknowledged by UNESCO as part of the Global Geopark Network.
Sunrise sighting is the main attraction of this active volcano. Therefore, in order to arrive at the summit before sunrise, trekkers should start to hike before dawn. Even though most of the pathways are clearly obvious. Hiking in the pitch dark without any experience can be dangerous.
Thus, for safety reasons, it is better to go in a group or hire a guide. Luckily the hikers association on the mountain base also provides tour guides and packages for tourists.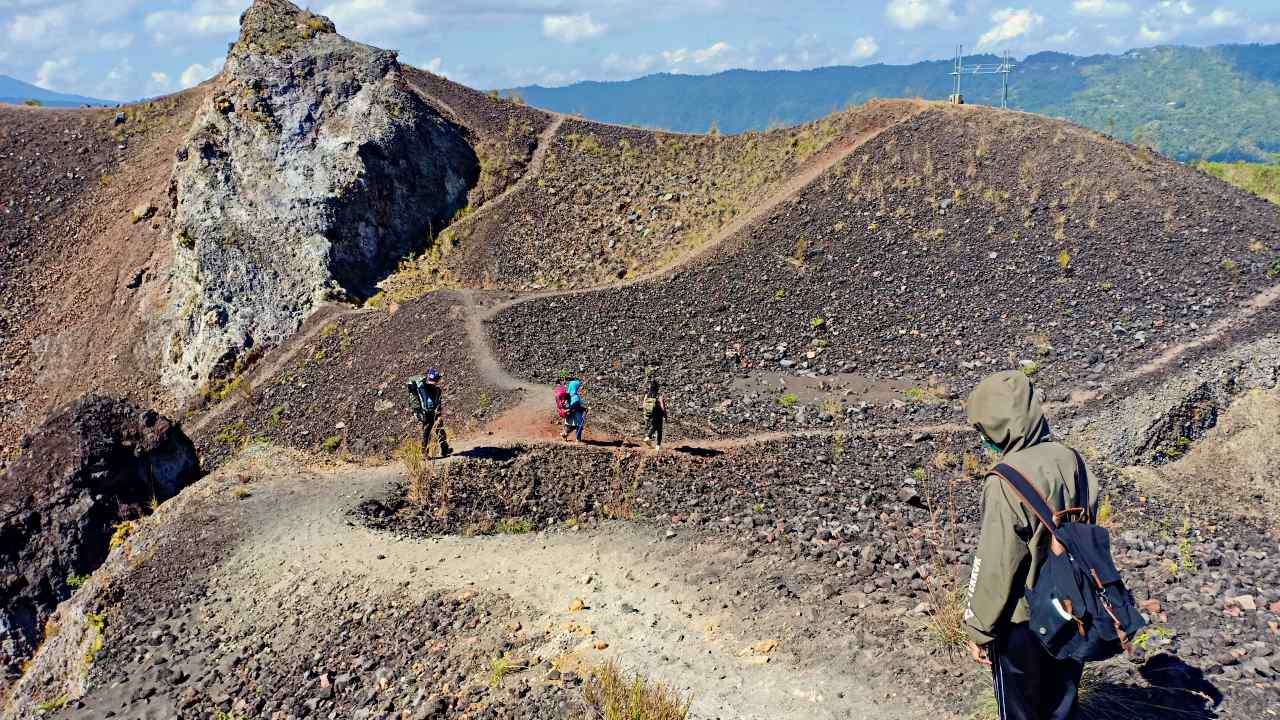 Mount Batur Entrance Fee
There is actually no official entrance fee to hike Mount Batur. However, tourists will get stopped and charged Rp100.000 each for retribution. And that is not all. Tourists coming without a tour guide will be forced to use a guide to get to the top.
See: Lake Batur Attraction Spot & Guide. 
Best Time To Hike Mount Batur
Plan the trip during dry months (April to October) before the rainy season for a better view. The rainy season is not ideal for hiking because the path will be more troublesome. It takes 2 to 3 hours to the top for average people without any experience.
Most hikers start the trip at 3 to 4 AM in order to catch the sunrise. Therefore, it might be ideal to stay a night near the area before the hike.
Best Time To Hike Mount Batur
Dry Season
April – October
Nearby : Batur Natural Hotspring, Activities & Entrance Fee.
Mount Batur Difficulty
Mount Batur is only 1.717 meters high, which is relatively not that high compared to other mountains in Bali. Like Mount Agung, 3.031 m and Mount Abang 2.152 masl. Mount Batur's difficulty is considered moderate. The hiking trail is still pretty challenging. Especially for first-timer hikers, it's not going to be easy as the hikers claim.
The trek would start with little elevation, a clear path, and shady trees. But it gets rockier and steeper along the way. Near the top, the landscape will start to change into sandy layers with less vegetation. Therefore, proper hiking shoes and poles will definitely help with the walking trail.
Since the trip usually starts before dawn, make sure to bring a headlamp or torchlight. A windbreaker jacket will also help since the temperature could drop to 12ºC. And make sure to bring enough water. There will be local people upstairs selling snacks and water. But the price is a mountain price.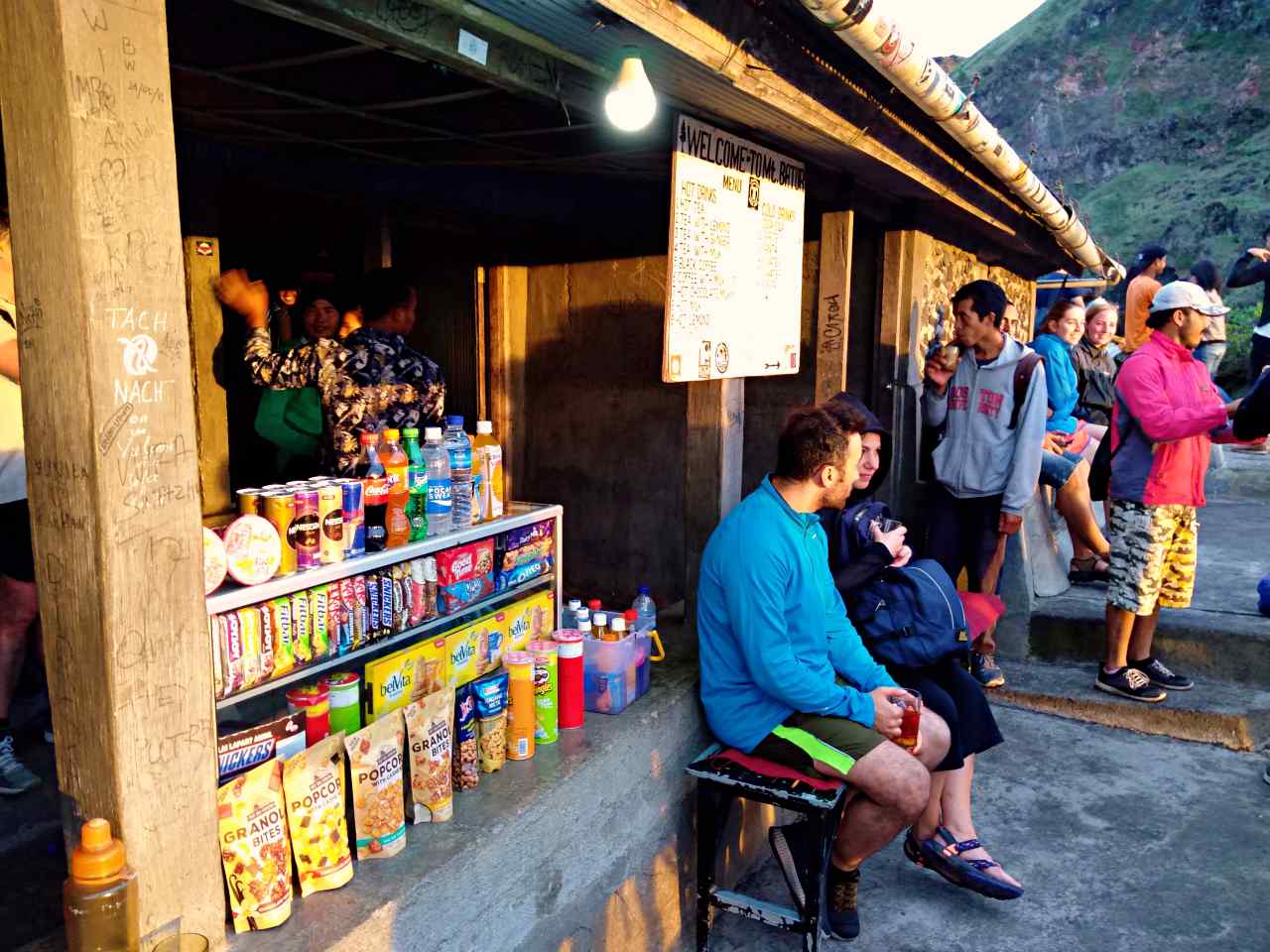 Starting Point & First Check Point
There are 2 different starting points to get to the summit. The first one is through Toya Bungkah, the trail is right behind the temple. And compared to another starting point, this is the shortest one. The other is located near Pura Jati.
After 1.5 to 3 hours of constant hiking, hikers will arrive at the first checkpoint. This spot is always crowded with other fellow hikers who rest and wait for the sun to rise. It is not the highest summit of Mount Batur but already has a magnificent landscape to offer.
Along with the rising sun, witness Mount Abang, Mount Agung, and Lake Batur from here. The journey is not the end though. Hikers can go down near the crater area as well. As Mount Batur is still an active volcano, it's easy to spot hot steams from vents around.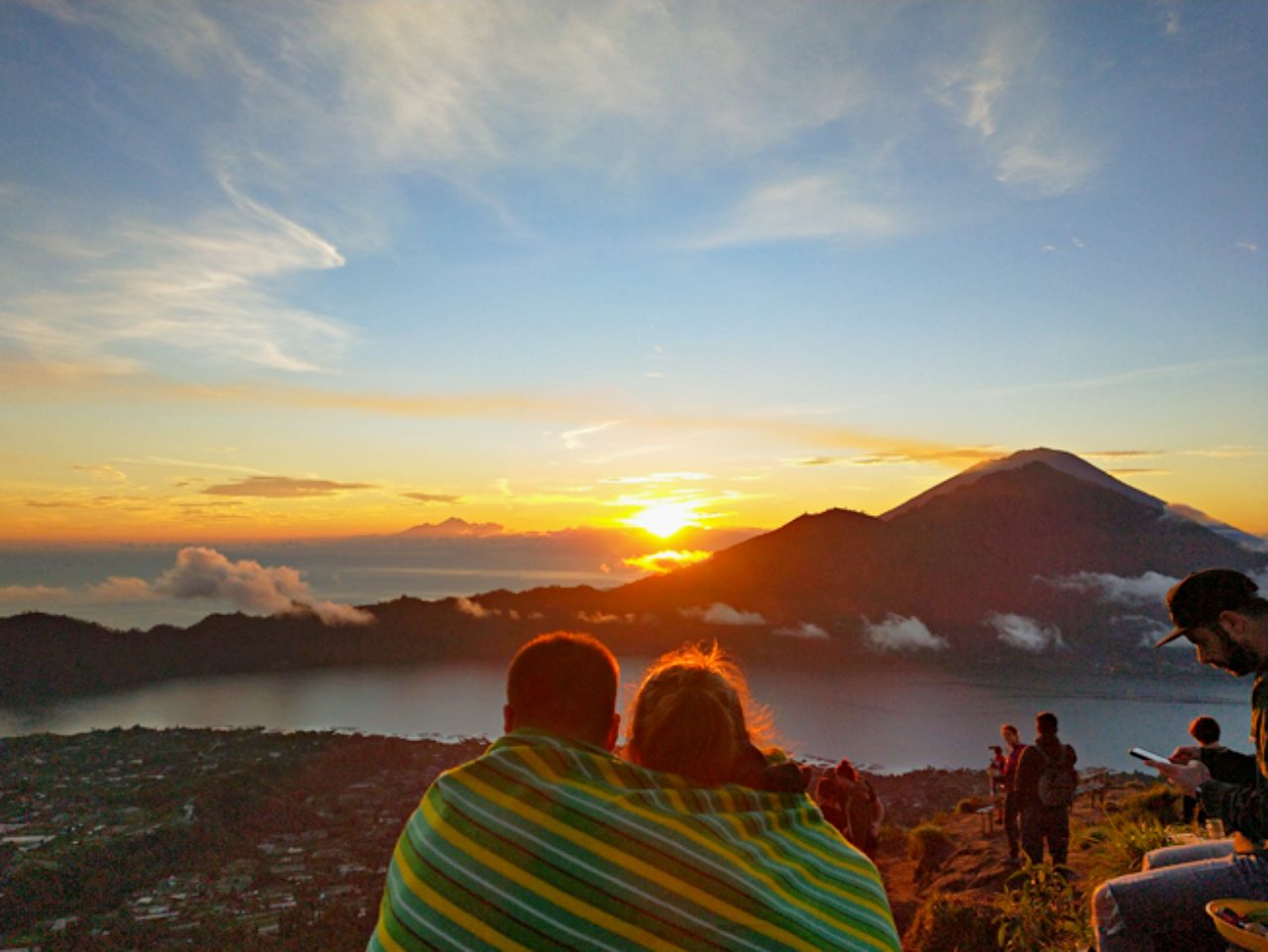 Interestingly, guides like to demonstrate a unique way to cook breakfast. They dig a hole near hot steam, put an egg inside, and cover it with grass. After a few minutes, the egg will be cooked and ready to serve. And that will be everyone's breakfast at the top.
The Highest Summit
The pathways to the summit will get harder than before. The summit is about another 40-minute to 1-hour hike. And the whole terrain is mainly steep and narrow. At the last 4 to 5 km, the path will be more slippery and sandy due to volcanic ash.
The hardship, however, will be paid off by the breathtaking view from the summit. Pick a safe spot to sit a rest. Take a sip from a hot drink, and enjoy the stretch of hills and slopes from above.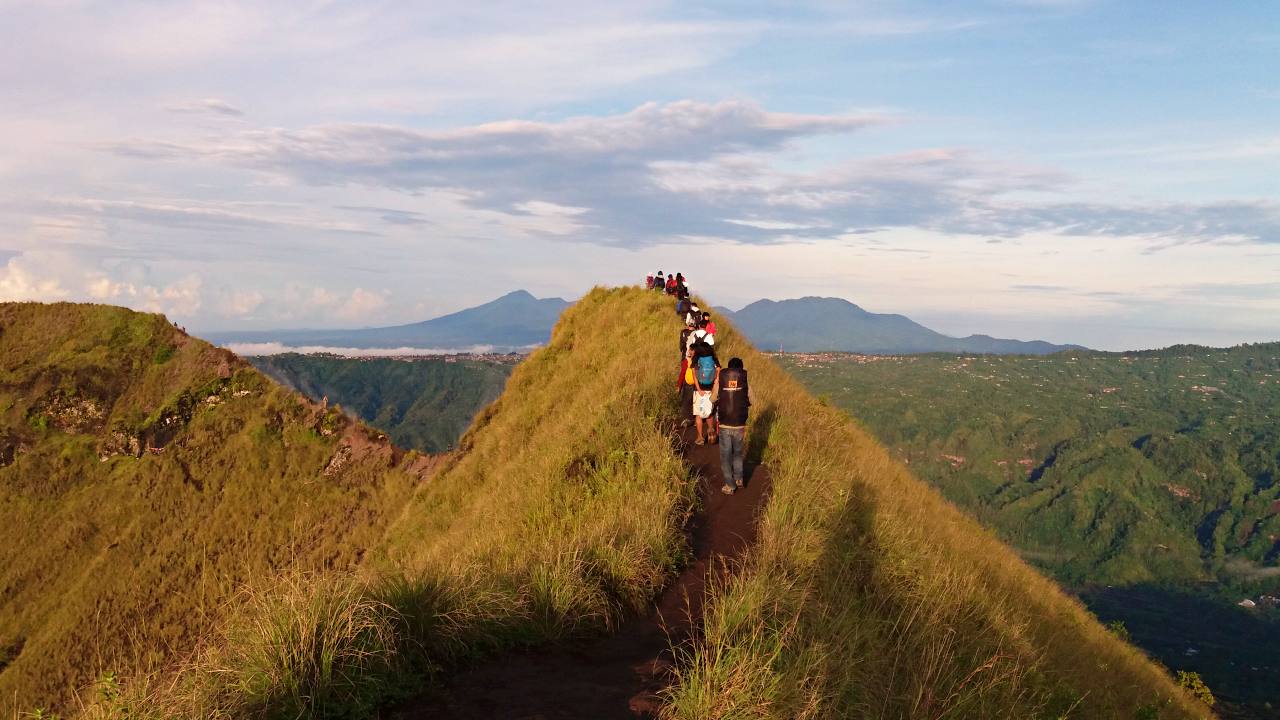 It's also normal to encounter wild monkeys and Kintamani dogs here. They might be friendly but be careful with monkeys because they like to steal hiker's food.
The journey to get down is also challenging. It takes the same amount of time to get down from the summit. In total, it will take 4 to 5 hours for a roundtrip.
Lake Batur
Another popular spot around the mountain is Lake Batur. This lake is located about 1.050m above sea level, in the secondary caldera at the base of the mountain. The lake has a crescent shape, 16 km wide, and about 50km deep. Nature-wise, Lake Batur is serene and surrounded by hills and trees.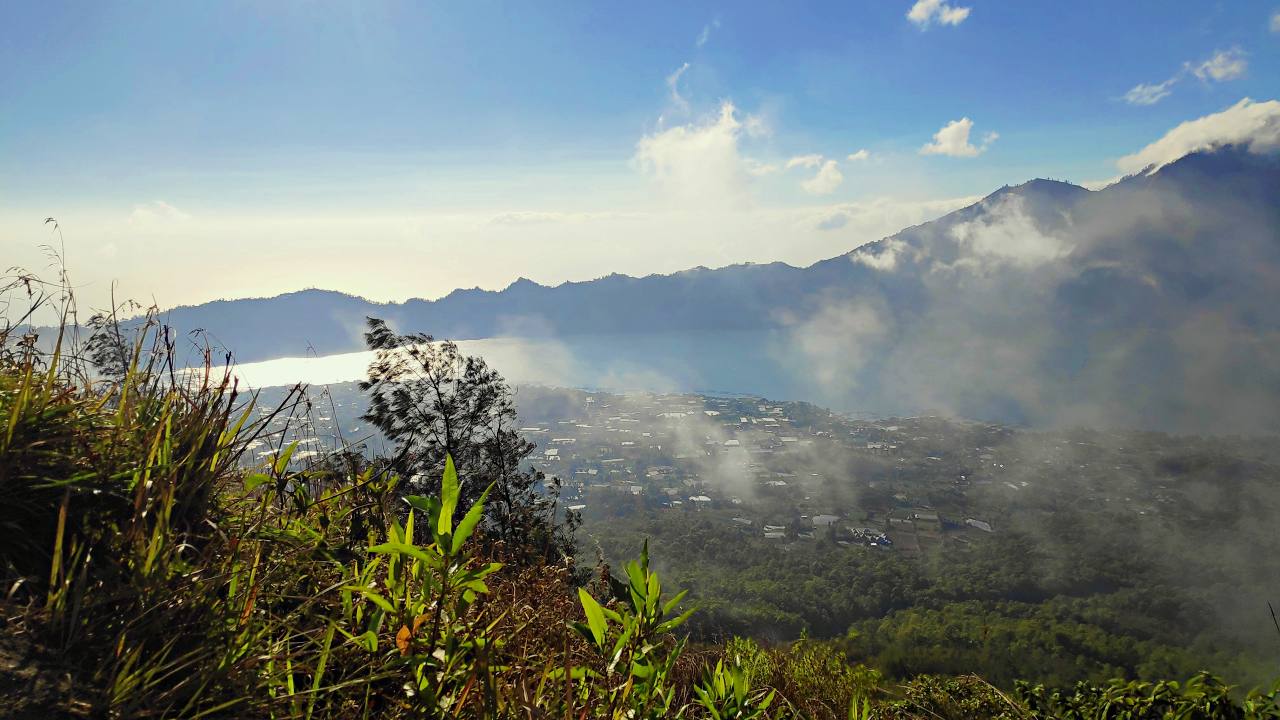 On the way go back, hikers could stop at natural hot springs near the lake. Have some rest and take a dip in hot water here. There are also floating restaurants and geopark museums located nearby.
Luwak Coffee Plantation
While staying at Kintamani, why don't visit the Luwak coffee plantation? Luwak coffee or civet cat coffee is the most expensive coffee in the world due to its uncommon method. At this site, people will get to see the process and even try different types of coffee and herbal tea as well.
See: Bali Airport Guide & Airport Transfer to Tourist Area.
Facilities
The only restroom around the hiking route is located at the base, so make sure to have a toilet break before the trip begins. Prepare small notes for about Rp5.000 to use the toilet. At the first checkpoint, there will be lots of small kiosks and locals selling instant noodles, sweet corn, and hot drinks.
There are plenty of hotels and guesthouses around the area, especially near Lake Batur. One of the nearest hotels is about 500 meters from the lake. Some hotels provide hot spring pools with lake views. There are also coffee shops and seafood restaurants selling local fish from the lake.
See: Tukad Cepung Waterfall Guide & Entrance Fee.
How To Get To Mount Batur
It takes about 2 hours to ride by car from any area in Kuta. And an hour's drive from central Ubud to Mount Batur trekking point.  Expect the windy route because the site will be located in a mountainous area.
There is no direct public route here, but tourists can take the DAMRI bus from Ngurah Rai Airport to Singaraja. The bus only cost Rp35.000 and will make a stop at Kintamani, around Ulun Danu Batur temple. For more convenient trips, tourists can also hire a private driver for about Rp600.000.
See: SIM Card for Tourists, Provider & Internet Package.
Address & Location
Mount Batur is located in Batur Selatan, Kintamani District, Bangli Regency, Bali 80652.