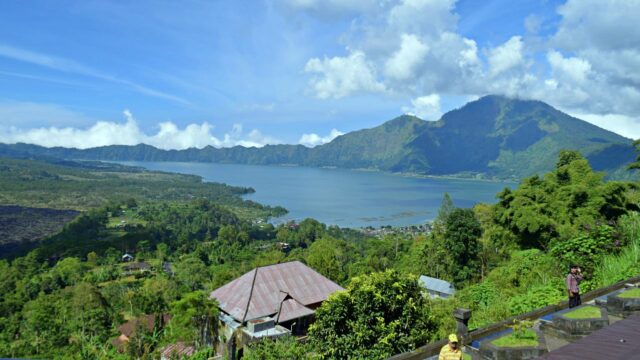 Among all lakes on Bali Island, Lake Batur is not only the largest but also the most popular. It is located at the foot of a mountain with the same name, Mount Batur. The lake has a crescent shape viewed from above. From a height, notice that the whole Batur area is a large caldera with the mountain and the lake inside.
This huge caldera is formed by a series of impressive eruptions started around 23,000 BC. It is said that the old Mount Batur is around 4000 m above the sea level before the eruption happened. The new one, today's Mount Batur, is only 1717 m above the sea level.
Lake Batur itself is a result of old Batur's collapsed magma chamber which then filled by rainwater. The lake, as well as Mount Batur, is a tourist favorite by far. People with a taste of adventure and a penchant for Bali's culture.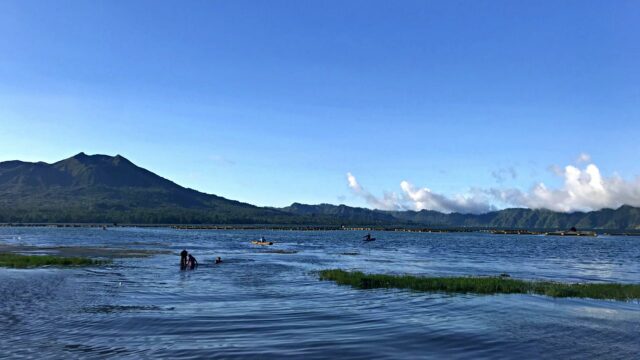 Trekking to Mount Batur also is one of the reasons. Why the outdoor kind of traveler going on a few hours road trip. From the southern side of Bali just to get here. There are several old villages have been thriving for centuries around Batur shore. Most notably are Trunyan Village, a village known for its unusual burial custom.
Lake Batur Landscape
Before going down to the lakeside, stop at Kintamani viewpoint. It is located just before the U-turn heading to Lake Batur. Take several minutes here to enjoy the whole view of Mount Batur and Batur Lake. The vastness of it will take the breath away.
A large body of water surrounded by several mountaintops. Mount Batur and Mount Abang by the other side. The colors are just mesmerizing. A stark contrast of clear blue water and black volcanic sand on the mountainside.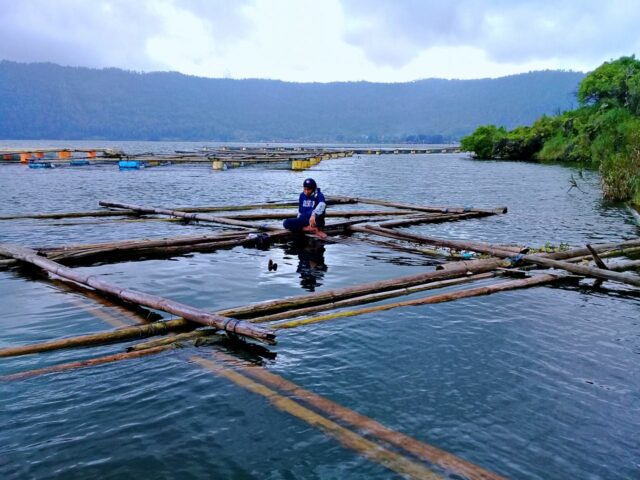 There is also an abundance of green, from the hills and villagers' fields. Enjoy the scenery and also the chilly weather. Take some meditative time before going down to the lakeside.
Boat Ride
A boat ride is a great way to explore the lake. Dip your hand into the freezing water as the driver takes visitors to the best spot around the lake. Spot many fishing nets and rims spread over the lakes. Many villagers in Batur do fishing for livelihoods. By boat, visitors can also see the water temple of Batur, Ulun Danu Batur.
Terunyan Village & Cemetery
A boat ride can drive visitors to the old village Terunyan. Where Bali indigenous tribe lives. The people of Bali Aga or Bali Mula lives across the lake, on Mount Abang side. They retain their own tradition and dialect. They also pride themselves as the original inhabitants of Bali.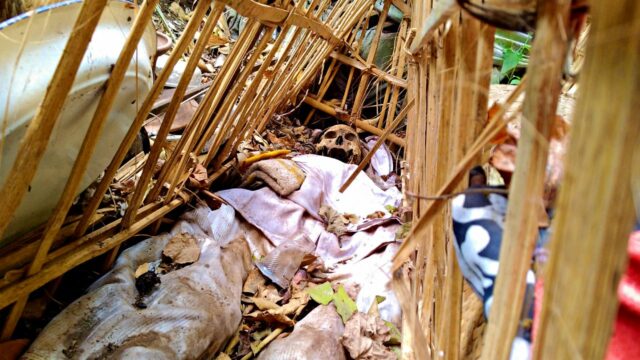 The most peculiar ritual of Terunyan is how they treat dead people here. Visit the famous Terunyan cemetery to find out corpses are laid out above the ground instead of being buried. What's strange is that there is no smell coming from the corpses. The ancient banyan trees "taru menyan" growing in this village. Are said to absorb the smell of decaying bodies.
Hot spring
Batur Natural Hot Spring consists of three pools of hot water overlooking Lake Batur. It's a nice place to dip in especially after trekking Mount Batur. While the hot water soothes the sore limbs. The view of Lake Batur and the surrounding volcanoes is for the sore eyes. To get this view, pick a spot at the infinity pool built closest to the lake.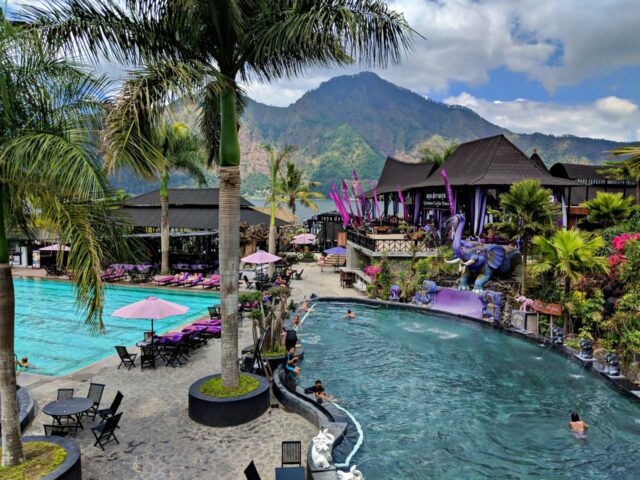 Lakeside Restaurants
Freshwater fishes are the specialty of this region. It will be a shame to leave without trying a dish or two of the Lake Batur fishes. Pick a restaurant with lakeside tables in order to dine with an ultimate view of Batur.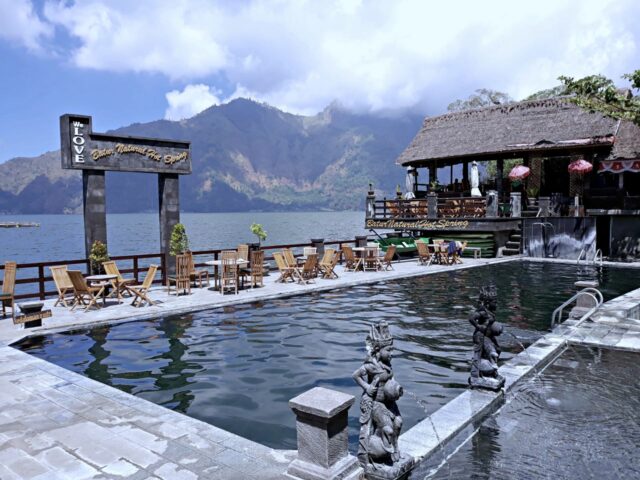 As for the dishes, a grilled fish and warm rice can be a good start. Many restaurants have a buffet style. With only IDR 80k, enjoy up to 15 dishes in one visit – it's quite a deal.
Pura Segara Ulun Danu Batur
Not to be mistaken with Lake Beratan's Ulun Danu Temple, Pura Segara Batur is the water temple of Lake Batur. The temple is only a small compound consisting of one pagoda meru. However, it still offers the same amazing view as in Beratan.
And definitely serene ambiance, since it is much quieter. Stroll around its ground and feel how holy and serene the atmosphere here, while the lake and the mountains add up to the overall ambiance.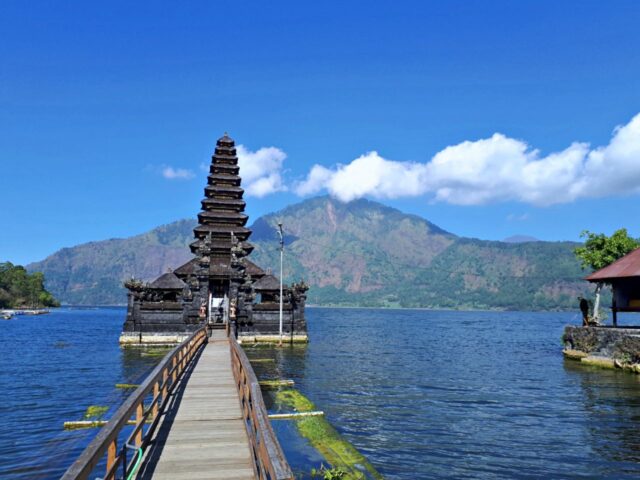 Lake Batur Opening Hours
Lake Batur is accessible by visitors all day. The operational hours for Batur Natural Hot Spring is from 7 AM to 7 PM.
Lake Batur Opening Hours
Every day except Nyepi
Open 24 Hours
Batur Hot Spring
07:00 – 19:00
See: Ulun Danu Batur Temple Tips & Guide
Lake Batur Entrance Fee
Just like every tourist spot in Bali. Foreign will have to pay 2 times higher than the local. Entrance fee to Lake Batur cost Rp30.000. While Batur Natural Hot Spring ticket is Rp190.000/visitor. A boat ride is IDR 750k per trip and can be shared up to 10 passengers. At Trunyan Village, prepare a small donation of Rp10.000 upon entering.
Lake Batur Entrance Fee
Children & Adult
Rp30.000
See: Penglipuran Village & Sacred Bamboo Forest, Activities & Guide.
Facilities
Accommodations near Batur Lake are generally affordable, with rates start around IDR 200k/ night. Several upscale hotels are also available by the lakeside. Restaurants can be found practically everywhere. However, prepare cash since in the village, some don't accept cards as payment and there isn't any ATM nearby.
See: Prepaid Indonesian SIM Card, Price & Data Package
How To Get To Lake Batur
From Denpasar, it takes around two hours to get to Batur viewpoint at Bangli. It takes another half an hour to go down the winding road to the villages near the shore. Many tourists opt for a rental car to get around the area (rent is IDR 700k/day). Some dare themselves to ride a scooter from Denpasar.
A motorcycle provides more flexibility and is cheaper (around IDR 65k/day). However, drive carefully as the road has quite a traffic full of vehicles especially tourists buses. The route to Lake Batur is relatively easy. There are several routes. The most popular is the Kuta – Ngurah Rai Bypass – Ubud – Tampaksiring – Kintamani.