Pura Mengening
Entrance Fee: Rp30.000
Opening Hours: 09:00 - 17:00
Telp. Number: -
Address: Jl. Tirta No. 25M, Sareseda, Tampaksiring, Gianyar, Bali , Indonesia , 80552.
Pura Mengening or Mengening Temple is located in Saraseda, Tampaksiring. The village is also the home to Tirta Empul and Gunung Kawi Temple. Between these three sites, Mengening and Tirta Empul Temple have the same character. Both have a holy water spring and are famous as a place to perform Melukat ceremony. Pura Mengening, however, was built in the 11th century while Pura Tirta Empul is in the 10th century.
The pool in Pura Mengening is smaller compared to Pura Tirta Empul. The area is not as vast as Tirta Empul because it is located between hills. Hence, making the site less popular than Tirta Empul Temple. Despite being humble in size, Pura Mengening has its own charm. The spot offers more tranquility as it's more than a local spot, not a touristy one.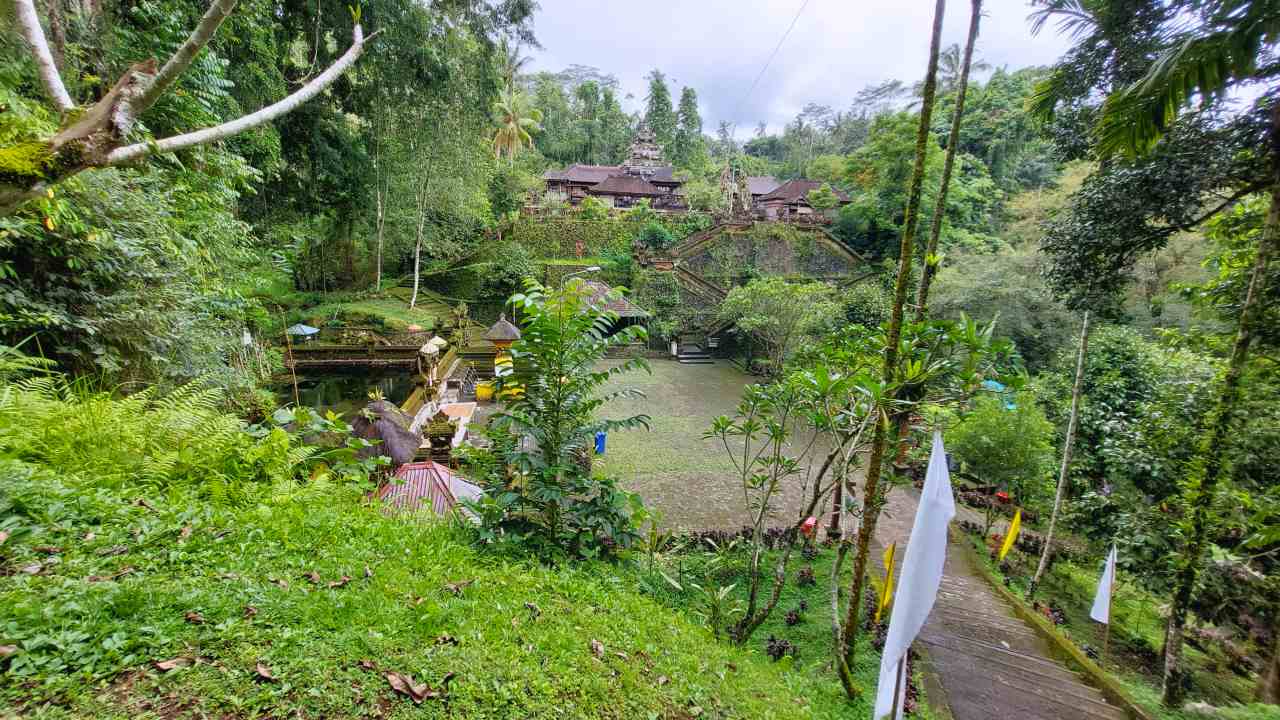 Pura Mengening Temple Entrance Fee
The entrance fee to explore the temple is Rp30.000 for international tourists. The fee already includes the sarong rental. However, tourists are welcome to donate more in the donation box. There is no place to rent towels, so make sure to bring one and change clothes. For visitors who intend to perform Melukat ceremony, there is a guide on duty in the temple that will explain how to do the ritual.
Nearby: Guide To Explore Gunung Kawi Temple & Entrance Ticket.
Pura Mengening Opening Hours
Pura Mengening is open all day from 9 AM to 5 PM. It is best to visit during the weekday to avoid lineups. As this temple is a place where locals perform Melukat ceremony. During the full moon, the temple will be packed with locals. Women on a period are not allowed to enter the temple, so pick the time to visit Pura Mengening wisely.
Pura Mengening Temple Opening Hours
Every day
09:00 – 17:00
Nearby: Tirta Empul Temple Attractions & Top Things To Do.
Holy Springs
Pura Mengening was established in the Pakerisan River's valley. Besides being used as a religious ritual, the river is significant for locals because it runs into many paddy fields nearby.
There are 12 Tirtas, or holy water springs, in Pura Mengening. Each of them has its own purpose. For example, Tirta Sudamala and Tirta Telaga Waja are meant for Melukat rituals while Titra Dedari, Tirta Melea, and Tirta Angkosa are more for beauty purposes. Tourists can find the information board of the Pura Mengening Tirta to learn more about the site.
The water from the holy springs flows into two bathing pools, where visitors perform Melukat. The pools are divided into two sections, for men and women. The pool is quite small compared to the one in Tirta Empul Temple. Nevertheless, it holds its own beauty and virtue.  There is also a small waterfall and a huge Banyan Tree nearby, adding a sacred atmosphere surrounding Puri Mengening.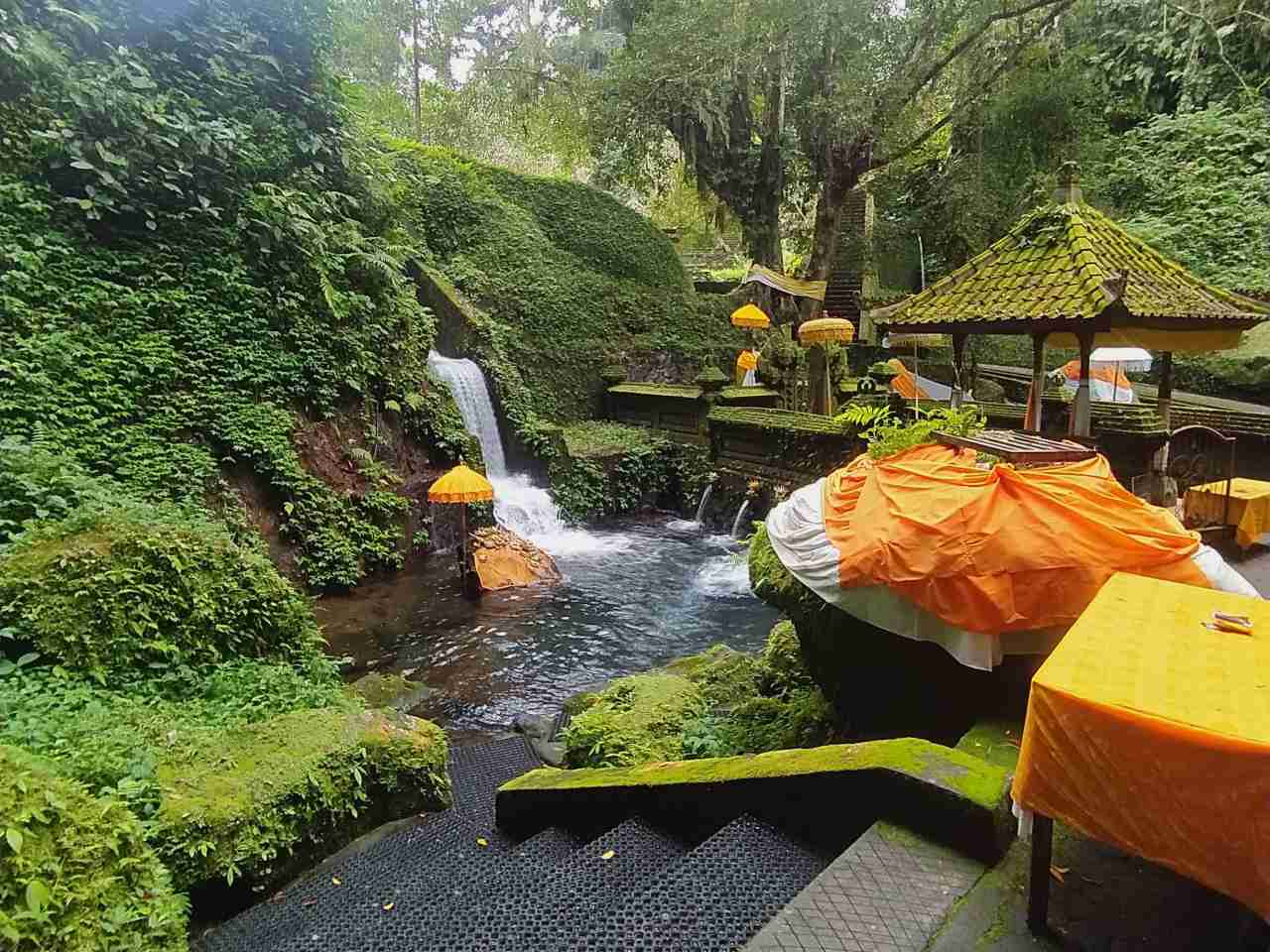 Melukat Purification Rituals
The relationship between Balinese rituals and water cannot be separated. They believe water is a force of life. That is why most Balinese ceremonies use water in their ritual, including Melukat. Melukat is a traditional Balinese ritual to purify souls and bodies. The ceremony is usually held in a river, waterfall, and beach.
Puri Mengening is one of the places for locals to do Melukat. They pray in the temples and collect water from the holy springs. They believe that the water from the holy spring has a magic power. It could cure disease, cleanse their body from bad energy even protect them from black magic.
Tourists can participate and perform this ritual as well by following the instruction from Pemangku, or Balinese priest. Before the ceremony, participants will be asked to pray in the temple and give the offering canang sari and dupa. If didn't bring any, the guide here will happily help buy canang. There is a small warung not far from the temple selling it.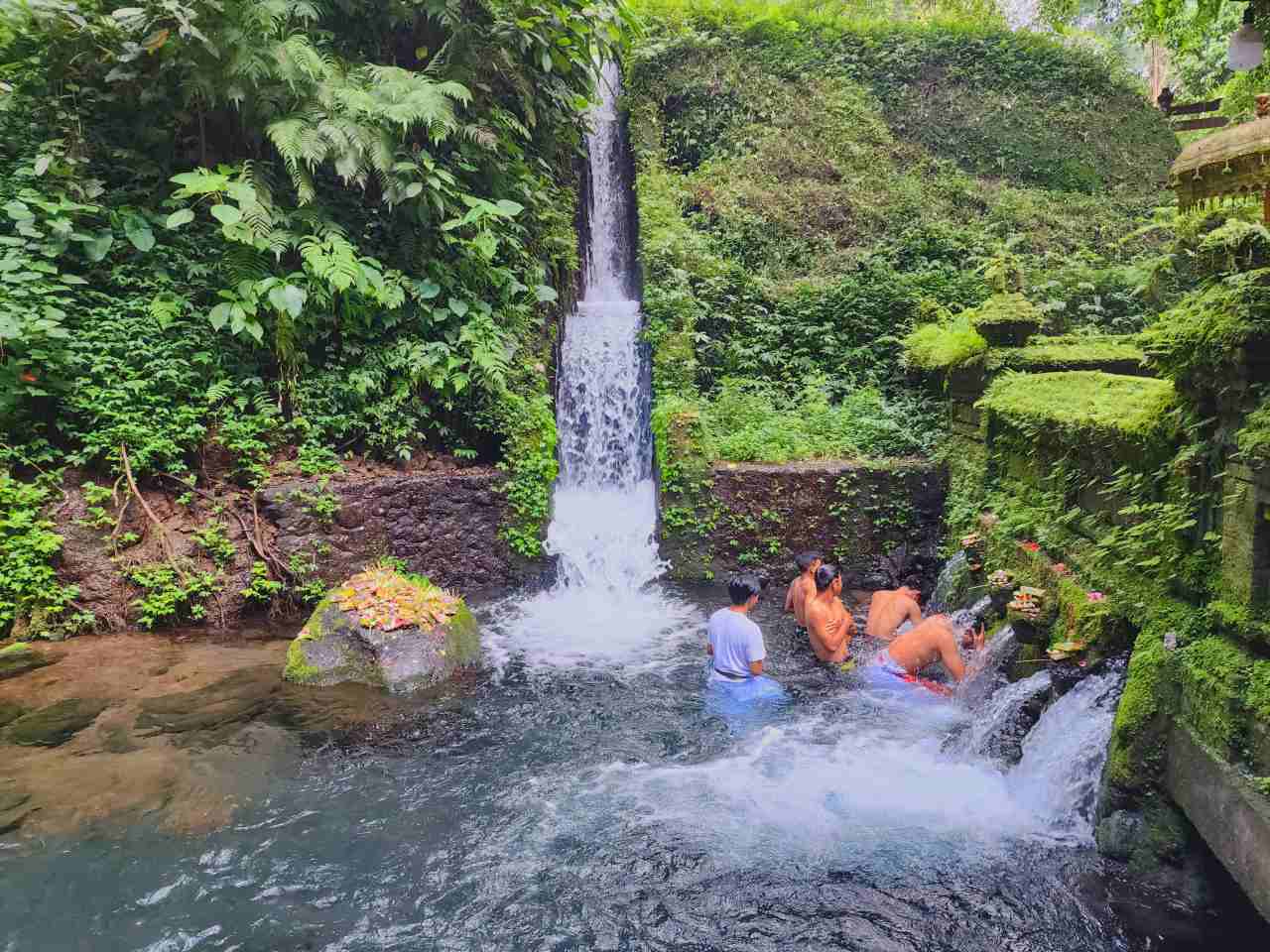 After giving the offers, the priest will then lead the Melukat ceremony in the pools, under the waterfall. After the ceremony, the ritual will end with the priest giving a blessing. It is said that whoever completes Melukat will get cleansed, both physically and spiritually.
Touch of Nature
Besides the spiritual experience, the natural beauty of Pura Mengening has an inviting presence as well. Unlike Tirta Empul temple, Pura Mengening is rarely busy with tourists. Most of the regular visitors are locals who want to pray in the temple. Therefore, Pura Mengening is relatively quiet and peaceful.
Take a walk on the stone road and pass through the beautiful flower garden around the temple. A river stream filled with koi fish with welcome tourists who enter the temple. The pool where people gather to pray and meditate is surrounded by a dense of tropical trees and vines. Every part of Pura Mengening is incredibly soothing. It takes at least 30 minutes to explore the entire site. Some steps are a bit rocky and slippery, but everything is very well-managed.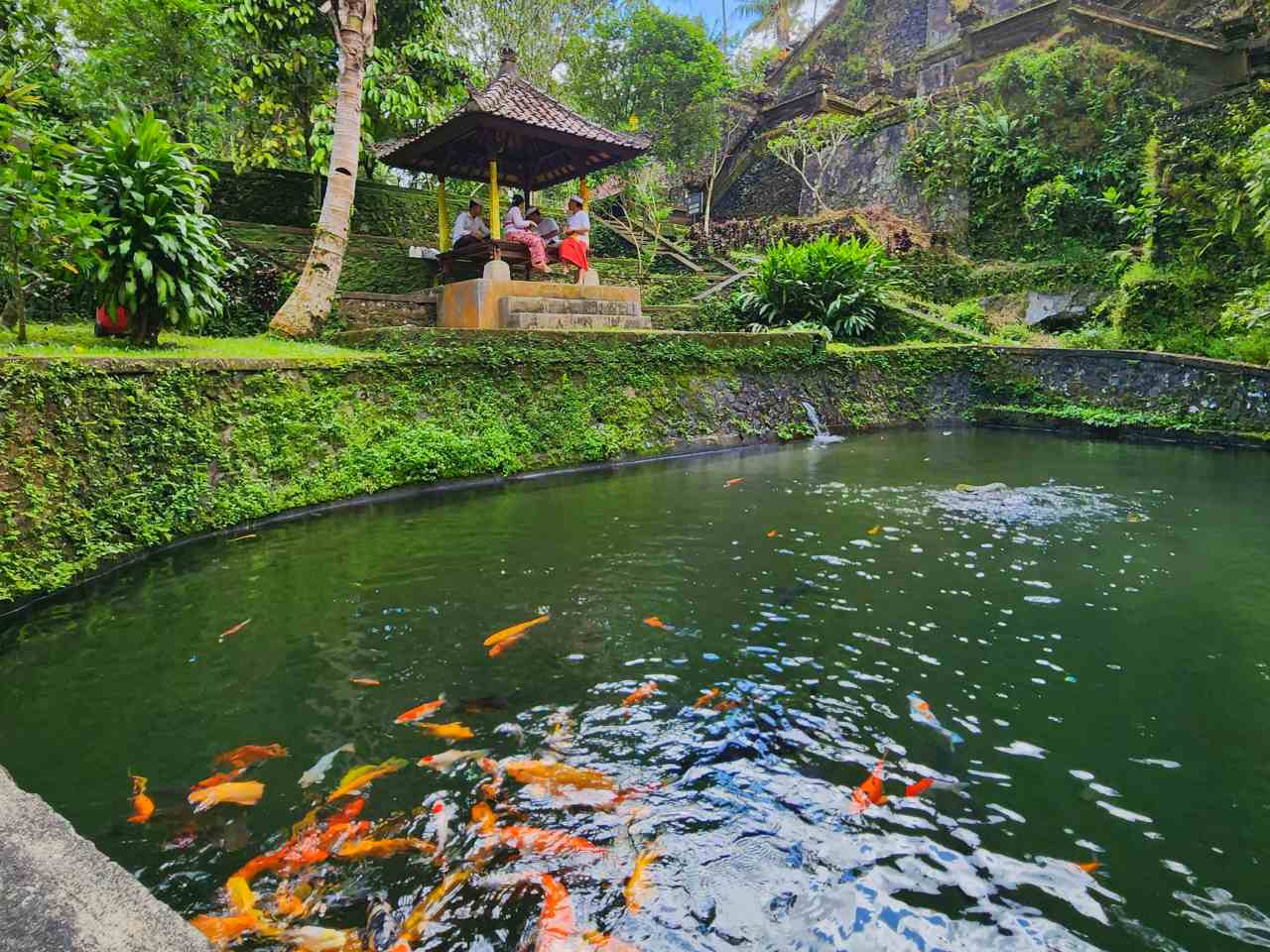 What To Wear
Just like any other sacred place in Bali, visitors must wear appropriate attire to enter the temple site, including covered shoulders and a sarong. No need to worry, because visitors can rent sarong at the entrance gate.
See: Mount Batur Sunrise Guide and Trekking The Volcano.
Facilities
Toilets, changing rooms, and lockers are available on the premises. There are some warungs and souvenir shops near the parking lot as well. The parking area is quite spacious so it's not hard to park vehicles in here.
See: SIM Card, Guide To Buy, Top Up, and Price.
How To Get To Pura Mengening
From Ubud Center, it would take 30 to 40 minutes to get to Mengening Temple. It's possible to book a ride-hail app in Ubud Center as there are many car and motorcycle drivers around Ubud. But going back from the temple to Ubud would be different. As there are no drivers available around the temple. So it's best to rent a car or scooter to get here.
A small car for 4 passengers without a driver rental will range from Rp200.000 to Rp300.000 for a day's rent. While for scooters it ranges from Rp70.000 to Rp120.000. From Ubud, depart from Jl Raya Ubud to Jl Gn Sari. Then turn left to Jl Raya Dr. Ir Sukarno-Jl Raya Pejeng Tampang Siring. Stay on the main road before turning left onto Jl Tirta. Pura Mengening is located between Pura Gunung Kawi and Pura Tirta Empul.
See: Bali Airport Guide, Airport Transfer, and Public Transportation.
Address & Location
Mengening Temple is located in Jl. Tirta No. 25M, Sareseda, Tampaksiring, Gianyar, Bali 80552. The temple is within walking distance from Gunung Kawi Temple and Tirta Empul Temple.