Sangeh Monkey Forest
Entrance Fee: Rp15.000 - Rp30.000
Opening Hours: 08:00 - 17:00 WITA
Telp. Number: -
Address: Jl. Brahmana, Sangeh , Abiansemal , Badung , Bali, Indonesia , 80353.
Monkeys dominate Bali's wildlife. By all means, the creatures are literally everywhere, occupying the beach, temple, and forest. There is 2 monkey forest on the island, the sacred monkey forest in Ubud. And last but not least Sangeh Monkey Forest, which for an unknown reason is one less recognized.
Compare to the one in Ubud, Sangeh monkey forest is not that vast. This spot is a bit off the radar, despite the distance just 30 minutes away from central Ubud. But unlike the popular one in Ubud, Sangeh offers a totally different vibe. Serene ambiance, tall trees growing in neat lines plus fewer crowds.
Sangeh Monkey Forest Highlight
Sangeh is unique because of the nutmeg trees covering most of the area. Historians argue that once upon a time, an ancient community planted those trees deliberately. Since it is impossible for the trees to grow concentrated by themselves in one specific place.
The myth, however, tells a story about walking trees that travel from Bali's Agung Mountain toward the ancient Mengwi Kingdom. It is said that there's no other place in Bali with similar nutmeg trees.
Overall, Sangeh Monkey Forest is a destination for all ages. It has temples with long background history. Small forests and a neat garden on site. And more than 700 monkeys occupy the forest area.
Nature lovers can explore the vegetation living in this forest. History enthusiast will also find Sangeh intriguing, the trees, the monkeys, and the temple each has their own legends intertwined with the others.
Sangeh Monkey Forest Entrance Fee
The ticket price is affordable and considered cheap unlike the one in Ubud. Sangeh Monkey Forest entrance fee is definitely cheaper. For adults, the ticket is Rp30.000 and half the price for children. There's also a small parking fee for tourists coming with their own vehicles.
See: GWK Cultural Park, Dance Performance & Schedule.
Sangeh Monkey Forest Opening Hours
The official opening hour is from 8 AM to 4 PM. And it's open every day seven days a week. However, the temple might close for visitors during religious ceremonies.
Sangeh Monkey Forest Opening Hours
Every day except Nyepi
08:00 – 16:00 WITA
Nearby: Unesco Heritage Site, Guide To Taman Ayun Temple.
Play With Monkeys
Locals consider Sangeh's monkeys sacred. And people believe the animals give them luck and blessings. Though the primate existence is inseparable from a belief that the monkeys are the incarnation of an ancient Princess' soldiers.
The species inhabiting this place is Macaca fascicularis. A type of monkey with a long gray tail. In total, there are more than 700 populations. Visitors could interact with the animals here in several ways. Overall, the monkeys here are tame and familiar with humans after all.
There are shops just outside the ticketing and parking area that sells bananas, peanuts, and sweet potatoes. So that visitors could buy some, feed, and play with the monkeys. Some important things to note, visitors might want to avoid wearing small jewelry. Since it might draw the monkeys to steal them.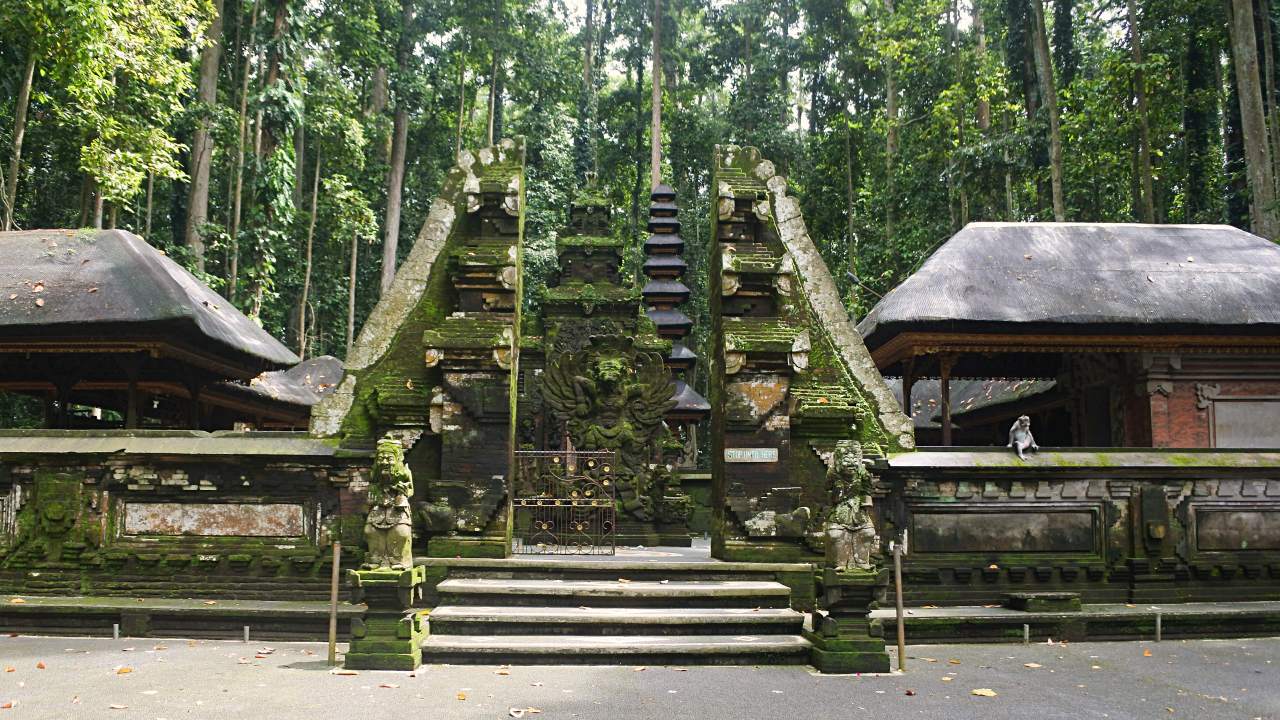 Avoid wearing sunglasses, and be careful when using phones and cameras. It is also important not to harass or annoy the monkeys. If a monkey happens to steal, lure them with food. In exchange to retrieve the belonging back, or ask the guide for help.
Hundred Years Old Nutmeg Trees
Sangeh Monkey Forest area covers 14 hectares of a homogeneous protected forest. It consists of mainly nutmeg trees as tall as 50 meters. And it's been around for hundreds of years old. Locals believe that these nutmeg trees cannot grow in other places in Bali except in Sangeh.
The myth says about the trees that have been moving to different places but had to stop in this place because the locals saw them. The word Sangeh comes from this legend after all. The word "Sa" means people and "Ngeh" means "seeing".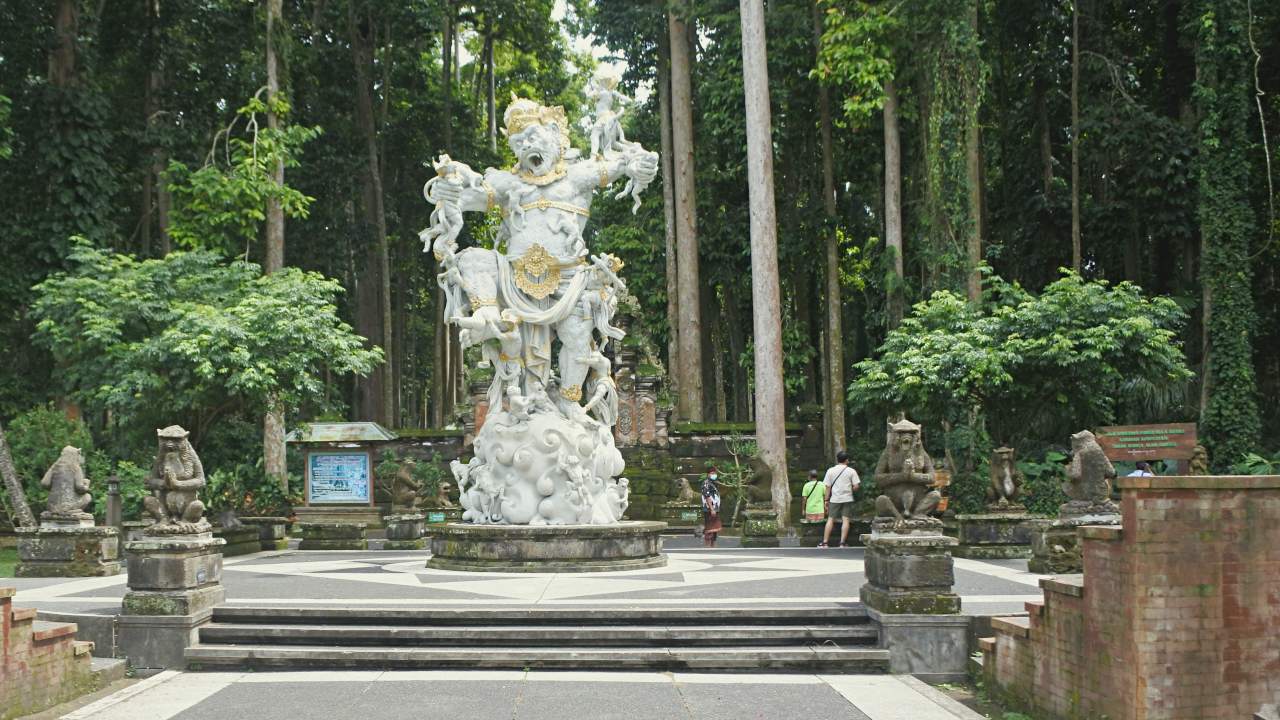 Apart from the nutmeg trees, there are 54 other varieties of plants here for botany enthusiasts to enjoy. Among them are Sandpaper (Tetracera scadens), Buni tree (Antidesma bunius), Cempaka tree (Michelia camphaka).
Sangeh Monkey Forest is also home to a unique tree with trunks resembling both men's and women's genitalia. Local calls this tree "Lanang Wadon" (Lanang means man while Wadon means woman). This tree is also one of the unique sights of Sangeh.
Temples and Statues
Sangeh Monkey Forest is also known for its temples and statues. These ancient structures are almost as old as the forest itself. There are two Hindu Temples (Pura), the biggest one is called Pura Bukit Sari (Bukit Sari Temple) and the smaller one is called Pura Melanting.
Bukit Sari temple is built during the era of the ancient Kingdom Mengwi in the 17th century and is situated in the center of the Sangeh Forest. Up until now, both are still well maintain and serve as a worship place for locals living around the area.
A giant statue of Kumbakarna, attacked by dozens of monkeys, will greet visitors at the entrance to the temple area. And it gives more perspective to the temple's history, as the giant sculpture is a well-known character in Hindu mythology.
Another statue right at the temple's gate is the Garuda statue. To point out, Garuda is a mythical bird serving as a ride for one of the Hindu Gods, Wisnu. Green moss covers most parts of these statues, making them look even more mystical.
See: Culinary Spot, Jimbaran Fish Market & Seafood Feast.
Facilities
Sangeh Monkey Forest provides basic facilities like bathrooms and spacious parking spaces. There is a guide service available on the spot to assist visitors, show them around, and explore the forest. There are also souvenir shops selling merchandise. Among other stalls selling food for visitors and some snacks for feeding the monkeys.
Primeval, dramatic, and lush. That is all to say about the Sangeh monkey forest. And to make it even more interesting, there is also a Balinese costume rental on the spot. Dress in one of the Balinese costumes and strike a perfect pose. An additional fee applies for the costume and photoshoot though. The information center is available near the gate should tourists need assistance.
See: Prepaid SIM Card Bali, Price & Providers.
How To Get To Sangeh Monkey Forest
Sangeh is relatively not far from central Ubud. It is only 15 Km with a travel duration of around 30 minutes. Sangeh Monkey Forest is also close to Pura Taman Ayun, a scenic temple, and a world heritage site.
However, until now, there is no public transportation that heads to the site. The options for tourists are limited to renting a private vehicle with a driver or self-drive to get to the site. Despite the availability of drivers from ride-hail apps in Bali is many. Unfortunately, ordering one from the Sangeh Monkey Forest might be difficult. As there aren't many drivers around the area.
Rental vehicles with drivers in Bali range from Rp450.000 to Rp600.000. It depends on the vehicle type and duration. While for renting a scooter, a day's rent usually costs Rp50.000 to Rp100.000. Again, it depends on the vehicle type.
See: Bali Airport Guide, Public Transportation & Airport Transfer.
Address & Location
The forest is located right in Jl. Brahmana, Sangeh, Abiansemal, Kabupaten Badung, Bali 80353.