Jimbaran Fish Market
Entrance Fee: Free Entry
Opening Hours: 06:00 - 21:00
Telp. Number: -
Address: Jl. Pantai Kedonganan, Kedonganan , Kuta , Badung , Bali, Indonesia , 80361.
The locals call it Kedonganan Traditional Fish Market. But tourists know it by another name. Among travelers, it declares as Jimbaran Fish Market. And between other markets downtown, Kedongan is definitely one of the busiest wet markets. Exploring the market might give an essential Balinese experience for tourists looking for an insight into the locals' daily life.
Jimbaran Fish Market is a hub where both locals and tourists get to buy seafood caught by local fishermen. Every morning brightly colored boats would come into the nearby harbor to unload their haul. Seafood of every kind is available. Buyers just need to come as early as possible to get the freshest catch.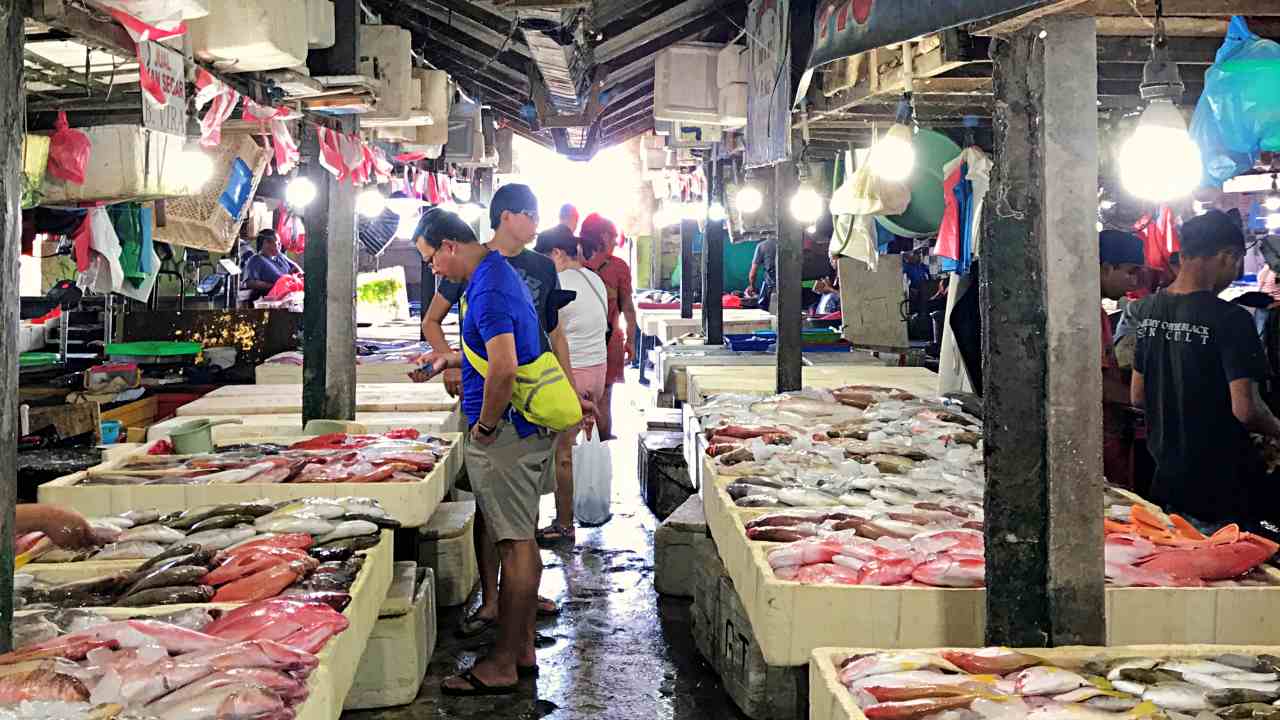 Too late to buy it firsthand? worry not. The seafood unloaded in the morning can be found in the stalls inside the market. There is however one small snag. Vendors inside the market will sell it at a slightly higher price. Trying to make a little profit. However, buyers are still welcome to haggle. It's the art of going to a traditional market, after all.
Seafood Abound
The main selling point of Jimbaran Fish Market is people can buy the freshest seafood for cheap. Compared to eating seafood at a fancy restaurant, buying it here is definitely a steal. The price will differ depending on the vendors. So stroll around and look for the best price.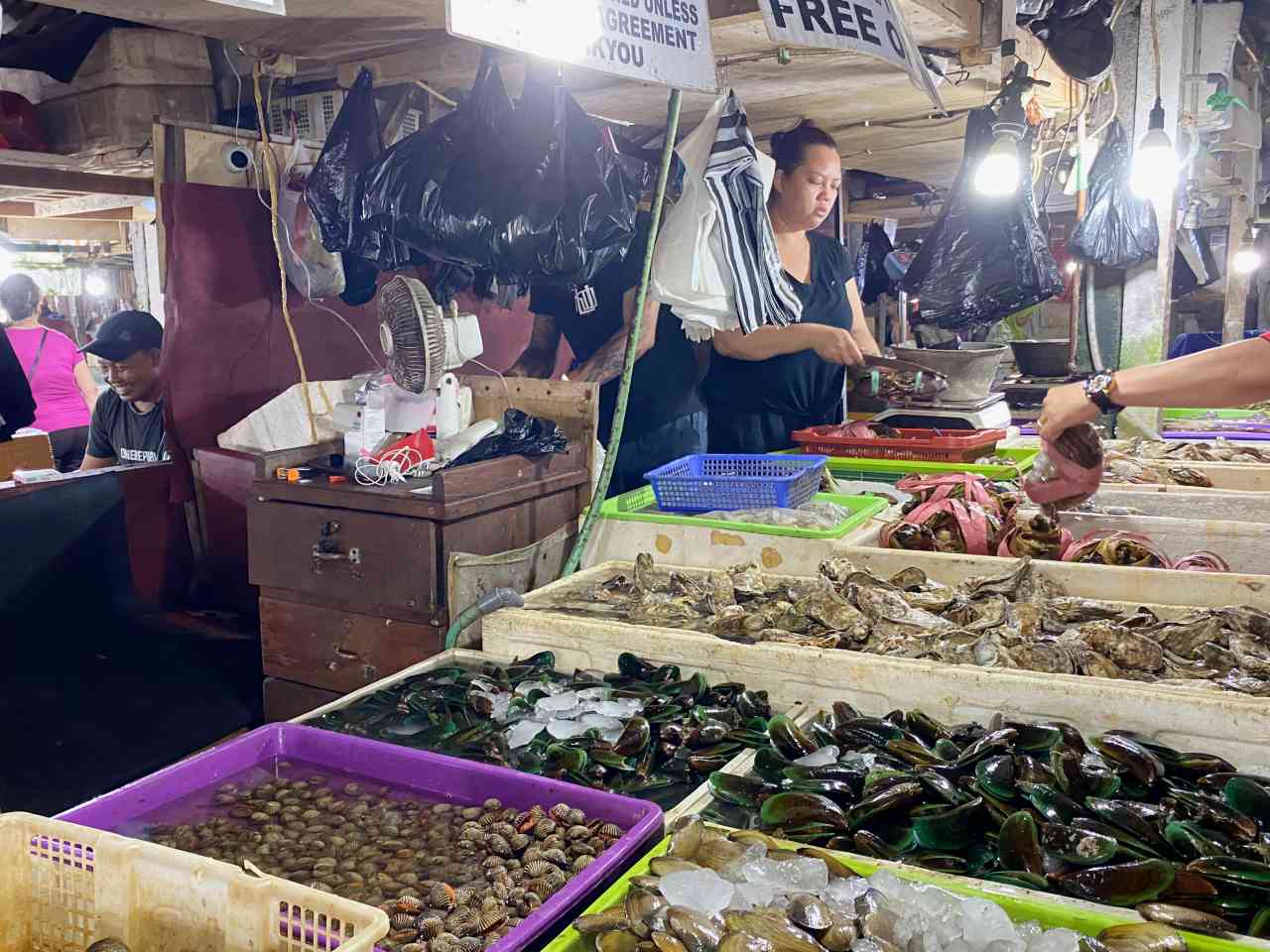 The price for fresh fish starts from Rp55.000 to Rp85.000 for 1 kg. Among the many kinds of fish in this market, the most sought-after is the red snapper. It's not a surprise though, considering there are so many ways to cook this white fish. It couldn't go wrong and the meat tastes sweet too.
Be sure to check the freshness of the seafood before buying it. For fresh fish, for example, it is best to choose fish with eyes that still look clear. The body should still look shiny, the gill bursting in red or pink color. And lastly, the fish should still smell like fresh ocean water.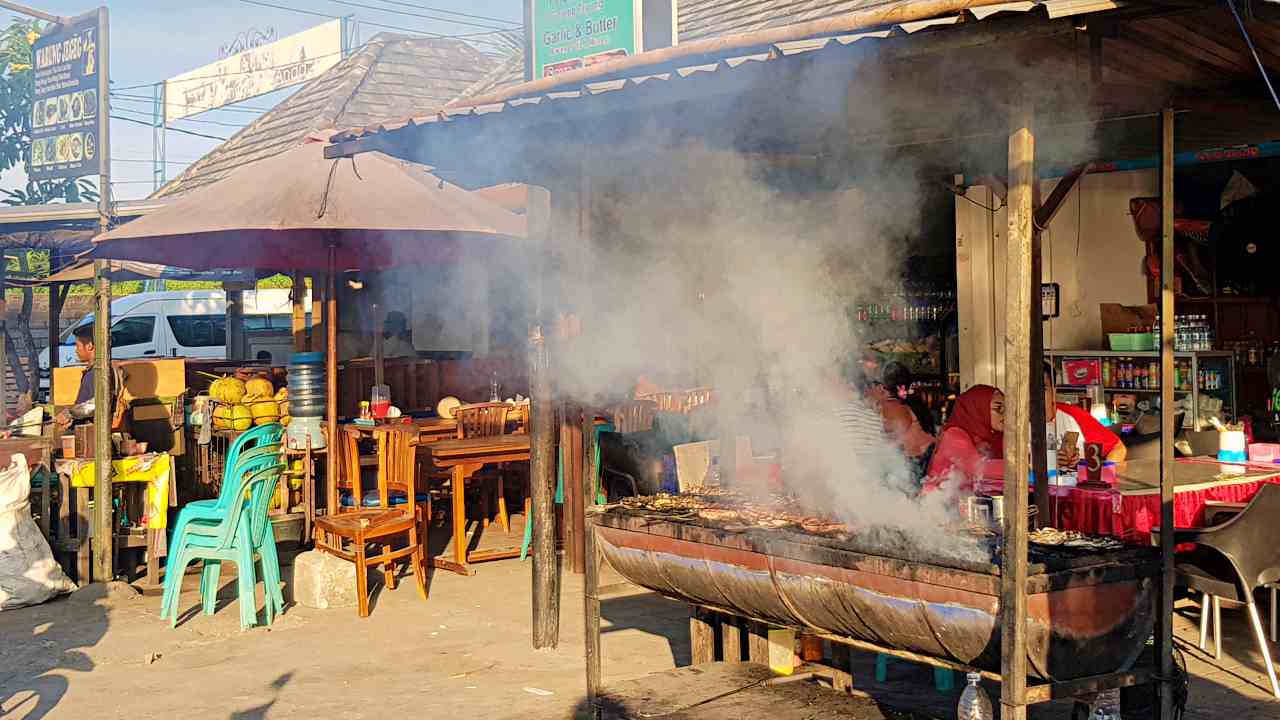 Other than fresh fish, this market also sells lobsters, crabs, prawns, scallops, and squids. The priciest lobsters are sold at Rp400.000/kg. For freshly caught crabs can go up to Rp120.000 for 1 kilogram.
The prawns will go around Rp140.000 and squids at Rp60.000 to Rp75.000/kg. Lastly, visitors can buy scallops and clamp with price ranging from Rp30.000 to Rp60.000/kg.
See: Tegal Wangi Beach, Activities & Sea Temple.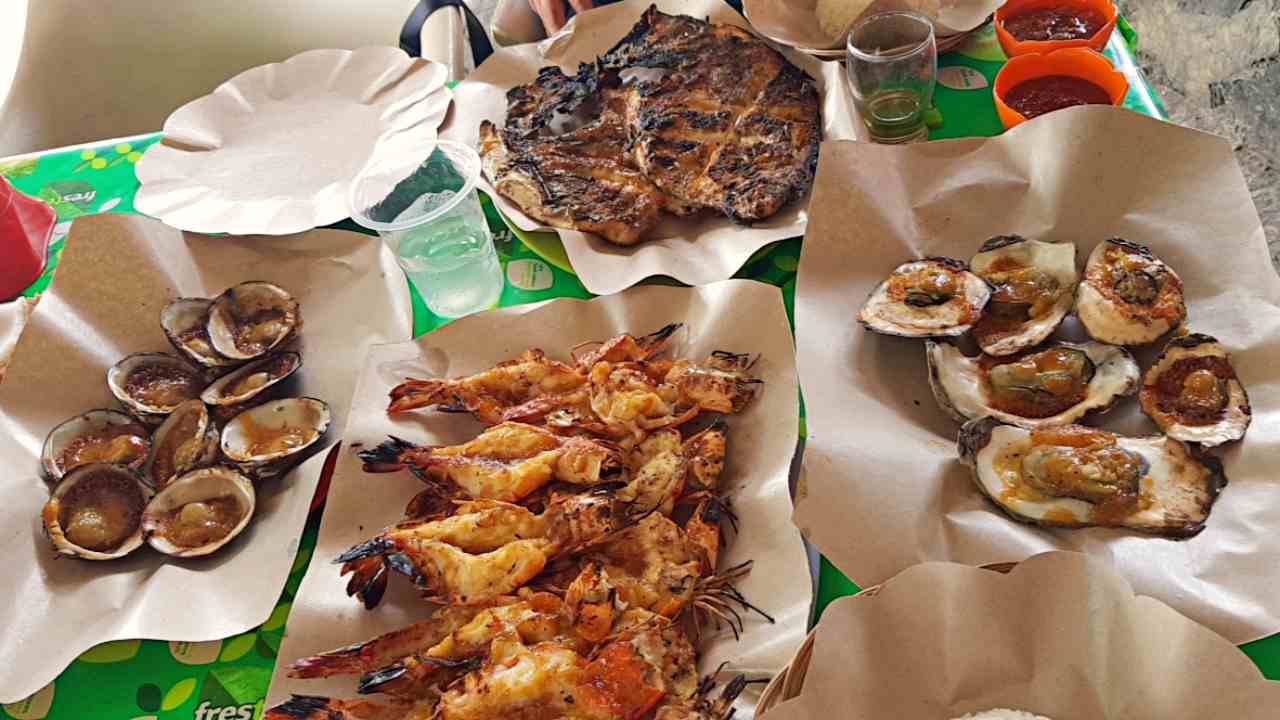 Jimbaran Fish Market Culinary Spot
The advantage of buying fresh catch in this market is buyers could eat it right away. Around the market, there are stalls and beach-view restaurants that could turn it into a dish for a fee. Just walk around, pick one of the vendors, give the fish, and wait while drinking some refreshments.
The prices set by the vendors depend on the weight of the seafood and the way of cooking it. For grilling, every 1 kg of seafood range from Rp15.000 to Rp25.000. For frying or boiling, it is slightly pricier at Rp30.000/kg.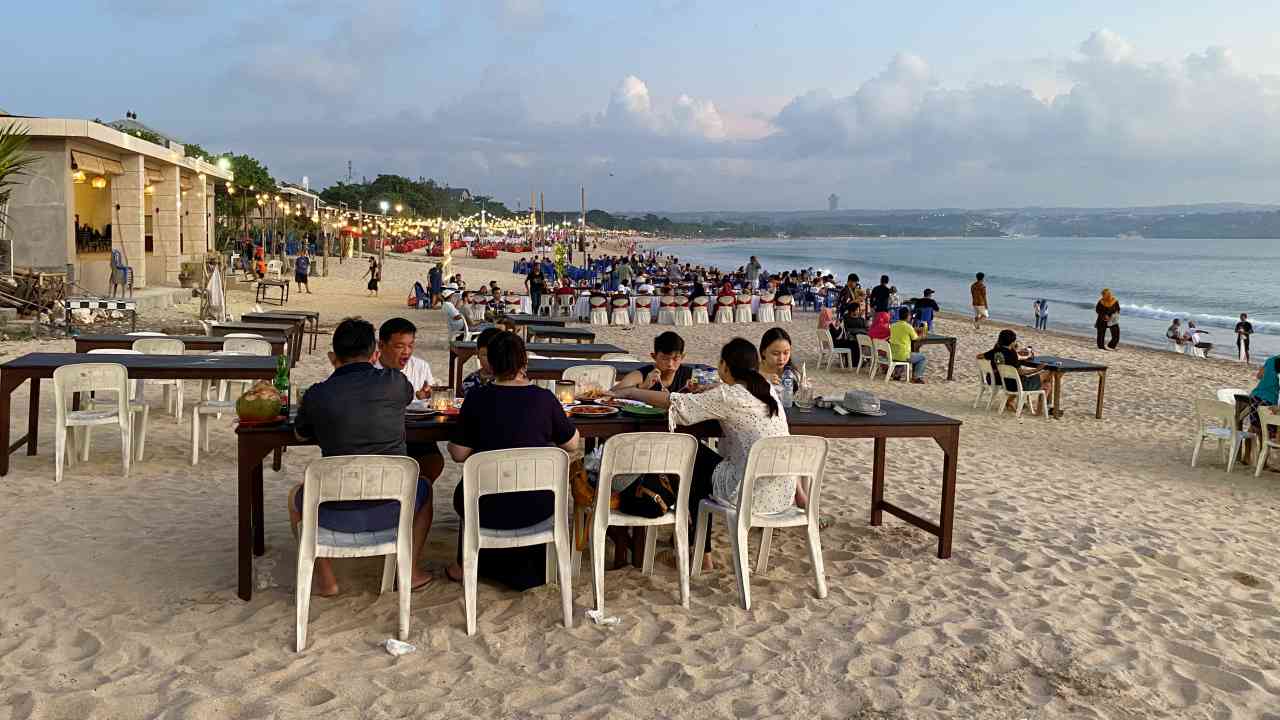 Along with the seafood, customers could order steamed rice and vegetable dish. The grilling fee already includes sambal that will be served alongside the grilled seafood. For refreshments, the option varies from mineral water, and coconut water to cold beer.
See: Jimbaran Beach, Seafood Dining Spot & Watersport.
Spice and Fish Market
While Jimbaran fish market is heaven for seafood lovers. It didn't stop there. Some tours arranged by hotels in the Nusa Dua and Jimbaran areas will make a stop here. As part of the cooking class highlight. There is this market tour that includes exploring Jimbaran Fish Market.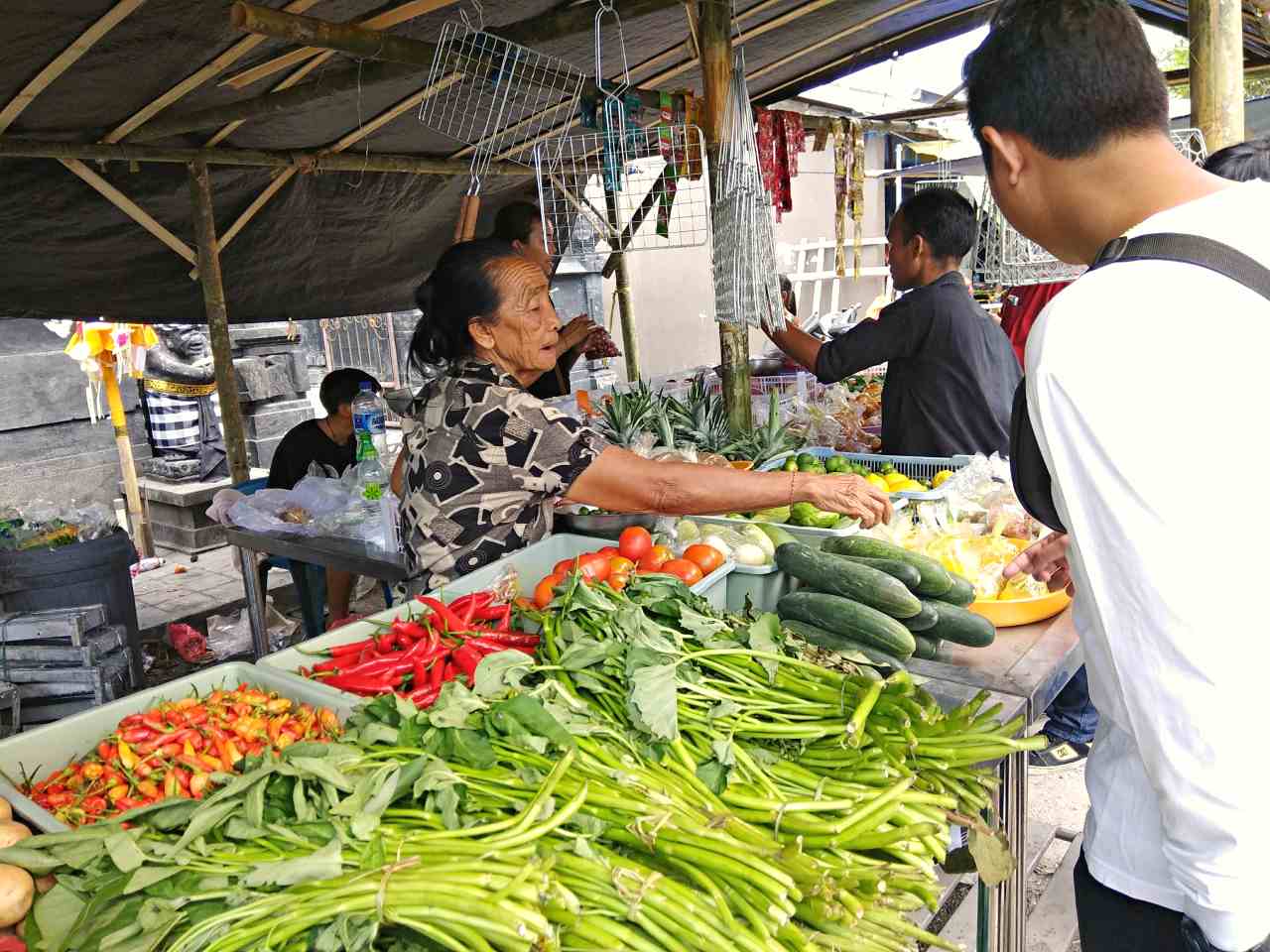 The guide provided by the hotel will take participants to explore every aisle of the market. Helping cooking class participants choose the ingredients and haggle with vendors. Jimbaran Fish Market not only sells fresh ingredients but also spices and vegetables. Everything is available and complete here.
See: Guide To Explore Lempuyang Temple (Gate of Heaven).
Jimbaran Fish Market Opening Hours
The market opens from 6 AM to 9 PM. Tourists who wish to buy the freshest seafood should come in the morning. And buy directly from the fisherman. Make sure to prepare small notes Rp2.000 to Rp5.000 to pay for the parking fee.
Jimbaran Fish Market Opening Hours
Every day
06:00 – 21:00
See: Petitenget Beach, Local Food & Activities.
Facilities
As it is essentially a market, only basic and necessary facilities are available here. Jimbaran Fish Market has public bathrooms, a parking lot, food stalls, and restaurants near the market. Prepare some small notes of Rp2.000 to use public bathrooms.
Small food vendors and restaurants overlooking the beach, were all offering grilling service. And it is available just outside the wet fish market. However, there aren't many seats available in the stall.
For tourists who prefer a much more convenient spot to dine in, choose the beachfront restaurant. The grilling fee is not much different for 1 kilogram. The grill service restaurant is scattered 500 meters around the Jimbaran fish market. And some restaurants offer Western cuisines too for guests who don't want to grill seafood.
See: Bali Airport Guide & Public Transportation.
How To Get To Jimbaran Fish Market
Visitors can take private vehicles or shuttle buses to get to the market. Car or motorbike rentals are scattered in the main tourist area or opt for an online rental site. The rental fee for cars ranges from Rp200.000/day. Meanwhile, the motorbike's rental price is a lot cheaper at Rp60.000/day.
For shuttle buses, the Kura Kura buses can take guests to a stop near the market. Tickets for the bus cost around Rp20.000 or tourists can opt for a day pass for the bus. From the tourist area like Kuta, Jimbaran Fish Market is only 30 minutes away.
See: Guide To Choose Indonesia SIM Card & Price.
Address & Location
Jimbaran fish market location is in Jl. Pantai Kedonganan, Kedonganan, Kuta, Badung Regency, Bali 80361.