Petitenget Beach
Entrance Fee: Free Entrance
Opening Hours: Open 24 Hours
Telp. Number: -
Address: Jl. Petitenget, , Kerobokan Kelod, , North Kuta, , Badung, , Bali , Indonesia , 80361.
Petitenget Beach is another beach sharing the same coastline as Seminyak. The beach is a wide, grayish sandy beach, just 25 minute's walk from Seminyak. A Hindu worshipping place is located in one area with the beach. A combination of both natural and cultural tourism for sure.
For those looking for a hassle-free beach, Petitenget might be the option. Just a few hawkers are around, surfers are not that many. Oceanview is magnificent with quite a strong tide and beach breeze. Even the beach chairs to rent aren't as many as in the neighborhood beach. With fewer visitors around, relish the moment, it feels like a private beach after all.
Jaw-dropping sunset is another attraction to see on Petitenget beach. In the evening, beachfront restaurants and a beach house offer a great ambiance of shoreline dining. Have the palate tastes locally-adapted international dishes. Say a steak or Moroccan food, and the chef and the team will serve it. For local delicacies at a cheap price, local food stalls are lined as well.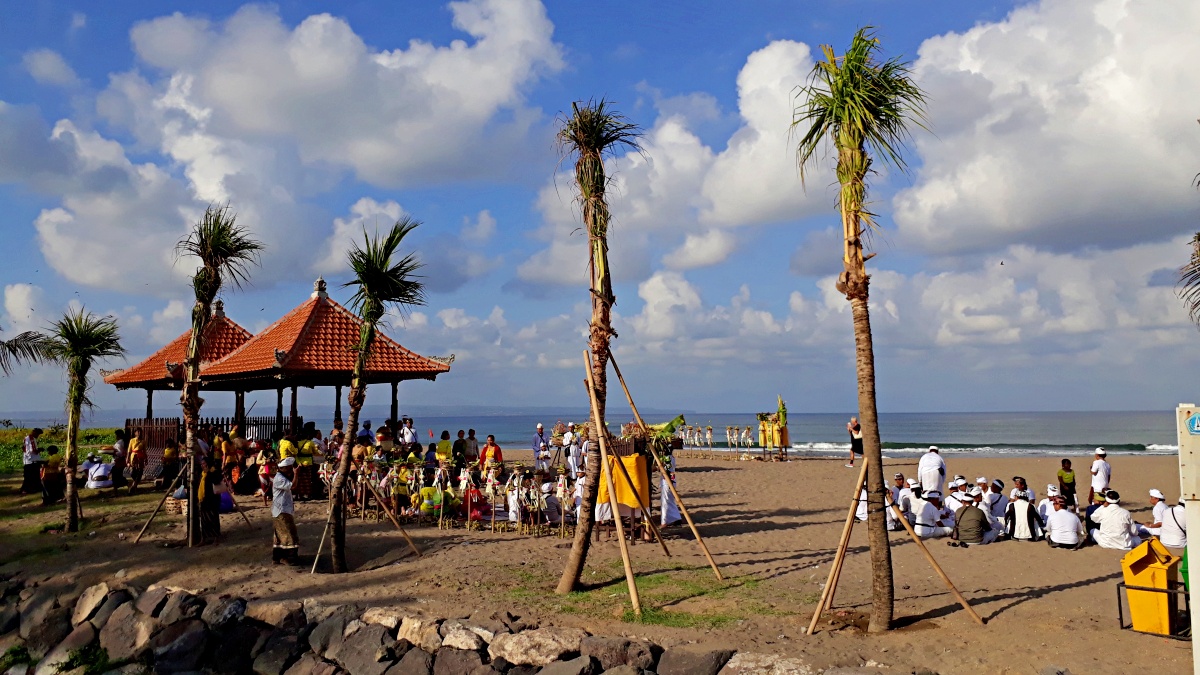 Petitenget Beach Entrance Fee
Just like nearby beaches such as Kuta and Seminyak Beach. Petitenget charges no entrance fee except for the parking fee. Visitors coming with vehicles will get charged Rp2.000 for a scooter and Rp5.000 for a car.
Petitenget Beach Entrance Fee
Ticket
Free Entry
Parking
Rp.2.000 (scooter) / Rp5.000 (car)
See: Guide To Jimbaran Fish Market & Seafood Restaurant.
Petitenget Beach Opening Hours
Just like any other beach, Petitenget never closes. It opens every day except on Nyepi. The beach house is open from 8 AM to 11 PM. Local food vendors open around 7 AM and close at 7:30 PM.
Petitenget Beach Opening Hours & Entrance Fee
Every day except Nyepi
Open 24 Hours
Entrance Fee
Free
Parking
Rp2.000 (motorcycle) / Rp5.000 (car)
See: Guide to Batu Belig Beach & Eateries Spot.
Petitenget Beach: At a Glance
At the entrance, a traditional giant gate welcomes all visitors. Pay the parking fee as the Pecalang asks for the upfront payment. Don't worry, the fee is standard Rp2.000-Rp5.000. A wide and neat parking area is ready to accommodate everyone's wheel. On the right, there's a Petitenget temple for Hindu people doing their religious rituals.
Continue to walk heading to the beach itself. Another traditional Gapura marks the entrance, designed under Balinese architecture's influence. A large swing is on point after passing the entrance gate. Take several photos there for the social media feed, because, why not.
Greyish Sandy Beach
Have a day plotted to enjoy a relaxing time here. Change clothes into beachwear, lay a mat, and lie down like no one's seeing. Get that exotic suntan for half an hour or more. But, remember to always smear sunblock. Sunburn after a beach day should not be fun.
Occasionally, the hawkers will come around and offer a product or service. Gently say no if not interested and the hawkers will just leave. No persistence as in Kuta Beach – means less hassle. To buy things, make sure to bargain. Besides practicing haggling skills, it's another chance to mingle with locals.
Swimming and Surfing
Swimming is allowed here. But always be careful not to surpass the flag marking. That marks the farthest safe area for swimming. The beach has considerably high waves. So, keep an eye on toddlers if coming here with them. Although on-duty lifeguards are available. Never take a risk by letting toddlers swim in the sea unsupervised.
Sharing the same coastline with Seminyak Beach means Petitenget has similar tide characteristics. High tide in the afternoon. It's a perfect wave for surfing. However, there is no surfboard rental available. Just rent it somewhere else before heading to the beach.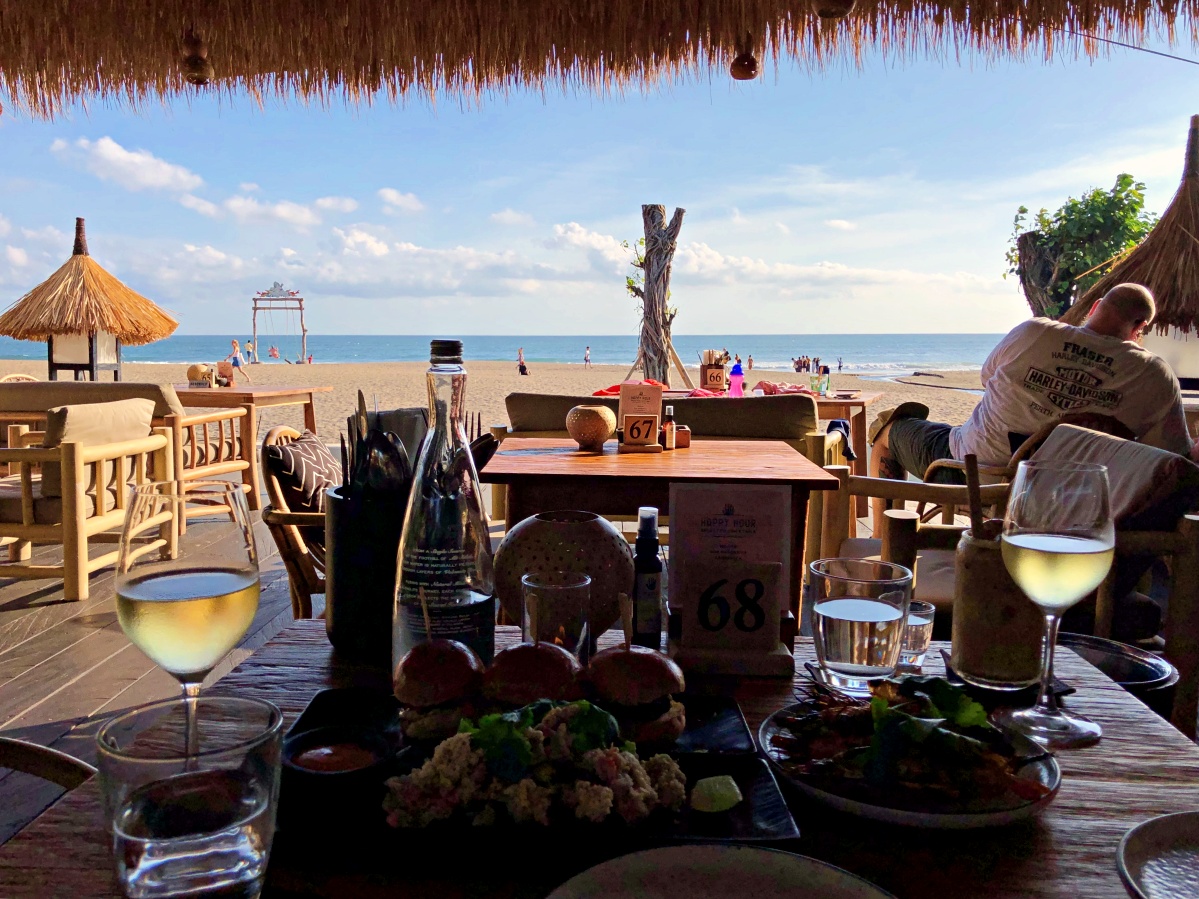 Amateurs or first-time surfers are better back off. Head to another beach as there are no surf schools here. The high tide is another reason. So, only advanced surfers are fit enough to surf here.
Sunset & Swing Spot
The welcoming swing – if not broken – should be one to try. Bright sun and the windy beach are perfect places to fly a kite with children. Make sandcastles or bury oneself with the sand. When there's a dog, teach them how to behave well – try to pet or feed them. As another option, a simple walk through the coastline isn't a bad choice.
One of the benefits of coming to this beach is fewer people to fight over good spots for sunset-seeing. Although during the golden time, the audience starts to grow more. But it will not exceed visitors in Kuta or Seminyak. Come at 5:30 PM and rent a beach chair or bean bag. That'll cost Rp100.000, but on some days, that can cost lower (Rp50.000/beach chair).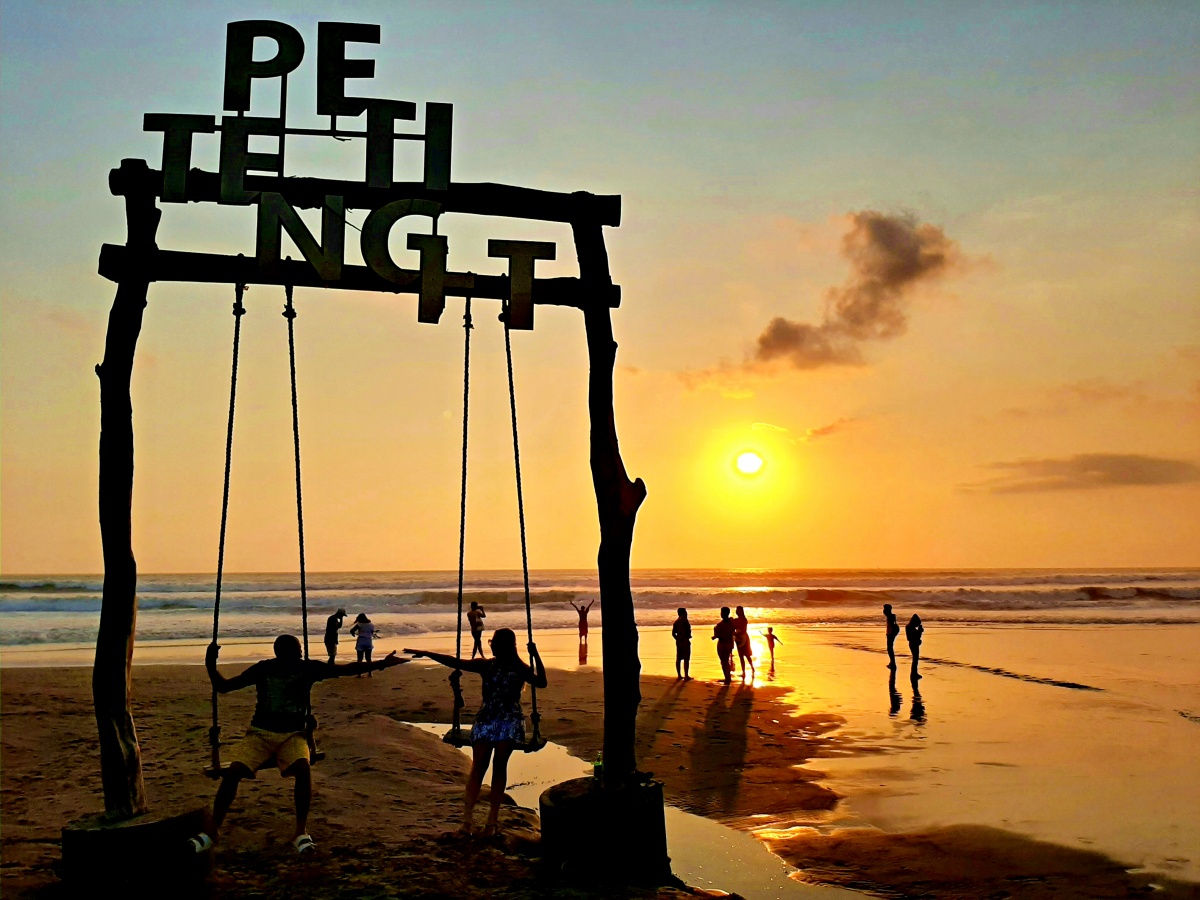 One photo spot that attracts visitors during sunset is the swing. There is always a line to take photos with the background of the dusk sky. Some will just be busy lounging and sipping beer. Others go to the beach house to witness the view from the house's pool.
Cheap Food Court
Go to the food court near the parking area. Many food stalls are sitting there. Bakso, pork skewers, or other local cuisines – Petitenget beach food court has them all. One of the recommended stalls here is 'Sate Babi Ibu Manis' which sells pork skewers. The pork juiciness combined with sweet seasoning gets the stall five stars.
On the good side, these stalls offer cheap prices. The skewers cost only Rp20.000 or $1.5 per ten pieces. While one portion of bakso (seasoned, round ground beef served with bone broth, tofu, and glass noodles) costs Rp15.000. Afternoon snacking with gorengan petis will cost cheaper than those in Kuta.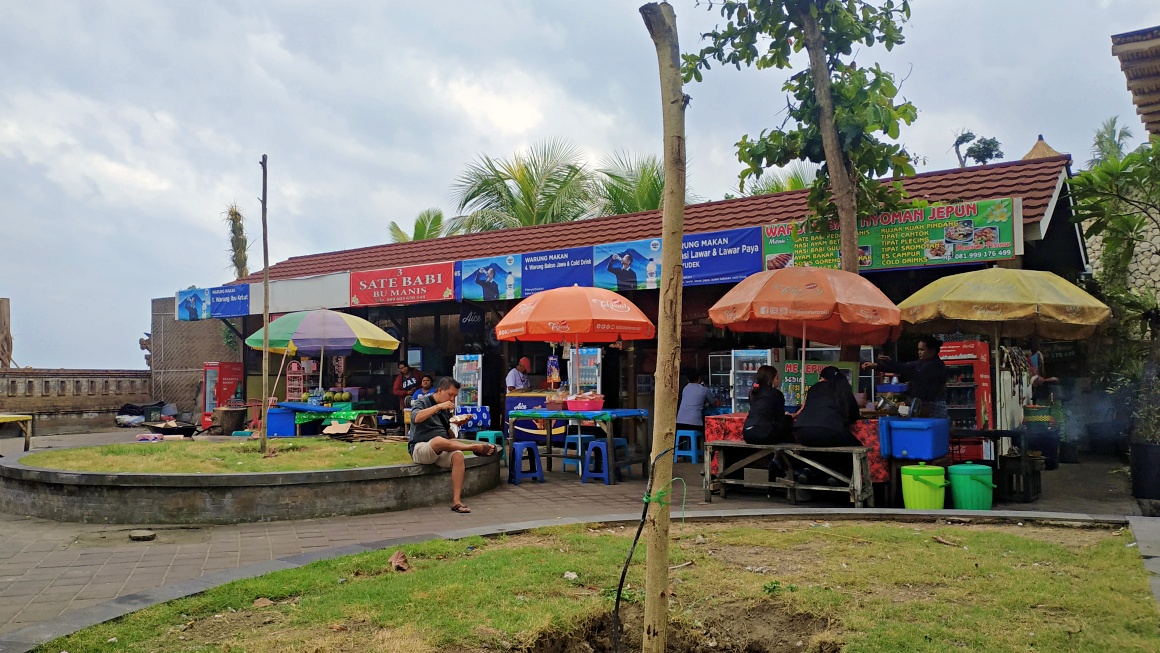 Or try lumpia, a fried spring roll. The taste is somehow different than any spring roll in other regions. It adapts to fit the Balinese palate and costs Rp5.000 per piece. For the drinks, the options lie in hot/iced beverages. Coconut, cold beer, milkshakes there's plenty to choose from. The price doesn't cost more than Rp50.000 for a single meal plus a drink.
Beach House Experiences
The ultimate food court's letdown is limited seating. Luckily there is a beach club and other beachfront restaurants on the beach. The food is varying, from fish chips to tuna steak. Even the beach clubhouse has a Moroccan salad. But, as one can imagine, the price is way more expensive than the food court. The tuna steak costs Rp115.000 ($8).
Not only dining, but one can also enjoy the pool overlooking the beach. Use the pool or swim for a minimum purchase of Rp100.000. There are bean bags and live music too here. And plenty of beautiful photo spots inside. The beach club can also help to arrange events, like a birthday or gatherings.
See: Kuta Beach, Attraction & Activities.
Facilities
The facilities here are no different from those famous beaches. Toilets and showering places are available but not many. Prepare some small notes to use the toilet. The parking area is wide and neat. Trust the keeping to local Pecalang (traditional 'police', only in Bali) by paying a standard parking fee. For the motorbike Rp2.000, for the car Rp5.000.
See: Indonesian SIM Card, Data Package & Price.
How To Get To Petitenget Beach
From Seminyak, burn some calories and see the busy downtown street by walking to Petitenget. Along the way, find many minimarts and eateries. Another option is to order a ride-hail or rent a bike. Both are comfortable but cost different. The latter choice will later ease many places of exploration.
By a motor ride-hail, a passenger will be charged Rp10.000 (±3km distance). By car with a capacity of up to 4 passengers, that'll cost Rp25.000. There are three routes one can take. The closest route is Seminyak beach-Sarinande street-Sari Dewi street-Kayu Aya Street which takes 2.2km. Unfortunately, the street is very narrow in Sari Dewi street. It simply makes sense only for pedestrians.
See: Bali Airport Guide & Public Transportation.
Address & Location
The beach located in Jl. Petitenget, Kerobokan Kelod, North Kuta, Badung , Bali, 80361.