Kuta Beach
Entrance Fee: Free Entry
Opening Hours: Open 24 Hours
Telp. Number: -
Address: Jl. Pantai Kuta , Kuta, Badung, Badung, Bali, Indonesia , 80361.
Kuta Beach is point zero of Bali's travel spot. It's where tourists, especially first-timers. Visit firstly before exploring any other places in Bali. Its shorelines stretch for miles left and right. The sunset at Kuta Beach is considered classic. Day and night, Kuta beach is never short of visitors.
It's hard to believe that at one point Kuta beach was a humble fishing village. Commercial tourism in Kuta starts around the 70s. A small local market from that era is now replaced with bars, nightclubs, and mega shopping malls. The village is now resorts and hotels. Kuta has sure come a long way.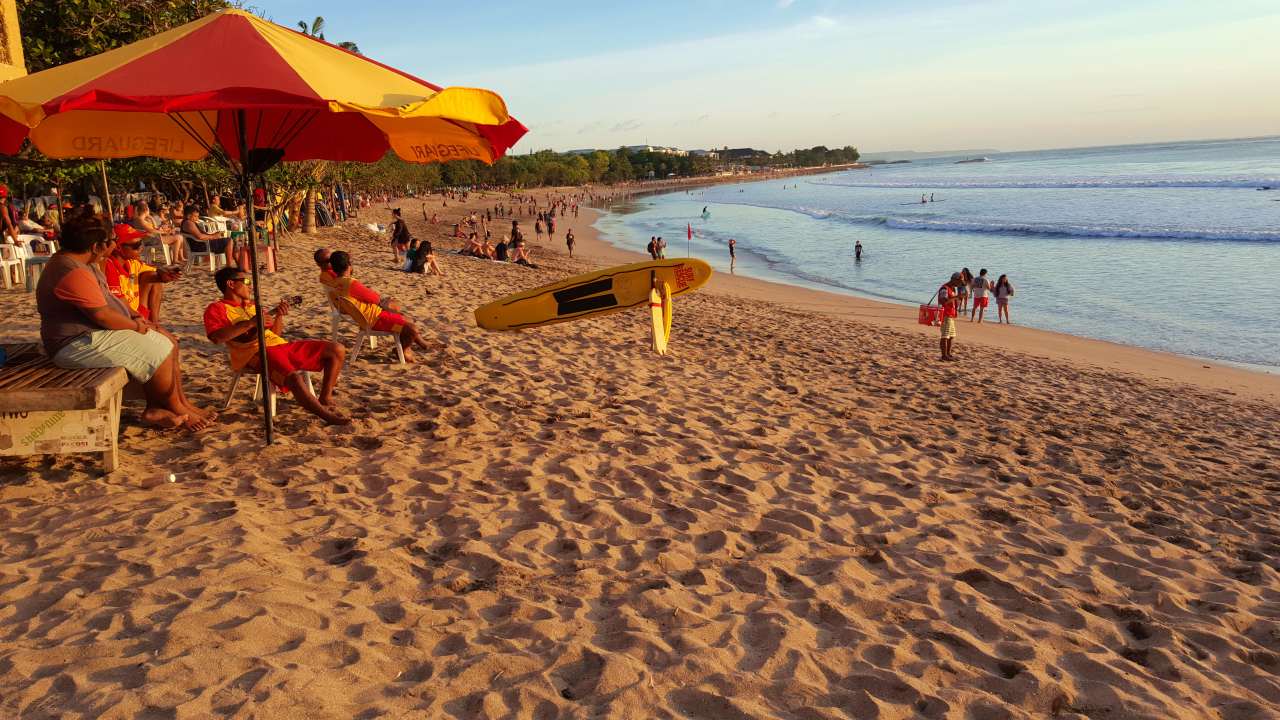 Many tourists develop some kind of mixed love-hate feeling when visiting Kuta Beach. Some detest the over-development, lamenting over the loss of Bali's authenticity. Or the fact that Kuta beach collects too much trash.
Others fall in love with its vibrant and lively party scene. Nonetheless, Kuta Beach is still a must-visit for at least once in a lifetime. Kuta is where all begin.
Surfing in Kuta Beach
Although at times tides at Kuta Beach can be strong. The wave here is quite accommodating for beginners and intermediate surfers. Get a surfing lesson from many of the local instructors here.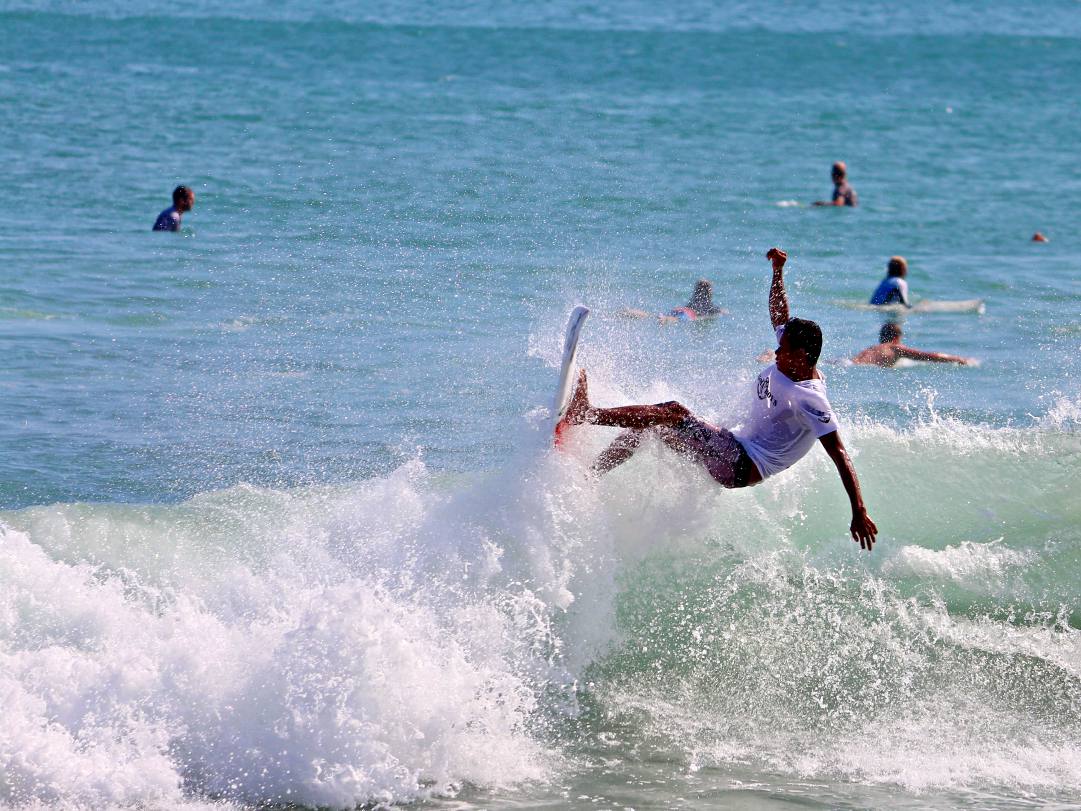 Even if visitors have never touched a surfing board before. A session costs Rp100.000 for an hour and a half. By the end of the course. Even a beginner will be able to at least stand on the surfboard.
Sunbath and Hawkers Experience
Rent a beach chair or lay a mat on the sand, whichever is okay. 30 minutes to an hour lounging under the Kuta sun is enough to get that ideal golden tan. Do not forget to grab a cold Bintang beer as a sunbath companion. While lying in the sun, why not try some services offered by the hawkers?
For example, let a hawker braids visitors' dreadlocks just for a small fee. Release that travel fatigue by having a massage from the old ladies here – they know how to do deep tissue massage.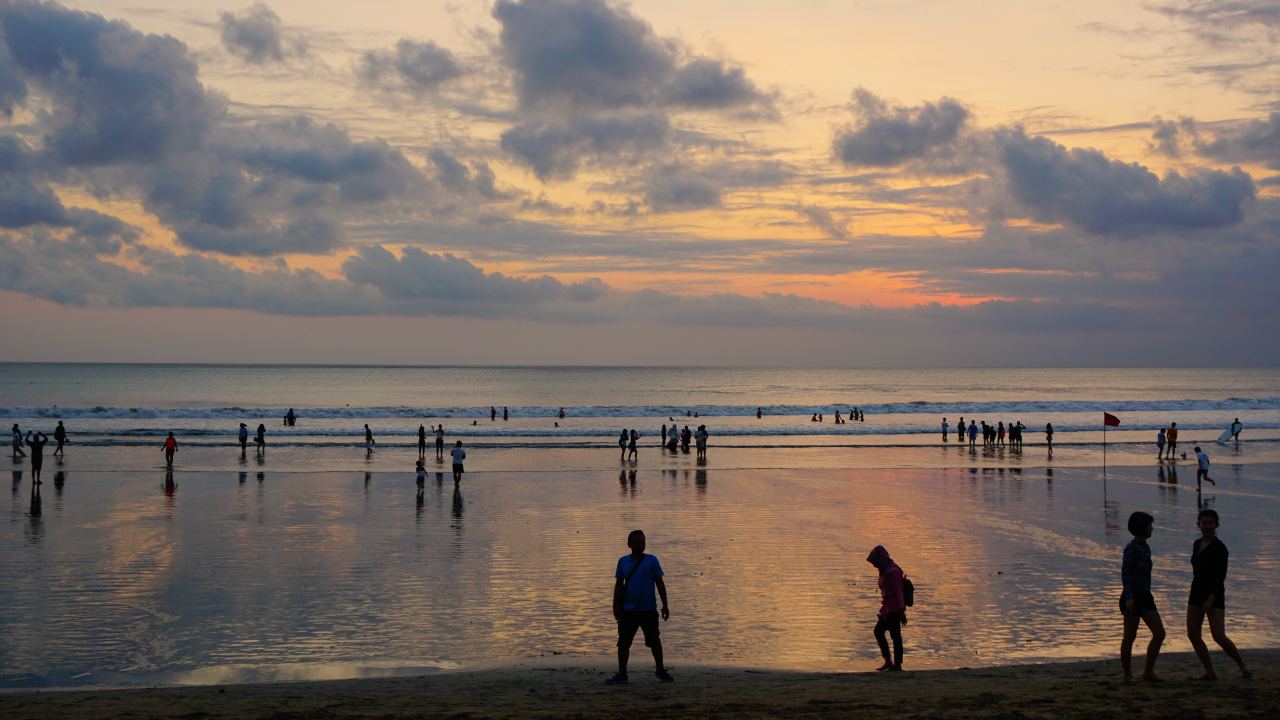 A temporary tattoo is a dream that comes true for anyone wanting a cool tattoo. But without the lifetime commitment. The tattoo lasts for only two weeks. And starting from IDR 30k, it's quite cheap to get.
The Famous Kuta Beach Sunset
Approaching dawn, join the eager crowd to watch the legendary sunset Kuta is famous for. When the sun is low on the horizon, its light turns the sky into a breathtaking shade of yellow, orange, and black.
Thanks to Kuta's kilometers of shoreline, this display stretches uninterrupted from south to north. Once in a while, catch silhouettes of planes coming and going to the airport nearby.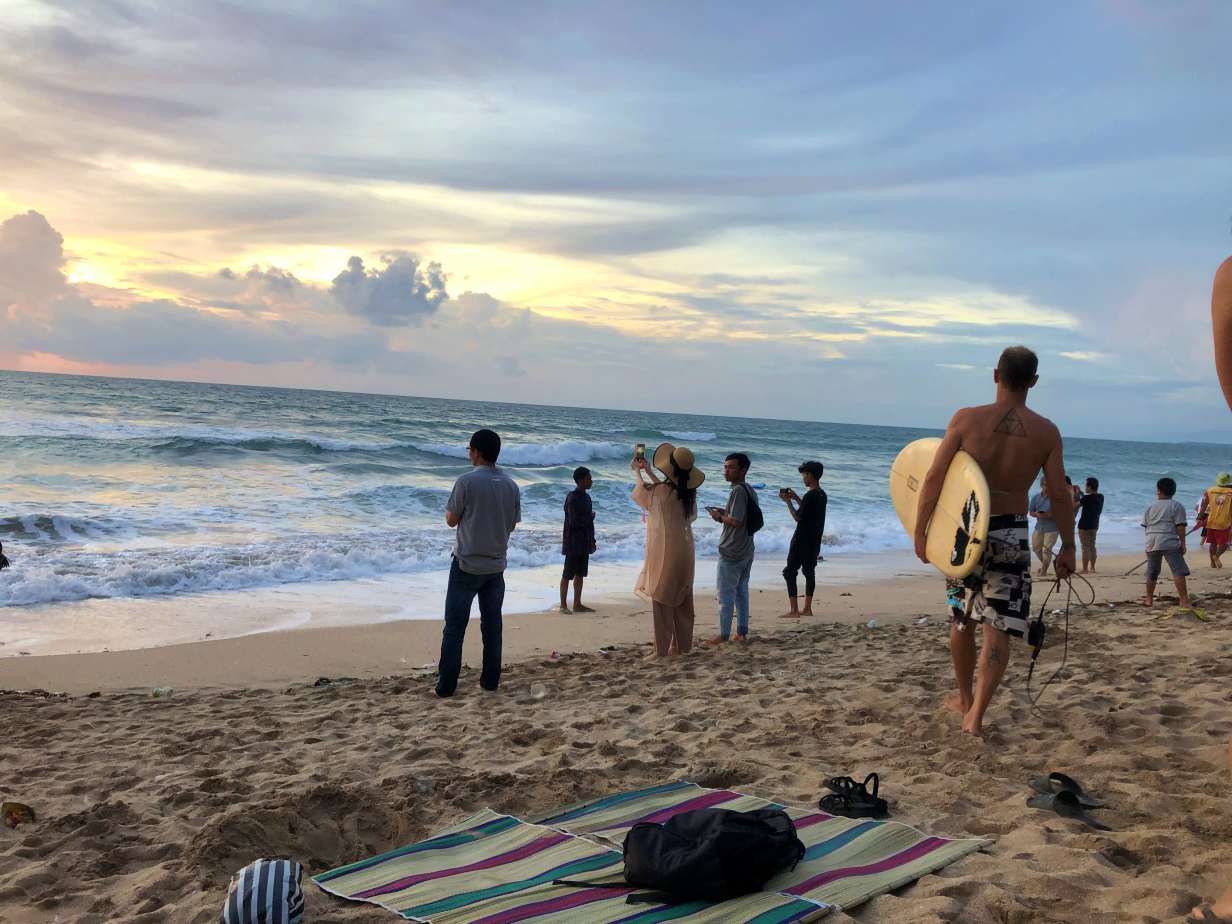 Turtle Release
Bali Sea Turtle Society is located in the southern part of Kuta Beach (near Discovery Plaza). The nonprofit usually held release events at 4 PM. Get a token which is later exchanged into a hatchling. Then accompany this little creature making its way to the ocean. Participation is free, but visitors can also give a donation of any amount.
Nightlife Around Kuta
When the sun is down the beach lightens up. Beach bars and nightclubs come into life. For a dance and party, clubs such as Sky Garden are where to spend the night. Here, dance the night out while world-class DJs tirelessly craft the best music all night long.
Visitors looking for something calmer can hang out at the bars by the beach. Enjoy good food while watching an acoustic music performance.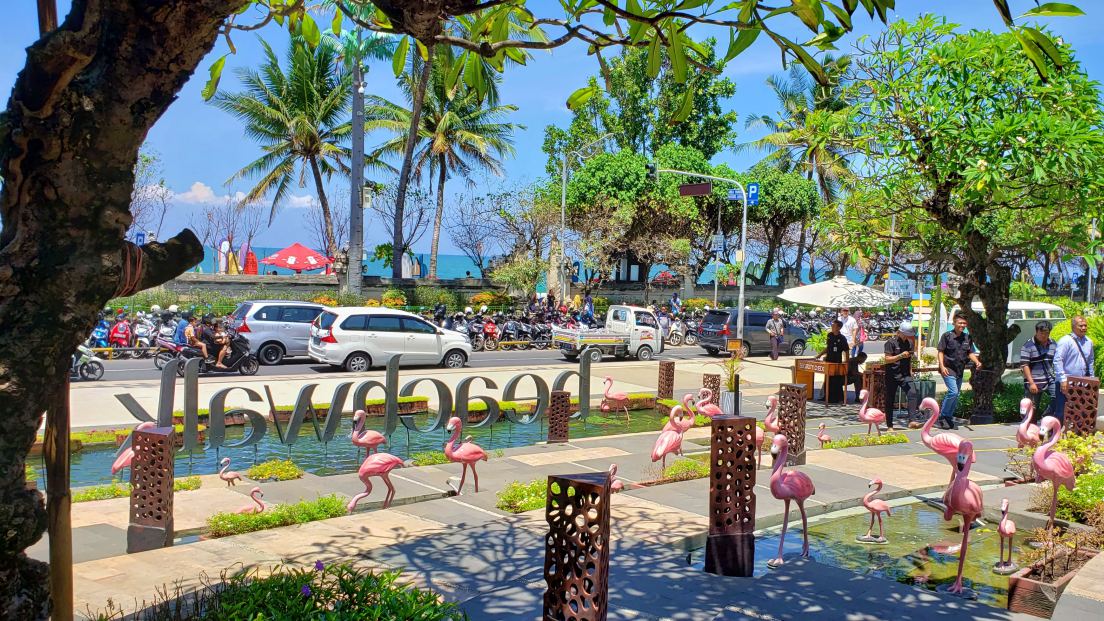 Shopping Spree at Kuta Street
Kuta is heaven for shopping. Tourists only need to cross the street to reach the shopping mall Beachwalk. While Kuta Square is only a 7 minutes walk. Enjoy the vast options of local and international brands. There are big names more than one can imagine.
Along poppies lane, rows of small traditional vendors provide variations to the shiny branded stores. Prices are much cheaper here and tourists are welcome to haggle.
See: Guide To Petitenget Beach & Local Street Food List.
Kuta Beach Opening Hours
Kuta Beach is accessible 24 hours, 7 days a week. No entrance fee is required. Beach chairs with umbrellas cost Rp50.000. The nearest parking is located along the road by the beach. Parking is Rp2.000 per motorbike.
Kuta Beach Opening Hours
Every day except Nyepi
Open 24 Hours
Beach Chair & Umbrella rent
Rp50.000
Parking Fee motorcycle
Rp2.000
See: Guide To Tanjung Benoa Beach & Watersport Activities List.
Facilities
For a tourist spot as popular as Kuta beach, fortunately, the facilities are all there. There are pay toilets and changing rooms. Prepare small bills as it cost Rp3.000 to Rp5.000 to use the facilities.
Lifeguard posts are available at several spots. When it comes to accommodation, restaurants, and shopping, the choice is almost endless. Around Kuta, hotels, restaurants, and malls abound.
See: Prepaid SIM Card, Price, Provider & Coverage. 
How To Get To Kuta Beach
Kuta beach is only 5 km from Ngurah Rai International Airport. From the airport, visitors can take either a taxi or a bus. The taxi is faster but expensive, it cost around Rp150.000-Rp200.000 per trip. Trans Sarbagita Bus is cheap, only Rp3.500 per trip. Take the corridor 2 bus and stop at the Kuta Central parking shelter.
Trans Sarbagita bus corridor 2 also takes passengers from central Denpasar to the tourist area, Kuta. Visitors can find bus stops along Ngurah Rai Bypass road. Another option for transport is the ride-hail app, and motorcycle/car rental. Price for motorcycle rent range from Rp50.000-Rp100.000 for day rent.
See: Bali Airport & Public Transportation Guide.
Address & Location
Kuta Beach location is in Jl. Pantai Kuta, Kuta, Badung, Bali 80361.