Tanjung Benoa Beach & Watersport
Entrance Fee: Free Entry
Opening Hours: 08:00 - 17:00
Telp. Number: -
Address: Jl. Pratama, Benoa, Kuta Selatan, Badung, Bali, Indonesia, 80361.
Tanjung Benoa Beach is mostly known as the best spot to experience water attractions in Bali. It offers a broad range of water sports, from soothing activities like sea walking. Adventurous adrenaline pumping like parasailing. This white sand beach also has a great coral reef collection and a habitat of numerous coral fishes.
This beach is located in South Kuta, around 40 minutes away from the famous Kuta beach. It is close to the heart of the tourism complex in Nusa Dua. In fact, it's a prominent area for the luxurious site of hotels and resorts. It is where international conferences, events, and concerts often take place.
Tanjung Benoa Beach Entrance Fee
Entering Tanjung Benoa Beach will cost nothing but a parking ticket. The parking fee for a car is Rp10.000 and Rp5.000 for a scooter. Keep in mind to experience the water activities will cost varied.
The price of water sports activities includes all sorts of equipment. It depends on what activity visitors choose. Some packages offer unlimited access with the full assistance of staff and instructors.
Tanjung Benoa Beach & Watersport Tickets
Entrance Fee
Free Entry
Parking Fee
Rp5.000 (scooter) / Rp10.000 (car)
Watersport Activities Tickets
Buy Online Tanjung Benoa Watersport Ticket
Rp73.000 – Rp292.000
Banana Boat
Rp60.000
Roulette Doughnut
Rp100.000
Fly Fish, Snorkeling, and Jet Ski with the instructor
Rp150.000
Parasailing
Rp250.000
Scuba diving, sea walker, wakeboard
Rp300.000
Fly board
Rp500.000
See: Guide To Explore Nusa Dua Beach & Top Attractions.
Tanjung Benoa Beach Opening Hours
Generally speaking public space like any beach in Bali is open for 24 hours. And this also applies to Tanjung Benoa Beach. However, the water sports destination is open from 8 AM to 5 PM. The best time to visit is during the summer season when the weather and tide forecast is safe for beach activities.
Tanjung Benoa Beach & Watersport Opening Hours
Every day
Open 24 Hours
Watersport Operator
08:00 – 17:00
See: Guide To Explore Sanur Night Market & Street Food.
Tanjung Benoa Beach Water Activities
Visiting Tanjung Benoa Beach is not special without experiencing marine activities. The area offers a great selection of water sports to do. For instance, banana boat ride, fly board, fly fish, Jet Ski, parasailing, roulette doughnut, scuba diving, sea walking, snorkeling, and wakeboarding.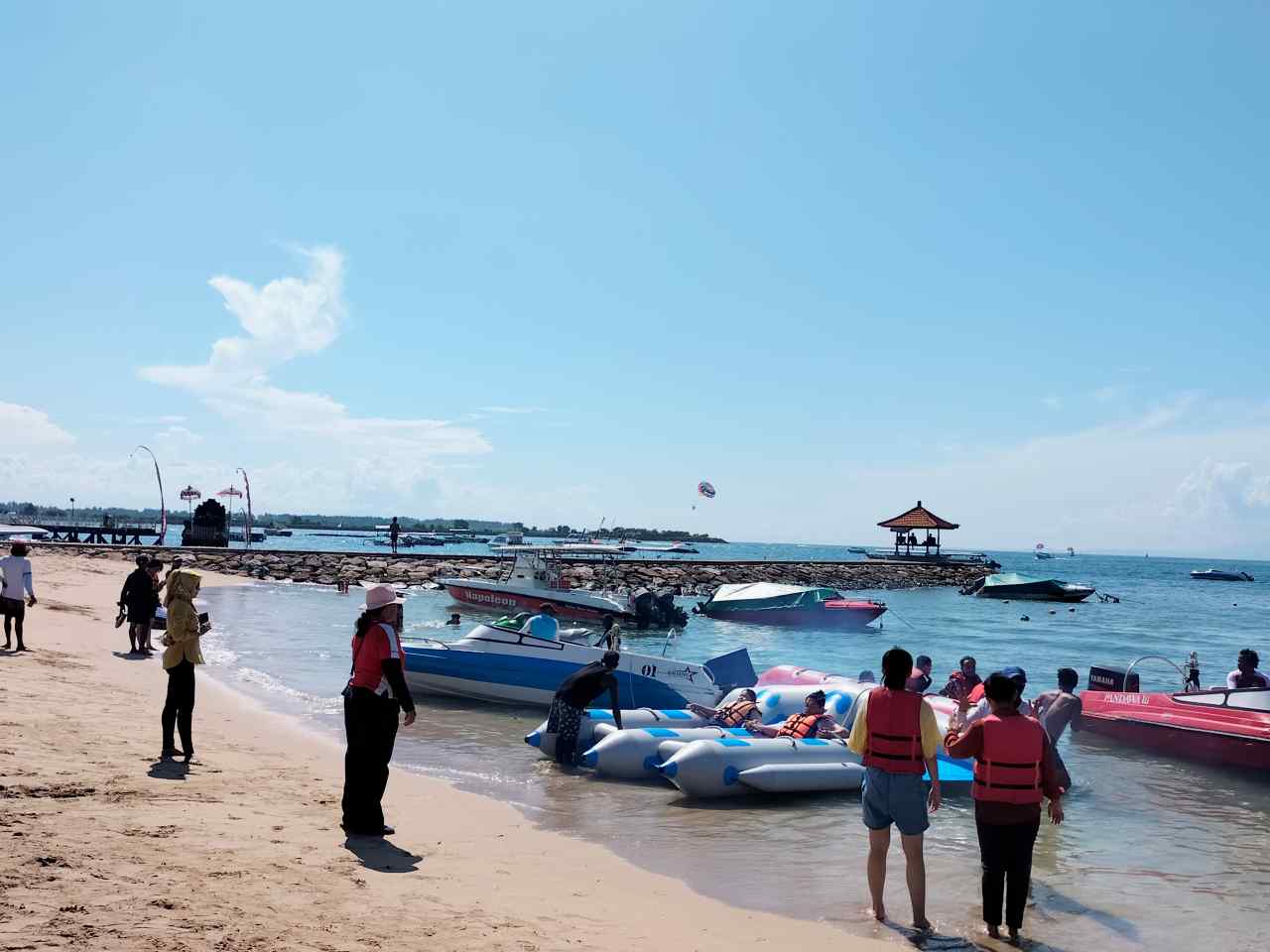 The price range for all activities is varied from Rp100.000 up to Rp300.000 per person. All activities tickets already include insurance and equipment. Alternatively, there is a package option for tourists who want to do several water sports activities.
The package is definitely cheaper compared to buying one-by-one activities. The price for the package range between Rp400.000 to Rp600.000. And don't worry, the operator has applied an international standard of safety with all well-trained instructors.
Visit Turtle Island
Located close to Tanjung Benoa Beach, Turtle Island is an offshore destination. It takes around 20 minutes of boat ride to reach the island from the beach. The island is a sanctuary site to breed and protect endangered turtle species namely flatback, olive ridley, hawksbill, and green sea turtle.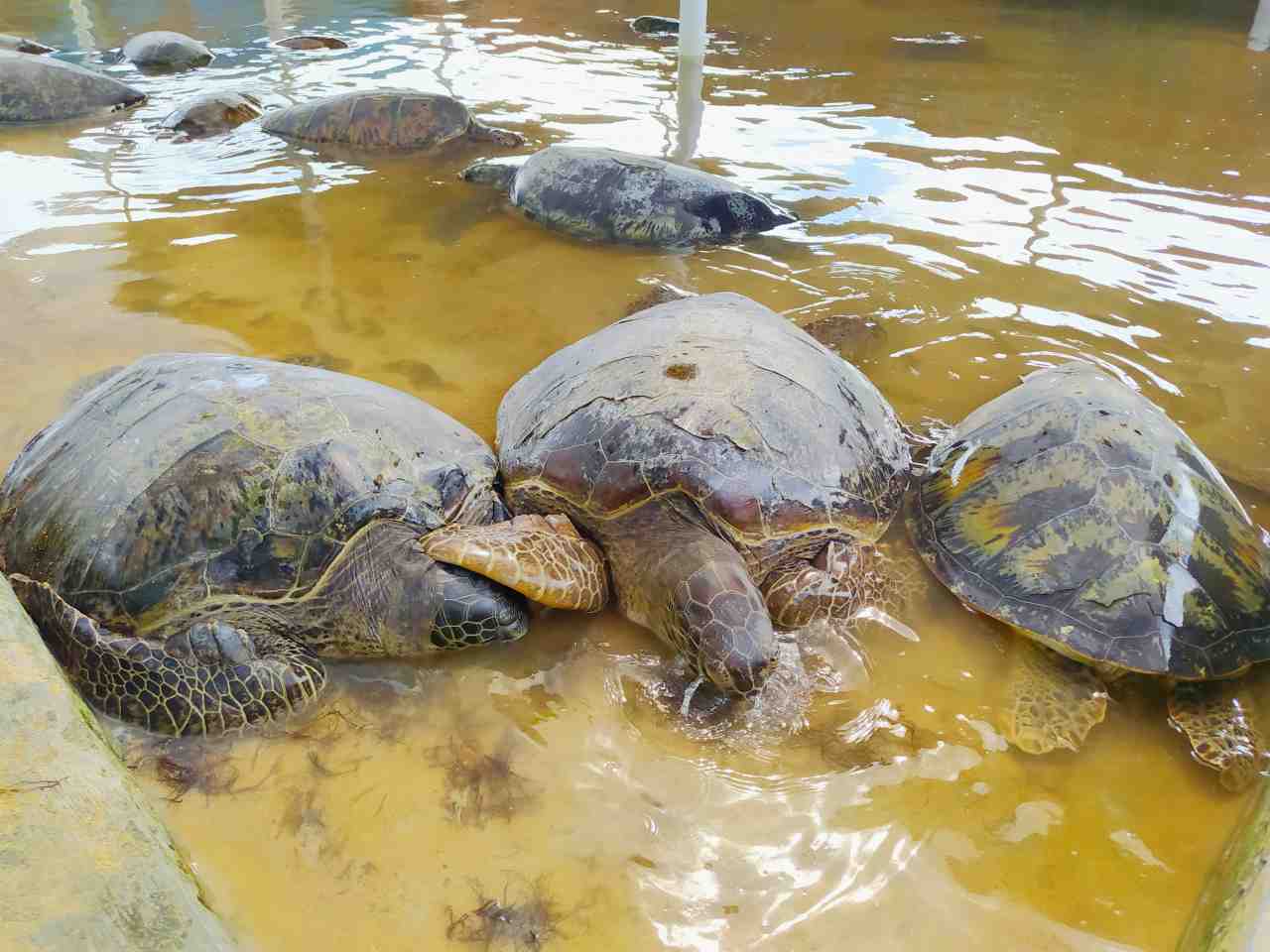 The life span of these marine animals is over a century old with a heavy weight that people can barely lift. Other than turtles, there are also monkeys, iguanas, and eagles that inhabit the island. To reach this conservation island, visitors have to pay between Rp400.000 – Rp700.000 for renting a boat. While the entrance ticket will cost Rp10.000 for adults and Rp5.000 for kids.
Mangrove Preserve Forest
Travelers who plan to visit Tanjung Benoa Beach will certainly be passing Ngurah Rai Mangrove Preserve Forest. It has lush shore plants with a long wood trek to explore. There are over 18 species of mangroves that is also become forest ecosystems of endemic birds and nursery habitats for shellfish.
The best highlight of this place is the breathtaking views of the Bali Mandara floating toll. And it comes occasionally overlooks planes taking off and sunset on the west side. The entrance ticket to this place is quite cheap Rp10.000 for adults and kids for just Rp5.000.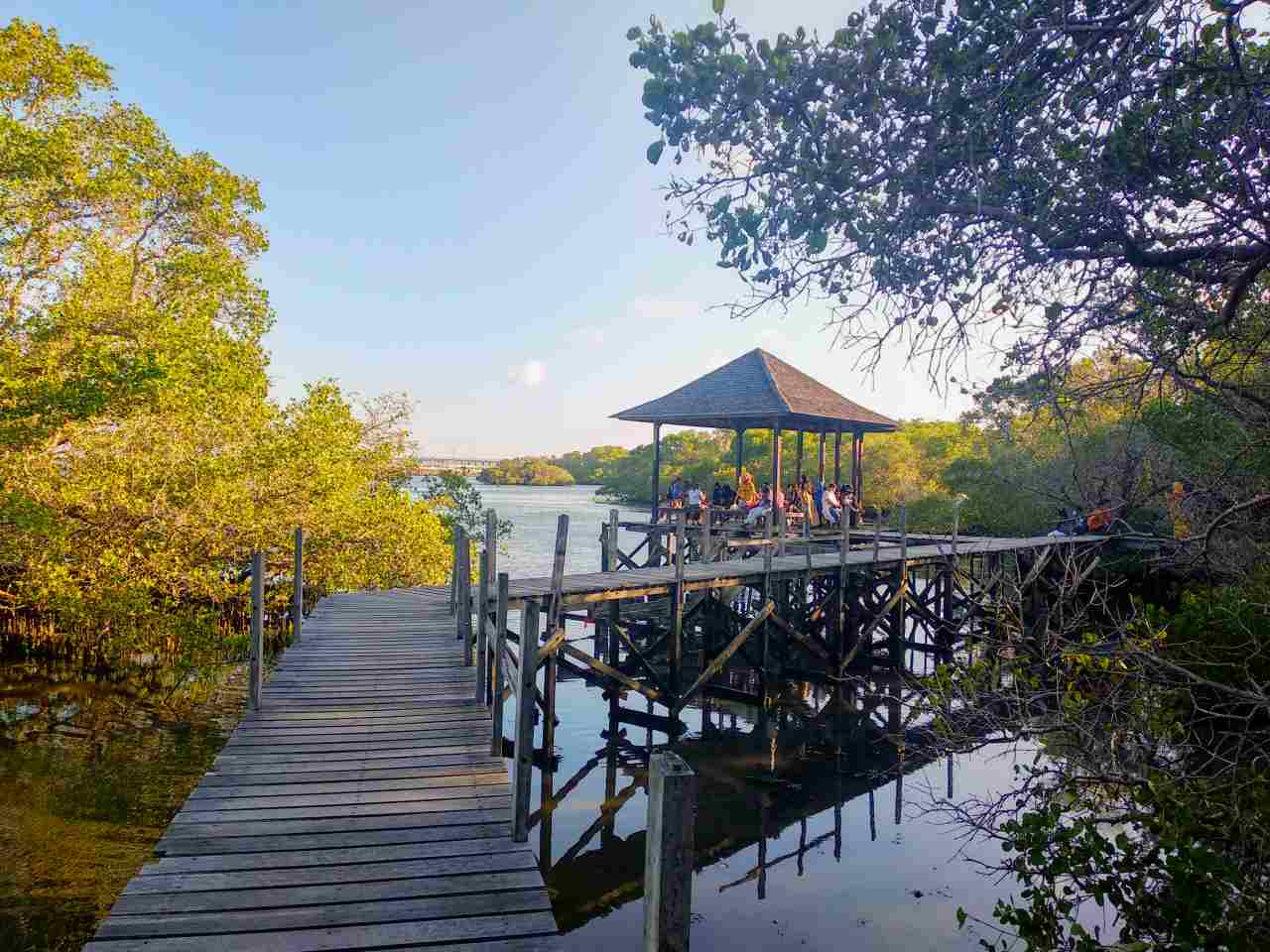 Sea Food at Tanjung Benoa

Feeling exhausted after spending the entire day at the beach? Then trying seafood is a must. There are several street vendors, restaurants, and cafes near the watersport site that offer a wide selection of sea dishes. From comfort foods like seafood fried rice to Japanese specialties like sashimi and sushi.
Mainly, the restaurants and warung open from 10 AM to 11 PM. Some provide a spacious dining area, and some are more modest. Speaking of the price, the local menu is way cheaper than other varieties. It starts from Rp35.000 while eating a delicate course meal at a fine dining restaurant will cost higher.
See: Jimbaran Fish Market Guide, Seafood Feast & Restaurants.
Facilities
Tanjung Benoa Beach and Watersports have complete facilities to cater to tourists' needs. Clean toilets, changing rooms, restaurants, and lodging areas. Additional services like renting cameras and lockers are also available.
The price of renting a camera is Rp500.000. And by the end, visitors will get all copies of the photos. Rent lockers require a deposit upfront of Rp50.000 which will be refunded upon finishing.
See: All About Tourists SIM Card, Price & How To Top Up.
How To Get To Tanjung Benoa Beach
The beach is quite easy to reach, there are 2 possible routes. First, via Bali Mandara Toll, it suits travelers departing from the Sanur area. The second one is passing through Jl Bypass Ngurah Rai. This route is for people departing from Kuta and Legian areas.
The convenient ways to go to the beach are by taxi or using ride-hail apps such as Grab and Gojek. Unfortunately, the public bus doesn't deliver passengers to this spot. The price using ride-hail apps for scooters starts from Rp50.000 ($3) for a one-way trip. While for a car with 4 passenger capacity, the fare starts from Rp110.000 ($7) for a one-way trip.
See: Bali Airport Guide, Airport Transfer & Public Transportation.
Address & Location
Tanjung Benoa beach is located in Jl. Pratama, Benoa, Kuta Sel, Badung, Bali 80361.