Geger Beach
Entrance Fee: Rp5.000
Opening Hours: Open 24 Hours
Telp. Number: -
Address: Jl. Pura Geger , Benoa , Kuta Selatan , Badung , Bali , Indonesia, 80361.
Wanting to have some quiet time, but tired of touristy beaches within Nusa Dua? Then add this hidden paradise to the next go-to list, because Pura Geger Beach would be hard to miss!
Located in Badung, Geger is dubbed as a true hidden beach of Nusa Dua. Among the most beach destinations in Bali, Geger Beach perhaps feels like a private one. The site is not too crowded and pretty clean. With such a laid-back atmosphere, the beach is just the right gateway to relax from the dazzling life of Nusa Dua.
Pura Geger Beach Entrance Fee
The ticket fee is only Rp5.000 per person. And there is an additional parking fee of Rp5.000 for a car and Rp2.000 for a motorcycle.
Pura Geger Beach Entrance Fee
Ticket
Rp5.000
Nearby: Guide To Explore Nusa Dua Beach and Top Things To Do.
Geger Beach Opening Hour
Geger Beach is open all day for 24 hours. The best time to visit Geger Beach is early in the morning when it is less crowded. Another option is to visit in the afternoon to catch up on the sunset. Just like any other beach, Geger Beach has a different terrain during low and high tides. For example, the rocks and caves around the cliff only appear during the low tide, so make sure to come at the right time beforehand.
Geger Beach Opening Hours
Every day
Open 24 Hours
See: Guide To Explore Melasti Beach, Kecak Dance Show Schedule, and Ticket.
Panoramic Bay and Cliff
Take a walk onto the stretched longshore of Geger Beach. The sand is fine white that feels soft with barefoot. It is one of the cleanest beaches in Bali. During low tide, tourists can stroll through the rocks and cave around the cliffs. It is one of the iconic spots of Geger Beach for taking pictures.
Visitors can also find a stunning bay with teal-colored water. Surrounded by jotting rocks covered in vegetation, the bay seems just like a hidden tropical pool. To the south of the beach, there is a high rocky cliff with a temple on top, adding a unique landscape to the place.
Pura Geger Dalem
The temple on the top cliff is Pura Geger Dalem Pamutih, one of the important temples in Bali. It is open to the public unless during ceremonial occasions. From the beach, there is a paved way to enter the temple. After climbing up some staircase, visitors can find the temple in the middle of a garden. Balinese usually comes here to do Melukat, a traditional Balinese ceremony, which purpose is to cleanse the body and soul.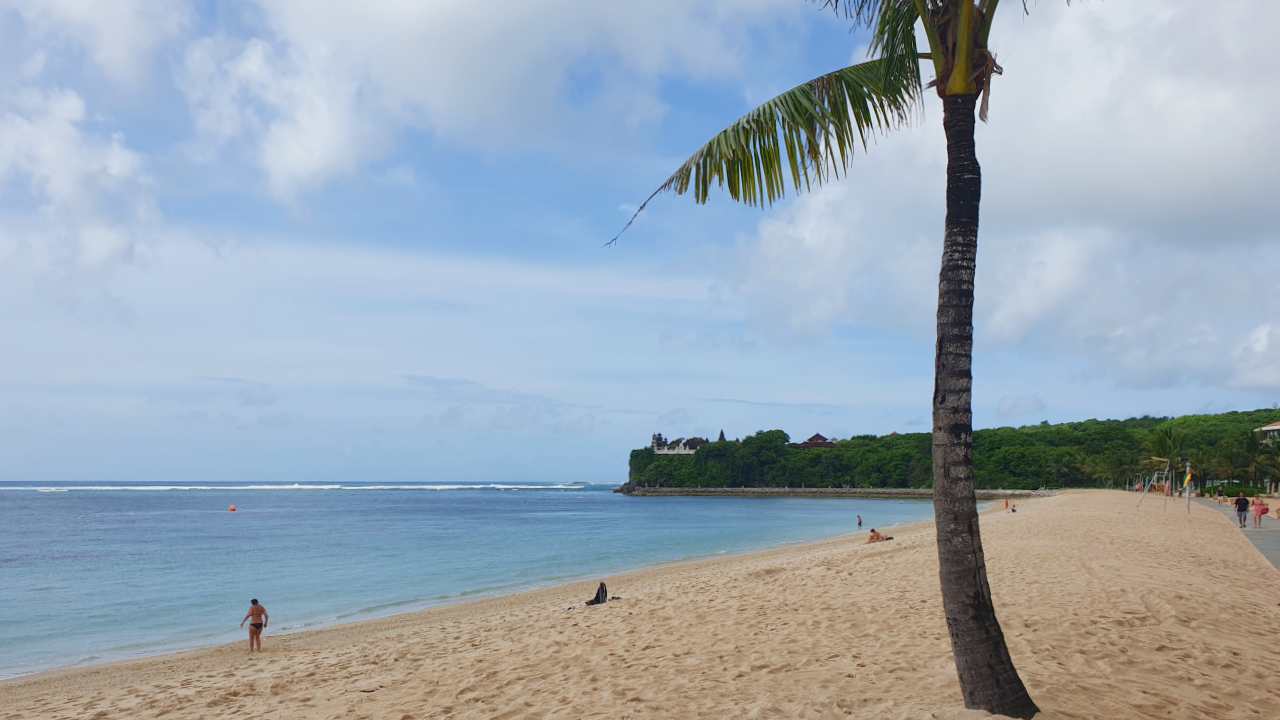 Every Melukat ritual required an offering, or as the locals said Banten Pejati. For tourists who want to join the ritual, it's best to come prepared with the offering. The local market is the place to find and buy Banten Pejati. There are different amounts of offerings needed for the ceremony. It usually depends on the temple, different temples require different amounts of offerings.
The ceremony itself will be led by Pemangku, the Balinese priest. And for tourists who want to do Melukat, wear Sarong to cover both knees or wear Balinese traditional clothing Kebaya for women. Balinese believe that Melukat is not just some purification ceremony. It's also a ritual to ask God to grant their wishes.
Sunbathing
Geger Beach has a wide area. It is an ideal place to lay down some mats for sunbathing without getting bothered by hawkers. Along the shore, tourists can rent a sunbed with an umbrella for Rp50.000 per chair. There is a towel rental too for Rp25.000. Enjoy the breeze in the shades, while overlooking the blue ocean as far as the eye could see. To complete this tropical experience, grab some coconut water from Warungs and beach cafes nearby.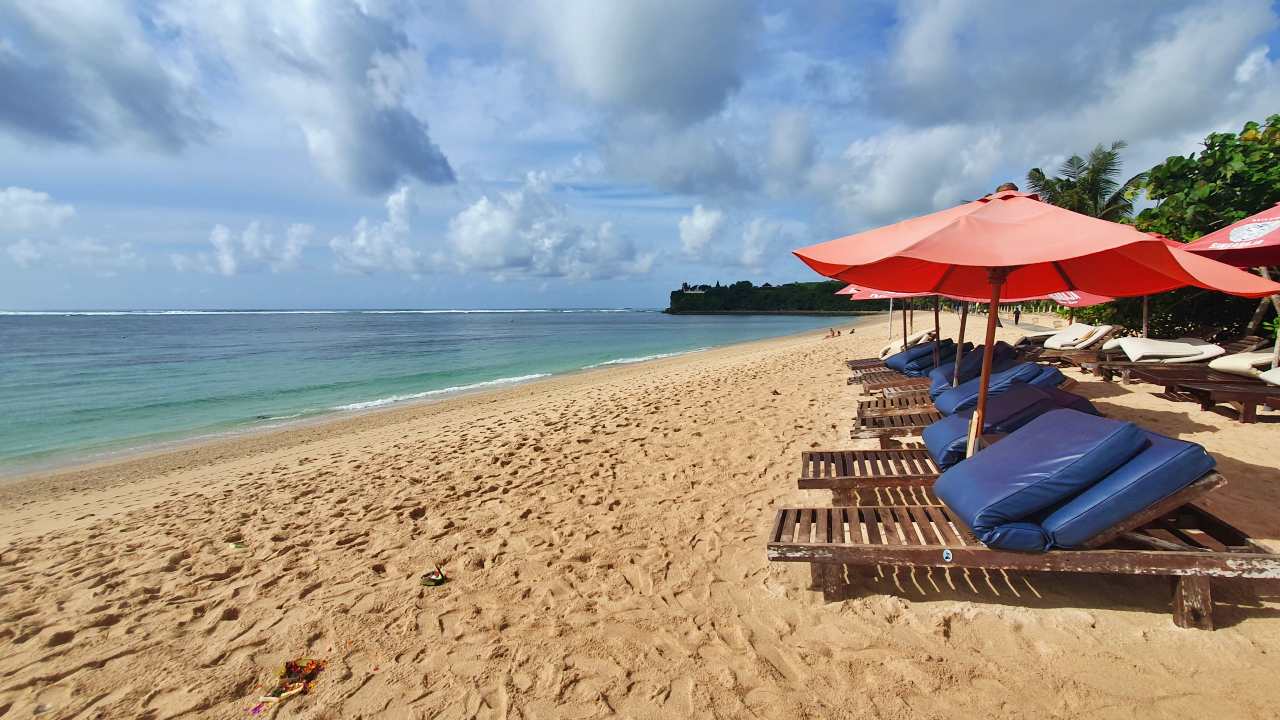 Family-friendly Activity
Since the site has almost no crowds, Pura Geger Beach is recommended for families with kids. Kids will love this beach for playing sand or just running around in the open space. The calm waves are perfect for swimming or even just taking a dip. However, there are some rocky corals along the shore, so be careful before jumping into the water. There is also a lifeguard watching over the beach to ensure visitors' safety.
In addition, Geger Beach is excellent for snorkeling, especially on low tide. The water is clear blue turquoise and the waves are gentle. Swimmers can find beautiful corals, seaweeds, and starfish near the shore. Snorkeling gear is available to rent in some shops if needed from Rp30.000 per hour.
Trying Water Attractions
Besides Nusa Dua Beach, Geger Beach is the next favorite spot for surfers. The waves here are suitable for beginner to intermediate-level surfers. The surfing board is available to rent for about Rp150.000. Also, surfers need to take a boat to reach a deeper part of the beach first by paying Rp50.000 for a one-way trip.
If surfing is too advanced, then don't hesitate to try a stand-up board and canoe for a more laid-back experience. Tourists can try a stand-up board for Rp100.000 for one-hour duration, and a canoe for Rp30.000 – Rp50.000 only.
See: Guide To Explore Jimbaran Fish Market and Seafood Restaurants.
Facilities
Visitors can rent lounge chairs with an umbrella for Rp50.000/chair and a towel for Rp25.000. The beach is properly managed, so visitors can easily find toilets and shower rooms around here. For meals, some cheap and tasty local food stalls are available selling roasted corn and coconut water. There is a decent seafood restaurant around the cliff with a local and international menu as well.
The parking lot is spacious and there are plenty of 5 stars hotels and villas nearby. For a more affordable option, there are some villas and resorts, only 1 KM from the beach.
See: Bali Airport Guide, Airport Transfer & Public Transportation.
How To Get To Pura Geger Beach
Geger Beach is located in Benoa, in the south part of the island. It takes about 1 hour from Canggu and half an hour from the Kuta area. From Nusa Dua Beach, Geger Beach is only 11 minutes away. The signage to the site is quite easy to follow, it's not difficult to reach Pura Geger Beach.
From Nusa Dua Beach, head southwest toward Jl. Pantai Mengiat. Follow the road to Jl Raya Nusa Dua Selatan/Jl Terompong. After passing VOUK Hotel, turn left onto Jl Pura Geger to reach Geger Beach. Unfortunately, there is no public transportation to get here. However, since the beach is located in Nusa Dua. It's easy to book a ride-hail app with Gojek or Grab to reach the beach.
A motorcycle ride from the Kuta area will cost around Rp45.000 to Rp60.000 to get here. It depends on the traffic. While with a car ride, it would cost around Rp150,000 for a one-way trip.
See: All About Tourist SIM Card, Price & Where To Buy.
Address & Location
Pura Geger Beach is located in Jl. Pura Geger, Benoa, Kuta Selatan, Bali 80361.