Melasti Beach Entrance Fee: Rp3.000 - Rp10.000 Opening Hours: Open 24 Hours Telp. Number: - Address: Jl. Pantai Melasti, Ungasan, Kuta Selatan , Badung, Bali, Indonesia , 80361.
Melasti Beach, or also known as Melasti Ungasan, is located in Ungasan village, north Kuta. This beautiful site is used to be hidden behind the back of a huge limestone cliff. Back in the day, the only access to the beach is by climbing hundreds of stairs to get to the other side of the cliff.
As it gains more popularity, access is becoming easier with asphalt roads splitting the cliff in half. Now, the stunning view of Melasti beach is revealed to the world. It has gorgeous turquoise seawater, white sand, and a high limestone cliff wall.
Melasti beach is also known to be one of the cleanest beaches in Bali. People come all the way here for swimming, taking photos, or just enjoying the serene atmosphere on the beach.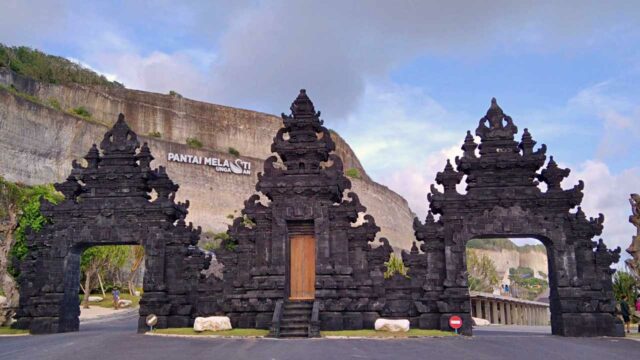 Swimming & Snorkeling in Melasti Beach
The wave in Melasti Beach is relatively low, so it suitable for swimming even for children. When visiting Melasti beach, don't forget to bring along snorkeling gear. It might not be the best spot in Bali, but the shallow and clear seawater is good enough to snorkel.
The underwater view is quite dazzling with various reefs and other sea creatures, like urchin and starfish. And Melasti is not as crowded as other beaches like Kuta and Seminyak. It's a perfect spot to have a tranquil day surrounded by nature.
The vibe is good for sunbathing or just walking on the shoreline. There are plenty of sunbeds and umbrellas to rent for Rp100.000 only. Melasti Beach is definitely a great place for people who want to escape from busy life.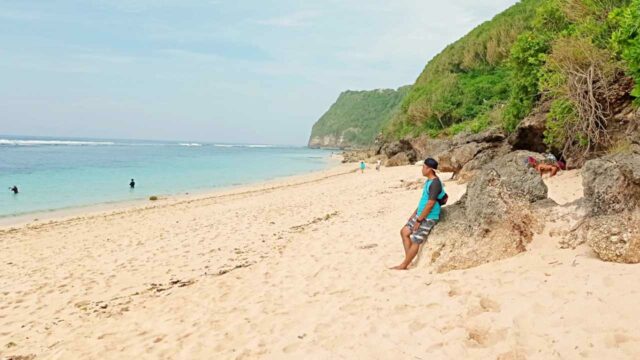 Sight-seeing from Top of The Cliff
The most astonishing scene in Melasti beach is its limestone cliff. The cliff is as high as 100 to 150 meters, standing majestically on the side of the ocean. The top of the cliff is also the most strategic site for sight-seeing. It offers a grand landscape view of the greenish ocean complementing the sparkling white sand.
Top Site for Pre-Wedding Photoshoot
With the high limestone cliff and crystal clear seawater, taking photos in Melasti beach needs less effort. It's even hard to get a bad picture. That's why the site is among the list of the best spot for pre-wedding photoshoots.
There are various favorite spots for pre-wedding photographers. Such as the path that leads to the beach, the top of the cliff, the Balinese-style entrance gate. And it ends the shoot at the shore, with the infinite view of the Indian Ocean as the background.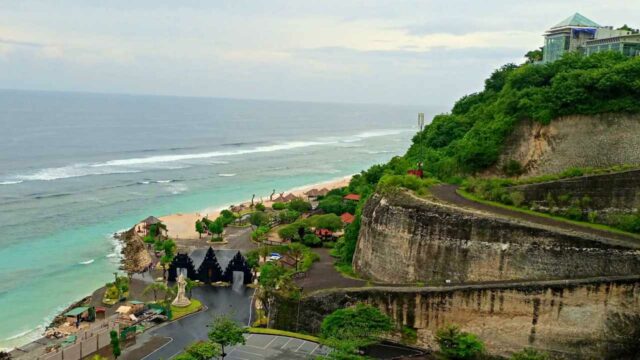 The fee for holding a pre-wedding photoshoot is varied from Rp500.000 to Rp1.000.000 for one day. The fee includes a free pass to use the makeup and restroom that are exclusive only for the couple and crew.
Paragliding During Sunset
For more adventurous activity, paragliding can be the right option. The take-off site is located at the top of the cliff in Melasti beach. Hence, paragliders can enjoy the breathtaking eye-bird view of the shoreline and the clear blue ocean.
Try to fly during sunset for more picturesque scenes. Flying on a tandem paraglide is surely thrilling but worth trying. This is also a great opportunity for first-timer because some providers don't require tourists to have previous experience. Worry not, there will be a professional pilot to guide the flight.
The price for a 15 minutes flying starts from Rp900.000. Tourists will be provided with safety equipment, itineraries, and life insurance. Don't forget to make an appointment days before. The flight might be canceled anytime due to bad weather. Therefore, make sure to plan the schedule well.
See: Prepaid SIM Card Guide for Tourist & Internet Package.
Melasti Beach Opening Hours
Melasti Beach is open most of the day with the high peak season is usually in July. It is open for the whole year except during Nyepi. It is best to visit the beach in the early morning for a quieter moment or before 6 PM for watching the sunset.
Melasti Beach Opening Hours
Every day
Open 24 Hours
Nearby : Greenbowl Beach Guide & Things To Do.
Melasti Beach Entrance Fee
The ticket is affordable with Rp10.000 for one adult and Rp3.000 for one child. Visitors can also park their vehicles near the beach with Rp2.000 for a motorbike and Rp5.000 for a car.
Melasti Beach Entrance Fee
Child
Rp3.000
Adult
Rp.10000
Parking fee
Rp2.000 (scooter) Rp5.000 (car)
See: Pandawa beach Things To Do & Guide.
Facilities
Melasti Beach is considered a new spot for tourism. Some of the facilities are still in process of making. However, most of the infrastructure is available to use, such as local dining, restrooms, and changing room. For a more pleasurable experience, visitors can visit beach clubs with restaurants, bars, café, and swimming pools inside.
There are enough homestays, resorts, and villas around Ungasan village. Tourists can also have more options by staying in Canggu or Uluwatu area. Since it is the nearest tourist area with plenty of accommodation and busier than Ungasan.
See: Bali Airport Guide & Airport Transfer To Ubud.
How To Get To Melasti Beach
Ungasan Villange is located in North Kuta, Badung. It is about 26 Km from Denpasar. From Uluwatu temple, it only takes 30 minutes to get to Melasti Beach. The beach used to be isolated, but now the access becomes easier with asphalt road to the beach shore.
Visitors can get to the beach by renting a car or scooter because there is no direct route of public transportation to Ungasan. Renting a motorbike is surely helpful to hop from one place to another. With the rental fee starting from Rp50.000 to Rp135.000 for one day.
Address & Location
The beach located in Jl. Pantai Melasti, Ungasan, Kuta Selatan district, Badung Regency Bali 80361.