Nyang Nyang Beach
Entrance Fee: Free Entrance
Opening Hours: Open 24 Hours
Telp. Number: -
Address: Jl. Raya Uluwatu Pecatu, Pecatu, Kuta Selatan , Badung, Bali, Indonesia , 80361.
Let's talk about one of the most beautiful hidden beaches in Bali, Nyang Nyang Beach. For how picturesque the shore is, it was listed as one of the must-visit beaches by CNN Travel International in 2018. Be ready to witness a dreamy sandy white beach decorated harmoniously by the turquoise sea here. It's one of the best choices for visitors who wish for a quiet beach.
Nyang Nyang Beach is located on the southern coast, precisely in Pecatu. For easier insight, it stands only around a half kilometer away from the famous Uluwatu Temple. To get there is to trek down the Bukit Peninsula cliff. The other way is to drive down a rocky slope. Visitors can choose whether to seek adventure or convenience with both options.
The best season to visit Nyang Nyang Beach is in the dry season between April to October. The beach is still open during the rainy season. However, visitors should want to embrace the sudden rain, slippery trek, and cloudy sky instead. Regardless of the season, Nyang Nyang is still a must-visit beach for travelers. Let's find out more about this secret Bali paradise below!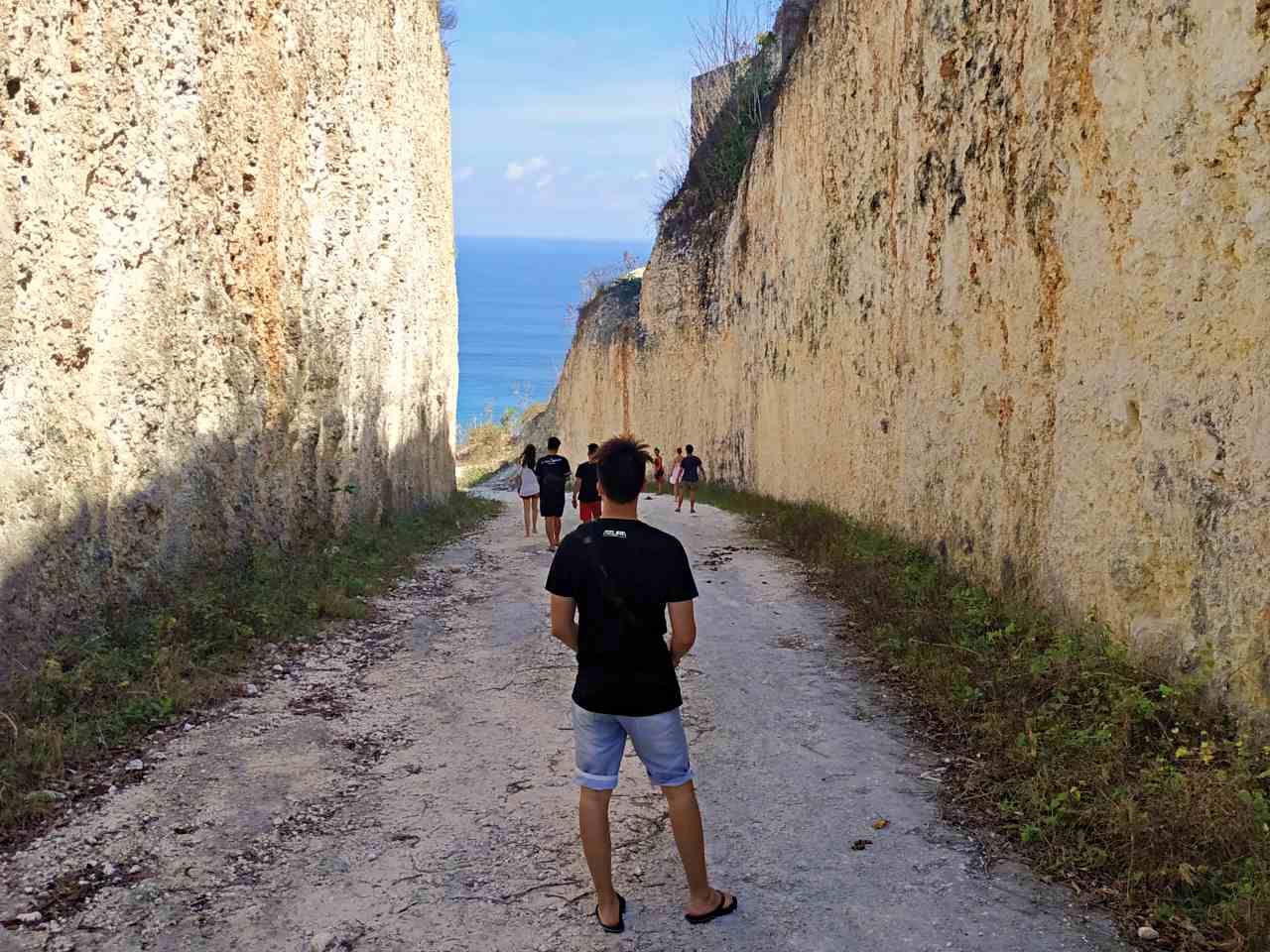 Nyang Nyang Beach Entrance Fee
The beach is still natural with fewer incoming tourists. Prepare cash for donations to keep the beach clean and small notes of Rp5.000 for the parking fee.
Nyang Nyang Beach Entrance Fee
Ticket
Donation
Parking fee
Rp5.000
See: Suluban Beach, Beach Club & Things To Do.
Nyang Nyang Beach Opening Hours
Nyang Nyang Beach is open for tourists every day except during Nyepi. The beach is open 24 hours. But between early morning and sunset hour around 6 PM is the best time to explore it. Visitors are advised to leave until sunset time at the latest. The beach is not accessible since there are no lights at night.
Nyang Nyang Beach Opening Hours
Every day
Open 24 hours
Nearby: Guide To Uluwatu Temple, Kecak Dance & Schedule.
Sunbathing & Loosen Up
The beach welcomes mostly medium to high waves from the wide Indian Ocean. But it still makes a safe place for wanderers to hang around the 1,5 km stretch of coast. Tourists could simply choose between sunbathing, meditating, workout, or simply lazing around. Regardless of what the choice is, Nyang Nyang Beach is not a disappointing spot.
Tourists intend to surf or swim in the crystal blue sea. Please be aware that patrols or lifeguards are not available in the area. Besides rocks and the sudden high wave, the beach is very likely not for amateur swimmers and surfers. Aside from the drawback, opt for sunbathing. And for Rp50.000, pick a spot and relax on a rented beach umbrella.
Nyang Nyang Beach Sunset
Sunset hunting is always a must in Bali and Nyang Nyang can be the perfect place for it. The combination of the blue sea, towering cliffs, and the orange cotton sky would be a catharsis for sunset catchers. The serene air that surrounds the early evening will also add up to a perfect sunset experience. It is not every day that travelers can enjoy the sunset with nothing but the sound of waves.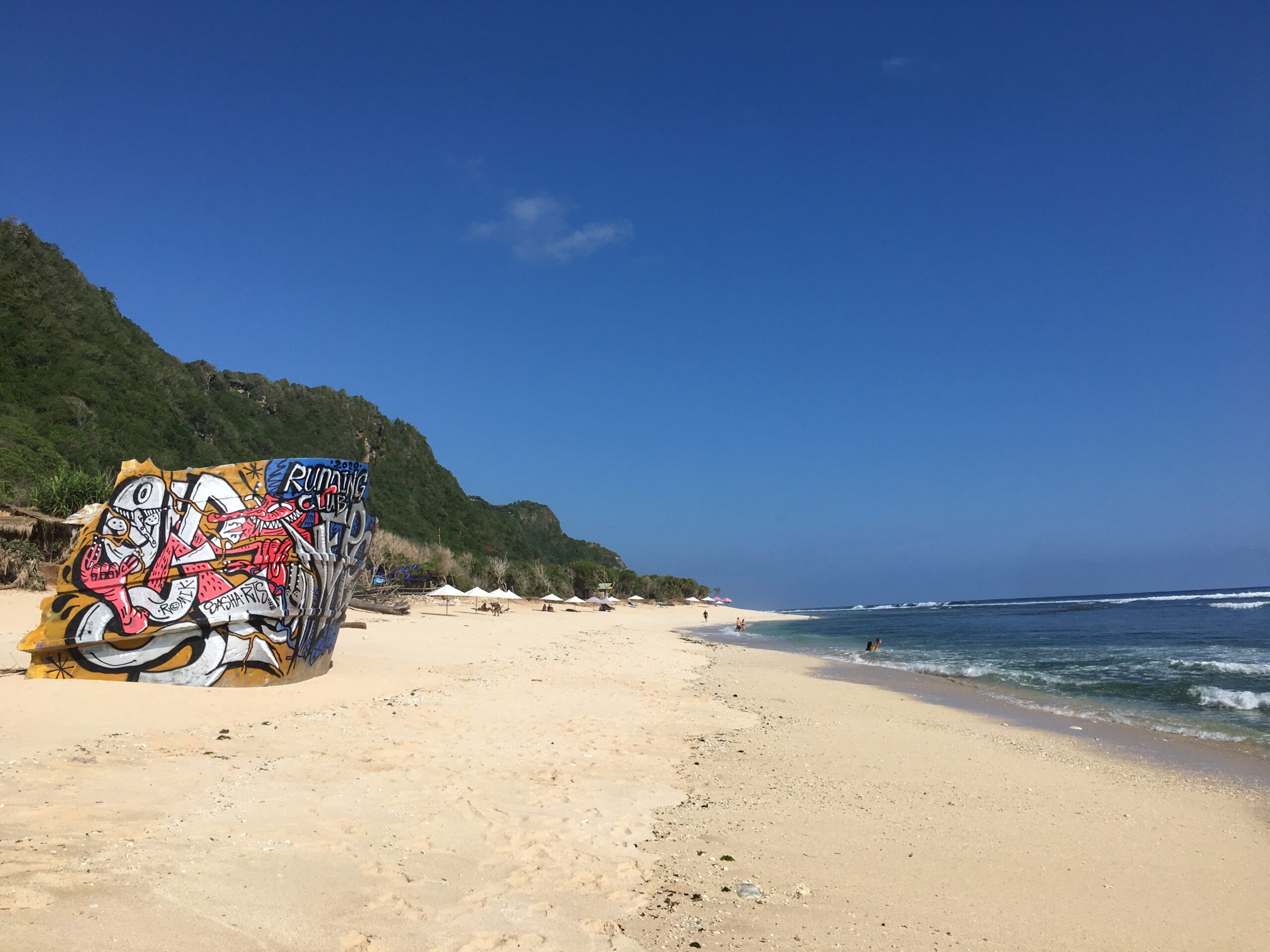 After watching the sunset, it is best to leave and climb back up immediately for safety. The long, tricky access to the beach has yet equipped with lighting, let alone patrols. It is best to bring a spare flashlight in case travelers want to stay longer. Make sure to also carry an umbrella in the rainy season because the distance to the road stretches long.
Dip In The Natural Pools
One of the site's eye-candy is its natural pools. The number of rocky reefs in the seashore naturally creates pools with low depth. Visitors can opt for playing in the pools instead of jumping into the sea for options. It is also the perfect place to wait for the sunset to start its showcase.
Visitors can also find marine life along the coastline. Crabs, fishes, and sea stars are a few of the many kinds visitors can possibly witness. Be mindful to act gently towards the sea creatures to preserve them. And last but not least, leave no trash and keep the beach clean.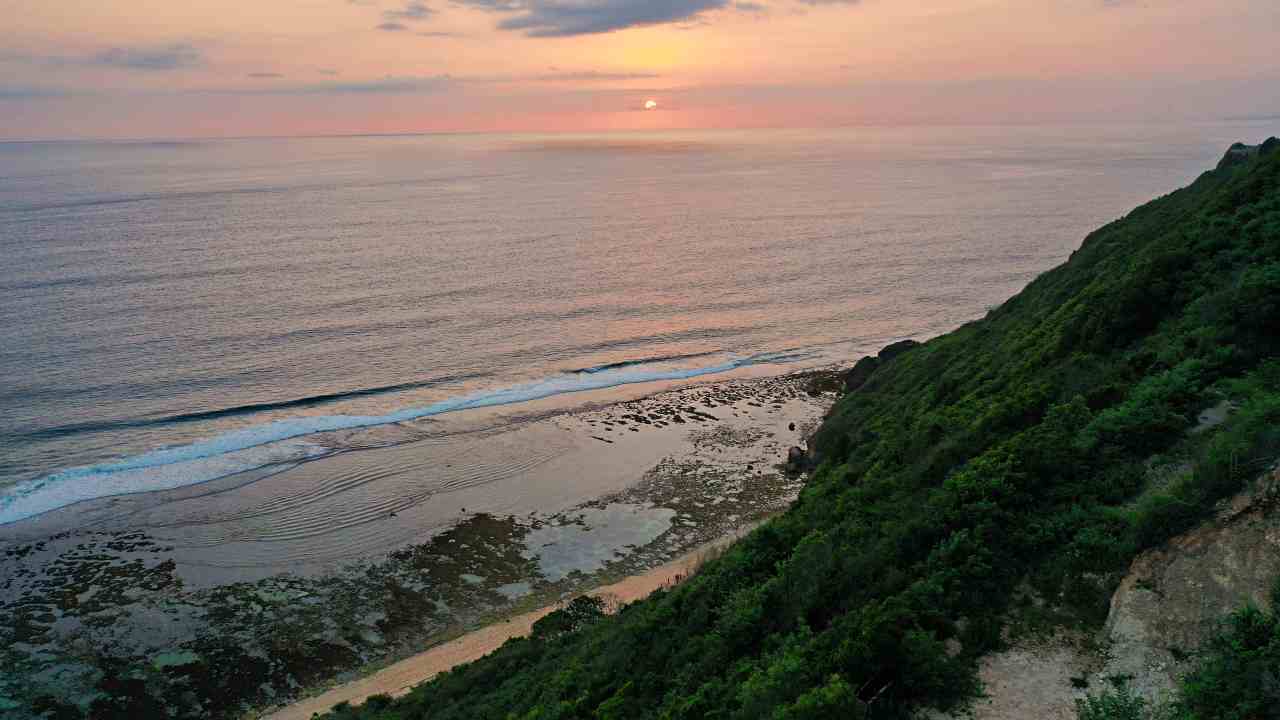 Photo Hunting
Somewhere along with the sandy land, an iconic shipwreck with amateur gravities all over exists to the sight. The unknown ship by far has been the main attraction for the beach guest to take aesthetic photos. Photo hunters can either use it as a backdrop or climb onto the shipwreck to spot the best angle. Either way, it will still expose the beauty of Nyang Nyang Beach.
Visitors could also use the exotic combination of blue sea and green lush cliffs as the magical backdrop. With almost no people in sight, it will give off an impression of a private beach to the picture. As an alternative, take a shot during the sunset to catch a vibrant silhouette. No matter where it is, every inch of Nyang Nyang Beach is photography-worthy.
Paragliding Across Nyang Nyang Beach
Up from the cliff, visitors could paraglide to the majestic sea view of Nyang Nyang Beach. Beginners should not be afraid of the experience. The service offers participants tandem paragliding with professionals instead of solo ones. Therefore, safety should not be a concern for adrenaline seekers.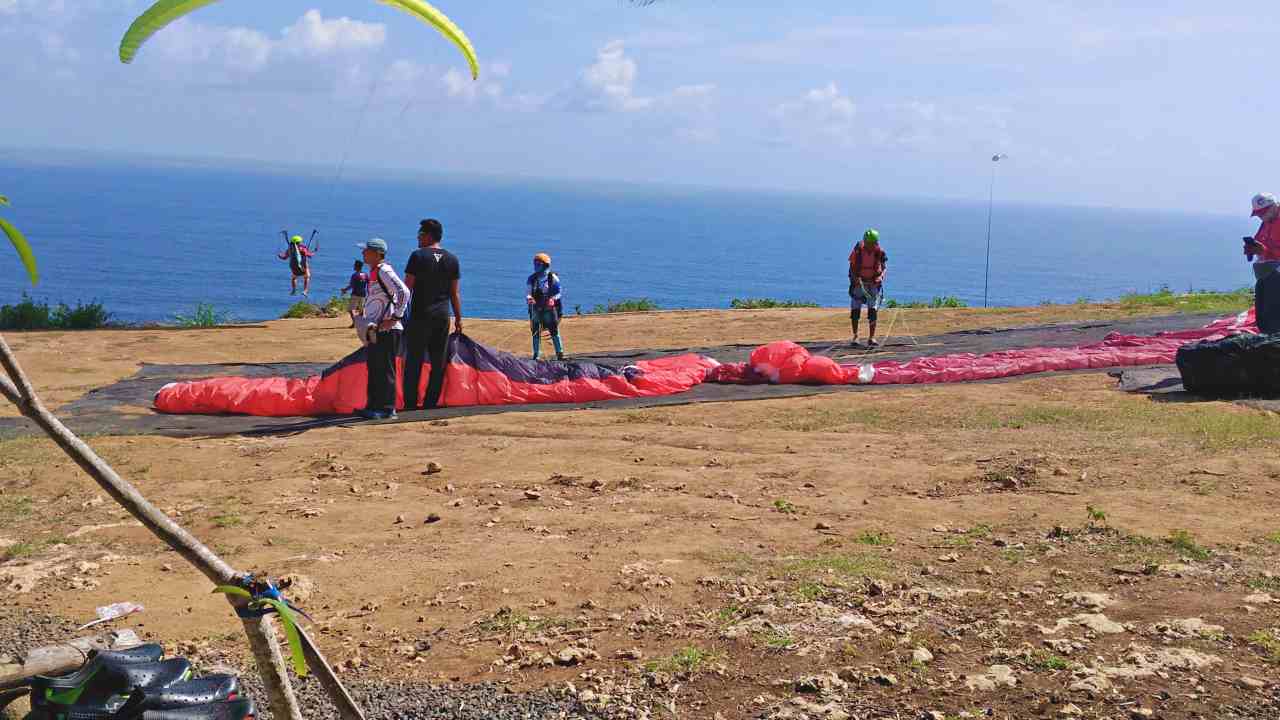 The standard paragliding price starts from Rp900.000 for a 10 minutes duration. Travelers can contact the provider first to make an appointment. It is also crucial for the provider to ensure the weather beforehand, especially during the rainy season. To experience the best flying moment, opt for a morning session. The afternoon slot is awesome but sometimes very windy.
See: SIM Card Price & Internet Package Bali.
Facilities
Being a deserted beach, there are almost no restaurants or shops in the area. Visitors can only find a few stalls or warung to buy essentials down the beach. Before trekking down, there is also one stall available near the trek's entrance. Hence, for convenience, it is advised to prepare food, drink, and beach accessories before coming to the area.
The distance from the parking area to the beach is quite far. But there is a taxi bike service for visitors who wants to avoid a long walk. It's quite an expensive ride, Rp25,000 for a one-way trip.
See: Bali Airport Guide & Public Transportation.
How To Get To Nyang Nyang Beach
Going south to Nyang Nyang Beach should not be a problem for travelers who prefers public transportation. A public bus, Trans Sarbagita, has a route towards Garuda Wisnu Kencana (GWK) bus stop or halte. It is the nearest bus stop to the beach with only Rp4,400 for a one-way ticket. From GWK, travelers can use either the feeder bus to Uluwatu Temple or use an online transport service.
Travelers can also choose to rent a vehicle with or without a driver. Rental services are always easy to find around Bali island. Visitors who use private transport can park their vehicles near the trekking path entrance.
See: Jimbaran Fish Market & Seafood Feast Spot.
Address & Location
Nyang Nyang beach situated in Jl. Raya Uluwatu Pecatu, Pecatu, Kuta Sel district, Badung, Bali 80361.