Suluban Beach
Entrance Fee: Free Entry
Opening Hours: Open 24 Hours
Telp. Number: -
Address: Jl. Pantai Suluban, Pecatu , Kuta Selatan , Badung , Bali, Indonesia , 80361.
Suluban Beach, also known as Blue Point Beach, is a fairly small beach. A secluded place that lies on the southwestern tip of Bali. It boasts steep limestone cliffs surrounding its shores that make it almost inaccessible. The water is crystal clear blue, dotted by large mossy rock formations.
Compared to the nearby Padang Padang Beach, Suluban is perhaps less renowned than its neighbor. To get to the beach it needs a little extra effort. It takes a 10-minute walk from the nearby parking lot. Tourists must then navigate a set of stairs sandwiched between tall limestone walls. From there, the shores of the beach will present themselves on a low tide.
Suluban or the Blue Point beach is a very popular spot for professional surfers. Most of the foreign vacationers coming to this beach seek its famous strong, rolling waves.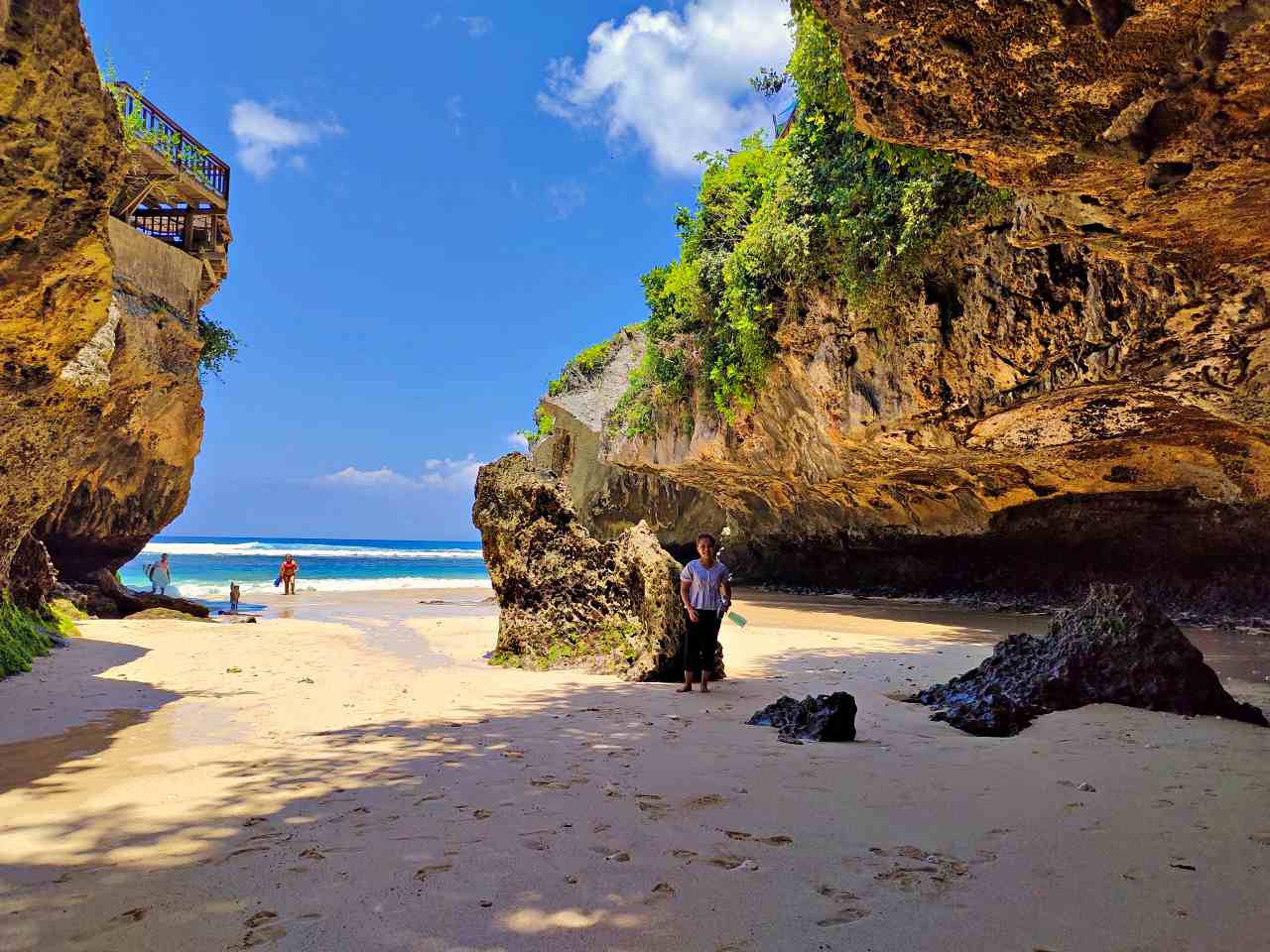 Apart from being a surfing spot, many other tourist attractions surround Suluban Beach. Visitors can easily hop over any time after a day at the beach. From Suluban, travelers can continue the trip to Uluwatu Temple, to watch the Kecak dance. The journey will take only 12 minutes ride or 30 minutes walk.
Suluban Beach Entrance Fee
There is no entrance fee charge to get to the beach, it's still a free beach. Guests will only need to pay the parking fee of Rp10.000 for a car and Rp5.000 for a motorcycle.
Suluban Beach Entrance Fee
Ticket
Free
Parking fee
Rp5.000 (motorcycle) /  Rp10.000 (car)
Nearby: Padang Padang Beach, Activities & Surfing Course.
Suluban Beach Opening Hours
The beach is open 24 hours. Visitors may come anytime but preferably during low tides as it is less dangerous. Most people come during the hours before sunset, usually from 3 PM.
Suluban Beach Opening Hours
Every day except Nyepi Day
Open 24 Hours
Nearby: Uluwatu Temple, Activities & Kecak Dance Performance.
Suluban Beach A Surfing Destination
The beach offers a thrilling surfing experience for tourists. The current is strong and the high tide comes very frequently. Waves are also pretty strong on this beach. As such, it is not advisable for beginner surfers to check out the waves. Suluban Beach is also not suitable for children and swimming owing to the large rock formations near the shore.
Nonetheless, the beach remains a favorite spot for many surfers. Visitors who want to surf should come during the dry season, from May to October. Surfers can rent surfboards from rental shops nearby for Rp100.000. And for tourists who aren't interested in surfing may frolic around the beach or simply just enjoy the beach landscape from the beach cafe.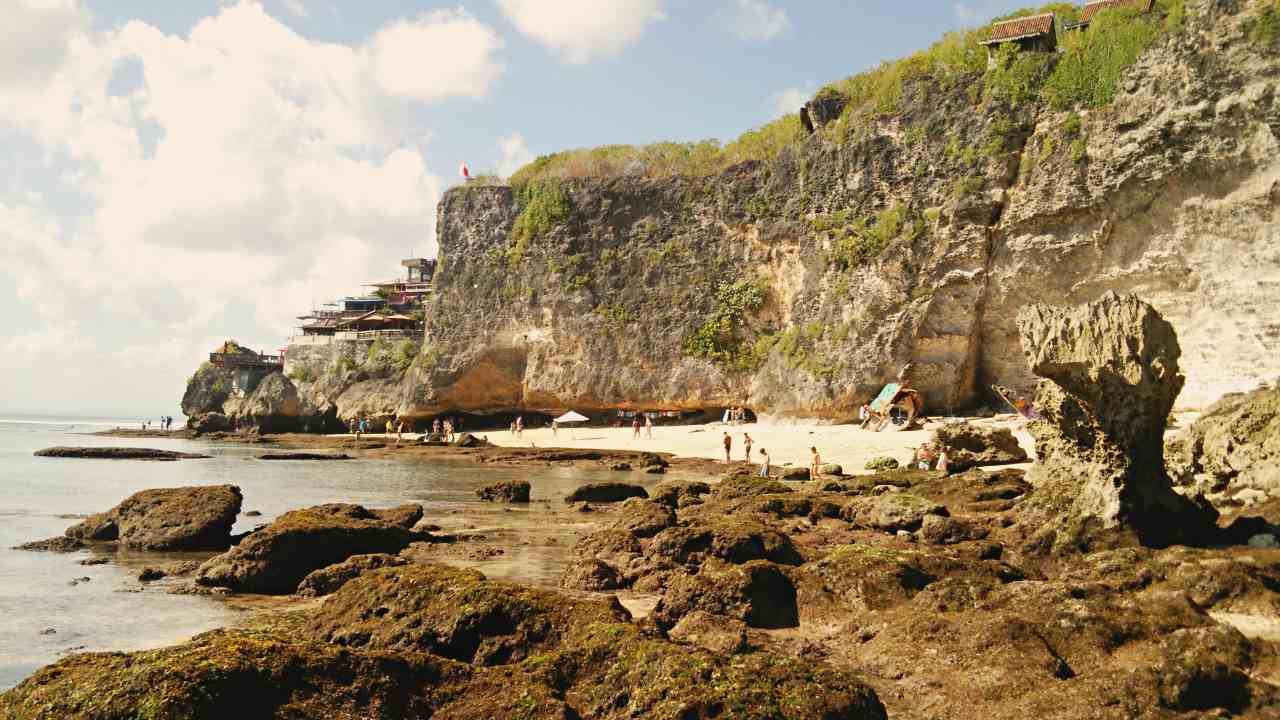 Best Sunset Spot
The sunset view Suluban Beach offers is magnificent. But the beach itself is only accessible on the low and medium tide. Sightseers can sit and enjoy the sunset from the shores or nearby cafés and restaurants. Some offer entertainment with nice live music for the sunset hunters. Some just simply boast the cliffside and 180° panoramic view.
Right on the left side of the beach and among the jutting rocks, tourists will find the remains of a shipwreck. Locals have torn down the shipwreck. But few remains are large enough to be the backdrop of an Instagram photo.
Unlike other popular beaches in Bali, Suluban Beach is a bit rustic. Hawkers aren't many, there's no beach chair rent. There are just a few modest non-permanent stalls on the beach selling bottled water and snack.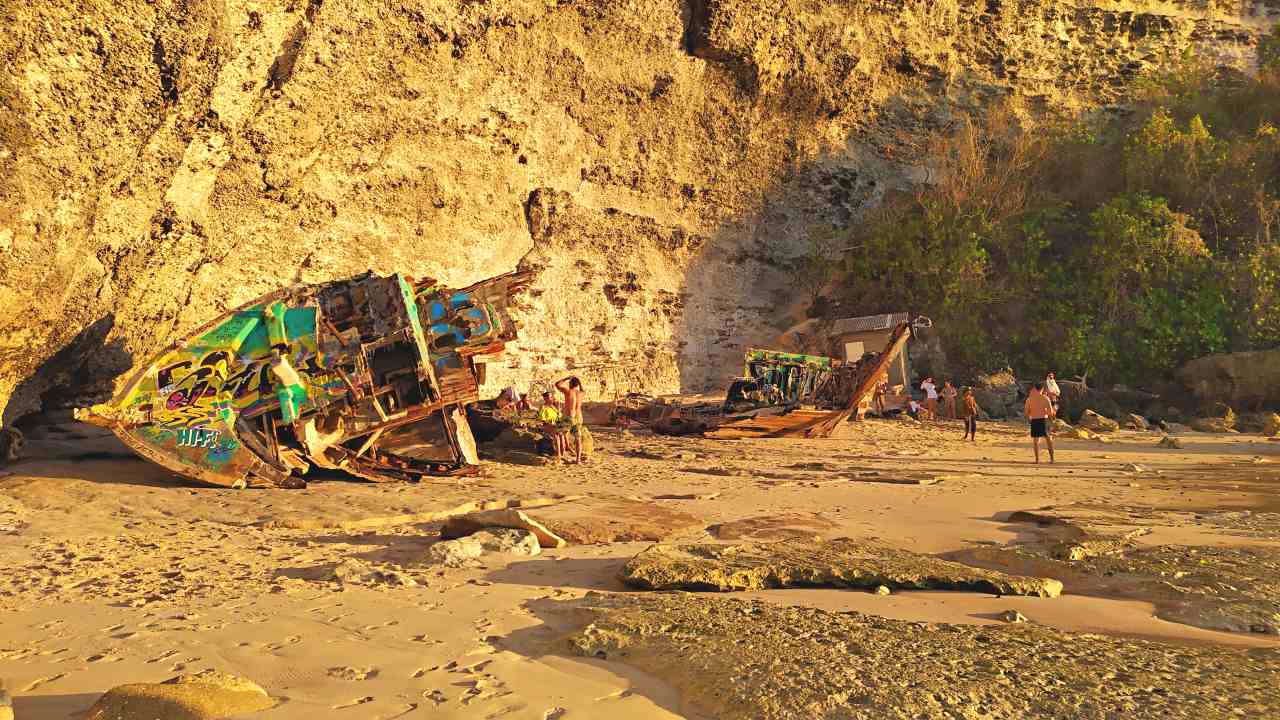 Beach Cave & Wave Pool
One of the different things Suluban offers is its hidden beach caves. Just like the beach, it is only accessible at low tide. During high tide, the water would come in all the way until the caves are completely hidden.
On low tide, however, water would recede. And not only visitors can explore these hidden caves, some even take it further, and set up tents in the cave. The shallow wave pools are amongst other different things too here.
During high tide, water would come into these large holes near the shores. Once the water recedes, these holes will turn into natural pools. Tourists can then swim and soak inside these pools.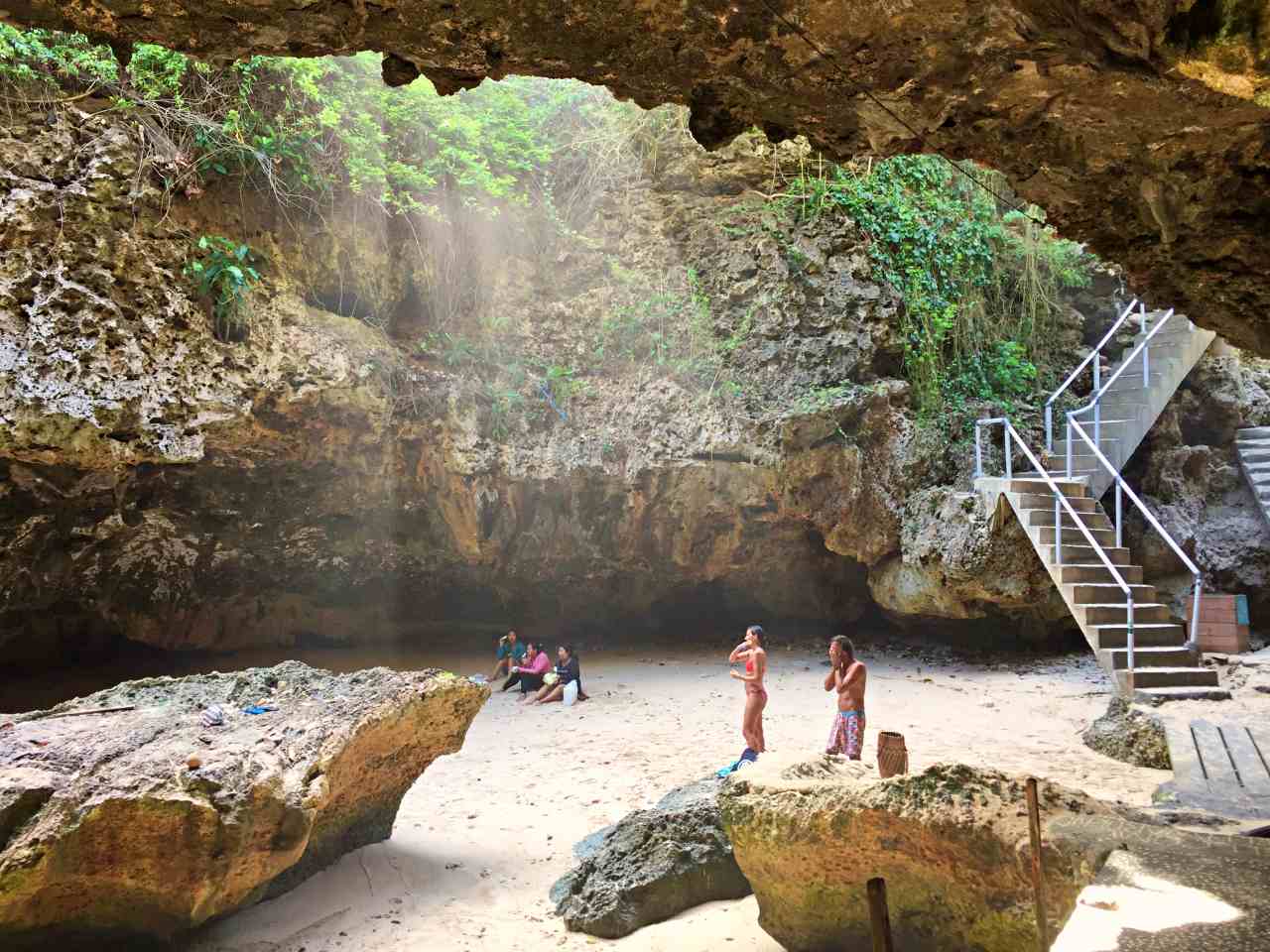 Restaurant & Warungs
There are plenty of spots to sit, relax, and savor the moment. From the restaurant, beach club with modern sofa deck and DJ performance. To small warungs with a more simple and modest vibe. But both are sharing the same sight. The view over the cliff and the breathtaking sunset scene.
For the menu, the restaurant offers more food selection and cocktails. Price range from Rp40.000 to Rp165.000 for snacks and food. While the cocktail price range from Rp45.000 and Rp400.000 to Rp1.000.000 for a bottle of wine.
Stand at a different price range, warungs on the beach deliver more simple food. Such as fried rice, fried noodle, and salad drenched in peanut sauce, but mainly Indonesian dishes. The price range for the main dish starts from Rp30.000 to Rp50.000. And the beer is also cheaper than in the restaurant.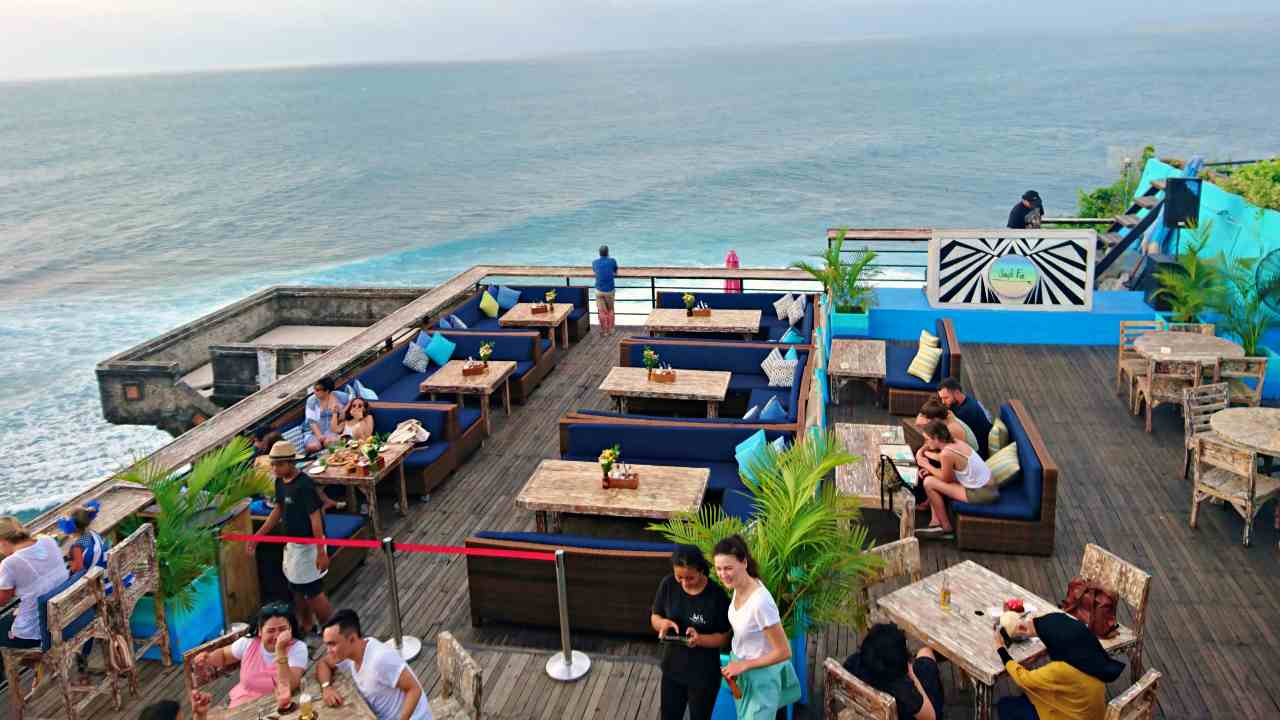 Cultural Insights
Suluban, also known as Uluwatu or Blue Point Beach, is close to the popular Uluwatu temple. It's just a 12 minutes drive. Don't miss to witness the magnificent performance of the Kecak dance in the temple. Sitting right at the edge of the cliff, the stage of the Kecak show is outdoors. Boasting a cliff scene and a dramatic sunset view.
The show will begin at 6 PM local time, and these tickets sell out really fast. Upon arrival, guests will get a sarong to cover both knees. Don't worry the sarong rent is included in the temple entrance fee ticket. However, it doesn't include the Kecak dance ticket Rp100.000.
See: Melasti Beach Guide & Kecak Dance Show Schedule.
Facilities
Suluban Beach is surrounded by countless villas, hotels, tourist shops, bars, and restaurants. Vacationers can find lodgings offering various prices, from budget guesthouses to luxury villas. Many bars and restaurants near Suluban Beach offer magnificent sunset views and live music.
One even offers a swimming pool overlooking the seaside. Guests may also find several wedding venues as well. The beach is a popular spot to take pre-wedding photos too.
Besides restaurants and small cafes on the premises. The small kiosks selling snacks, and souvenirs are lining the beach path. Halfway through before reaching the beach, guests will find a public bathroom. It's a pay bathroom so make sure to prepare small notes of Rp2.000 to Rp5.000 to use the facility.
See: Indonesian SIM Card, Price & Provider.
How To Get To Suluban Beach
Visitors can either rent a car or a motorbike to get to Suluban Beach. A motorbike is preferable as it is cheaper and faster. Travelers only need to pay Rp50.000 for day rent. Alternatively, for group travelers, renting a car with or without a driver could be an option.
The price for a 12-hour rental car package from main tourist hubs or online renting sites will range from Rp170.000 to Rp450.000. Suluban Beach is a 60-minute drive from Denpasar depending on the traffic. With a private vehicle, vacationers can take Jalan Bypass Ngurah Rai.
From there, travelers can switch lanes to Jalan Uluwatu and drive for about 30 minutes. Then take a left turn to Jalan Labuansait. Once arrive at Padang Padang Beach, take a right and it's only another 10 minutes to get to Suluban Beach.
See: Bali Airport Guide & Public Transportation.
Address & Location
Suluban or known as the local as Uluwatu beach is just 10 minutes away from Padang Padang Beach. It's located in Jl. Pantai Suluban, Pecatu, South Kuta, Badung Regency, Bali 80361.