Kelingking Beach
Entrance Fee: Rp10.000
Opening Hours: 07:00 - 18:00
Telp. Number: -
Address: Karang Dawa , Bunga Mekar , Nusa Penida , Klungkung , Bali , Indonesia, 80771.
Situated at Bunga Mekar village, Kelingking Beach is considered one of the most magnificent beaches in Bali. Kelingking is pinky finger in Indonesian. Where did Kelingking Beach get its' name is uncertain. But the world must agree on one thing, Kelingking Beach is one of the magnificent marvels in Nusa Penida!
Also called T-Rex Bay, Kelingking Beach lies on the southwestern side of the island. The cliff stands 150 meters high. Its' iconic T-Rex shape cliff makes it so popular among beachgoers. It looks as if going to swallow the sea with its' open mouth.
Kelingking Beach is notorious not only for its' admirable views. Arduous tracks, scorching sun, and monkeys are among other struggles people will have to face to get here.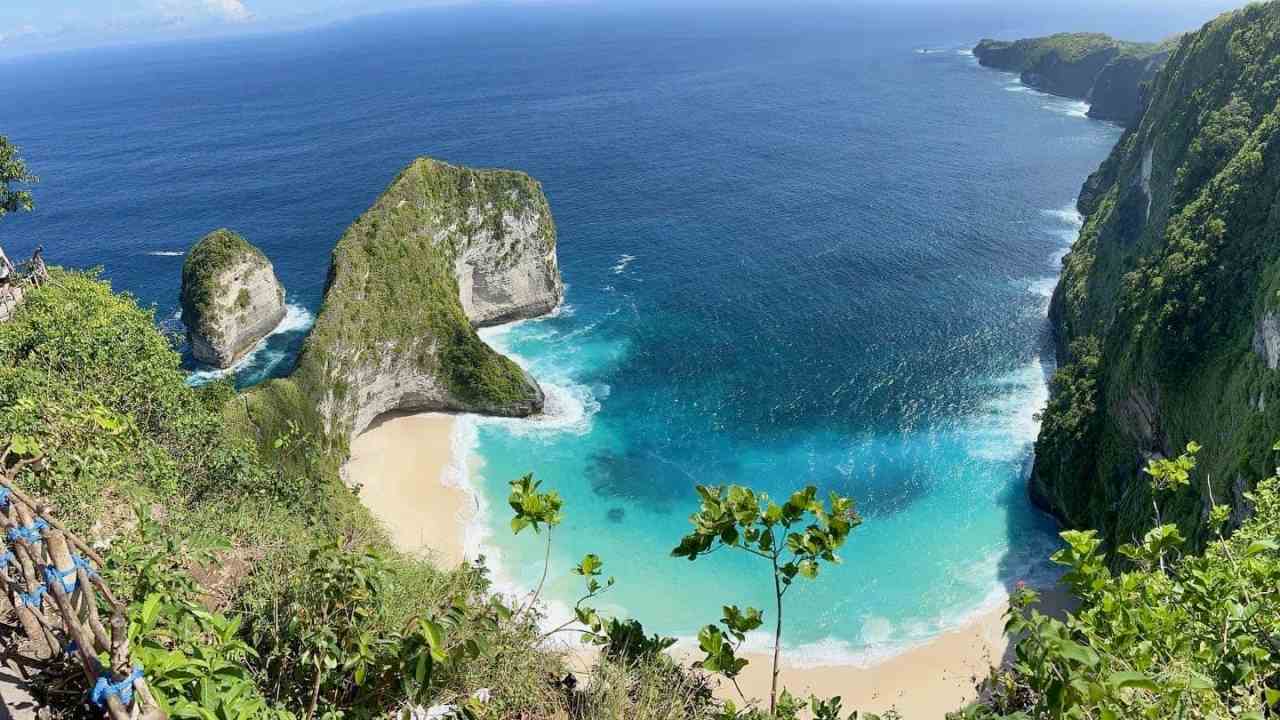 Kelingking Beach Entrance Fee
Unlike the popular beaches on the mainland, to access Kelingking Beach visitors will have to pay an entrance fee. As at any beach in Nusa Penida, the entrance ticket is Rp10.000. There is an additional fee for parking Rp5.000 for a scooter and Rp10.000 for a car.
See: Atuh Beach, Activities & Entrance Ticket.
Kelingking Beach Opening Hours
Kelingking Beach is open every day except on Nyepi from 7 AM to 6 PM. Astounding views, magnificent cliffs, and a beautiful beach are the perfect blend for picturesque scenery. However, the sun is blistering during its' peak. Consider this when lining up to take pictures at the best spots. Before 12 PM and after 3 PM is the best time to get to the beach. But do leave the beach before dark.
Kelingking Beach Opening Hours
Every day, close on Nyepi day
07:00 – 18:00
See: Guide To Explore Diamond Beach & Top Things To Do.
Kelingking Beach Extreme Track
Many people may consider the track challenging. Well, it is! Most of the beaches on Nusa Penida lie at the cliff base. It takes 20 minutes or so to the beach. Nonetheless, the only way to get here is by trekking a narrow ridge. Then, the way down is abrupt with almost perpendicular steps.
It takes extra energy and a lot of sweating to get here. Furthermore, there is no railing at many points along the cliff side to protect tourists from falling down. Be really careful when picking these points to stand.
While the spots offer spectacular views, it comes with a risk. In the past, there's been a series of accidents. One that involves tourists falling down from the cliff on the way up. Wear good shoes! And mind the steps when climbing up.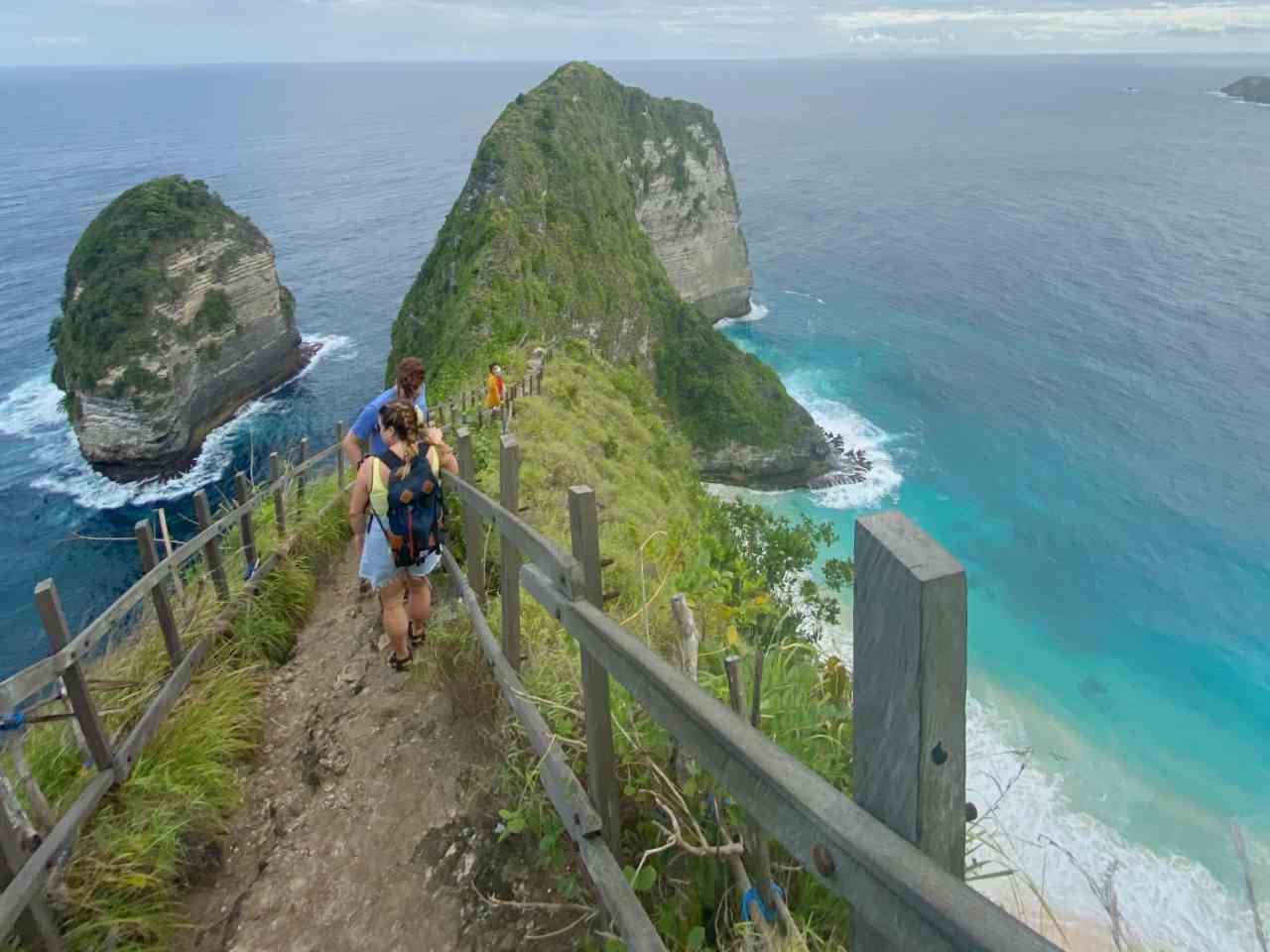 Wild Monkeys
People cherish tranquility. The feeling visitors get only by standing at the cliff, looking at the horizon where the sea meets the sky. And, white, soft sand always tempts people to lie down or walk the beach. Apply a lavish amount of sunscreen, because it is not fun to get sunburned.
Don't miss out to snap a T-Rex-shaped cliff picture, the signature of this place. The sunset view from the cliff is also magnificent. However, the tracks should warn tourists not to stay at the beach until dark.
In addition to the scorching sun, the wild monkey here is something guests will have to deal with. Besides food, they mostly will try to steal sunglass even phones. Be cautious and remember, no matter how tame it seems, the monkey is a wild animal.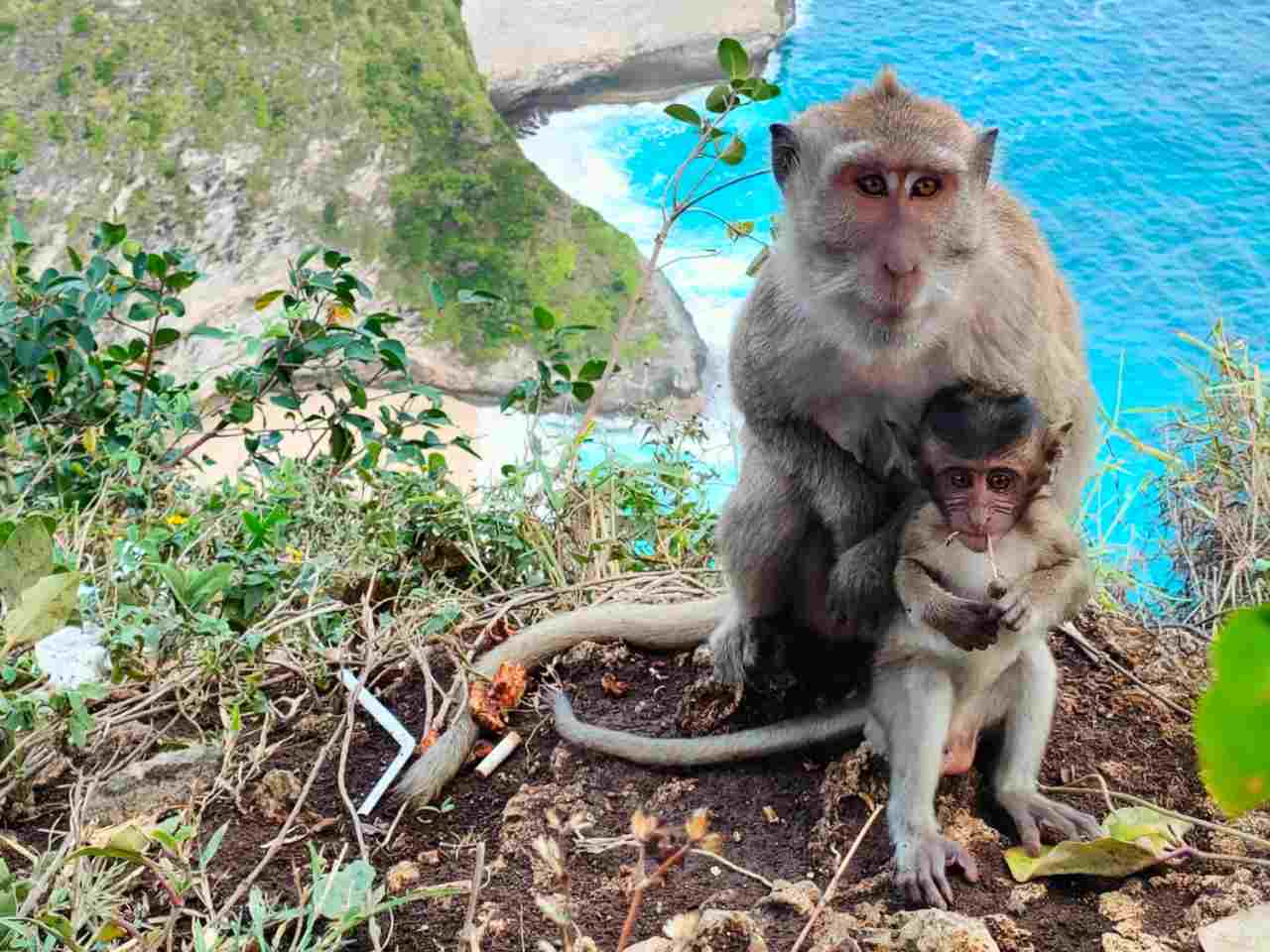 Photo Spots
The must-visit spot here is Kelingking secret point. It is where tourists can grasp the T-Rex look of the cliff. The steps are wide enough for 2 people. Nevertheless, in peak season, tourists may have to take turns for 1 hour to get the best pictures.
Other spot includes Kelingking Swing which replaced the old love tree. The spots offer a stunning blue ocean and green cliff as background.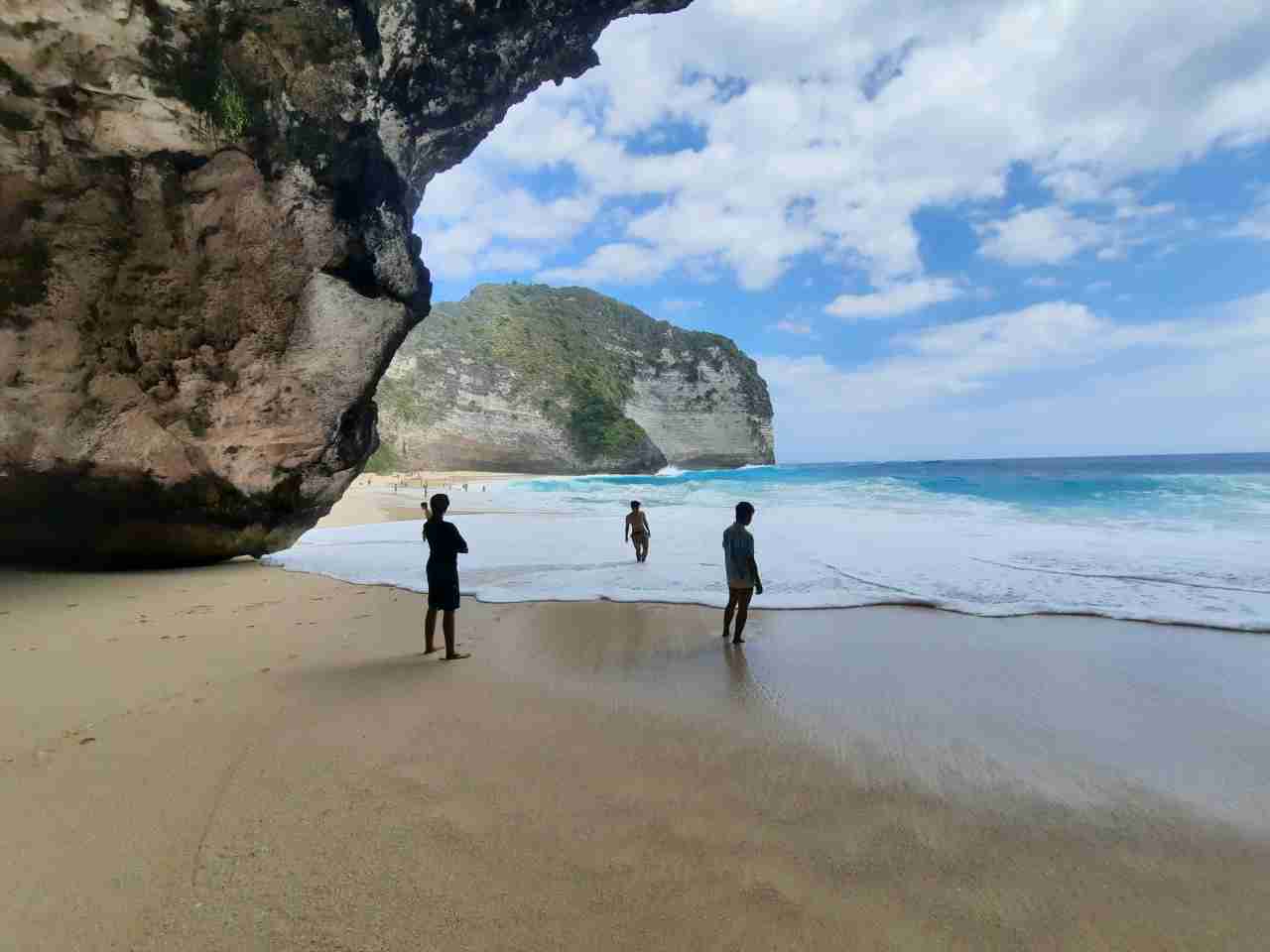 Paluang Cliff & Temple
Still have time and get contented with Kelingking Beach? Just roam and find other wonders. Paluang Cliff is only a 10-minute walk distant with a more tolerable track. Tourists may see the back of T-Rex, the head of Kelingking beach from a wooden boat at the cliff side.
The other photo spot includes the swing and bird's nest replica. To point out, it all overlooks the breathtaking cliff and sea view. However, this man-made spot is a paid photo spot. Prepare Rp10.000 for each spot.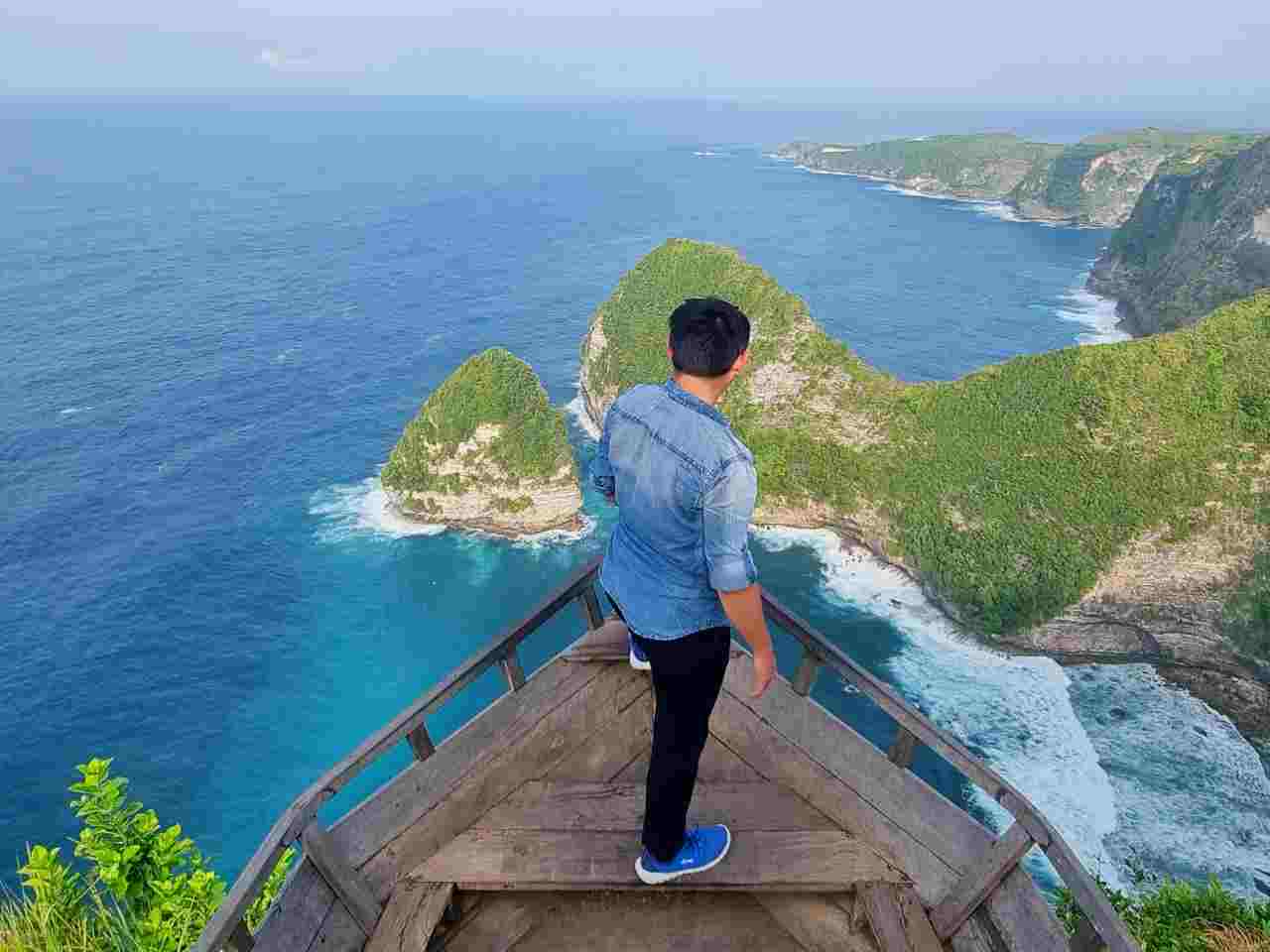 There is also a temple near the cliff called Paluang Temple. The temple is a relatively small temple. It's a temple for locals living near the village to go to pray. The unique thing is there actually car-shaped statues in the temple. It's not really common in many temples in Bali. Tourists may have to pay attention to what to wear here since the temple is a sacred place for the locals.
See: Guide To Explore Sanur Night Market & Bali Street Food.
Facilities
With its' popularity and wonderful destinations around, many facilities scatter here. Locals offer foods and drinks of various kinds in restaurants and stalls. Coffee shops are also available at affordable prices. Tourists may also enjoy coconut water from local vendors or ice creams at the stall around.
Toilets are available near the local food vendor and they come with an extra fee of Rp5.000. However, all the food stalls are located at the top. There are no facilities down there on the beach. There are also lodgings and hotels to suit tourists' dream vacations not too far from the beach.
See: Bali Tourist SIM Card, Provider, Price & How To Register.
How To Get To Kelingking Beach
From mainland Bali, it is a 30 to 40-minute crossing with speedboats to Nusa Penida. There are 3 harbors that serve several times daily, Sanur, Padang Bai, and Kusamba Klungkung harbors. The speedboat fare starts from Rp150.000 to Rp200.000.
Solo travelers could rent a scooter from local rentals at Banjar Nyuh for Rp75.000. Car rent for Rp500.000 suits more for travelers coming in a group. The journey is a 25 km-long bumpy road to Kelingking Beach.
The rental fee for a car usually includes gasoline and a driver. However, it doesn't include tickets to tourists attraction and the driver's tip. The perk of renting a car here is the driver will be happy to show guests the best spots to take photos. Spare extra money for this service and hotel pick up and drop off if those are in the plan.
See: Bali Airport Guide, Airport Transfer & Public Transportation.
Address & Location
Kelingking beach is located in Bunga mekar village, Nusa Penida, Klungkung, Bali 80771.