Diamond beach
Entrance Fee: Rp25.000
Opening Hours: 07:00 - 18:00
Telp. Number: -
Address: Jl. Pelilit, Pejukutan , Nusa Penida , Klungkung , Bali , Indonesia, 80771.
Bali seems to have an endless list of beaches. The newest one on that list is Diamond Beach. The beach lies on the eastern side of Nusa Penida. It is an untouched beach with white sand and clear, turquoise water. Its' naturalness suits people who are looking for a moment of serenity.
Diamond Beach got its' name after diamond-shaped limestones that stand erect there. Palm trees grow here and there adding to their' beauty. The minimum facility suits those who like to be in such tranquility.
The beach just opened to the public in 2019. However, in an instant, it gains everyone's spotlight for its impressive view. Forget the hassle to have to deal with hawkers on Kuta Beach. Because there's none in here.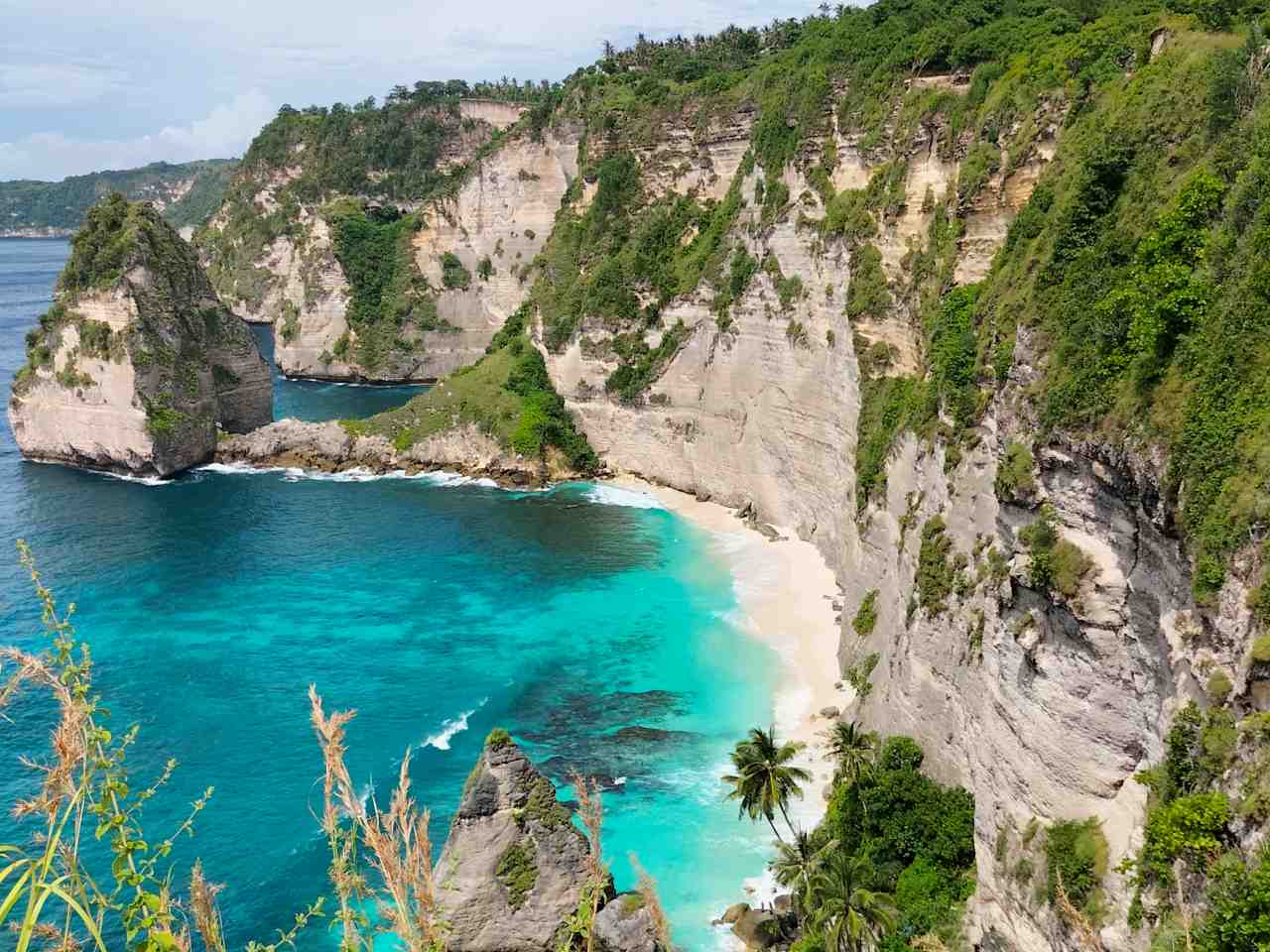 Diamond Beach Entrance Fee
Tourists will be charged Rp25,000 for the entrance fee. And an additional Rp5.000 for a scooter, and Rp10.000 for a car parking fee. The entrance ticket includes access to Atuh Beach that located side by side. 
Diamond Beach Entrance Fee 
Ticket 
Rp25,000
Parking 
Rp5.000 (scooter) / Rp10.000 (car)
Nearby: Atuh Beach & Top Things To Do.
Diamond Beach Opening Hours 
Diamond Beach opens from 7 AM to 6 PM. But staying until the sky gets dark is a bad idea. Not enough lighting and harsh topography might put visitors into trouble. On the other hand, the beach has rough waves that can become dangerous at any time. Morning is the best time to visit Diamond Beach when there are not many visitors yet. The sunrise exposes the beach slowly in the morning. The sand, rocks, and water shimmer reflecting the sunlight.
Diamond Beach Opening Hours
Every day except Nyepi day
07:00 – 18:00
Nearby: Guide To Explore Angel's Billabong Nusa Penida.
Diamond Beach Challenging Track
First, from the parking spot it will take 5 to 10 minutes to get to the cliff. Follow by another 10 minutes walk from the cliff to the beach. And the only access to get here is steep stairs carved out of limestone. It is 25 meter high stairs with narrow steps and only rope handrail. 
In addition to the challenging track, there is nothing that could protect tourists on the way down. There are just karst rocks surrounding the beach in a crescent shape. And the last step getting to the beach even harder. There aren't stairs anymore, people will have to climb down by hanging on a single rope.
To point out, there is only 1 way in and out. And when it gets busy, people will have to queue in the middle of the track. But all of the struggles will pay off once getting here. Beautiful, and serene, after all, Diamond Beach is dubbed the second-best beach in Nusa Penida.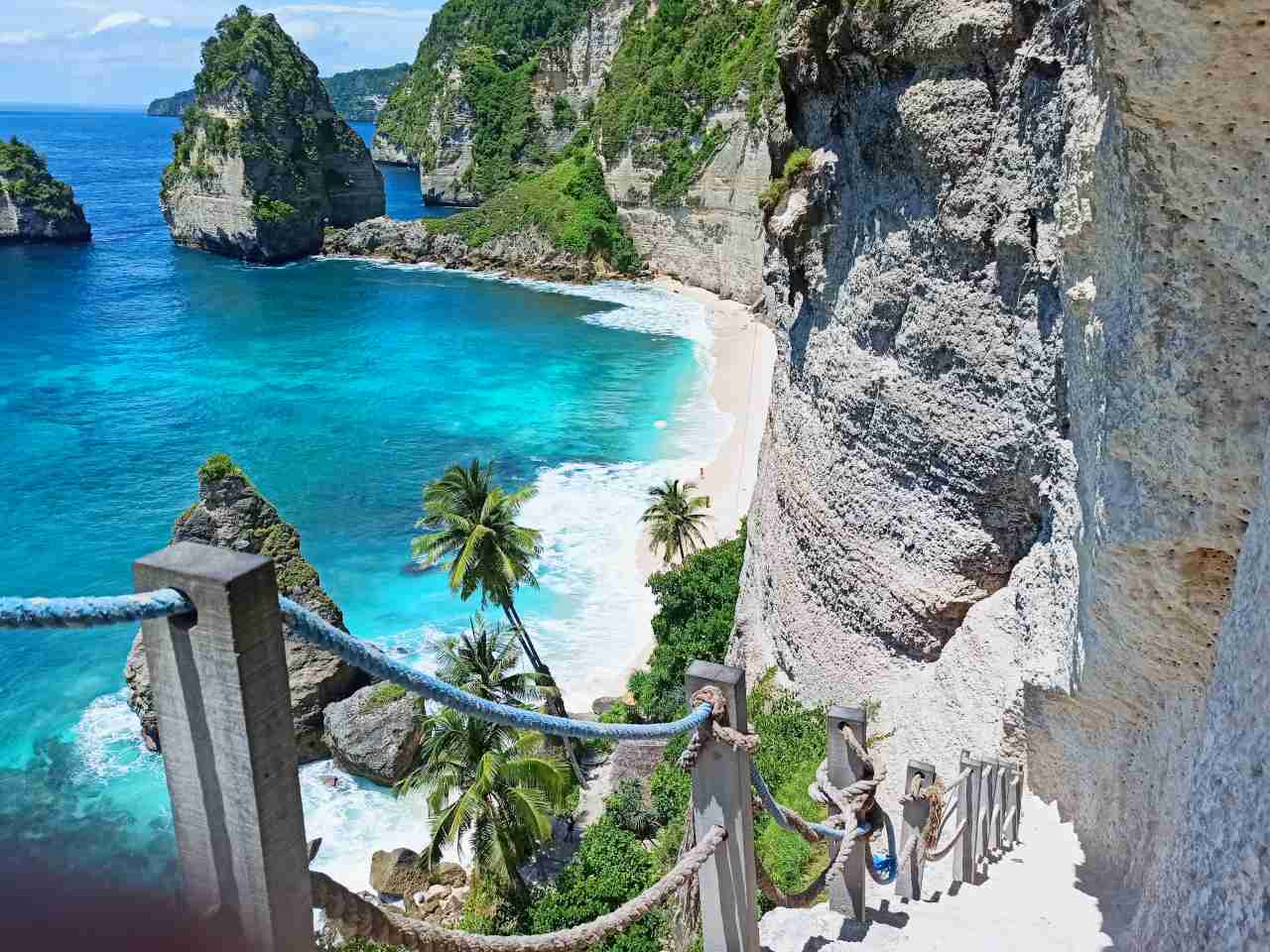 Spectacle Photo Spots
Diamond Beach offers many scenic spots to take photographs. The most favorite one is the stairs, from above the cliff. This angle will capture the captivating scenery of the stairs, the limestone, palm trees, and the sea upfront. Cliff tucking the bay beach also makes a splendid shot.
Overlaid white sand dazzles the eyes, and gives a stunning background for pictures. The diamond-shaped rocks and clear turquoise sea and blue sky make a pleasant view. All of them just blend as if to make a living painting. 
There is a swing hung on palm trees that overlooks the sea. Capturing the moment here makes amazing photos to post on social media. Going in the swing with waving hair will make beautiful pictures. Don't forget to explore Diamond-shape limestones and find more viewpoints. There are just countless beautiful angles and scenery to capture.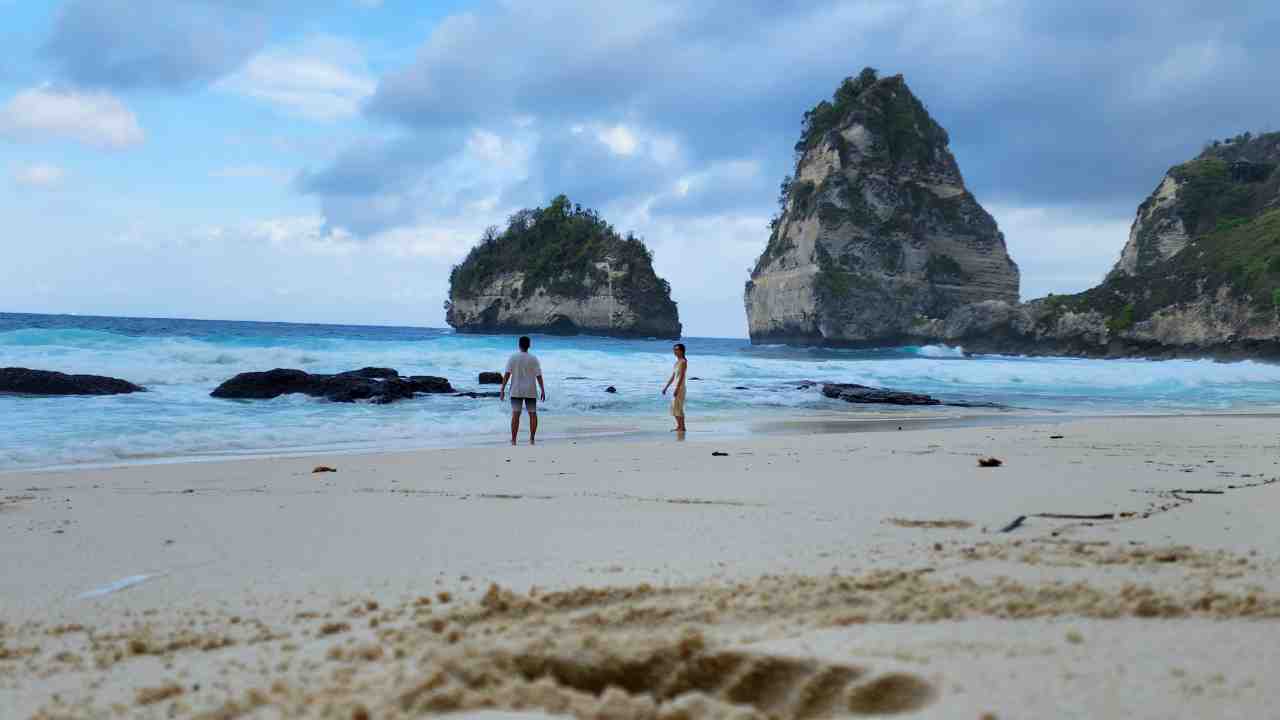 Swing & Dipping In The Beach 
Diamond Beach presents a breathtaking view from above the cliff. There is a hut to enjoy the view while taking cover under the shade. Lying on the sand is also a good way to appreciate the bay. Or, walking the beach barefoot and feeling the soft sand on the soles will free the mind.
It's hard to resist dipping into the pristine turquoise water. However, swimming is definitely not a good idea, especially for beginners. Diamond Beach has a rough current that can catch swimmers in. Also, mind the rocks and coral in the wave that is painful when they hit. The beach also has steep, sharp seafloor swimmers should avoid.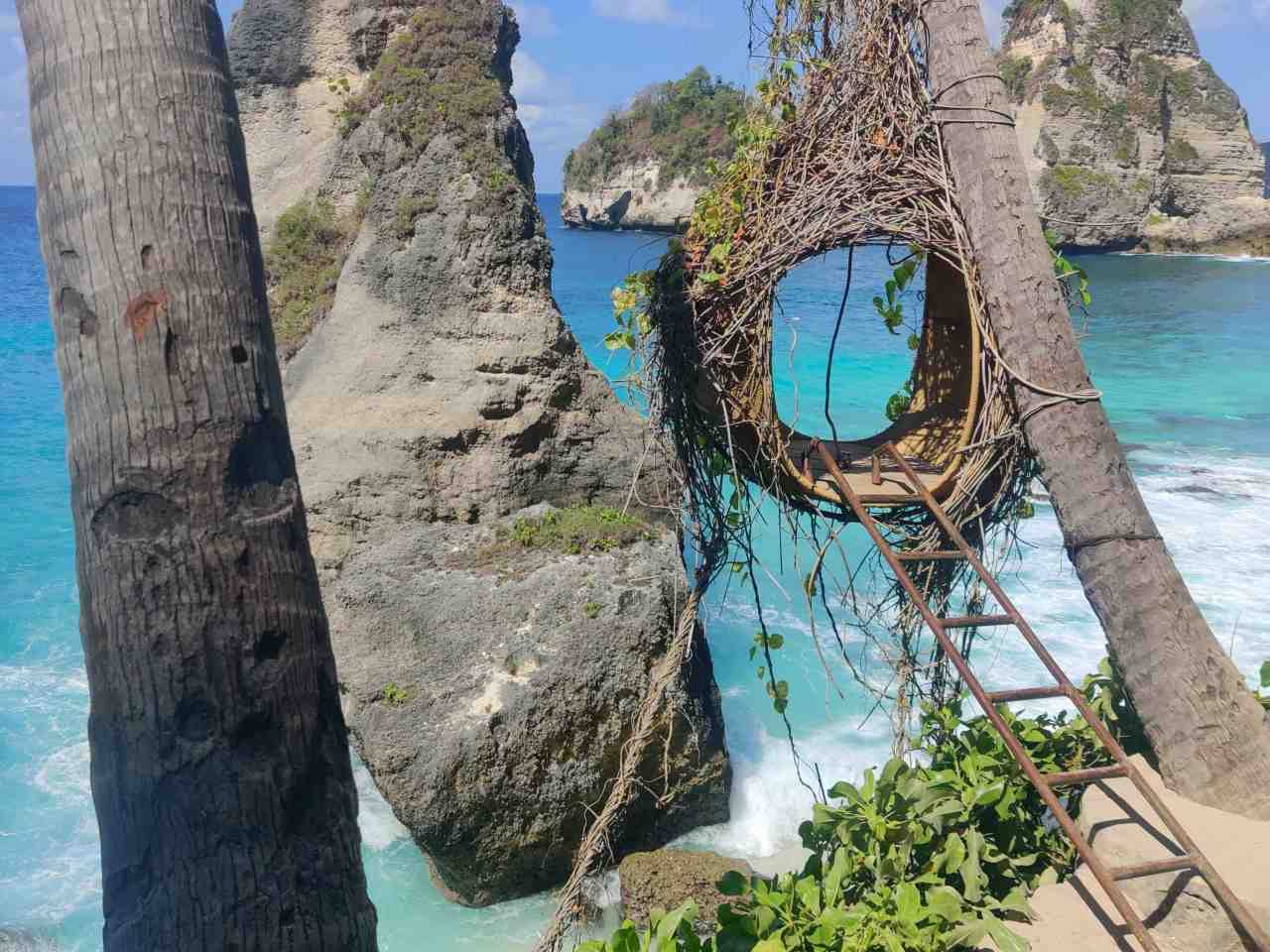 Swinging, on the other hand, might be a good idea. For an additional Rp200.000 ($12), remember the moment by capturing the beauty of the landscape. Feeling the breeze on the face is an amazing way to chill. Swinging high while looking at the sea ahead, however, is such a thrill.
See: Sanur Night Market, Street Food & Culinary Guide.
Facilities 
Diamond Beach is only a new tourist destination. There are not many facilities yet. It is the real opposite of Atuh Beach which lies side by side. However, visitors can park vehicles at the parking lot just 20 meters from the beach.
There is no restroom, let alone restaurants or even food stalls. The beach also provides no sufficient lighting when it gets dark. Bearing it all in mind, tourists may have to prepare everything to spend a memorable time here.
See: Tourists SIM Card, Price & How To Register. 
How To Get To Diamond Beach
At this time, there is 2 departing point for tourists to go to Nusa Penida island from the mainland. The first one is leaving from Padang bai and the most popular one is from Sanur. Speedboats serve daily from Sanur Harbor to Banjar Nyuh Harbor in Nusa Penida.
And from Banjar Nyuh, it takes another 45 minutes to Diamond Beach by private vehicle. The speedboat fare starts from Rp120,000 to Rp200,000 for international tourists. Tourists can get a motorcycle or car from local rentals at the harbor. The rental fee for a scooter starts from Rp75.000 ($5). While a car costs Rp500.000 for day rent. 
The rental cost excludes additional services such as hotel pick-up and drop-off. However, the cost often includes gasoline and a driver for a car. There will be an extra charge for the guide as well.
See: Bali Airport Guide, Airport Transfer & Public Transportation.
Address & Location 
Diamond Beach is located in Jl. Pelilit, Pejukutan, Nusa Penida, Klungkung, Bali 80771.