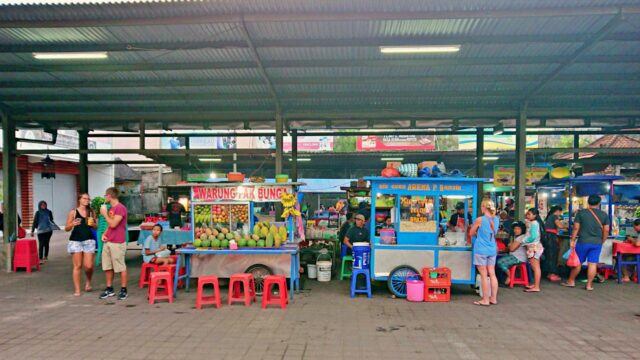 Always follow locals when it comes to culinary. This universal travel advice also holds true in Sanur Village, Bali. Instead of touristy restaurants offering "authentic" local cuisine, consider the local food scene. Many restaurants alter their food to cater to tourists' taste bud more. However, it's not the case with Sanur Night Market.
Sanur Night Market offers truly authentic Indonesian food with an authentic local mood. Prepare for a mouthwatering experience as tourist stroll among stalls of food vendors. From traditional snacks to Indonesian cuisine, there are around 25 vendors ready to serve customers.
The price here is also local–very affordable and without the tourist tax. Sanur Night Market's other name is Sindhu Market. It is a trending destination among tourists. TripAdvisor noted that there is a 242% increase in foreign visitors in 2016 alone.
Food is extremely cheap starts from IDR15K, as it's the place where locals eat. Img: Shareef Shareef
However, do not be afraid of this place gradually becoming a tourist trap. Among this market's 2000 average daily visitors, only around 50-60 are foreign tourists. It's still considered a hidden gem.
Tropical Smoothie & Fruit Bowl
Start the night with a cup of healthy refreshment from one of the juice stands. Avocado, watermelon, strawberry, and dragon fruits, those are only a few among the overflowing options here. Dare to mix and match between two (or more!) unlikely combination of fruits.
Apple and dragon fruit, or watermelon and mango, enjoy the newly created flavor. Ask the seller to add a drop of cream milk for a sweet and milky twist to the overall taste. Prefer solid uncrushed fruits? Order the fruit bowl instead. A dozen type of fruits is sliced and mixed on a big bowl.
The famous toast in Sindhu Night Market. Img: Adam Durham
There are slices banana, mango, starfruit, avocado, and many more. Afterward, shaved ice is added to the serving. The seller will also pour syrup and milk on top of the ice.
Indonesian Delight in Sanur Night Market
Grab a seat at one of the stalls. For starters, order ten pieces of chicken satay for only IDR 15k. The seller dip the skewers into a black soy sauce with herbs before roasting them. While waiting, get teased with the smoke and the herb aroma. It makes the stomach growl desperately in hunger.
There are plenty of other dishes to pick. The meatball bakso, chicken noodles with dumpling, chicken rice, fried rice, stuffed pancake martabak. Try as many as visitors can stomach. Go home with an empty wallet and full belly – it's worth it.
Rice with a various side dish to choose. Img: Seri Lithi
One of The Best Place For Seafood
Sanur Night Market is the best place to get tasty value-for-money seafood dishes. At the average price of IDR 40k, customers can have a generous portion of grilled prawn or fish fillet. The products are fresh from the sea, and the dishes are cooked right away after a customer ordering a menu. Do not forget to add a bowl of warm rice to accompany the seafood fest.
Snacks & Munchies
Apart from the fruit bowl, options for dessert is also abundant at Sanur Night Market. Try a serving of rice flour puddings called cenil. The appearance is colorful, as is the taste. A portion of this sticky traditional pudding is covered with savory grated coconut. The dressing is a sauce made from palm sugar. All kinds of flavors in one.
Fried fruit –banana, sweet potato, cassava– is also worth to sample. Get a full plastic bag of them with under IDR 10k. Foodie can also bring some home to munch later. Or get a sweet pancake martabak for breakfast the next morning.
Sanur Night Market food stalls and ambiance. Img: MichaelTheBuzz
Fresh Veggies
Sanur night market is not just for prepared food. Come early in the morning for fresh products. Buyers can get a cheap price of seafood during this morning session. Fresh vegetables and colorful fruits have just transported from farms all over Bali. Even if not buying, the chaotic vibe alone is worth experiencing.
It's an opportunity to get in-depth with Bali's daily life. In the morning, sample this cheap yet hearty rice breakfast. It's only 5k a piece! It's a small portion of rice, sometimes also comes with noodles. For the dishes, there's a fish or a bit slice of chicken. The small serving even has steamed vegetables and sambal.
The sweet dessert crepes with chocolate and peanut filling. Img: Seri Lithi
Drop By The Beach
Sindhu Beach, the nearest beach from the night market is only 550 m away. A two minute walk and get a view of the eastern coast of Bali. The waves are way calmer here than in Kuta, or any other beaches bordering the Indian Ocean.
Hence, grab a swimsuit and plunge into the water fearlessly. Eastern coast is also famous for its sunrise. Come before dusk to see the sun making a grand entrance in the morning.
The Sindhu Beach Sanur, 1 km walk from the night market. Img: Monika Kramer
Sanur Night Market Opening Hours
Sanur Market actually opens all day until midnight. However, the night market starts open as early as 4 PM until midnight. No entrance fee required. Only prepare a parking fee around IDR 3k for motorcycles. Food price can start as low as IDR 5k for snacks. On average, tourists only need to spend IDR 15k for each dish.
Sanur Night Market Opening Hours
Every day
16:00 – 23:00
See: Gianyar Night Market, Street Food & Tips.
Facilities
Despite its status as a traditional market, Sanur Night Market is equipped with more than decent facilities. There are toilets and parking space. The government has renovated this market recently. The outdoor space is paved, ensuring no more dirty or muddy pathway during rainy days. Indoors, it is clean, spacious, and with air conditioning.
How To Get To Sanur Night Market
The market is easily accessible by public transport. Hop on any Trans Sarbagita bus passing through Ngurah Rai Bypass Road. Stop at the bus shelter near Pizza Hut Sanur. From there on, walk toward the direction of Sindhu Beach. After around 100 meters, turn right to a small road heading to Sanur Night Market.
Visitors staying near the Sanur area will only need to walk to Sanur Night Market. Mention Sindhu Market when asking for a direction, as it is the more popular name among local. Other popular transport means would be by rental scooters. Rent one from plenty of scooter rentals around Bali at around IDR 65k/day.