Gianyar Night Market Entrance Fee: US$1- US$5 Opening Hours: 15:00 - 23:00 WIB Telp. Number: - Address: Jl. Ngurah Rai, Gianyar, Gianyar , Gianyar , Gianyar, Bali, Indonesia , 80511.
In broad daylight, a part of Ngurah Rai-Gianyar street looks just like any busy street in Bali. There is a market here, bustling with day-to-day commercial activity. As the evening descends, a livelier vibe begins to unravel. The night-only vendors in Gianyar Night Market start opening up their stalls along the road. And the place soon is packed with more customers.
Pasar Senggol Gianyar is how locals call this night scene. Tourists call it with the more international name, Gianyar Night Market. It is located at the heart of the town, only a few minutes' drive away from the popular Ubud. The market comprises food vendors, but other items are also available here.
Spare a night to experience the raw and exciting part of Bali here. Visit before the market lost its traditional touch. The government's revitalization plan looms, waiting for approval then realization. If they approve the plan. A six-story shopping center threatens to diminish this traditional yet charming bazaar in the coming years.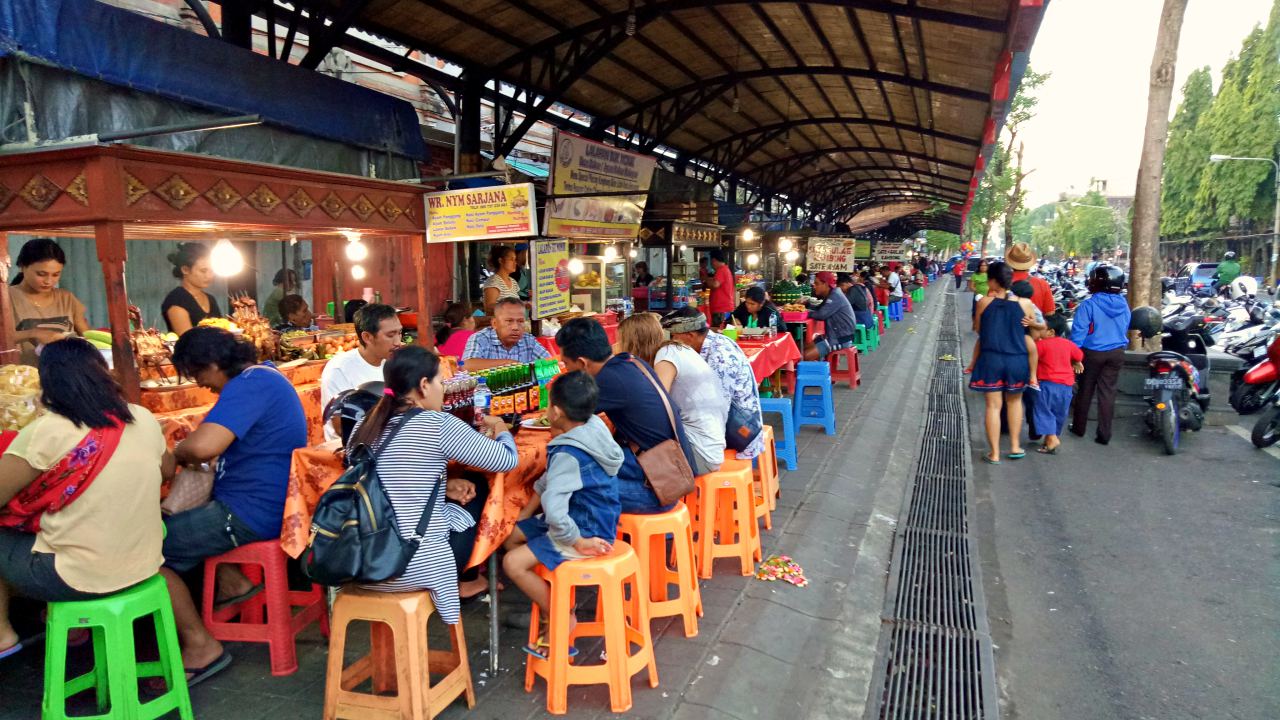 Best Time To Visit Gianyar Night Market
Come early, because that's when the food is the freshest. Avoid coming too late because the tastiest dishes tend to sell out quickly. Be prepared for a hypnotizing welcome as soon as arriving. Sounds of cooking and commotion, and street chefs busy with their work.
And the delicious aroma fills the air, reaching even far into the street. Just walk along the pedestrian. The best choice is already there at the entrance. The best stalls selling pork roast Babi Guling, Satay, and Nasi Ayam Bali (chicken rice) are not far from the road. Browse around, and sample as many as the stomach can take.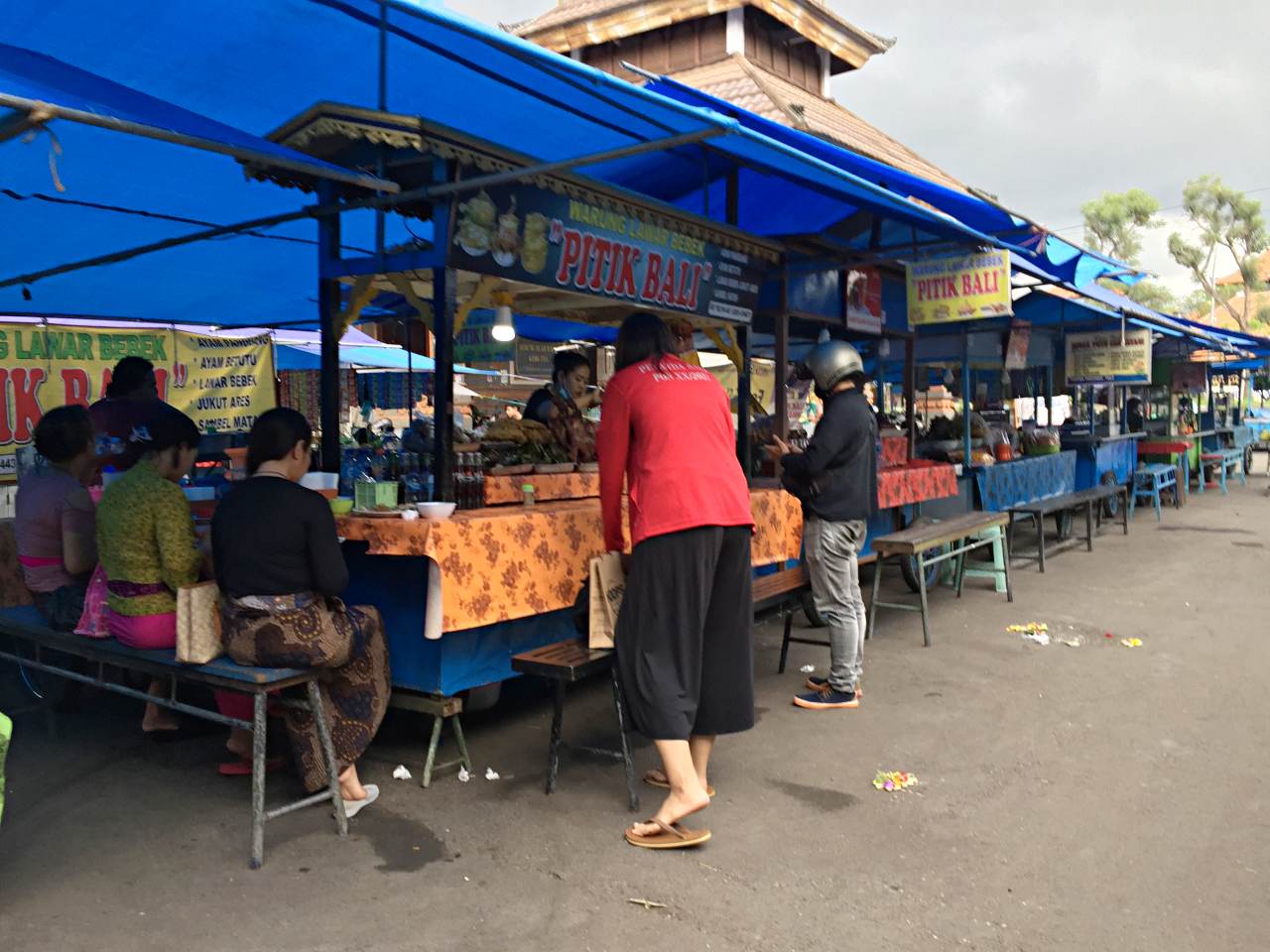 Local Food Worth Trying
The pits-roasted pork Babi Guling (suckling pig) is the trademark of Bali cuisine. The dish is a whole pig roasted with garlic, turmeric, coriander, and other spices. These flavorful spices are accumulated mostly on the skin part of the pig. Be sure to ask for this crunchy skin when ordering a plate of Babi Guling here in Gianyar Night Market.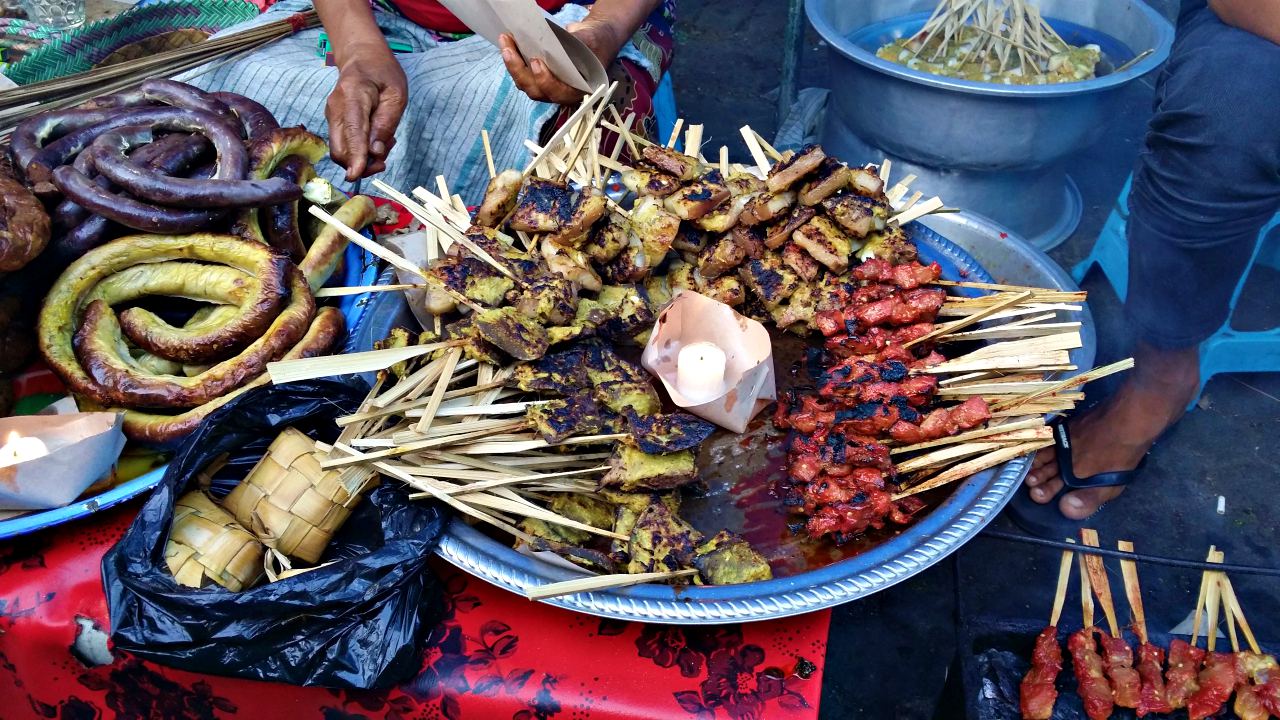 The poultry dish Balinese chicken rice is next to try. Savor the heavenly taste of the Betutu mix, in which the chicken is marinated for hours before cooking. Also pick some side dishes: sauteed water spinach (kangkung), livers, or blood cakes. To enhance the spiciness, add a pinch of the chili paste sambal.
Sweet Treats
The most recommended dessert here in Gianyar Night Market is Klepon. A type of dumpling filled with palm sugar. When a klepon is bitten, the filling will explode inside the mouth, with a delightful sweetness melts with sprinkles of grated coconut. It's just mouth-watering to think about.
Other desserts to sample include Roti Bakar (toasted bread), and fried banana. Let's not forget the various kind of traditional cakes and confectionery. Es Campur is certainly not to miss on a hot night. It's jellies and young coconut flesh dipped in a milk broth. Shaved ice is sprinkled over as a finishing touch. Do not forget to mix all of them before taking a spoonful.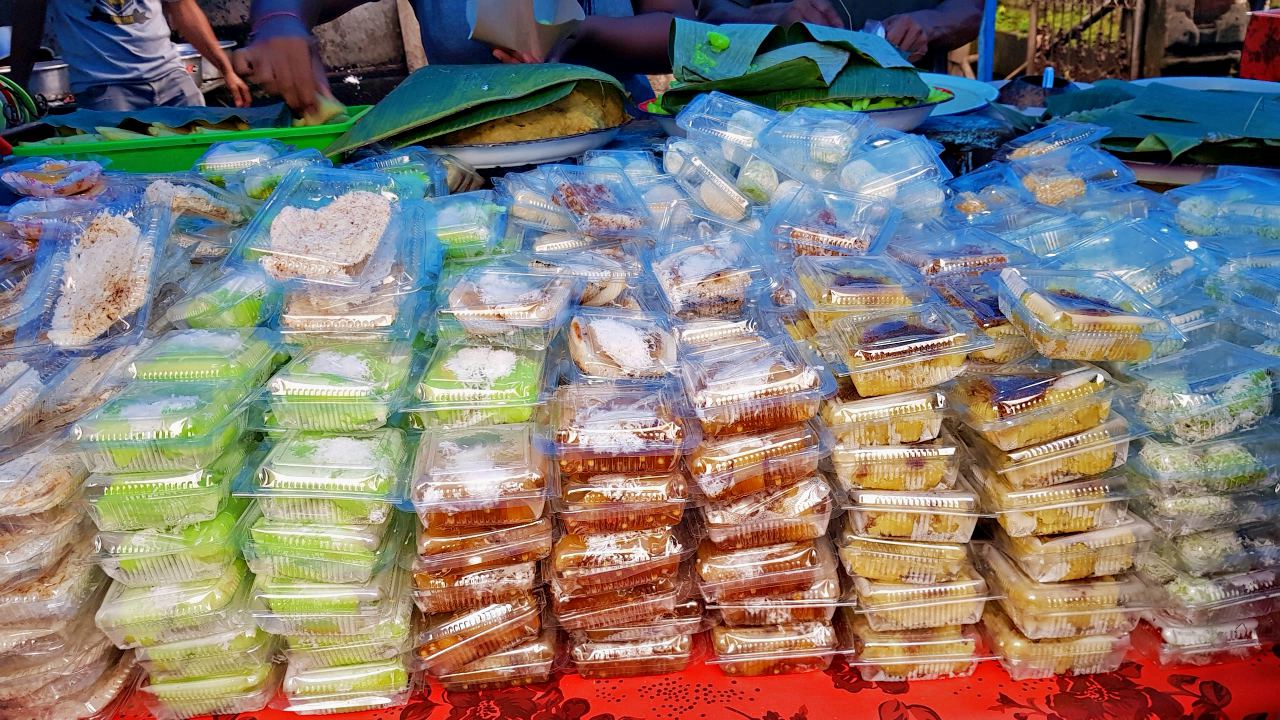 It's Not Just food
Gianyar Night Market is not just limited to food. Browse among the plethora of goods available here, from clothes to jewelry to knock-off DVDs. Bargaining is a must. Not only it will result in a lower price, but it's also a chance to chat with friendly locals.
Browse through stalls selling Balinese prayer items. Flowers, incense sticks, and ready-made small Hindu offerings called canang are abundant. Tourists might not end up buying. But it's interesting to just look around.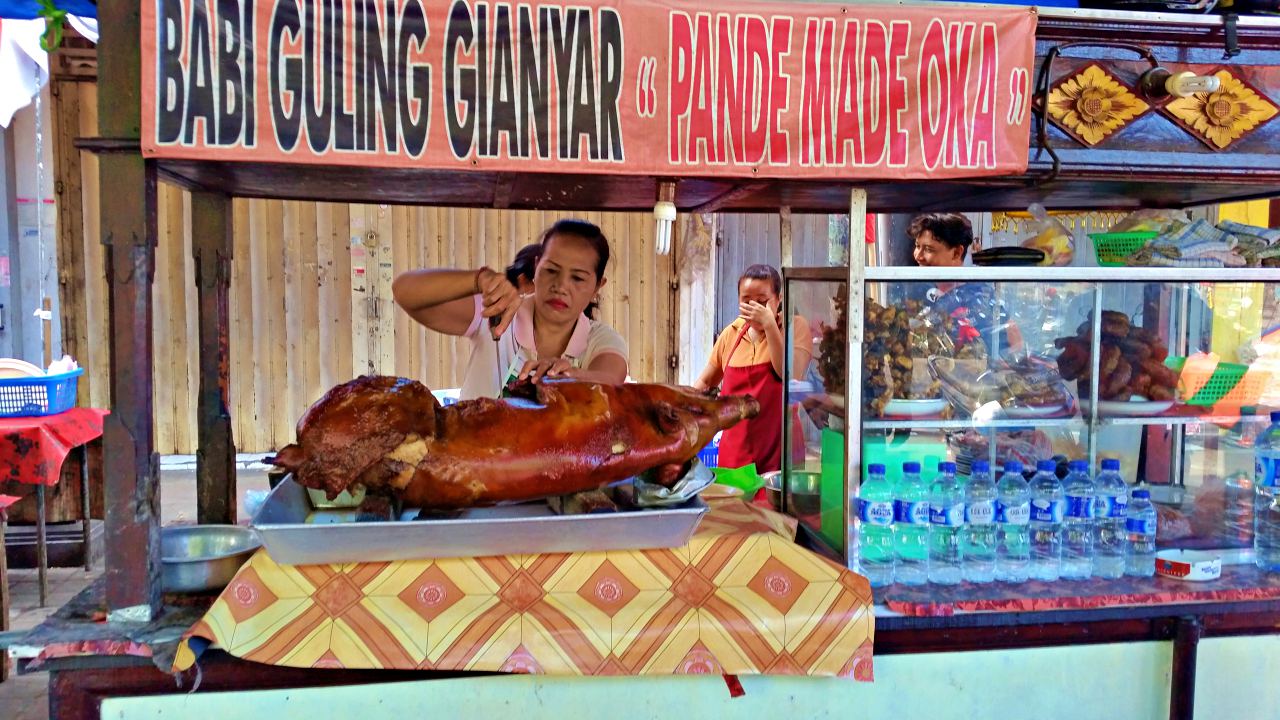 Bring Some Back and Eat Later
It's impossible to try everything in one visit. The heart might still want to eat, but the stomach has its limit. The solution: order takeout or two. Take home some dishes to sample later. Or bring home some fresh fruits for a healthy breakfast the next morning – to compensate for tonight's fat and oil over-intake. Also, haul some snacks to munch later before sleep.
See: Bali Airport Guide, Airport Facilities & Tax Refund
Gianyar Night Market Opening Hours
The vendors begin to serve customers as early as 3 PM until 11 PM. It opens every day, but it gets particularly crowded on weekends. Prepare cash since that's how the transaction is carried out here. Parking is Rp3.000 for motorcycles. On average, a plate of dishes costs around Rp20.000 (USD 1,5).
Gianyar Night Market Opening Hours
Every day
15:00 – 23:00
Parking
Rp3.000/motorcycle
Nearby: Guide To Kanto Lampo Waterfall & Top Things To Do.
Facilities
The parking space is on the street side in front of the market. The parking takes some space from the street. So out of consideration, try not to bring cars here since it will affect the traffic.
There are plenty of ATMs nearby just in case visitors run out of cash. Since it's a traditional market, expect no facilities such as air conditioners – it can be hot and humid sometimes.
See: Guide To Explore Sukawati Art Market.
How To Get To Gianyar Night Market
Public transport in Bali does not operate in the evening, so the most convenient way to get there is by motorcycle. It's cheap to rent one, only around Rp50.000 per day for a small scooter-like Scoopy. As a matter of fact, the longer the rent, the cheaper the price. The night market is 20 minutes away from Ubud center, Ubud Palace.
Just follow Cok Gede Rai road, turn right toward Goa Gajah street, and follow the street until the destination. From the Kuta area, take Ngurah Rai Bypass Road and continue to Ida Bagus Mantra Road. Then continue northward to downtown. The journey takes approximately 1 hour from Kuta.
See: Indonesian SIM Card, Data Package & Price
Address & Location
The night Market location is in Jl. Ngurah Rai, Gor Kebo Iwa, Bali 80511.