Nakula Night Market
Entrance Fee: US$1- US$5
Opening Hours: 15:30 - 23:00
Telp. Number: -
Address: Jl. Nakula No.57, Legian, Kuta , Badung, Bali, Indonesia , 80361.
Kuta area has no shortage when it comes to dining places. There are plenty of restaurants in the area. So abundant that it's easy to overlook a little corner at Legian, Kuta called Nakula Night Market. Only the curious and the adventurous dare enough to take a little detour to this seemingly obscure establishment.
Their exploration would end in delight as they discover, that Nakula hots a number of hidden culinary gems. Nakula Night Market is called Pasar Senggol Nakula by locals. It's located on the street with the same name. The market itself is small with only no more than two dozen food vendors.
Nakula Market is open 24 hours. In the morning, the market is more of a place to buy fresh products. Such as fruits and vegetables. A good number of modest restaurants here at Nakula Night Market offer seafood dishes. They serve the best quality of sea products just like the famous Jimbaran.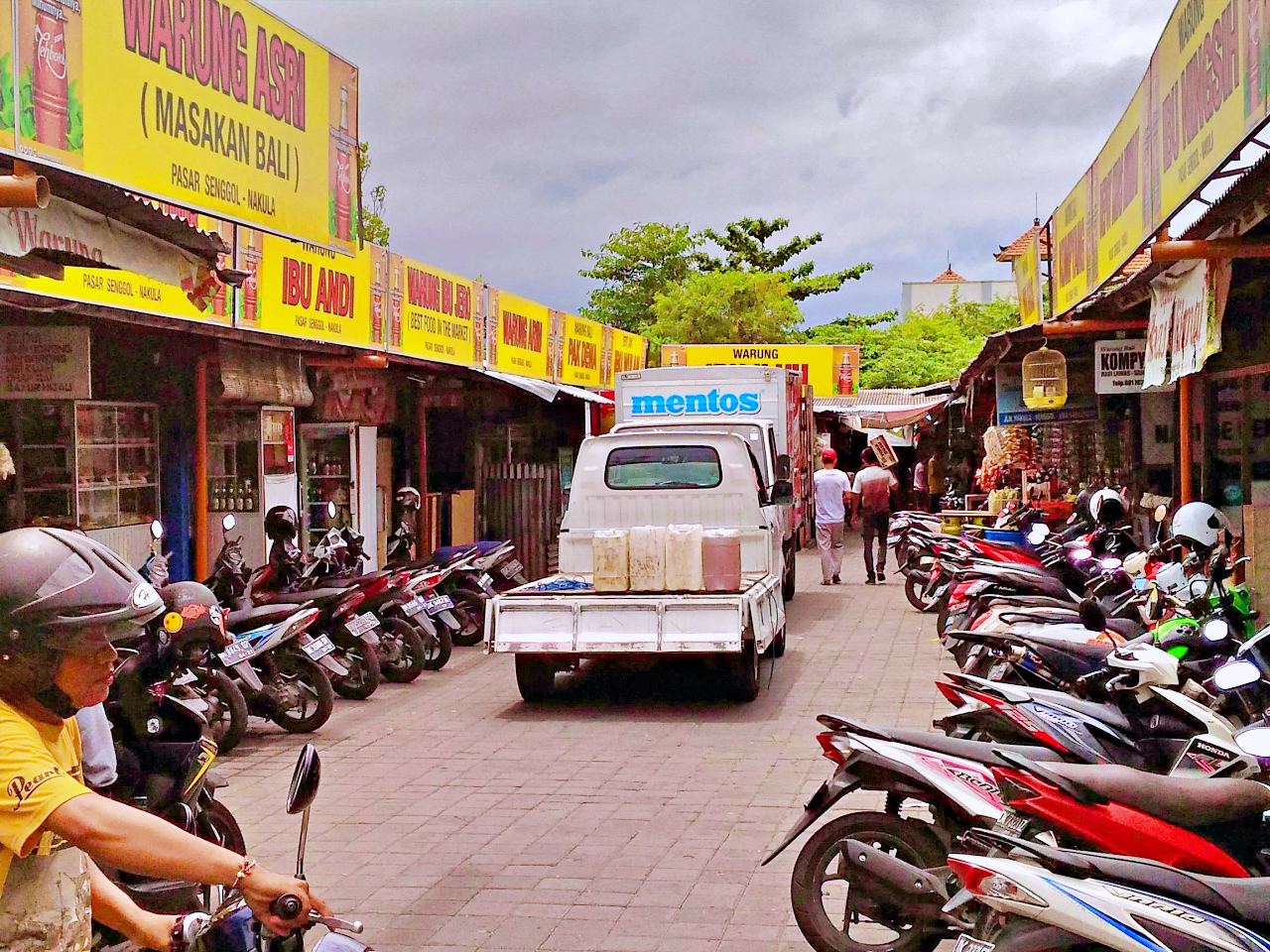 The rest of the restaurants serve Indonesian food, from Balinese to Javanese cuisine. The main attraction of Nakula Night Market is, of course, the price range of the food. There is plenty of option when it comes to food selection. From cheap food under $5 to a seafood feast. And that's the ultimate reason why foodies frequent this place.
Jimbaran Grilled Fish at Nakula Night Market
Located just by the entrance of Nakula Night Market is "Ikan Bakar Jimbaran" restaurant. It is where to go for Jimbaran-level seafood but closer to Kuta. The beach ambiance aside. The restaurant offers just similar tasty seafood dishes Jimbaran's restaurants offer. The price, to customer delight, is also much friendlier to the wallet.
Pick between sweet and spicy for the sauce. As for the sea products. The options range from fish, squids, clams, and prawns. Prepare Rp70.000 for grilled fish, Rp90.000 for prawns, and Rp 50.000 for squids and clams. The portion came with free rice and vegetables! Do not forget to ask for sambal matah for the condiment.
Warung 24/7
Located at the far end of the Nakula Night market. This seafood restaurant is not only popular for its food. Hospitality is also what draws locals and tourists alike to keep coming back. Chefs and waitresses are known to be playful with customers. Similar to warung Jimbaran, their specialty is seafood.
Be it prawns or fish. All are freshly smoked and grilled shortly after the customer makes an order. For an ultimate seafood fiesta. Make sure to order a complete package. The package comes as a platter of fish, prawns, squids, and clams. The price for all is Rp285.000.
Rice, vegetables, and sambal are included free of charge. Beers are available should customers want alcohol as they dine. One tip before leaving: always check the bill upon paying. The cashier is known to like making an "innocent" mistake.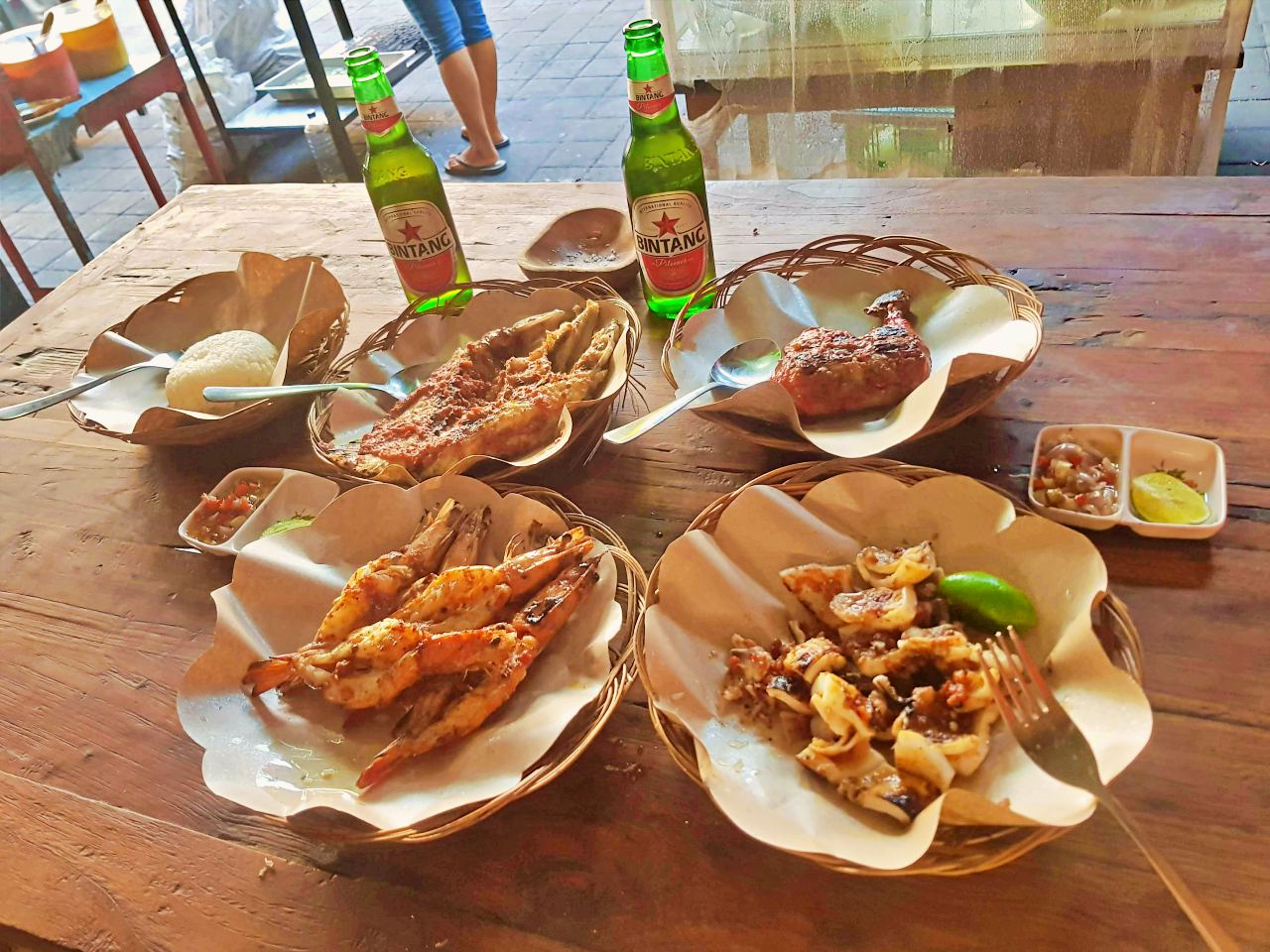 Such as, charging customers more than what they ate. Or in other cases. Mistakenly charge on stuff that's supposed to be free.
Warung Jawa
A nice break between the seafood feast is tasting other Indonesian food. For this, Warung Jawa will provide the experience needed. Do not be discouraged by the shabby-looking place. Behind the counter is Mrs. Wulan who will serve with the warmth of a mother.
With such warmth, visitors would feel as if in a dining room of an Indonesian household. Instead of in a warung. As for the food, Warung Jawa has a huge list of dishes on its menu. There is a dozen type of noodles alone. Chicken to seafood, fried or boiled, plenty of variation available.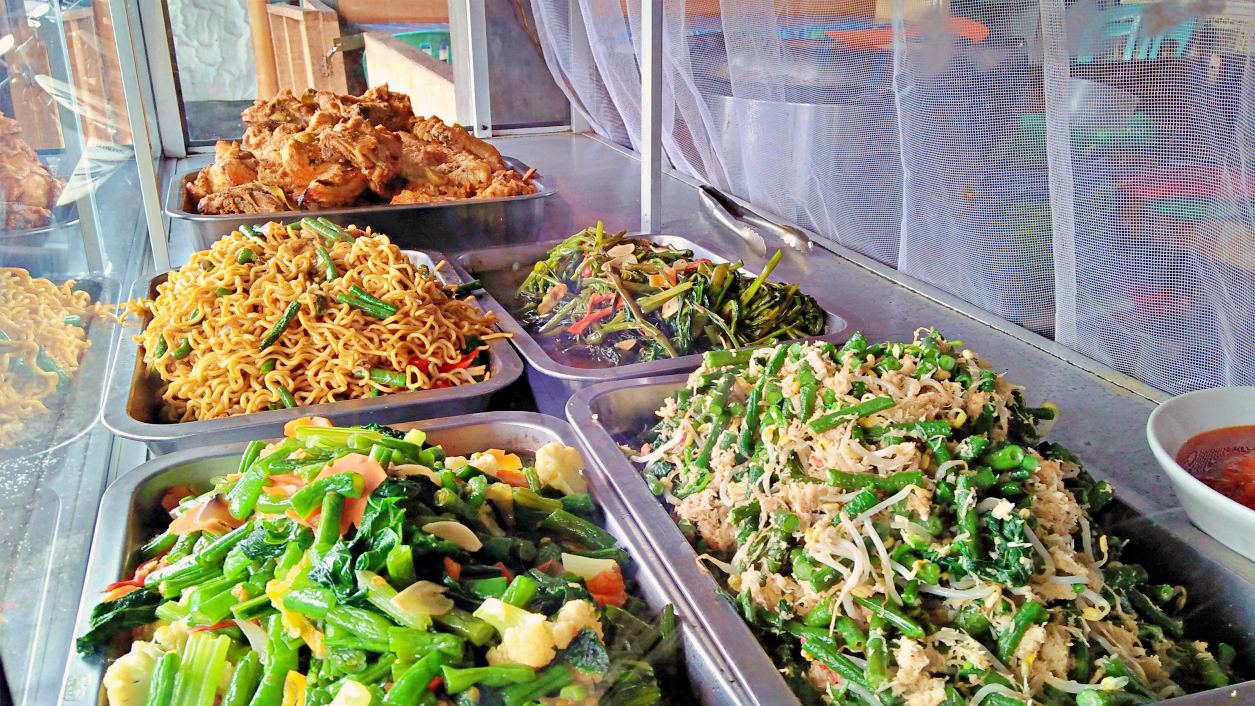 A plate on average costs less than Rp20.000. Other dishes include vegetable salad and stew, chicken cooked with various spices, and classic fried rice. One more thing, some customers swear this family-run restaurant serves the best chicken soup Soto in Kuta.
See: Guide To Bali Top Beaches & Location.
Dessert Selection in Nakula Night Market
There's always room for dessert. Head into the martabak stall to order this sweet, chocolate, and nuts-filled Indonesian pancake. A Toast "roti bakar" made all the way from its origin city Bandung to Bali. This is another dessert to try. Experiment with various kinds of fillings, from blueberry jam to chocolate and cheese.
Porridge may serve as an appetizer but here in Indonesia, it's a dessert. Try green beans porridge at the stall beside "Ikan Bakar Jimbaran" restaurant. This healthy dessert consists of green beans boiled with coconut milk. The taste is sweet and nutty, and there's a hint of salt. On hot days, ask to be served with ice cubes.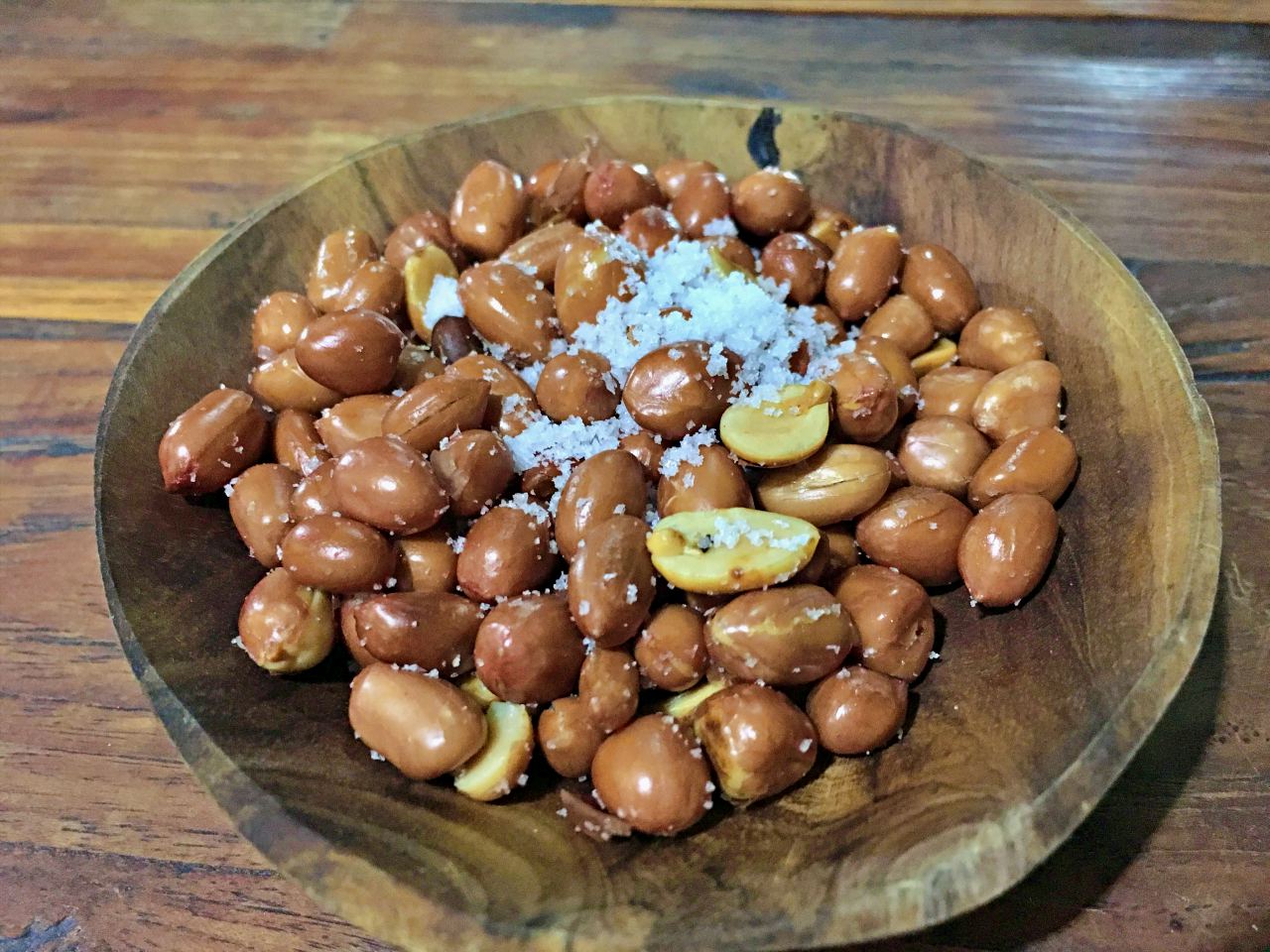 Nakula Night Market Opening Hours
The earliest restaurants open around lunchtime. Most restaurants, such as Ikan Bakar Jimbaran and Warung 24/7 started to open at 4 PM. Just to be safe, visitors can just visit in the evening when most of the food vendors are ready for business. The night market opens until late at night.
Nakula Night Market Opening Hours
Every day
15:30 – 23:00
See: Guide To Explore Sanur Night Market & Street Food.
Facilities
There is no dedicated parking space. Guests can just park their motorbikes in front of the warung or restaurants. No parking for cars except for a few spaces in front of the Jimbaran restaurant. ATMs within 100 meters nearby just in case visitors run out of cash. Furniture such as tables and chairs are really basic. Be prepared for the most authentic street food experience.
See: All About Bali Airport, Transportation & Airport Transfer.
How To Get To Nakula Night Market
Nakula Night Market location is only one minute's walk from Dream Museum Zone Bali. It's also close to 66 beaches, within 5 minutes' walking distance. If visitors opt for not walking at all. The rental scooter is the most efficient transport mode. Rent one from any rental around Kuta.
The price starts from Rp65.000  for a day and it's negotiable. The nearest Trans Sarbagita bus stop is at Sunset Road east shelter. From there on, tourist still needs to walk toward the Nakula intersection for 10 minutes. Then turn left to Nakula street and walk 5 minutes more.
Privately run public transport Kura-Kura bus can also be an option. The line that stops at Sunset Road is Line 2. The ticket for a trip is Rp20.000 and passengers can buy it online on their website.
See: Tourists SIM Card, Internet Package & Price.
Address & Location
The night market is located in Jl. Nakula No.57, Legian, Badung, Bali 80361.