Kreneng Night Market
Entrance Fee: Free Entry
Opening Hours: 17:00 - 24:00
Telp. Number: -
Address: Jl. Rijasa, , Dangin Puri Kangin , Denpasar Utara , denpasar, Bali, Indonesia , 80236.
A kaleidoscopic portrait of Balinese life can't be found inside a touristy shopping mall. Instead, jump head-first into traditional markets such as Kreneng market. Kreneng Night Market is located at the heart of Denpasar. It is a lively traditional market, opens for 24 hours, and sells all kinds of products imaginable.
Kreneng market occupies a three-story building built in the 80s. There are daily markets and night markets. During the day, the first floor sells fruits, vegetables, and meat. Meanwhile, the upper floors sell clothes, household items, and other dry goods. There is a bus terminal in this market. But it's vacant at night and instead serves as the venue for the night bazaar.
The night bazaar emerges in the evening after the day market closes, mostly targeting foodies. In short, there are loads of food stalls offering delectable food. And the choices are so many from Balinese, and Javanese, to Chinese food.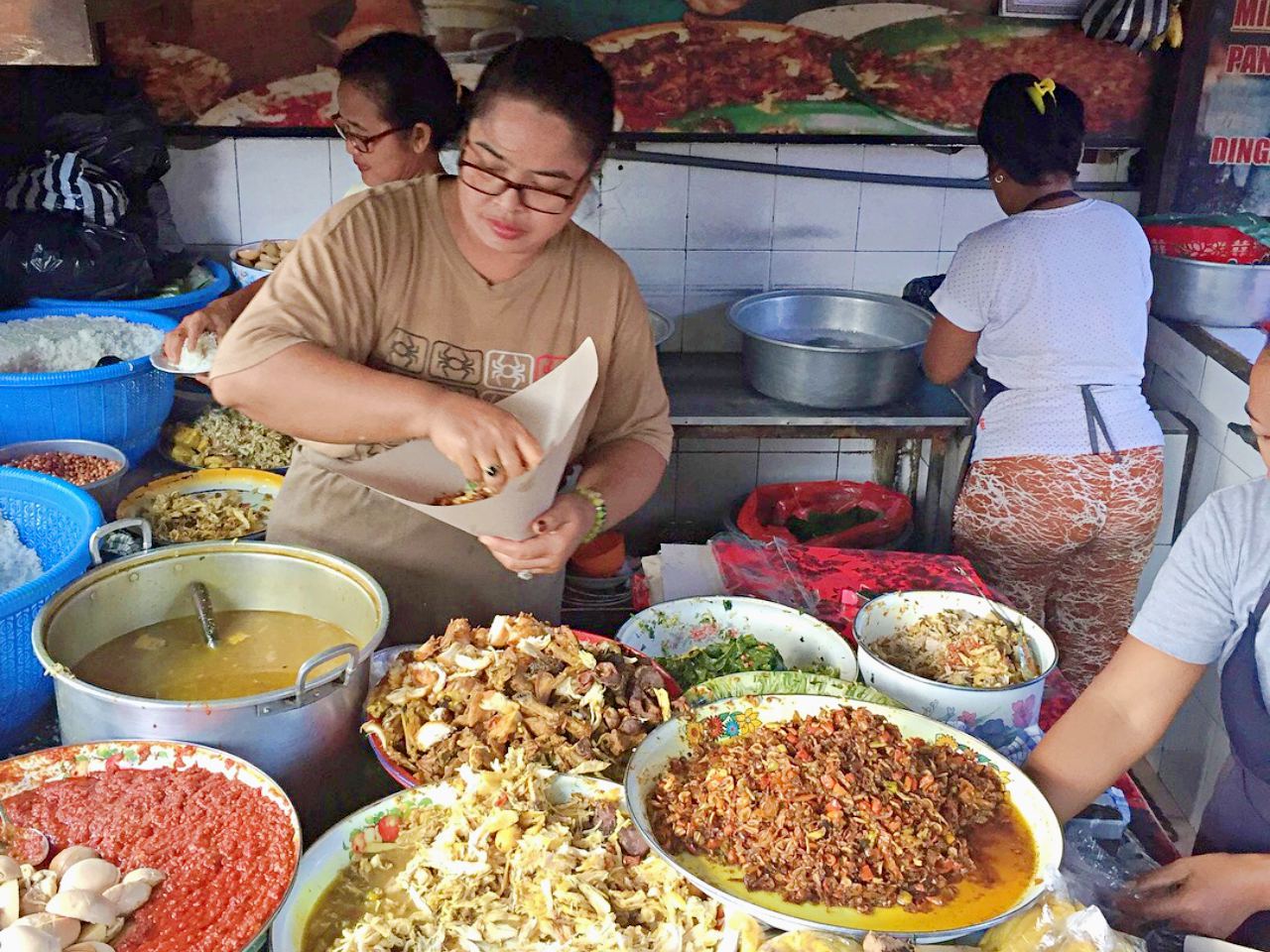 Other vendors offer knock-off bags, clothes, shoes, accessories, to pirated DVDs. In fact, it's the other peculiar thing. A shopping mall at Kuta could never have a variety of food and goods as many as in the Kreneng night market.
See: Guide To Shopping In Ubud Art Market & Location.
Balinese Popular Cuisine
People mainly come to the Kreneng night market for food. There are plenty to choose from, and the prices never hurt the wallet. Sit at one of the long tables. Brushing elbows with other hungry customers. This style of dining is why Kreneng Night Market is also called "senggol" market. Senggol is roughly translated as "bumping into each other".
As to what to order, start with the popular Balinese dish, Babi Guling. This succulent suckling pig comes in enough portions with less than Rp30.000. That price even includes a glass of refreshing iced tea. When ordering, customers can specifically ask for more skin. The skin of the pig is crunchy and it's where the flavor from the spices goes. That's the secret to getting the best part with the best flavor.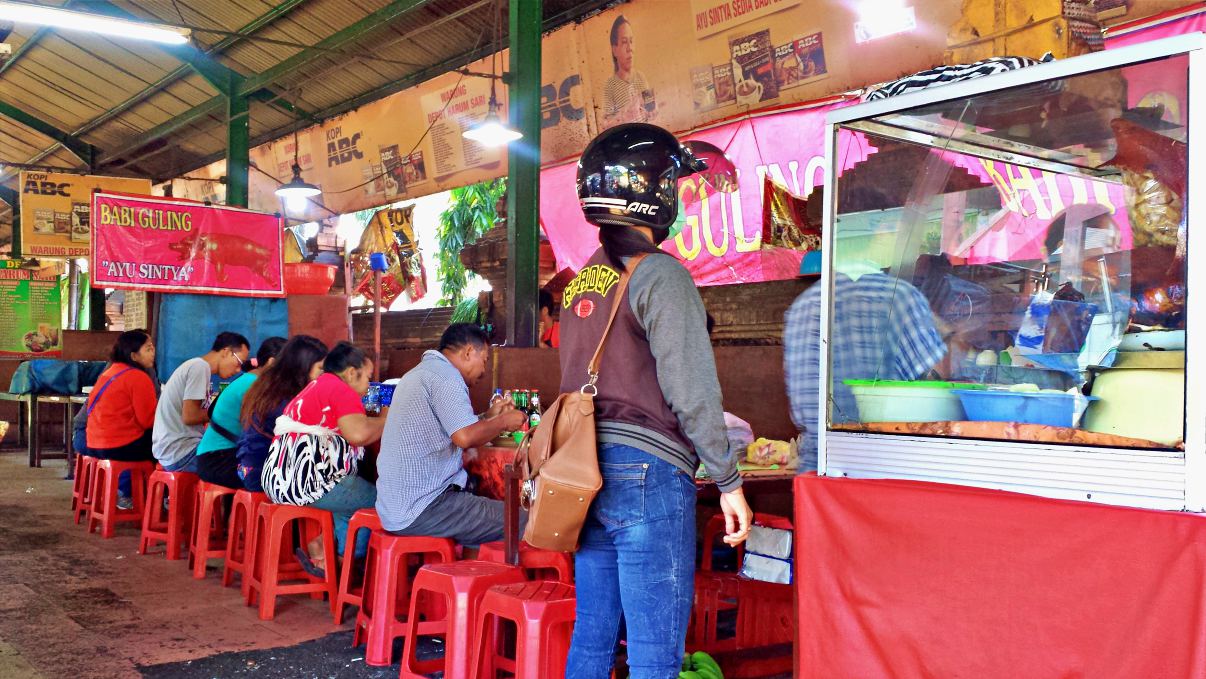 Balinese are truly skilled in cooking meat. Other dishes such as Balinese chicken rice and pork fried rice are to try next. They will satisfy the palate with all the juiciness and tender bite. Sautéed with base genep, a mix of Balinese herbs, taste a hint of coriander, candlenut, pepper, and many other spices. And last but not least, ask sambal matah for condiments and extra spiciness.
See: Guide To Explore Jimbaran Fish Market & Seafood Restaurants.
More Street Food at Kreneng Night Market
As visitors walk around Kreneng, it's hard to not notice the satay stalls. The smoke coming from satay stalls teases anybody who comes near. It's hard not to get tempted. So order one, and pick a table. And wait as the satay is grilled fresh on the spot. A plate of chicken satay with warm rice and a drink costs Rp20.000.
Foodies looking for something with broth can consider soups such as lamb curry "rawon". There is also green curry "Soto" and many types of noodles dishes, fried and boiled. If one dares, try a type of Soto with nothing but chicken feet on it. To order this dish, seek stalls with "soto ceker" written on one of their menus.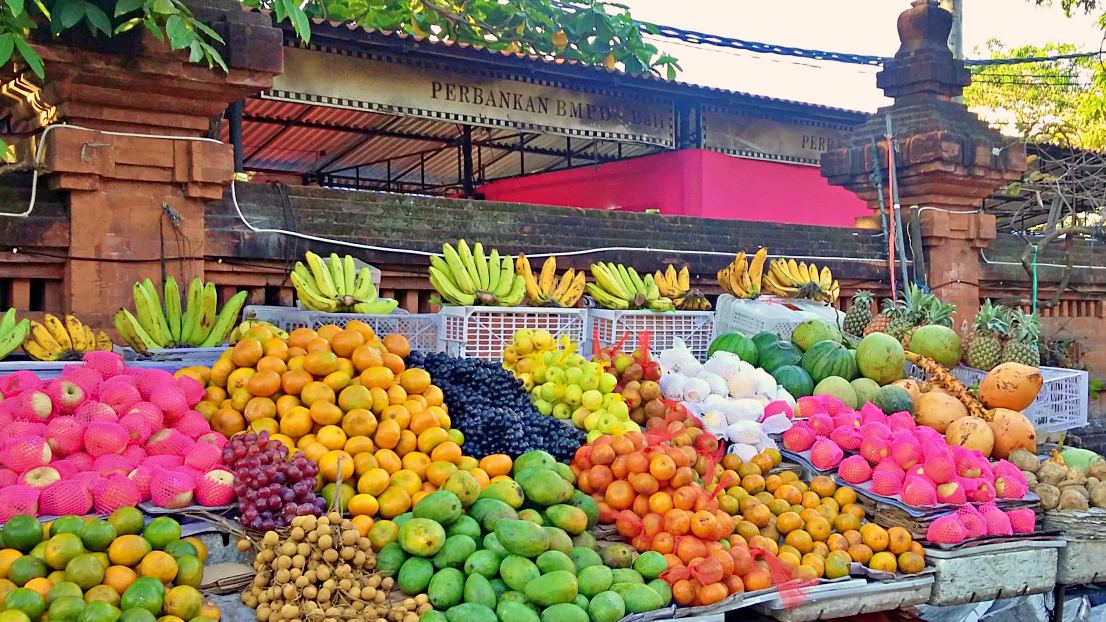 What's For Dessert
Indonesian food, in general, is spicy and salty. It's nice to balance the palate with something sweet afterward. Dessert soup Es campur (literally means mixed ice) could be a delightful sidekick for any meal. A bowl of es campur has diced fruits poured with sweet and condensed milk. And last, shredded ice as a final touch on top of the fruit. The price for a bowl of this refreshing dessert cost Rp10.000, less than $1.
Traditional snacks await their turn. There are plenty of options that can be confusing at first. For a start, try a sticky rice cake called Lupis. This cake is originally savory until palm sugar juice is added to the serving.
The result is a heavenly sweetness that could melt both the tongue and the heart. Other snacks to try: Serabi, the traditional pancake, and its little sibling Balinese mini pancakes called Lak Lak.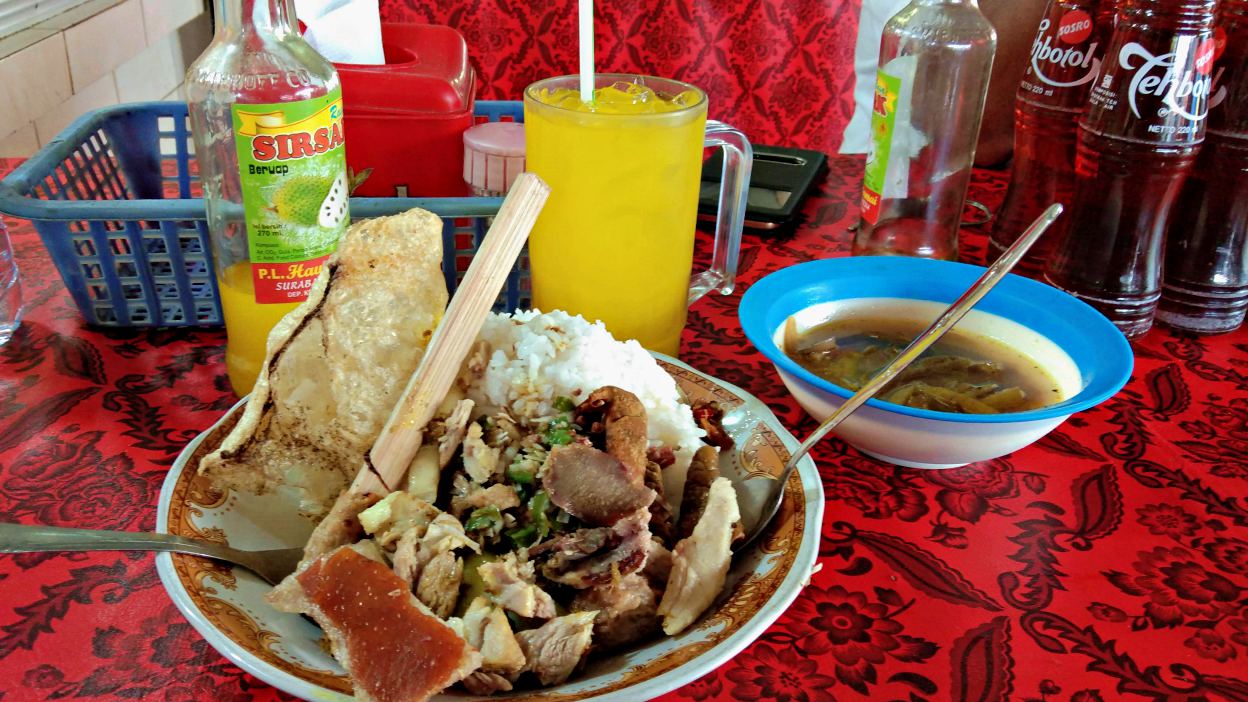 Shopping at Kreneng Market
Kreneng night market is heaven for buyers looking for basic apparel. It's easy to find products with good value for money here. A nice T-shirt here in Kreneng Night Market costs no more than Rp50.000 ($3.5). Plenty of locally produces garments with good designs and comfortable fabric.
There is a huge selection of shoes and sandals. Price starts from as cheap as Rp30.000. Knock-off products are also fun to browse through. Fake branded sneakers to knock-off sunglasses. There are belts, wallets, and made-in-china watches too.
They also come at a bargain, with quality, of course, on par with the price. Shoppers can also hunt for unusual items such as DVDs, ornaments, old records, and gemstones.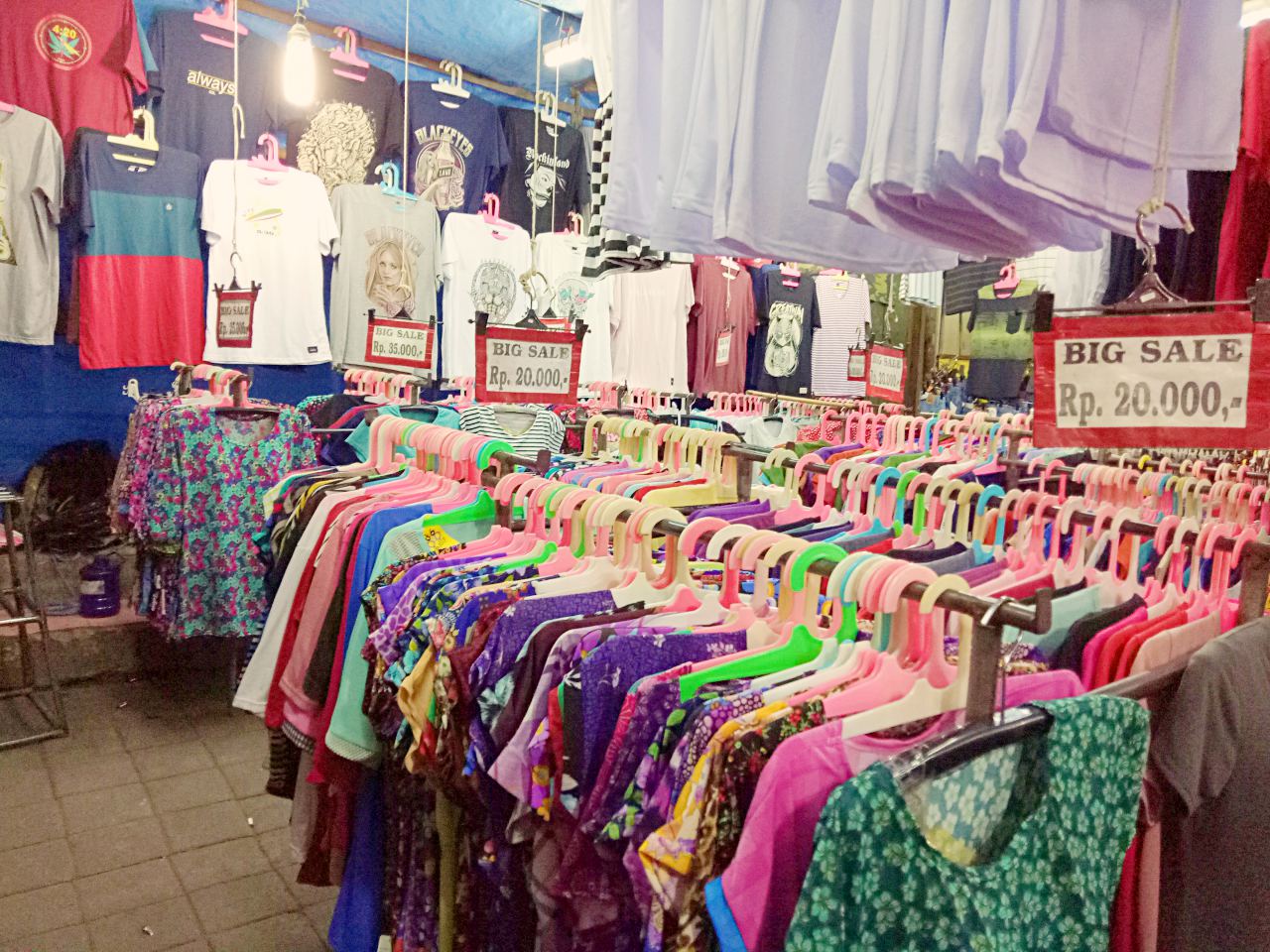 Kreneng Night Market Opening Hours
The night market opens from 5 PM to 12 AM. It opens every day with a significant increase in customers during weekends. It gets tricky to even find parking on Saturday and Sunday. So it's better to come early during this time. Prepare a small denomination for parking (around Rp5.000). A little security tip, take care of personal belongings.
Kreneng Night Market Opening Hours
Every day
17:00 – 24:00
Parking Fee
Rp5.000
See: Local Food Spot in Sanur, Pasar Sindhu Night Market.
Facilities
The basic facilities visitors can find here at Kreneng night market are toilets and a parking lot. Except that the parking lot is available for motorbikes only. Hygiene in this place is rather overlooked. The garbage smell, for example, can be overwhelming for some.
Shops in the permanent area may have better tables and hygiene than vendors with makeshift tents. No air conditioner is available so it can be hot inside the market.
See: Prepaid SIM Card for Tourists, Price & Provider. 
How To Get To Kreneng Night Market
In Bali, public transport such as angkot or bemo rarely operates after dark. Tourist options can be broken down into motorbikes (rental or taxi) and cars, either taxi or rental. However, since it's hard to find parking for cars around Kreneng, it's advisable to stick to motorbikes.
Just rent one and head to the market following this route: Kuta – Imam Bonjol – Teuku Umar – Diponegoro – Surapati – Kreneng Market at Rijasa street. Online taxis can also be an option. Usually, this service is banned around tourist sites. But Kreneng Night Market is more local than touristy.
So it's safe to use an online taxi to get here. Apps such as Gojek and Grab will do wonders. They're easy to order, affordable, and their service is available until late at night. This is especially convenient for people planning to stay as late as possible.
See: Airport Transfer & All About Bali Airport.
Address & Location
Kreneng night market location is in Jl. Rijasa, Dangin Puri Kangin, Denpasar, Bali 80236.