Ubud Art Market
Entrance Fee: Free Entry
Opening Hours: 06:00-18:00 WIB
Telp. Number: -
Address: Jalan Raya Ubud No.35,, Ubud,, Gianyar,, Gianyar, Bali, Indonesia , 80571.
Ubud Art Market is one of the must go to in Ubud. Exploring Ubud seems to be incomplete without coming back with goods from this market. The kinds of goods available here are unique and bursting with Balinese style. The fuse of traders talking in a foreign language Bahasa Indonesia and the scent of prayer incense making the market even more stunning.
Located in the main area, Ubud street, travelers can easily spot the market across the Ubud Palace. The market is separated into two parts, the west, and the east area. In the west part of the market, tourists could find artwork, merchandise. Meanwhile, the east part of the market is the wet market area.
Nonetheless, tourists looking for souvenirs could just head to the west part area. Taking the first step in be prepared to be ambushed by aggressive traders offering various kinds of Balinese artwork.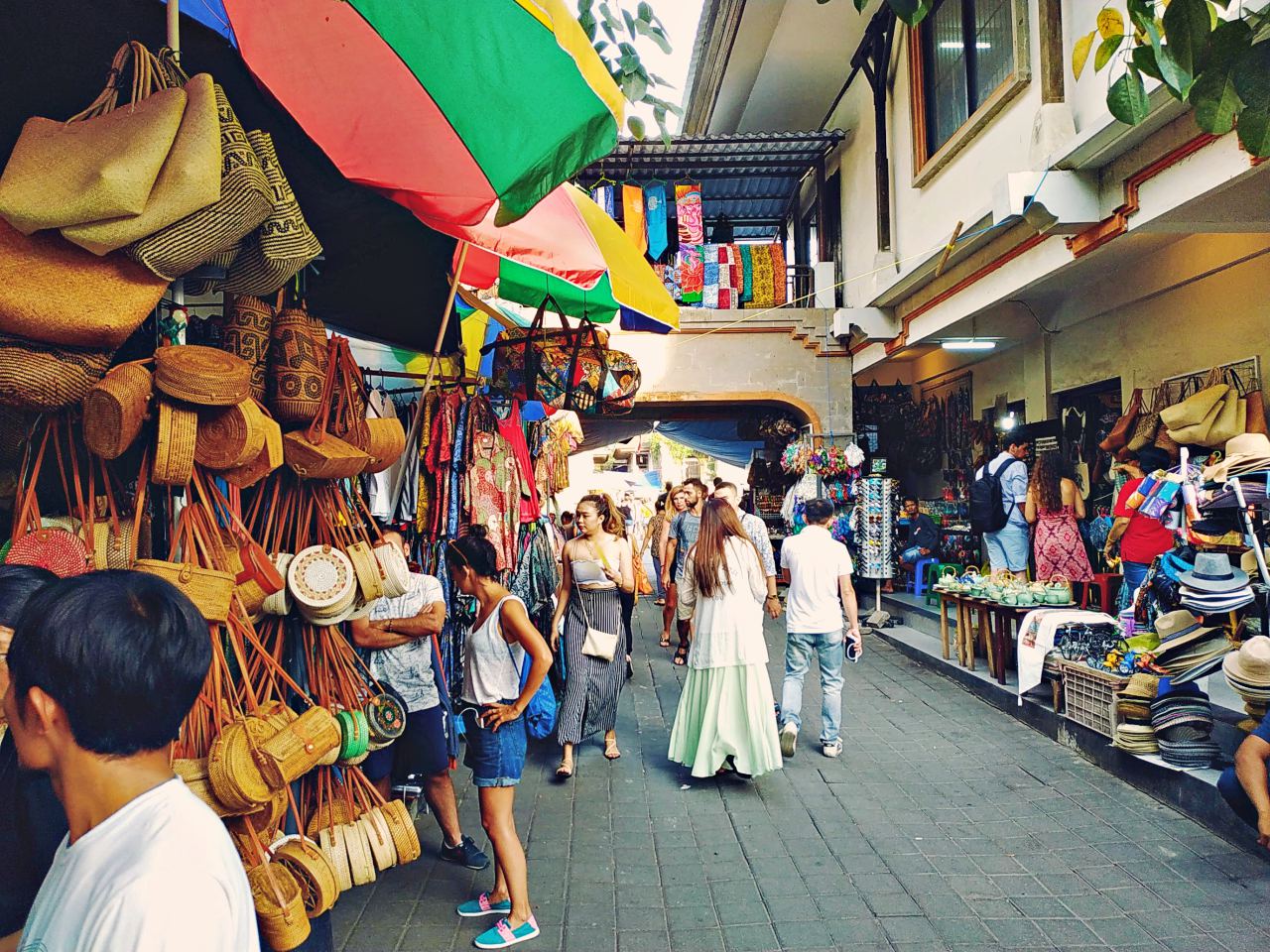 Shopping in Ubud Art Market
Similar to other art markets in Bali, Ubud Art Market offers miscellaneous goods and merchandise. Most visitors come and buy souvenirs for hand-carry gifts to bring back home. Some are wardrobe hunting since clothes here are mostly perfect for a tropical island vibe. Whatever the goal is, don't miss the experience to see an eye-catching goods and see how bargaining is the most exciting part of this market.
Souvenir & Rattan Bags
The souvenirs sold in the art market are commonly handicrafts. This place becomes the center of the handcrafter around Bali to sell their piece of work. That is why the handicrafts in this market is too many with various colors and models. Most of the material is made of rattan, like the bags, the most popular product in the market. The bag comes in different sizes and will suits perfectly with the summer dress.
Make sure to compare the price from 1 store to another. Seller sometimes will offer like Rp500.000 for a piece of a small to medium size bag. With good bargaining skills, it could be lower up to 60% of the offered price. Besides rattan bags, there are stalls selling small size accessories like keychains and stuff like the dreamcatcher, even dress.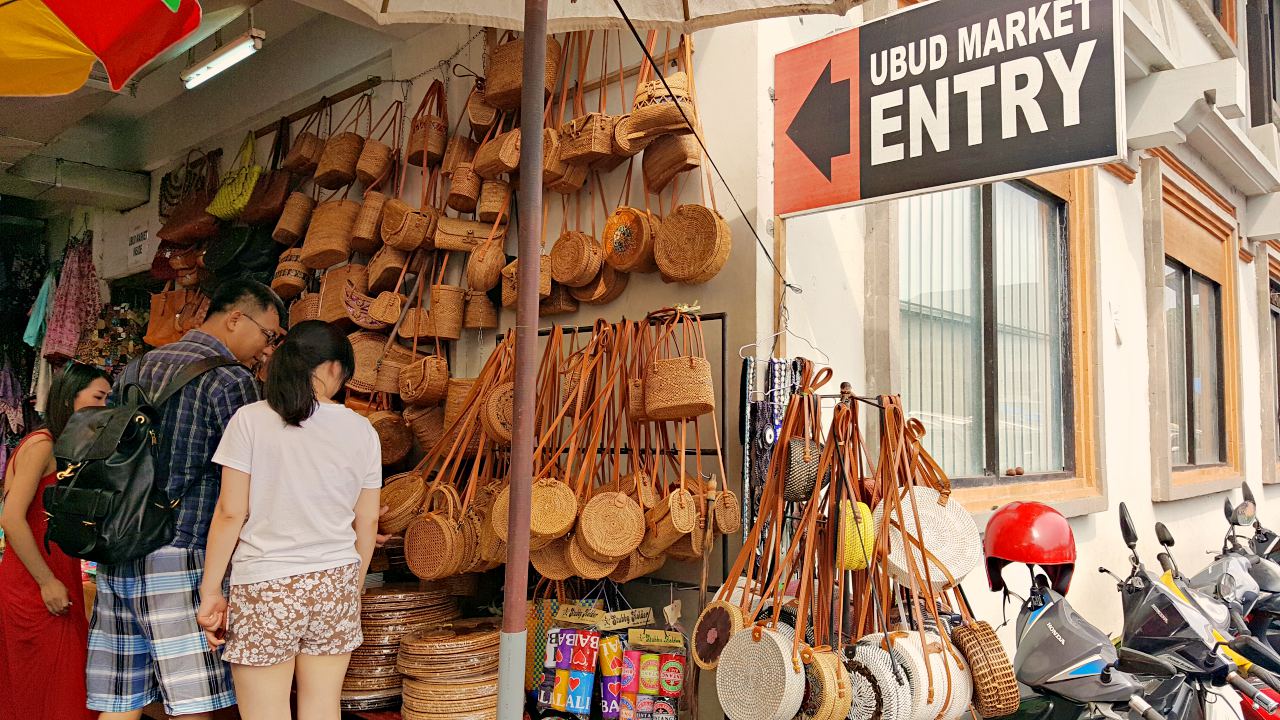 Balinese Painting & Statue
Along with the traditional souvenirs, Ubud Art Market is also a perfect spot to hunt paintings. Most paintings portray the picturesque scene of Bali beauty. For instance, some paintings sketch the gorgeous view of Bali's panorama and Hindu style buildings. The other portrays a Balinese woman wearing a traditional costume.
To remember memorable moment of exploring the island, buy some miniatures and temple statues. The stores have Balinese style statues made of stone in different sizes for sale too. Make sure to bring some for souvenirs, there also wooden statues available for a lighter version.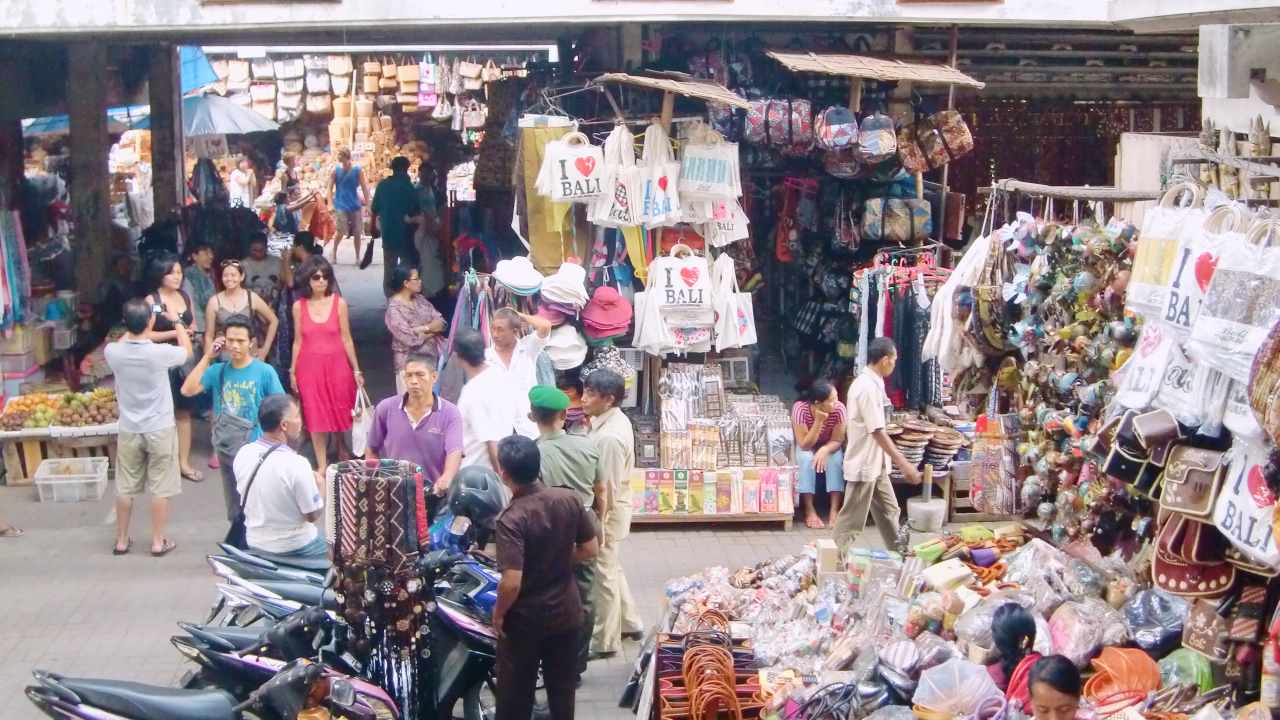 Balinese Traditional Costume
The traditional costume is one of the most hunted items in Ubud Art Market so far. On the other hand, the famous Bintang shirt is worth buying too to add to the Balinese wardrobe collections. Traditional Bali Sarong is also available in child and adult-sized. It's a perfect piece to wear especially during temple trips.
Balinese traditional wardrobe has unique design and fashionable as well. Besides, the materials used are mostly soft and lightweight. The clothes are perfect to wear on the tropical island.
Ubud Art Market Jewelry Shops
The market is a perfect site to shop for jewelry. Tourists could find different kinds of jewelry designs from head to toe. Using wood and silver as the material, the jewelry sparks the Balinese style in its design.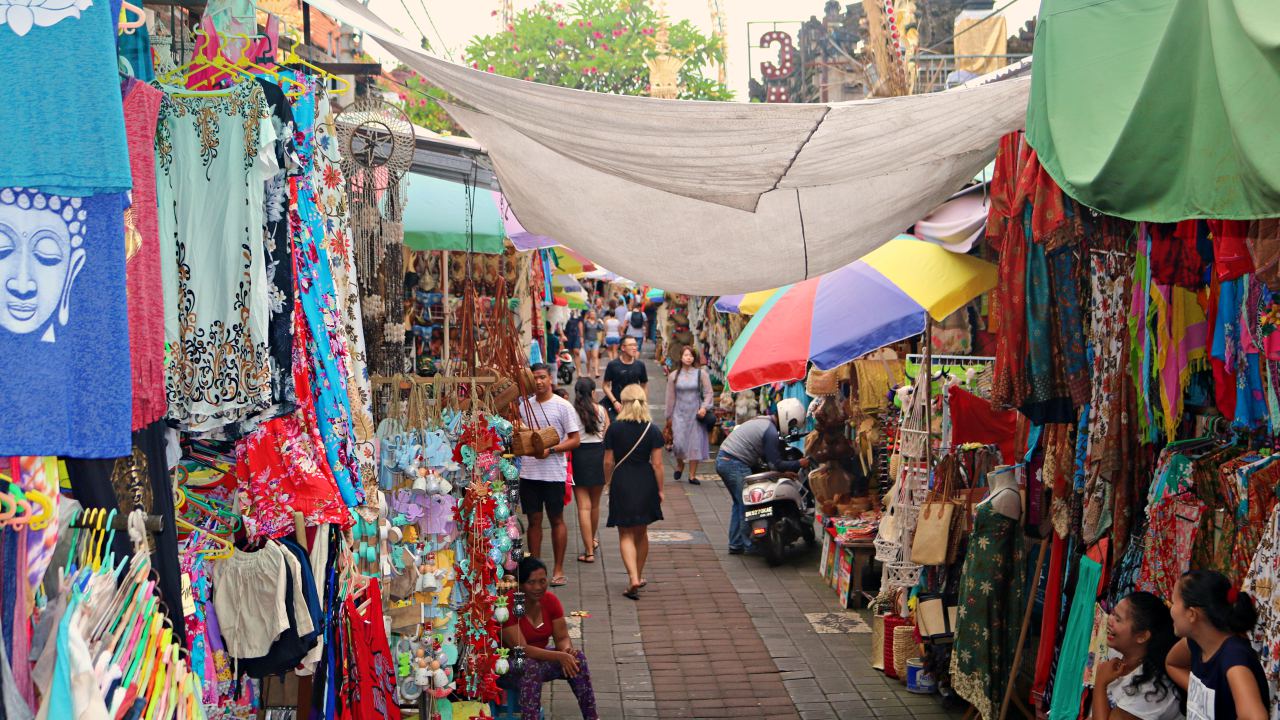 Other different materials for jewelry like fabrics can also be found in this market. From the fiber art necklace, fabric rings to silk necklace craft. All those types of jewelry have always been successful in showing the elegance of the Balinese archetype.
Read: All About Bali Airport, Facilities, Airport Transfer & Public Transportation.
Balinese Snacks & Groceries
Not just perfect for a souvenir hunt, the market is an excellent place to shop for Balinese snacks. In the market, tourists can find various kinds of Balinese snacks. The best seller snacks in this market are pie, peanuts, and pork chips. Other Balinese typical groceries such as coffee and tea are available in the east quarter.
See: Tegenungan Waterfall, Activities & Entrance Ticket.
Ubud Art Market Opening Hours
Ubud Art Market is open from 6 AM to 6 PM. The best time to visit the market is early in the morning. It's when the store and market are slightly less crowded. Besides, the seller will likely accept a bargain from the first customer.
Update 2022: Ubud Art Market currently is still under renovation. Even so, the sellers now are relocated not far from the demolished location. Some relocated to Suweta Street (Ubud Central Parking). And the others are on Karna Street behind the demolished location. As another option, Sukawati Art Market In Gianyar could be an alternative. The traders are selling the same goods.
Update 2023: Ubud Art Market renovation project is done. The building is now clean and spacious with lots of souvenir stalls.
Ubud Art Market Opening Hours
Monday – Sunday, closed on Nyepi day.
06:00 to 18:00 WITA
See: Lempuyang Temple (Gate of Heaven), Location, Guide & How To Get There.
Ubud Art Market Entrance Fee
There is no entrance fee to explore the market. However, there is a parking fee for cars and motorcycles. Prepare small notes of Rp2.000 for the motorcycle parking fee and Rp10.000 for a car.
Ubud Art Market Entrance Fee
Ticket
Free Entry
Parking
Rp2.000 (motorcycle) / Rp10.000 (car)
See: Ubud Palace, Dance Performance Show & Ticket.
Shopping Tips in Ubud Art Market
The market area is quite vast, there are a lot of stores in the Ubud Art Market which tidily stand in two parts. Explore all the lanes, and start to bargain. Most people walk around the entire market to find the best goods at the best prices. After all, most people will spend around 3 hours shopping and strolling around the market.
Start at least 70% off when bargaining. In case it doesn't succeed smile politely and walks away. Some of the sellers will be very persistent but agree on 50% off prices. To haggle less and get a better price, explore Ubud Art Market early.
Do the lap before the market gets busy with hordes and crowds. The sellers will easier to agree on a price in the morning. Since turning down a bargain of the first customer will bring bad luck in selling their stuff the whole day.
See: Guide To Explore Ubud Night Market, Local Street Food & Culinary Spot.
How To Get To Ubud Art Market
Ubud Art Market is located on the main Ubud street right across from Ubud Palace. The market is easy to spot especially for tourists staying in the center of Ubud. Particularly since the art market is located in the busy 3-way junctions. From any area in Ubud, tourists could easily book a motorcycle or car ride through ride-hail apps such as Gojek and Grab. From Kuta, Seminyak area, the journey will take around 1 and a half hours.
Meanwhile, tourists staying in the south area like Kuta, Seminyak, and Legian have 2 options. First, by booking ride-hail apps, the car ride from Kuta will cost around Rp230.000 to Rp300.000. In this case, it depends on the traffic and car availability. The car could take up to 4 passengers.
Second, tourists could opt for public transportation. Trans Metro Dewata bus will cost Rp3.500 ($0,25) for a one-way trip. From Kuta Central Park take corridor 1 or another line that heads to the Ubung bus terminal. From Ubung continue with corridor 3 to Ubud and stop in front of Ubud Palace. However, the bus doesn't accept cash for payment. Purchase electronic money cards for Rp20.000 in minimarket like Indomaret and Alfamart and buy credit.
See: Prepaid Indonesian SIM Card for Tourist, Price & Providers List.
Address & Location
Ubud art market location is in Jl. Raya Ubud No 35, Ubud, Gianyar, Bali 80571.