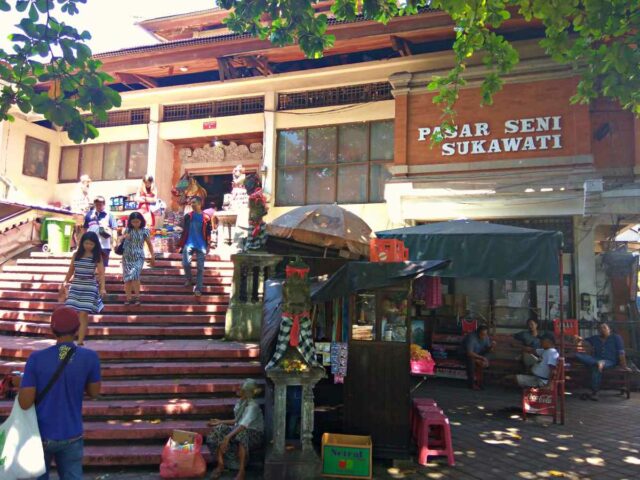 As its name suggests, find heaps of traditional art stuff here. Such as accessories, local artists' paintings, and even wooden dolls. There are also shops selling paintings and clothes. Sukawati Art Market has been long popular for its cheaper price than other markets. A good place to buy some souvenirs to take home.
Good thing is, buyers can get wholesale prices, too. Of course, it's only for bulk buying. Though the price can be considered cheaper. Try to slightly bargain as part of mingling with the locals. The vendors are friendly though at times a bit aggressive.
Not only art stuff, but food vendors are also available though not many. Have peanuts or boiled corn, hungry tummy won't botch the shopping spree!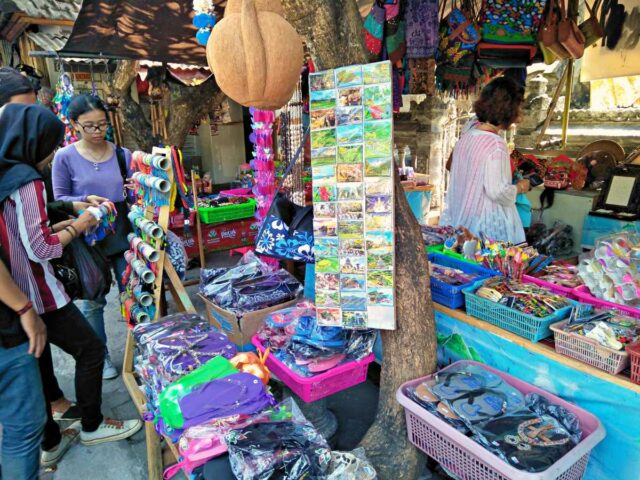 Sukawati Art Market Clothings & Fabrics Haven
Clothing shops are what visitors can find easily in this market. Shirts, sarongs, and even long dresses – locals called daster are hung colorfully. With typical Balinese patterns of course. These shops also sell pants like Aladdin pants. That's a long, baggy pant with elastic rubber in the ankle area.
Many locals use it as casual wear for home or as sleeping wear. Some even wear and mix-match it for a casual outing too. Find Batik, the indigenous Indonesian fabric known worldwide. The quality may be different from those from Laweyan village in Solo.
Since these Batiks are printed while Laweyan's are mostly hand-drawn. But still – for a gift, getting it from Bali never goes wrong. Woven fabrics from Nusa Tenggara are also available here. Prices for clothing are relatively lower in Sukawati Art Market. Especially when compared to art shop prices in other touristy areas.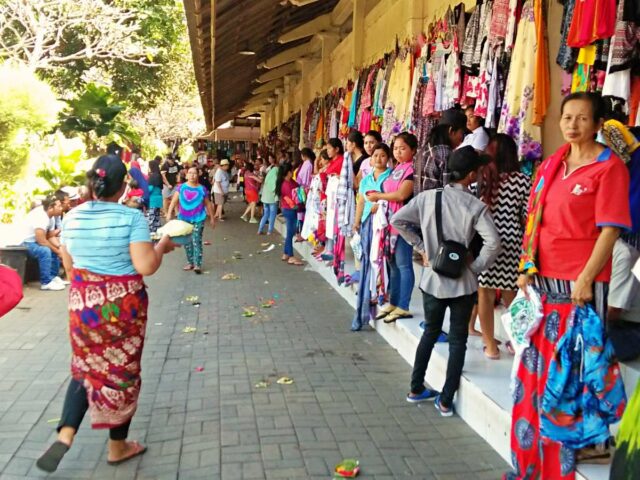 Get a shirt for $3-4 per piece. The same price goes with Balinese sarong. As for that long dress – daster, generally, the end price is $5. The initial price can be twice from that. Muster bargaining skills and get a great deal.
Accessories
Upon arrival, there might be several men or ladies offering their accessories. Like traditional-style bracelets, necklaces, and rings. These vendors can be aggressive especially during the low season. And their first offering price is quite mad, like Rp75.000/necklace.
Simply dodge them or, bargain the price if interested. One can also find plenty of shops selling accessories. In these shops, the price is lower. For bulk purchase, ask for wholesale price. Or discount per item if the vendor resists giving a wholesale price.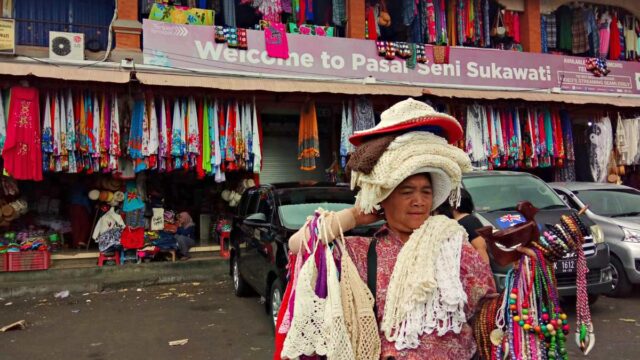 There are many types of materials used to make accessories. But the cheapest accessories usually the ones with wooden materials. Rings made from silver alloy cost starts from Rp30.000 to Rp50.000.
As for necklaces, generally, the initial price is around Rp25.000. A buyer with good bargaining skills even can get Rp10.000 for 1 piece.
Cheap Paintings at Sukawati Art Market
Painting lovers, get ready to have many new collections. Oil painting with a canvas as the medium is abundant here. From landscape to abstract painting, the market has all. Mainly the paintings are about Balinese dancers, rice field, and Balinese daily lives.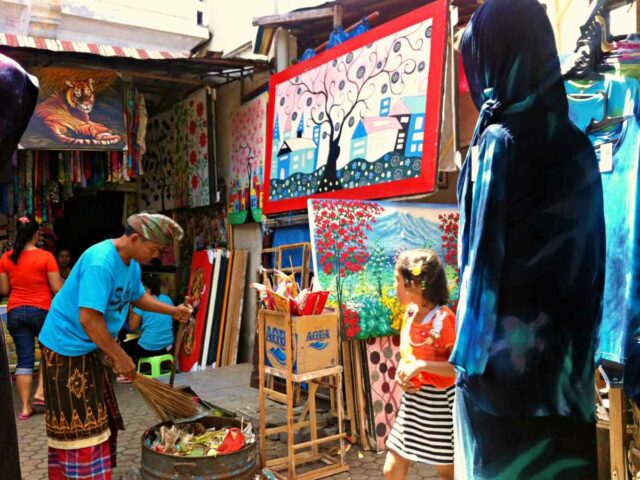 Small or big painting, choose whatever suits one's style. Cheap price also applies to these products. Even with Rp100.000, shoppers can get at least one small painting. But of course, it requires bargaining skills too.
In the end, the deal price is always cheaper compared to other art markets. One can get a painting for Rp150.000 here. While in Kuta, that will cost Rp350.000 for the same painting.
Rattan Bags
Rattan bags have been on the hype in the last few years. Why not get one (or some) here? Cute rattan bags here are sold in different diameters and patterns. Small, medium, and large ones. Each comes with a different price.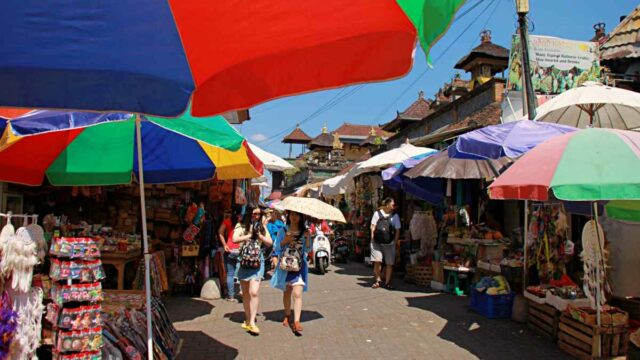 However, the price isn't different much to other places in the Ubud area. The small round rattan bags start from $19. After bargaining, the price can get lower to $15. As for the largest one it cost around $34.
Wooden Souvenirs
Other unique choices to make for gifts include some wood carvings, masks, and woven basketry. These three aren't that popular among tourists. But for people looking for a decent and unique native gift, those three will do.
Windchimes and dreamcatchers are also available in several shops. The wind chimes are made from bamboo. While the dreamcatchers are quite popular among female tourists. Since the stuff comes with many color options.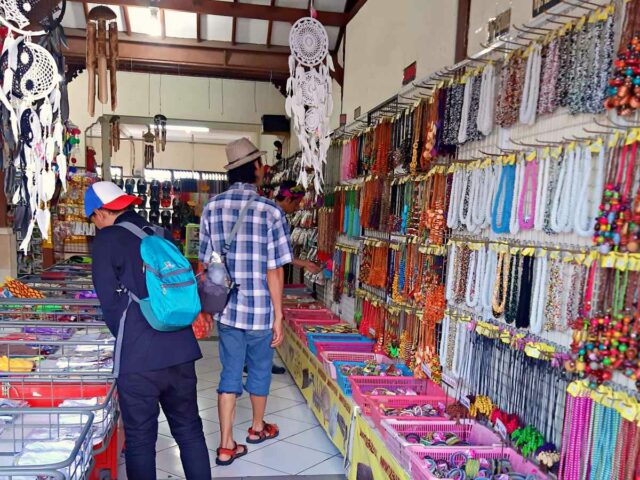 Human Interest Photo Spot
Find old ladies in traditional clothing put canang in the surrounding area. Or maybe a young girl carrying a basket on their head. Sukawati Art Market will make a good story to capture.
Whatever it is, this market is perfect to hunt human interest photos. Don't hesitate to ask the vendors to pose. That way, and be friendly with the locals' seller. After all, a friendly attitude might rising the chance to get cheaper prices.
Street Food Worth Trying
Don't let hungry tummy ruin the shopping spirit. Try tasting the local skewers on the food cart. Some vendors offer sweet pork skewers, some others sell Maduranese chicken skewers. These skewers are drenched with peanut sauce.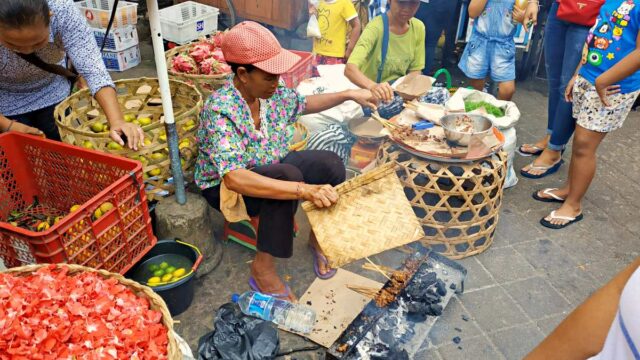 Get some chili sauce for that spicy kick. Not only a snack, but there are also many other food options. Explore the market area and find more street food vendors.
Tourists can also have a bootleg burger. With cheaper prices, let's not hope for any burger as in any fast-food chains. However, although the ingredients are so-so, the carbs are enough as power-ups. Another lighter alternative is to get steamed corn, still in its cob. Or maybe having some boiled peanuts.
See: Gianyar Night Market, Guide To Culinary Street Food.
Sukawati Art Market Opening Hours
The official opening hours are from 6 AM-6 PM. But many vendors open their shops later like at 10 AM. Some vendors will stop the business earlier too, which is around 5 PM.
Coming too early, tourists can pass time in the adjacent markets. It's the traditional market or known as the wet market. It sells fish, poultry, vegetable, fruit, and almost everything. As for the roadside parking, even before 10 AM, the parking guys are available. As markets are operating nearby.
Sukawati Art Market Opening Hours
Every day
06:00 – 18:00
See: Ubud Art Market, Shopping Spot & Guide
Facilities
Aside from the craft shops, there are not many facilities in Sukawati Art Market. Toilets are available on the premise. But people complain about its bad maintenance. Prepare some small banknotes as this is kind of paid-toilet.
As for the parking lot, the space is quite wide. But in high season, finding a car parking spot can be tricky. Coming on the summer holiday season, it's best to just ride a scooter.
The scooter parking lot has no specific area. Upon arrival, people will directly know that scooters can be parked along the street. The charge is Rp5.000/scooter and Rp10.000/car. ATM machine are available too and it's scattered around the market.
See: Indonesian SIM Card, Price & Provider.
How To Get To Sukawati Art Market
Just like the name, the art market is located in the Sukawati sub-district, Gianyar. From Ubud Palace, the distance is 12 km. Take a scooter, rent a car, or simply order a ride-hail service. For solo travelers, the online map is trustable.
From Ubud Palace main gate, follow the left-side street. After around one kilometer, there's this huge white statue. Also a right-turn to Cok Gede Rai Street. Take that right-turn. Continue going straight until the end of the street. Then, turn left to Raya Teges street.
Not far from there – again, there's a smaller statue with road sign beneath. Choose the right lane, then go straight ahead. Three more streets to pass through. First is Cok Rai Pudak Street. Second, Raya Mas Street, and last is Raya Sakah Street. Those streets take 6.5 km before continuing the trip to Raya Sukawati Street. One last right-turn to reach Lettu Wayan Sutha Street, and there goes the market.
Address & Location
Sukawati Art Market located in Jl. Raya Sukawati, Sukawati district, Gianyar regency, Bali 80582.