Tukad Cepung Waterfall
Entrance Fee: Rp15.000
Opening Hours: 07:00 - 18:00 WITA
Telp. Number: -
Address: Jl. Tembuku, Dusun Penida Kelod , Tembuku , Bangli, Bali , Indonesia , 80671.
Waterfall hopping is one of the interesting activities tourists can do in Bali. The island of God has plentiful waterfalls scattered throughout its mountainous landscape. Tukad Cepung Waterfall is the least popular waterfall in west Bali. Deserves some attention too from waterfall-hoppers.
The waterfall is situated in Village Penida Kelod, Tembuku, Bangli Regency, not far from the popular Ubud. Before becoming a tourist attraction, Tukad Cepung Waterfall's name was unheard of. The lush green trees surrounding the waterfall made people come not only once.
For some time, the waterfall was for religious purposes only. Balinese Hindu worshipers go to Tukad Cepung Waterfall to perform the religious ritual Melukat. A bathing ceremony to cleanse one's mind and soul. The water pouring from the waterfall is considered holy water.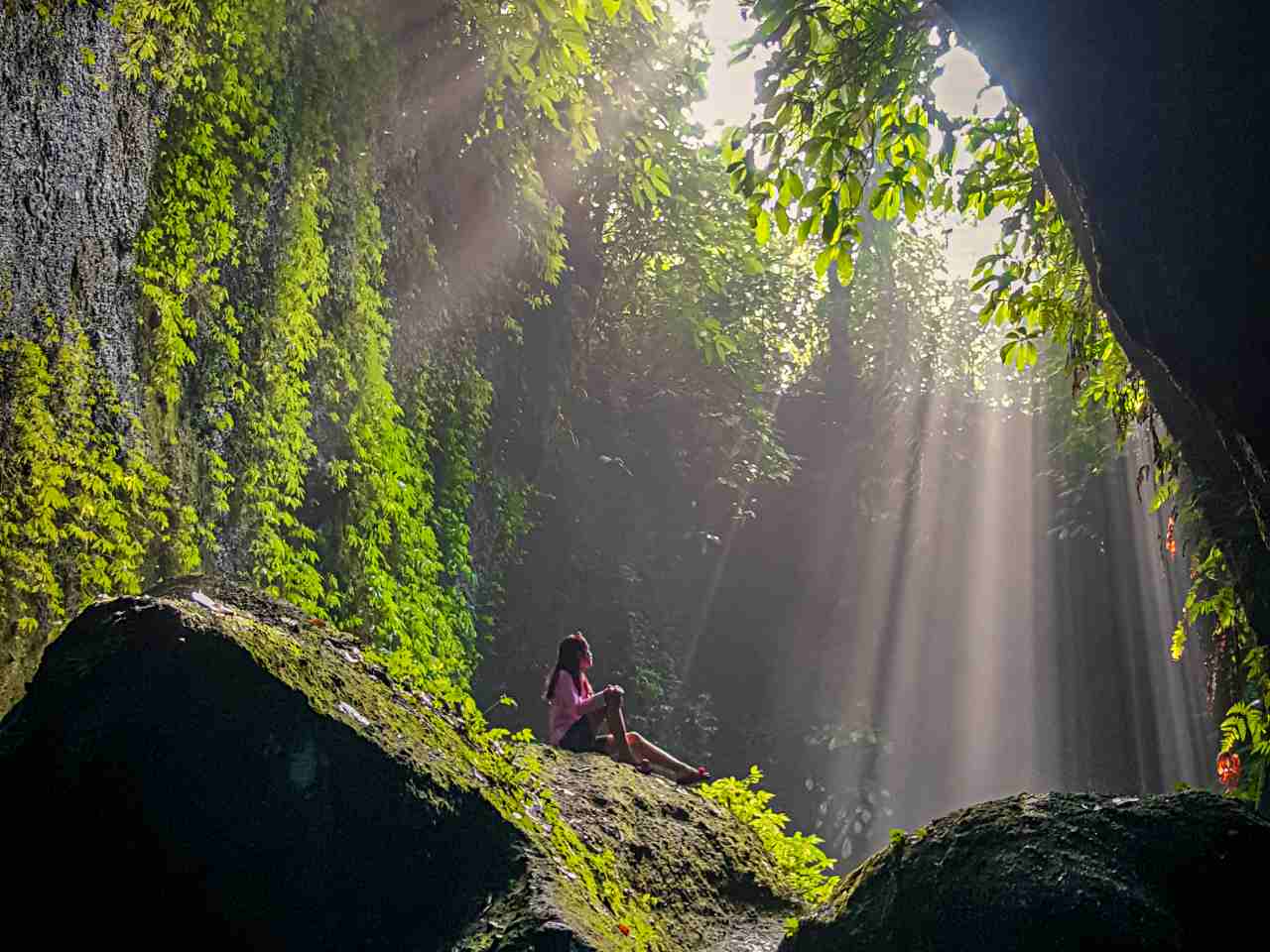 In fact, Tukad Cepung Waterfall also bears its own unique character. For the most part, is because to reach the waterfall. People need quite an effort. Hidden among the virgin nature and an undeveloped tourism village. Compare to other tourist spot in Bali, many find this waterfall a challenge. "Hidden Paradise", that's how tourists name this waterfall.
Trekking to Tukad Cepung Waterfall
Adventure to Tukad Cepung starts with a humble beginning. Visitors pay an entrance fee. Which is more of a donation rather than an official ticket. The entrance to the waterfall is still a part of the village temple Pura Dalem. Locals pray in the temple within sight right at the entrance of the waterfall area.
The first part of the trek is a small paved path. It is easy but the challenge is on the hundreds of stairs up and down, some are higher than others. It's a 10-minutes journey until reaching a canyon with a small stream. From here on, take off the shoes, they are practically useless anyway.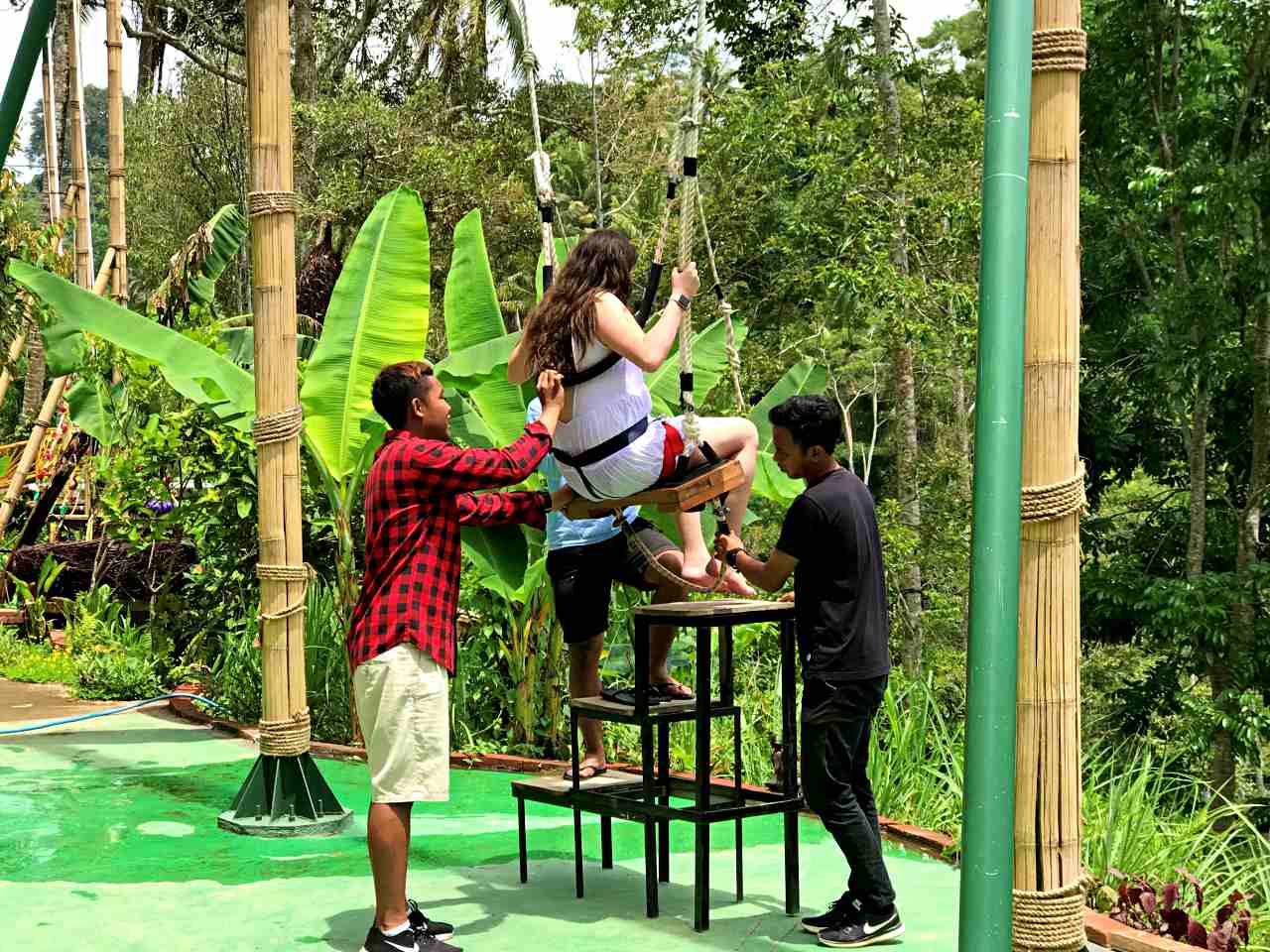 Instead, let the feet taste the coldness of the water. Two big rocks stand in the middle of the stream, looking like they do not let anyone get through. Squeeze the body between a small crack to get to the other side.
Afterward, it's climbing more small rocks, now mostly upwards. Moss covers these rocks, making them slippery. Hop carefully between them and continue to follow the path, toward the sound of falling water.
Tukad Cepung Waterfall, Nature & Folklore
The waterfall is hidden between overhanging rocks. The cliffs tower left and right with peaks almost touching each other. The formation gives the impression that the waterfall is inside a cave when it's actually not. Tukad Cepung waterfall is 15 meters tall.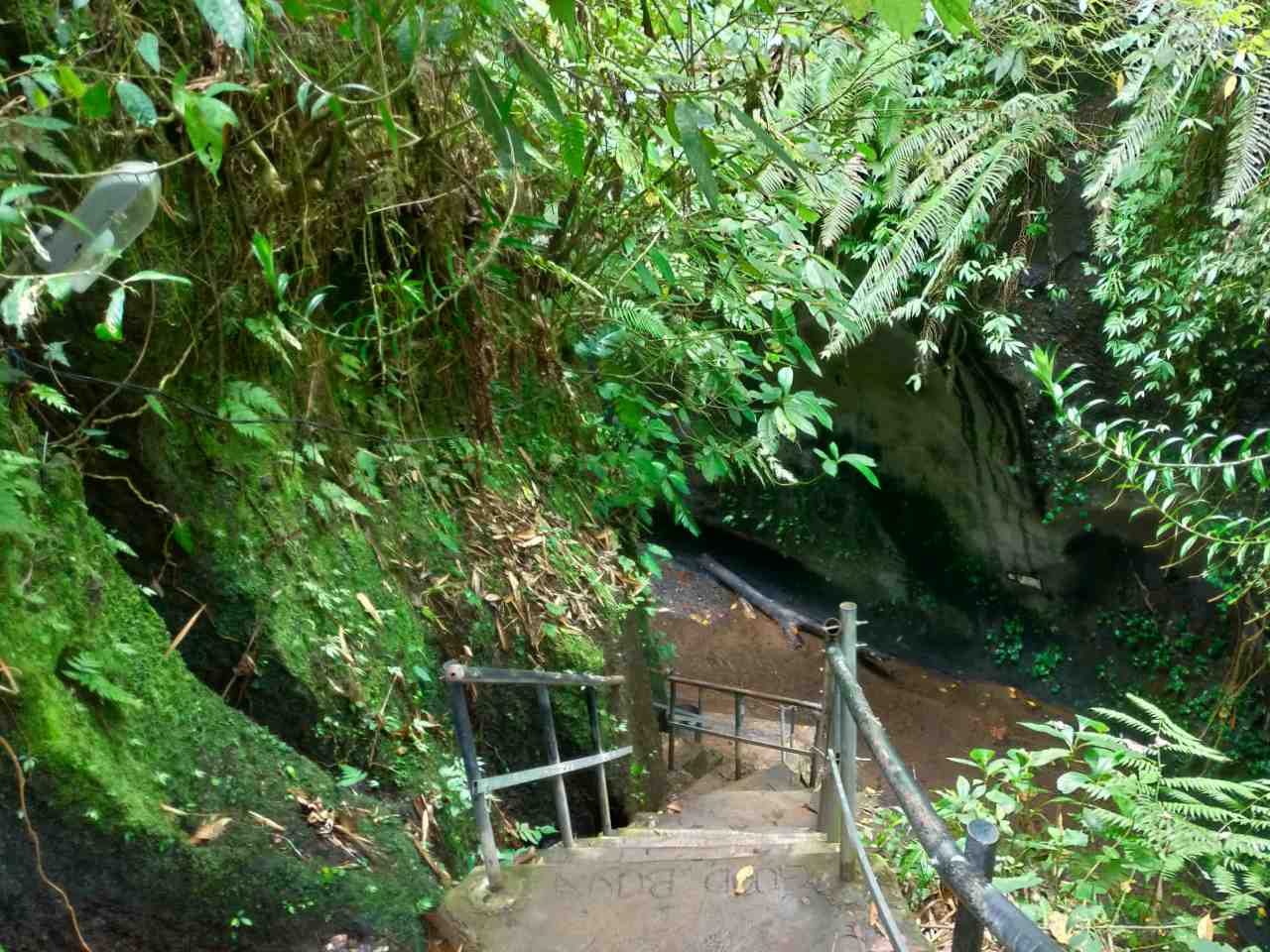 Waterdrops gracefully form a thin, wide, and transparent water curtain. Sunlight enters through the opening above. Get close to the waterfall by continuing to cross the shallow pool. The water is only an adult's thigh in-depth, so it's safe.
Some locals bathe at this waterfall and visitors can also join them. There's local folklore that when the sun's rays illuminate the waterfall. It is when the angels come down from the sky to bathe.
Waterfall & Canyon
Tukad means 'river' in Balinese, and in Tukad Cepung Waterfall wherever the water flows. There will be other adventures. Follow the stream outside the canyon and discover a whole different world, greener and better illuminated by sunlight compared to the dim light cave.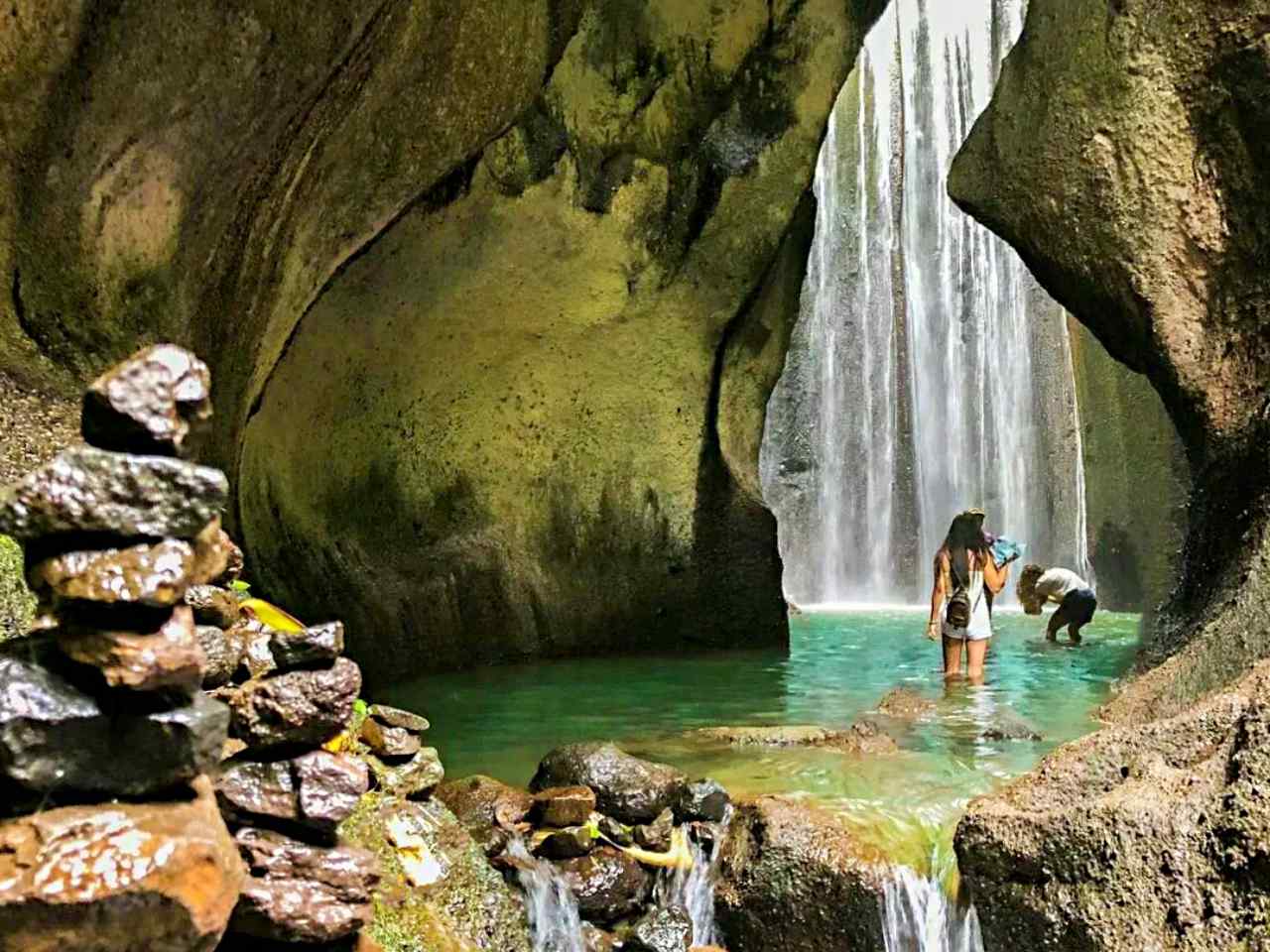 The golden rays fall beautifully touching the lush jungle. There are small waterfalls in some spots. Its dew refracts the sunlight, creating small rainbows on arm's reach. The serenity is worth immersing in for a few minutes, to replenish the energy before the rigorous journey heading back to the parking area.
See: Guide To Explore Tirta Empul Temple & Melukat ritual.
Tukad Cepung Waterfall Opening Hours
There are no official opening hours but the ticket booth opens from 7 AM to 6 PM. The best time to visit is as early as possible in the morning, around 8-9 AM. During this time, visitors will be able to see the morning sun rays coming in through the canyon opening. It is also less crowded than at any other time.
Tukad Cepung Waterfall Opening Hours
Every day
07:00 – 18:00
See: Guide To Explore Suwat Waterfall & Top Things To Do.
Tukad Cepung Waterfall Entrance Fee
There's an entrance fee to pay. It is affordable at only Rp15.000 per visitor. Make sure to prepare small notes too for the parking fee.
Tukad Cepung Waterfall Entrance Fee
Children & Adult
Rp15.000
See: Guide To Explore Penglipuran Village & Entrance Ticket.
Facilities
There is a parking space although small. It is enough to accommodate several cars and motorcycles. Local residents open snack stalls along the way to the waterfall, especially near the entrance. They sell snacks, beverages, and quick meals such as instant noodles. Toilets and rubbish bins are also available.
See: Tourists SIM Card, Provider List & Internet Package Price.
How To Get To Tukad Cepung Waterfall
There are two options to go to Tukad Cepung Waterfall and sadly public transport is not one of them. To get to Tukad Cepung, Tourists can rent a motorcycle for around Rp60.000 per day. There are plenty of motorcycle rentals around Ubud. The second option is by car.
Tourists can either rent a car with a driver or use a metered taxi. Renting a car usually costs starting Rp600.000. The journey will take an hour from Ubud. Visitors can take this route to get to Tukad Cepung Waterfall: Raya Ubud Road – Cok Gede Rai Road – Goa Gajah Road – Bedulu Road – Semebaung Road. Continue to Uluwatu Road – Tembuku Road.
For anyone starting from Kuta, tourists can take Ngurah Rai Bypass, continue to Ida Bagus Mantra Road, and continue northward until Tembuku Road. It takes one hour and 20 minutes to reach Tukad Cepung Waterfall from the Kuta area.
See: Bali Airport Guide, Airport Transfer & Transportation.
Address & Location
Tukad Cepung Waterfall is located in Jl. Tembuku, Bangli regency, Bali 80671.