Penglipuran Village
Entrance Fee: Rp25.000 - Rp30.000
Opening Hours: 08:00 - 17:00
Telp. Number: -
Address: Jl. Penglipuran , Penglipuran Kubu, Bangli , Bangli, Bali , Indonesia , 80613.
As modernization sweeps the prior traditional Bali, Penglipuran Village persists. The cultural village base is around 6 km from the center of Bangli. The locals living here preserve their traditional way of living. It's the only village in Bali that still doing the old-fashioned way as a community.
The village remains as it is since its groundwork roots centuries ago. Penglipuran itself means "a holy place to commemorate the ancestors". Villagers respect their ancestors' wishes for harmony. As much as physical aspect and spiritual belief.
The prominent feature of this village is the traditional architecture of its houses. Which interestingly are identical to each other. In detail, around 243 families live harmoniously adhering to traditional principles and rules. To point out, everyone here is equal. On the contrary outside the village, the Hindu caste system doesn't apply in Penglipuran village.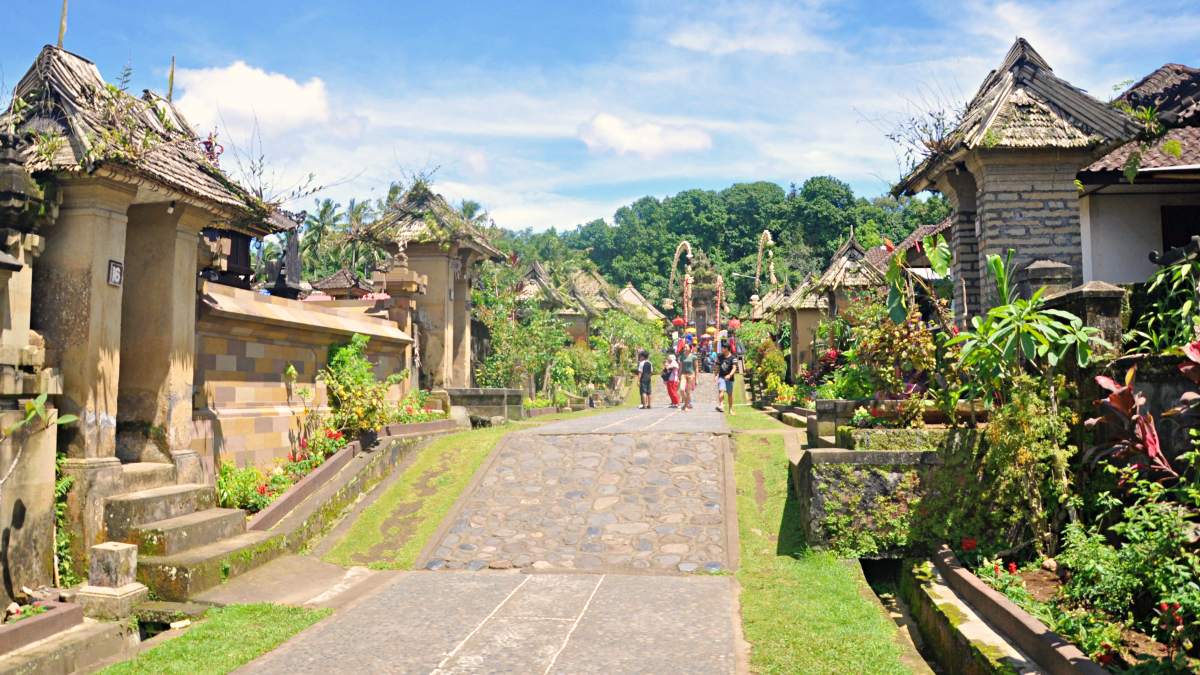 While maintaining traditional culture, Penglipuran village is also highly eco-friendly. Residents take environmental issues seriously. They keep the village clean, recycle trash, and have a strict policy toward smoking and pollution.
The village too is surrounded by a bamboo forest that is highly protected and preserved. In fact, the village once won the "Kalpataru" award. The highest award for environmental achievement was awarded by the Indonesian government.
Penglipuran Village House & Traditions
Penglipuran village's layout adheres to the principle of Tri Mandala. There are three levels of chastity that imply three different living spaces. First, is the outermost part, where farms and a graveyard are situated. Second is the intermediate area, the settlement, where houses are set.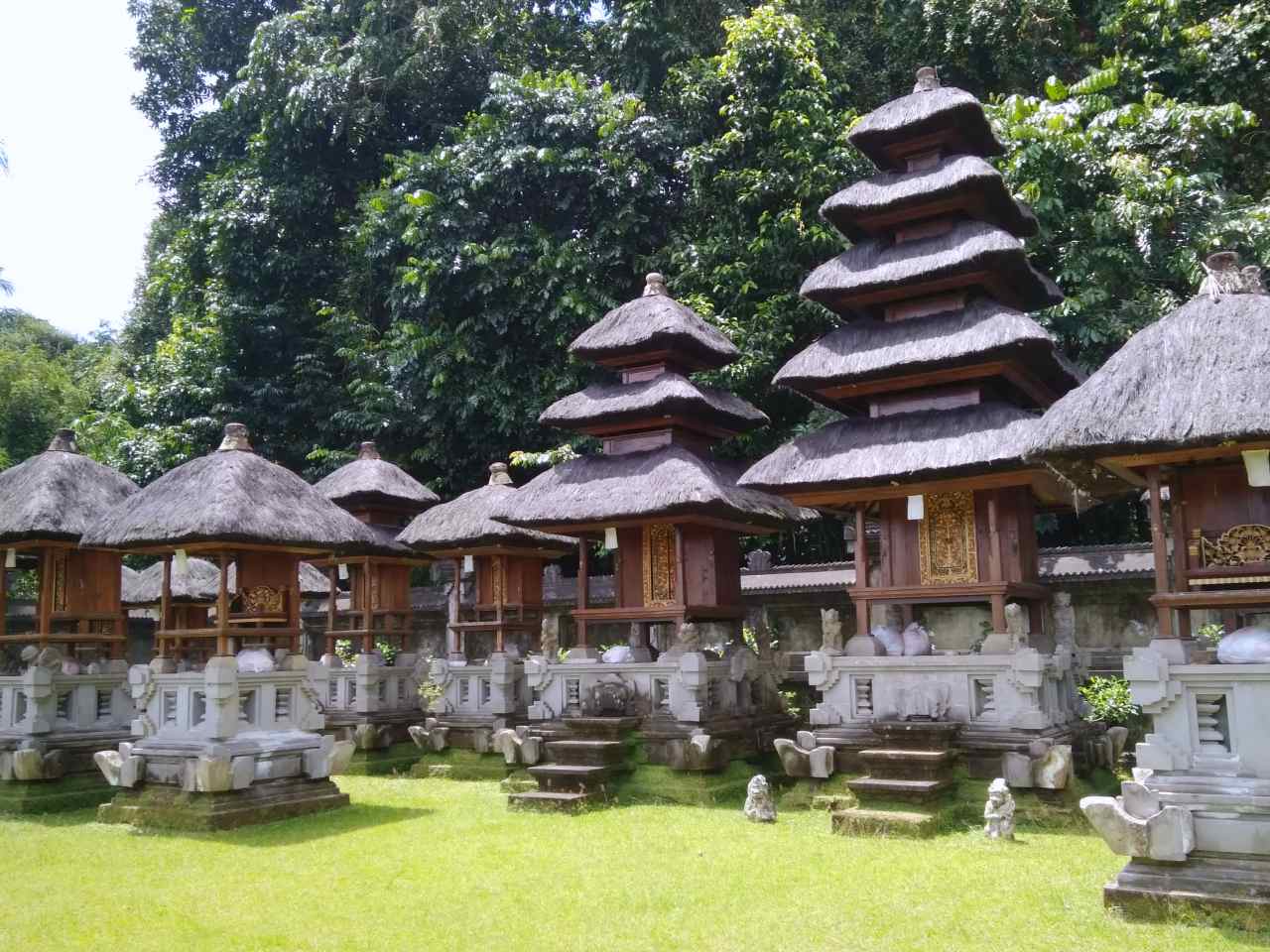 A single line of stone-paved road divides these houses into two rows. As visitors walk along the picturesque street. Notice how houses here have identical traditional gates. This type of gate is called "angkul-angkul".
Manicure gardens line the main street, tidy and well-maintain. Last, standing magnificently at the end of this road is the village temple Pura Penataran Desa. By all means, the religious compound occupies the holiest and most important area of the village.
Visit during the Galungan holiday to witness the village at its best. Bamboo decorations hang in front of every house during this celebration. Villagers will be busy going back and forth to the temple. On this occasion, wearing their finest Balinese clothes while carrying offerings on their heads.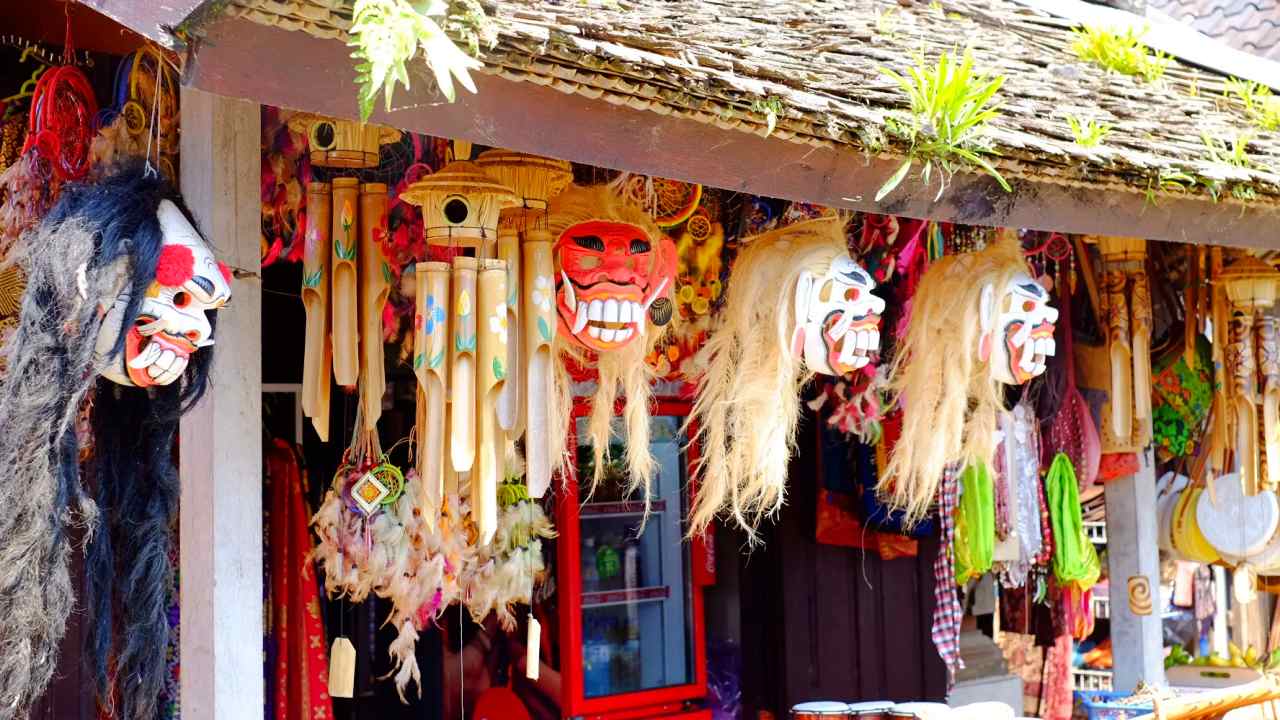 Friendly Locals in Penglipuran Village
The first thing and remarkable experience visiting the village comes from the local's hospitality. Visit one of the houses, and the family will gladly show the inside of the compound. Listen carefully as they introduce Merajan, the family shrine.
Ask them for a tour of the kitchen, where the traditional firewood-fueled stove is still being used. Bale is a type of living room where guests are hosted. Many villagers have transformed bale into some sort of cafe and souvenir shop.
They sell snacks and beverages, along with local handicrafts. Try a local specialty drink called loloh cem-cem. A herbal drink made from hog-plum leaves. Drink along with the family as they tell visitors about daily life in the village.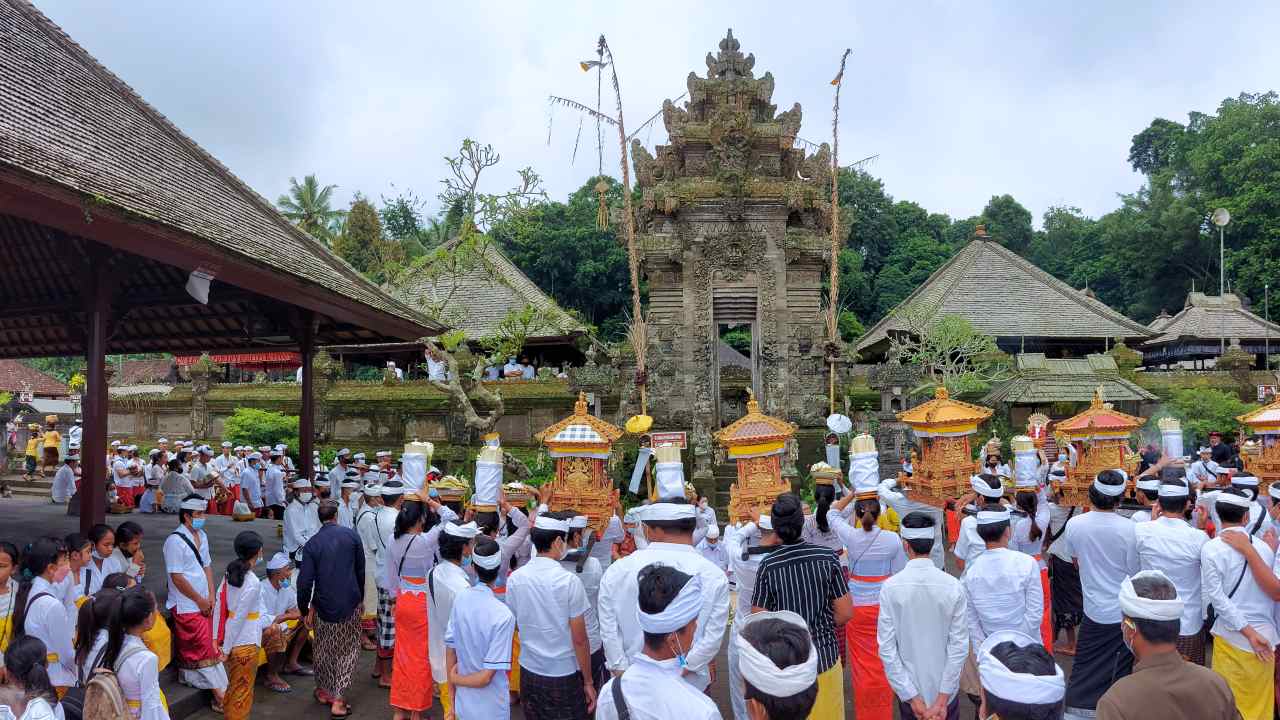 A Night In Penglipuran Village
The friendliness of this community would make anyone want to stay longer. To visitors' delight, some villagers rent their vacant rooms for guests. Facilities are modest. But the charm of staying here is being a part of a Penglipuran family. Even if it's only for a night or two. It's guaranteed to be an unforgettable experience.
Penglipuran village closes at 5 PM. But to clarify, there is more to see after the ticket counter closes. The evening is when the locals go home from work. After back from the farm, villagers usually hang out in front of the house and then socialize with neighbors.
First, They share the news then Ask each other how they're doing, or discuss current village issues. UP Until the night is getting late. Do not hesitate to participate. The evening rendezvous is how villagers maintain a close-knit bond between themselves.
The Sacred Bamboo Forest
Penglipuran Village's bamboo forest makes up 40% of the village area. There are plenty of outdoor activities to do here. Take a nice relaxing stroll under the shade of 7-meter-tall bamboo trees. Or even more, go on a hiking tour with an experienced guide to explore more hidden tracks.
A cycling tour venture even further. At this point, brings visitors through farms, forests, and rivers far outside Penglipuran village.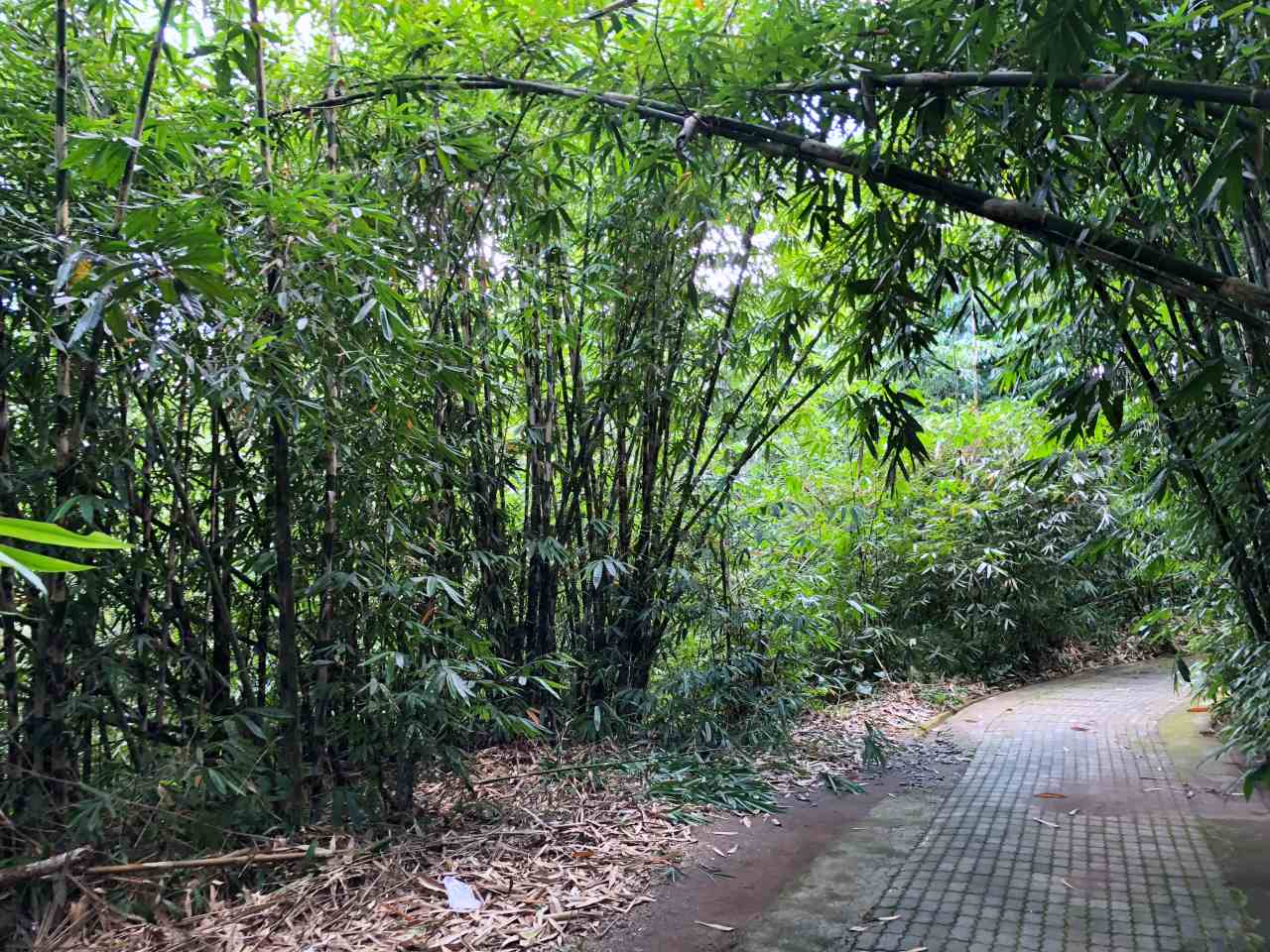 Penglipuran Village Opening Hours
Penglipuran Village opens daily for visitors from 8 AM to 5 PM. From Monday to Sunday including on national holidays except on Nyepi day. Then again, tourists are welcome to spend a night in a modest room/guest house, arranged by the village people.
Penglipuran Village Opening Hours
Monday – Sunday
08:00 – 17:00
Nearby: Guide To Explore Gunung Kawi Temple, Activities.
Penglipuran Village Entrance Fee
The entrance ticket to enter the traditional village cost Rp50.000 for adult international tourists. While the children's ticket is at Rp30.000. Visitors coming with private vehicles will have to pay an additional parking fee of Rp5.000/car and Rp2.000 for motorcycles.
A guide isn't particularly necessary. But if visitors want one, with a small donation, the locals will be more than happy to guide the guests.
Penglipuran Village Entrance Fee
International Adult
Rp50.000
Children
Rp30.000
Parking Fee
Rp5.000 (car) / Rp2.000 (motorcycles)
Nearby: Waterfall hopping, Explore Tukad Cepung waterfall.
Facilities
Since vehicles are strictly prohibited within Penglipuran. The parking lot is available away outside the village. There are public toilets near this parking lot. Other facilities include food vendors and souvenir shops. Staying a night at one of the houses will cost visitors around Rp500.000/night.
See: Indonesian SIM Card, Coverage & Price.
How To Get To Penglipuran Village
Penglipuran village is an hour's drive from central Ubud. Unfortunately, there isn't any public bus or transportation to get to the village. The option is limited to self-drive either renting cars or scooters. On one hand, the cost is much cheaper. A small car with 4 passenger capacity costs around Rp250.000 to Rp300.000 for day rent.
Obviously renting a scooter is the cheapest option. The rent starts from Rp50.000 to Rp125.000 for a day. It depends on the bike type. Visitors departing from Ubud will be passing the iconic tourist spot, the Tegalalang rice terrace. The route is Ubud–Tegalalang–Tirta Empul-Bangli–Penglipuran village.
See: Bali Airport Guide, Transportation To Downtown.
Address & Location
The traditional village location is in Jl. Penglipuran, Kubu, Bangli regency, Bali 80661.