Orchid Forest Cikole
Entrance Fee: Rp100.000
Opening Hours: Weekday 09:00 - 18:00, Weekend 08:00 - 19:00
Telp. Number: -
Address: Jl. Genteng, Cikole, Lembang , Bandung Barat , Jawa Barat , Indonesia , 40391.
Indonesia is home to a large variety of orchids, considered the second most diverse after Brazil. If there's any place to see many of them in one place, that would be at Orchid Forest Cikole. The tourist destination is only opened in August 2018. But it garnered quite attention already from many people. Orchid Forest Cikole is located at Lembang Highland, Bandung, West Java.
Orchid Forest boasts as many as 20,000 types of orchids in its collection. Among the famous orchid is the rare Phavio which is a native of West Java. Foreign varieties are also showcased here, including types of orchids from the Philippines, Peru, and other countries.
The Orchid forest cikole also has the giant stinking corpse flower, Rafflesia Arnoldi. Apart from orchids sightseeing. The Orchid Forest Cikole is an all-around destination with plenty of options. When it comes to outdoor activities. The vast hilly forest offers a chance for visitors to hike or simply stroll around.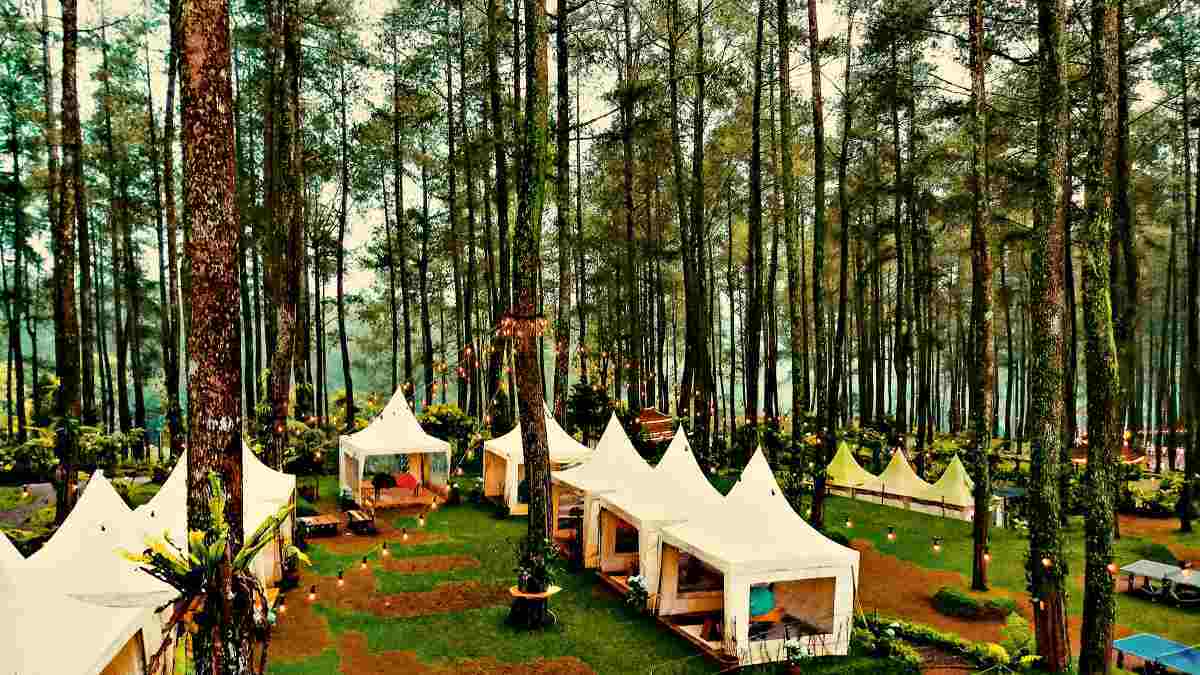 A long wooden bridge allows tourists to explore the site from a height of 23 m. Camping is another thing to do here, with tents available for rent.
Orchid Forest Cikole Entrance Fee
Guests will get charged Rp100.000 per visitor. The parking fee is Rp10.000 for cars and Rp5.000 for motorcycles. Attractions require a separate ticket each, starting from Rp15.000 per ride.
See: Maribaya Hot Spring, Nature Activities & Spa Treatment.
The Orchid Forest Cikole Opening Hours
Orchid Forest Cikole opens every day from 9 AM to 6 PM. The site has longer operational hours on weekends, from 8 AM to 7 PM.
Orchid Forest Cikole Opening Hours
Weekday
09:00 – 18:00
Weekend
08:00 – 19:00
Nearby: Guide To Explore Tangkuban Perahu, Volcano Crater.
An Orchid Paradise
The sight of exotic orchids welcomes as soon visitors step into the entrance gate. Hanging on the walls near the ticket counter, these orchids tease visitors of what's waiting inside the premises. Step inside and be delighted to see orchids hang graciously almost on every pine tree.
Their petals make the green and brown dominate forest more colorful. On the ground, there are other flowers such as hydrangea and sunflowers. The forest path is a paved road instead of a dirt road – convenient to walk on even on rainy days.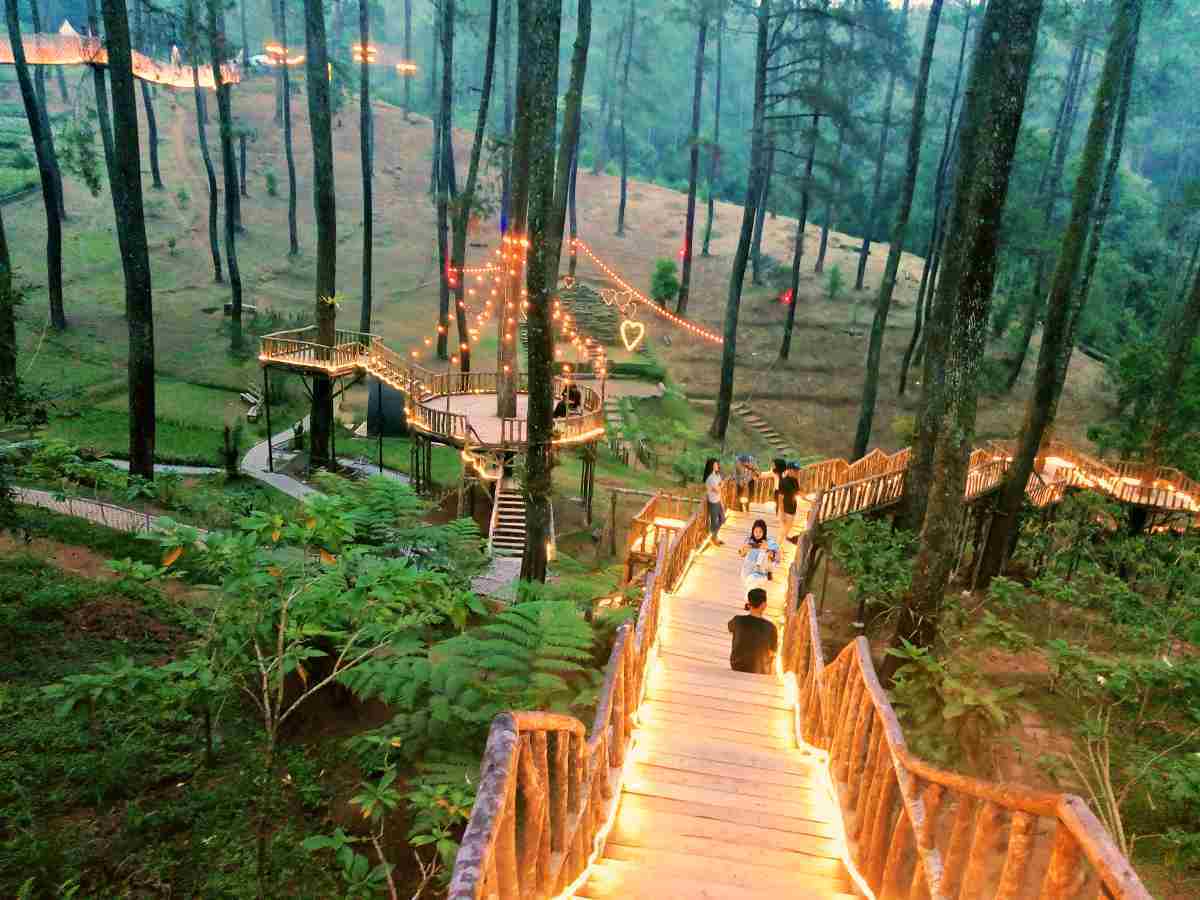 Here and there, artful manmade structures are strategically located to enhance the place aesthetically. They make a good selfie spot, so don't miss a chance to snap some pictures. The rarest variety of the orchids is well kept inside the greenhouse. Meet the prized collection of the place, the Phavio, here.
Foreign varieties include Octomeria chamaeleptotes. A red-yellow star-shaped orchid is native to Brazil and Argentina. If lucky, fall across Rafflesia Arnoldi on its blossoming day. The largest flower on earth is peculiar yet interesting. Because of its giant size and rotten odor.
The Sky Bridge & Outdoor Activities
Enjoy a birds-eye view from the 125 m long, 23 m high sky bridge that crosses through Orchid Forest Cikole. Visitors will need to pay an additional fee of Rp15.000. But the fee includes a ticket to do a flying fox- it's quite a deal. The flying fox is perfect for everyone who's too lazy to get down the bridge by the regular stair.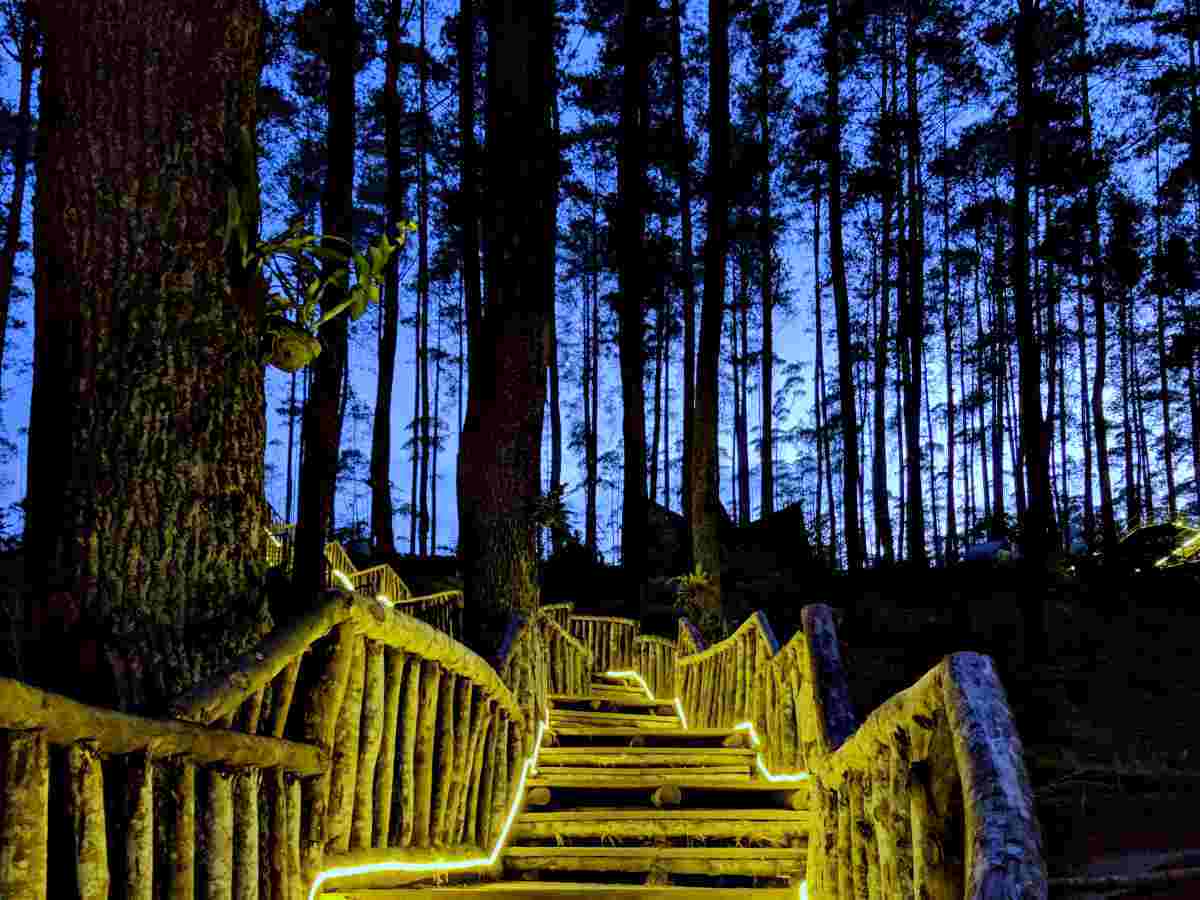 Well, why use the stairs if sliding down with a zip line is a lot more fun and a lot less tiring? Come early in the morning when the fog still hangs low. Walking through the bridge among the thick white mist is either calming or eerie. Depending on how one would see it.
Other outdoorsy stuff to do here is just stray away from the paved road and do some trekking. Discover plenty of attractions along the way, such as the playground and the rabbit farm.
Dine-In The Orchid Cafe
After seeing around, take a rest at the Orchid Forest's canteen. They offer basic beverages: tea, coffee, and chocolate. Nothing special. But hot beverages will do perfectly to get rid of the mountain cold.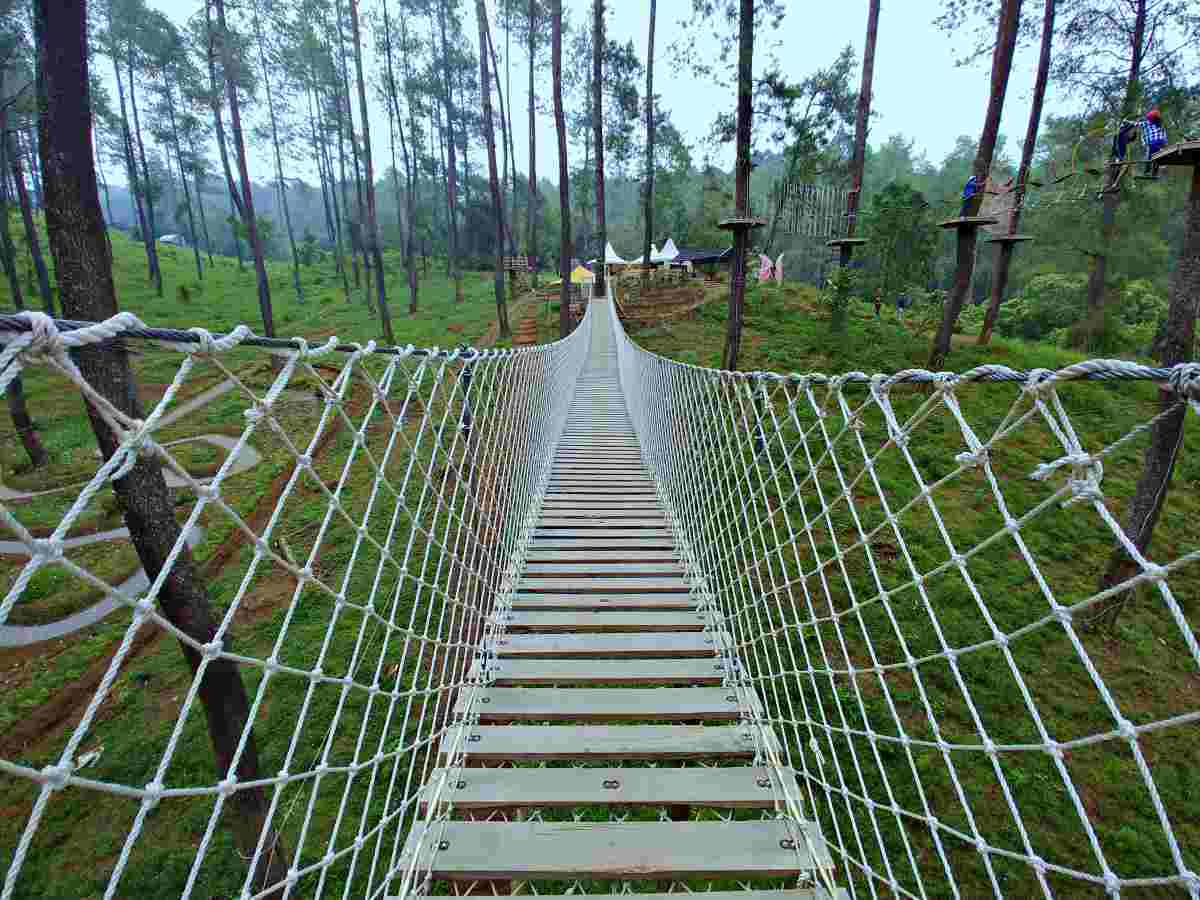 The highlight of Orchid Forest's cafe is its beanbags, which are nothing but inviting to rest the back on. Lie facing the sky. Immerse in the sight of rustling leaves above while waiting for the order to come.
Camping at Orchid Forest Cikole
Camping is a good way to enjoy the place far beyond its official opening hours. Orchid Forest is illuminated beautifully by romantic lighting as the night comes. In the evening, there's a light show called The Garden of Light. Control by sensors, the colorful light bulbs dance following the rhythm of the music. They give a spectacular performance.
The camping package rate starts from IDR 450.000 per night. There are camping facilities available, such as bonfires and lawn chairs. In the morning, enjoy some solitude before the park opens. Walkthrough the misty forests. While pretending the whole area is visitors' own private garden.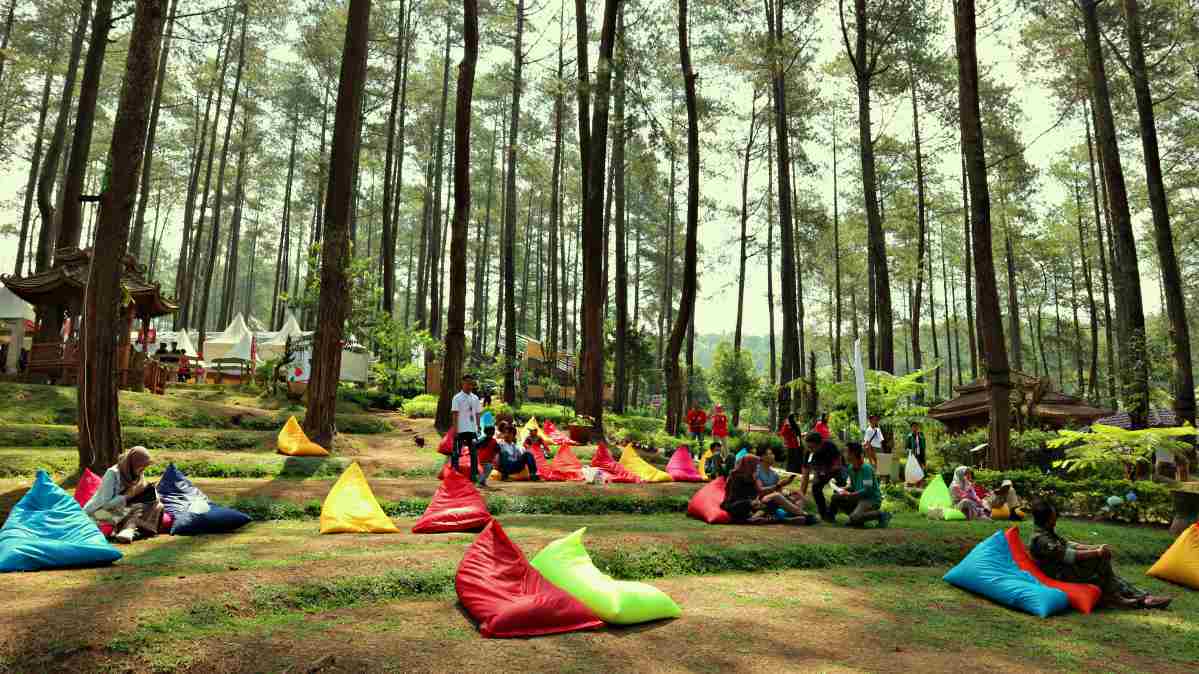 Facilities
The place is clean and well-kept with enough trash bins. The toilets are clean and the parking is spacious. The closest accommodation is the lodge near the entrance. The rate for a room is IDR 700k/night. A gift shop is available for souvenir hunting. There is also an amphitheater for hosting events.
See: Guide To Choose Indonesian SIM Card & Price
How To Get To Orchid Forest Cikole
Orchid Forest Cikole is inaccessible by the regular public transport van due to its remote location. The best way to get here is either a rented vehicle or a taxi. Renting a car usually costs IDR 400,000 for a six-seater van, driver included.
It takes approximately an hour to reach the orchid forest from Bandung downtown. The route is as follows: Ir. H. Juanda road – Dago Giri road – Tangkuban Perahu road – Cikole – Orchid Forest.
See: Jakarta Airport To Bandung Transportation Guide.
Address & Location
Orchid Forest Cikole located in Jl. Genteng, Cikole, Lembang district, West Bandung Regency, West Java 40391.