Grafika Cikole
Entrance Fee: Rp20.000-Rp1.400.000
Opening Hours: 09:00-18:00
Telp. Number: (022) 8278 2441
Address: Jalan Tangkuban Perahu KM.8, , Cikole, , Lembang, , Bandung Barat, , West Java , Indonesia , 40391.
Despite the vast urban development, the number of natural tourist attractions doesn't deteriorate. Instead, natural tourism spots grow in number. West Java province is not exempt. The province is home to many natural spots, one of which is Grafika Cikole Bandung.
Located at an altitude of 1,400m asl, Grafika Cikole offers various fun activities for guests to choose from. For example, the flying fox and bird park that perfect for guests coming with children. Follow by paintball and outbound for adults under the chill air for group activities.
On the other hand, nature lovers would be delighted by a camping site or staying in a wooden cottage. There are also activities befitting for children. For photography enthusiasts, the pine forest is a beautiful spot for landscape photos.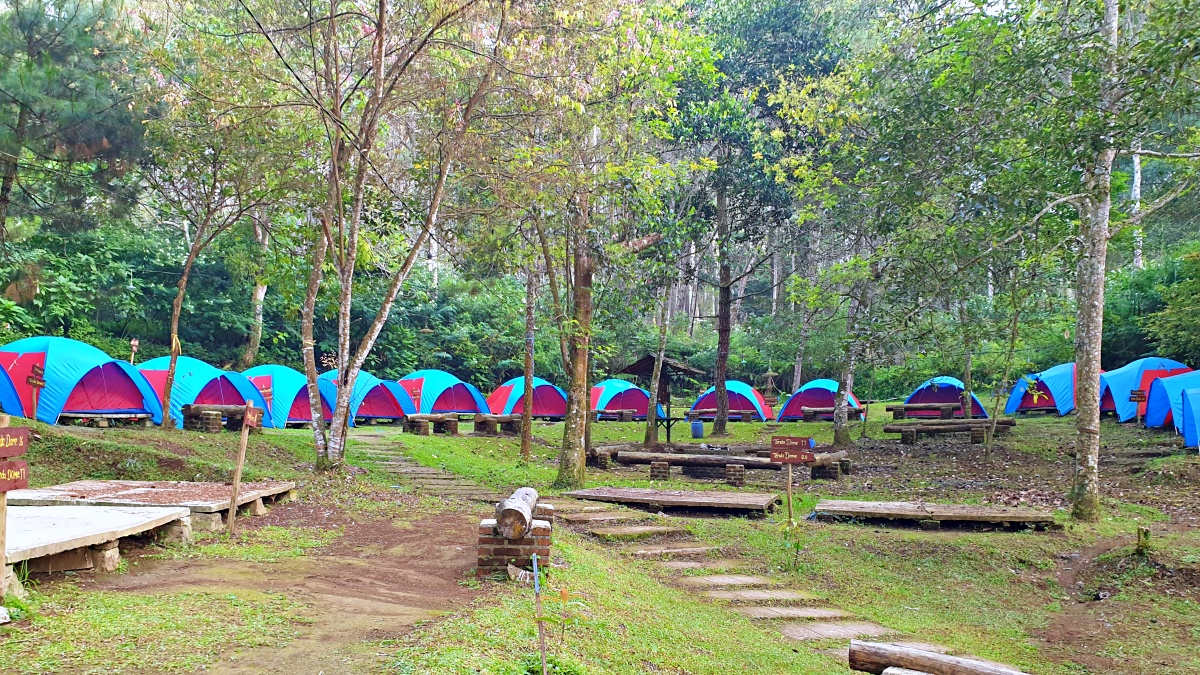 Lies on the slope of Mount Tangkuban Perahu, visitors can explore this forest-like site. The place occupies more than eight hectares area so it is pretty wide to explore. Obviously, explorers will find it fascinating surrounded by the green pine forest. Along with the greens, a cool and calm ambiance emerges; making the place perfect as a destination to unwind after a hectic week.
Grafika Cikole Entrance Fee
The admission fee is Rp20,000 for one person, but the price does not include any additional activities such as strawberry-picking activity, ATV riding, or entering the bird park. Also, for the outbound activities, the group should do a reservation at least three days before.
Grafika Cikole Entrance Fee
Entrance Ticket
Rp20,000
Bird Park
Rp20,000
Flying Fox 1 & 2 track
Rp15.000 to Rp25.000
Paintball (40 bullets)
Rp85.000
TreeHouse
Rp50.000
Accommodations
Pinus
Rp1.265.000
Damar
Cemara
Urban Camp
Rp1.610.000
Dome Tent
Rp460.000
Wooden House
Rp828.000
See: Orchid Forest Cikole, Attraction & Entrance Fee
Grafika Cikole Opening Hours
Grafika Cikole Bandung is open every day from 9 AM to 6 PM. Of course, the closing hour does not apply to the travelers who stay at the campsite.
Grafika Cikole Bandung Opening Hours
Monday – Sunday
09:00 – 18:00
Nearby: Tangkuban Perahu Crater, Activities & Entrance Fee
Child-friendly Tourism Spot
For those vacationers coming with their families, Grafika Cikole is not a bad place. Children can get closer to nature by joining the strawberry-picking activity or feeding animals directly.  In the strawberry garden, young kids can learn how to plant and take care of strawberries, as well as harvest them.
Accompanied by their parents, little ones are able to handpick the strawberries to be brought home. Another interesting activity is visiting the animals' cages. There, youngsters are permitted to feed themselves directly with the provided food.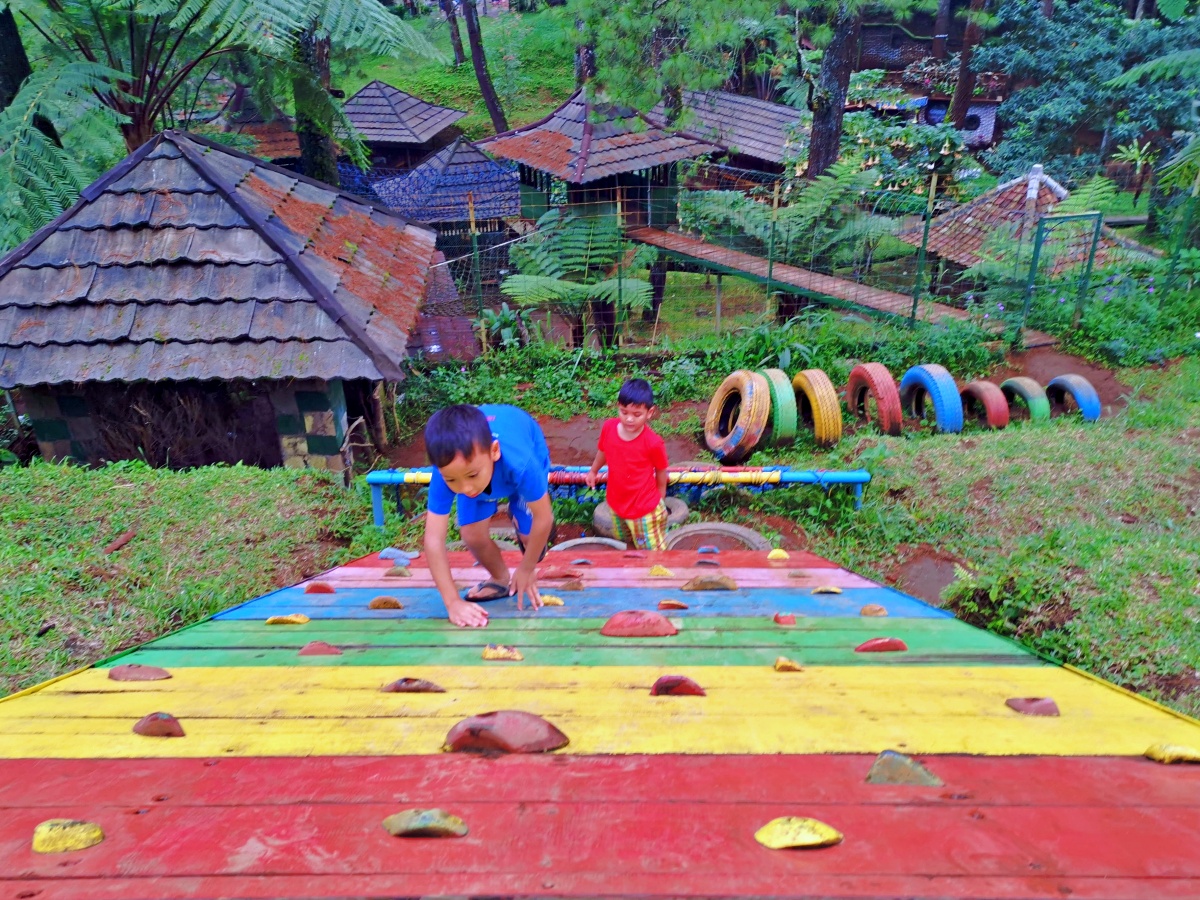 At Bird's Park, young ones can meet various colorful birds, such as parrots, monk parakeets, and love birds. These birds are tame, which is why it's safe for children to stroke them. Teach the kids to be very gentle and take a few photos to remember the day.
Instagram-worthy photo spots
With the high demand for eye-catchy photo spots, Grafika Cikole comes with them as well. Visitors will have abundant photo spots to explore. If the natural, green, and mystical surroundings are not enough, don't worry.
Plenty of scenic spots will suit the lens, such as Apache Camp, Indian Village, and The Tree Houses. Not to forget, people can also befriend the dwarf statues in Dwarfs Park.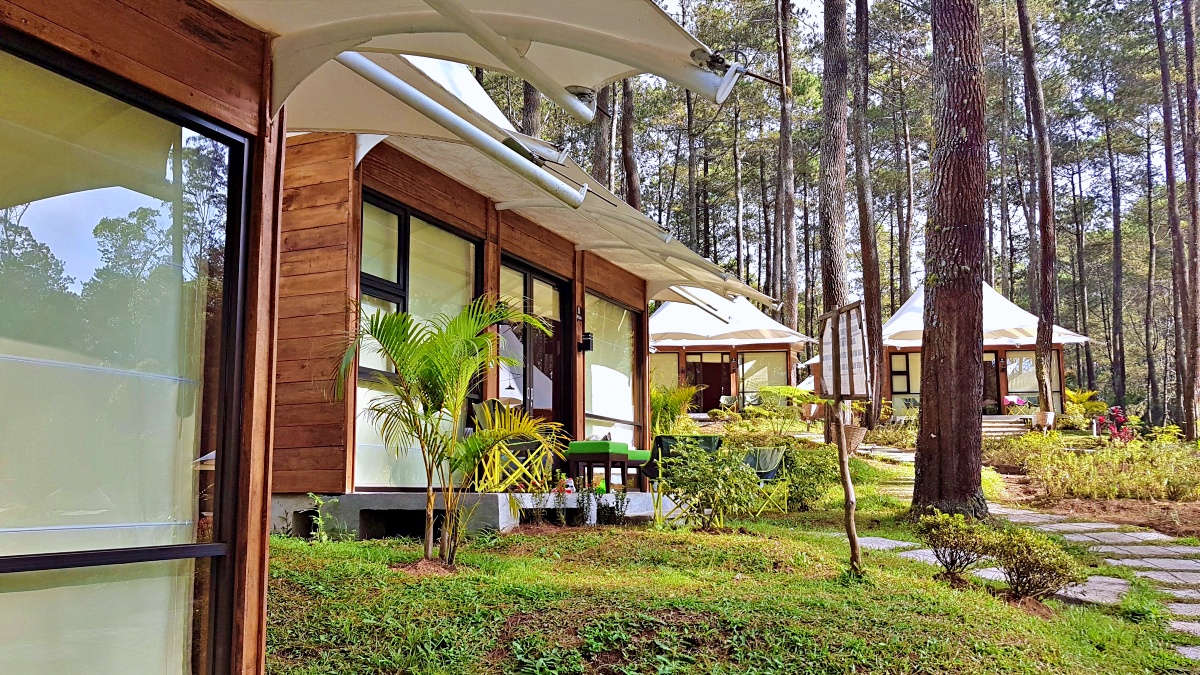 When the sun starts to set, the scenery becomes more surreal. Even in the darkness, this place still has its outstanding look. The yellow lights attached here and there make the place looks like a fairy-tale forest. To elaborate, for photo-hunter vacationers, Grafika Cikole Bandung is a perfect site to visit.
Grafika Cikole Affordable Campsites
Providing a restaurant as well as a staying haven was the initial objective of this place. With those in mind, the management developed the place to have such an affordable staying place. That's why rented tents come as the answer. With a capacity of four persons per tent, visitors can spend the night with their loved ones.
There are fifty units of tents in Grafika Cikole Bandung. Following the tent, a mattress, sleeping bag, cup of instant noodles, and also corn are included in the price. There is also a campfire and public toilets for the campers as communal facilities.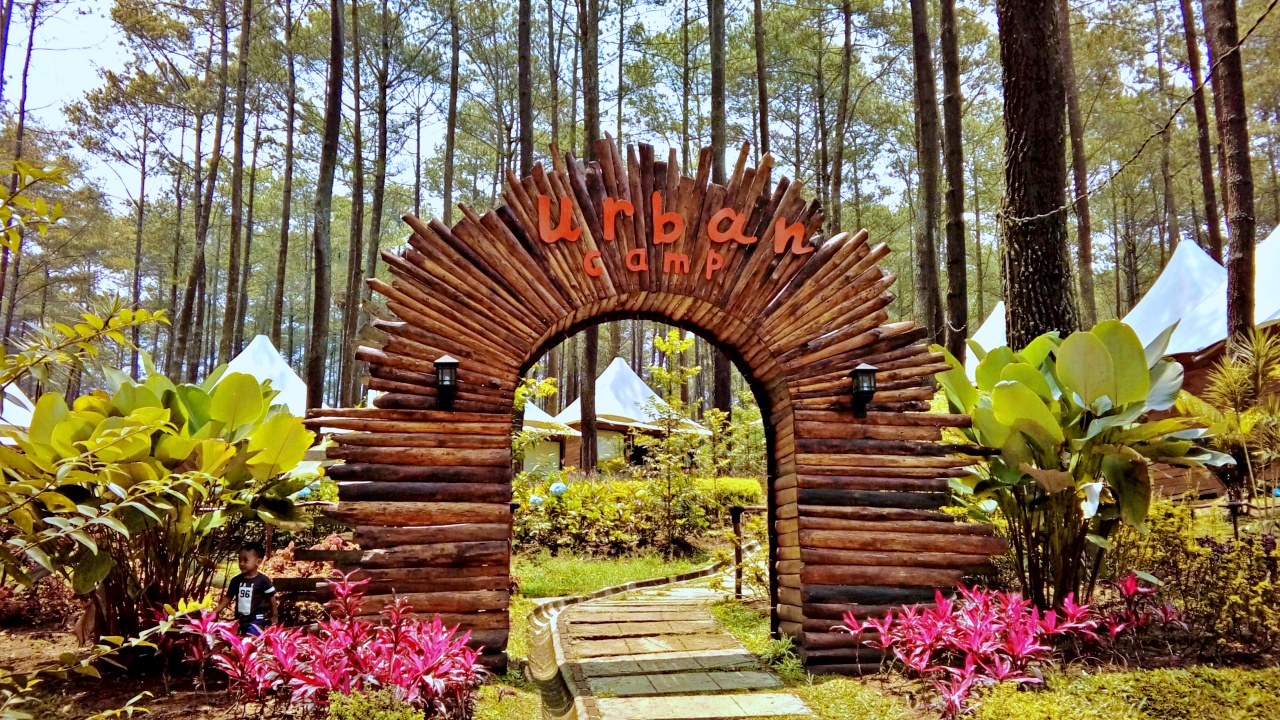 Glamorous Camping Made Possible
For travelers who fancy glamping – glamorous camping, Grafika Cikole has some accommodations to offer. There are the Urban Camp (20 units), stilt house (1 unit), and also natural tourist cottages (28 units). These come at various prices, ranging from Rp720.000 to Rp1.400,000. Compared to tents, these accommodations provide a wider place to stay, as well as free breakfast, TV, and hot water.
Outbound and Other Challenging Activities
Grafika Cikole does not only have camping grounds and Instagram-worthy photo spots. As previously mentioned, the place offers outbound and ATV riding activities. There are three outbound packages, and the cost varies from one to another.
The outbound instructor will guide the activity with minimum participants of twenty. The price depends on the participant: children's outbound activities will cost less expensive than adult outbound.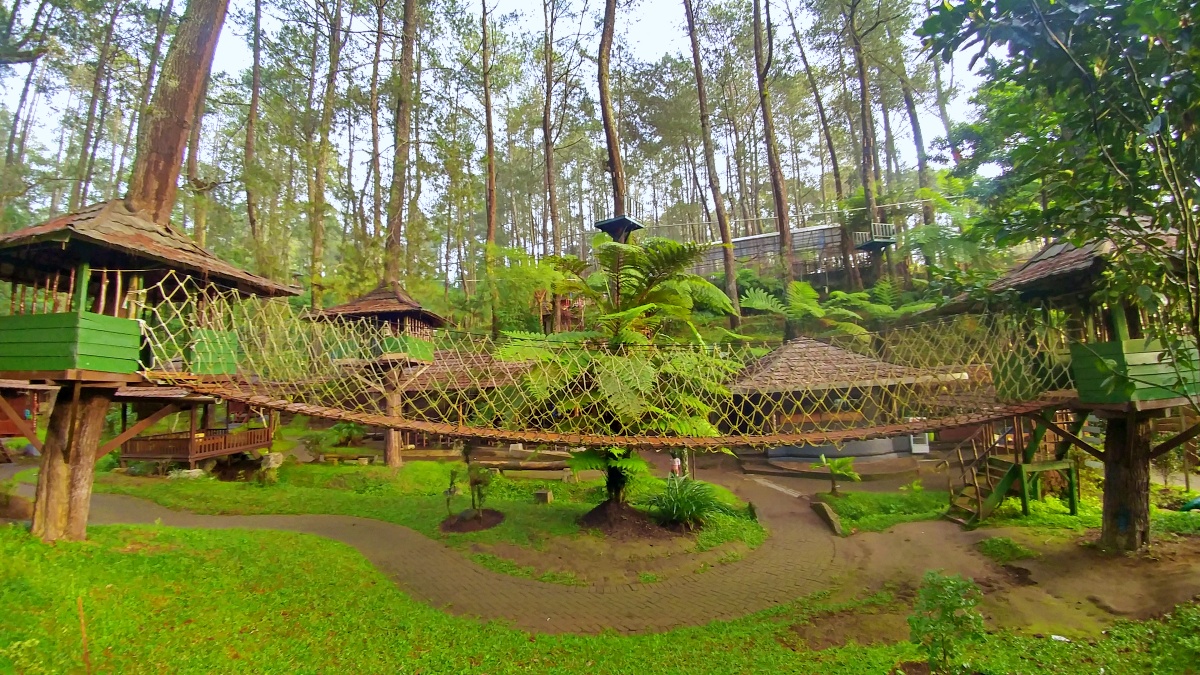 As per ATV riding activity, it charges tourists Rp50.000 per four laps. Interested visitors can try this challenging activity. The track is amateur-friendly; thus, riding with a child is doable and safe enough. Once the rider has taken good control of the vehicle, that'll be fun to rev and ride through the lap.
See: Maribaya Hot Spring, Attraction & Entrance Ticket
Facilities
Like many other tourist attractions, Grafika Cikole provides places to enjoy local delicacies. There are five restaurants serving various dishes, varying from Sundanese, Indonesian, and even Chinese food.  For indigenous snacks and beverage lovers, Grafika Cikole also has some stalls selling those at a relatively cheap price. For the meals, the price starts at Rp25.000/pax.
The restaurants also come with different interior designs. For example, Saung Lesehan offers a traditional dining experience on a saung (gazebo-like installation). Then, there is Pendopo Hutan which provides an open-space dining place with a direct view of the pine forest. Lastly, for visitors in large number groups, then the Sunda Buana restaurant will be a suitable eatery to visit.
See: Indonesian SIM Card, Price & Data Package
How To Get To Grafika Cikole
From downtown Bandung, the distance to Grafika Cikole is around 20 KM. Rented cars are by far the most convenient ways to get to the destination. That way, visitors can come to the site without any hassle. Explorers can also go by taking a public van. From Bandung (Terminal Ledeng), visitors should take a public van that leaves for Lembang.
Following their arrival at Bundaran Panorama (located at Lembang-Tangkubanparahu-Maribaya crossroad), passengers should transfer to the next van that heads to Cikole.
Ask the driver to stop at Grafika Cikole entrance which takes around ±7 km. The site is on the left side of the road. For the public vans, travelers should prepare at least Rp30.000/person since the distance is quite far.
See: Jakarta To Bandung Transportation Guide.
Address & Location
Grafika cikole park and glamping site location is in Jalan Tangkuban Perahu KM.8, Cikole, Lembang, West Bandung, West Java 40391, Indonesia.