Maribaya Hot Spring
Entrance Fee: Rp35.000 - Rp115000
Opening Hours: Sun-Thur 08:00-20:00, Fri-Sat 08:00-22:00
Telp. Number: -
Address: Jl. Raya Maribaya No.105/212, Langensari, Lembang , Bandung Barat , Jawa Barat , Indonesia , 40391.
Milky blue water with just the right temperature. There's no better way to relax other than dipping in this kind of natural hot bath. Maribaya Hot Spring is located in Lembang, Bandung, West Java. It is tucked among the pine trees of Maribaya Forest, at the foot of Mount Masigit, 1000 m above sea level.
The water at Maribaya hot spring contains the chemical Sodium Bicarbonate. It is sulfuric and slightly base, with a PH level of 6,6 to 7,3. The typical temperature of the water is 40°C, while the weather is around 10°C. The minerals in Maribaya Hot Spring are known as effective in healing any kind of disease.
Aside from hot water relaxes any sore body muscle. It also heals skin diseases, arthritis, and muscle inflammation. Maribaya Hot Spring is too popular among tourists for its beauty effect. As in restoring skin elasticity and softening rough dry skin. Due to its popularity, the place used to be overcrowded.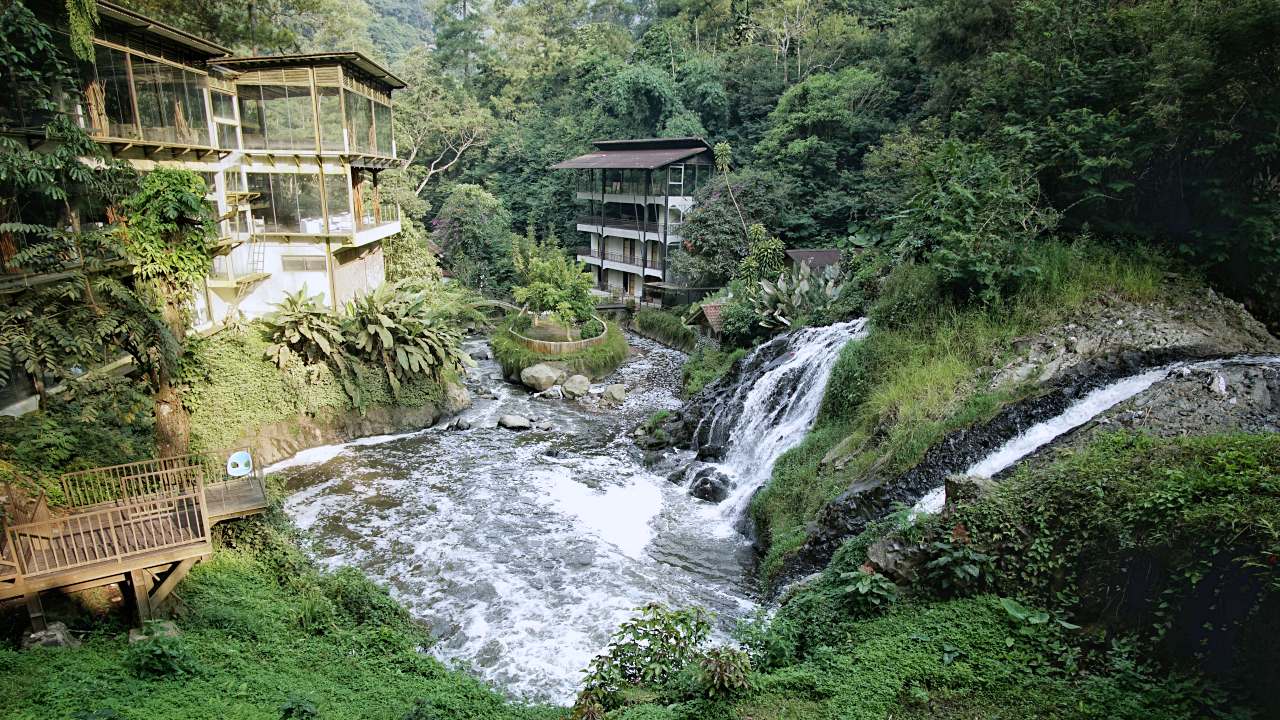 It was full of trash and unappealing until new management made a thorough renovation of the place. Nowadays it is a clean and modern resort area. It is completely redesigned, and some enhancing facilities are added and new as well.
The ticket price is more expensive though. But it's quite worth it. Considering it takes a certain effort to keep Maribaya Hot Spring well maintained and clean.
The Hot Pools
Upon entering the pool area, the guide will offer several choices. Visitors can either choose a Deluxe or a VIP pool. It comes with a different price and different facilities. The deluxe pool is large in rectangular shape while the smaller and round ones are the VIP pools.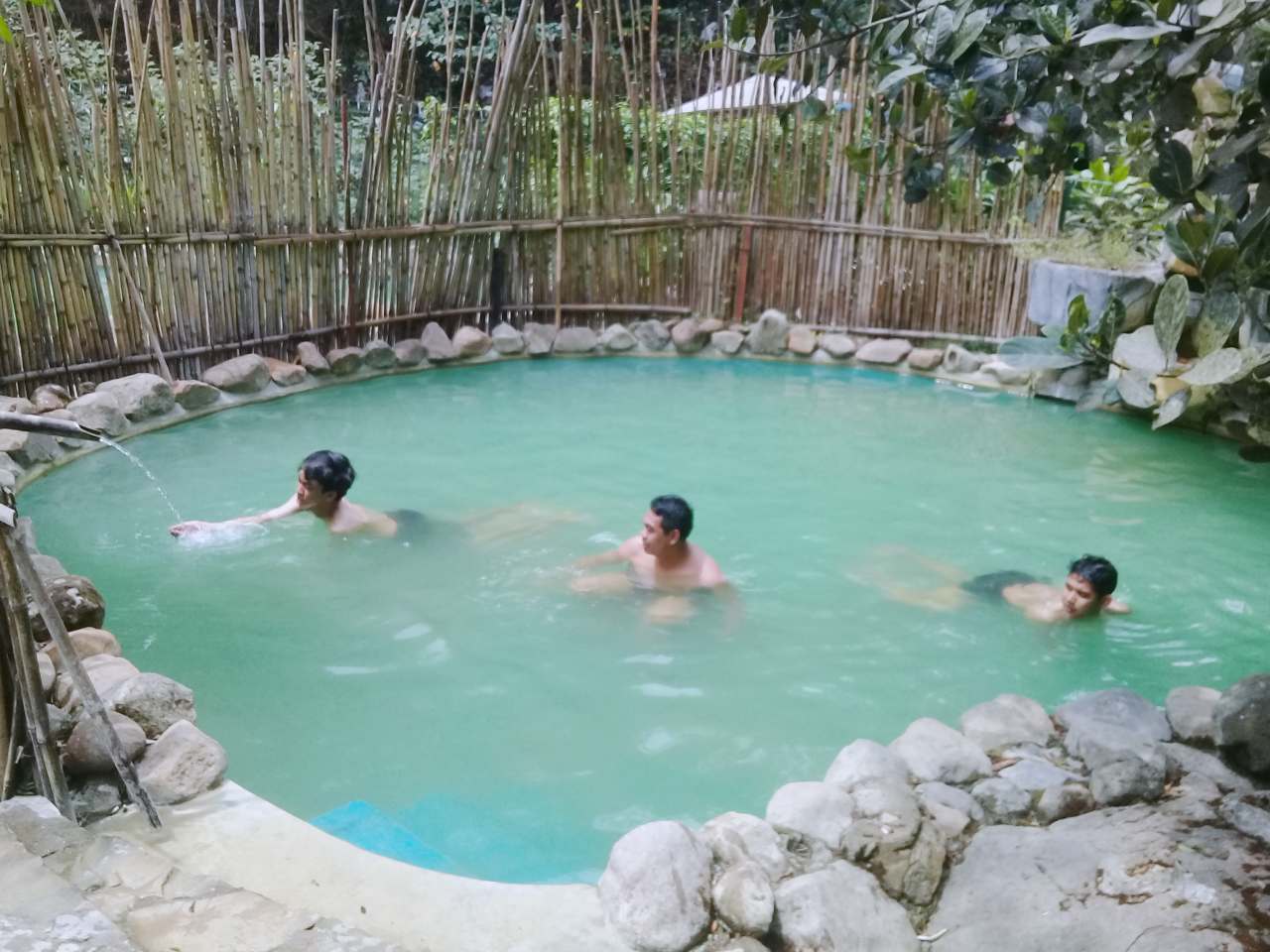 Pick a VIP pool for the best experience. The VIP pools are smaller and less crowded. While the temperature consistency is more stable. Rocks circling the pool give a vibe one can experience in a Japanese Onsen. Bambo fences protect the VIP pool from prying eyes outside. It's a perfect setup for a private group and a relaxing bathing experience.
A VIP package that comes with lunch is just one of many options to pick from. A little less self-arrangement definitely make things easier and better. Expect and taste a delightful classic west Javanese dish. Warm rice with roasted fish, raw veggies called lalapan, and traditional chili.
Sit on one of the poolside chairs after bathing. Dine, do a little sunbath. And enjoy complimentary beverages Bandrek the traditional ginger milk that also comes with the package.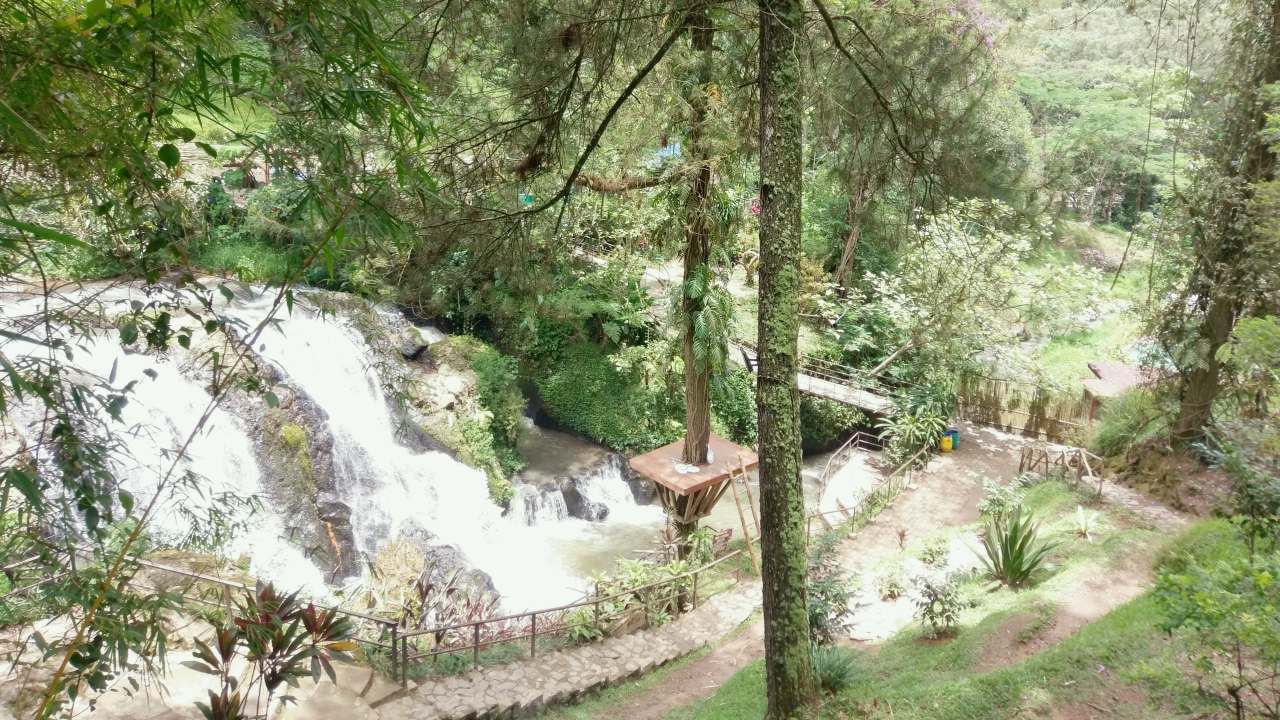 Spa & Private Bath
Treat the body to a spa with a private bath package. It's just like a hot spring. But the water instead is there in a big lux bathtub. Enjoy total private luxury in the private room, a rustic walled area made from bamboo.
Guests will get complete toiletries from bath salts, soap, towels, and shampoo. It's more of a spa treatment than just a basic bath. Don't be surprised if the bathtub is also covered with flowers and herbs.
Maribaya Hot Spring Beauty Nature
Apart from the pools, the landscape around Maribaya Hot Spring is a sight on its own. Take time to walk between the pine trees covering the area. Head for the sky bridge to enjoy the fresh mountain air. The bridge is also the best spot for sightseeing in the Maribaya forests.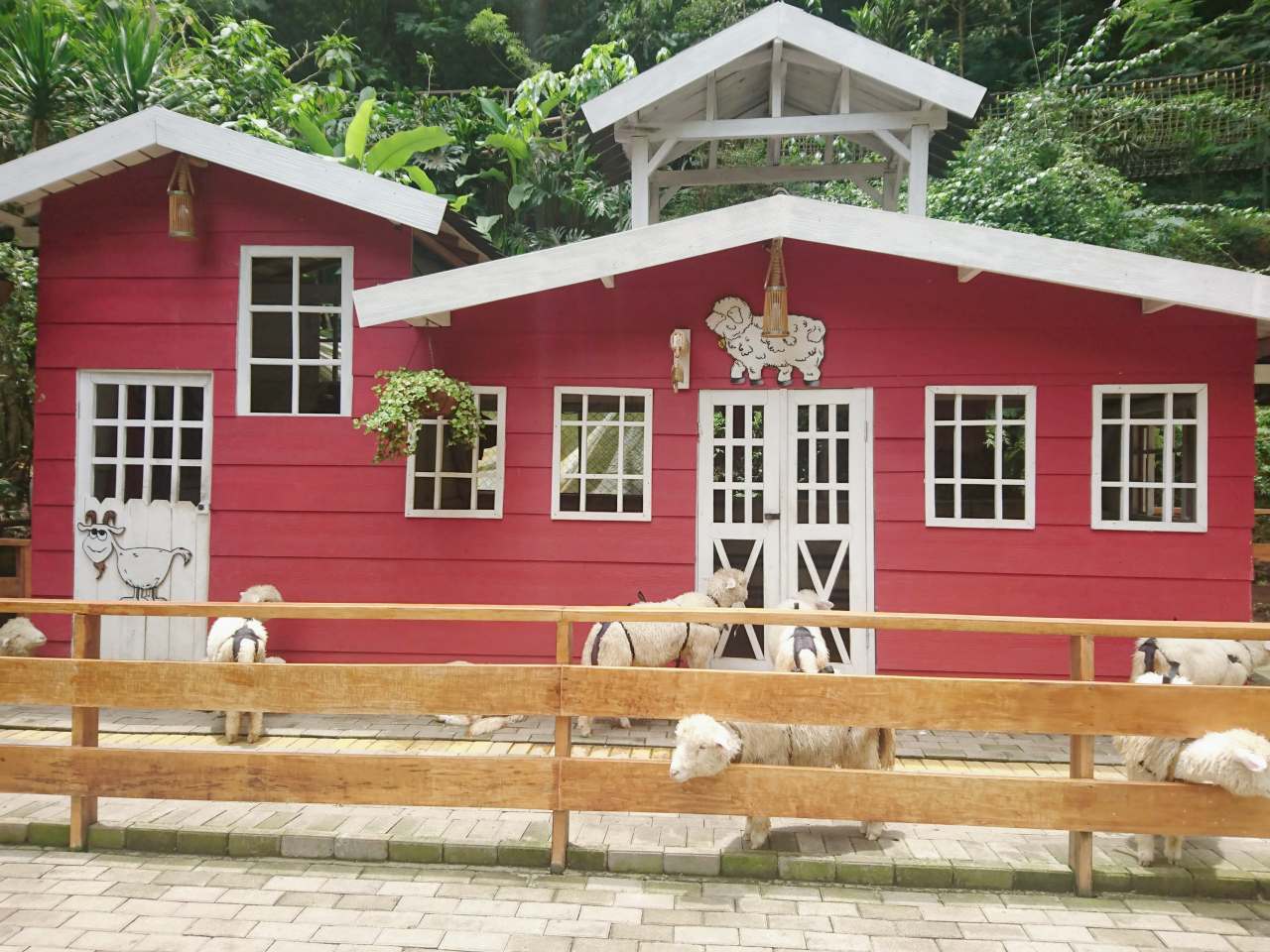 Walk along the river and see the small waterfall called Cikawari waterfall. Next, there are also some well-maintain gardens where visitors can relax. And at the same time, feel the tranquility and the sound of nature. The garden comes with a playground and a small house called the hobbit house.
Here, deers and rabbits roam and feed properly. In summary, Maribaya hot spring is a perfect combination of little adventures and nature attractions. As visitors can interact with the animals in a green lush environment and feed them.
Foot Spa
Besides the hot spring pool, Maribaya has another spot for visitors who only want to toe-dipping. Instead of taking a full bath, here, guests could enjoy a relaxing foot spa treatment.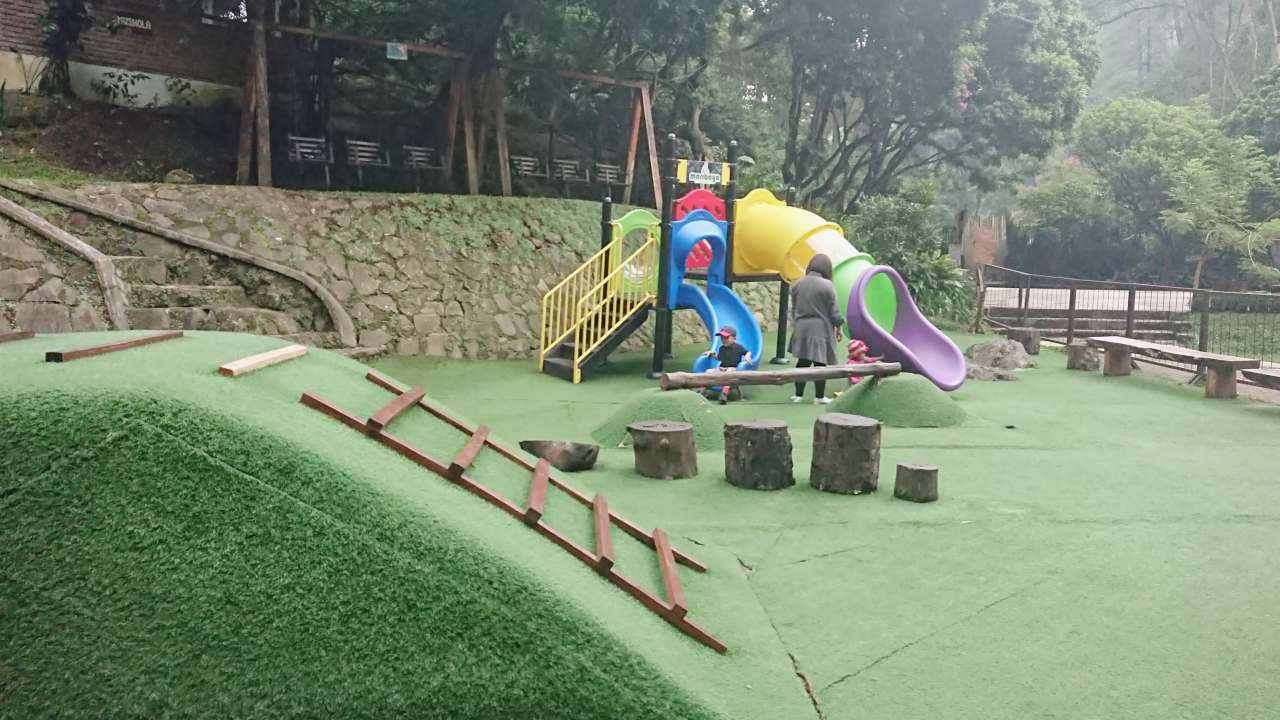 The same hot spring's water fills the shallow pool. Sit and let the water's hot temperature massage the feet. It's a perfect way to treat sore feet muscle. Especially after taking a stroll in nature.
Staying at Maribaya Hot Spring Resort
The hot spring location is within the resort area. Rent a room and get an opportunity to sneak into the hot pools in the middle of the night. The chilly night air will give a nice sensation to the body in tandem with the hot water temperature. And this is not to mention the atmosphere.
Imagine a choir of crickets, the sight of million stars, and the serenity—definitely an ultimate experience. The room price starts from Rp2.200.000 a night.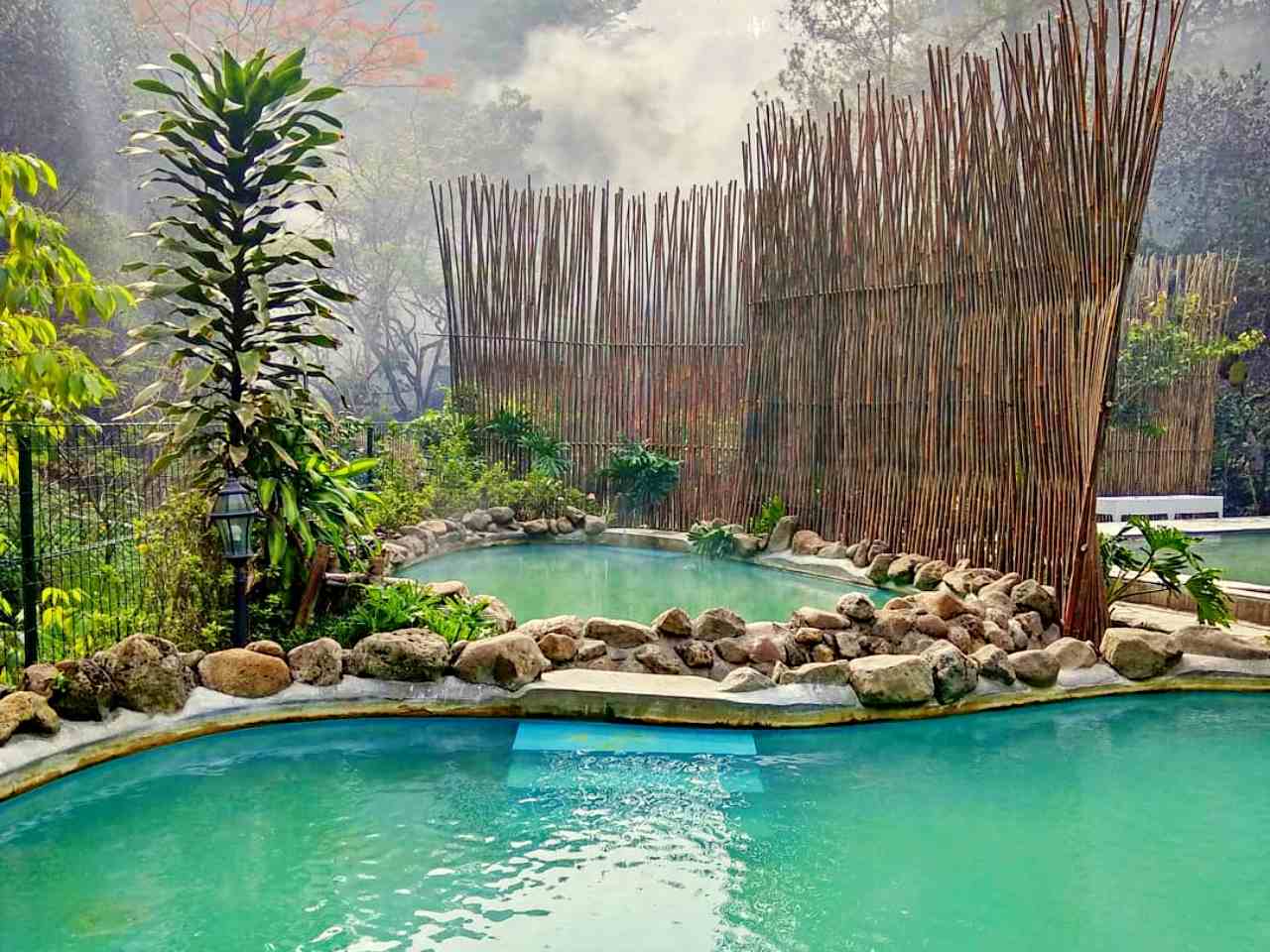 Maribaya Hot Spring Opening Hours
Maribaya hot spring is open every day from Monday to Sunday. Including national holidays. For the non-guest resort, the pool is open from 8 AM to 8 PM.
Maribaya Hot Spring Opening Hours
Sunday – Thursday
08:00 – 20:00
Friday – Saturday & National Holiday
08:00 – 22:00
Nearby: Keraton Cliff, 360° view of green landscape.
Maribaya Hot Spring Entrance Fee
For guest resorts, the pools are open 24 hours. The entrance ticket is Rp35.000 on weekdays and Rp45.000 on weekends and national holidays. However, visitors still need to pay a separate ticket for the hot bath. The VIP pool and private bathtub entrance include additional facilities. Like free use of towels, shampoo, and soap. While for the VIP pool package, guests will get a welcome drink and lunch set.
Maribaya Hot Spring Entrance Fee
Entry Ticket
Rp35.000 (weekday) / Rp45.000 (weekend)
Foot Spa
Rp25.000
Private Bath Tub
Rp90.000
Deluxe Pool
Rp35.000
VIP Pool
Rp90.000
VIP Pool Package
Rp115.000
Children Playground
Rp20.000
Animal Feeding
Rp5.000/bucket
Cikawari Photo Spot
Rp5.000
See: Tangkuban Perahu Guide To Explore Volcano & Crater.
Facilities
The hot spring has a spacious parking area in front of the entrance. A food court stands just by the entrance and there is also a cafe called "Twig Cafe". Visitors can buy souvenirs at the gift shops. In the pool area, there are toilets, changing rooms, and locker facilities to store belongings.
See: Jakarta To Bandung Public Transportation Guide.
How To Get To Maribaya Hot Spring
Maribaya Hot Spring's is set in Maribaya Street 105/212. From Bandung downtown, the route is Ir. H Djuanda Street – Dago Giri Street – Cikidang Lembang – Maribaya Hot Spring.
The journey is only 40 minutes from Bandung. Travelers can go by rented vehicle car or motorcycles. There is no public transport available that goes directly to the location.
Nearby: The Lodge Maribaya Attraction & Children Activities 
Address & Location
The waterfall and hot spring are located in Jl. Raya Maribaya No.105/212. Langensari, Lembang, Bandung Barat Regency, West Java 40391.