Keraton Cliff Bandung
Entrance Fee: Rp55.000
Opening Hours: 05:00 - 19:00 WIB
Telp. Number: -
Address: Desa Ciburial , Ciburial, Cimenyan , Bandung Barat , Jawa Barat , Indonesia , 40198.
Tebing Keraton, or Keraton Cliff Bandung, has been a trending topic in social media lately. Ever since its internet fame in 2014, many visitors have come to witness its beauty. At 1,200 meters above sea level, it provides a view of Bandung from above.
The green carpet of trees below matches the blue mountain in the back. The thick layer of white mist rolling on the slopes gives it an exquisite touch. Keraton Cliff Bandung is actually a part of the Forest Park Conservation Area (Tahura) Bandung, West Java. Long before its viral existence on Instagram, the locals were the only ones coming here.
They once called it Tebing Jontor; tebing means cliff while jontor means protruding. It is given the fact that the front end of the cliff is sticking out. A local, simply known as Ase, later changed its name to Tebing Keraton in 2014. In Sundanese, it means a natural opulence or luxury worthy of admiration.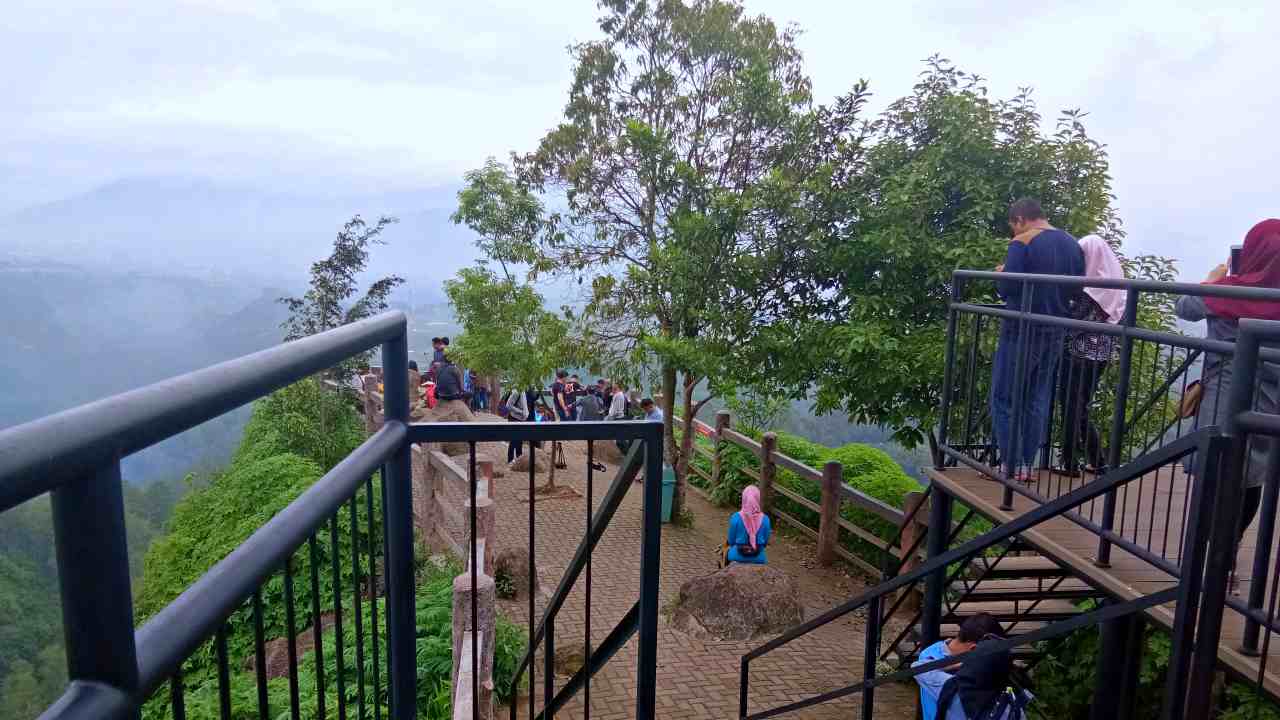 Imagine dots of clouds against the bright blue sky framed with mountains and lush forests. Nowadays, it is not always about seeping into its panorama in silence anymore. Many climb their way up here to snap the most courageous gravity-challenging pictures.
Keraton Cliff Bandung Entrance Fee
As part of Taman Hutan Raya Juanda's attraction. Tebing Keraton ticket is a bundle with a Tahura forest park ticket. The entrance fee costs Rp50.000. But there is an extra cost of Rp5.000 for donation and insurance. The ticket includes all attractions in the forest park like the Japanese and Dutch caves.
Keraton Cliff Bandung Entrance Fee
International tourist
Rp 55.000
See: Ciater Hot Spring, Complete Guide.
Keraton Cliff Opening Hours
Vacationers can come here every day from 5 AM to breathe the refreshing morning air. It is open until 7 PM so everyone has enough time to explore the whole spot. However, it is best to come during the dry season due to safety reasons. The rocky dirt road can be very slippery and treacherous in the rain.
Keraton Cliff Opening Hours
Every day
05:00 – 19:00
See: Guide To Explore The Volcano Crater Tangkuban Perahu
Keraton Cliff Bandung Attraction
The cliff has been gratifying everyone's narcissistic temptation by being fascinating photo background. It is very common to see tourists crowding this site with their smartphones on hand.
Selfie Spot
Camera mode is always on, ready to immortalize every moment and pose. Here, the favorite corner to capture selfie-worth memories is near the edge of the cliff. Don't get too close to the edge though as the consequences can be fatal. The youngsters, in particular, are very much into this idea of striking daredevil poses.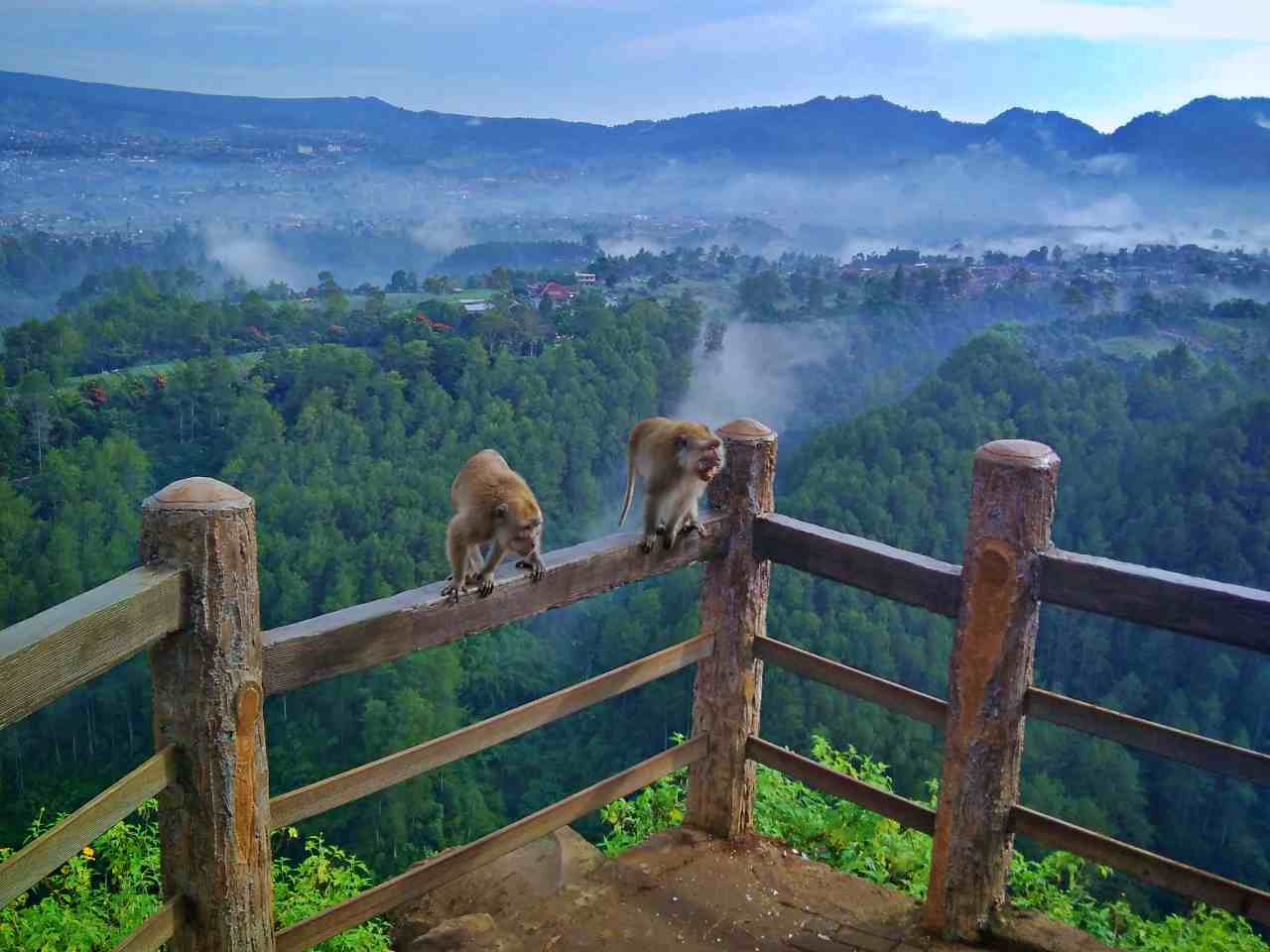 Late teen tourists will walk along the steep brink and stop inches before the end. They will later pull off dangerous moves—sit, stand, jump, lie down—on the verge. That might seem harmless but remember; a merciless deep ravine is waiting below.
Photographers' Paradise
For photographers, this is the perfect place to make countless natural, unobstructed, landscape images. Up to the horizon and beyond, it is nothing but dense vegetation, mountain, and sky.
No skyscrapers or any other man-made structures in sight so it offers a flawless scene. With or without the brightly shining sun, Keraton Cliff Bandung is still mesmerizing. It is very vibrant under the sunlight while it is mellow in the dusking sky.
Other than landscape photography, it is also an ideal place to do some time-lapse. Try to set up the tripod and let the camera do its thing. Capture each moment as the sun slowly rises up and paints the world golden.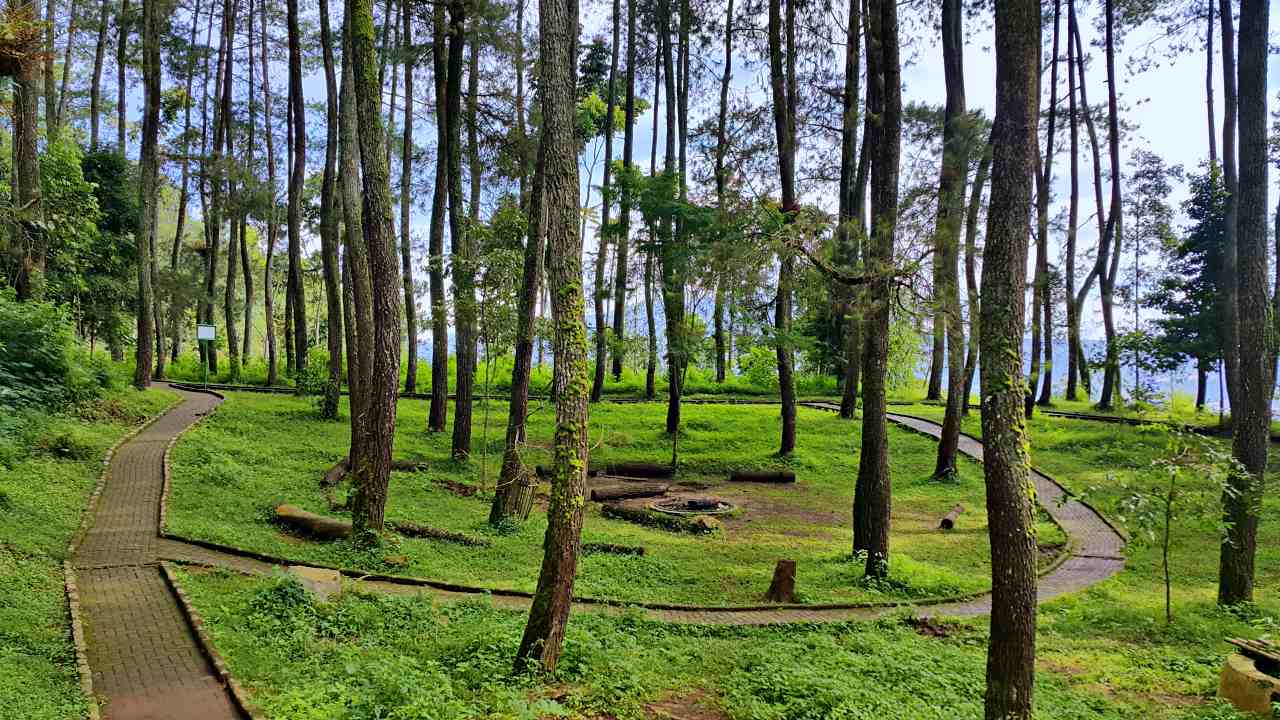 Everything gradually turns to orange and vermilion as it makes its way to the west. Up here, even the everyday routine of the sun is thousands of times better.
Nearby : Guide To Maribaya Hot Spring, Spa & Other Activities.
Cycling
Since almost everything about nature is healthy, why don't takes the whole thing even healthier? Outdoor lovers should hop on their bikes and step on the pedals to the cliff. Not only does it burn more calories, but it also offers more intimacy with the green surrounding.
Rows of tall pines and dry sandy paths welcome travelers to spend some time together. The track can be challenging as it is rocky and not fully covered with asphalt. The wavy dirt path requires all cyclists to be highly alert and cautious. The terrain is not always flat and easy as it goes up and down.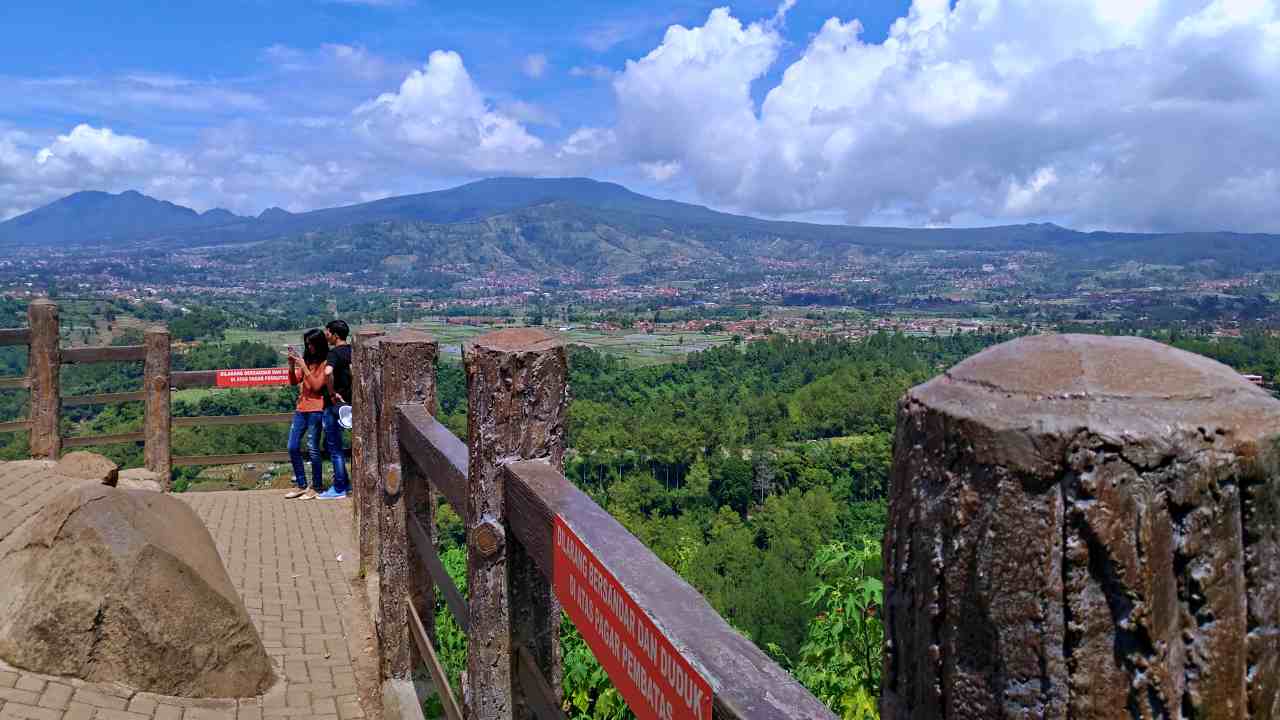 Even though it is not a piece of cake, the reward is much sweeter. Keraton Cliff greets exhausted cyclists with its cooling pine-scented breeze and magnificent scenery.
Spend a Night in a Tent—Why Not?
This option fits the sunrise and sunset seekers so they won't miss any moment. There is no need to commute from a hotel in a downtown area. And it will save lots of time, and money, for the glorious pictures of the sun. And that is all thanks to the camping ground available at Keraton Cliff.
It is almost the size of a football field and can host hundreds of tents. Gigantic pine trees surround the area, conveying a sense of tranquility to the campers. Basic facilities such as public restrooms and a little mosque mushola ensure a convenient stay.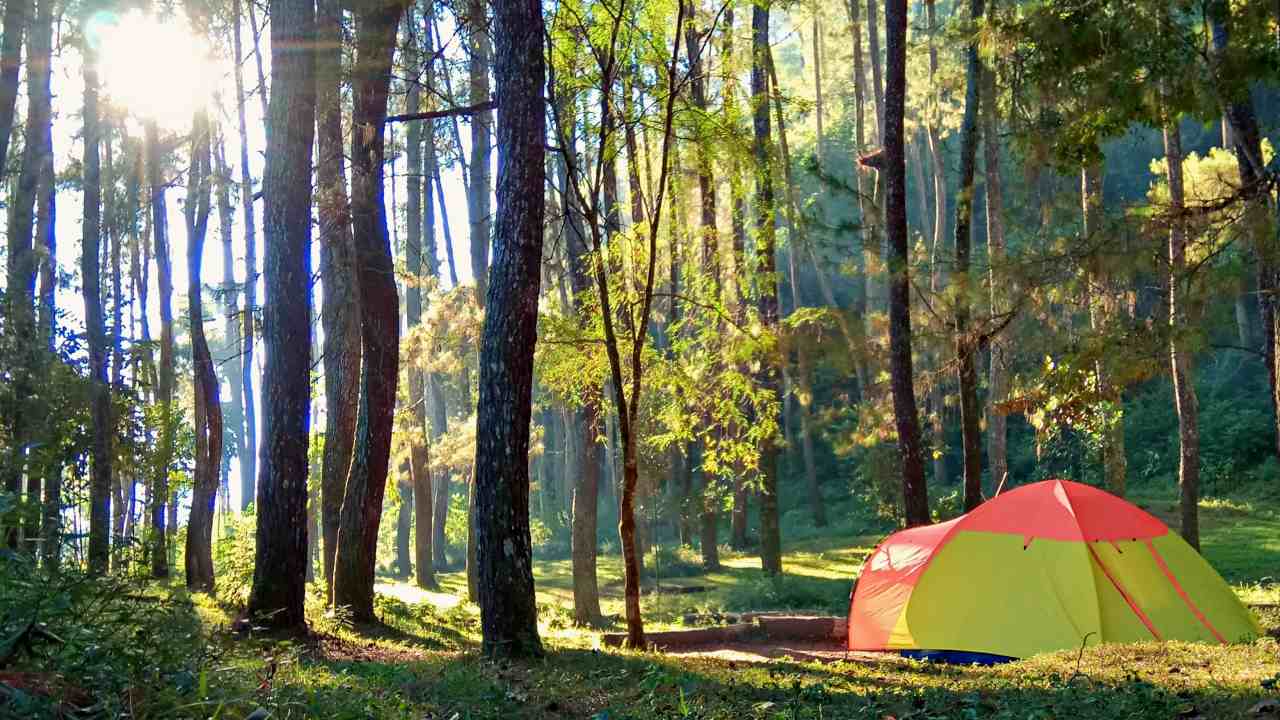 If guests bring their own tent, the overnight fee is Rp 40.000. The officials, however, provide a full service too, from the tent, sleeping bag, etc—at Rp 140.000.
See: Jakarta Airport to Bandung Guide, Shuttle, Bus & Price.
Facilities
For a relatively new tourism destination, Keraton Cliff Bandung has almost every facility as mentioned before. To introduce the local delights to the tourists, the natives set up food stalls. Those stalls are lining up near the entrance and selling street snacks. They sell hearty meals that include rice and other dishes such as chicken too.
Toilets are scattered around the premises. There are observation decks and several binoculars in some spots. And to make it more interesting there is a street painter on the spot. With some fee, tourists could get one color portrait painting.
Read: Indonesian SIM Card Guide, Data Package & Where To Buy.
How To Get To Keraton Cliff
Despite Bandung's growing number of public transportation, Keraton Cliff Bandung is not accessible by angkot. Concerning its narrow path to the top, it is better to take a motorcycle. Start the journey from McDonald's outlet in Simpang Dago, and go straight up to Dago Terminal.
Take a right turn near the terminal that leads to Bukit Dago Pakar. Follow the signs that say Bukit Dago Pakar as it is close to the destination. Take a left turn to Tahura and make a right turn to Bukit Pakar Utara. Follow the road until a humble eatery Warung Bandrek (Warban) shows up.
From Warban, it is two kilometers away to Keraton Cliff, approximately an hour by foot. The serene greenery and chill wind will make each step less grueling and more enjoyable. The ride-hail apps such as Gojek and Grab are available in Bandung. So it's easy now to get to Tebing Keraton
See: Punclut Ciumbuleuit, Bandung Top Culinary Spot & Highland
Address & Location
Keraton Cliff is located in Ciburial Village, Cimenyan West Bandung District, West Java 40198.