Punclut Ciumbuleuit
Entrance Fee: Free Admission
Opening Hours: 08:00 - 22:30
Telp. Number: -
Address: Jalan Punclut, Ciumbuleuit , Cidadap , Bandung, Jawa Barat , Indonesia , 40142.
The city of Bandung is surrounded by mountain and plateau areas with Punclut as the nearest one. Located only 7 km from downtown. Punclut (Puncak Ciumbuleuit) is the local favorite destination for a quick getaway from the city. The area is pretty much still green and polluted-free.
The highland is also the best place to see Bandung from the top. Punclut covers a 286-hectare area of Ciumbuleuit village, Cidadap Bandung. In the past, the area was designed to be a nature reserve. But nowadays the government sticks with the 80:20 rule. 80% is reserved for nature and only 20% of the area is allowed to use.
Punclut acts as an important catchment area in rainwater harvesting. Deforestation at Punclut can cause severe floods in the urban area below. As a weekend spot, local tourists' top activities here at Punclut include eating at one of the restaurants. Take kids to the leisure park while still managing to enjoy the hill and city view.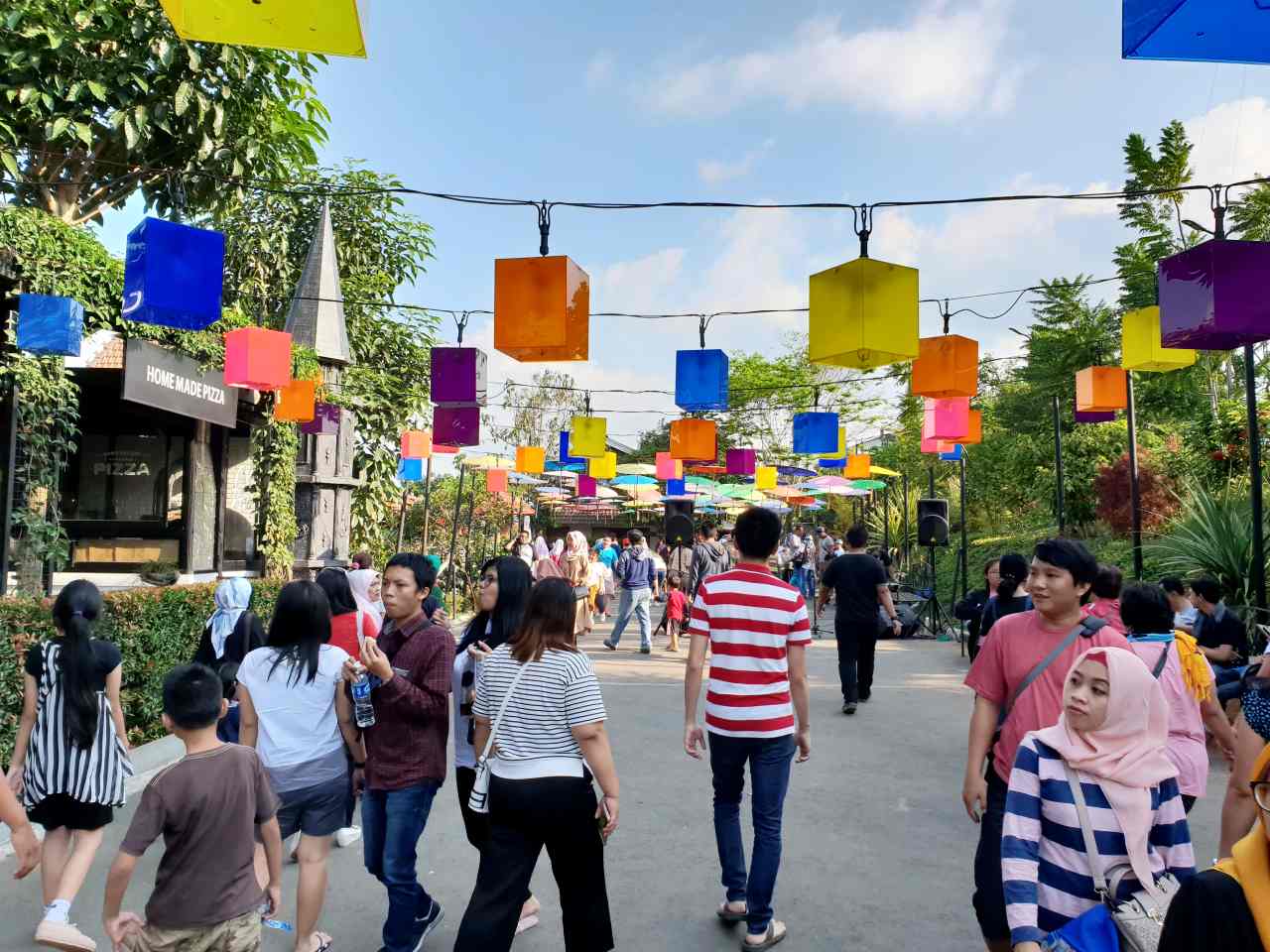 There are plenty of restaurants and shops along Ciumbuleuit road. A slightly bigger amusement park D'Dieuland was opened in late 2017. Adding a new variation to Punclut tourism. The locals also like to exercise here at Punclut. Either running, jogging, or simply having a morning walk.
Bandung City Light
To begin with, the best time to go to Punclut is in the evening. As the sun goes down, the city below starts to lighten up. With a cup of hot beverage to help withstand the increasingly colder air. Wait until the night comes. The sparkling cityscape will spoil the eyes. The lights are like stars, only on the ground.
The view in daylight is no less beautiful. Green forests and hills border Bandung in every direction. Visitors will see clearly how Bandung has a basin-shaped terrain. On clear weather, spot Mount Malabar, Patuha dan Waringin on the horizon. Some Bandung landmarks will be clearly visible too, such as the minarets of Bandung Grand mosque and Pasupati bridge.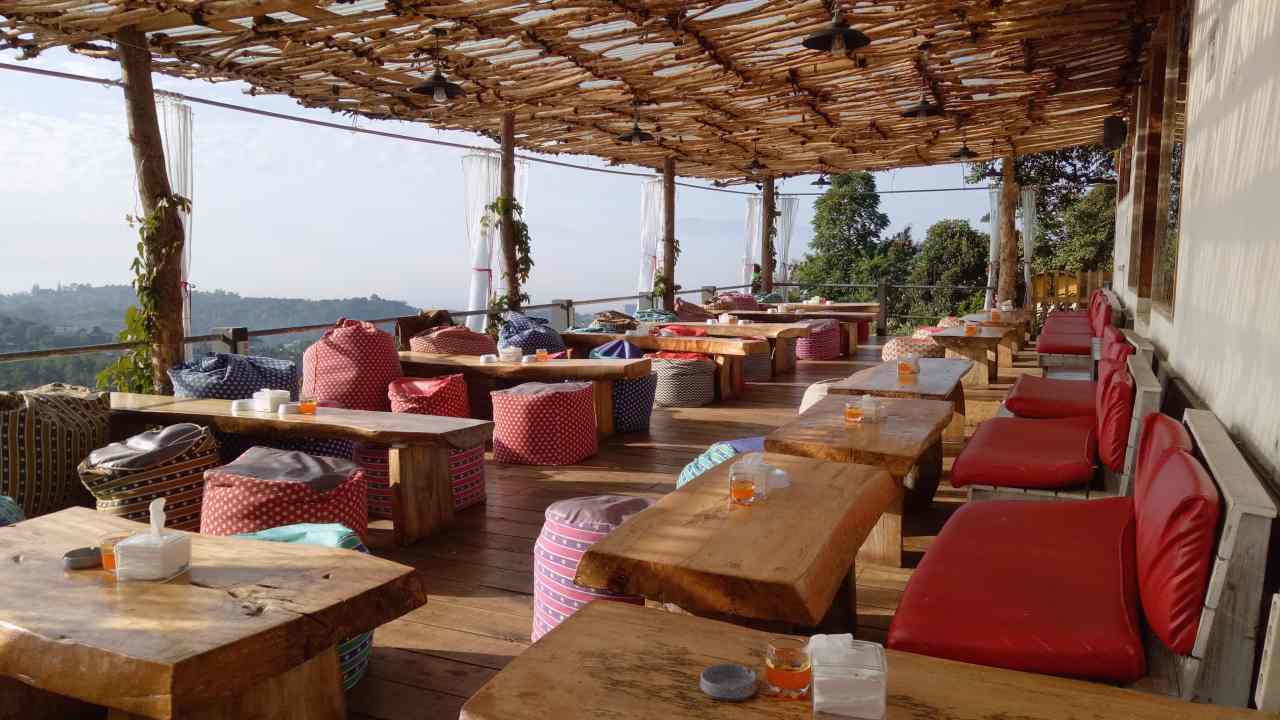 A Traditional Sundanese Feast
Lesehan stalls along Ciumbuleuit street provide various Sundanese specialties. In that case, it will make a perfect companion on a chilly night. While visitors enjoy the view of the city.
In the meantime, order a full set of Nasi Timbel. It's a dish of red rice served in woven bamboo with various Rencang Sangu (side dishes). Such as fried tofu, chicken, shrimp, fish, or squid. The dish also comes with red chili paste sambal, and vegetables.
Eating Experience & Unique Restaurant
Lately, many new restaurants and cafes have sprung up at Punclut. To point out, they offer unique concepts. Prices are more expensive than at street stalls. But these restaurants' ambiance is worth trying. Dago Bakery, for example, steals attention with its castle-like gate.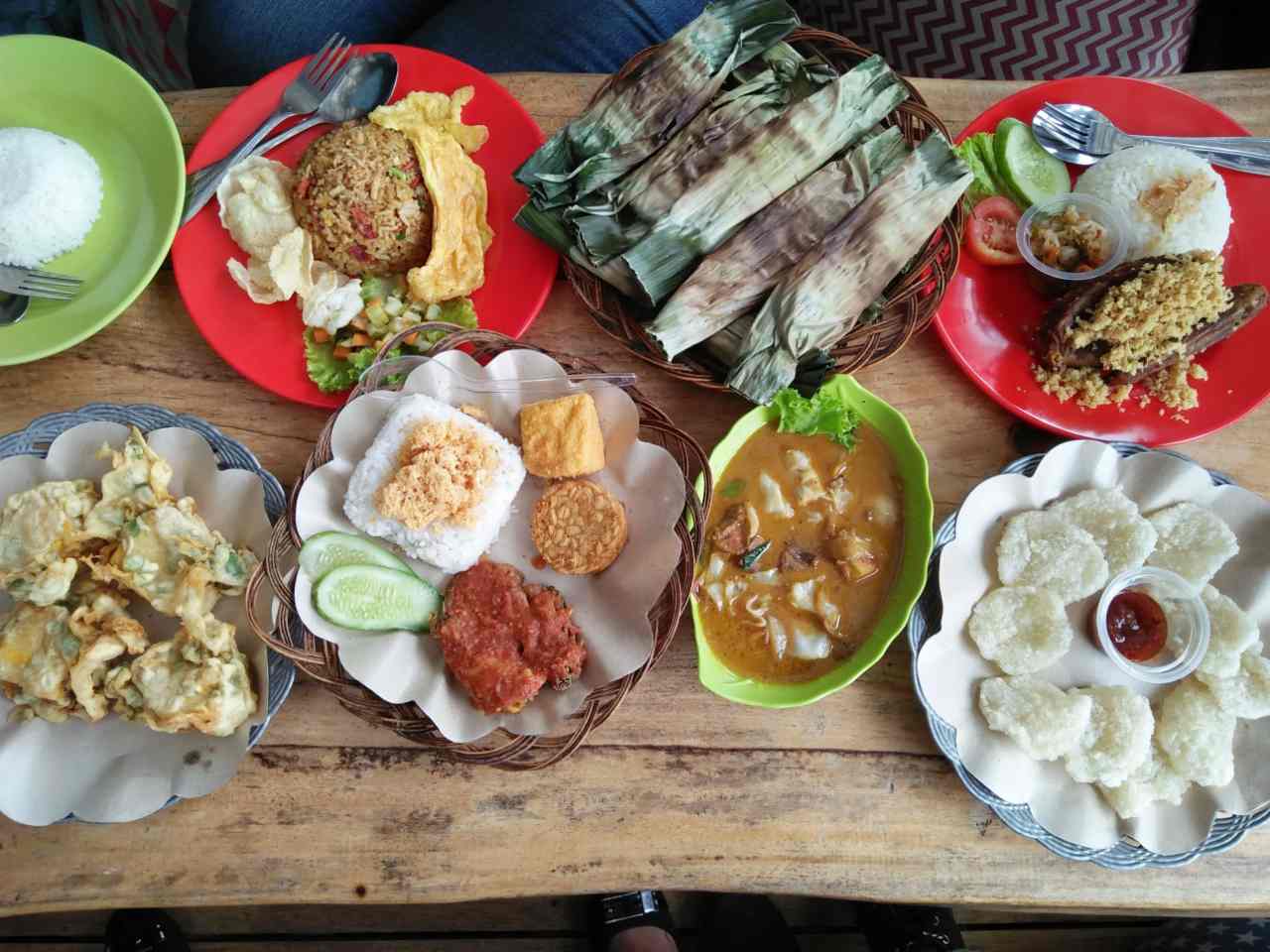 Its open seating area provides a great view of the city below. As for the food, choose from a wide selection of cakes, pizza, and pastries. Head for Tafso Barn restaurant if visitors want something more romantic. Their birdcage-like pavilions are lovely to eat inside.
They have other types of seating as well, such as transparent tents and park benches. The Tafso Barn serves various dishes from Indonesian to Western. The price on average is around Rp8.000 to Rp60.000.
Minggon Market
On Sundays, a small part of Ciumbeluit street is closed to vehicles. The street is closed in order to make room for the Sunday market Pasar Minggon. The 'surprise' market is a favorite destination for tourists after a Sunday morning walk at Punclut.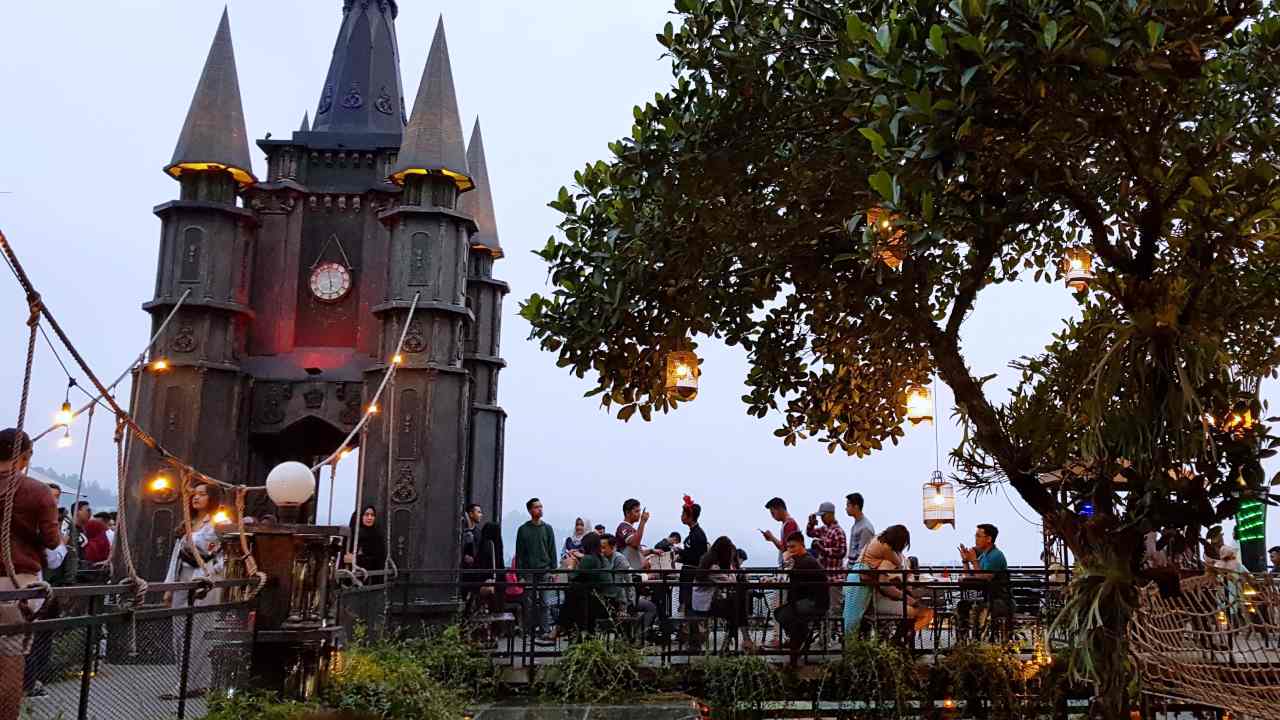 The market sells all kinds of things, from street snacks, and home utensils to fresh agriculture products. Punclut Minggon market is heaven for street snack lovers. Not only that there are plenty of choices to satisfy the palate. But the price here is also ridiculously cheap too.
With only Rp5.000, visitors can get a taste of ketan bakar, roasted sticky rice sprinkled with grated coconut. Another snack worth trying here is Klepon, a sticky dumpling with brown sugar as a filling. And Serabi, a traditional pancake made from rice flour and coconut.
D'Dieuland Leisure Park
The newly built D'Dieuland is a large playground for visitors of all ages. The 5,500 square meters area is equipped with a skywalk, large trampolines, a garden, and plenty of photo spots at every corner. The place also has restaurants too. Pick a spot at their topmost terrace cafe. The interior is cozy here with beanbags and small tables scattered on a green-carpeted area.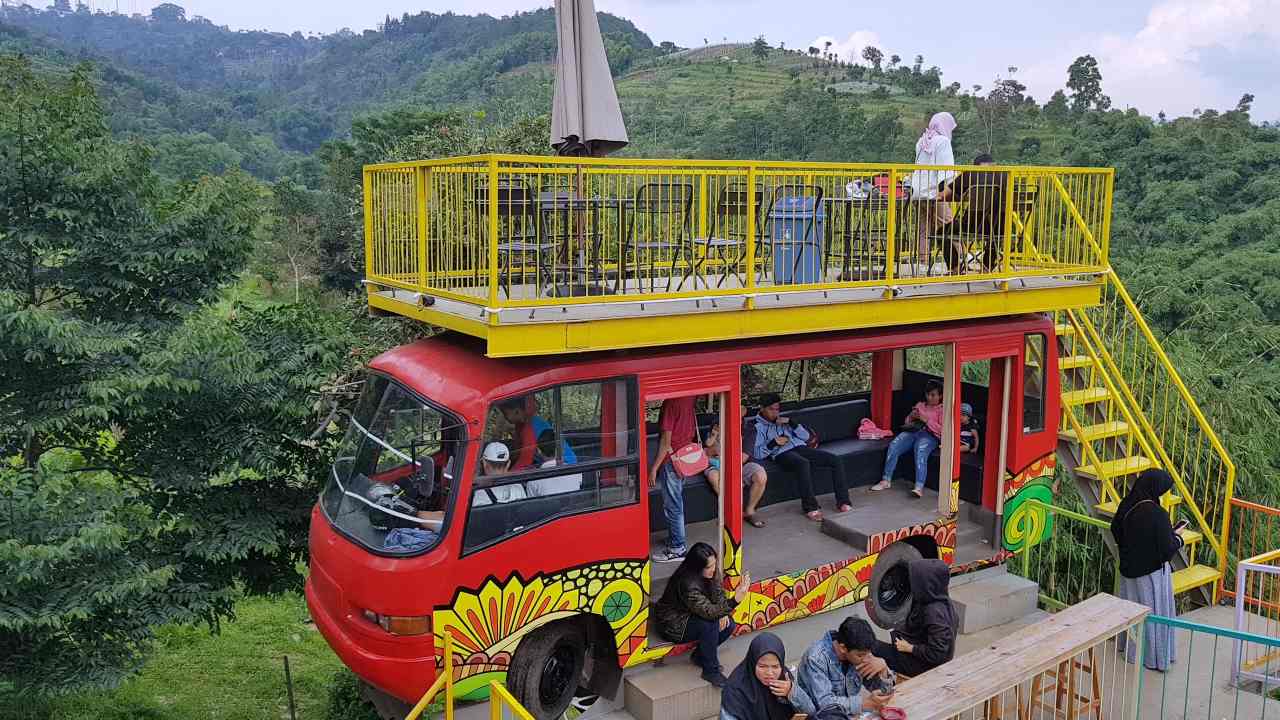 Punclut Ciumbuleuit Opening Hours
Punclut welcomes visitors every day. The cafe and attraction's opening hours vary depending on the place. Typically cafes and restaurants are open from 8 AM until late at night.
Opening Hours
Every day
08:00 – 22:30
See: Dusun Bambu Activities, & Culinary Spot.
Punclut Ciumbuleuit Entrance Fee
There is no admission to enter Punclut highland. There are a lot of cafes and restaurants here. Visitors can simply just order food and beverage, sit back and enjoy the city lights. There is one leisure park D'dieuland and it charges tickets Rp10.000 on weekdays and Rp15.000 on weekends.
Punclut Ciumbuleuit Entrance Fee
Punclut Area
Free
D'Dieuland
Rp10.000 weekday/ Rp15.000 weekend
See: Kawah Putih, Top Activities & Entrance Ticket. 
Facilities
Almost every place here provides basic facilities such as parking spaces and public toilets. Some fancier cafes and restaurants offer free wifi. Tourists looking for accommodation can head for one of the Villas along Ciumbuleuit Road. The rate starts from Rp300.000 per night for a 3-star establishment.
See: Indonesia Prepaid SIM Card, Price & Coverage.
How To Get To Punclut Ciumbuleuit
The best way to get here is by renting a vehicle. Tourists can simply just book a ride through apps like Grab or GoCar. It's easy to get around from one spot to another with a private car than public transport. Renting a car typically costs Rp300.000 per day. From Bandung downtown, it usually takes 35 minutes to Punclut.
From any point in Bandung, head to Ir. H. Juanda Street. Take a left turn at Dago intersection and then take a right turn to Siliwangi street. Continue until visitors meet a T junction. Lastly, take the right direction to Ciumbuleuit Road.
See: Transportation Guide from Jakarta Airport to Bandung.
Address & Location
Punclut culinary spot is located in Jl Punclut, Ciumbuleuit, Cidadap, Kota Bandung, Jawa Barat 40142.