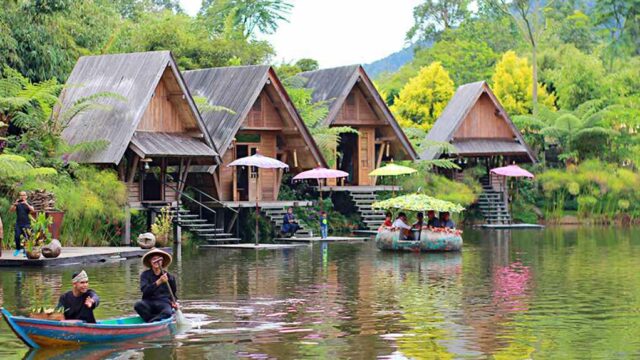 Dusun Bambu Bandung Entrance Fee: Rp25.000 Opening Hours: 08:00 - 21:00 Telp. Number: (022) 82782020 Address: No.KM 11, Jl. Kolonel Masturi, Situ Lembang , Cisarua , Bandung Barat , Jawa Barat , Indonesia , 40551.
Dusun Bambu (Bamboo Village) introduces its visitors to Sundanese culture in one integrated area. It is located in Cisarua, Bandung, at the foot of Mount Burangrang. Like its name, bamboo is chosen as the main elements of nature to represent this place.
This is inspired by angklung, the popular Sundanese traditional musical instrument also made from bamboo. Dusun Bambu is create based on Kawula Warga principle. Kawula Warga means 'family', believed to be the most basic and important unit of Sundanese society.
In other words, activities at Dusun Bambu focus for visitors of all ages. From a children's playground to archery for adults, guests can choose activities based on their preferences. Landscape-wise, Dusun Bambu is soothing to the eyes with its mountainous landscape.
Dusun Bambu so far has been successful to combine nature and tradition with sustainable modern living. Man-made structures from bamboo. The villas to the playground, sit well with the surrounding greenery. These architecture well design that they are complementing rather than intrusive.
Dusun Bambu Attraction & Activities
There is something to do for everyone. But first, spend some time at Arimbi Park. The garden sets near the entrance. So it's hard to miss when visitors just enter the area. Sit on the grass or stroll among the colorful flowers. Take pictures only, and do not pick any of the flowers.
Across the park, a bamboo playground is ready to invoke anyone's inner child. There is a wonderland inside the playground with little building replicas resembling a fairytale village. Hundreds of rabbits live in this wonderland. Impatient to be friends with visitors.
Everyone can hug, play with, and also feed the rabbits. It's truly a heaven for bunny lovers. Kampung Ulin is where everything gets more serious. Pick a bow and shoot some arrows at the archery ground. Rent a gun and test the marksmanship by shooting the targets at the shooting ground.
Not everyone likes action-based activities though. For anyone looking for something calm and relaxing, join a course in pottery making instead. There's also a fish spa, a perfect place just to sit and relax. And let the fish do their job.
Dusun Bambu Restaurants Unique Concept
Many visitors come to Dusun Bambu's solely for its interesting restaurants. Cafe Burangrang is a two stories restaurant with a view. Chose a table at the veranda and enjoy various choices of the Indonesian menu here. Price starts from Rp25,000. For a more quiet atmosphere. Choose Lutung Kasarung Restaurant.
Here guests will eat in a private pavilion resembling a bird's nest. But meanwhile, the most authentic Sundanese dining experience is the one at Purbasari Restaurant. First visitors need to sail a small canoe to reach the lakeside huts.
There's no chairs and tables at the huts, so everyone has to eat with the Indonesian style 'lesehan'. Order a complete Sundanese set dish for lunch here. And devour them with bare hands – also an Indonesian traditional way of eating.
Dusun Bambu Market Pasar Khatulistiwa
Discover some local products among the traditional cart aisles at Dusun Bambu's Pasar Katulistiwa. The market interior is unique, replicating a real Indonesian traditional market. Only more orderly and cleaner.
Visitors can find local specialties at this market, such as Burangrang crafts and Cisarua agriculture products. Crave for a street snack? Buy the famous Bandung dumpling snack 'siomay' at one of the food stalls.
Resorts And Camping Ground
If a whole day is not enough to explore Dusun Bambu, there's a place to stay at night. The villa Kampung Layung will give an unforgettable moment of staying in a Sundanese traditional village. Every room is a classic 'limas' house, a wooden rectangular structure with a roof made from straws.
But don't worry, the interior is luxurious and modern while still keeping its traditional charm. Camping is also an interesting alternative to spend the night at Dusun Bambu. Here it's called glamping, or glamorous camping. Where guests rent a furnished tent with full facilities.
Have a BBQ at night to make the darkness more cheerful and fun. In the morning, jog or bike among the rice paddies that surround the camping ground. Staying a night at Dusun Bambu costs from IDR 1,600,000 per night.
Nearby: Curug Cimahi, Attraction & Entrance Fee.
Dusun Bambu Opening Hours
Dusun Bambu's operational hours are from 8 AM to 9 PM. The site opens every day including during the national holiday and closes late until 11 PM.
Dusun Bambu Opening Hours
Monday – Sunday
08:00 – 21:00
See: Tangkuban Perahu Volcano & Crater, Guide & Activities.
Dusun Bambu Entrance Fee
The entrance ticket for the weekday is Rp25.000 and Rp30.000 on weekend. For visitors coming with their own vehicles. The parking fee is Rp15.000 for cars and Rp10.000 for motorcycles.
Dusun Bambu Entrance Fee
Weekday
Rp25.000
Weekend
Rp30.000
Canoeing
Rp10.000
Merry-go-round
Rp20.000
Trampoline
Rp20.000
Balloon Palace
Rp20.000
Car Parking
Rp15.000
Motorcycle
Rp10.000
See: Stone Garden Citatah, Geopark, Activities & Prehistoric Human Skeleton. 
Facilities
As a privately owned tourist destination. This leisure park is well equipped with basic facilities. There are toilets, benches for rests, restaurants, and gift shops. The parking lot is spacious but it's quite far from the entrance. Luckily the management provides a shuttle service for visitors. So they don't have to walk from the parking lot to the site. This shuttle car service is free.
How To Get To Dusun Bambu
It takes approximately one hour to reach Dusun Bambu from downtown. The most popular route is Bandung – Ledeng – Sersan Bajuri Road– Parongpong – Dusun Bambu. There are some alternative routes too.
And to avoid traffic during weekends. Take the less popular route Bandung – Gegerkalong Girang Road – Cihanjuang Road – Parongpong – Dusun Bambu. Unfortunately, there is no public transportation that stops in front of Dusun Bambu.
Car rent is the only convenient and possible option to get here. For a 12-hour rent, the rent price with the driver starts from Rp350.000. It doesn't include the toll fee, entrance, and parking fee and petrol.
Address & Location
The leisure park is located in No.KM 11, Jl. Kolonel Masturi. Situ Lembang, Cisarua, West Bandung, West Java 40551.