Dago Dream Park Bandung
Entrance Fee: Rp30.000-Rp40.000
Opening Hours: Weekday 09:00 - 17:00, Weekend 08:00 - 18:00
Telp. Number: -
Address: Jl. Dago Giri KM. 2,2, Mekarwangi , Pagerwangi, Bandung Barat, Jawa Barat , Indonesia , 40135.
Dago Giri area at Bandung, West Java mostly popular among tourists as a shopping destination. Unlike its neighbor, Lembang, there are not many tourist destinations here other than shopping. However, Dago Dream Park tries to fill this gap. An 11-hectare pine forest is transformed into a nature-based theme park, with numerous attractions and rides.
Like its name, the park was meant as a dream destination. This is where people can take a break from their daily routine. And go into a world of wonder and imagination. Dago Dream Park boasts 999 photo spots. They are categorized into 4 zones, each offering a different concept.
These photo spots are what made the park viral since its inception in 2016. Aside from photo spots, there are 27 attractions and rides scattered around the area. And it divides into 4 categories based on their extremity level.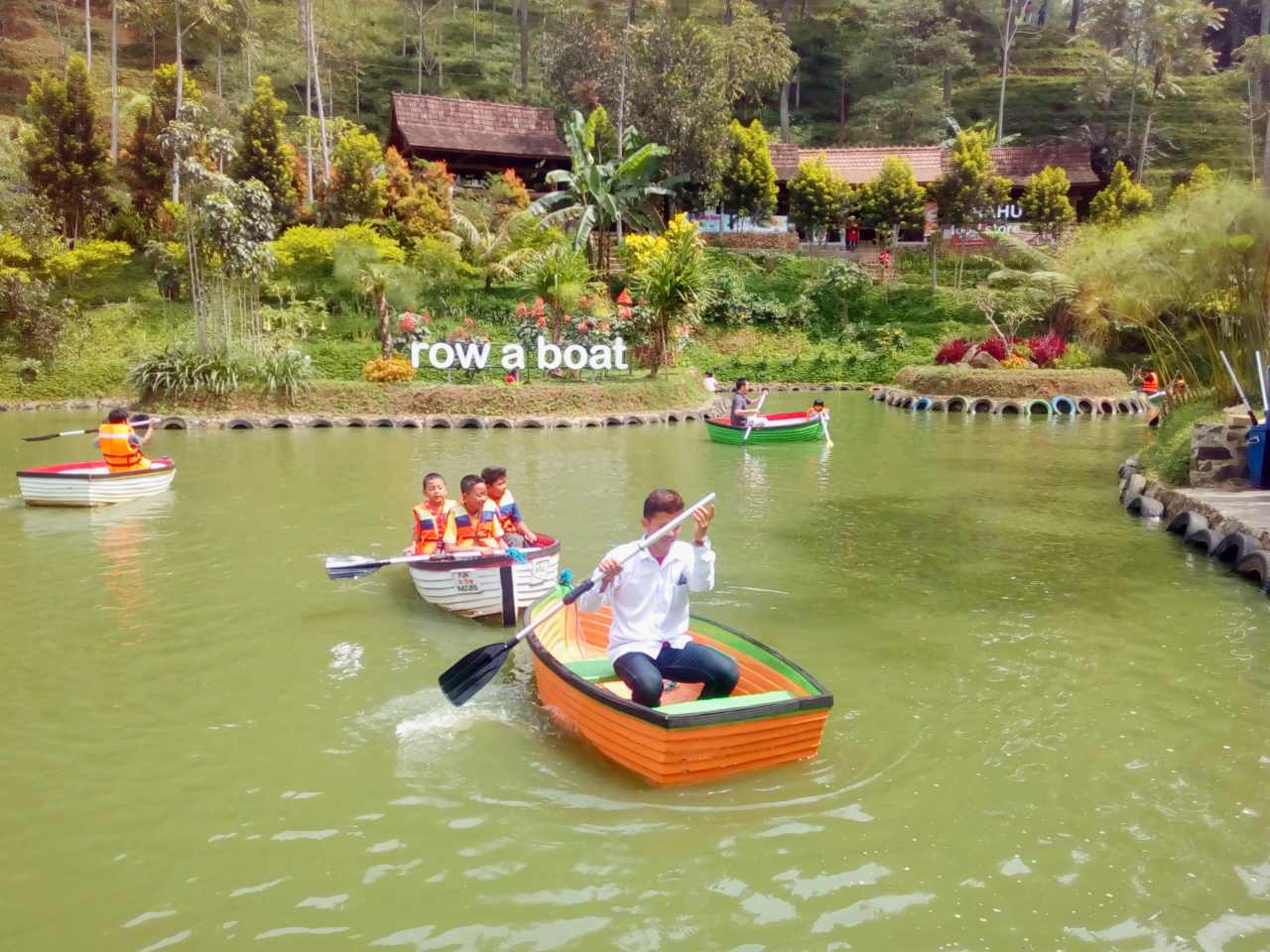 The dream zone area caters more to kids with its playground and animal farm. Meanwhile, selfie extremes, park zones, and the bridge target visitors of all ages.
Take Unbelievable Pictures
Dago Dream Park's 999 photo spots are an opportunity to get creative with one's photography skills. A right-angle would result in an impressive picture that looks unbelievable. The Aladin carpet, for example, is where visitors sit on a floating carpet above the pine trees.
Skybike is another feat. Take an acrobatic picture where visitors ride a bike on a thin rope, meters above the ground. Among the most popular is the up house. Taking inspiration from the 2009 movie Up, this photo spot features a house floating mid-air, carried by a bunch of balloons.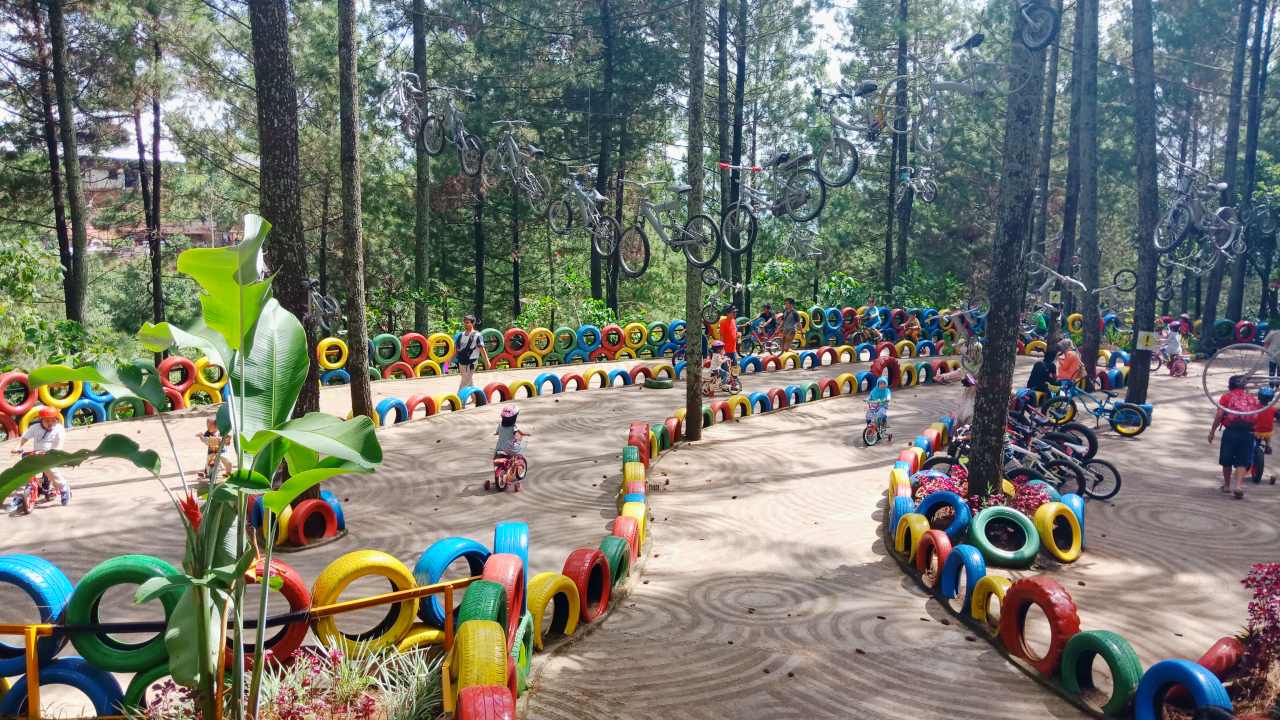 Snap a picture here and get a glimpse of Mr. Fredericksen and Russell's adventure. The green forest and the cloudy Bandung sky act as a perfect backdrop. "Night" is when the photo spots get even more interesting. Furnish with sparkly lights contrast with the darkness behind. Visitors' adventure looks more otherworldly in photos when the night comes.
The photo spot ' birds nest' has a romantic vibe with its colorful LEDs. The leaves on the photo spot 'Sakura Tree' light up purple at night, making it way more magical than it is during the day.
Anti Gravity House
The anti-gravity house is practically a traditional Javanese Joglo house at Dago Dream Park. It's a beautiful wooden house, only there's an amusing peculiarity. The house is upside down complete with a set of furniture that also defies gravity.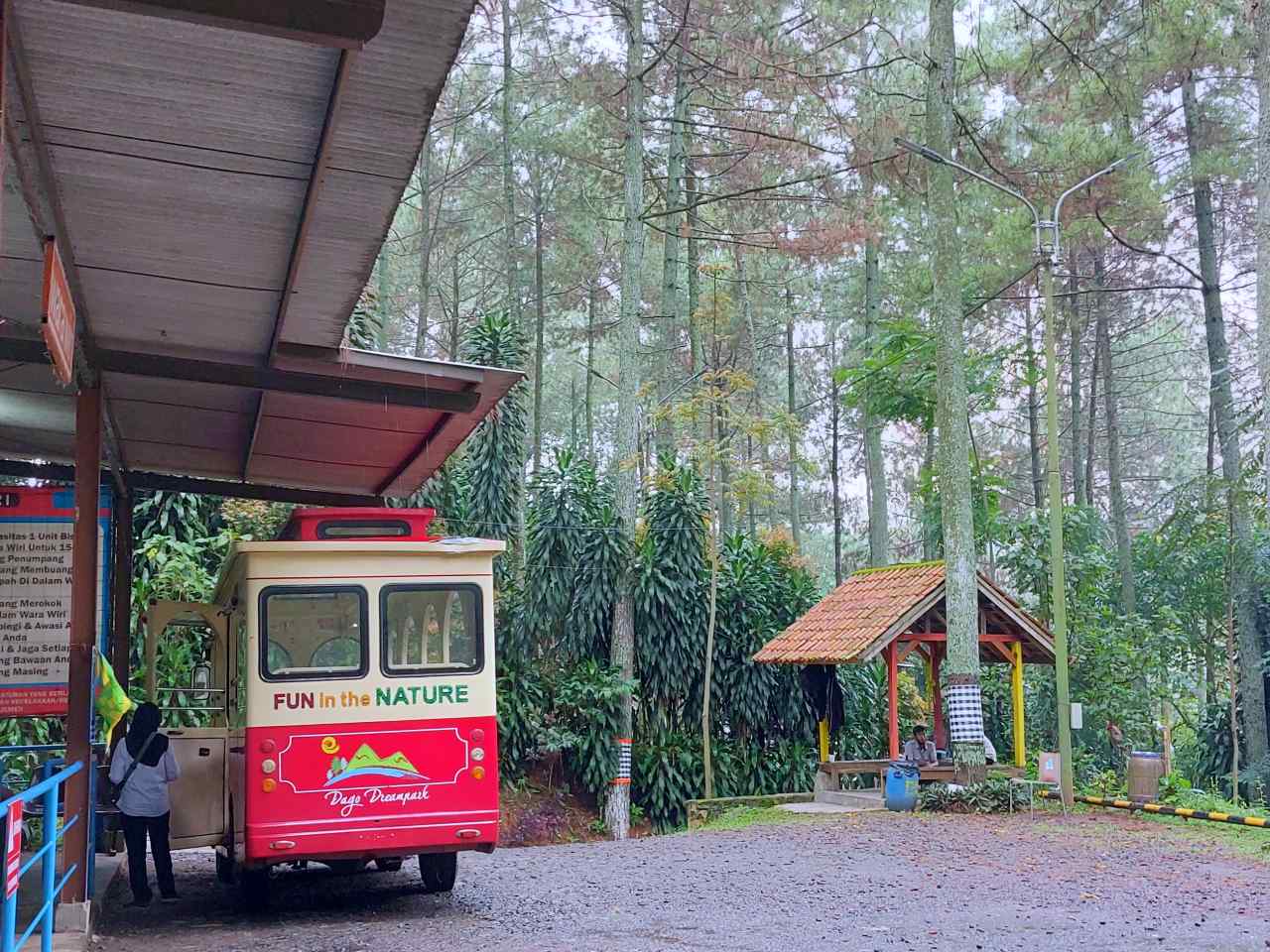 The upside-down house is fun to explore. This is where tourists can get more creative with the pictures. Try all sorts of different poses – imagination is only the limit.
Pine Forest
Although it's captivating to explore. The vast and hilly terrain of Dago Dream Park could be a nightmare for one's feet. Especially visitors coming with children and senior age. Luckily the park has wara-wiri Bus. Hop on to this brightly decorated vehicle. The bus will escort visitors on a dreamy trip through the tall trees of Dago Dream Park.
Another interesting way to venture into the forest here is with a sky bridge called Tarzan cross. A wooden path connects several pine trees high above the ground. Gear up with a safety helmet and safety ropes. And walk carefully along with the narrow Tarzan cross. This attraction is not for someone who's afraid of height.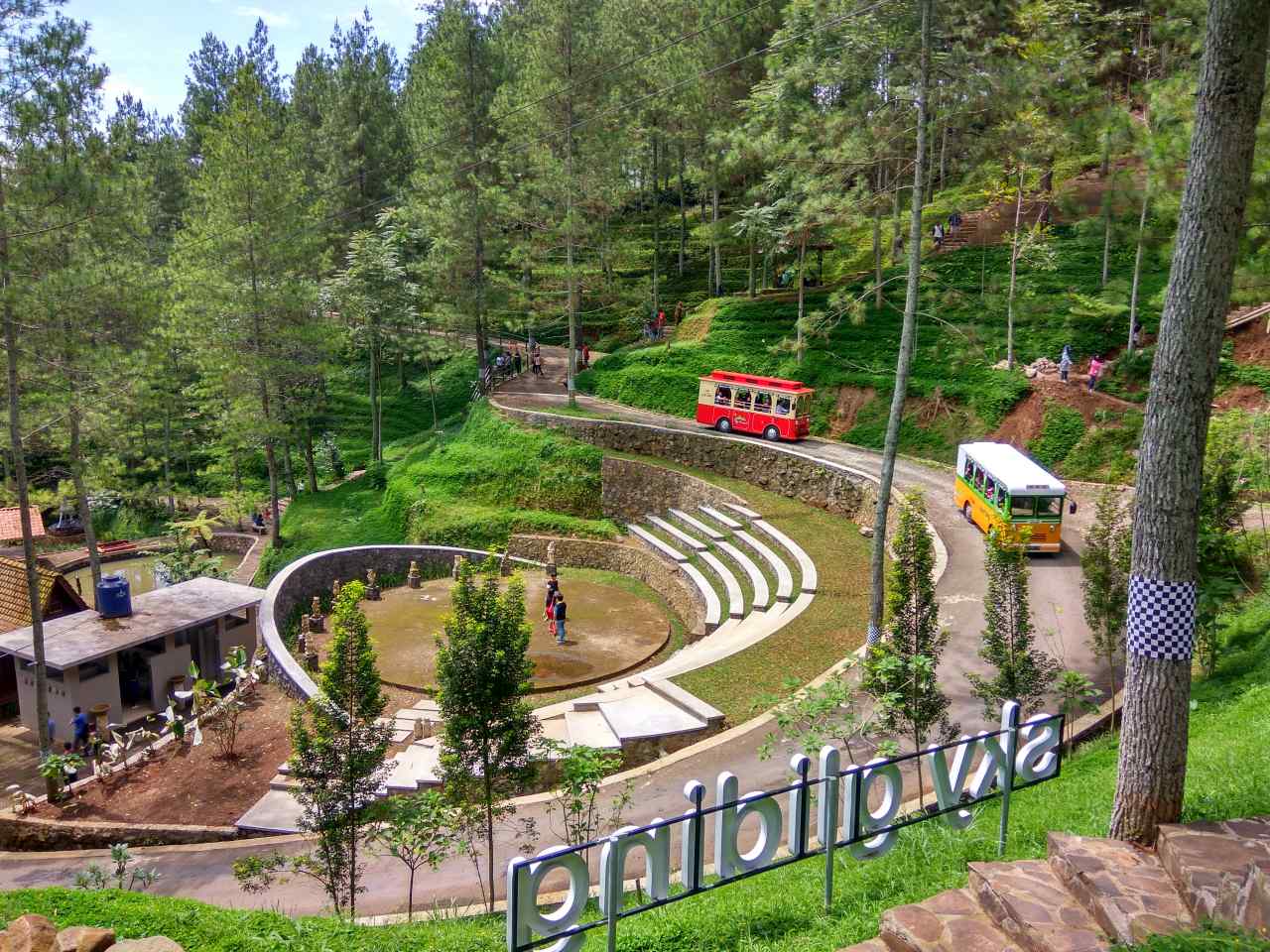 Dago Dream Park Outdoor Activities
The trees at Dago Dream Park are a perfect venue to play war games. Have fun marking opponents with colorful paint bullets at Dago Dream Park's paintball arena. Aside from paintball, there are other outdoor activities to do here such as horseback riding, archery, and flying fox. Tourists can also rent a boat and row along Dago Dream Park's artificial river.
Ethnic Village Dayang Sumbi
Take a closer look at Sundanese architecture at Dayang Sumbi village. The village has a soothing environment, surrounded by many greens. It successfully replicates a quiet atmosphere just like a Sundanese village in old times.
There are 20 traditional houses in total. In addition to that 2 statues near the gate will greet all guests. These statues are Dayang Sumbi and her son. Both are characters from the popular Sundanese folklore "Sangkuriang".
Nearby: Keraton Cliff Bandung, 360-degree view of Tahura Forest.
Dago Dream Park Opening Hours
Dago Dream Park opens daily from 9 AM to 5 PM on weekdays. On weekends, the park has longer operational hours from 8 AM to 6 PM.
Dago Dream Park Opening Hours
Weekday
09:00 – 17:00
Weekend
08:00 – 18:00
See: Tangkuban Perahu Volcano Guide, Location & Entrance Fee.
Dago Dream Park Entrance Fee
A ticket to Dago Dream Park costs Rp30.000 on weekdays. And Rp40.000 on weekend. Park visitors will have to pay extra costs for the rides and attractions in the park. There's a parking ticket, Rp5.000 for motorcycles, and Rp10.000 for cars.
Dago Dream Park Entrance Fee & Rides Ticket
Weekday
Rp30.000
Weekend
Rp40.000
Tinkerbell Wings, Giant Ella, SkyLine, Sapu Sihir, Sky Tree, Cloudy Castle, Birds Nest, Pirate Ship
Rp20.000/ride
UP House, Paragliding, Flying Longue, Love Seat, Aladin's Carpet, Sky Bike, Sky Gliding, Battle Ship, Horse Around, Hook A Fish, Row A Boat, Hot Rider, Gear Up, Pine House
Rp30.000/ride
See: Floating Market Lembang, Culinary Spot & Highland.
Facilities
Dago Dream Park claims its vast parking spot is able to accommodate up to 3.000 cars. The park equips with basic facilities such as toilets and a gazebo for visitors to rest. There are 2 restaurants and 3 food courts around the parking area.
As for accommodation, plenty of hotels and villas to choose from in the Dago area. The rates start as low as Rp180.000 to Rp700.000/night.
See: All About Bandung Airport, Transportation.
How To Get To Dago Dream Park
It takes around 40 minutes to get to Dago Dream Park from Bandung downtown. From downtown, tourists could take a public bus DAMRI with route LW PANJANG-DAGO. And ask the driver to stop at Simpang Dago. From there, continue with a motorcycle taxi. It will cost around Rp15.000 for 15 minutes journey.
Tourists could opt for private car rental for more convenience. The price range from Rp350.000 to Rp500.000 for a day rental. Depends on the car type. The route to Dago Dream Park is quite straightforward. Just follow Ir H Djuanda Road and follow the road until Dago Giri street.  However, avoid going during the weekend since the road is often jammed with ridiculous traffic during this time.
See: Transportation Guide Jakarta Airport to Bandung.
Address & Location
Dago dream park located in Jl. Dago Giri KM. 2,2, Mekarwangi, Pagerwangi, Lembang, West Bandung Regency, West Java 40135.