Bandung might be a city upon a hill. Where most people think it is only reachable by road vehicle or train. But somewhere within the city, Bandung has its own active international airport. That is Husein Sastranegara International Airport or Bandung Airport in Cicendo area.
The location distant only about 4 kilometers away from the bustling downtown. Thus, making all the airplane traffic looks very visible from locals' residences. Upon arriving, do not expect to meet a wide airport complex landscape here.
Because just outside the arrival hall, there was just a small road heading to downtown or a residential area.  Even so, the overall width of Bandung Airport takes up to 145 hectares.
But, the land also operates for civil aviation in the South Western Region of Java. Together with Husein Sastranegara air force base from the Indonesian Air Force. Hence, leaving only a few spaces for the public airport.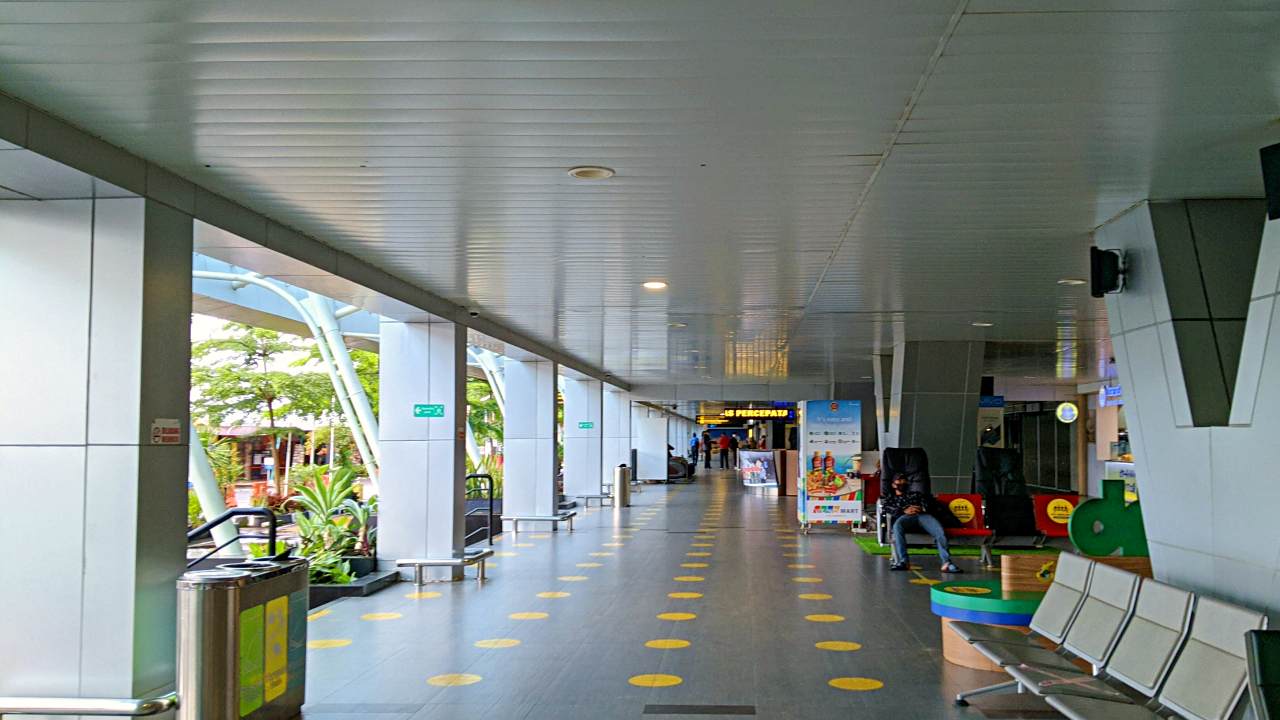 Bandung Airport Terminal
Although small, Bandung Airport operates both domestic and international flights. Serving flights from several big commercial airlines, including Garuda Indonesia and Lion Air group.
Even the routes are not limited to a short distance, but to twelve big cities in Indonesia. Followed by international flights to Malaysia and Singapore.
Both the domestic and international flights centered in one longwise concourse terminal. With no floor difference for the arrival and departure area. But going past the check-in counter, passengers have to go up to the second floor. Where the spacious waiting room area lies with various facilities.
Sometimes, travelers need to rush or simply want to avoid long queues. To everyone's rescue, Bandung Airport already has a self-check-in facility located before the check-in counters.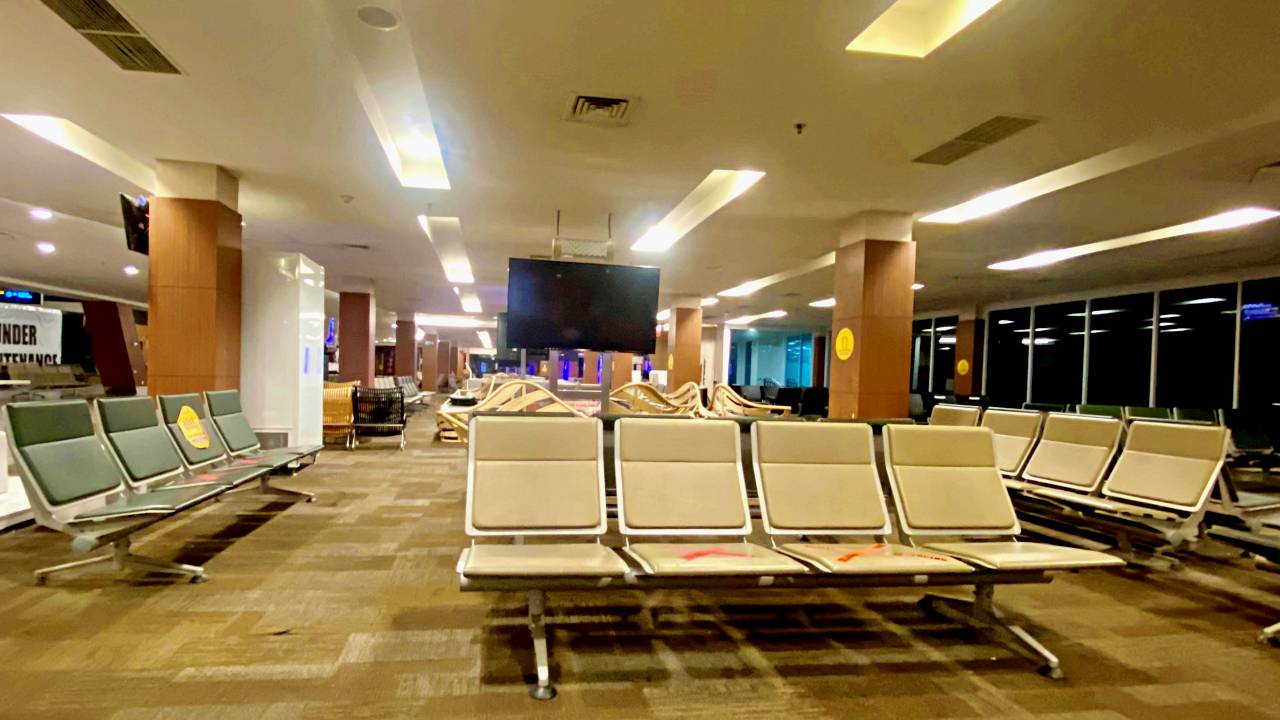 However, baggage drop is still processed manually with the staff's help. Hence, it is only a perfect solution for passengers with cabin baggage.
Airport Tax
In Indonesia, some of the airports already canceled airport tax fees for passengers. However, not for Husein Sastranegara International Airport. Because airport tax still applies here at Rp75.000 for international travelers. Hence, prepare cash to pay the tax.
Bandung Airport Tax
Airport Tax
RP75.000
See: Tangkuban Perahu Crater, Top Things To Do & Guide.
Facilities
Bandung airport structures originally came from the colonial period in around 1920. But it has gone through restoration until the last one in 2016. That is why Bandung Airport already looks modern and compact.
It is easy to find general facilities such as toilets across the building. The other facilities visitors might need are also available on the premises. That includes a praying room, wifi access, and shopping halls.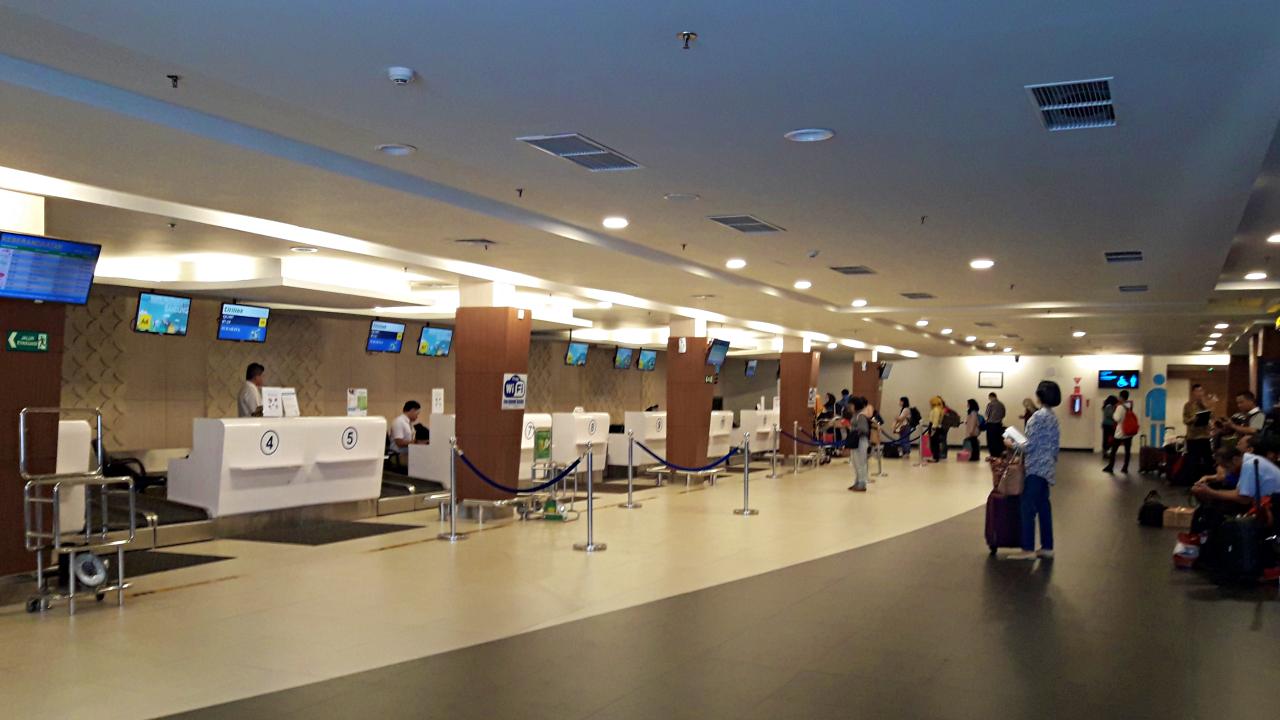 For travelers with loaded baggage, service such as airport helper is also available to hire. According to the new regulations, there is no extra fee for the airport helper service.
Restaurants and Cafes
Finding good restaurants or cafés is clearly not a problem at Husein Sastranegara International Airport. Either inside the terminal or right across the building. The most visible one across is Starbucks. Comfortable for travelers who want to sit around while watching vehicles pass by.
Along with the terminal gate, rows of stalls at hand offer various snacks from sweets to savory. It spreads at each gate, some of the famous names to notice are Bread Papa and Shihlin. Also, other local stalls or food shops to stop by before entering the check-in area.
As if the various options outside are not enough. The waiting area also various offers restaurants to eat in. Hence, passengers should not worry about missing out on delicious food before boarding.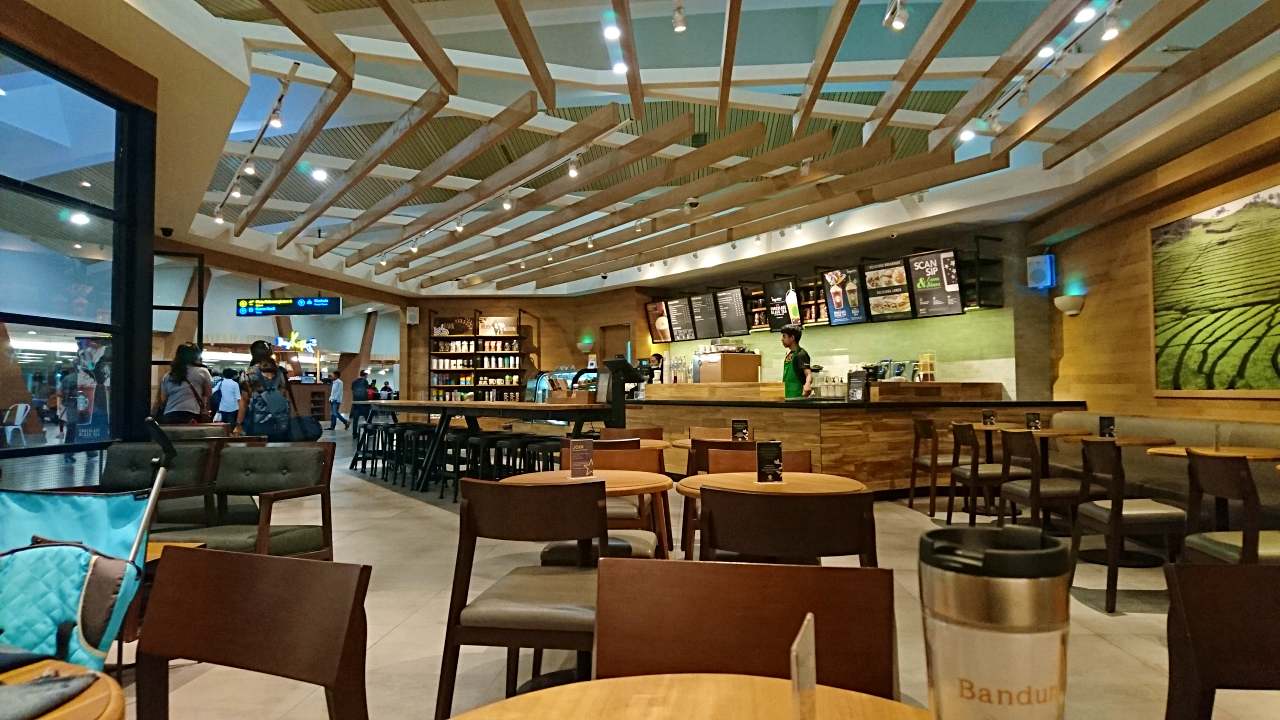 For last-minute shopping, stop by snack shops to buy Bandung local snacks. The city is highly famous for its cuisine, after all.
See: Bandung Street Food, Sudirman Street, Guide.
Airport Hotel
Fortunately, Bandung Airport is only a walking distance from the public road. Hence, it is easy to find hotels around the airport. Besides, there is no airport hotel inside the terminal to stay in.
In Bandung, lodgings are fairly available starting from a cheap price of Rp150.000 per night. That comes with great facilities because it is mostly a new guest house or hotel. Hence, travelers should not worry much about comfort. Just make sure to read through online reviews before booking.
Bandung Airport Lounge
Seeking slight privacy while waiting to board the plane is not a problem here. On the second floor, the Saphire Lounge area stands as the only lounge there is. The lounge opens two hours before the first flight of the day. And closes only after the last departure. Hence, none of the passengers have to rush when relaxing inside.
Even better, passengers do not have to pay expensive amounts for adequate facilities. Because it only takes Rp130.000 to enjoy everything available inside. Starting from the reading corner, smoking area, and buffet, to free wifi. All can enjoy it with no limitations.
Bandung Airport Lounge
Lounge Pass
Rp130.000
See:  Prepaid SIM Card, Provider & Internet Package Price.
Money Changer and ATM
Facilitating international flights means that the airport opens a money changer service. The money exchange service is available inside the terminal. As well as an ATM center with various bank options.
Therefore, travelers can go around Bandung comfortably after walking out of the airport. Because there is no need to drop by another money changer outside the area.
See: Bandung Culinary Spot Guide, Punclut Ciumbuleuit.
VAT Refund
VAT or GST refund service allows foreign passport holders to refund Valued Added Tax (VAT). For every purchase of goods with "Tax Refund for Tourists" annotation in it.
In Indonesia, it is also possible to do so. As of now, there is only five VAT refund service that operates. And unfortunately, it is not yet available at Bandung Airport.
See: Jakarta Airport To Bandung Transportation Guide.
Going To and From Bandung Airport
Transportation access is no doubt an easy thing to settle in Bandung Airport. Despite its location near the public area. Both local taxis and ride-hail apps are usually the first options. Because Bandung's area is not really that far from each other. Unless travelers are heading toward Lembang.
Take Alun-Alun Bandung as a destination example. Considering the area is one of the tourist centers with various accommodations around. It only costs around Rp22.000 per one-way car ride.
Definitely even cheaper for a motorcycle at Rp13.000 per way. For taxi locals, there is already a regulation for pricing. That it should range similarly to the online transportation service.
See: Guide To Taste Street Food In Sudirman street, Bandung.
Address & Location
Bandung Airport Husein Sastranegara International situated in Jl. Pajajaran, Husen Sastranegara, Cicendo district, Bandung, West Java 40174.