The busiest airport in Indonesia, Jakarta Airport Soekarno Hatta International serves 65 million passengers annually. Soekarno Hatta covers all flights to destinations all over Indonesia. From the short an-hour flight to Bali. To the long flight to the most eastern part of the country, Papua.
As the most prominent airport in the country, Jakarta Airport Soekarno Hatta lives up to its reputation. The airport has world-class facilities for the comfort of passengers. Gardens fill free space in-between terminals, gates, and pavilions. Ethnic elements from all over Indonesia decorates the interior.
Tourists flying from and to domestic flights will land in the old terminal 1 & 2. While the newest Terminal 3 covers the international flight. They emphasize a more modern and eco-friendly design.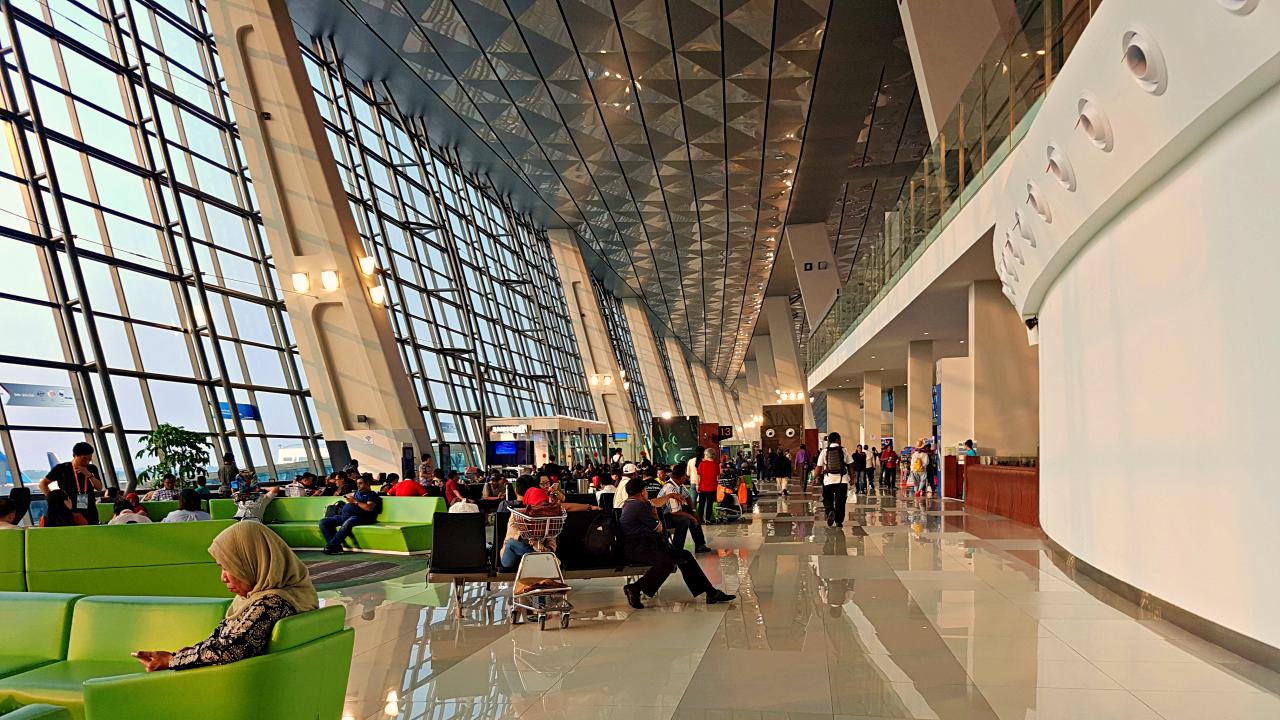 Jakarta Airport Terminals
Jakarta Airport Soekarno Hatta International has three terminals, the old Terminal 1, 2, and the newest Terminal 3. Soekarno Hatta Airport 1 A to C is where Lion Air for domestic flights departs. They cover all domestic flights to cities like Surabaya, Yogyakarta, and Denpasar Bali.
Other Indonesian airlines like Citilink and Batik also depart from Terminal 1 C. While airlines like Sriwijaya, Nam Air, and Air Asia domestic flight depart from terminal 2 D-F. International flights of LCC airlines like Air Asia also depart from the old terminal 2 F.
International flights with a full-service airline can head directly to the new Terminal 3, with the exception of Garuda Indonesia domestic flights. The new terminal has 244 check-in counters with 38 of them are self-check-in. Flight by KLM, Japan, Etihad, Qatar, and China Airlines operates in the new terminal.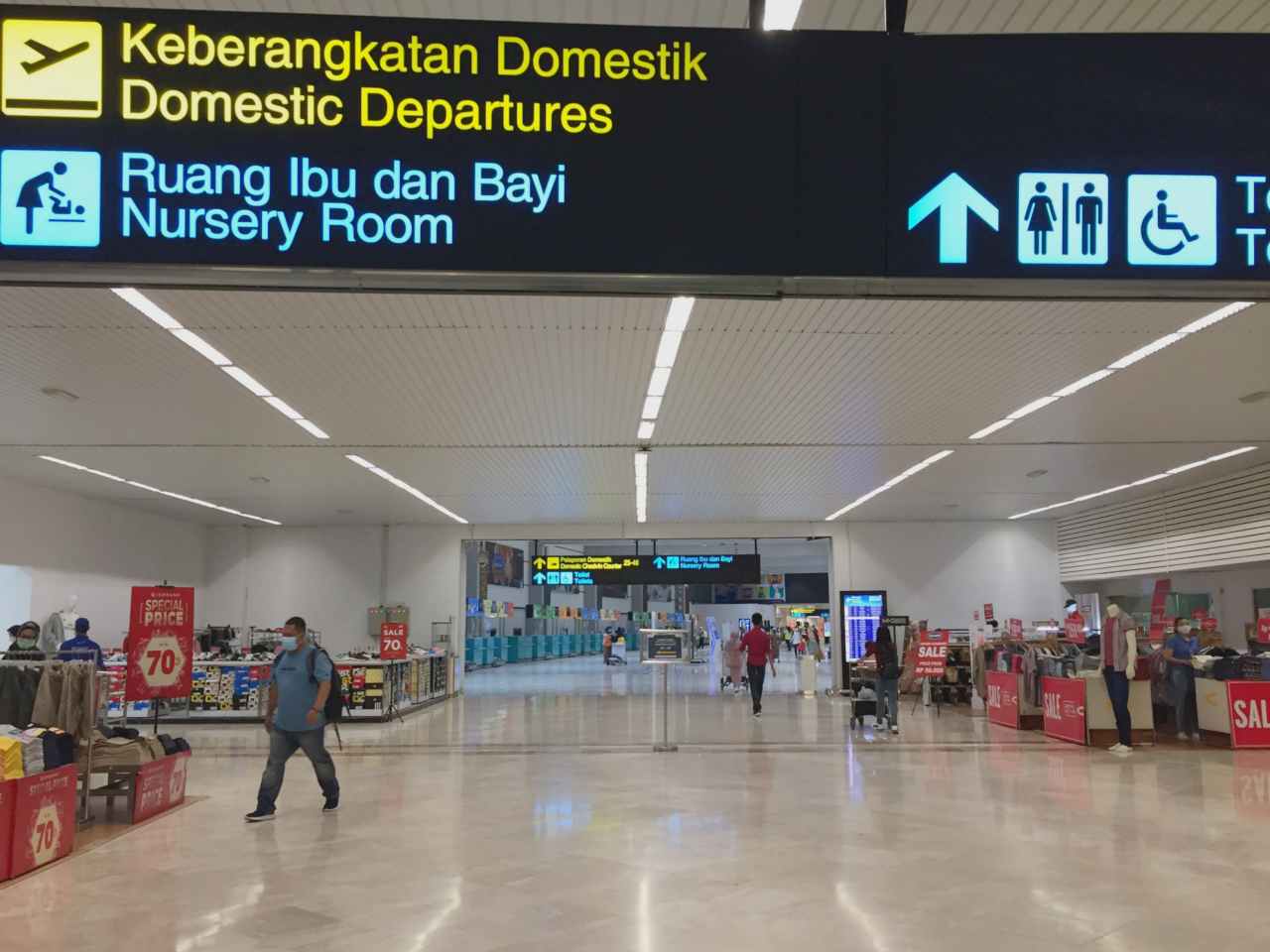 Transfer Between Terminals
For connecting flights to different terminals, Jakarta Airport has a shuttle bus. If the other flight is still at the same terminal, people can just walk. But if the other flight is on the other terminal 2 or 3 for example. The only way to reach it is by using the bus or Skytrain.
Both transport modes are free to use. SkyTrain needs only 5-7 minutes to move people from one terminal to another. Skytrain stations are available in every terminal of Jakarta Airport Soekarno Hatta.
The free shuttle bus picks up passengers at the arrival halls of Terminals 1 and 2. At Terminal 3, shuttle buses are available in front of the departure hall. Buses arrive and depart every 30 minutes. Make sure the connecting flight has at least 2 hours of spare time.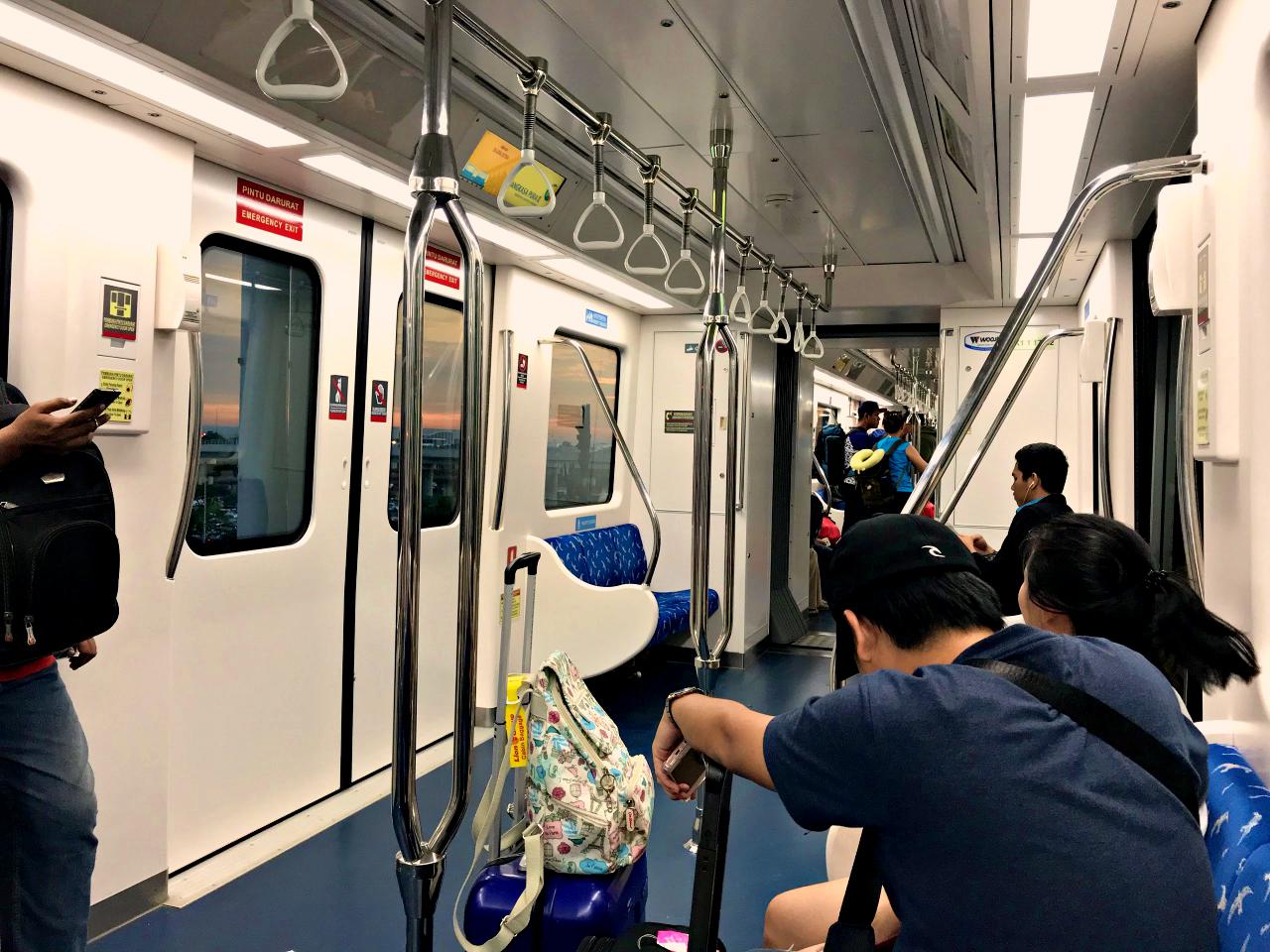 Food and Drink
Plenty of 24-hour choices for cafes and restaurants in all three terminals. A fast-food chain available such as KFC, Burger King, or Indonesian food, Bakmi GM. Convenience stores such as Circle K and Indomaret are also open 24 hours. There are also drinking water fountains available throughout the airport.
For coffee and snack, one could go to familiar names such as Starbucks. There's more than one location here. One is at the boarding lounge area of Terminal 3. While there's also a Starbucks at the Terminal 2 Arrival Area.
Visitors can also try local coffee shops such as J.CO in the Terminal 1 public area. Or another cafe like Excelso at Terminal 1A Boarding Area. Coffee shops in Jakarta Airport also provide free Wifi for customers.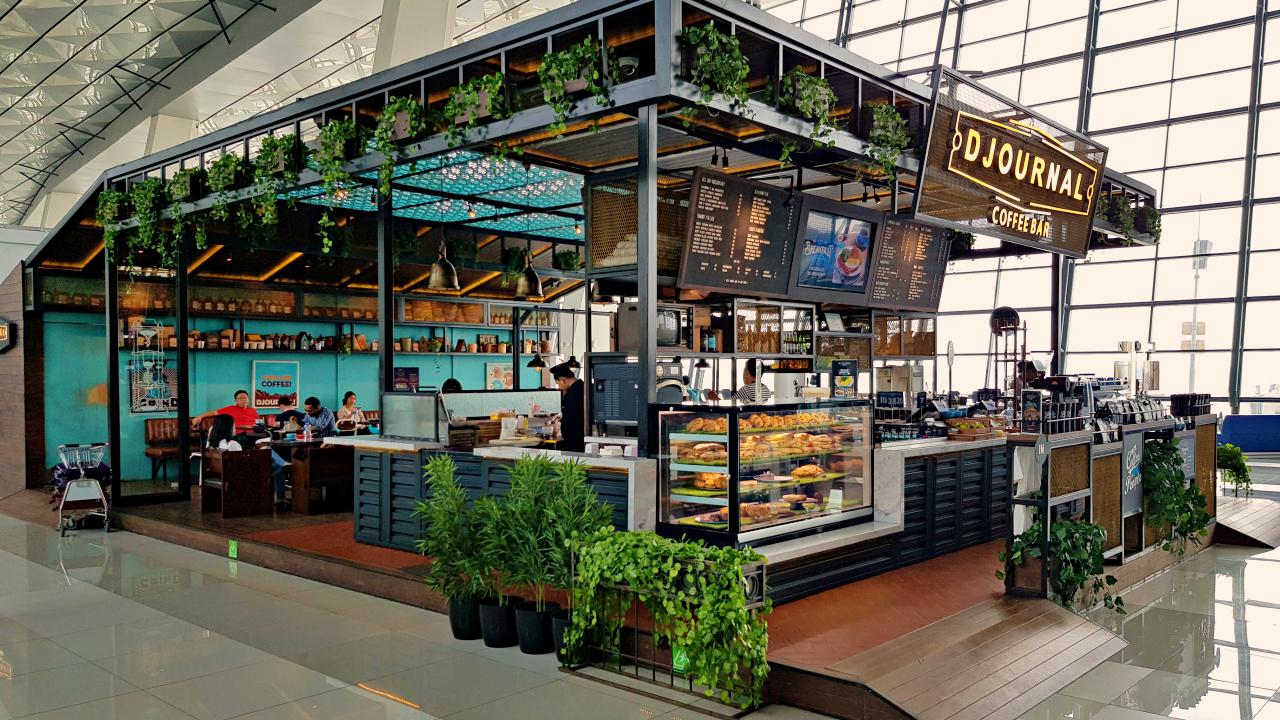 Duty-Free Shop Jakarta Airport
Duty-free stores mostly concentrate on Terminal 3. While a few of them can be found at Terminal 2. Shops available for tax-free shopping here include Lotte, Jakarta Duty-Free, and Plaza Bali.
Jakarta Airport Hotel
Soekarno Hatta International Airport just launched a new capsule hotel Digital Airport Hotel. Located at Terminal 3, Digital Hotel is the best place to snooze. The rates are categorized into 6 hours, 9 hours, to 1 night. The rate starts from Rp286.000 for 6 hours.
Another hotel for short transit is available also at Terminal 2E. Jakarta Airport Hotel is a 3-star hotel offering more luxurious rooms. They also offer transit rates with rates starting from Rp475.000 per 6 hours. While the rate for staying more than 6 hours at the Jakarta Airport Hotel starts from Rp770.000.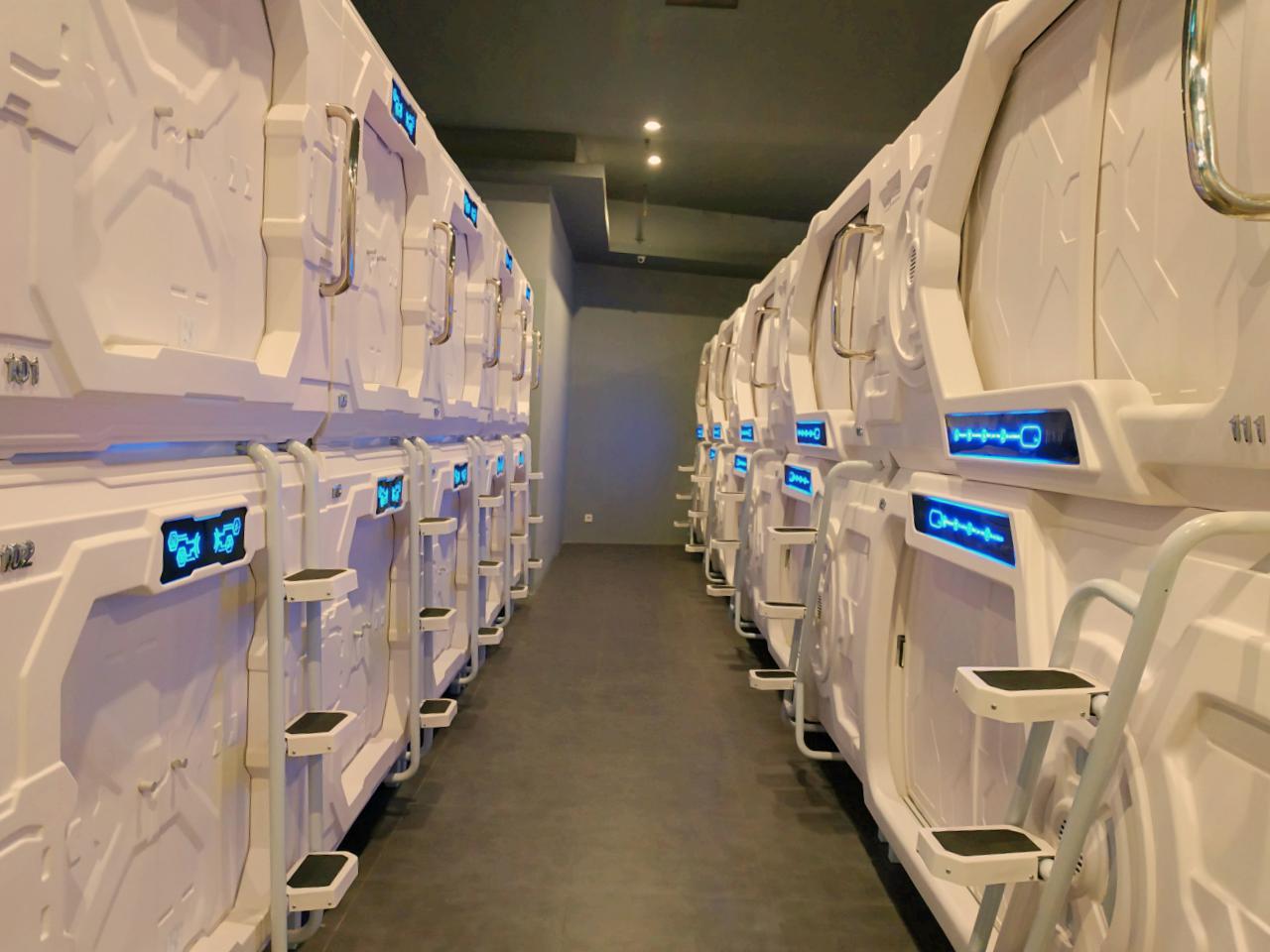 Soekarno Hatta International Airport Lounge
Garuda Lounge is available at Terminals 1, 2, and Terminal 3. Access is both open for Garuda miles members and one-time access. Other choices include the Premier Lounge, Sapphire Lounge, and BlueSky. These lounges require a Priority Pass membership to use.
Money Changers & ATM
Many major Indonesian banks open a currency exchange counter at Soekarno-Hatta Airport. Indonesian Banks like Mandiri, BNI, and BRI are a few among many of them. They are available at the arrival area of Terminal 2 and Terminal 3. Non-bank money-changers such as Valasindo and Indocev can be found in the public area of Terminal 2.
ATM is easy to find and spread all around the terminal. The departure hall, it's usually located at the end of the hall. The International Bank ATM available at Jakarta Airport includes HSBC, Maybank, and Commonwealth Bank. There's an ATM center on the ground floor of Terminal 3. It conveniently hosts several banks' ATMs in one place.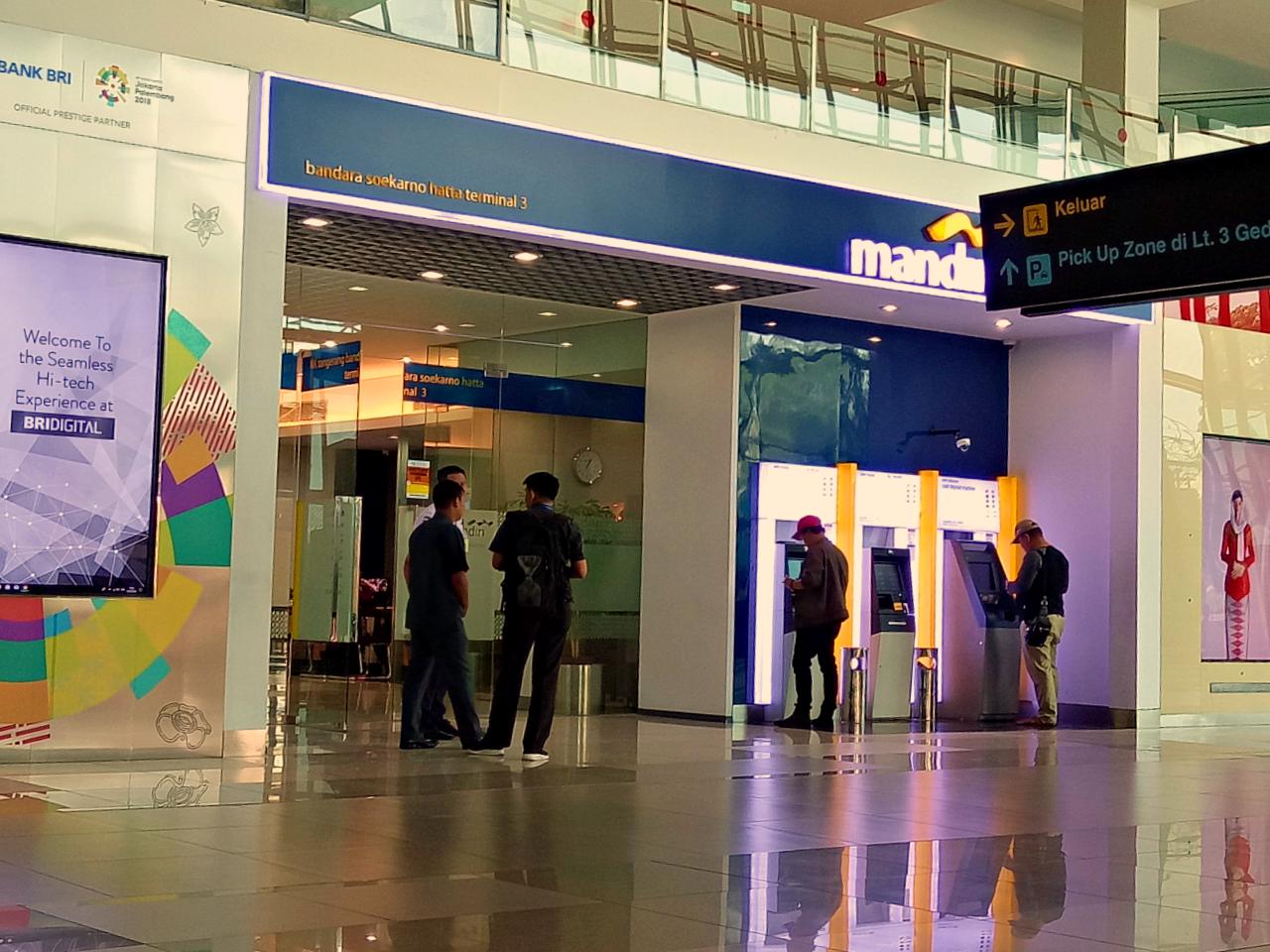 Shower and Rest Area
At Terminal 3, visitors can find free-of-charge shower rooms near Gate 10 domestic. The other shower room is available at gate 11 International. The shower room is well-equipped with hot water, a sink, and a hairdryer.
The rest area is available on the central departure corridor of Terminal 2 and Boarding Lounge gate 6 of Terminal 3. Both are free to use. However, the facilities are slightly better at Terminal 3 with comfortable reclining couches.
See: Street Food & Art Street Artist at Jakarta Old Town.
Luggage Storage and Wrapping
Aerotek and Securitech stands are available in each of Terminals 1 and 2 check-in areas. Baggage storage service by Box and Baggage Solutions is available at Terminal 3 Domestic Arrival. Visitors at Terminal 2 can use the service Fesa Buana Bagasindo provides. Their counter is situated at the arrival area of terminal 2F.
See: National Museum Jakarta Collection & Entrance Fee. 
VAT Refund
There are two spots in Soekarno Hatta where tourists can apply for a VAT refund. One is located before the Check-In Area of Terminal 3 International. The other is located at the Departure Terminal of Terminal 2D.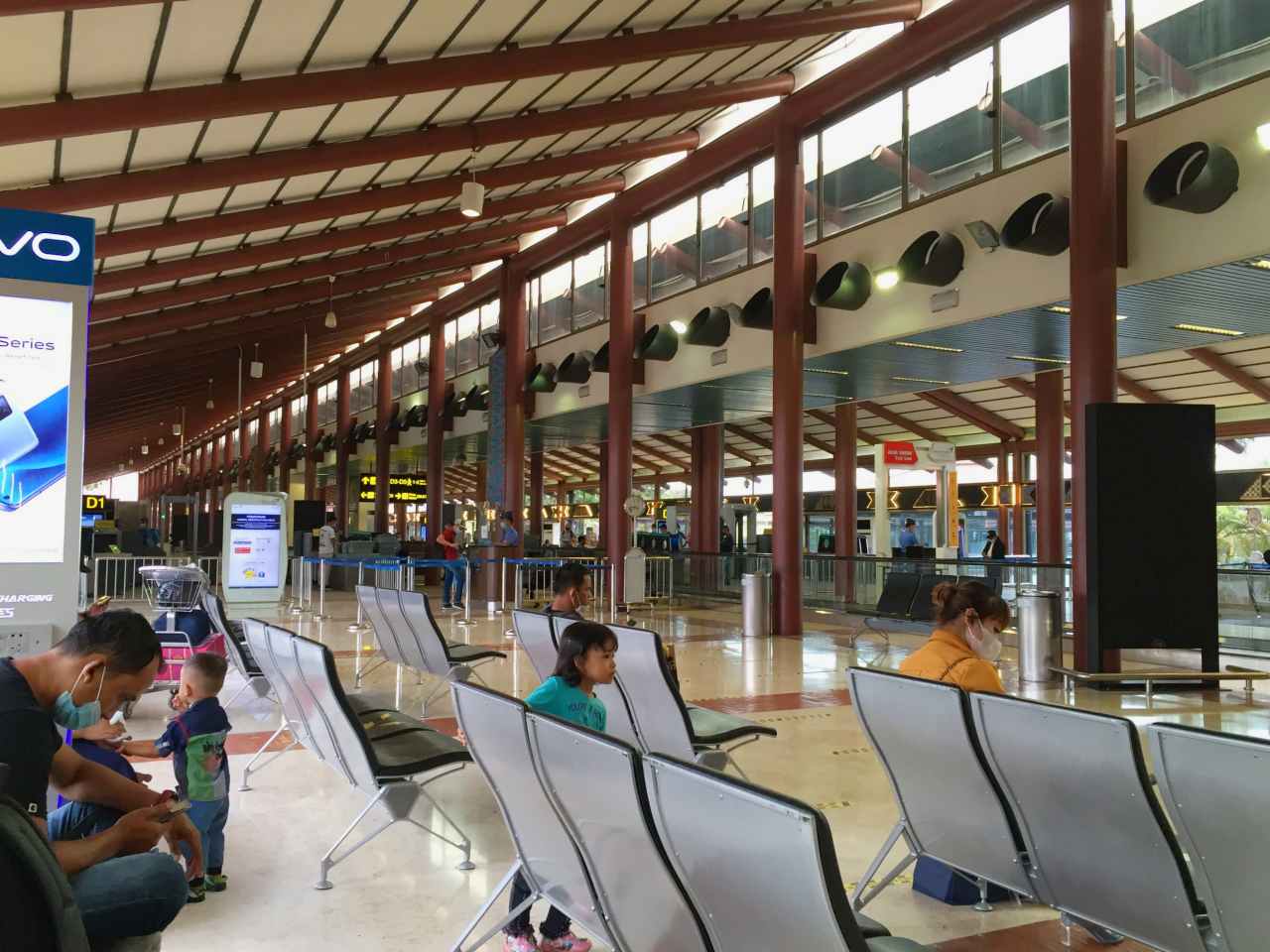 Jakarta Airport Basic Facilities
Smoking rooms are available at several spots at the airport. One area is situated near terminal 2E. While at terminal 3, it's right near gate 1, gate 8, and Gate 13. For Wi-Fi, connect through freewifi.cgk The Airport wifi network is free to use and available throughout the airport building.
The standing charging station is easily found in spots in the waiting room in-between gates. Family toilets and nursery rooms are provided at each terminal. As well as the children's playground area.
Terminal 2 and Terminal 3 each have a tourist information center. The information center is available at terminal 2D arrival and at terminal 3. There's one each both in International Departure and Domestic Departure.
SIM Card Jakarta Airport
Since most international arrival flights are in Terminal 3 Soekarno Hatta Airport. The booths that sell Tourists SIM cards are mostly located in Terminal 3 too. There are 4 booths located in the arrival hall of Terminal 3 including the Telkomsel booth, Grapari. The booth opens from 7 AM to 6 PM every day.
In order to purchase an Indonesian SIM Card, tourists will be asked for a passport photo and IMEI information. The published price for a Telkomsel tourist SIM card is Rp150,000 for 25 GB of data that is valid for 30 days. However, the price is more expensive at the airport booth. A SIM card in Jakarta Airport will range from Rp100,000 to Rp250,000 depending on how much the data is.
Jakarta Airport Public Transport To Downtown
There are several options to get downtown from Soekarno Hatta International Airport. The fastest to downtown is by Soekarno-Hatta Airport Rail Link. This service is connected to SkyTrain. There is a hub station located between Terminal 1 and Terminal 2. Visitors can also take Damri Bus. The fare for the train is Rp70.000 (card-only payment) while the bus is Rp85.000.