National Museum Jakarta Entrance Fee: Rp25.000 Opening Hours: Monday - Sunday 08:00 - 16:00 Telp. Number: +(62 21) 3868172 Address: Jl. Medan Merdeka Barat No.12, Gambir, , Gambir , Gambir, Jakarta Pusat, DKI Jakarta, Indonesia, 10110.
Dubbed as Indonesia's most complete museum. The National Museum Jakarta shows no signs of stopping its educational endeavor. It possesses a wide array of collections covering the nation's rich cultural and historical legacies. Here, visitors can have a closer look at every element that contributes to the country's high diversity.
The displays came from as early as the prehistoric period to the post-colonization era. Locals call it "Museum Gajah" or the elephant museum. Simply because there is an elephant statue in front of its establishment. The medium size bronze elephant sculpture is a gift from Siamese King Chulalongkorn. Given back then when Jakarta's name is Batavia in 1871.
The small artificial elephant is only one of over 160,000 value objects showcased here. This cultural institution proudly shows case all its masterpieces. It was all stored in its four-story Dutch-style building. There are 7 exhibition categories: Prehistoric, Hindu-Buddhist, Numismatic, and Heraldic. Even more, there are also ceramics, ethnographic, geographic to historic sections.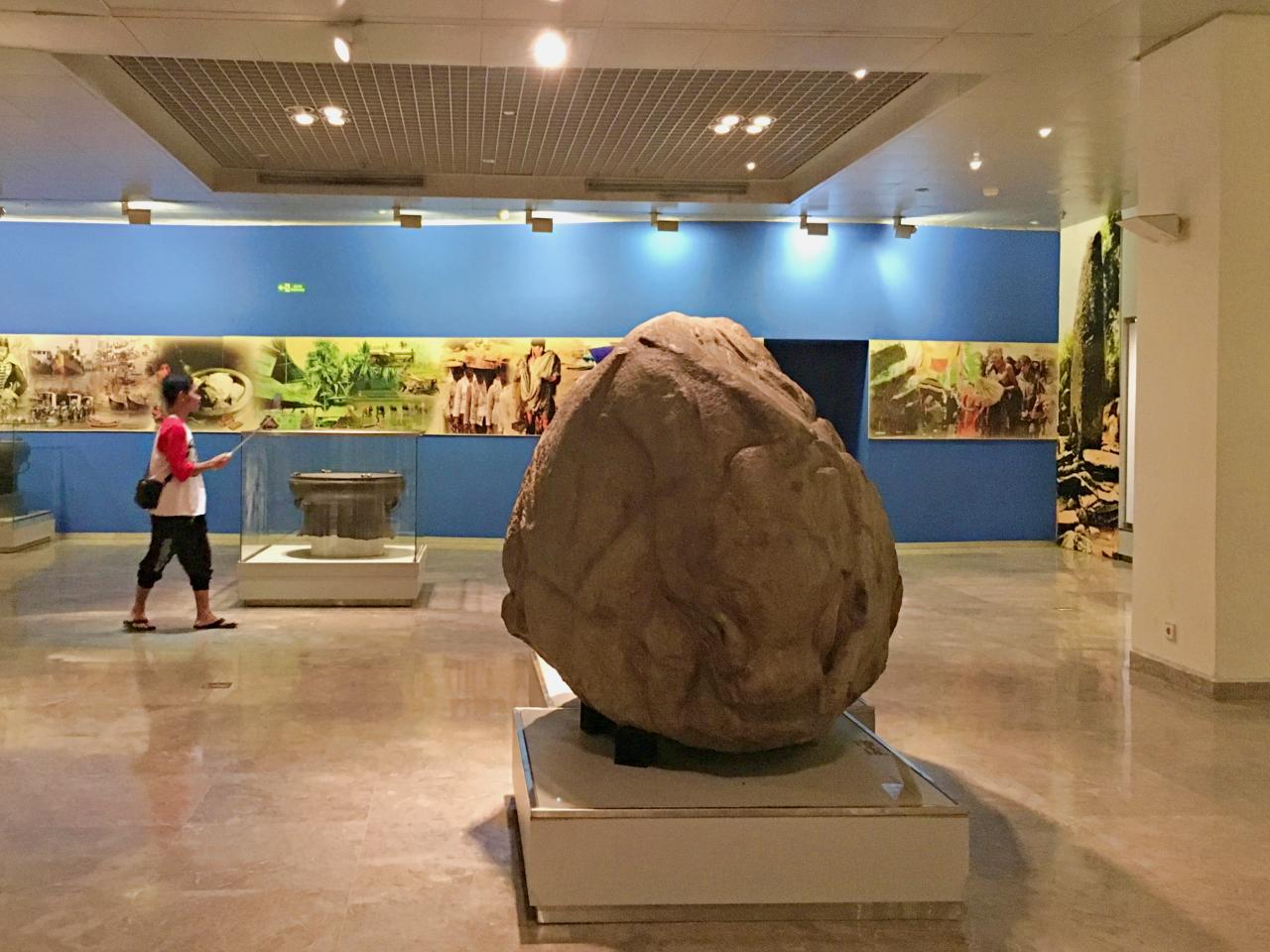 Its strategic location in central Jakarta is right in front of the monumental Monas. It seems also the reason why the museum is never short of visitors. At least 150 history buffs come in and out of the museum on weekdays. Just like any other tourism hotspot, the number can triple up on weekends.
National Museum Jakarta Entrance Fee
As the museum management is right under the supervision of the Ministry of Education and Culture. The entrance fee is quite cheap for international visitors. The National Museum Jakarta entrance fee is Rp25,000 for international tourists. Additional attractions such as a temporary exhibition held on some occasions required additional entrance tickets. While for the show ticket, there is an additional Rp35,000 for imersifA and Rp10,000 for theater.
National Museum Jakarta Entrance Fee
Regular Ticket
Rp25,000
Temporary exhibition
Rp20,000
ImersifA ticket
Rp35,000
Theather
Rp10,000
Online Guide
Rp5,000
Nearby: Water Fountain Show & Jakarta Landmark Monas.
National Museum Jakarta Opening Hours
The museum opens every day from 8 AM to 4 PM. And it tends to be more crowded and packed on weekends.
National Museum Jakarta Opening Hours
Every day
08:00 – 16:00 WIB
See: Guide To The Largest Istiqlal Mosque, Jakarta.
National Museum Jakarta Historical Past
Just like its collections, National Museum Jakarta is drenched in rich history. It start at the beginning of 1778 when the Dutch scholars established Bataviaasch Genootschap van Kunsten en Wetenschappen. Known also as the Royal Batavian Society of Arts and Sciences.
The organization is dedicated to research and publications of Indonesia's historic, ethnographical, archaeological, and physical findings. In 1862, the Dutch erected the museum's building in its current location, Jl Merdeka Barat. Six years later, it officially opens its grand doors to the public.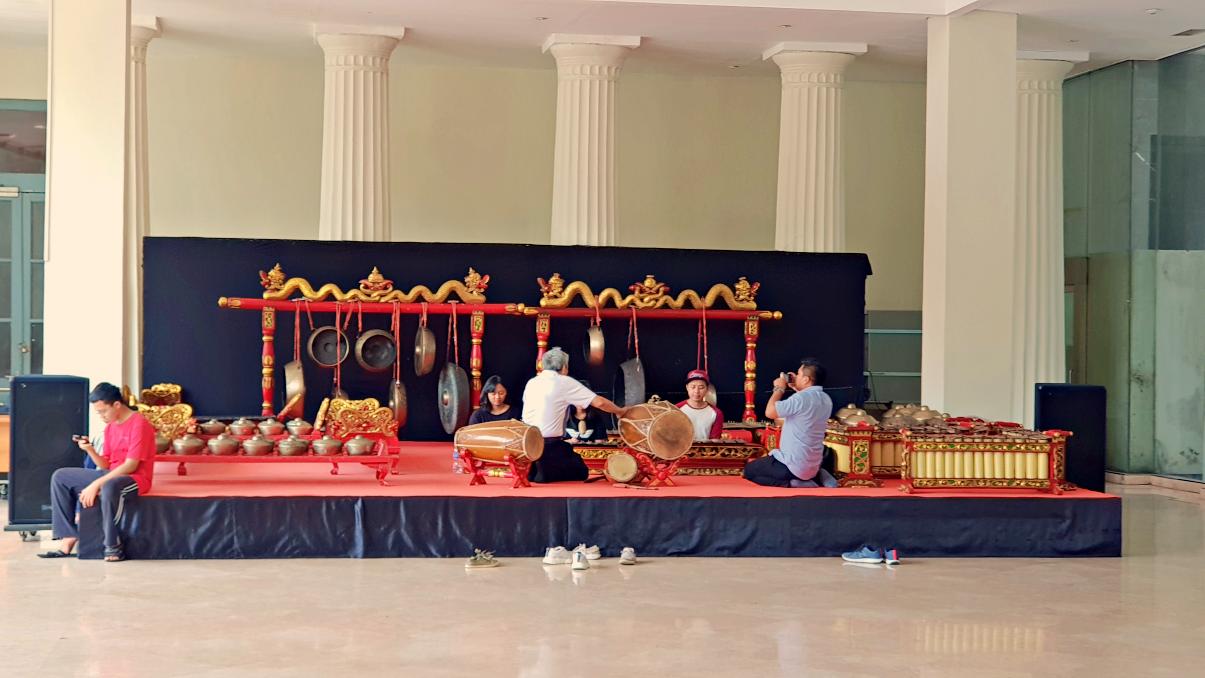 After Indonesian independence in 1945, the National Museum Jakarta was under the management of the Indonesian Cultural Organization. Finally, in 1962 the Ministry of Education and Culture took over. It's been under the management of this ministry ever since.
The 156-year-old structure is very well functioning within a series of renovations. Likewise, the museum has expansions throughout the years. Covering 26.500-meter squares, National Museum Jakarta has 2 buildings. The first building is where the exhibition material at. While on the other building, there is a library and laboratory.
Many feel such a strong academic atmosphere in the air as they walk toward the museum. Dozens of tall and bulky concrete columns support the chalky white building. Its classic architectural style lives on well-preserved even after 1,5 centuries. Some staircases welcome history enthusiasts at the front lobby, leading them into the encyclopedic interior.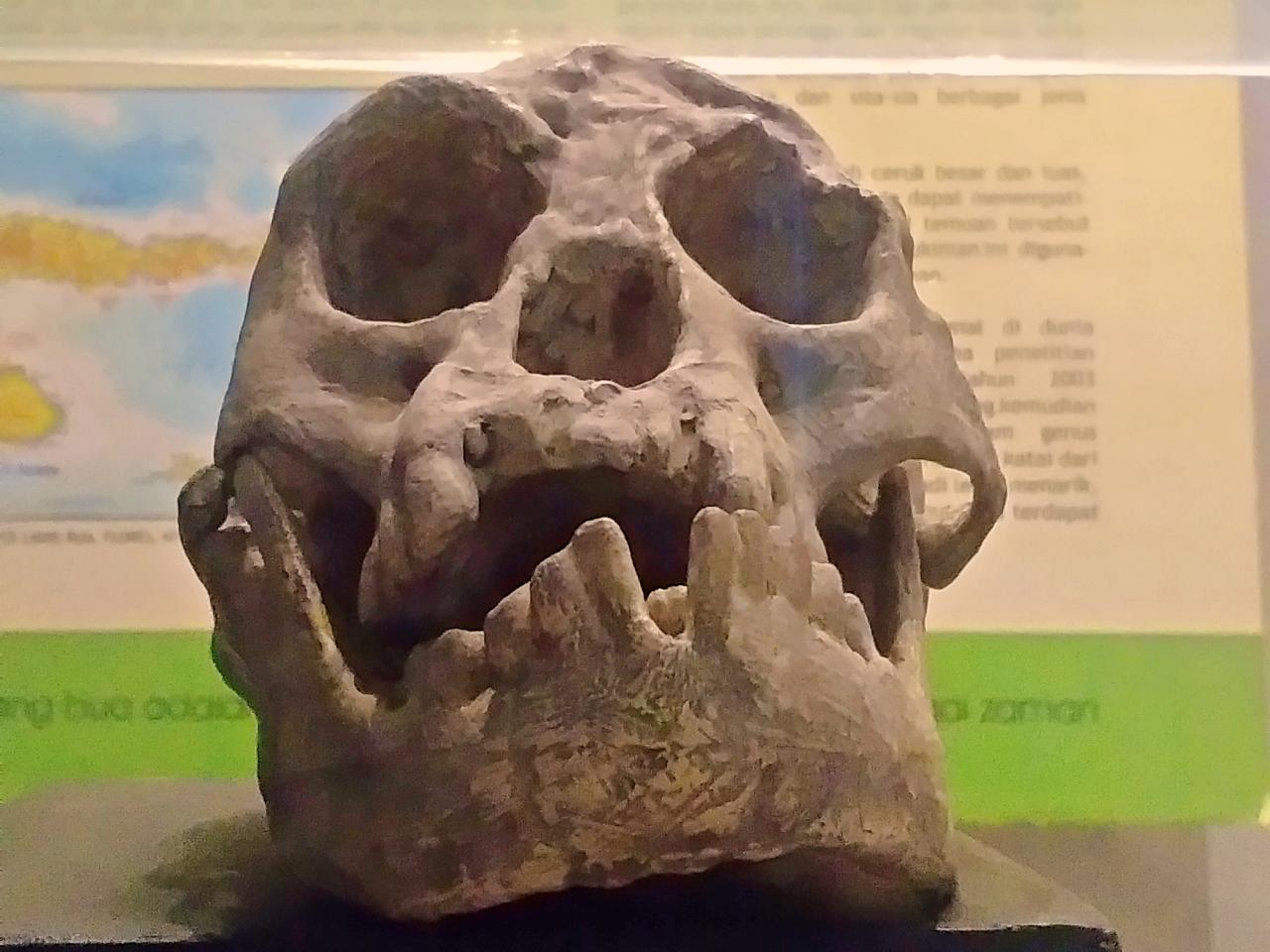 National Museum Jakarta Collection Artifacts
Inside the museum, there are thousands of exhibits lined up in sequential order. First, a bunch of cavemen mannequins pose up their routine of food hunting and gathering. Blunt-edged rock axes in their hands as they chop off the limbs of an animal to eat.
Not only are they at a life-size scale, but the figures are also lifelike too. With tan filthy skin and messy hair. They show how our ancestors looked like two million years ago. Fast forward, jump to the time when Hinduism and Buddhism first arrive in Indonesia. It all begins during the glorious ancient empires Sriwijaya and Majapahit, the economy prospered.
Indonesian Trading History
International trade with Chinese, Siamese, and Indian kingdoms was common back then. Indonesian used to trade natural goods as the main trade commodities. Take a look at the currencies, centuries-old gold and silver coins.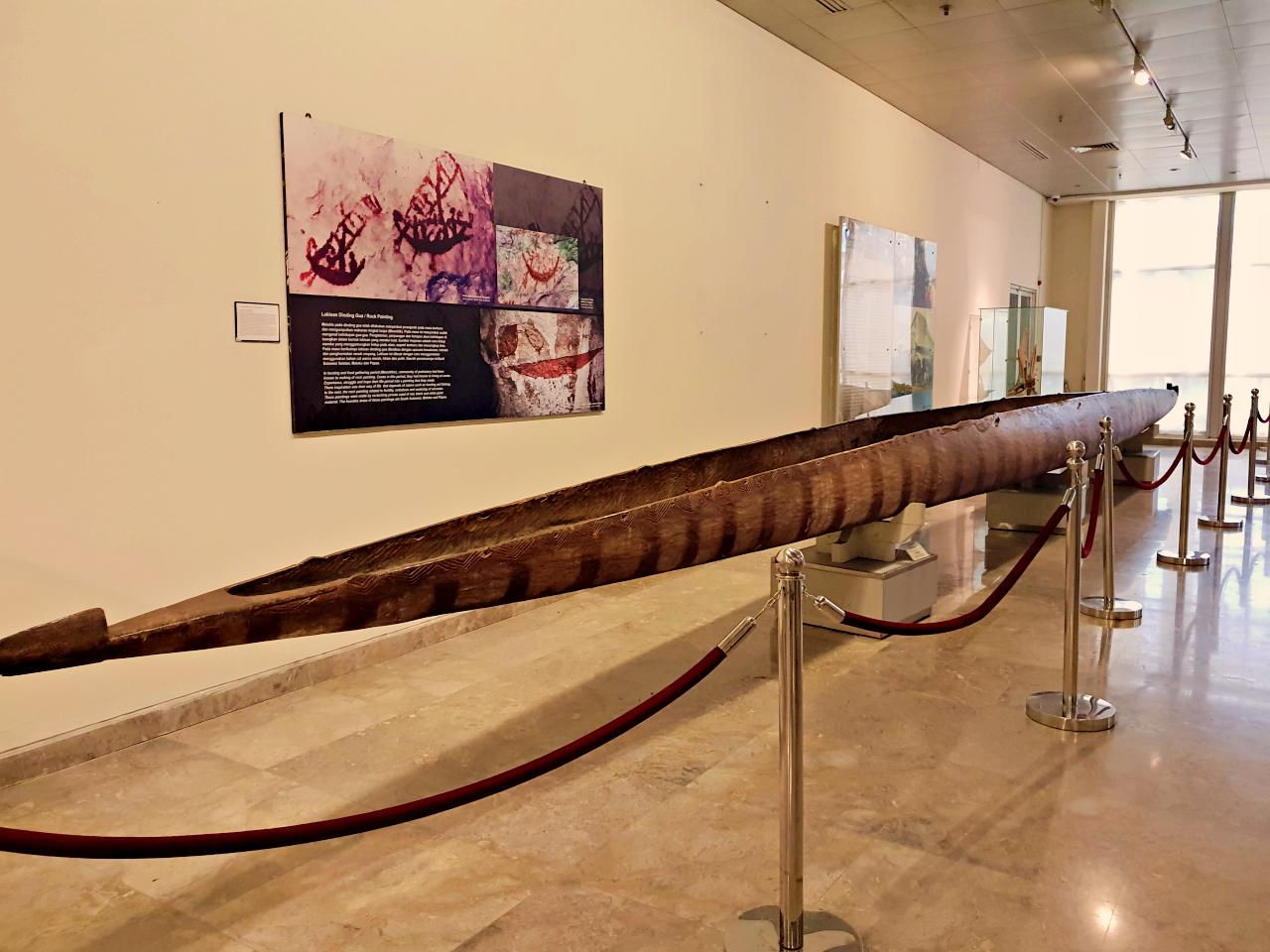 They were displayed inline inside the display shelves.  A terracotta piggy bank from the 14th or 15th century is also here. The ancient gold and silver coins mark and emphasize the dynasties' advanced economy back then.
The Ancient Indonesian Society
Remnants of pre-Indonesia temples and statues fill the museum's wing fully devoted to preserving relics. Standing over three meters tall is a rock sculpture of King Adityawarman. The King's statue gazing down at the people below. Pieces of other rock-based items surround him in the exhibition zone.
And that includes the deities' idols. Paganism had a big influence on society and life in those days. With more than 300 ethnic groups and 1,340 tribes. Indonesia is truly a diverse country.
National Museum Jakarta embraces the colorful differences in its numerous collections. Vessels of various sizes, models, and functions of Dayak, Bugis, Ambon, and other tribes march nicely.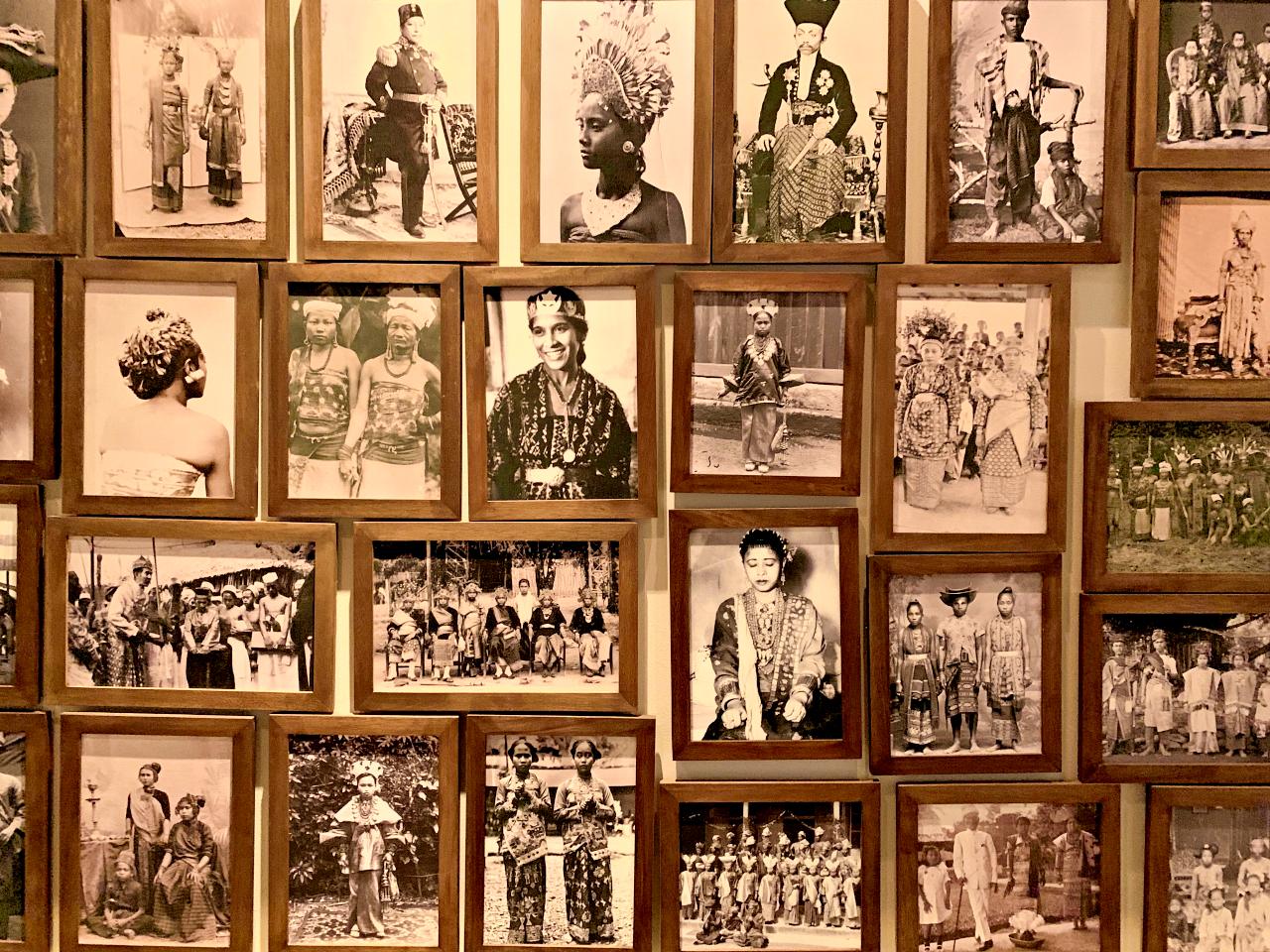 The wood-based ships bear their own tribal identities. Which can be seen from the decorations and ornaments. Unique dining utensils, like a fork made of cassowary's bone from Papua.  Indigenous wooden carvings, bamboo woven bags, and even rattan sandals are just several everyday items visitors can see.
Other artistic objects are a set of traditional music orchestra gamelan, shadow puppets wayang, and masks. The museum's strictly-guarded golden jewelry collections. As it shines so brightly that they almost blind the guests' eyes.
Learning The Traditional Dance For Free
To complete the learning experience, National Museum Jakarta provides a free traditional dance class every Saturday. Support by a cultural non-profit organization Belantara Budaya Indonesia and the museum. The class has been held since 2016.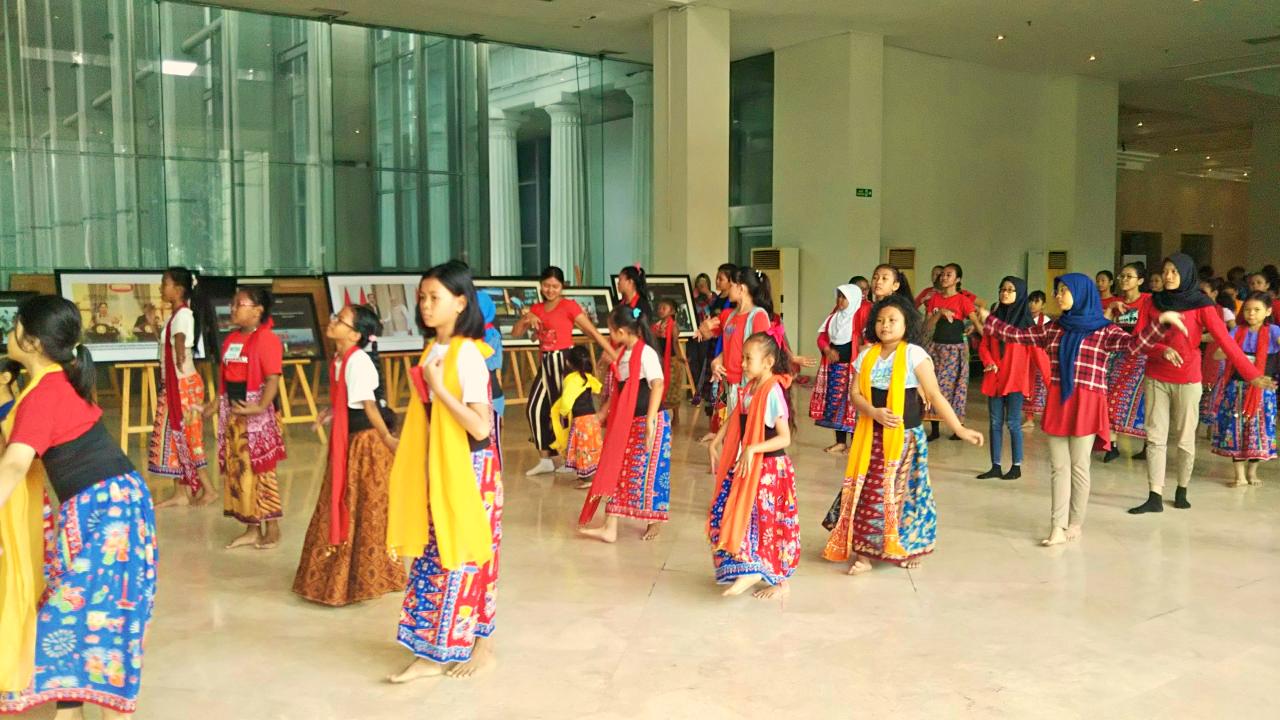 At least 70 girls and adult women learn the Balinese Pendet dance on a weekly basis. Since it charges no fee, visitors can end their trip with some dance moves to remember. Remember to come early as the class will begin from 9 AM to 12 PM.
Facilities
English-speaking guides are ready to give information to tourists. Elevators and escalators give easy access to explore all exhibition areas. Restrooms are available at every storey, including the basement below
National Museum Jakarta also provides a relaxing zone for visitors. There is a tiny cafe that serves coffee, and tea along with some pastries near the entrance. It might be the best cure to fix an overwhelm after exploring collections in the museum.
National Museum Jakarta Free Tour Schedule
English Speaking Guide
Local Time (WIB)
Tuesday
10:00
Wednesday
10:00
Thursday
10:00 & 13:30
Saturday
10:00
See: The Dutch Architecture Trace in Jakarta Old Town.
How To Get To National Museum Jakarta
The museum is very accessible by mass public transportation thanks to its strategic location. Just hop on Transjakarta bus Blok M – Kota, Ragunan – Monas, Pulogadung – Bundaran Senayan. Or Kalideres – Bundaran Senayan route.
Stop at Monas Transjakarta shelter which is directly in front of the museum. After carefully crossing the street, travelers will find themselves facing this enormous establishment. Or try the free city tour bus in Sarinah. From Sarinah mall the bus will reach the destination in only 10 minutes.
See: Jakarta Airport Guide & Public Transportation.
Address & Location
The museum location is close to Monas in Jl. Medan Merdeka Barat No.12, Gambir, Central Jakarta 10110.