Jakarta Old Town
Entrance Fee: Free Entry
Opening Hours: Open 24 Hours
Telp. Number: -
Address: Jl. Taman Fatahillah , Pinangsia, Tamansari , Jakarta Barat , DKI Jakarta, Indonesia, 11110.
Kota Tua, or the Jakarta Old Town, is a complex of 17th-century buildings in West Jakarta. Over ten buildings stand in pride against time, each is infused with a heavy Dutch architectural style. It is a clear reminder of the great influence of Dutch colonialism on pre-independent Indonesia.
Despite its occupation for 3.5 centuries. It left everlasting structures that are still worthy of admiration today. Jakarta Old Town was crucial for the classic Jakarta known as Batavia. Many came here for business. As it was near the ports and sea, easy to access. Its area covers 1.3 square kilometers, a mix of a part of North and West Jakarta.
Taman Sari and Tambora subdistricts, even the famous Chinatown Glodok are part of it too. Vacationers, however, concentrate on a smaller portion of it especially the area that houses lots of museums. It has five museums: Fatahillah, Wayang, Arts and Ceramics, Mandiri Bank, and the Bank of Indonesia.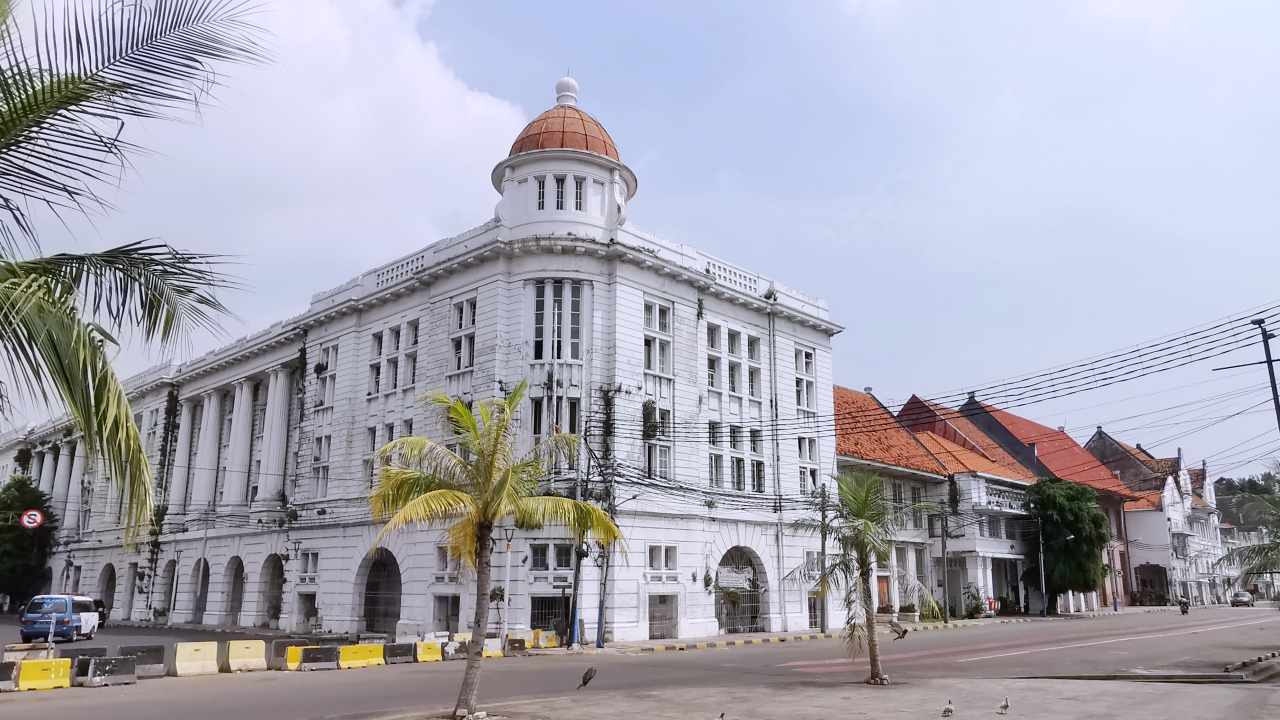 Instead of erecting new buildings, the quintet uses the old ones already made by the Dutch. Therefore, visitors get to see the museums' wondrous displays while experiencing vintage structures. These five are so close to each other that tourists can visit them all at once. Everything is within walking distance—no need to break a sweat.
Jakarta Old Town Entrance Fee
There is no charge to explore the Fatahillah square area. The Fatahillah square is a place where street performers, street food vendors, and visitors mingle. On the other hand, the museum's entrance fee costs around Rp5.000 for admission. Such an affordable price for an extensive historic journey.
Jakarta Old Town Entrance Fee
Square area
Free entry
Museum
Rp5.000
See: Street food Jakarta Culinary Spot & Guide.
Jakarta Old Town Opening Hours
The old town area is open 24/7 and to explore the square, there is no time limitation. Except for visiting the 5 museums in the area. The museums are open every day except on Mondays and national holidays. Most museums open at 8 AM and close at 3 PM. The Old Town's cafés and restaurants usually welcome customers from 9 AM to 11 PM.
Jakarta Old Town Opening Hours
Every day
24 Hours
See: Monas, Guide To Explore Museums & Attractions.
Jakarta Old Town History & Rise and Fall
During the 17th-19th century, Batavia soared to prominence thanks to its status as a trade center. Merchant vessels wandering around the islands would come across Batavia thanks to its strategic location. The Colonials took this to their advantage by declaring it as the capital of the Dutch East Indies.
Business was so good, captains from abroad referred to it as "The Queen of the East". Exotic spices such as cinnamons, cloves, and nutmegs remained the much-sought commodities. The Jakarta Old Town was the beating pulse for Batavia's business and economy. To make it homey, the Dutch applied their distinctive urban planning in and around the Old Town.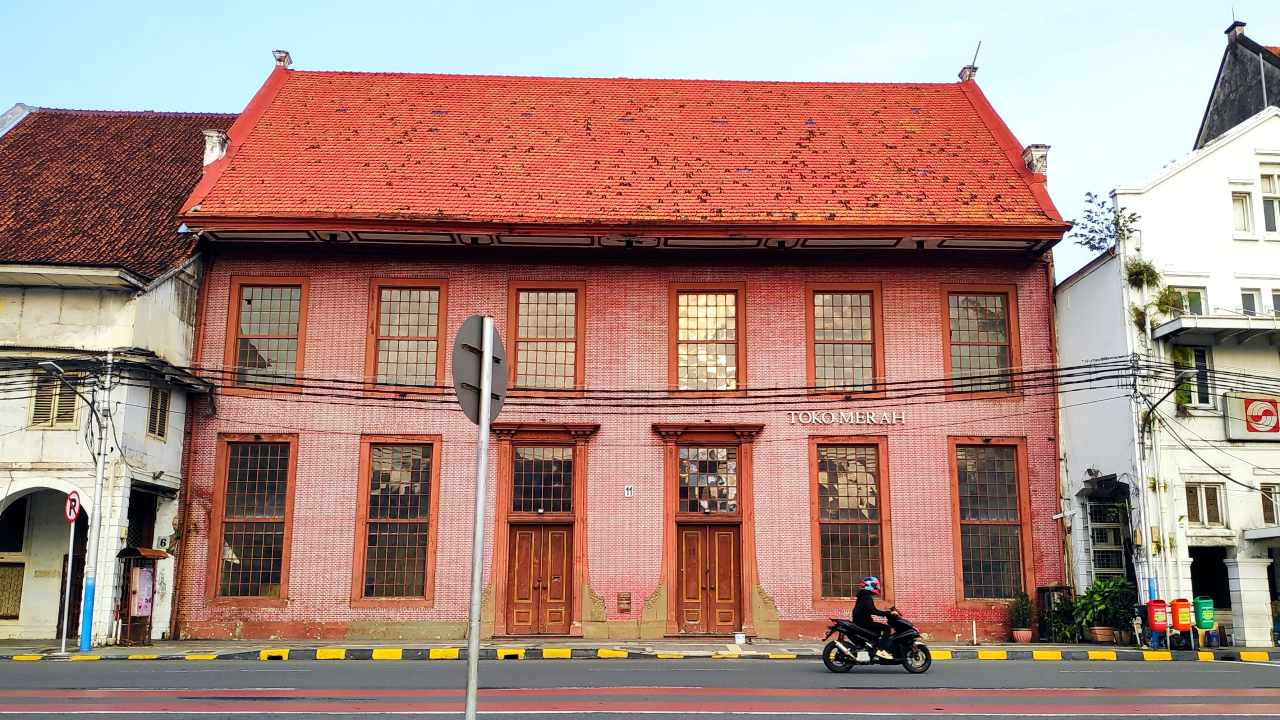 They built fortresses, churches, public squares, water canals, boulevards, and many more. They rolled up their sleeves to make sure that all architectural marvels were perfect. It was like a small fragment of Amsterdam in a tropical setting and climate. Whatever goes up must go down—and that was exactly what happened here.
In the late 18th century, Jakarta's Old Town, unfortunately, turned into a ghost town. The water canals were no longer functioning properly and malaria was everywhere, forcing the residents out. In 1808, the authority established new buildings around Merdeka Square (Monas) and Sawah Besar. They demolished many Old Town buildings and used the materials for the new construction project.
Jakarta Old Town Attraction
Tempo doeloe or "the old-time" is the main theme of this destination. Rows of rented, colorful, onthel bicycles create a rainbow of pink, green, and blue at Fatahillah Square. Those vintage vehicles were used to transport Dutch prominent figures called Meneer or some wealthy natives. Now tourists can hop on those bikes to go around the square.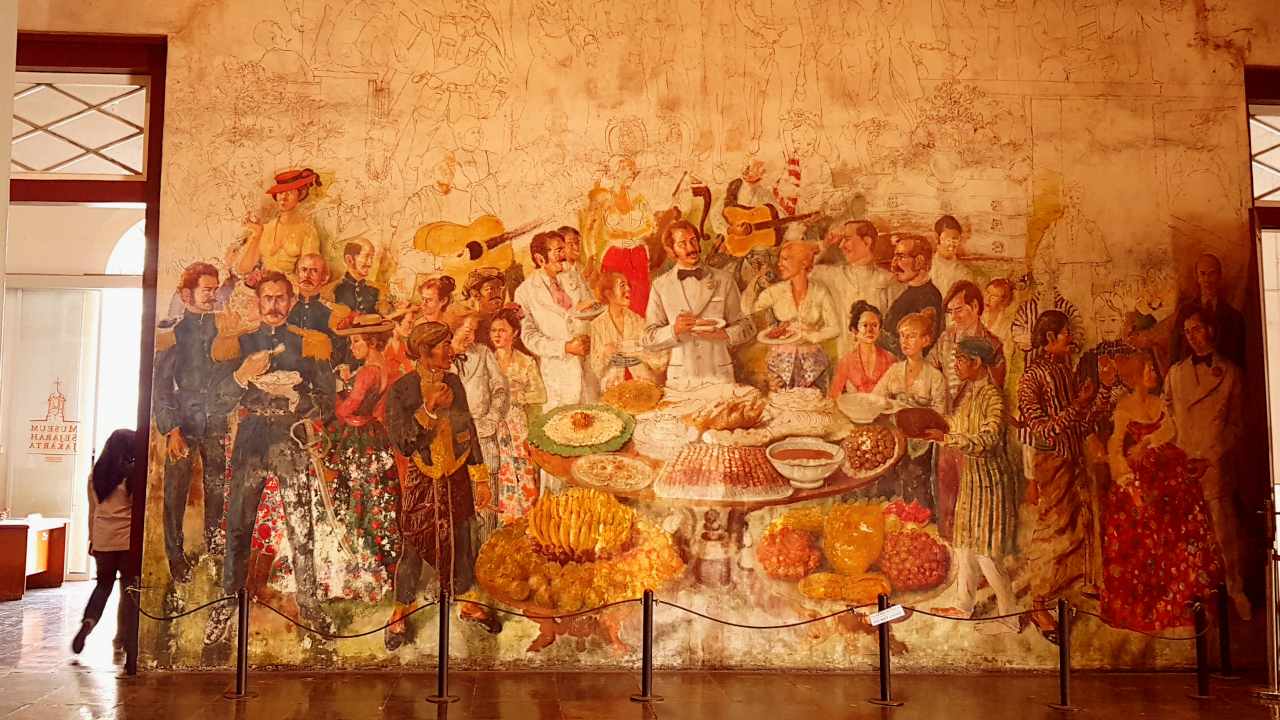 Art & Street Artist
Still, in the open of the Old Town's Fatahillah square, dozens of street performers are busy busking. Some sing 70s ballads while others put on heavy makeup, blonde wig, and baroque gowns. Those female cosplayers are mimicking Nyonya or (foreign) Madam during the colonization era.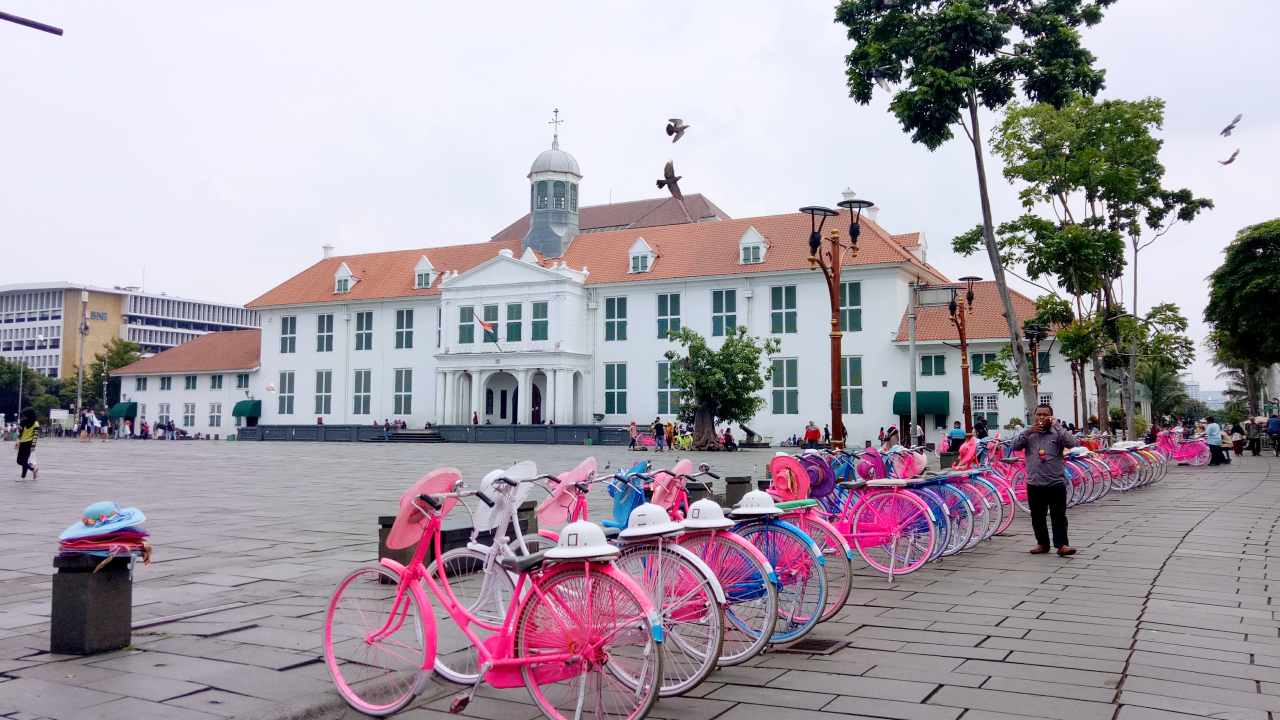 They are more than happy to snap pictures with visitors at a cheap price. Another bunch of street artists go the extra mile for their routine shows. They fully cover their faces, bodies, and costumes in golden or silver paint.
Later, they will strike a pose and go stiff, not moving any muscles. Other than acting as living statues, they also perform the optical illusion of levitating in the air. Instead of taking pictures with a camera, why not have a self-portrait? A group of street painters occupies the brick-based alley next to Fatahillah Museum.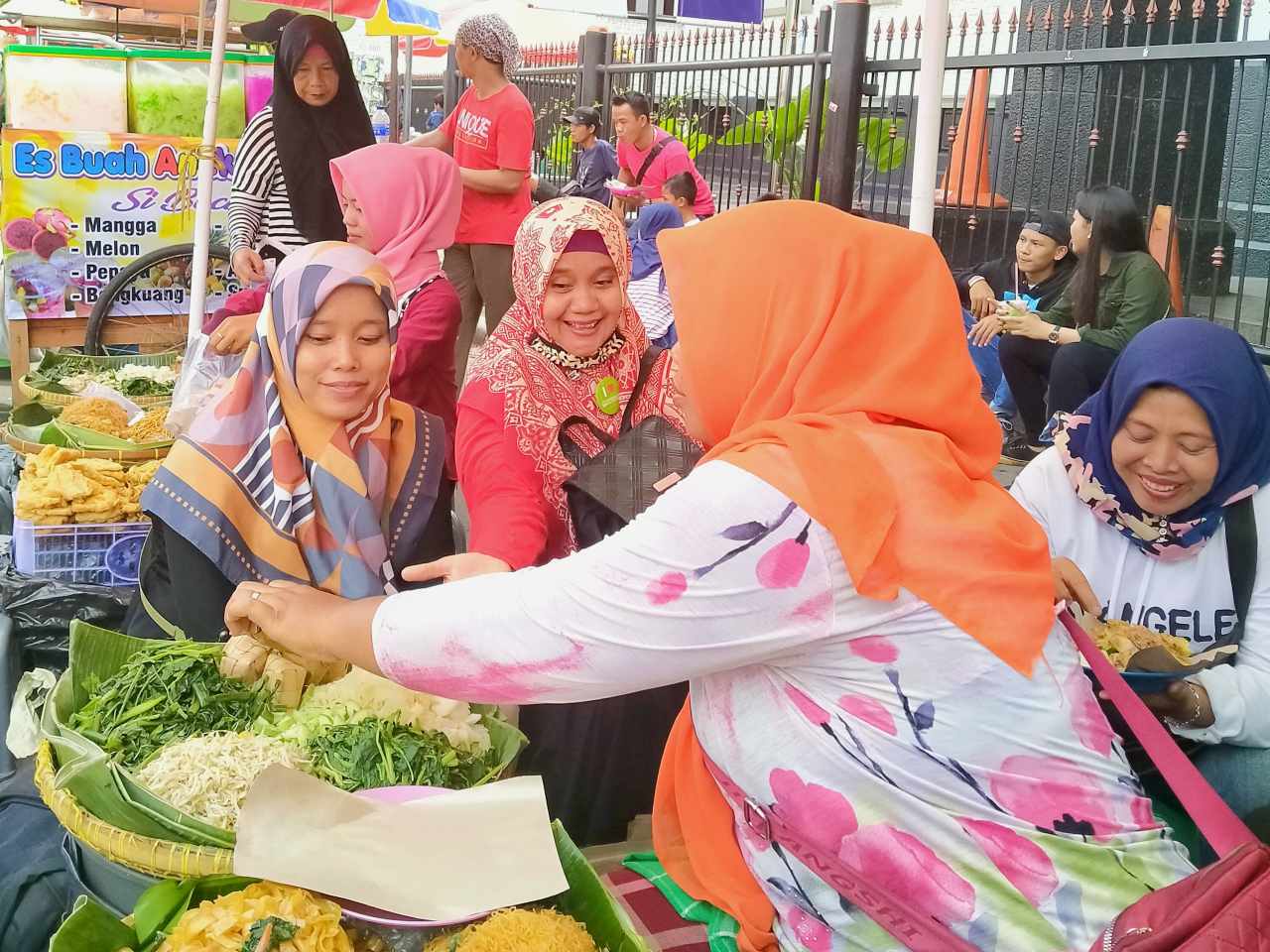 They channel their artistic views on any medium, be that a canvas or plain white paper. These artists can make realistic or comical paintings of the tourists' faces by order.
See: Jakarta to Bandung Public Transportation Guide.
Tracing the History in Museums
Let's not forget to pay a visit to the five museums. Fatahillah Museum recites Batavia's history and Wayang Museum focuses on dolls and indigenous shadow puppets wayang. Meanwhile, just like its name, Arts and Ceramics Museum boasts hundreds of artsy pieces.
Bank of Indonesia Museum explains in detail the country's currencies and financial development throughout the ages. Lastly, Mandiri Bank Museum gives a glimpse of how the banking was like in the 1930s.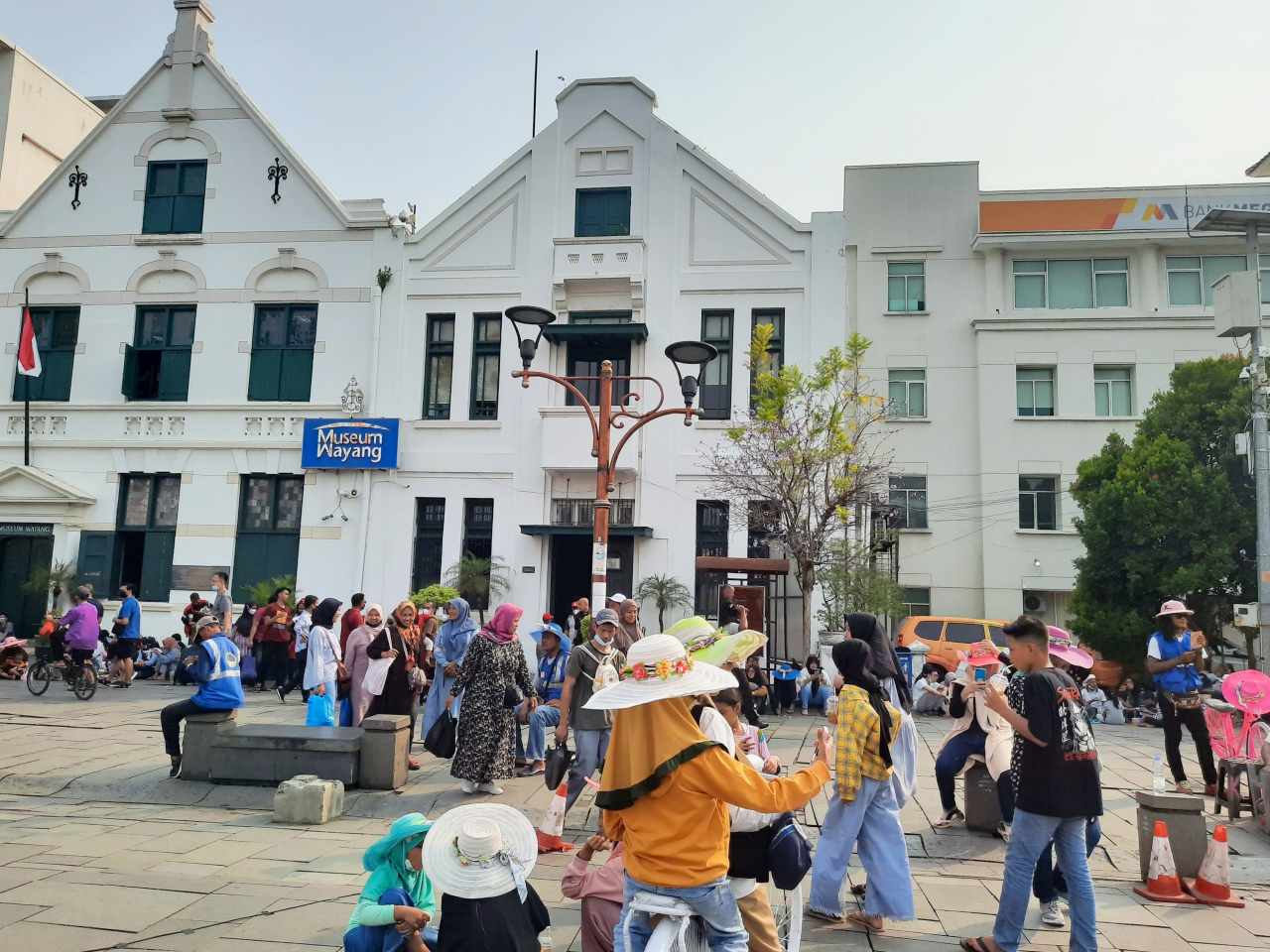 Street Food, Cafe & Night Street Photography
The tropical scorching sun in the middle of the day may be energy-draining and dehydrating. Fret not as several cafés and coffee shops are there to serve up refreshing concoctions. Tea, coffee, even wine, and cocktails are nothing out of ordinary at the old town's eateries. Those beverages go well with Western, Peranakan, and Indonesian light or heavy meals.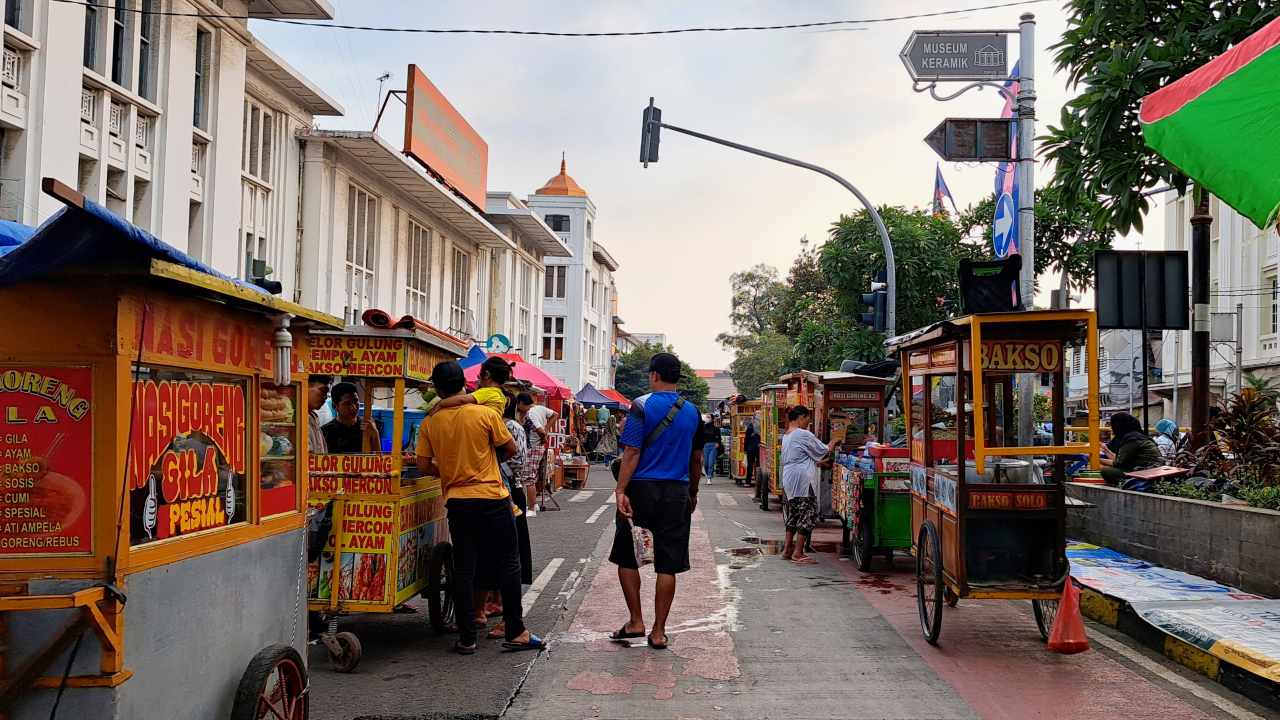 This filling dining experience goes even better with the Tempo Doeloe ambiance of the culinary establishments. To dose up the romanticism, try dropping by the Old Town in the evening. The dark antique buildings and the flickering lights of purple and yellow provide a romantic view.
Although the museums are closed at night, the buildings are still magnificent under the moonlight. Sometimes, tourists can hear the bell dinging on top of the Fatahillah Museum. It might mean nothing nowadays but when imperialism still ruled, it indicated an impending execution.
See: Guide To Explore Istiqlal Mosque, The Biggest in SEA.
Facilities
Jakarta's old town area only has a handful of public restrooms and they are not clean. Visitors better use restrooms at the nearby minimarkets or inside the museums. The guides can speak English and sometimes French or Dutch, and friendly too.
The guides, are commonly available in museums. But they are insightful and know a lot about the old town area. Cafés and restaurants are in the center and corner of Fatahillah Square so they are easy to spot.
Read: Free Traditional Dance Class in National Museum Jakarta.
How to Get To Jakarta Old Town
Travelers can opt for KRL commuting train or Transjakarta busway to get to this nostalgic site. Get on the KRL train bounds for Bogor – Jakarta Kota or Bekasi – Jakarta Kota. Stop at Jakarta Kota train station and take a brief walk to the Jakarta old town.
As for the Transjakarta busway, take Blok M – Kota, PIK – Balai Kota, or Pluit – Tanjung Priok. Stop at Kota Transjakarta shelter and march to Jakarta's old town by foot for five minutes. The bus and train fare is cheap Rp3.000 to Rp3.500 ($.25) for a one-way trip.
Prepare electronic money cards such as Flazz, Brizzi, or E-money for using public transportation in Indonesia. The cards can easily be purchased in minimarket like Indomaret and Alfamart. The price for an e-card is around Rp20.000 to Rp30.000 with or without credit. To buy credit, passengers could also do it at the same time in the mini market.
See: Indonesian SIM Card, Data Package & Price.
Address & Location
Jakarta old town attractions such as museums and Dutch old buildings are mainly located on Taman Fatahillah Street, Pinangsia, Tamansari, West Jakarta 11110.