Jakarta History Museum Entrance Fee: Rp2.000 - Rp5.000 Opening Hours: 09:00 - 15:00 WIB Telp. Number: - Address: Jl. Taman Fatahillah No. 1, Pinangsia , Tamansari , Jakarta Barat , DKI Jakarta, Indonesia, 11110.
As the name implies, Jakarta History Museum is the learning center of Batavia's (old Jakarta) history. The museum, also known as Fatahillah Museum, sits gracefully in the middle of Fatahillah Square, West Jakarta. It is one of five notable museums in Kota Tua or Old Town. The 1,300-meter square institution draws enormous waves of curious visitors every day.
According to the official, at least 1,000 foreign and local tourists come here per day. As the building itself is three centuries old, it cannot contain over 200 visitors per hour. However, the DKI Jakarta Provincial Government responsible for its maintenance ensures that every inch is well-preserved.
Even though it still needs much restoration, the maintenance does pay off. The thick white walls are still intact and the wooden floors don't squeak much. Other than its eternal elegant exterior, Fatahillah Museum lures travelers with its historical exhibits. More than 23,000 original artifacts and replicas are on display, telling Batavia's long course of history.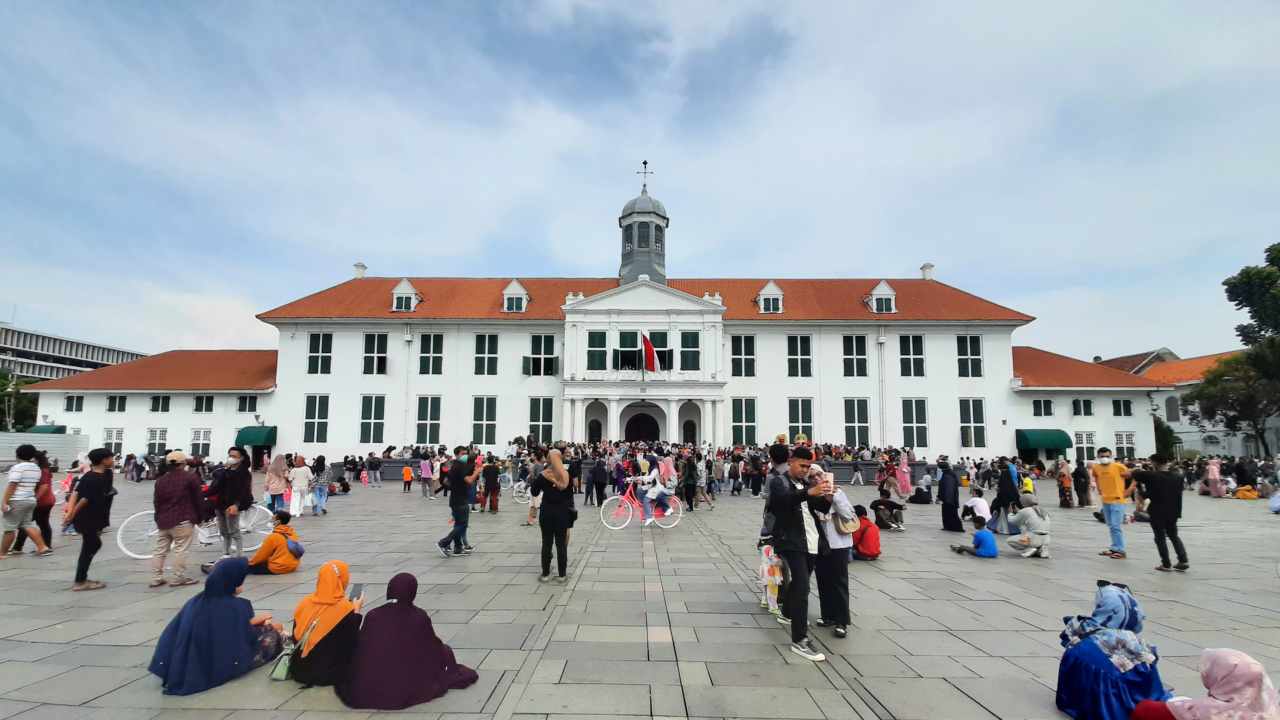 There are old maps, ceramics, and paintings depicting the Dutch grip over this archipelago. Near the museum's entrance, a medieval armor with a waist-long sword stares at visitors in silence.
Jakarta History Museum Entrance Fee
The admission ticket for local and foreign tourists is extremely cheap. So for less than a dollar, visitors can explore the entire museum building. Ask for the internal guide provided by the museum to know the history better.
Jakarta History Museum Entrance Fee
Children/Student
Rp 2.000
University Student
Rp 3.000
Adult
Rp 5.000
Guide
Free, a tip is expected
See: Guide To Explore The Biggest Mosque in Asia, Istiqlal.
Jakarta History Museum Opening Hours
The museum is open from Tuesday to Sunday and closed on Mondays and national holidays. It opens from 9 AM to 3 PM. The best time to visit Jakarta History Museum is on weekends and past noon. Since the entire old town area will be full and packed with visitors and street food vendors.
Jakarta History Museum Opening Hours
Tuesday – Sunday
09:00 – 15:00 WIB
See: Watching The Street Performance in Jakarta Old Town
Jakarta History Museum Vital yet Gory Past
In 1707, the Dutch colonials started the construction of Batavia's Stadhuis, City Hall. The three-story building was like a mini version of Amsterdam's Palais of de Dam. It showed off the 17th-century Dutch architectural style, including the cupola on top. Three years later, Governor-General Abraham van Riebeeck inaugurated the building.
It served as a city hall until 1913 when Batavia's development grew southward. Despite its political and administrative reputation, it, however, has witnessed countless horrific events. Back then, City Hall square (now Fatahillah square) was a venue for inhumane massacres and executions.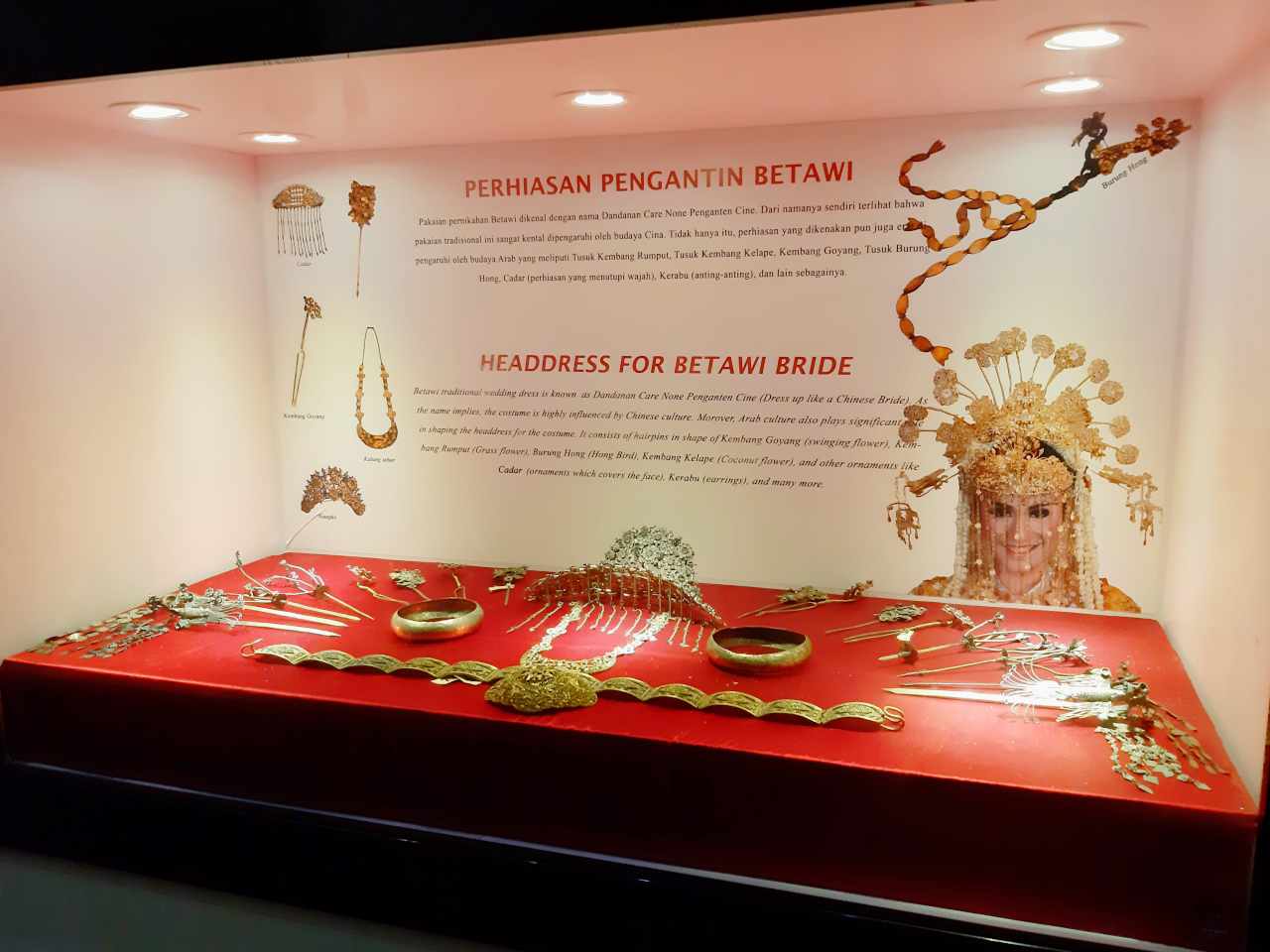 The Dutch executors hung thousands of Indonesian freedom fighters and rebels to death in public. It was an intimidating warning so no one would ever dare to fight against the ruling colonials. They made their point even clearer by having another public slaughter called "Pecah Kulit" incident.
In 1722, an Indonesian-German man Pieter Erberveld had so much grudge and hate towards the Dutch. With his loyal Indonesian associates, they plotted a rebellion against the government. The authority, unfortunately, found out about this plan and sentenced Erberveld and his 17 friends to death.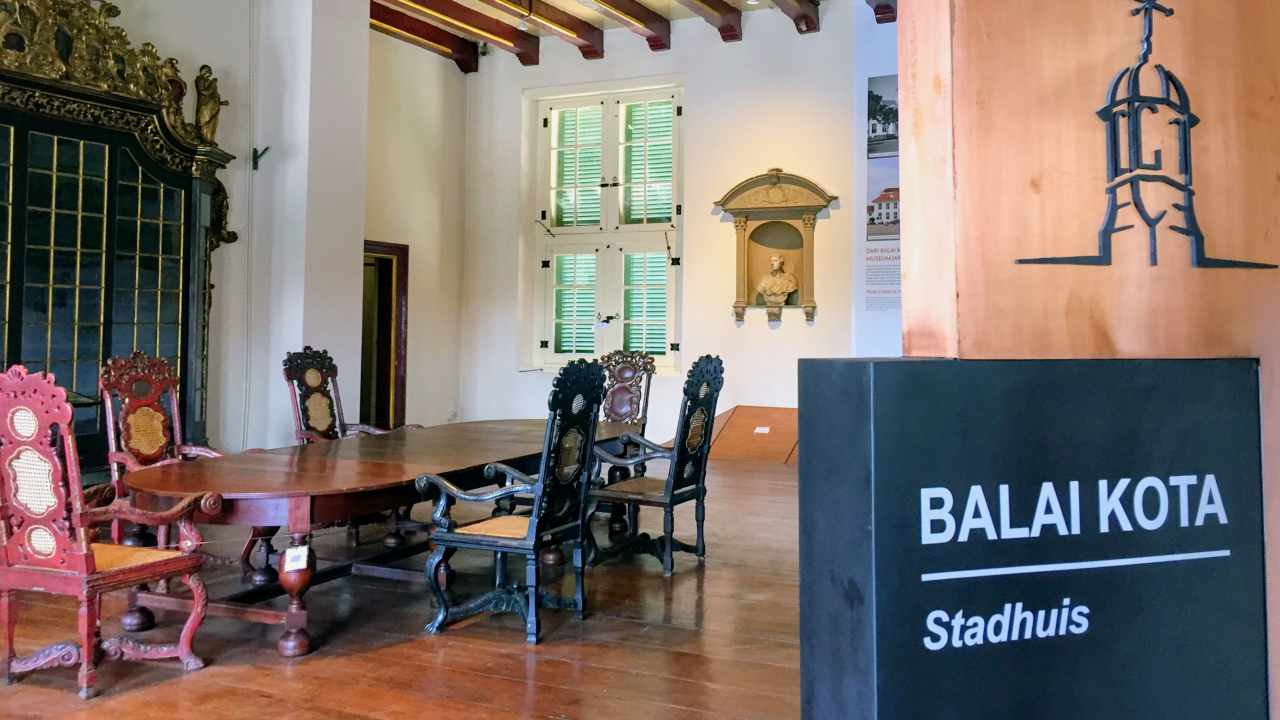 The Execution and Massacre
The executors tied Erberveld's hands and feet to four strong horses. The horses ran in four different directions, rupturing his body into four pieces. They took his head and impaled it on a sharp spear, again, as a warning. Later, the Dutch built a monument saying: "As a reminder of the traitor Pieter Erberveld".
In October 1740, the bloody extermination against Chinese residents took place in and around Batavia. The Dutch soldiers killed around 10,000 Chinese men, women, and children everywhere, including at the City Hall square. Bodies scattered on the streets, alleys, and even water canals, piling up so high. The fall of sugar prices and big unemployment rate led to this "Geger Pecinan" genocide.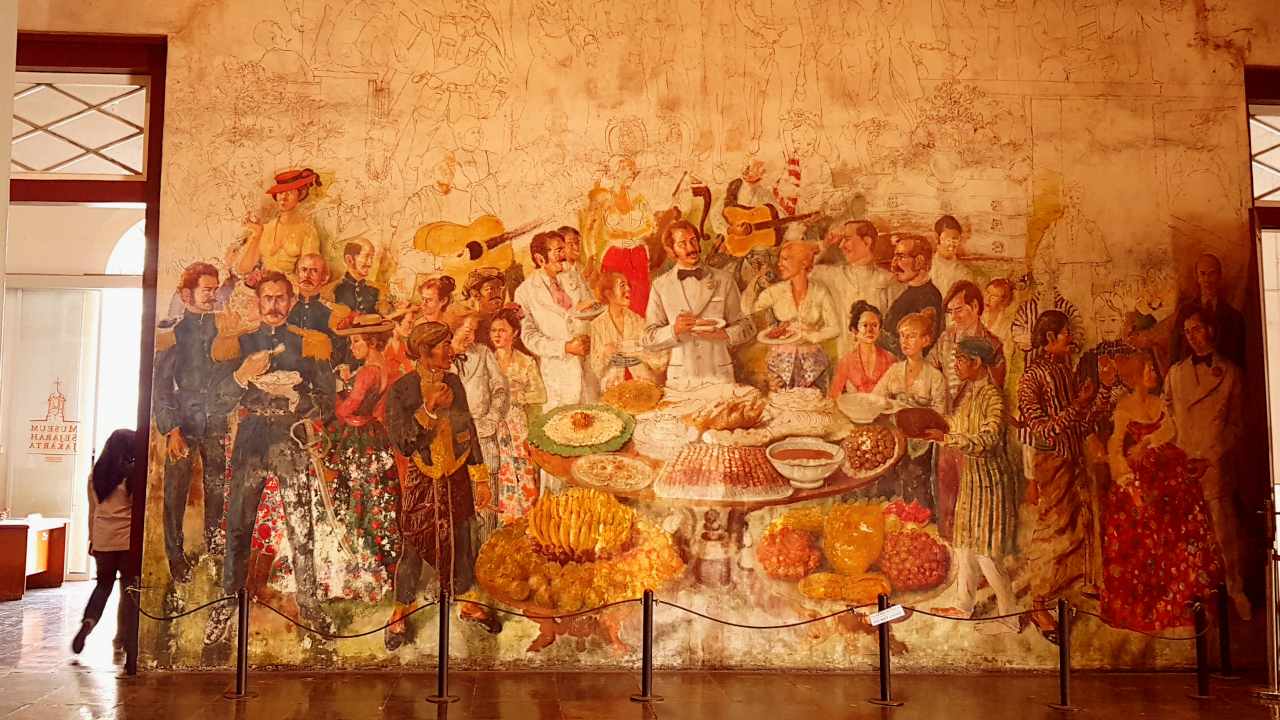 Gloomy Relics
In front of the building, tourists can see a 3.5-ton cannon dated back to 1641. A Portuguese blacksmith Manuel Tavares Bocarro forged the cannon himself in Macao. The cannon, called Si Jagur, helped the Portuguese army fight against the Dutch troop in Malacca. The Dutch won and brought along Si Jagur to Batavia's City Hall as loot.
Despite its main function as the city's governmental and administrative center, the City Hall had dungeons. Hundreds of prisoners were awaiting trials. Which eventually led to a death sentence in these tiny cells. Starving and cramped, they slowly and painfully rotted and met their end inside. When the tide was high, water flooded the dungeons and submerged the prisoners.
An Indonesian hero Pangeran Diponegoro was once behind its bars before his exile to Manado, North Sulawesi. Even if the prisoners survived the dungeons, they were living in constant fear of execution. It was only a matter of time until the generally unfair judge sent them to the gallows. Simple dings of the building's bell indicated when a prisoner was brought to the court.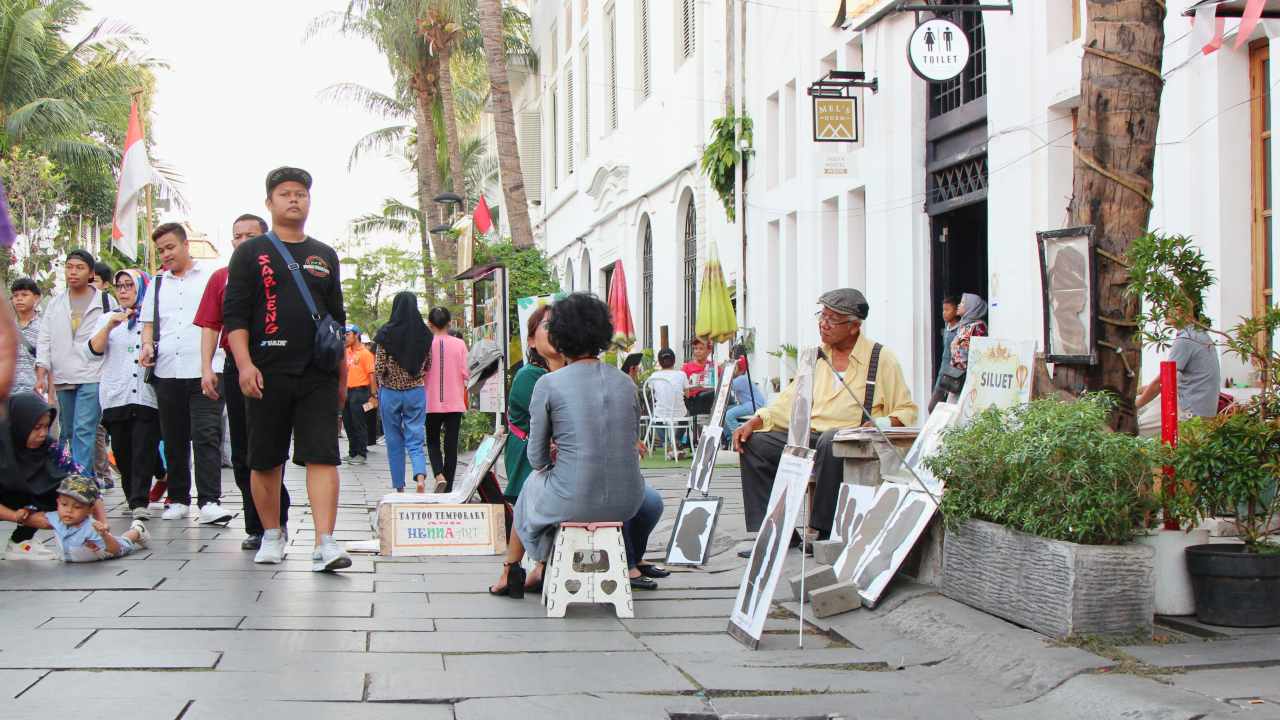 Later, the bell went ding again and the guards dragged him/her to the square for execution. The death bell, made in 1742, still perches on top of the tower.
The Secret Chamber
In 2010, the officials discovered a 200-meter-square secret chamber hidden in the museum. Murals of 19th century Batavia with its classic hustle and bustle adorn the walls. Previously in 1974, the then DKI Jakarta Governor Ali Sadikin assigned two Indonesian painters to decorate it.
Due to the building's intense humidity, the paint could not stick properly to the walls. Therefore, half of the murals have remained unfinished and uncolored ever since. Regardless of its dire past, Fatahillah Museum is not always about encountering the grim reaper. In March 2014, the DKI Jakarta Provincial Government held Fatahillah Fiesta.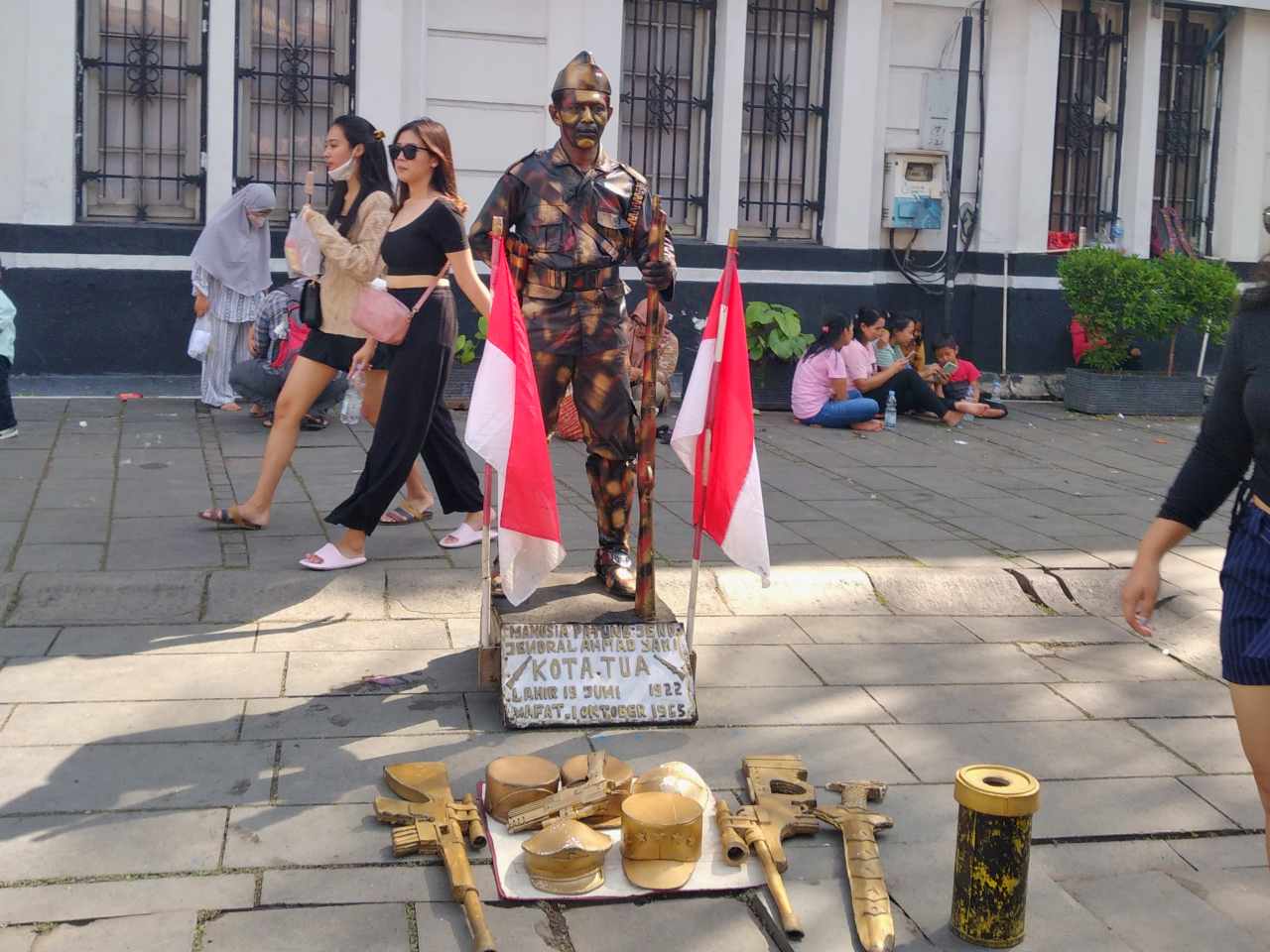 Colorful lights danced on the walls on which a video mapping was projected. The mouthwatering smell and presentation of limitless traditional dishes called for hungry foodies. The officials, however, cannot confirm if there will be another fiesta coming soon afterward.
See: Jakarta to Bandung Transportation Guide.
Facilities
English or Dutch-speaking guides are available to walk international tourists through the museum. Clean restrooms, which are scarce in the old town area, ensure convenient tours.
Meeting rooms cater to those wanting to have a discussion or other events. It possesses a library complete with numerous books and documents about Indonesia's history. Don't forget to go to the souvenir shop at Jakarta History Museum for some memorable collectibles.
See: Tourist SIM Card, Price & Data Package.
How To Get To Jakarta History Museum
The museum is situated in Jakarta's old town area. First, from any tourist staying area in Jakarta, there are public transportations that go to the Jakarta Kota area. Travelers who stay near a train station could opt for the commuting train KRL to Jakarta Kota. The train fare is Rp3.000 for up to 25 km distance.
Prepare electronic money cards such as a Flazz card, Brizzi, or E-money. The e-card can be easily purchased at minimarkets like Indomaret and Alfamart. The same thing as buying credit. It's easy, hassle-free and there always a minimarket in every train station. The card could also be used to pay for bus tickets such as Trans Jakarta.
For travelers staying near Sarinah, there is a Trans Jakarta bus that heads to the old town area. Go to the nearest bus shelter and catch the Blok M-Kota line. The bus fare is Rp3.500 ($.25) for a one-way trip. Stop at the last destination and walk 500 meters to the museum.
See: Jakarta Airport Soekarno Hatta, Guide & Public Transport
Address & Location
Jakarta history museum is located in Jl. Taman Fatahillah No.1, Kota Tua, Pinangsia, West Jakarta 11110.