Street Food Jakarta
Entrance Fee: Free Entry
Opening Hours: 09:00 AM - 04:00 AM
Telp. Number: -
Address: Jl. Sabang / Jl. H. Agus Salim , Kebon Sirih, Menteng , Jakarta Pusat , DKI Jakarta , Indonesia , 10350.
Jakarta has a famous area that foodies regard as a culinary heaven. Located near the busy Thamrin Road. Jalan Sabang or Sabang Street hosts the best street food Jakarta scene in town. The road spans approximately 1 km behind Sarinah Shopping Mall. Restaurants and cafes line up neatly on their left and right. However, the party only starts around the evening.
As the sun goes down, street food vendors begin to roll in their stalls and open their tents. They fill up the side of the pavement, slowing down the evening traffic. Passerby, hungry after work, would stop their vehicle and begin queuing to order. Not only locals, but tourists, and expats also join in the chaos.
The variety of food in the Sabang area is astonishing. Try not to be overwhelmed by the food option. There are delicacies from various regions in Indonesia.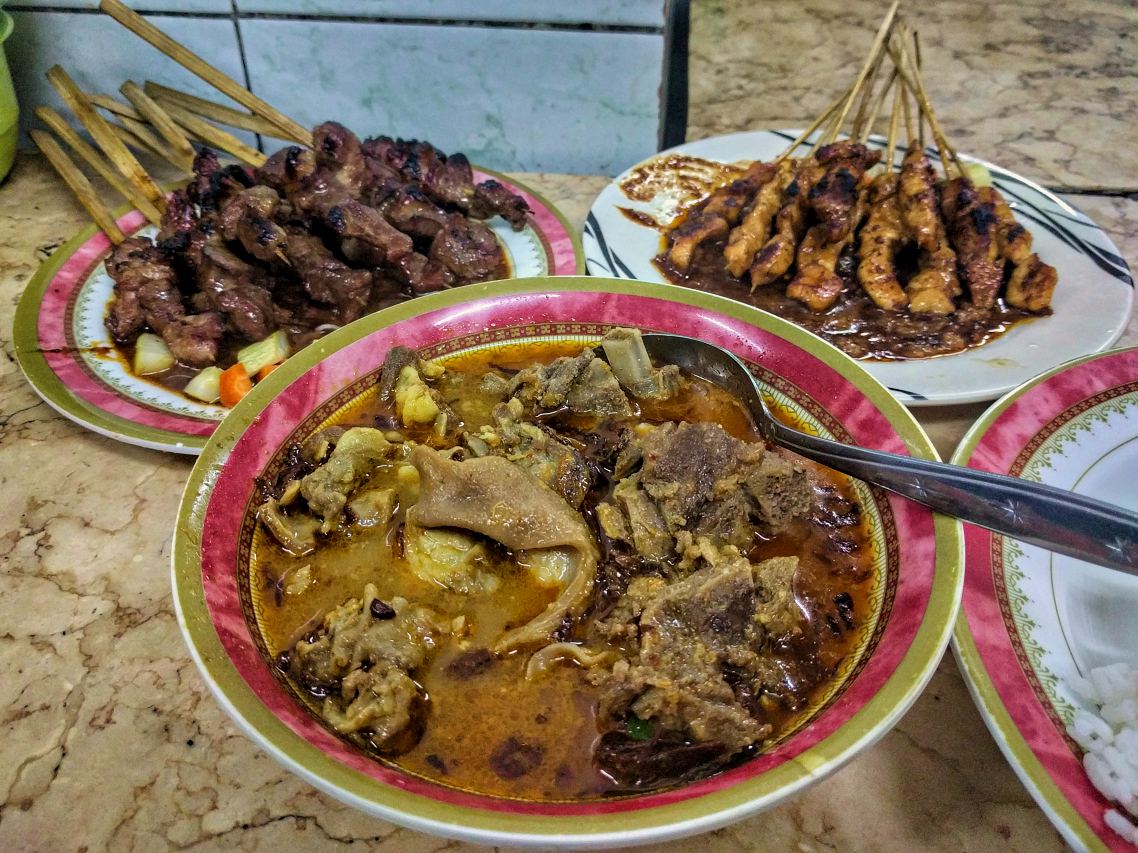 Whether one would crave Betawi food, Javanese food, or Sumatra's Minang delicacies for the night. The choice is plenty for everybody. Not only for food diversity but Sabang is also favored for its price range, which is around low to medium.
Varieties of Fried Rice
It's not a secret that fried rice is the national dish of Indonesia. And the top street food dish in Jakarta. Here, there are plenty of vendors selling this delicacy, more than one can count. Each vendor has a distinct taste. Nasi Goreng Kebon Sirih, for example, is famous for its mutton-fried rice.
The dish is quite popular among street food hunters in Jakarta. Their secret recipe is able to minimize the goat meat aroma that so many people detest. People also call the dish "Nasi Goreng Gila", which means insane fried rice.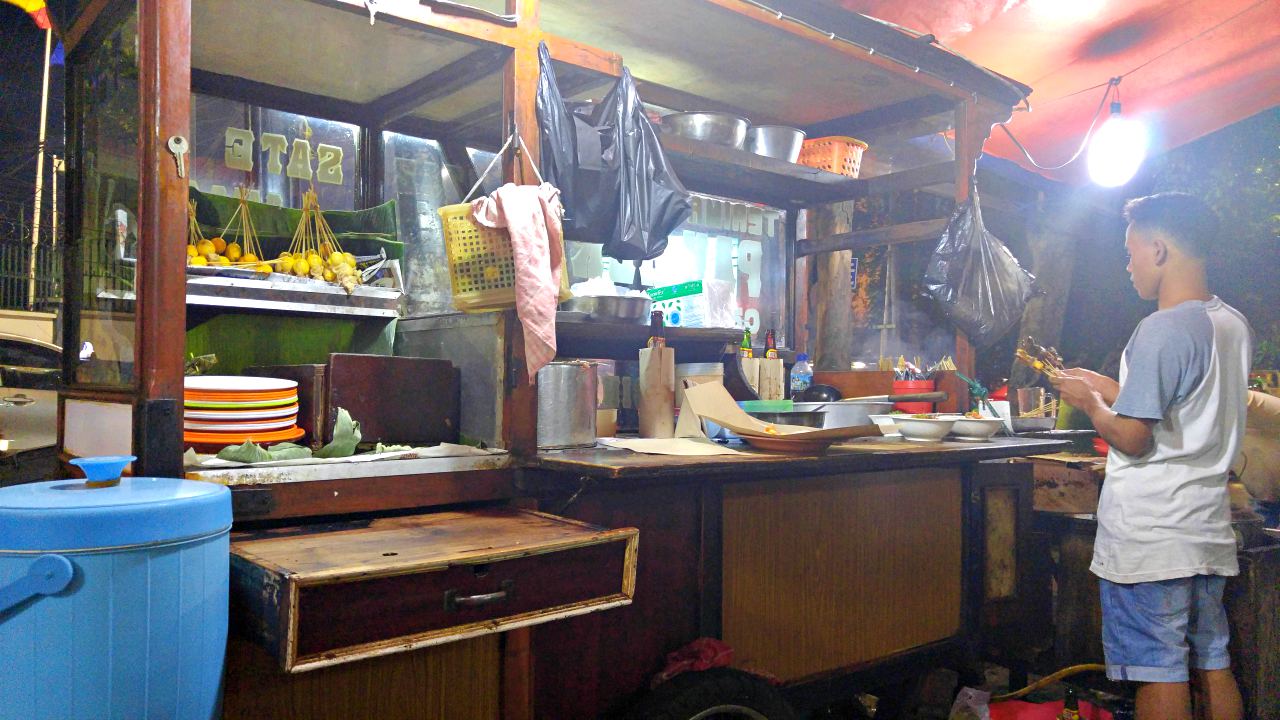 Moving to its neighbor, Nasi Goreng Bang Roby is another visitors' favorite. All thanks to its assortment of fried rice, from mutton to sausage, to chicken. They also give a generous portion at an affordable price. Apart from fried rice, also try their fried noodles and signature chicken porridge. Prices at Bang Roby start from Rp16.000 to Rp30.000.
Street Food Jakarta, Satay & Mutton Soup
Fans of traditional meat skewer satay will have plenty of options at Sabang. Do not miss the most popular, Sate Lamongan Jaya Agung. The booth has maintained its amazing reputation since 1975. Undeniably legendary, feel the tenderness of their goat satay, along with the mutton soup as its companion dish.
Across the road, Sate Pak Heri is in tight competition with Jaya Agung. The line of customers is also long here. Pak Heri's stall is especially famous for its juicy chicken skin satay. Like Jaya Agung, they also offer a mutton soup dish.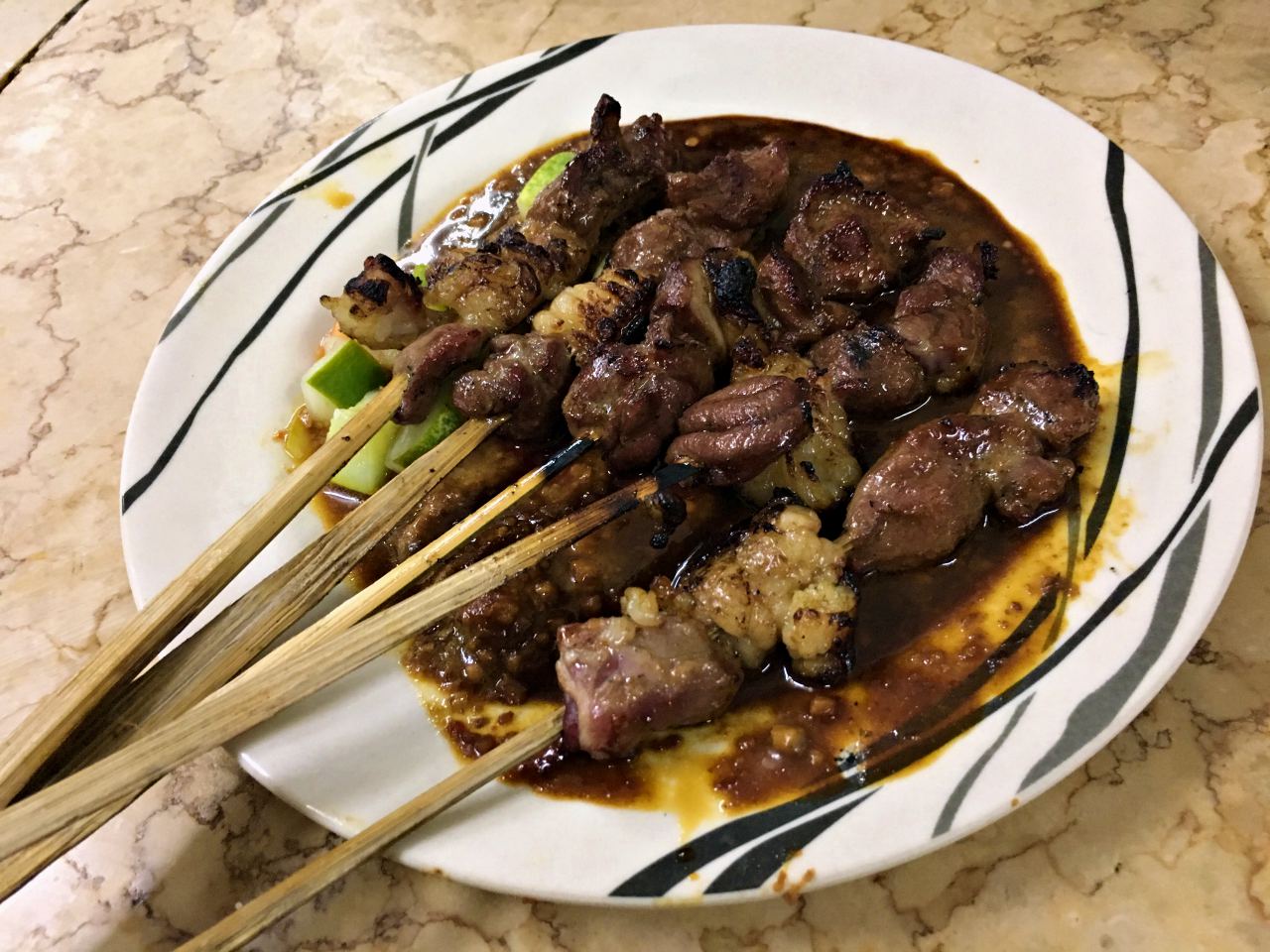 Ben Seafood
Ben Seafood may look shanty from the outside. But do not be fooled by the outer appearance, which totally does not represent the food quality here. Delicious sea products are cooked with rich spices and flavorful sauce.
For starters, order the fried squid as an appetizer. The crab with Padang sauce comes next. Also, consider salted squid eggs with Balado spices and various types of grilled fish.
Street Food Jakarta, Kampung Kuliner Sabang
In the middle of Sabang road, there is a small alley with rows of stalls left and right of the road. This small enclave is called Kampung Kuliner Sabang (Sabang Culinary Village). Enjoy strolling here without worrying about traffic.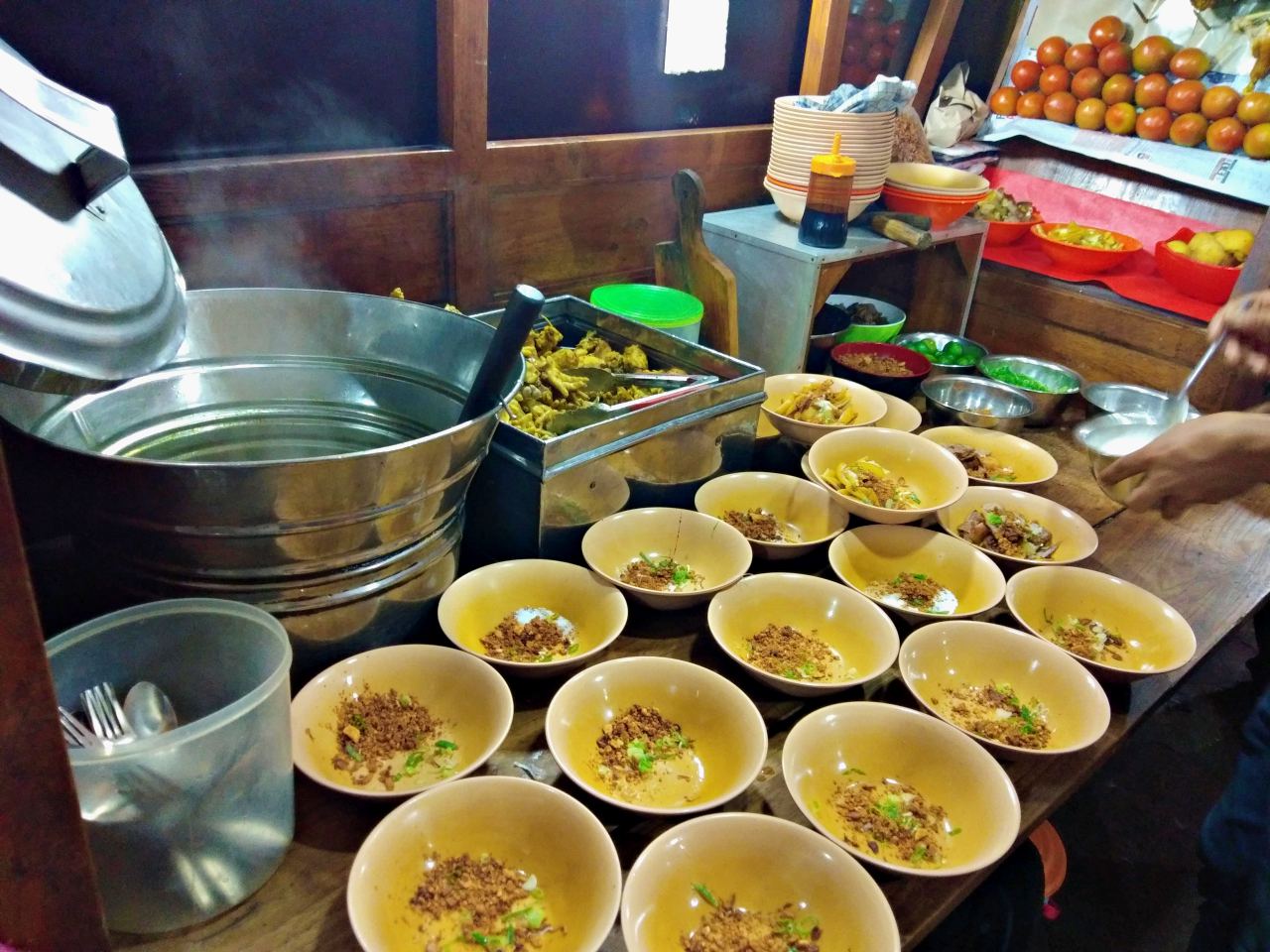 There are plenty of food carts selling popular Indonesian street food. Such as Soto the aromatic soup, the noodle dish bakmi, and the famous Indonesian meatball. The highlight of this part of Sabang is the chicken feet soup by Pak Gendut.
The simple streetside stall can only accommodate 15 customers at once. Yet people keep queuing just to get the taste of the soup. Savor the thick flavorful broth with a bowl of steamed rice. The super delicious taste explains why people are willing to wait outside.
Kopi Oey
Among the many coffee shops at Jalan Sabang, Kopi Oey is perhaps the most popular and unique. This vintage Chinese-style coffee shop is determined to serve the best coffee in town but at an affordable price.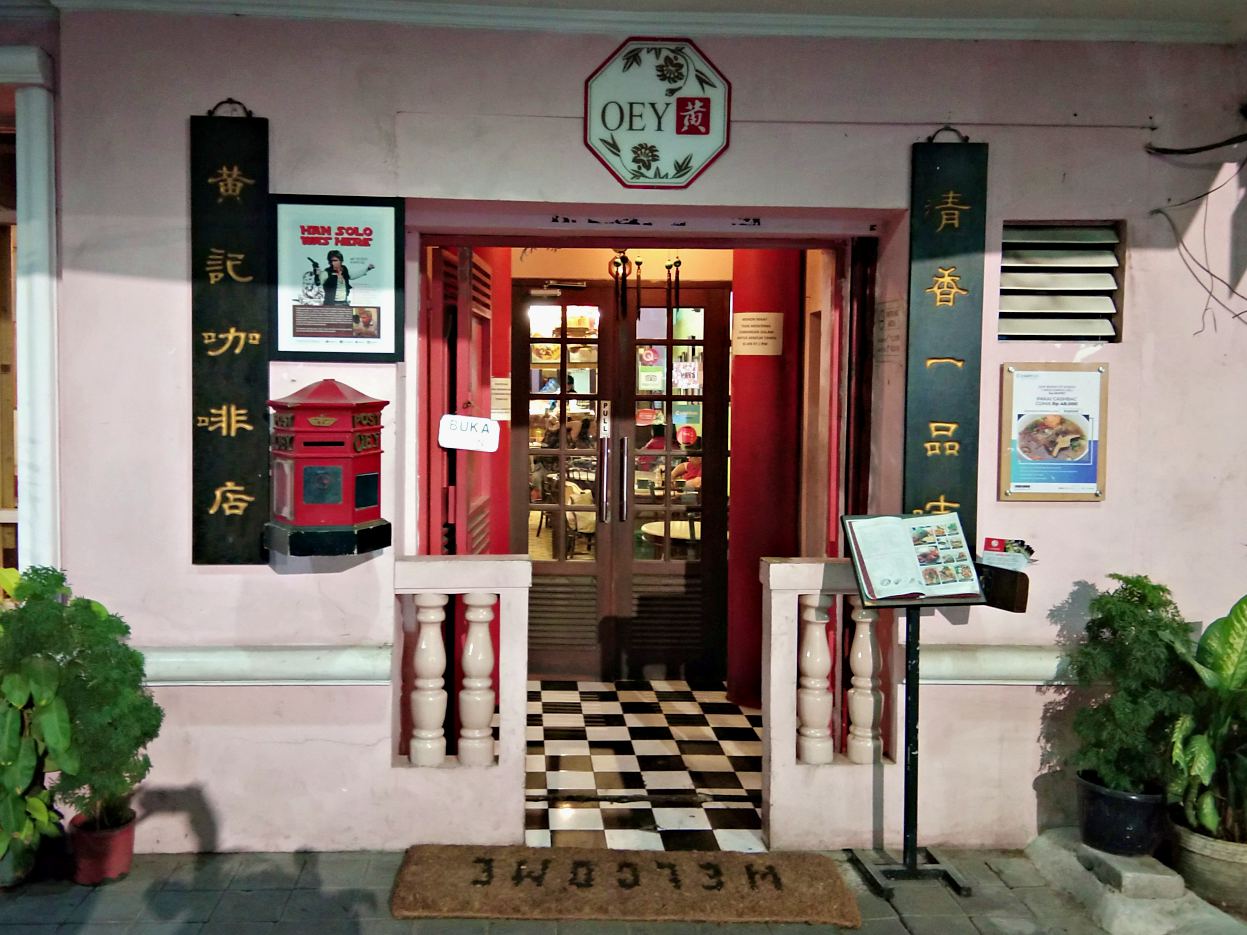 With only Rp20.000, enjoy a cup of Koffie Soesoe Indotjina (Indochina coffee with milk) while admiring the painting of Chinese girls on the wall. The coffee shop also has non-coffee beverages and snacks on its menu.
Vintage Cake Shop Sakura Anpan
For confectionery and dessert, go to this legendary bakery called Sakura Ampan. Established in 1978, Sakura Anpan still maintains its old-fashioned style today.
The cake shop is spacious and quiet, a nice break from the crowded street outside. The aisle displays dozens of types of traditional cakes, tarts, pies, and bread. Prices are amazingly cheap, starting as low as Rp5.000 for a piece of cake.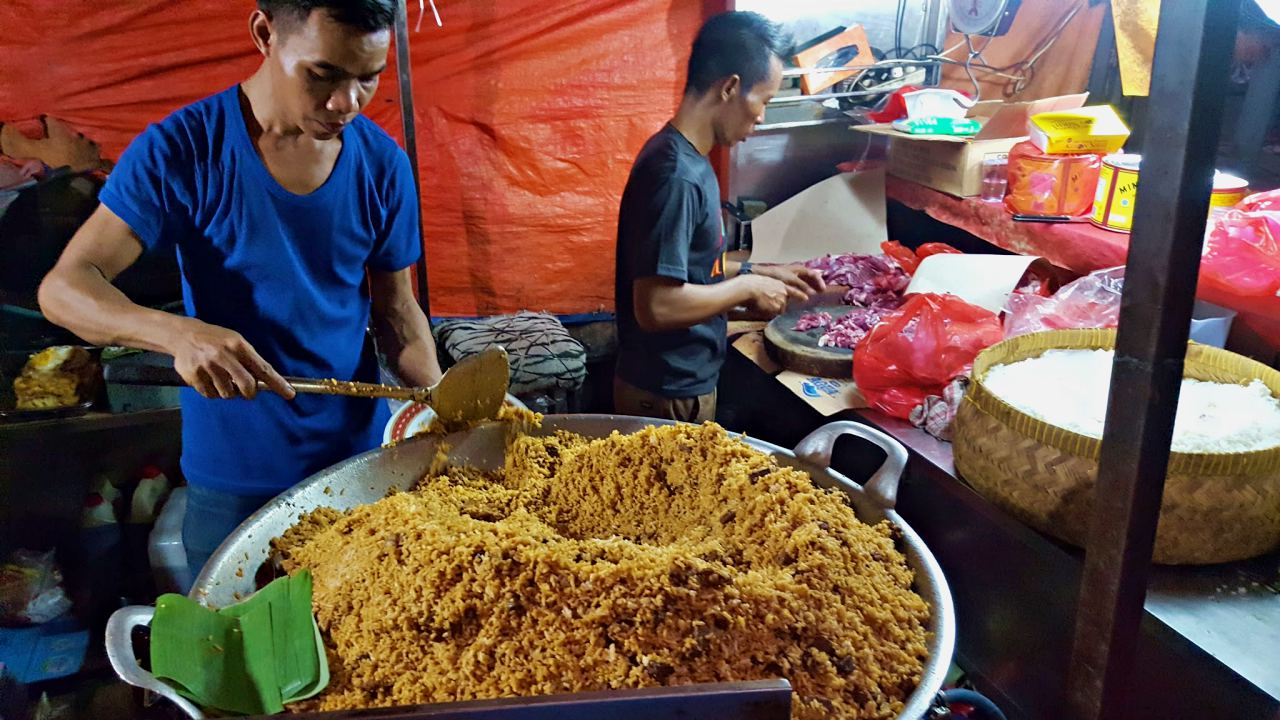 Street Food Jakarta Opening Hours
Most vendors begin to open from 5 PM until midnight. Some of the restaurants are open 24 hours. On average, street food Jakarta on Sabang street costs Rp25.000 per portion. For safety tips, always ask the price before ordering to avoid being overcharged. Keep belongings under supervision. Prepare for more crowds when eating after office hours. As it is surrounded by the office building.
Street Food Jakarta Vendor Opening Hours
Nasi Goreng Kebon Sirih
10:00 – 02:00
Nasi Goreng Bang Roby
17:00 – 02:00
Sate Lamongan Jaya Agung
09:00 – 22:00
Sate Pak Heri
09:00 – 04:00
Ben Seafood
18:00 – 12:00
Culinary Village Sabang
17:00 – 23:00
Kopi Oey
07:00 – 23:00
Sakura Anpan
09:00 – 21:00
See: Indonesian SIM Card, Registration & Top Up Credit.
Facilities
Facilities vary from one establishment to another. In general, hygiene is not the best trait in this area. It has conditions and standards like any typical street food market in the country. Some restaurants and cafes have better facilities, however, the price will, of course, be affected. Parking is available located at the roadside.
See: Monas Landmark Guide, Museum & Activities.
How To Get To Sabang Street
Street food Jakarta in Sabang is easily accessible from any point of Jakarta using Trans Jakarta busses corridor 1. Just stop at the Sarinah bus shelter. Then walk for 2 minutes to get to the location. Sabang is only a walking distance from Jakarta's National Monument and Gambir Railway Station.
See: Jakarta To Bandung Guide, Shuttle & Public Transportation.
Address & Location
Most street food in Sabang street is located just behind the Sarinah building.