Glodok Chinatown Market
Entrance Fee: Free Entry
Opening Hours: 07:00 - 20:30
Telp. Number: -
Address: Jl. Pancoran, Glodok, Taman Sari, West Jakarta , DKI Jakarta, Indonesia , 11120.
Though Glodok Chinatown is a disheveled area, the Indonesian biggest Chinatown is a cultural heritage destination. The place is over 300 years old and was enlisted top 50 tourism villages of the ADWI—Anugerah Desa Wisata Indonesia (Indonesian Tourism Village Award). It features the acculturation of Chinese, Sundanese, Betawinese, and Javanese ethnic groups. One of the spots included in the tourism village is Glodok Chinatown Market.
Don't expect a comfortable trip when visiting. The market is an open space where hundreds of vendors and buyers huddled together in the tropical heat with damp air. There will be most crowded during Imlek, the Lunar New Year of the Chinese. However, there is more to explore here.
Many old buildings rich in Chinese ornaments made this place a cultural heritage. Miscellaneous goods are available at the market from fresh vegetables to fish and meat, from weddings to burial equipment, and from Chinese trinkets to traditional Chinese medicine.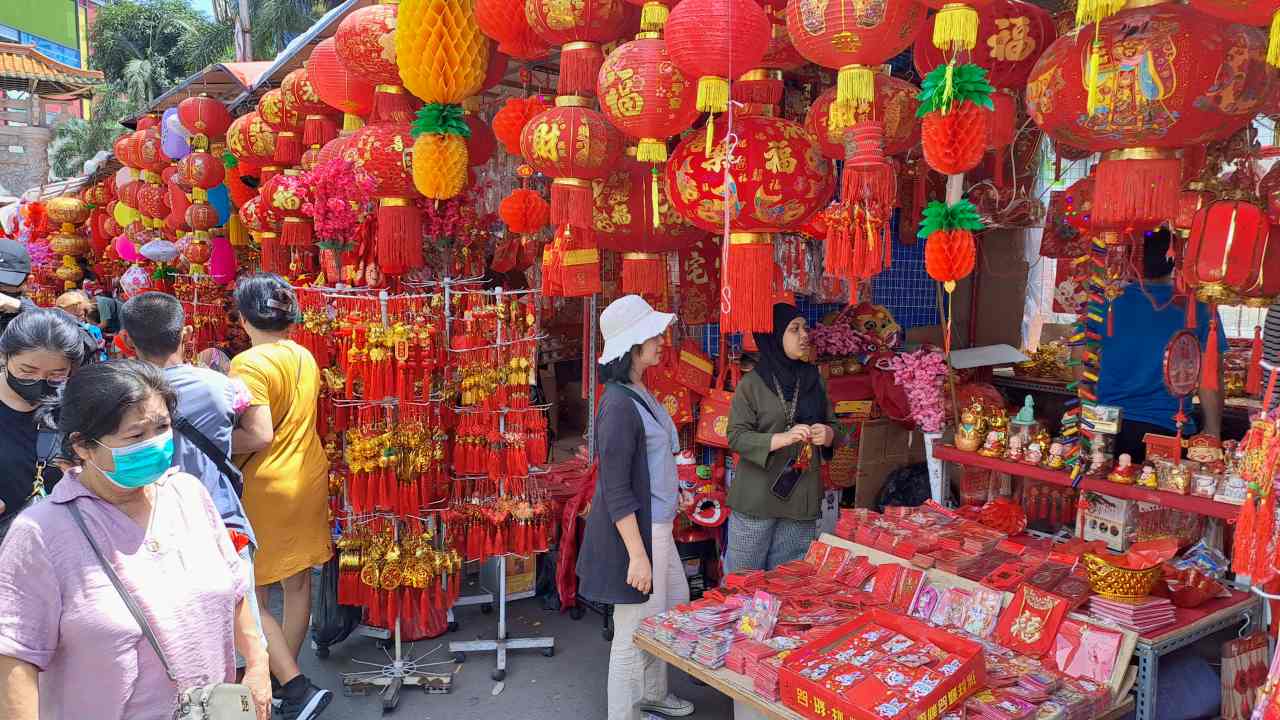 Glodok Chinatown Market Entrance Fee
Just like any market, there is no entrance ticket. However, for travelers coming with a private vehicle, the parking fee here in Glodok for a car is Rp5,000 for 1 hour. And parking lots here are quite limited.
Glodok Chinatown Market Entrance Fee
Ticket
Free Entry
Parking
Rp5,000/hour (car)
See: Guide To Explore Monas Landmark & Museum.
Glodok Chinatown Market Opening Hours
Most vendors in the Glodok market are open from 7 AM to 7 PM every day. And food vendors located in Petak 6 and Petak 9 are mostly open as early as 10 AM to 8:30 PM. Some close early at 3:3o PM, and opens early on weekend from 8 AM.
Glodok Chinatown Market Opening Hours
Every day
07:00 – 19:00
Petak 6
10:00 – 20:30 (weekday) / 08:00 – 20:30 (weekend)
Petak 9
06:00 – 15:30
See: Jakarta Istiqlal Mosque, Visitors Guide To Explore The Biggest Mosque.
Shopping Basic Needs in the Market
As in any other traditional market, the busiest time in the wet market is from 5 AM to 11 AM. Most vendors open in these times are greengrocers, butchers, and spices stalls. Other commodities in the fish and meat section are sea cucumbers, pork, frog, freshwater softshell turtle, and dried shark fin that are hardly seen elsewhere.
Sea cucumbers are sold for 1 to 2 million rupiahs per kg, the softshell turtle is Rp70,000/kg. Most shops in the market building open a little later at 07:00 AM. There are commonly clothing, household stuff, traditional Chinese medicines, and confectionaries such as dried fruits, sweets, cookies, and candies. Other Chinese-related stuff is incense sticks and lampions.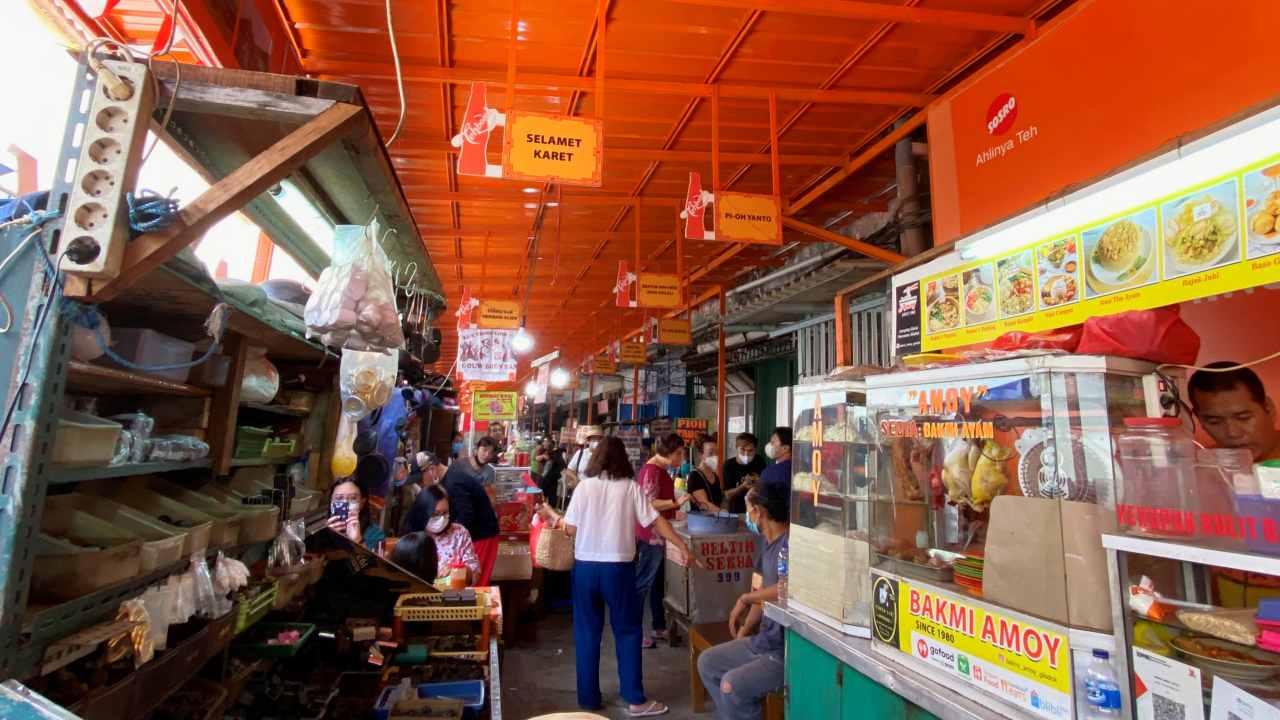 In the Lunar New Year season, the market will be full of red and gold colors. Stalls will be full of Chinese traditional costume cheongsam, lampions, and envelopes. One thing to remember is to always watch belongings. Pocket picking is common in crowded places everywhere.
Glodok Chinatown Market Historical Buildings
To the east of the market lies the oldest Buddhist temple in Jakarta. Constructed in 1650, great fires destroyed the temple twice, first during Angke Tragedy in 1740. The second was in 2015 which burned the building and many statues but the 300-year-old Kwan Im Goddes. Not only Buddhist, Confucianists also pray at the temple.
The temple is a symbol of inter-religion tolerance. In Ramadhan, many foods are provided to feed Muslims who fast in breaking time. The other temple that is as old as Dharma Bakti is Toa Se Bio, which also witnessed the Angke Chinese ethnic massacre in 1740. It is stipulated as a historical inscription by the government.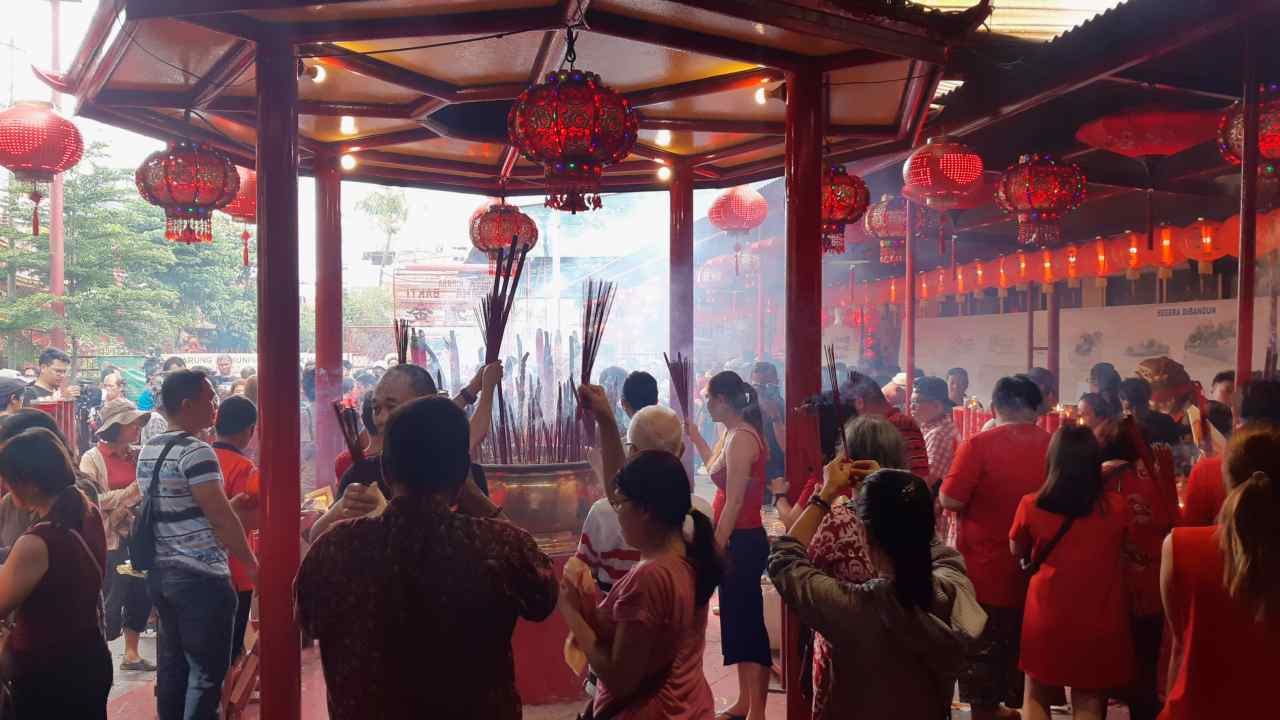 The building is colored red with valiant dragons on each tip of the roof. A red bedug, a drum made of cow's or goat's skin, measuring 1 meter is hung at the right of the building front. There is no dress code to observe in these sacred places, but do comply with local courtesy.
Cultural Heritage
The Pantjoran Tea House was Aphoteek Chung Hwa in the past. Open from 08:00 AM to 08:00 PM on weekdays and 07:00 AM-09:00 PM on weekends, the shop has been providing free tea for street vendors since 1928. Inside, low-hanging lightbulbs, paintings of old Glodok, ceramic jars, jade, and others, add a vintage atmosphere to the interior. There is fish maw soup, kung pao chicken, black pepper beef, and seafood that cost Rp40,000 on the menu.
At Hotel Novotel Gajahmada courtyard, stands a Chinese house with two chicken statues in front. It is the Candra Naya, one of the cultural heritages preserved by the government. The roof of the living room is made of glass adorned with small dragons that hang on the ceiling. There is a big lotus pond at the back where a turtle, a symbol of luck, lives.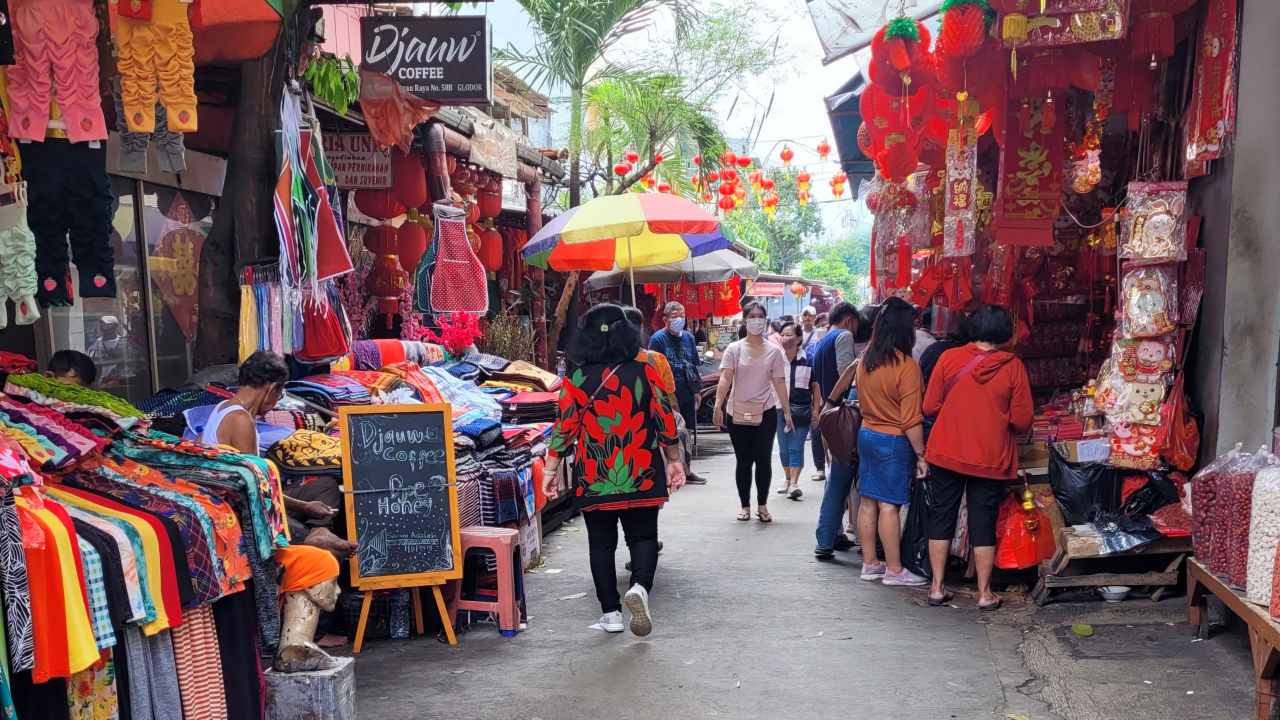 Santa Maria de Fatima is a Catholic church full of Chinese atmosphere. The roof design is a swallowtail, the symbol of welfare. Inside, visitors can find a dragon statue and the statue of Jesus at an altar's side. The altar is adorned with many Chinese ornaments. Two lion statues decorate the exterior. Outside there are two statues of Mary, one stands in the yard, and one in a man-made cave. In Imlek and Cap Go Meh celebration, the church holds a mass for those who celebrate. It also opens for Barongsai performance.
Street Food in Petak Enam & Petak 9
In a path called Gang Gloria just across Glodok Chinatown Market, vendors sell street foods that range from local delicacies to Indonesian cuisines. There are Bakmie or noodles with pork topping, pork or tuna Siomay, Hainan rice, beef kwetiau, and mixed rice. Some vendors sell Sekba, morsels of pork meat and viscera served with onion, garlic, and tauco gravy, and steamed Pi Oh with the softshell turtle.
Bring a big bottle of water and a handkerchief or tissue. The tour will be a long walk in the hot, damp air. Soto Betawi, lamb soup, and Gado-gado are among others in Indonesian cuisine options. The food's average cost is Rp20,000.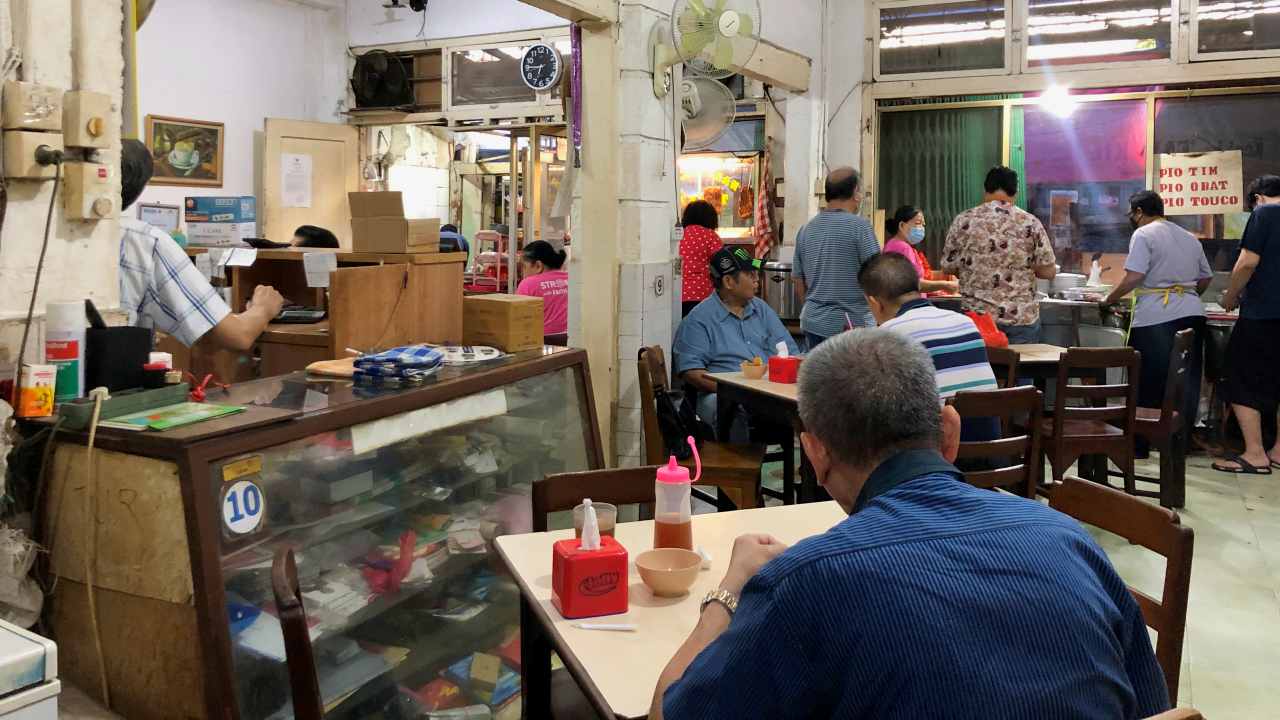 Tak Kie is the most famous and historical coffee shop in Jakarta established in 1927. Open from 06:30 AM-12:30 PM, the legendary iced coffee costs Rp25,000. The shop also sells various dishes at nearly similar prices. For those who like to hang out, the coffee shop is the perfect choice to end the tour in Glodok Chinatown Market.
See: Guide To Explore Street Food In Sabang street, Jakarta.
Facilities
There are standard facilities here such as parking lots, toilets, ATMs, and money changers. The place is also surrounded by restaurants and lodgings. Restaurants mostly serve Chinese menus that will cost guests from Rp20,000. Many rooms are also available that start from under Rp200,000 per night.
See: Tourist SIM Card, Internet Package & Where To Buy.
How To Get To Glodok Chinatown Market
To get here, tourists who take the commuter line train should stop at Jakarta Kota station and walk south for about 10 minutes. If taking the Trans Jakarta bus, stop at Glodok shelter, then walk 300 meters north.
From Soekarno Hatta Airport, take the Airport train which cost Rp85,000, and stop at Manggarai station. Continue with the train to Jakarta Kota station. Or, take the Soekarno-Hatta—Mangga Dua Square route Damri which cost Rp80,000. From here, take a public van that goes to Kota Tua and stop at Glodok and pay Rp5,000.
Tourists staying Sudirman, Thamrin, and Sarinah areas could catch the Trans Jakarta bus line 1 (Blok M – Kota). The bus fare is only Rp3,5000 for a one-way trip. However, passengers will have to buy electronic money cards (Brizzi, E-money from Mandiri, or Flazz BCA). The e-card price is around Rp40.000 to Rp50.000, with Rp20,000 to Rp30,000 deposit. To point out, public transportation in Jakarta like trains and buses uses e-money cards as a payment method.
See: Jakarta Airport, Flights & Public Transportation Guide.
Address & Location
Glodok Chinatown Market is located in Jl. Pancoran, Glodok, Taman Sari, West Jakarta 11120.