Dieng Plateau
Entrance Fee: Rp4.000 - Rp164.000
Opening Hours: 07:00 - 18:00 WIB
Telp. Number: -
Address: Jl. Raya Dieng , Dieng, Kejajar, Wonosobo , Jawa Tengah , Indonesia , 56354.
Dieng Plateau sits at 2000 m above sea level. The kingdom above the clouds is what locals call Dieng for its highland location and magnificent scenery. The plateau is a collection of volcanic terrains that lies at both Wonosobo Banjarnegara City in Central Java.
Dieng Plateau has a unique climate for a tropical area. During the dry season, the temperature can drop to 0° C and there will be frosts. The name of Dieng itself derives from the words 'Di' and 'Hyang', which means The Gods Residence. This is due to the existence of 400 temples that were once built in this area.
Dieng Temples are considered one of the oldest stone structures ever built in Java. It was built around the 7-8th century. After being abandoned and sunken below a lake for centuries, Dutch archaeologist Isidore van Kinsbergen led an investigation. As an effort to reveal the temples in 1856.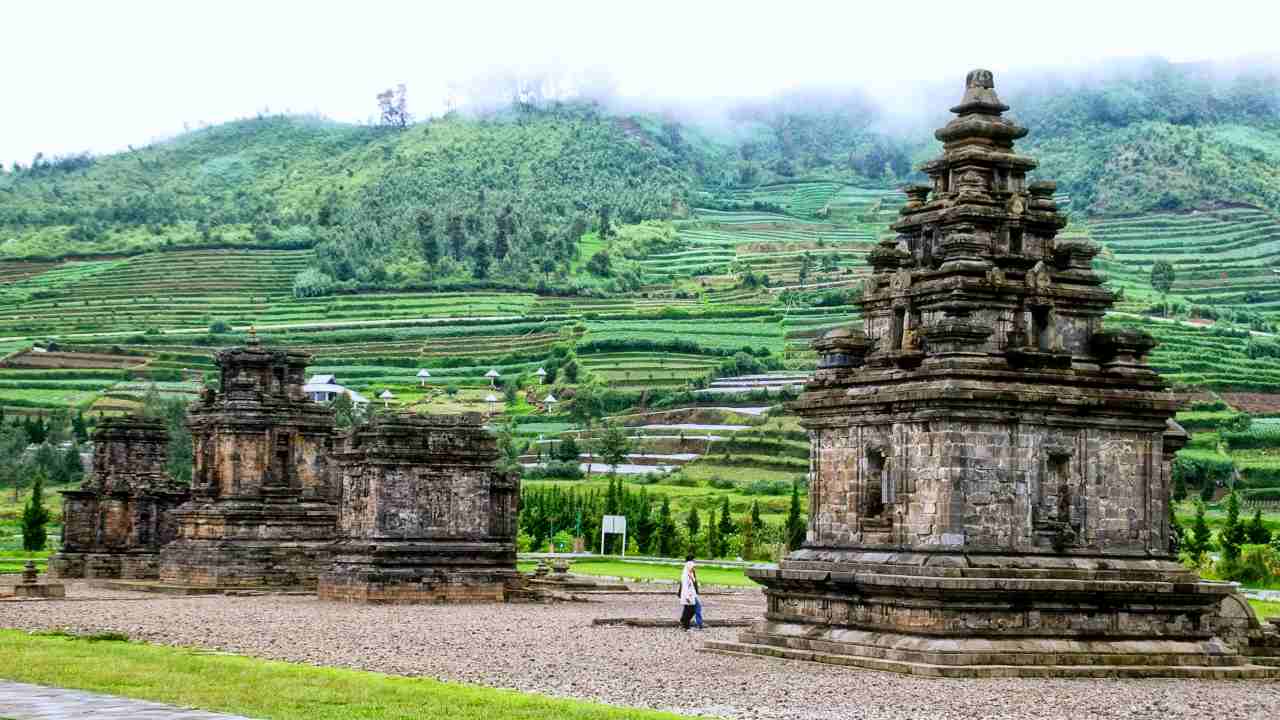 Apart from the temples, Dieng Plateau blesses with a magnificent landscape. People claim that the sunrise at Sikunir Hill is the best sunrise in all of Java. There are lakes, and Telaga Warna is the most popular for its changing colors. There is more to discover, so plan several days to explore this wonder of Java.
Dieng Plateau Entrance Fee
Visitors need to buy a different ticket for each tourist site at Dieng Plateau. But don't worry the entrance ticket is very cheap. Dieng Temple and Sikidang Crater cost only Rp30.000. Meanwhile, visitors hiking at Sikunir Hill will only need to pay Rp10,000.
Dieng Plateau Entrance Fee
Book Online Dieng Plateau Day Trip  
Rp542.000
Entrance Gate
Rp10.000
Arjuna Temple & Sikidang Crater
Rp30.000
Telaga Warna Lake
Rp117.000 weekday / Rp164.000 weekend
Dieng Theater
Rp10.000
Sikunir Hill
See: Dieng Culture Festival Event & Ticket.
Dieng Plateau Opening Hours
Dieng is open 24 hours for tourists. There is a modest lodge around the highland for tourists to stay overnight. The ticketing office at the Dieng sites is open from 7 AM to 6 PM.
Dieng Plateau Opening Hours
Every day
07:00 – 18:00
See: Java Top Historical Temple, Activities & Ticket.
Dieng Plateau and Temples
Originally there were around 400 temples at Dieng, but only a handful of them survived. There's no clear record revealing which kingdom built these structures. Only a scripture indicates that the temple was built around the 8th century. It is also unclear what are the original names of each of the temples.
To make it easy, locals name these temples after the characters in Mahabharata mythology. The temples at Dieng are clustered into 3 groups. The Arjuna complex, Gatotkaca, and Dwarawati temple complex. Arjuna Temple area is the most prominent temple at Dieng. Visit the Hindu celebration Galungan to witness the ceremony procession. Hindu worshipers especially from Bali, will come to pray at this ancient Shiva temple.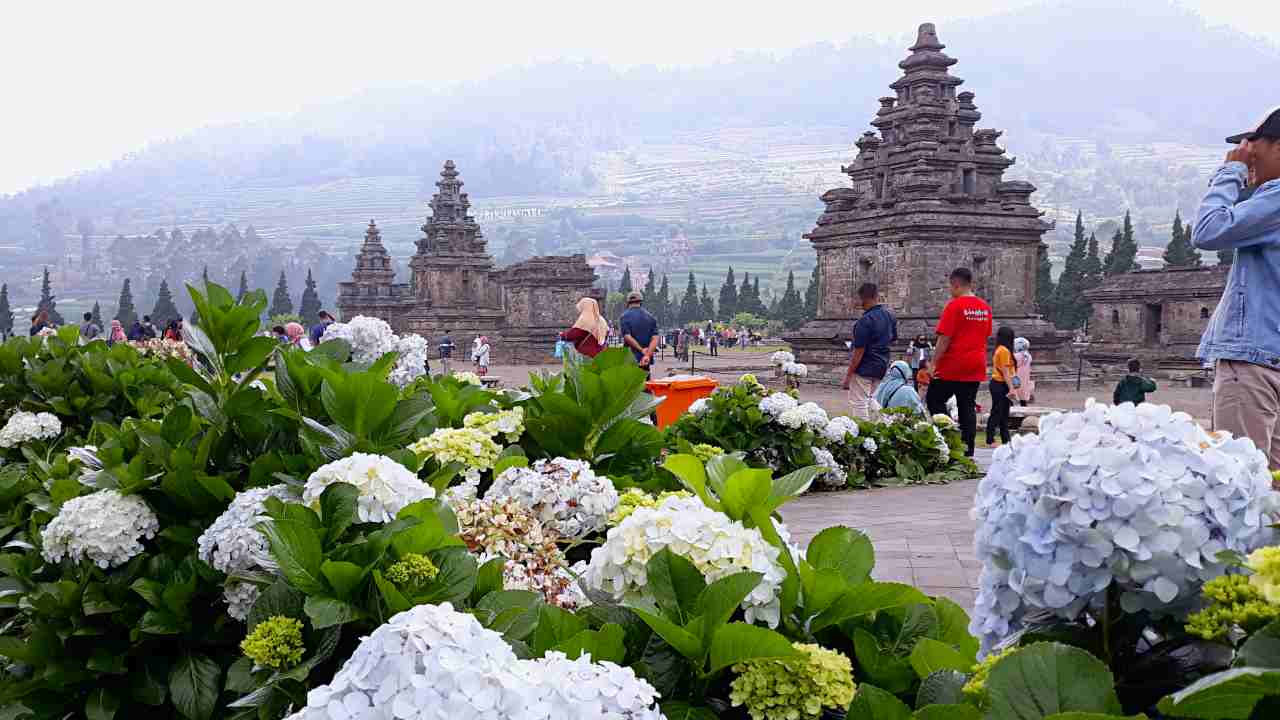 Dieng Plateau Color Lake, Telaga Warna
Like its name, Telaga Warna, or a lake of color is striking by the color of its water. Depending on the time of the day, the water shuffles between green, navy blue, and yellowish-white. This is due to the sulfuric volume of this lake causing the refraction of the sunlight.
The lake has a neighboring lake nearby, called Telaga Pengilon. Strangely, it doesn't have the same sulfuric content as Telaga Warna, despite its proximity. There is so much to do at Telaga Warna besides just seeing the lake.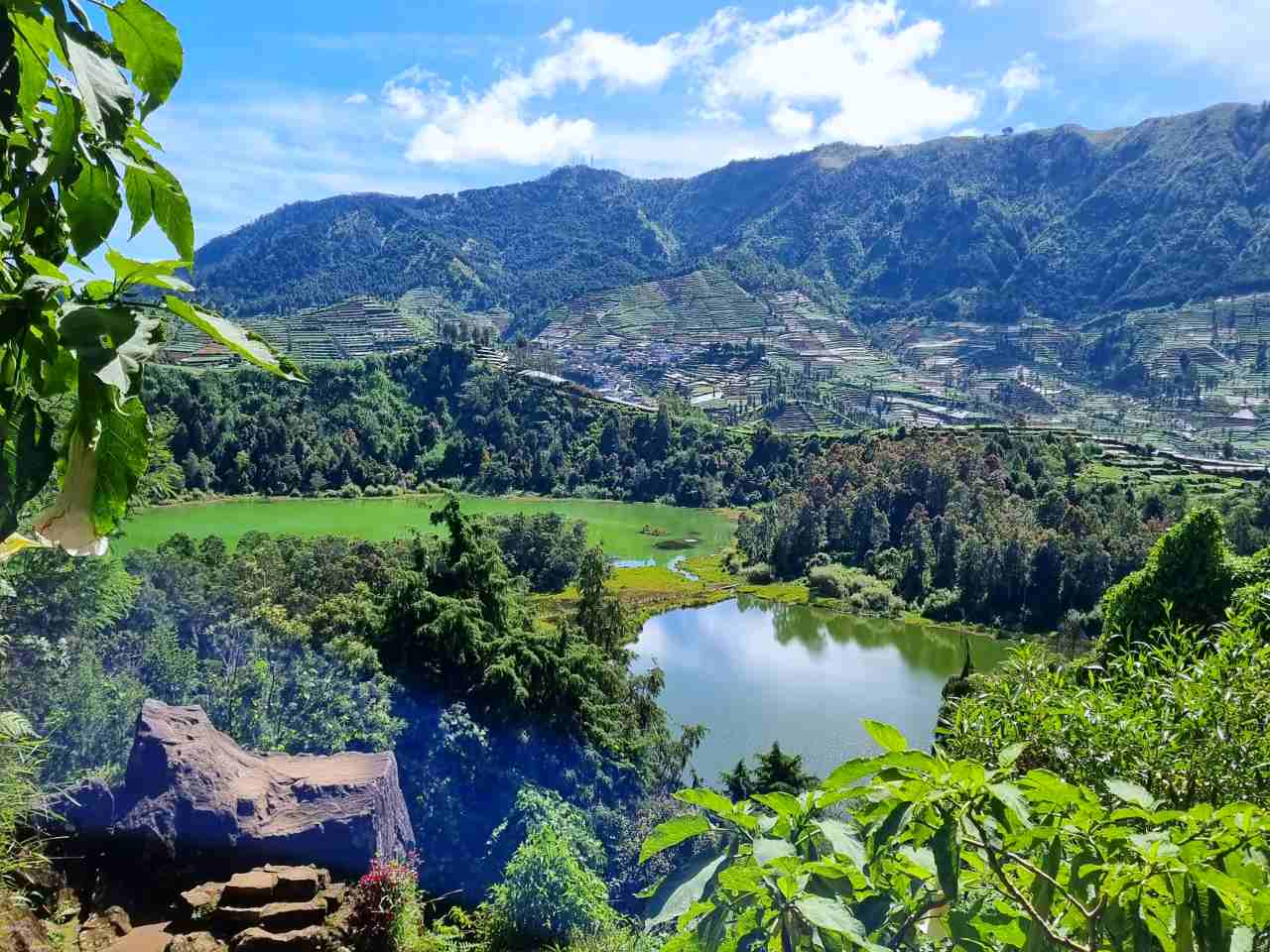 For instance, climb Batu Ratapan Angin hill to get an unobstructed view of the lake and the plateau behind it. Curious travelers can also explore mysterious caves that are plenty around the lake. One of the caves, Semar Cave, has a natural pond that somehow could cure disease. At least it's what the locals believe.
Sikidang Crater in Dieng Plateau
The eruption at Dieng Plateau happened centuries ago. But the volcanic activities in this area still remain active. Sikidang crater is a sulfuric crater that has a unique habit of moving to another location every 4 years. Locals named this crater 'Sikidang' or 'Deer'.
Due to this crater's jumping behavior. There are several smaller craters as well in this area, some have died and some others are still active. Local food vendors have made the smaller craters in this area into natural stoves.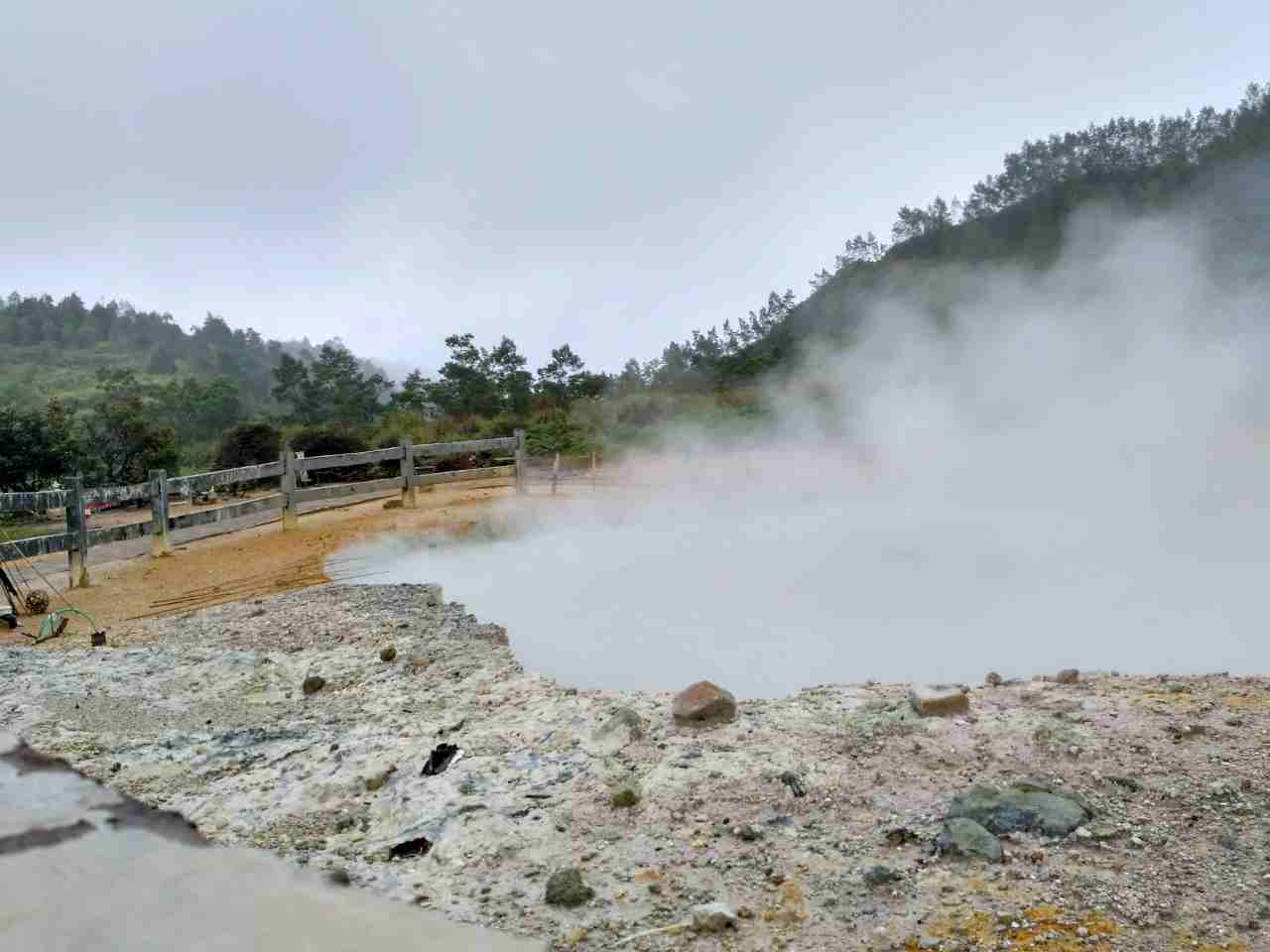 Try the crater-boiled eggs. Buy an egg from a local vendor and see them put it into a small boiling crater. Wait for a few minutes and then the egg is ready to eat.
Hiking Sikunir Hill
Sikunir Hill is named after the yellow herb turmeric. For the reason of the sunrise color here. Sikunir Hill is famous for its dramatic display of the morning sun. Dusks at Sikunir Hill display an orchestra of colors ranging from a faint yellow to deep orange to purple.
The famous name for this phenomenon is the Golden Sunrise. Hiking Sikunir Hill starts early in the morning. The hike is not challenging and usually takes an hour to the top. However, the temperature can be very cold at around 10° C. So wear proper clothing.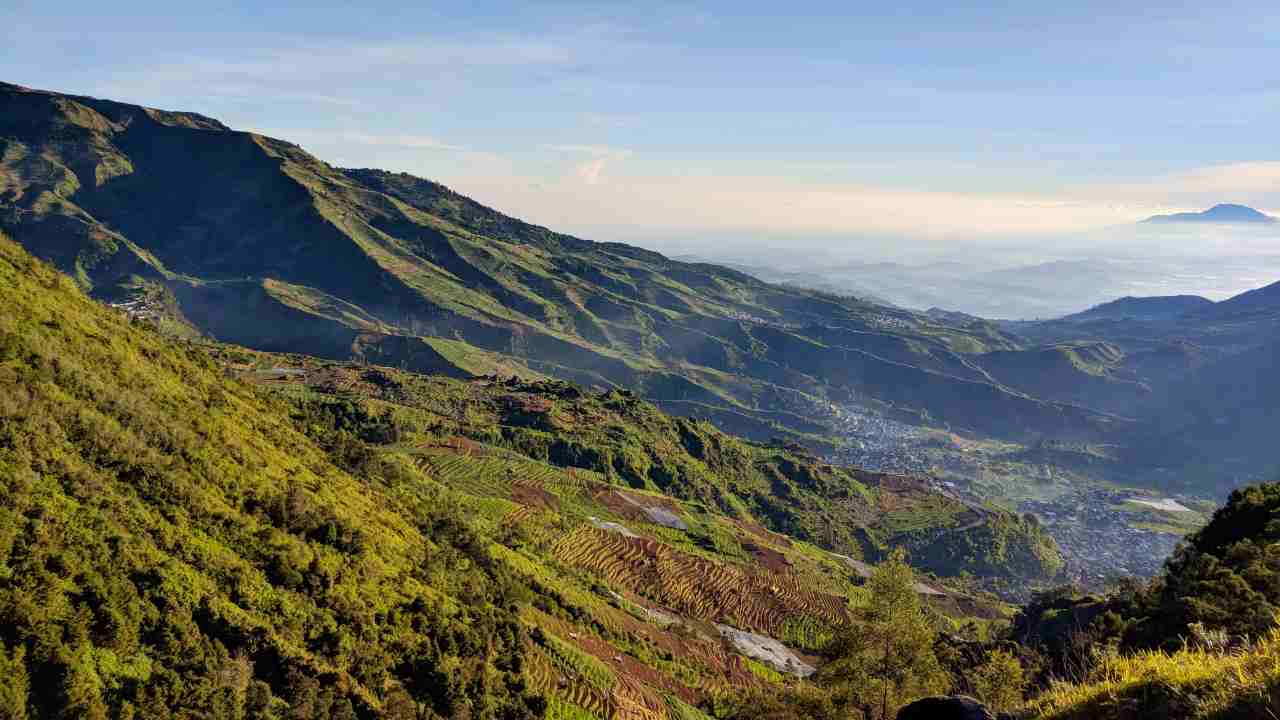 Apart from the sunrise, enjoy the view of Central Java's highest mountains: Merapi, Merbabu, and Ungaran. When going down, allow some time to visit the highest village in Java, Sembungan village.
See: Guide To Explore Jogja Handicraft Market, Beringharjo Market & Street Food.
Facilities
Most tourist sites in Dieng Plateau equip with basic facilities such as toilets and parking spaces. There are many choices for restaurants and food vendors at every corner of each tourist site.
Since it's not enough to explore the whole Dieng Plateau area in a day. Many tourists will need accommodations to spend the night. For this reason, luckily there are many homestays and lodges in villages throughout the Dieng region.
See: Tourists Prepaid SIM Card, Provider List & Price.
How To Get To Dieng Plateau
Tourists going to Dieng Plateau mostly depart from Yogyakarta. The distance from Yogyakarta is 116 KM and the journey takes 3-4 hours. The route is as follows: Yogyakarta – Magelang – Temanggung – Parakan – Kretek – Wonosobo – Kejajar – Dieng.
Tourists opting for public transportation can go to Dieng Plateau by bus. First, take a bus from Yogyakarta to Wonosobo. Then, continue to take a bus from Wonosobo to Dieng Plateau. The bus fare is around Rp50,000 per person. In total, it will take 5 hours to get to Dieng by bus.
Previously, there is Damri Bus that depart from Yogyakarta to Dieng Plateau in 2021. However, this line is temporarily stopped operating. The bus fare is Rp30,000 and it's the cheapest one by far.
See: Yogyakarta International Airport Guide & Public Transportation Options.
Address & Location
Dieng Plateau Highland is located in Bakal Buntu village, Batur, Banjarnegara regency, Central Java 53456.