Beringharjo Market
Entrance Fee: Free Entry
Opening Hours: 08:30 - 21:00
Telp. Number: -
Address: Jl. Margo Mulyo No.16, Ngupasan , Gondomanan , Yogyakarta , Daerah Istimewa Yogyakarta , Indonesia , 55122.
Yogyakarta's central market, Beringharjo, is a fascinating spot and magnet for tourists visiting the city. This traditional market is a lively place, where thousands of people, sellers, and buyers flock daily. The market is one of the oldest markets in Yogyakarta. And had a vital role in the growth of Yogyakarta's economy since 1758.
Beringharjo is founded on a piece of land where banyan trees are used to grow abundantly. Bering or "Beringin" means Banyan Trees, while Harjo means prosperity. The market holds philosophical importance. It's a part of Catur Tunggal, four important places that constitute Yogyakarta Sultanate.
The other three are the Palace (Kraton), the north square, and the south square. There are around 6.000 merchants at this market, disperse into 2 buildings, the east and west wings. Its art deco architecture is a mix of Javanese architecture and colonial architecture.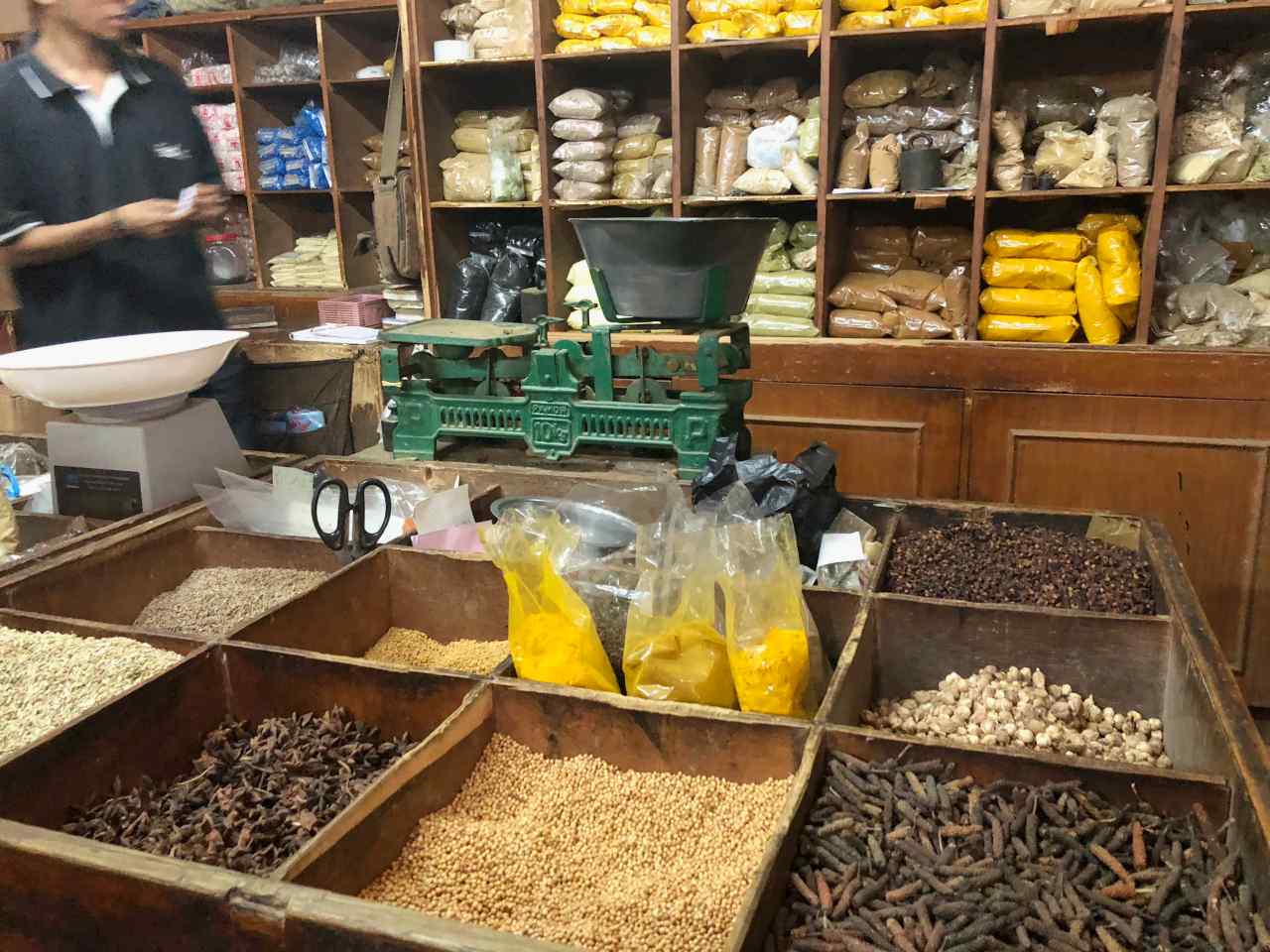 While the market name is inscribed on its gate with Latin and Javanese letters. During the colonial era, the market was even called "Passer Op van Java". And it means the most beautiful market in Java.
Bargaining in Beringharjo Market
Stepping into the market will feel like going into a battlefront. Hundreds of people brush elbows with each other. The air fills with food aromas from nearby food stalls. The rattling sound of people buying, selling, and bargaining. Get ready for the ultimate local experience.
Might be intimidating at first, but after seeing all the products here and their cheap prices. Everyone soon forgets about the initial worry. Bargain and bargain, that's the key to shopping at Beringharjo.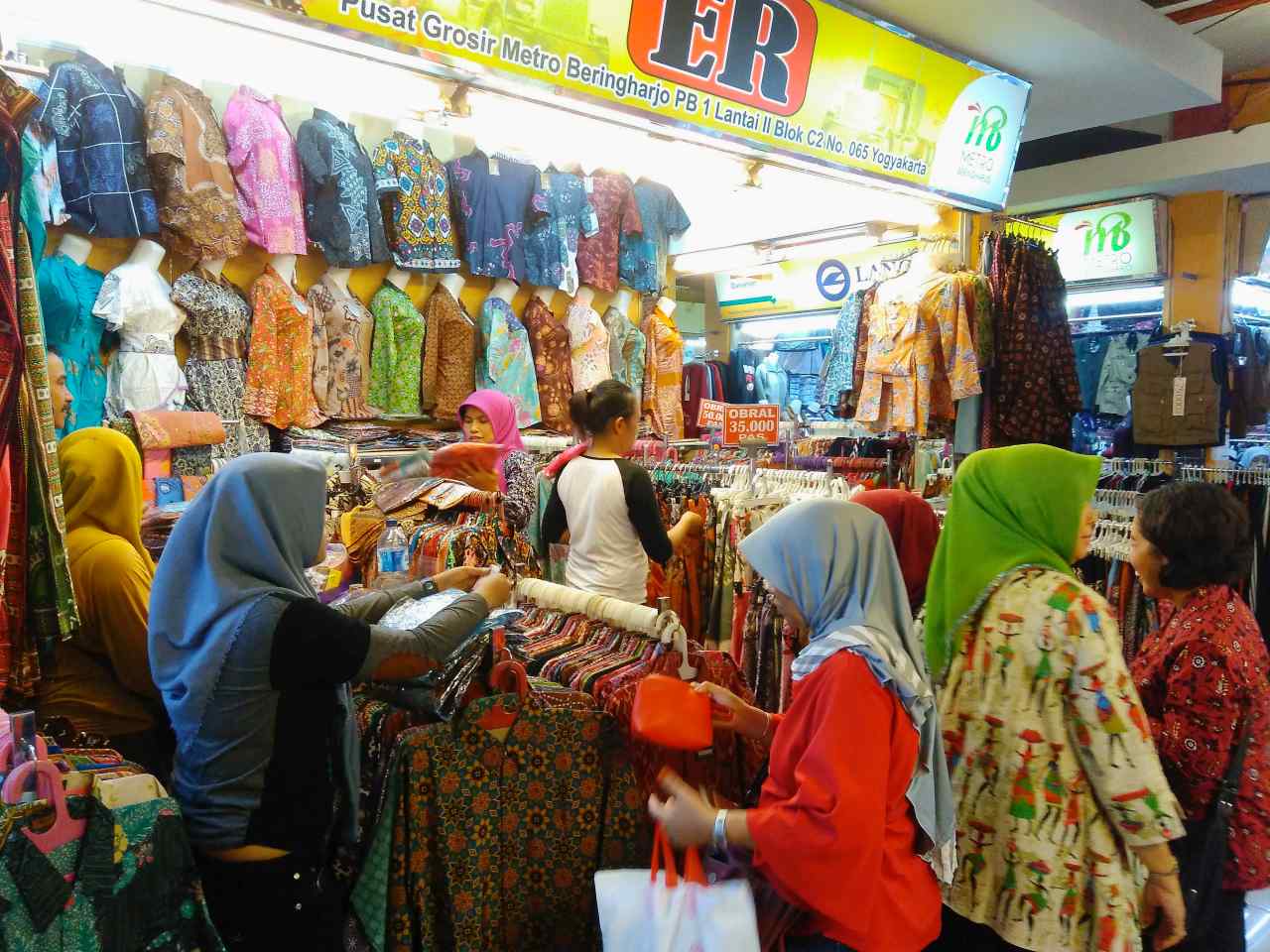 Sellers rarely put a fixed price tag on their products. Even the ones who do will happily give a discount after a bit of persuasion. Browse through endless choices of textile products, bags, shoes, and souvenirs. Beringharjo is also the best place to buy in bulk.
Hunting Batik Clothes & Textile
There's nowhere better to hunt Batik than in Yogyakarta. The city has known as the heart of Javanese culture. Hundreds of vendors here sell this most renowned Indonesian textile piece. Yogyakarta's batik pattern is distinct and regarded as the oldest form of Batik art.
However, to buy the best quality batik, visitors must know some basic knowledge. The cheapest piece is Batik printing. It means that the pattern is printed by a factory machine. An authentic batik is drawn by hands, called Batik Tulis. And the prices are expensive. It ranges from hundreds of thousands to millions of rupiah.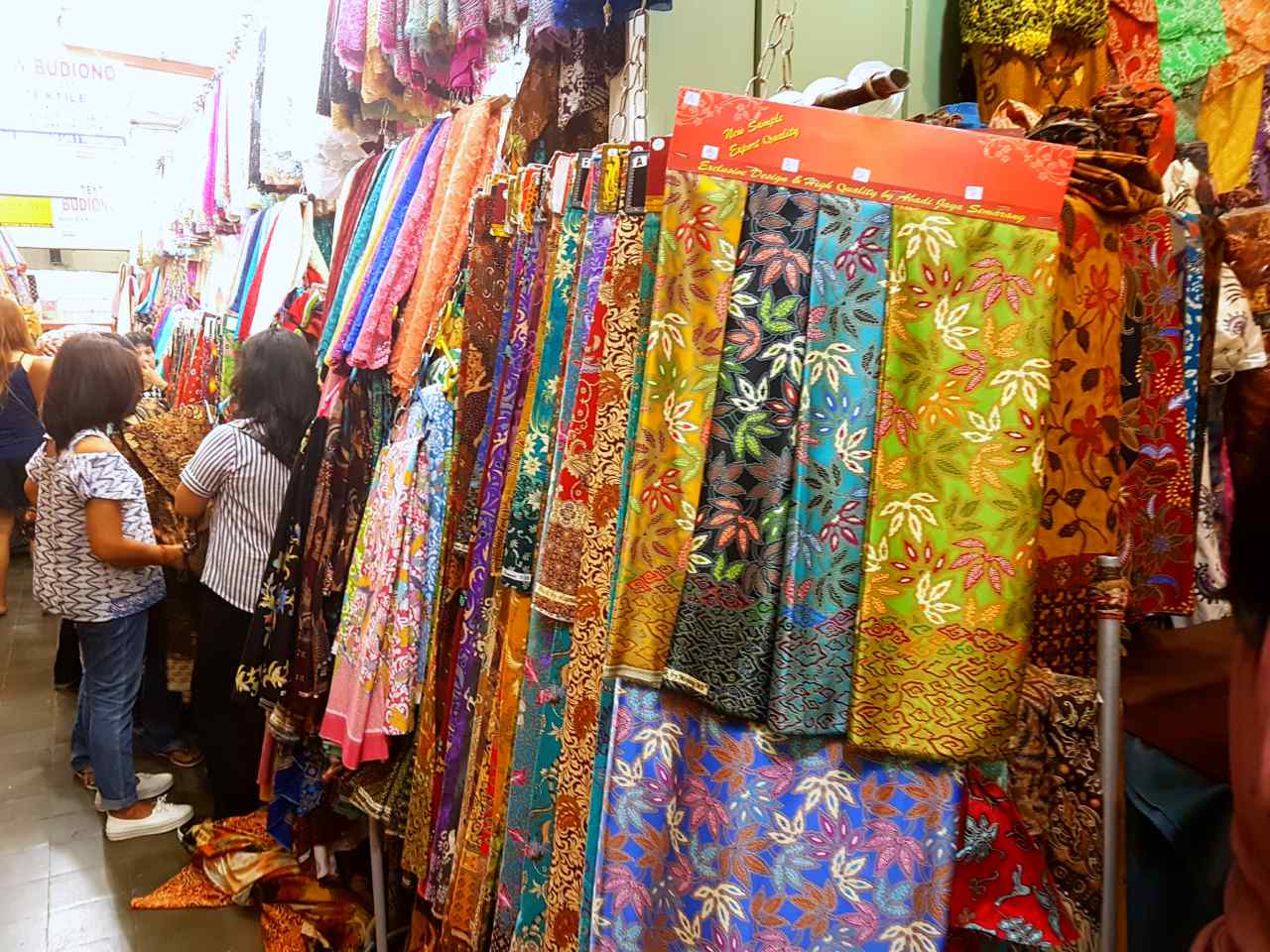 To spot a hand-painted Batik, examine the pattern details. Each is unique from the others. A hand-drawn batik also feels scratchy because of the wax residue left from the painting process.
Yogyakarta Street Food Delicacies
There is no shortage of choices when it comes to delicacies at Beringharjo market. Many vendors have been serving hungry customers for decades. And now they develop quite a reputation. Mbah Hari is a grandma who's been selling the beverage "dawet" for 40 years.
Dawet is a sweet dessert soup from green jellies with pandan and coconut milk. To taste Mbah Hari's legendary dawet, go early in the morning. Or else there would be a long queue. These dishes also are worth trying: The sweet stew Gudeg, satay, and Indonesian salad pecel & gado-gado.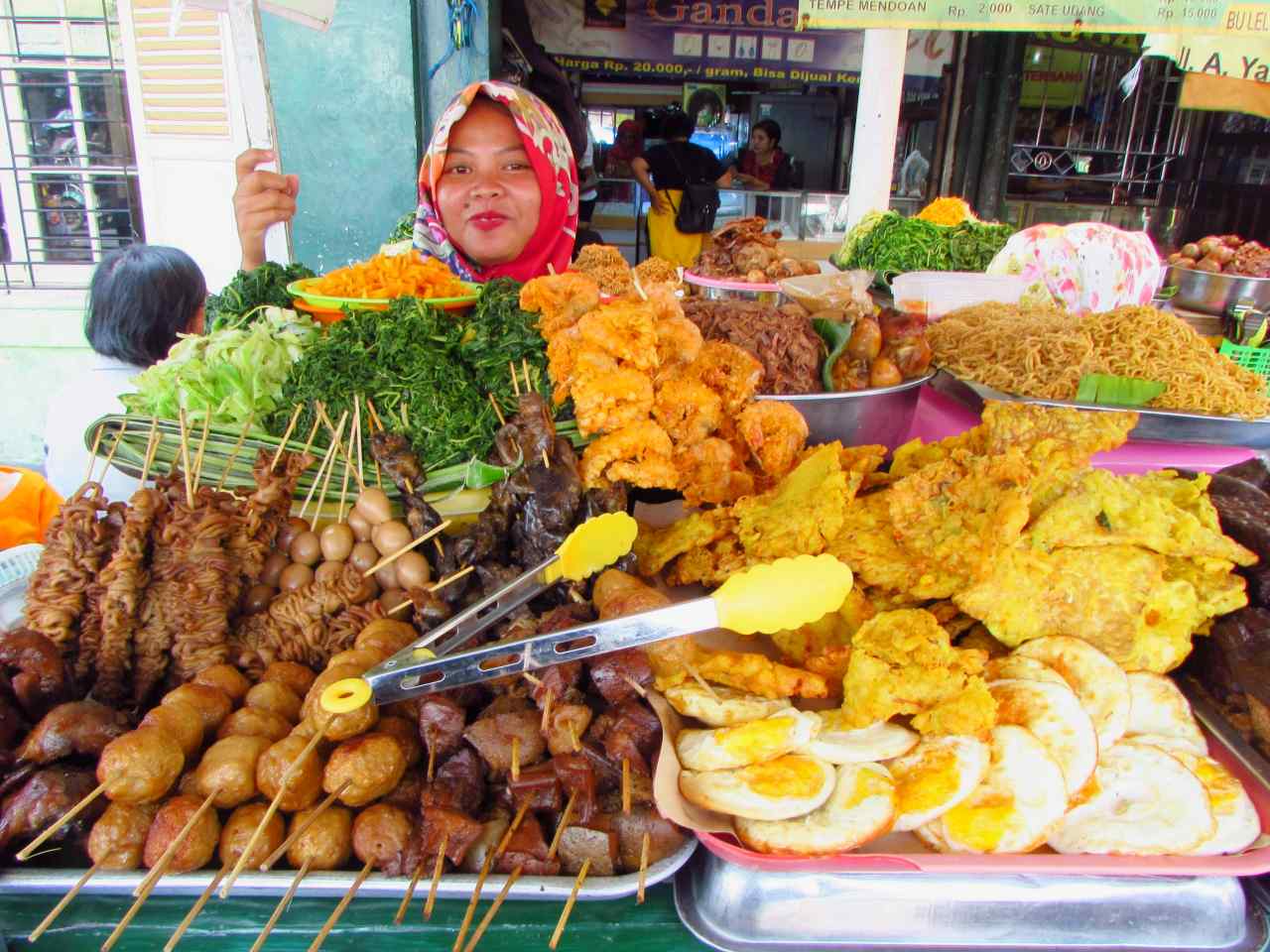 For dessert, mouth-watering snacks and sweets are on display at many food stalls here. Try lemper, a sticky rice snack with chicken filling, or jenang, a chewy confection made from palm sugar. Eat to the heart's content, and forget calorie intake for the day.
Beringharjo Market Antique Section
Travel back in time by going to the antique section of the market. This is where many peculiar items from old times are ready for buyers to discover. Browse through large collections of old records from the '50s and '60s. The collection varies from Indonesian music to international music. There's a choice for everyone.
Another artifact to shop here is the old currencies. There are coins from the Dutch colonial era and hundreds of years old Chinese coins. Check out various old Indonesian bills and coins, the vendor's collection could be more comprehensive than a museum's.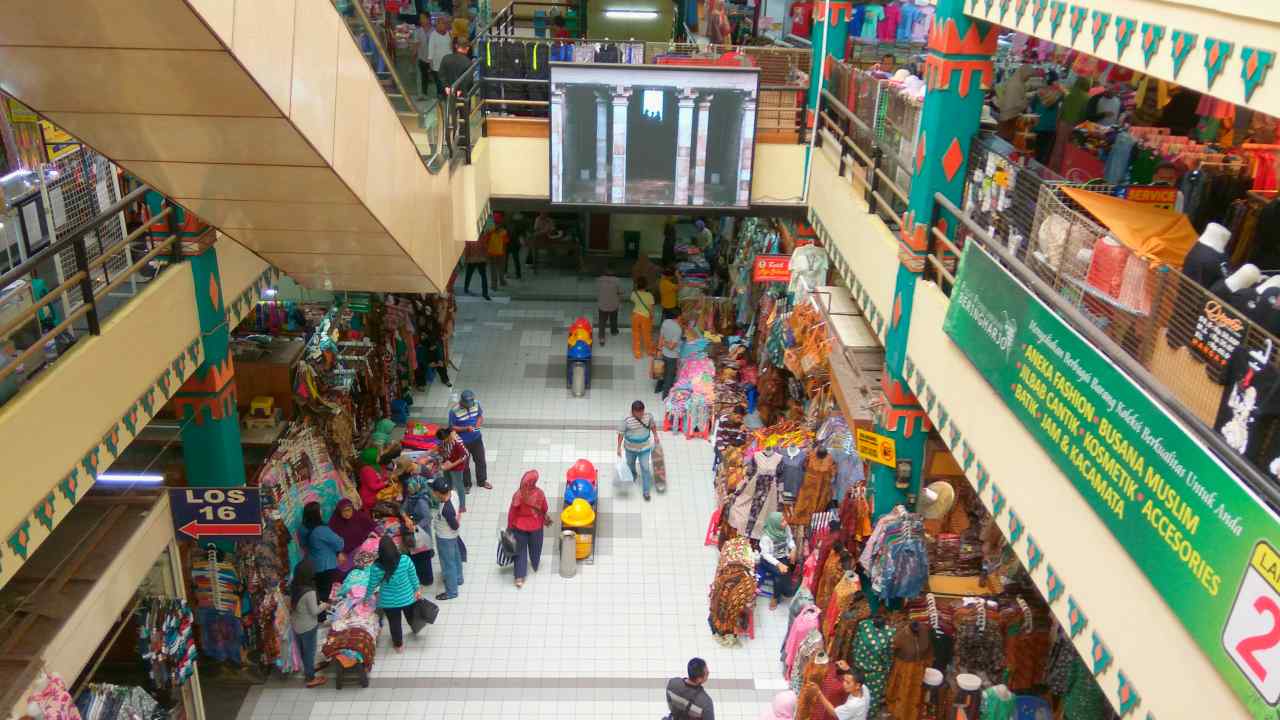 The price varies from tens of thousands to hundreds of thousands of rupiah, depending on the item's rarity. Another man's junk could be one's treasure. The antique section of Beringharjo also offers secondhand items in search of new owners.
Even if visitors not buying, it's still fun to look around at old paintings, table lamps, kitchenware, trophies, and plenty of home knick-knacks. These items have had their own history, ask the seller for the most interesting ones and the story behind each of them.
See: Taman Sari Water Castle Guide & Entrance Ticket.
Beringharjo Market Opening Hours
Since April 2018, the market has extended its opening hours to 9 PM. Beringharjo Market opens every day, with stalls and shops start opening at 8:30 AM. It's best to go on weekdays to avoid crowds. And while being there for shopping or just looking around. Be sure to watch out for personal belongings.
Beringharjo Market Opening Hours
Every day
08:30 – 21:00
Nearby: Kraton Palace, Dance & Music Performance Schedule.
Facilities
The information center is available at the market's main gate. Public toilets in several spots inside the building. Other facilities include ATMs, food courts, and security officers. The market map and information board are there too.
There is a parking space, however since Beringharjo market is the prime market. There always be traffic in front of the market. The parking fee cost Rp5.000 for a car and Rp3.000 for a motorcycle. But for a convenient reason, travel with a motorcycle to avoid getting stuck in traffic.
See: Indonesian SIM Card, Price & Prepaid Data Package
How To Get To Beringharjo Market
Beringharjo Market is only a walking distance from Malioboro and Yogyakarta Palace. The easiest way to find the market is to get to Malioboro street first. From any area in the city, the market is accessible by TransJogja bus. Bus fare for a one-way trip cost Rp3.500.
From Adi Sutjipto Airport, take Route 1A and stop at Benteng Vredeburg shelter. Passengers coming from the Tugu Train station can take route 1A or 2A. From the Giwangan bus terminal, take Route 3B then Route 2B. Stop at Malioboro shelter then continue to walk 400 m to the market.
For tourists staying in Malioboro and Sosrowijayan areas, the Beringharjo market is only around 1 km. It's around a 10-15 minute walk. Ride hail apps like Grab and Gojek can be a lifesaver too despite the short distance. It will cost around Rp10.000 – Rp15.000 using a grab bike or gojek.
See: Yogyakarta International Airport YIA Guide & Transportation.
Address & Location
Beringharjo market location is in Jl. Margo Mulyo No.16, Ngupasan, Gondomanan, Yogyakarta, 55122.