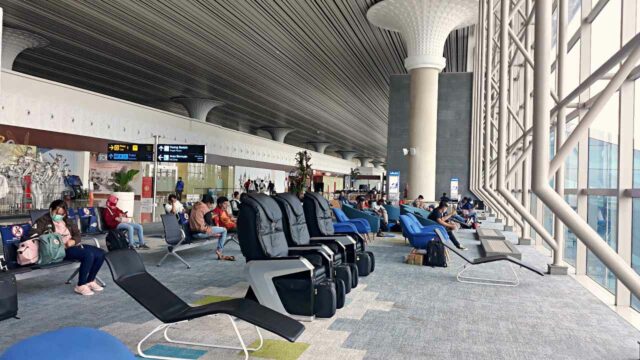 It is really hard to tell if it is an art museum or an airport. Because in Yogyakarta International Airport (YIA), modernity fused effortlessly with Javanese traditional touches. Pleasing every eye with its cultural installations across the terminal from expert artisans.
For this reason alone, YIA Airport becomes a passing place not only for passengers. But also for the locals living around the airport area that comes to do free sightseeing.
Operating since 2019, YIA Airport now opens as the ultimate airport in Yogyakarta Special Region. Its location sidesteps to the southern direction, precisely in Kulon Progo. Replacing the former airport that is much closer to the city, Adisutjipto International Airport.
This time, it might take about 1,5 to 2 hours to get to the airport. Yet, the astonishing wide sea and mountains scenes around will make the long trip worth it. As one of the grandest airports in Indonesia, YIA Airport comes well prepared with the infrastructure.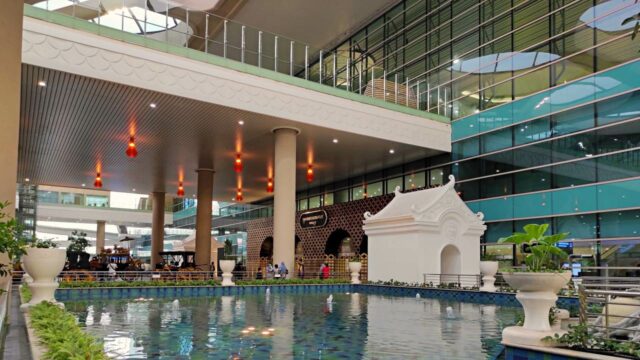 The whole buildings are able to withstand up to 8.8 earthquakes. It even owns an early detection system for earthquakes, tsunami, and extreme weather. Considering the fact that Yogyakarta experiences earthquake pretty frequently. Although mostly in small magnitudes. And of course, a crisis center is available in a close range.
Mini Yogyakarta Inside YIA Airport
If most international airports have modern minimalist ornaments, Yogyakarta International Airport begs to differ. It is simply mesmerizing how evident every trace of Yogyakarta's vibe feels inside.
Take the installations that depict Yogyakarta's main attraction for example. Some of it is Gumuk Pasir's (sand dunes) and Taman Sari Water Castle mini replica. Its presence does not only add value to the aesthetical feature. But also tells travelers of what Yogyakarta has to offer.
Travelers who are not familiar yet with Yogyakarta's gems should feel relieved. Because each installation has an information board as well as a barcode. Try scanning it and it will give a further explanation of the artwork. Plus behind the scene of how the masterpiece was crafted.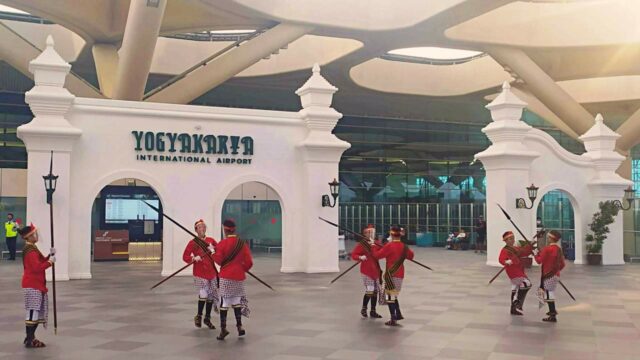 Anyone can see Indonesia's iconic Batik pattern when taking off or landing. It decorates Yogyakarta International Airport main building roof beautifully. Therefore, it will be advantageous to settle on the window seat. Because this kind of sight is not easy to find elsewhere.
Yogyakarta International Airport Terminal
No one should confuse the direction upon arriving inside the broad airport complex. Because all flight traffic in YIA Airport circulates in one building. The terminal itself consists of two floors with one mezzanine. With a departure gate on the upper floor and an arrival gate on the lower floor.
Hence, the only thing left to do is heading to either domestic or international flight wings. The check-in counter areas are basically similar to the other airports. Including self-check-in corners to avoid the queue. Unless there is baggage to submit then passengers should proceed manually.
And for more assured baggage safety, wrapping service is available in the Total Baggage Solution. Costing around Rp40.000 to Rp70.000 each depending on the luggage's size.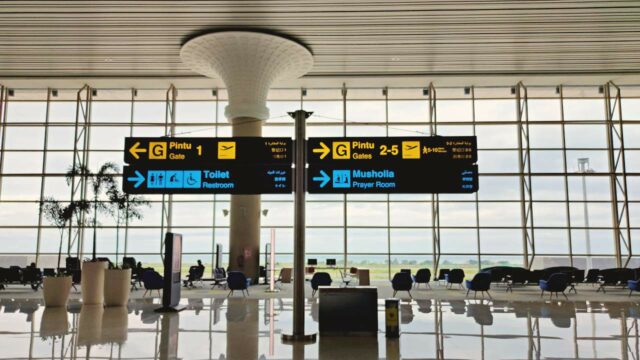 Trollies are available in big amounts to support the estimated twenty million passenger's capacity. Yet, travelers who need an extra hand can hire an official porter. Not expensive at all, it only costs Rp5.000 for each baggage. For safety, take note of the porter's ID in case of unwanted circumstances.
Wrapping Service & Porter Fee
Wrapping
Rp40.000 – Rp70.000
Porter
Rp5.000/baggage
See: Things To Do & How To Get To Prambanan Temple.
Visa on Arrival
Travelers from certain countries can arrive in Indonesia without a prior visa. Yet, upon arrival, it is mandatory to administer Visa on Arrival. Which service is available at Yogyakarta International Airport.
Make sure to complete the required documents before arriving. That includes travel documents or passports and admission fees. Always remember to checklist everything for a smooth process.
Airport General Facilities
Yogyakarta International Airport (YIA) most definitely covers general facilities. Such as toilets, a nursery room, and a praying room. There is even an iconic big mosque not too far from the terminal building. More than that, Yogyakarta International Airport also equips several disabled-friendly facilities.
The waiting bay offers a smoking room, coffee shop, reading corner, bookstore, and kids' playground. This makes a perfect environment for all categories. From businesspersons to people traveling with young children.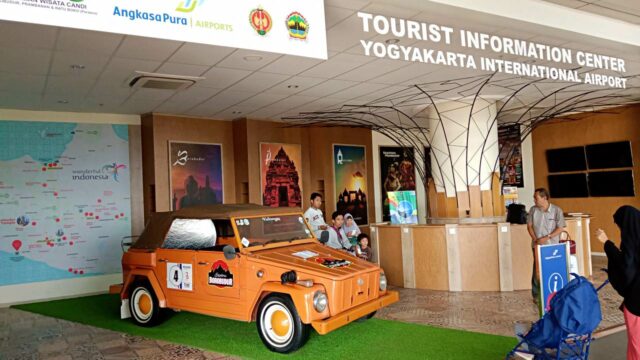 Most seats in the airport have their own charging stations. So travelers can utilize phones comfortably with free wifi. Sometimes, extra comfort measure is needed during airport time. Hence, just use the facilitated massage chair with an Rp10.000 charge per five minutes.
Wanting to give wider access to international travelers, YIA Airport opens Tourist Information Center. Yet, this could also come in handy for local travelers. Especially those who wish to find another gem of Yogyakarta instead of the main ones. This corner is easy to find right outside the arrival area.
Restaurants, Cafes, & Mini Market
Compared to the airport's size, there are indeed not many restaurants to choose from. This is also due to the pandemic thus some shops are still unoccupied. However, passengers still have a fair amount of options to pick.
From traditional restaurants to fast-food chains, both inside and outside the passenger's area. Some of the famous names are Solaria, KFC, or Roti O for light snacks. If travelers wish to enjoy refreshments, the alternative is one of the coffee shops. That includes the coffee benchmark Starbucks located inside the departure area.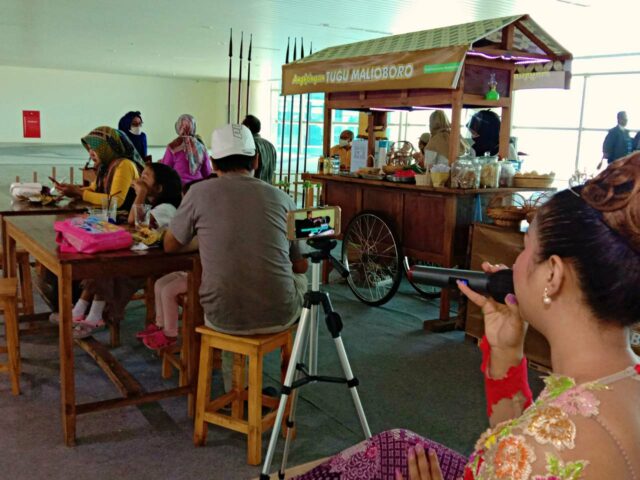 Walking a bit further to the arrival area, there is another local coffee shop called Ekologi. This place offers a bit exquisite facility with a reading corner. Meanwhile, for basic necessities, buy everything in Indomaret inside the terminal building.
Duty-Free and Souvenir Shops
It is not a strange thing to find duty-free in international airports. This comes in handy for travelers who wish for cheaper prices without tax. But other than duty frees, Yogyakarta International Airport has a gallery named Gerai Pasar Kotagede.
It has hundreds of spaces for local businesses to sell their goods, from art crafts to local's culinary. Those who want to bring a piece of Yogyakarta's home can buy everything here.
Money Changer & ATM
Money changer and ATM are available in the terminal building. However, it is accessible only to passengers by far inside the departure or arrival area. The same thing applies to the money change service.
Hence, non-passengers have to prepare everything beforehand. Luckily, there are ATMs nearby before entering the airport complex.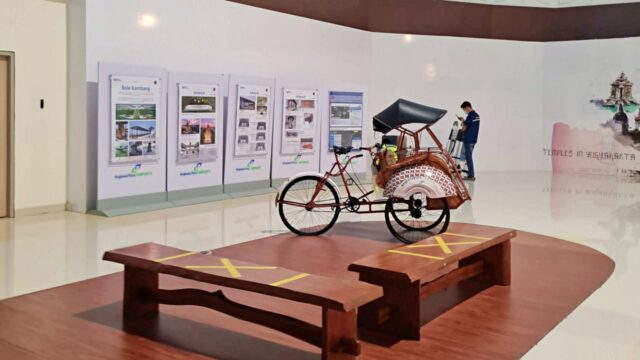 Airport Lounge
Some passengers often seek comfort and silence in the middle of airport hustle. Which is impossible to have in open areas. In this case, Yogyakarta International Airport (YIA) has Concordia Lounge. Only with Rp150.000, passengers will get adequate facilities from food and refreshment buffet. As well as a private bathroom and prayer room.
See: Top Temple List To Visit in Yogyakarta.
Airport Hotel
Yogyakarta International Airport sets its gear to assist passengers maximally by opening Cordia hotel. An airport accommodation where passengers can rest before or after catching a flight. It is located at the mezzanine level near the arrival gate.
To book the room, travelers will have to pay around Rp300.000 to Rp400.000. The rate is subject to availability or current special promotion. To avoid hustle, book prior to arrival via Online Travel Agencies (OTA).
The option might limit to Deluxe Room only. Yet, it is already enough to give a comfortable rest with well-equipped three-star facilities. When staying at the hotel, it is almost possible to find everything inside. Because the hotel covers primary needs such as a restaurant, meeting room, the accessible gym.
See: Yogyakarta Top Beaches, Guide & Activities.
Public Transportation To and From Yogyakarta International Airport
At first, the far point of Yogyakarta International Airport from the city center concerns both locals and travelers. Especially for business travelers who need to rush efficiently.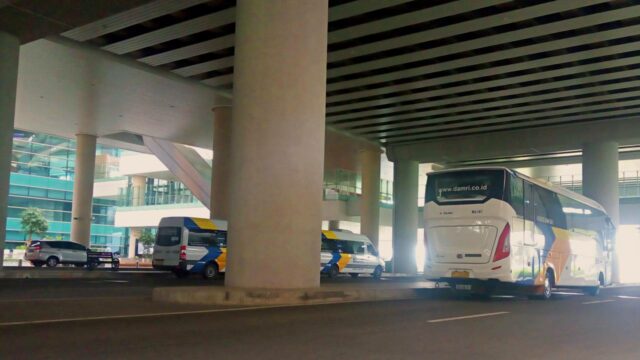 However, everyone should be at ease because there are flexible options for this. Even getting there by airport train is possible. Passengers will arrive sooner since it takes only 40 minutes to reach the airport and vise versa.
Airport Train Time Table
Compare to taking a bus to reach the city center. Airport trains definitely reach faster. From the airport, the train will stop at several train stations. And it will end the journey at Yogyakarta station, the city center. Right now there are only 4 departures from Yogyakarta International Airport. And another 4 schedule that departs from Yogyakarta station.
The earliest train from the airport departs at 11:57 AM. Follow by another departure at 14:02, 14:55, and the last one at 16:49. The trip will take more or less 40 minutes to the city center. While the earliest departure from Yogyakarta train station is at 5 AM.
Airport Train Time Table Yogyakarta International Airport
Yogyakarta International Airport (YIA)
11:57, 14:02, 14:55, 16:49
Yogyakarta station
05:00, 07:20, 09:25, 10:19
See: Culinary Spot in Yogyakarta.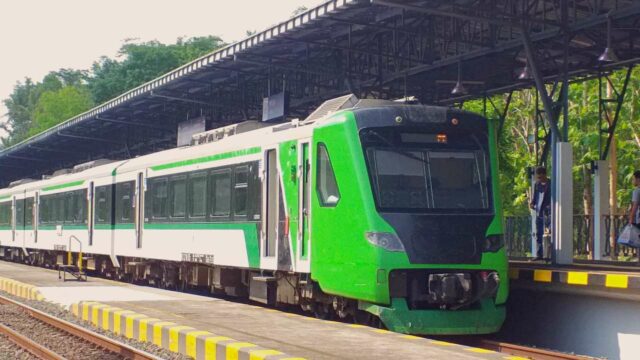 Airport Train Ticket Yogyakarta International Airport
The train fare from the airport to the city center cost Rp20.000. Hand carry baggage that allows on the train is 20 kg maximum. And passengers could buy tickets on the spot 3 hours before the departure schedule.
The airport train ticket counter is only located in Yogyakarta station, Wates station, and at the airport. Passengers could also purchase tickets online through KAI Access apps that are available on Playstore and Appstore.
Airport Train Fare to Yogyakarta International Airport
Yogyakarta Station – YIA
Rp20.000
Wates station – YIA
Yogyakarta – Wates station
Rp10.000
See: Prepaid SIM Card, Price & Internet Package.
Airport Bus
Travelers who want to use the bus can use either DAMRI or other shuttle vans. Both options are available around Rp70.000 toward Yogyakarta city, including tourist area Malioboro. Meanwhile, for private cars or taxis, the price might start in the far comparison above Rp150.000.
As a side note, travelers should be cautious when choosing locals' taxis. Some of them set unusual prices without a price meter. Therefore, it is always better to sign up for a taxi from the official counter. The counter is located not too far from the exit gate.
Airport train departs from and to Yogyakarta International Airport to city center available at Rp30.000.
Yogyakarta International Airport Bus Fare
DAMRI Malioboro – YIA
Rp70.000
See:  Yogyakarta Beaches, Guide & Attraction.
Address & Location
Yogyakarta International Airport Kulon Progo situated in Jl. Wates – Purworejo RW.42, Glagah, Temon, Kulon Progo regency, Yogyakarta 55654.