Prambanan Temple
Entrance Fee: US$12-US$100
Opening Hours: 06:00 - 17:00 WIB
Telp. Number: (0274) 496401
Address: Jl Raya Solo - Yogyakarta, , Bokoharjo , Prambanan , Sleman , Daerah Istimewa Yogyakarta, Indonesia, 55572.
As a cultural city, Yogyakarta has many ancient temples to offer. One of the historical massive Hindu relics is the Prambanan Temple. Built as a tribute to Hindu Gods, Prambanan is the most prominent temple. Today, Prambanan Temple is living proof of advanced civilization.
Pilgrims all over the world had come to worship Gods. Brahma the creator, Vishnu the preserver, and Shiva the destroyer. Even though Prambanan is known as a temple for 3 Gods. Prambanan's biggest temple itself is Shiva Temple. Here is the attraction list not to miss for those to explore Prambanan Temple.
Read: The World Biggest Buddhist Temple Borobudur Temple
Prambanan Temple Entrance Fee
Entrance fee for foreign tourists available for 1 to a 7-day pass. There is also a package to visit other temples in central Java. The Prambanan entrance fee can easily be purchased on the spot. The ticketing office location is right next to the gate of the temple area. Tourists can also purchase it online via the Borobudur Park official website.
Prambanan Temple Entrance Fee
Ticket
Adult (>10 years old)
Children (3-10 years old)
Book & Buy Online Prambanan Temple Ticket
IDR 362,500
IDR 217,500
1-day pass
$25
$12
Prambanan – Plaosan – Sojiwan  1-day pass (ticket includes Rp. 1.000,- insurance premium
$30
$20
Prambanan – Borobudur 1 day pass
$45
27
Prambanan – Ratu Boko Temple free shuttle services (round trip)
$45
$27
Read: Sewu Temple, The Buddhist monastery inside Prambanan.
Prambanan Temple Opening Hours
Prambanan welcomes visitors every day even during the national holiday. The national holiday and school summer holiday (June – July) is the peak time. It's common for Indonesians to go on holiday to the temple at least once every year. And later taking pictures in front of the temple with the whole family. Come early to avoid too much crowd.
Prambanan Temple Opening Hours
Every day
06:00 – 17:00 WIB
Nearby: Guide To Explore Ratu Boko Palace & Ticket.
Prambanan Temple Attraction
Prambanan still holds its mystery even after centuries. Experts thought the construction begin during the reign of King Balitung Maha Sambu. Despite the presumption, there is not enough evidence to support it. Prambanan Temple is assumed to have stood in the middle of the 9th century.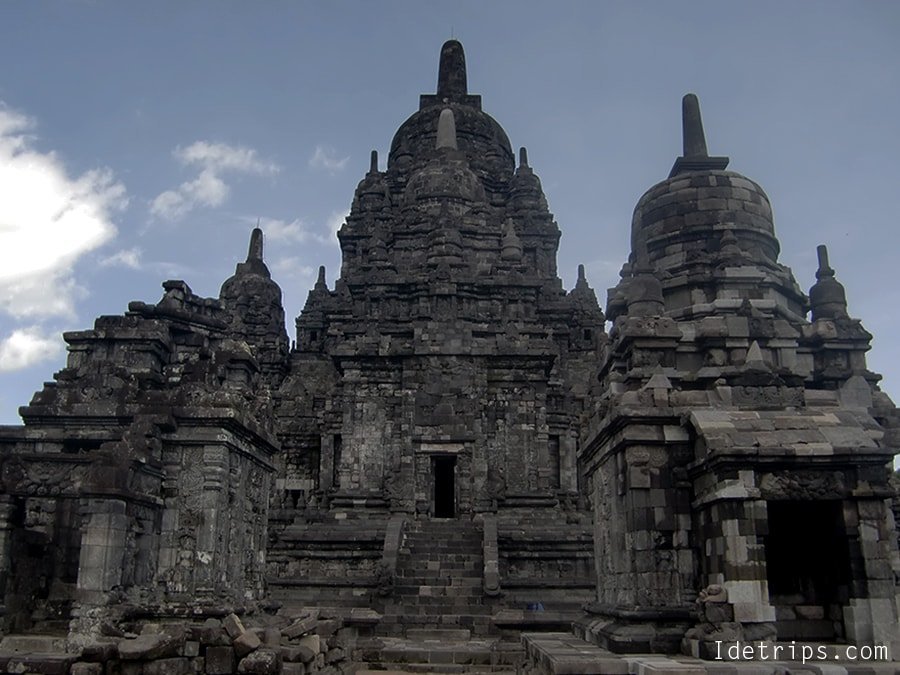 An inscription mentions 778 Saka year in Prambanan later discovered. it Linked to the continuous construction of temple during King Rakai Pikatan regime.
The original blueprint of the Prambanan temple is square in shape. The smaller shrine in the outer square stand and surrounds the holy area. As it looks like protecting the main temple. The smaller shrine outside the main temple represents the universe, nature, and humans.
Bhurloka
The outer square or the first base of the Prambanan temple is Bhurloka. The small shrine is the unholy area of all. This is where the ordinary lived both humans and animals. It's where desire and lust for humans and animals are common. Originally, the outer used to have stone walls surrounding the square. But due to a massive earthquake, the walls have fallen apart into a pile of rubble.
Bhurvarloka
The middle part of the Prambanan temple is known as Bhurvaloka. It used to have 224 small shrines and almost identical to one another. Unfortunately, almost all the structure in the middle square is ruined. A pile of huge stones just sits there and scatters all over the place.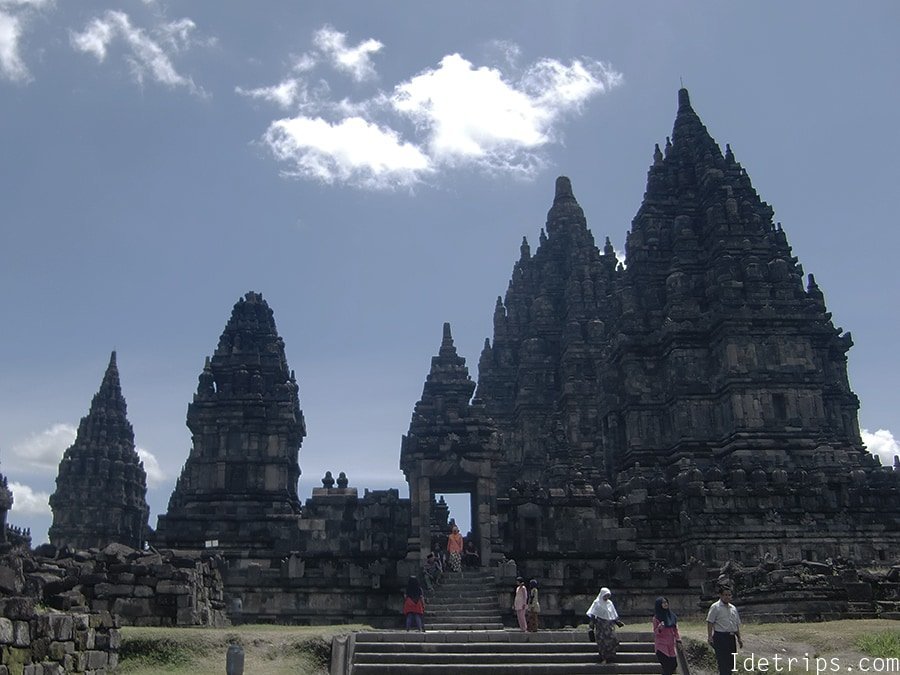 Svarloka
The main attraction of Prambanan Svarloka is also known as the holiest zone. There are 16 temples with 3 prominent temples dedicated to 3 Hindu Gods. The tallest of all was made for the God of destruction, Shiva. And is sitting right in the center of the area. The expert believed that Prambanan used to call Siwagrha. And it means the house of Shiva.
Ramayana Ballet Show at Prambanan Temple
Don't miss the theatrical performance right after the temple closes. Book a seat and watch cinematic storytelling about Rama and Shinta. Ramayana's story is one of the most important pieces of literature in Hinduism. It is even written in Shiva temple reliefs in Prambanan.
And in that case, Ramayana Ballet is the perfect play to know more. The musical performance by a gamelan orchestra with traditional Javanese dance will make the visualization outstanding. There is more than 200 professional dancer and musicians involved in this performance.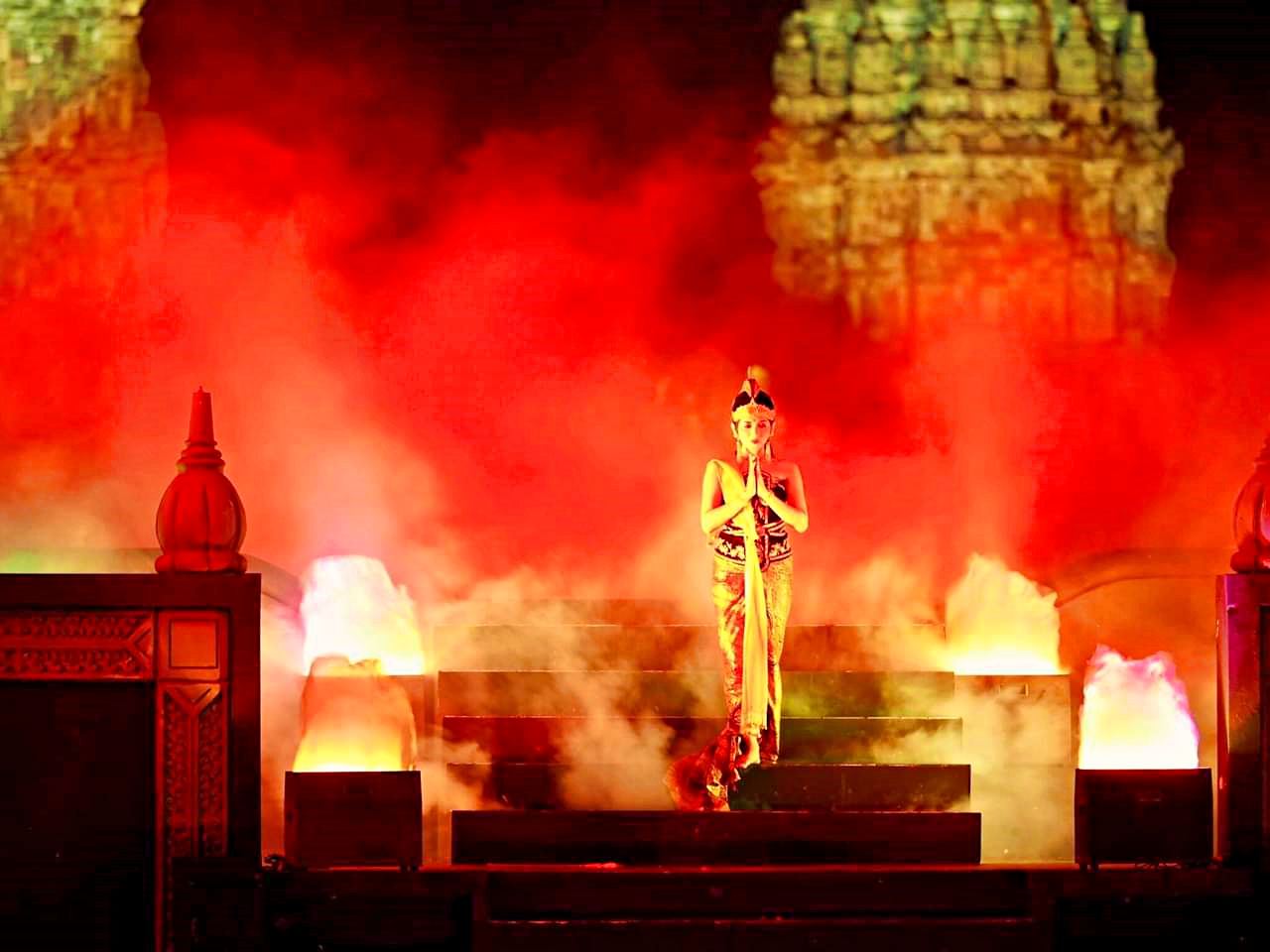 Ramayana performance is staged in an open theater (outdoor) during May – October. While on November – April performed in indoor theater.
Prambanan Ramayana Ballet Show Ticket
The musical and traditional dance performances are scheduled every Tuesday, Thursday, and Saturday. The show will begin from 7:30 PM to 9:30 PM. The outdoor Ramayana Ballet show is subject to the weather. If it's raining, the show will be moved to the indoor stage. From January to April and November to December, the show will be held in Trimurti Theater, the indoor stage. Then from May to October, the Ramayana Ballet show is held in an open-air theater.
Ramayana Ballet Performance Ticket Price Indoor Stage
Buy Online Ramayana Ballet Ticket
Rp150.000 – Rp300.000
Special
Rp300.000
Class 1
Rp200.000
Class 2
Rp150.000
Ramayana Ballet Performance Ticket Outdoor stage (May – October)
VIP
Rp450.000
Special
Rp300.000
Class 1 & Class 2
Rp200.000 / Rp150.000
See: Javanese Culture Collection in Ullen Sentalu Museum
Ramayana Ballet Schedule Performance
Ramayana Ballet
Tuesday, Thursday, and Saturday
07:30 pm – 09.30 pm
See: Javanese Music & Dance Performance in Yogyakarta Palace
Facilities
Toilets are scattered on the premises. ATMs are available just outside not far from the ticket counter and entrance gate. On the outside area next to the vast parking area there are lots of souvenir shops and food vendors. English-speaking guides are available upon request at the ticket booth.
Inside the temple complex, tourists could opt to walk or rent a bike or golf car to explore both Prambanan temple and Sewu temple which are located in the same area.
See: Guide To Explore Beringharjo Market & Street Food.
How To Get To Prambanan Temple
There is plenty of choices to travel from the tourist area to Prambanan. Conventional taxis and car rentals are easy to catch. Taxi are scattered in Malioboro and Prawirotaman area which is known as the tourist area. The distance between Adisutjipto Airport to Prambanan is only 7.6 km. Taxi apps such as Grab and GoCar are also easy to book and reliable too.
Public Bus/Transjogja – The cheapest option is using public bus (Transjogja). Transjogja Lane 1A is the only bus to get to Prambanan from the downtown.
The Transjogja bus is available every 15 minutes depending on the traffic. The lane 1A route includes stops at Adisutjipto Airport and Mangkubumi Shelter on Malioboro Street. At last, it stops at the tourist area the Tugu train station. Trans Jogja operates as early as 5:30 AM to 9:30 PM. While the bus fare costs a penny and is still the most reliable and cheapest option of all.
Transjogja Operational Hours to Prambanan
Every day
05:30 – 21:30 WIB
See: Yogyakarta International Airport Guide & Public Transportation.
For visitors staying in Prawirotaman, the famous tourist area in Yogyakarta. Catch Transjogja Bus line 2B at Sugiono 1 shelter. Stop at TJ Senopati 1 bus shelter. Continue to walk 100 meters to TJ Senopati 2 bus shelter. And wait for Transjogja line 1A heading to Prambanan.
Transjogja Ticket Bus Price
Bus ticket (no additional fee for passenger transit without leaving the bus shelter)
Rp3.500
See: Indonesian SIM Card, Prepaid Price & Data Package.
Prambanan Address & Location
Candi Prambanan location is in Bokoharjo, Kec. Prambanan, Kabupaten Sleman, Daerah Istimewa Yogyakarta.