Ratu Boko Temple
Entrance Fee: US$15-US$100
Opening Hours: 08:00-17:00 WIB
Telp. Number: -
Address: Gatak, Bokoharjo, Prambanan, Kabupaten Sleman, Daerah Istimewa Yogyakarta, Bokoharjo, Prambanan, Sleman, Daerah Istimewa Yogyakarta , Indonesia , 55572.
Yogyakarta is a never-ending tourist attraction, especially for a traveler seeking an ancient site. In Yogyakarta, history and culture are bonded with its people. Ratu Boko Temple for example. Boko Palace offers not only history but it's not a coincidence the palace is close to Prambanan temple. The palace is living proof of one reign's golden era and the Hindu influence at that time.
Ratu Boko is just 3 km away from the famous Prambanan Temple. And it was once a royal palace and part of an important place of Hindu culture. The area is quite vast and is located 200 meters above the hills. Even if it use to be grand, right now there are only a few spots that remain intact. The rest is still buried underneath the ground waiting to be revealed.
Although most of the palace is ruined or even buried in the ground. This site is magnificent just the way it is. The location that happens to be in the hills is one of the top spots to see the golden sunset. Besides, it's not ordinary to get to explore palaces and temples from the 8th century.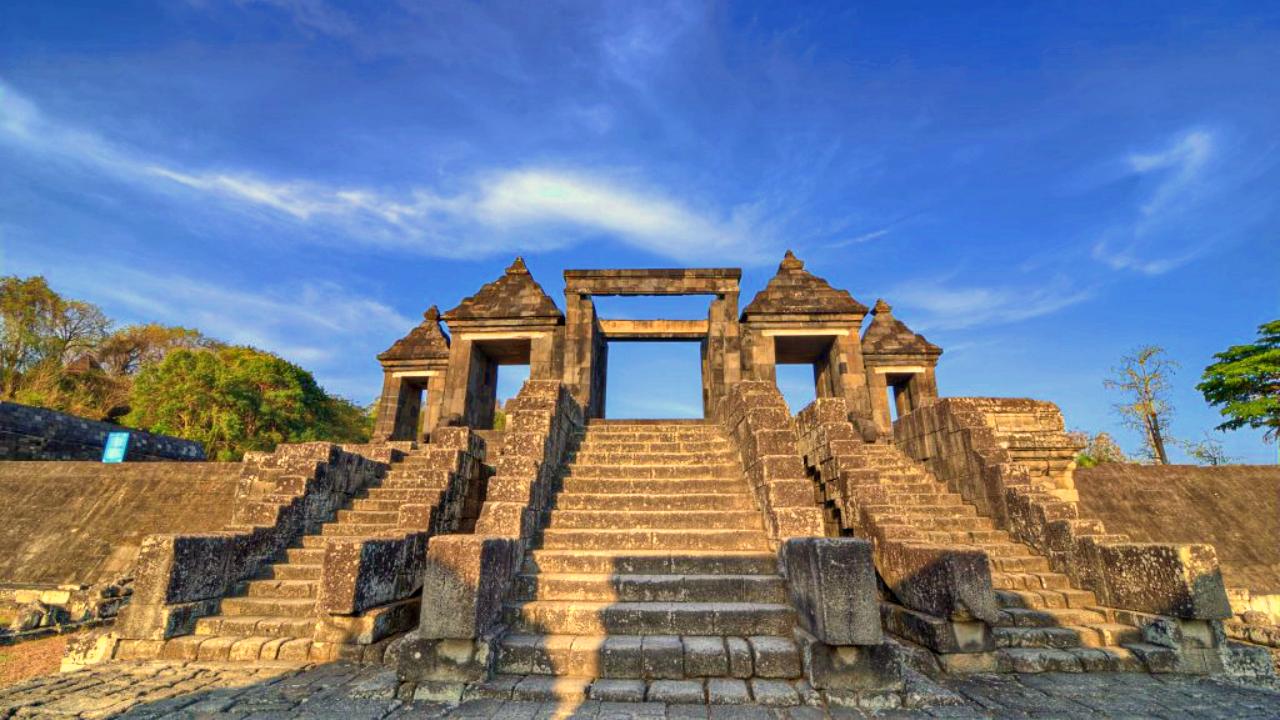 Ratu Boko Temple Entrance Fee
First, there is a single pass ticket that only allows tourists to explore Ratu Boko Palace. Ratu Boko Palace entrance fee for international tourists is US$25 for adults and US$15 for children aged 3-10 years old. Then there is also a package ticket that includes tickets to Prambanan or Borobudur Temple.
The entrance ticket for 2 temples including Ratu Boko Palace is US$45 for adults and US$27 for children. The package or combo ticket is cheaper compared to buying it separately. Prambanan & Ratu Boko Palace tickets for example will save US$5. On the other hand, there will be no hassle since the ticket includes a free return trip shuttle from 1 temple to another.
That is to say, it's best to start from Prambanan temple and then close the day by watching the sunset in Ratu Boko Palace. Last, the ticket can be purchased on the spot or through Borobudur park's official website. For visitors who intends to buy the ticket on the spot, cash and credit card is accepted.
Ratu Boko Palace Entrance Fee
Type
Children (3-10 years)
Adult (>10 years)
1-day pass
US$15
US$25
Ratu Boko & Prambanan
US$27
US$45
Ratu Boko Palace &  Borobudur Temple
US$27
US$45
See: Guide To Explore Beringharjo Market & Street Food.
Ratu Boko Temple Opening Hours
The site is open every day from Monday to Sunday including on national holidays. The best time to visit Ratu Boko Palace is between 3 to 4 PM. At this time visitors would get a chance to explore the entire area for 1 to 2 hours. Then pick a spot to catch the sunset scene. The ticket counter is open until 5 PM. However, visitors could stay a bit late until sunset which definitely passes 5 PM.
Ratu Boko Palace Opening Hours
Monday to Sunday
08:00 AM – 05:00 PM
See: Guide To Explore Merapi Volcano With Jeep Tour.
Ratu Boko Temple & Palace History
H.J. De Graff from Dutch is the one who rediscovers Ratu Boko Temple around the 17th century. Since the discovery, there's been continuous study and research to discover the story of this site. Just like other palaces, Ratu Boko's name is taken from the Mataram King at that time. In fact, in the 8th century, this palace was once used by Syailendra Dynasty.
Ratu Boko Temple and Palace even existed before Borobudur and Prambanan Temple. Abhayagiriwihara inscription from 792 AD that was found in the temple mentions that Rakai Panangkaran is the one who built it. At that time, Rakai Panangkaran was removed from his throne. For that reason, he is looking for peace and decides to build a monastery on the hill. And that is the meaning of Abhayagiriwihara means. A monastery built on a hill of peace.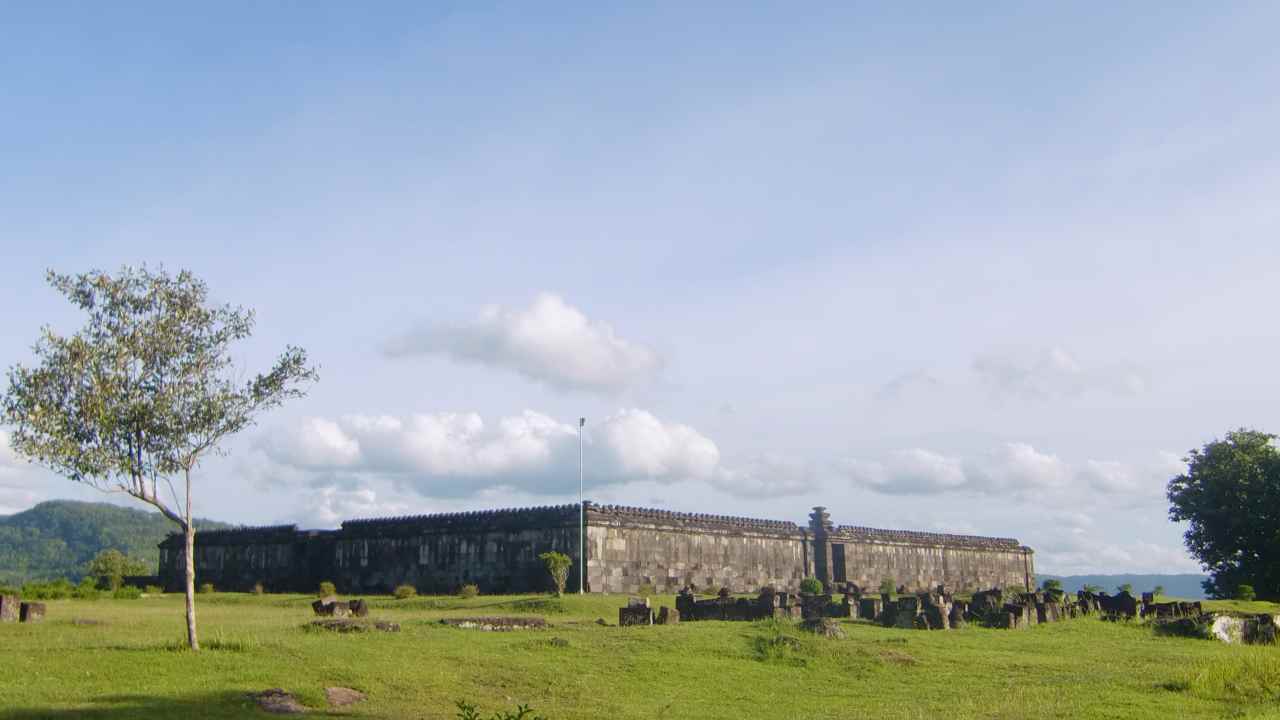 The Myth of Queen Boko
On the other side, there is a myth of Ratu Boko Temple spread among locals. The story begins with Boko as the king of Prambanan and the father of Roro Jonggrang. And this is what people thought was wrong all the time. Prabu Boko is a woman, not a man just as people thought.
She is the queen of Prambanan's king and a Buddhist. The real name of the Queen is Prabu Prawatasari. Locals believe that Prabu Boko is an incarnation of a giant Buto Nyai. She is the strongest and the prettiest woman once upon a time in Central Java. To illustrate, as a woman, she is taller than other adults even males at that time.
After giving birth to a baby boy, Prabu Boko begins to like eating human meat. She thinks it's what she needs to have more strength and power. The King, Prabu Dewatasari got very mad and cast out Prabu Boko from the palace. The King felt really upset and decide to build a palace with a giant gate. Just as giant as her Queen and named the palace after her.
Ratu Boko Gate & Batukapur Temple
From the parking area, visitors will have to walk around 200-300 meters to get to the palace's first entrance. The path getting to the gate is an incline stair. However, along that walk on the left side is the view of the city. Besides, there is a bench and gazebo for guests to take a break and sit.
In total, there are 2 gates, the outside and the inside. The inside gates are bigger than the outside and are the main gate. As a matter of fact, the gate is high enough to see the surroundings of Ratu Boko Temple. It is also by far people's favorite spot to take a picture.
Next, there is the Batukapur temple. Batukapur or the limestone temple stands around 50 meters from the first gate. The site is 5 x 5 m² without roofs. The temple is an open structure so the air runs freely. In addition, it has great views of open nature sight around there.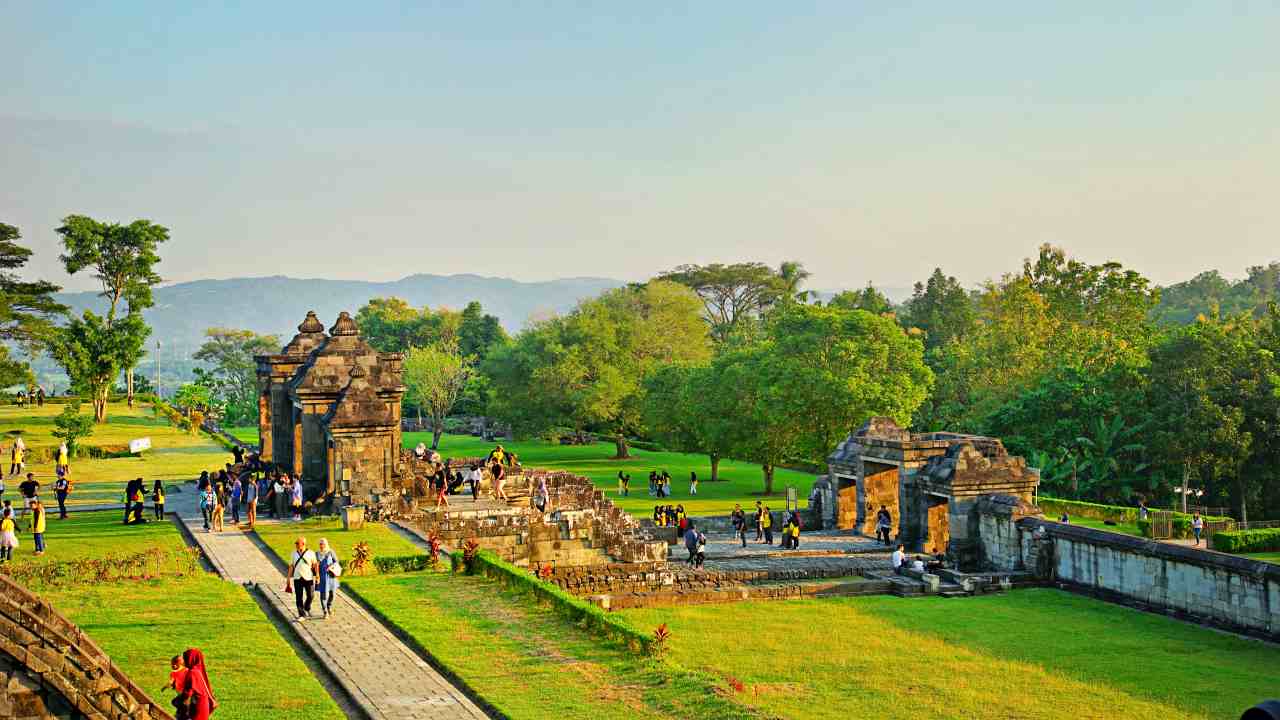 Pembokoran Temple
Right beside Batukapur Temple, there is another temple called Pembokoran Temple. The shape of this temple is square around and has steep ladder construction. There is a hole inside the size of around 4 meters in the middle of the place. In the past, people used to believe that this spot is where they cremate the King. But after a series of studies, there has been no proof that this site used to be a crematory.
In the southeast, there is an old water well, the source of holy water. Locals believed that this holy water brings luck to everyone who used it. For Hindu people, this water is usually used on Nyepi day for the Tawur Agung celebration.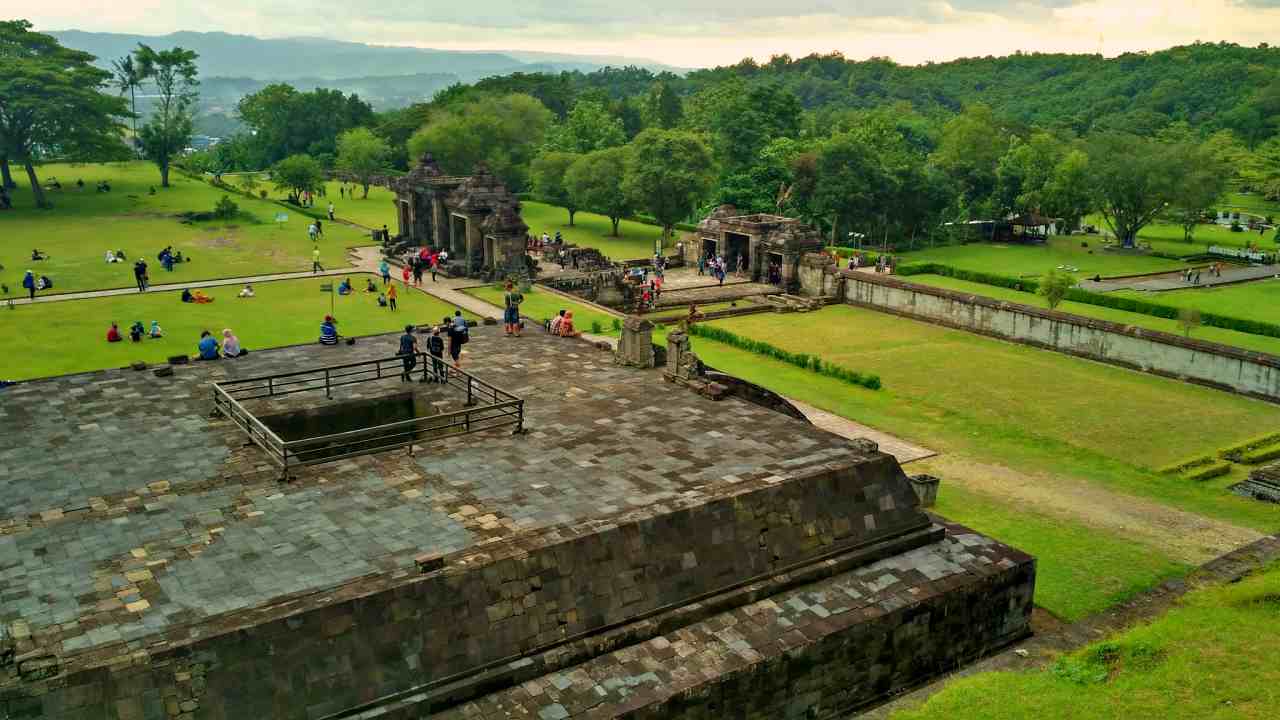 The Hall & Pendapa
The next place is called Paseban. In the Java language, Paseban means a hall for meeting the king. This place is located on the north side not far from the gate. Basically, this spot is a wide terrace from north to south with stairs on the west side. Finally, there is Pandapa, with wide at around 1200 meters² and is surrounded by 3 meters wall.
The entrance is in the north, west, and south, as indicated by the Paduraksa gate. Pendapa means a hall for a welcoming guests. On the outside Pendapa, there is a terrace with 3 small temples. It's the place to worship the goddess, Syiwa, Wisnu, and Brahma.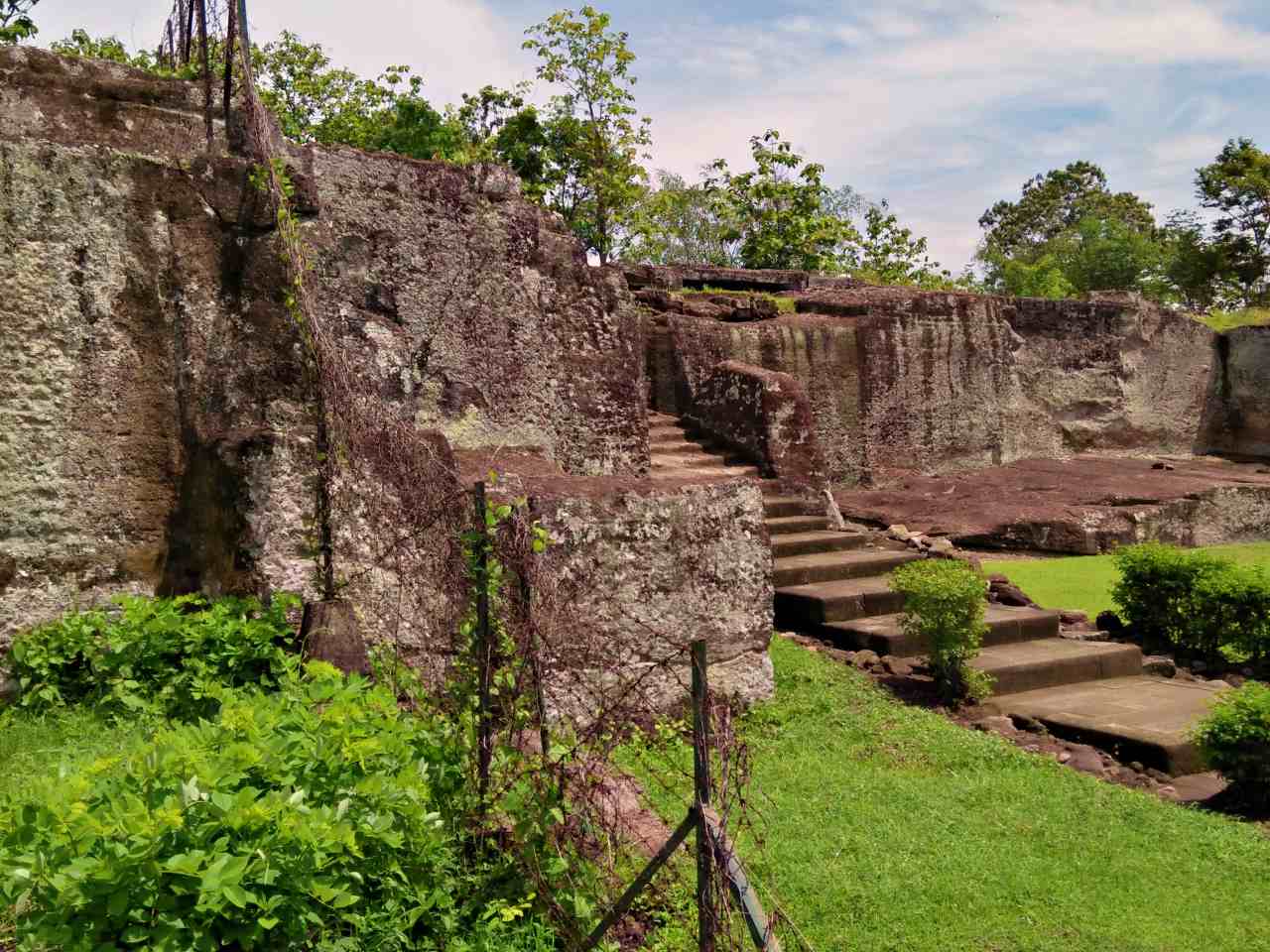 The Queen Residence, Meditation Cave
Next, Keputren, is a place where the Queen lived. Keputren is divided into two areas by a stone wall with a connecting door. There are three square pools inside and eight round pools in three rows outside. These pools function as the palace pool for the King and his wife.
And last is the cave. There are two caves on the slopes of Ratu Boko's hills, called Gua Lanang and Gua Wadon (man cave and woman cave).  This cave once was used for meditation. Both caves have reliefs of fertility marks, a symbol that brings fertility and prosperity to people.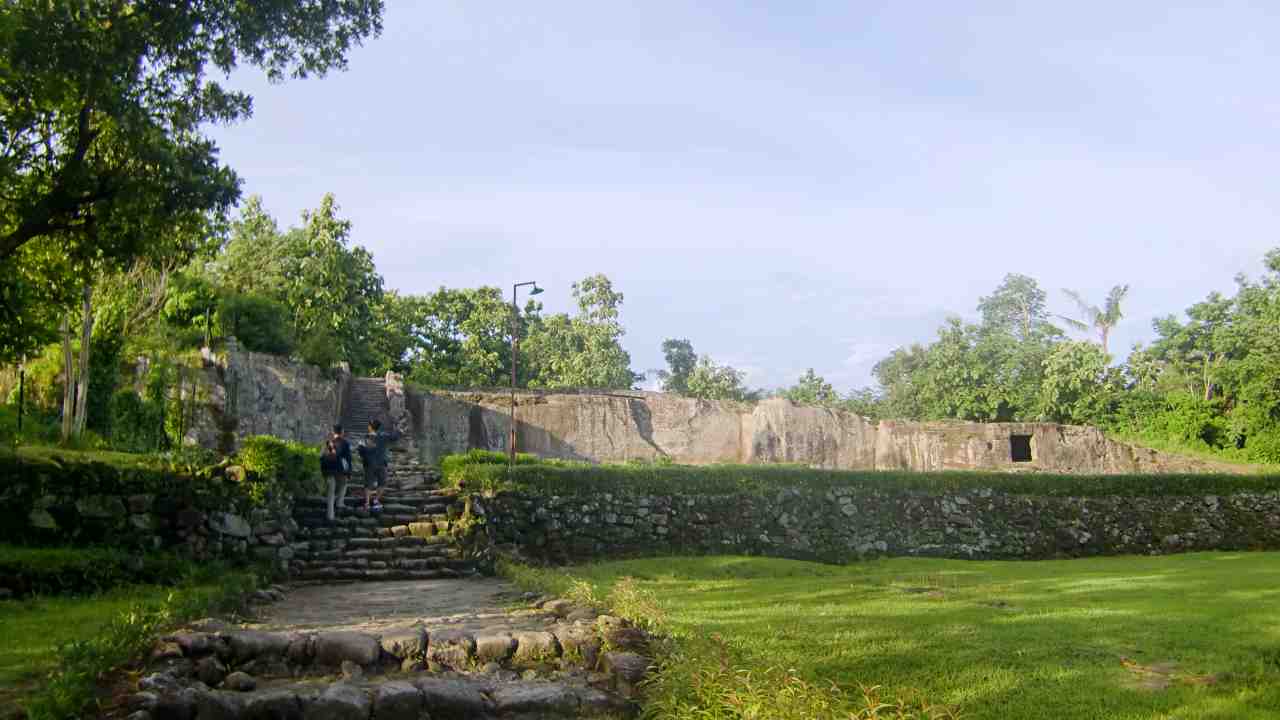 Ratu Boko Temple & Palace Dress Code
There is no certain dress code to visit the Ratu Boko Palace, unlike going to Prambanan. The cotton shirt is the best choice since it's getting hot at midday. Bring a hat, sunblock, and sunglasses. Also, wear the most comfortable shoes and bring water. Since there will be a certain amount of incline walk.
See: Guide To Explore & Prambanan, Sewu Temple Entrance Ticket.
Facilities
Basic facilities like toilets are scattered on the premises. The guide is available upon request at the ticket counter. On the other hand, tourists who forget to withdraw cash in Prambanan temple could easily use debit or credit cards at the ticket counter. Restaurant with an outdoor and indoor seating area available near the entrance gate.
Boko Sunset resto offers various menus from Indonesia to Western dishes at affordable prices. Price ranges from Rp15.000-Rp80.000 for snacks and main dishes. Boko resto's panoramic scenery will be the perfect choice for tourists to relax and close the evening.
See: Tourists SIM Card, Internet Package Price & Providers.
How To Get To Ratu Boko Temple
Ratu Boko Palace is located not too far from Prambanan Temple. In fact, visitors don't need to worry about how to get here. Because public transportation is available and cheap compare to renting a private vehicle. First, there is Transjogja line 1 A which departs from Tugu railway station. Catch line 1 A and stop at the last bus shelter near Prambanan market.
Next, find a taxi bike or simply order a motorcycle ride with Gojek or Grab application. The taxi bike usually will offer to wait in the Ratu Boko Palace. Then they will offer to drop passengers at the same departing location. Which is usually at the Transjogja bus shelter. The price for a taxi bike range from Rp40.000-Rp60.000 for a return trip. It depends on the negotiation skill.
Second, travelers heading to Prambanan temple first as their itinerary. Getting to Ratu Boko Palace definitely not an issue. At this point, buy the Prambanan and Ratu Boko ticket package for US$45. And hop on their shuttle bus for free to Ratu Boko Palace. To point out, use the same shuttle service to go back. Since the ticket already includes a round-trip shuttle service.
See: Yogyakarta International Airport & Public Transportation Guide.
Address & Location
Ratu Boko Temple is located in Jl. Raya Piyungan – Prambanan No.2, Bokoharjo, Prambanan district, Sleman, Yogyakarta 5572.