Ijo Temple
Entrance Fee: Rp15,000
Opening Hours: 08:00 - 17:00 WIB
Telp. Number: -
Address: Jl. Candi Ijo , Kikis, Sambirejo, , Prambanan, , Sleman, , Daerah Istimewa Yogyakarta, Indonesia , 55572.
Sets in an alluring part of the Batur Agung hills and lies 450 meters high on the Gumuk Ijo hillside. Ijo temple is not merely a complex of ancient buildings. It offers magnificent scenery and a green lush landscape. Yet offering a quiet ambiance of a holistic Hindu place.
The temple's area is open wide, giving a bare peek of the natural landscape of Yogyakarta city. The west part of the complex is a window to glimpse the green fields and Parangtritis beach. Such a heartbreak for leaving Yogyakarta without visiting this historical temple.
Ijo Multiple Temples
Ijo temple has multiple complexes separated by green terraces. The main complex, the highest one is located in the east part. It has 4 ancient temple buildings. And other three small temples to worship the three Gods: Brahma, Vishnu, and Shiva. In addition to the main temple, there are 10 other structures with unique carvings portraying Hindu mythology.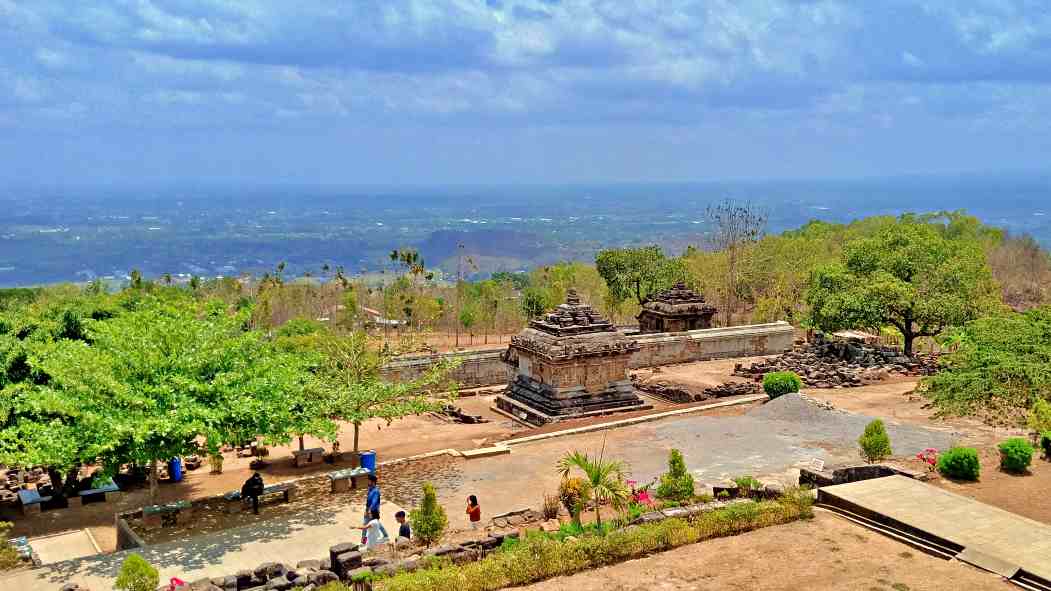 One of the most outstanding carvings in the main temple is the head of Kala. The head of the Kala carving on the entrance door. While in two front windows, a stack of Kala's heads is placed above the windows too. This figure speaks for the Hindu and Buddhist mythology of a bad giant.
Ijo Temple Entrance Fee
The entrance fee for international tourists is Rp15,000. There is an additional fee for parking, Rp2,000 for a motorcycle and Rp5,000 for a car.
Ijo Temple Entrance Fee
International tourists
Rp15,000
Nearby: Boko Palace, Temple, Sunset Spot & Entrance Fee.
Ijo Temple Opening Hours
Ijo temple is open from 8 AM to 5 PM. However, visitors are welcome to stay a bit late to see the sunset. At a certain spot in the temple, guests could even see the airplane landing at Adisucipto International Airport.
Ijo Temple Opening Hours
Every day
08:00 – 17:00
See: Prambanan Temple, Ramayana Ballet Performance & Ticket.
Kalamakara Carving
In history, Kalamakara was once a God with a beautiful face. But his attitude was not as good as his looks. With that kind of bad attitude, Sang Hyang Widi cursed him. Making his whole body transform into a big and scary-looking giant. The giant eats every single animal that he met. Finally, when there was nothing left, he eats his whole body yet left his head.
As history tells about a bad giant, people find this figure scary. The giant Kalamakara reflects the cruelest beast of all. Therefore, in Buddhist temples. Kala's carving is put in the entrance to prevent dark demons from coming. Hence, in some temples. The face of Kala is portrayed with two jaws. Showing how dreadful the character is.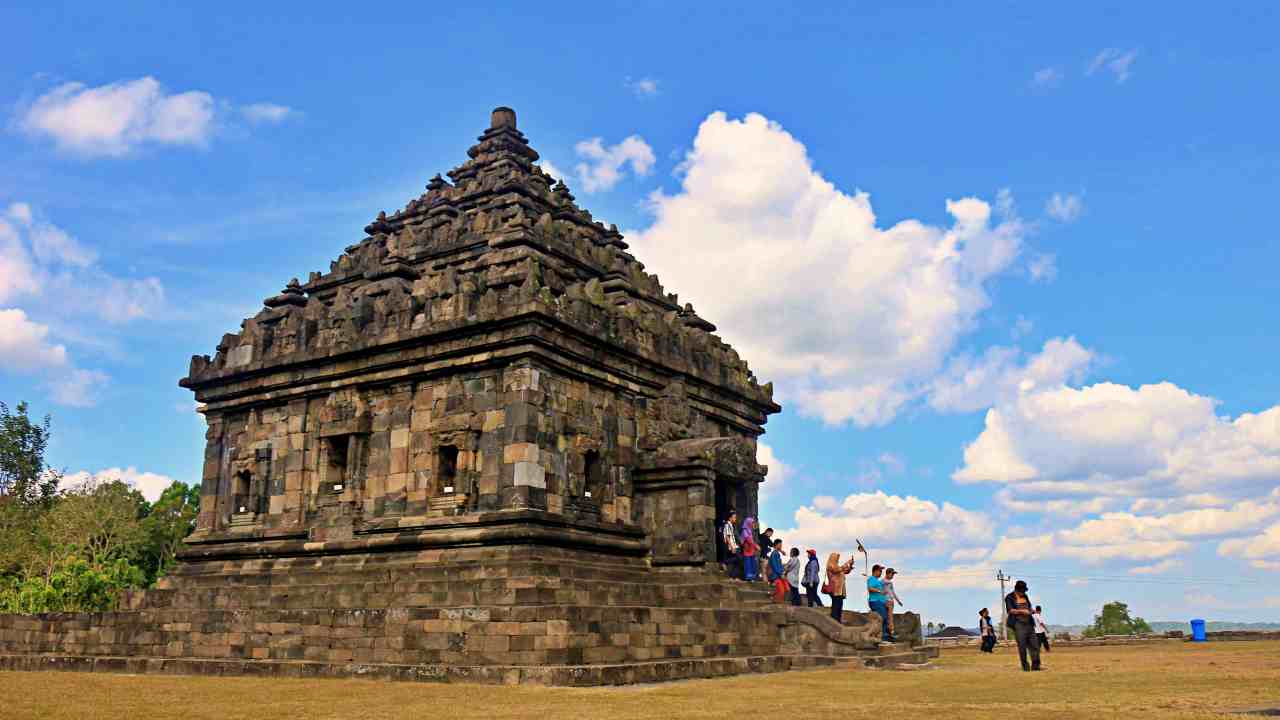 On the threshold, visitors are welcome with a couple of dragon carvings with an open mouths. A little carving of a cockatoo rambles out of the dragon's mouth. Meanwhile, still, in the same place, a carving of Hindu mythology called Makara sets in. It is a myth of half-elephant and half-fish. Such a thorough story reflects in the beautiful carvings.
Right in the center part, a Lingga and Yoni are placed above a cobra. In Hinduism, Lingga symbolizes manhood, while Yoni symbolizes womanhood. When the two unite, a huge power will reinstate. Life will all be balanced again.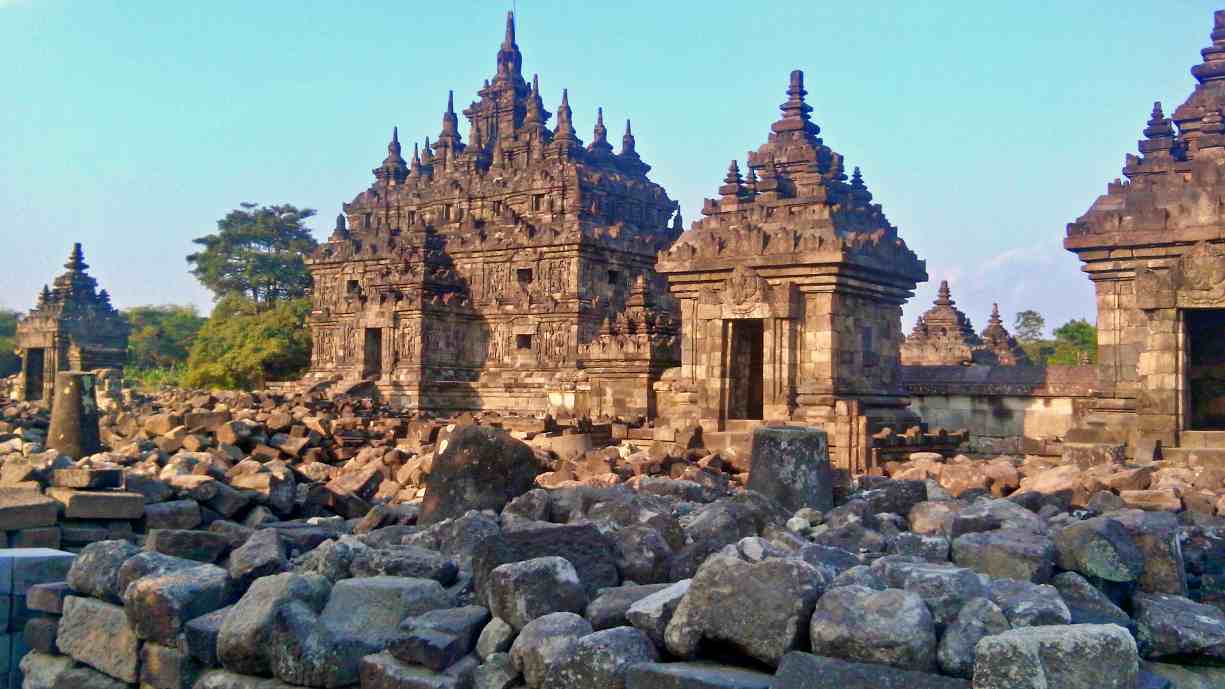 Sunset & Landscape View
Ijo temple offers a calm, natural, and beautiful landscape to enjoy. During the day, many visitors come to enjoy the magnificent view of Yogyakarta's sunset. At around 5 PM, the sun starts to set, giving a warm light that bounces off between the temples. Leaving seconds for guests to feel the harmonious escapade of nature.
Challenging Steep Road
Due to its location on a high hillside. People coming here need to pass an uphill track to reach the temple. On the side road, trees are planted around. Giving a pleasant view while getting to the temple. The road takes around 5 minutes to get to the temple by motorcycle or car.
However, please bear in mind that sometimes, it takes longer due to an enormous number of visitors on holiday. Not only passing a greenery scene. People will also be passing Tebing Breksi. A tourist attraction that offers a landscape view of cliffs. Since the site is near the temple, go to Tebing Breksi first, then the temple.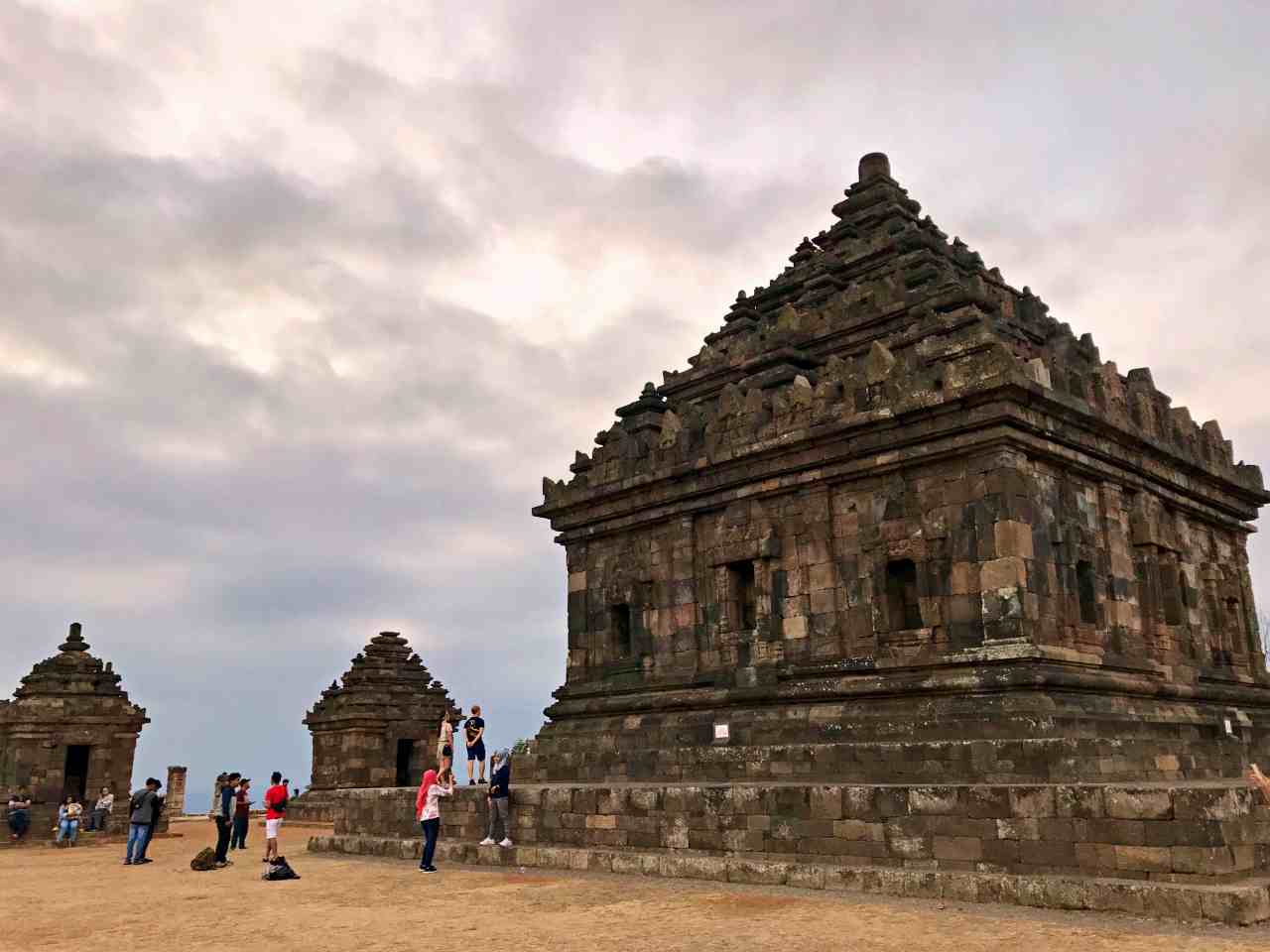 Facilities
As a prime gem, the Ijo temple has complete and well-maintain facilities. Toilets and praying rooms for Muslims are available near the temple complex. A parking area also lies wide outside the temple area. Several coffee shops are also there to complete guests' sunset time with coffee.
See: Guide To Explore Yogyakarta Busiest Market, Beringharjo.
How To Get To Ijo Temple
Ijo temple is located in Sambirejo, on average, it takes 40 minutes to get here from the city center. To get there with public transportation, take the Trans Jogja's 1A line to Kalasan temple. The bus fare costs Rp3.500 per person. And since the bus shelter is located 6 kilometers away from the Ijo temple.
There is no other option except book a ride using an online transportation app like Gojek or Grab. A motorcycle ride will take around 15 minutes from the Kalasan bus shelter. And it cost around Rp14.000 to Rp19.000 for a one-way trip. For a car, the fare will be around Rp18.000 to Rp23.000.
See: Yogyakarta International Airport (YIA) Transportation Guide.
Address & Location
Ijo temple is just 2 minutes away from the famous tourist spot Tebing Breksi. The temple is located in Jl. Candi Ijo, Sambirejo, Prambanan, Yogyakarta 55572.