Mendut Temple
Entrance Fee: Rp20.000
Opening Hours: 07:00 - 19:00 WIB
Telp. Number: -
Address: Jl. Mayor Kusen, , Mendut, Ngrajek, , Mungkid, , Magelang , Jawa Tengah , Indonesia , 56512.
Situated in Magelang, in the Central Java. Mendut temple holds a rooted reputation as a Buddhist holistic place. Not merely a place for religious practices, Mendut is also a gem where Buddhist philosophies are carved in relief. All together laid on an enormous 26.4 meters tall building.
At a glance, Mendut temple might look similar to other Buddhist temples. But as soon as people step in, its special characteristics will be hard not to notice. Three big Buddha sculptures and fable reliefs make the temple looks different from others.
Mendut Temple Entrance Fee
The international tourist entrance fee is Rp20.000 to explore the temple. And there is no additional charge to explore the monastery. For visitors coming with a private vehicle, prepare Rp3.000 to Rp5.000 for the parking fee.
Mendut Temple Entrance Fee
International visitor
Rp20.000
Nearby: Punthuk Setumbu, Sunrise Spot & Activities.
Mendut Temple Opening Hours
Mendut temple and monastery are open from 7 AM to 7 PM. In order to see the religious rituals in the monastery, come before 11 AM. However, it doesn't happen every day, only on particular days. Hence, make sure to mark the date before coming.
Mendut Temple Opening Hours
Every day
07:00 – 19:00
Nearby: Borobudur Temple, Museum, Activities & Entrance Fee.
Mendut Temple Giant Sculptures
The giant sculpture of Vairocana Buddha is the most outstanding feature in the Mendut temple. In Buddhism, Vairocana represents emptiness. Which also means, no one lives eternally. The sculpture is laying in the main temple. It's the first thing, visitors will see, a pictorial of Buddhist holistic belief.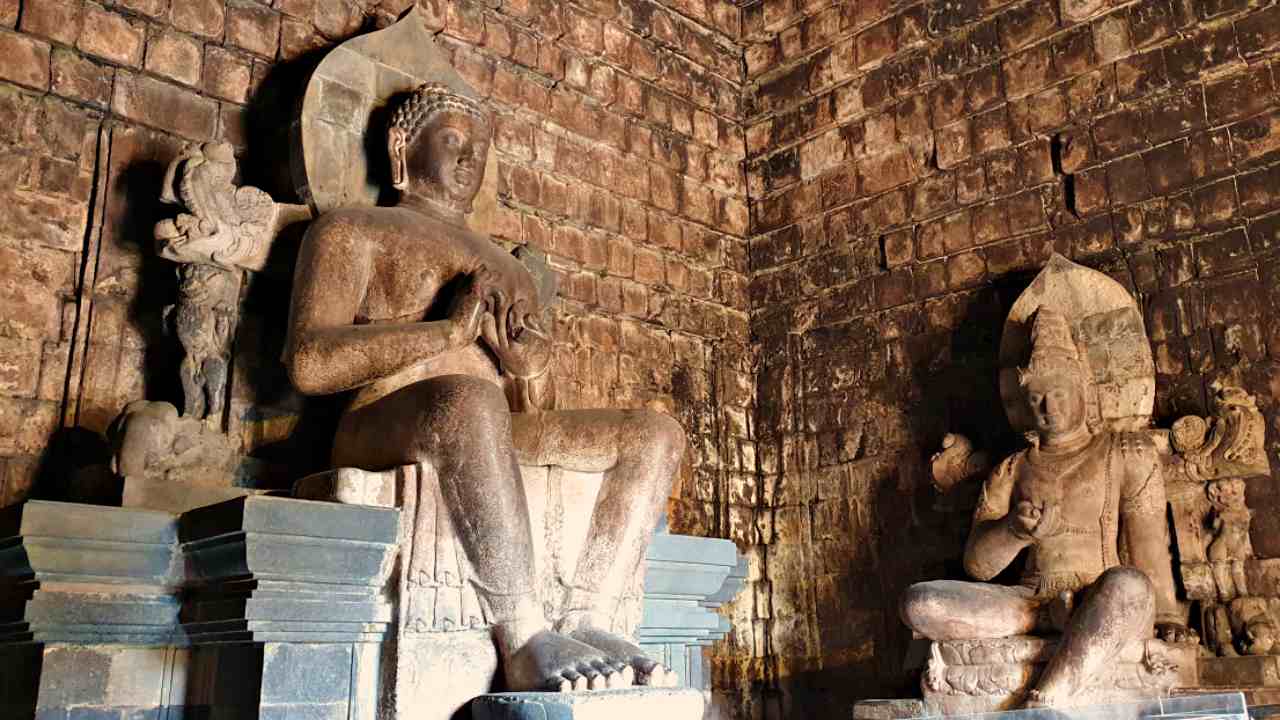 Aside from Vairocana, there are sculptures of Avalokitesvara and Vajrapani. These figures represent Buddha's protective goddesses with different philosophies. If Avalokitesvara represents the compassion of all Buddha. Vajrapani represents a pictorial of Buddha's guardian.
Here, Avalokitesvara visualized with a lotus in her palm and her irresistible soothing face. A representation of a person living in harmony. While Vajrapani has a reversed figure. As a protector of Buddha, Vajrapani owns a scary face. It has big eyes and two jaws in the mouth. Showing his great energy to protect the Buddha.
Reliefs and Carvings
The interior and exterior walls of the temple are things the eyes can't escape. Each relief and carving has its own story. In one corner, several carvings of heavenly creatures are drawn beautifully. Showing figures serving the Gods. The two carvings of monkey and eagle didn't miss the spot. Carve and tell their story on the temple wall.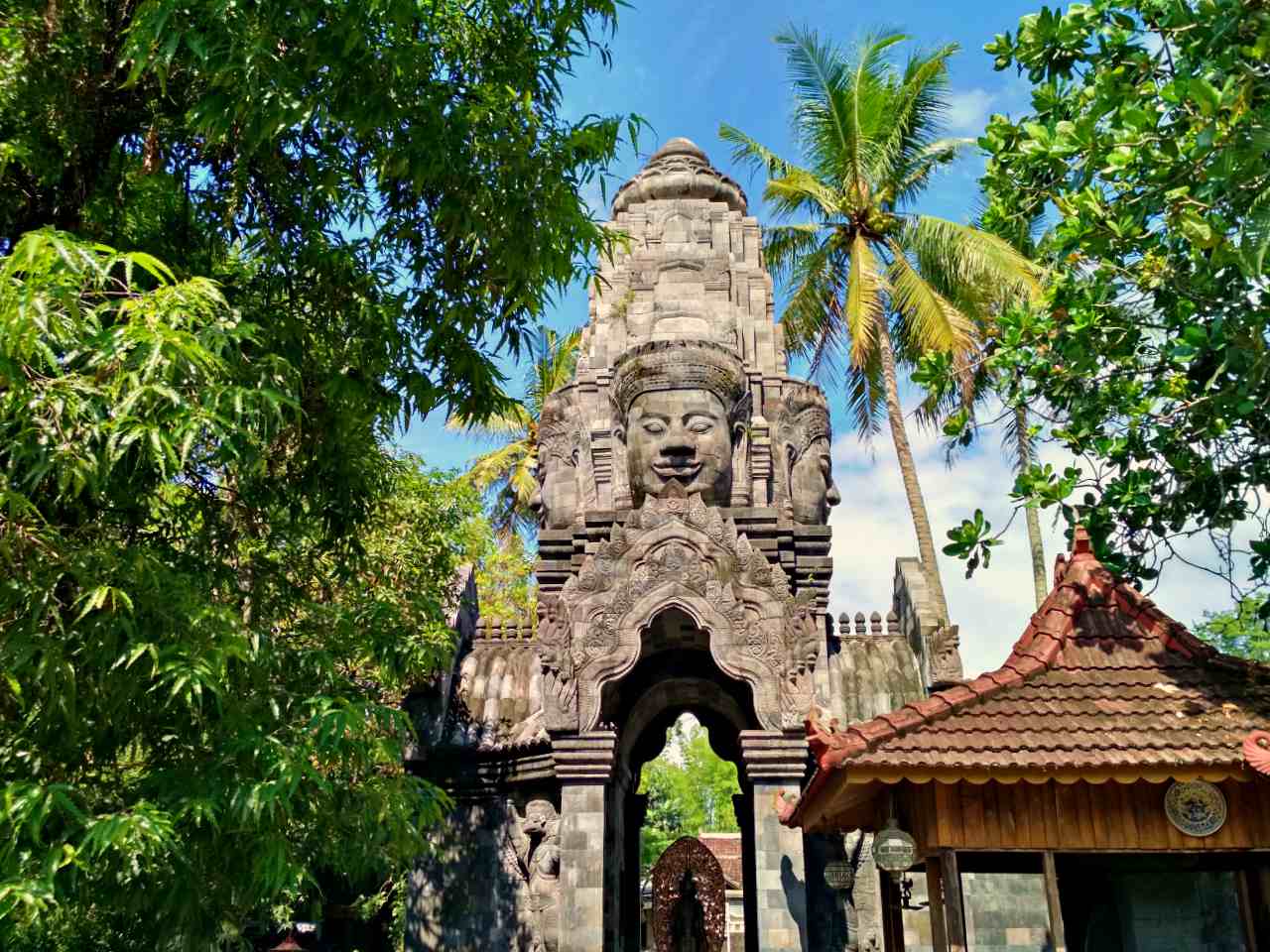 Moving to the other side, a relief of Panchatantra was carved. It is the same motif found in Indian literary creations. The relief tells the story of an Indian scholar who teaches five wisdom of life. In the story, Visnusarma, the scholar, was the one who taught three boys five books. Each of the books tells the rules of good livelihood drawn as fables.
The oldest version of Panchatantra is written as text. Then, Buddhists tried to tell the stories in a unique way by carving them in the temples. Every different story is framed together with another. In Buddhism, such a story is called Kathamuka, the frame story.
The Monastery
The Buddhist monastery is located right beside the complex of Mendut temple. It's a place for Buddhists to pray and worship after touring the temple. Inside, visitors are free to take a glimpse of the dorm and meditation halls. A spacious green garden also lies in between with stunning sculptures in every corner of the area.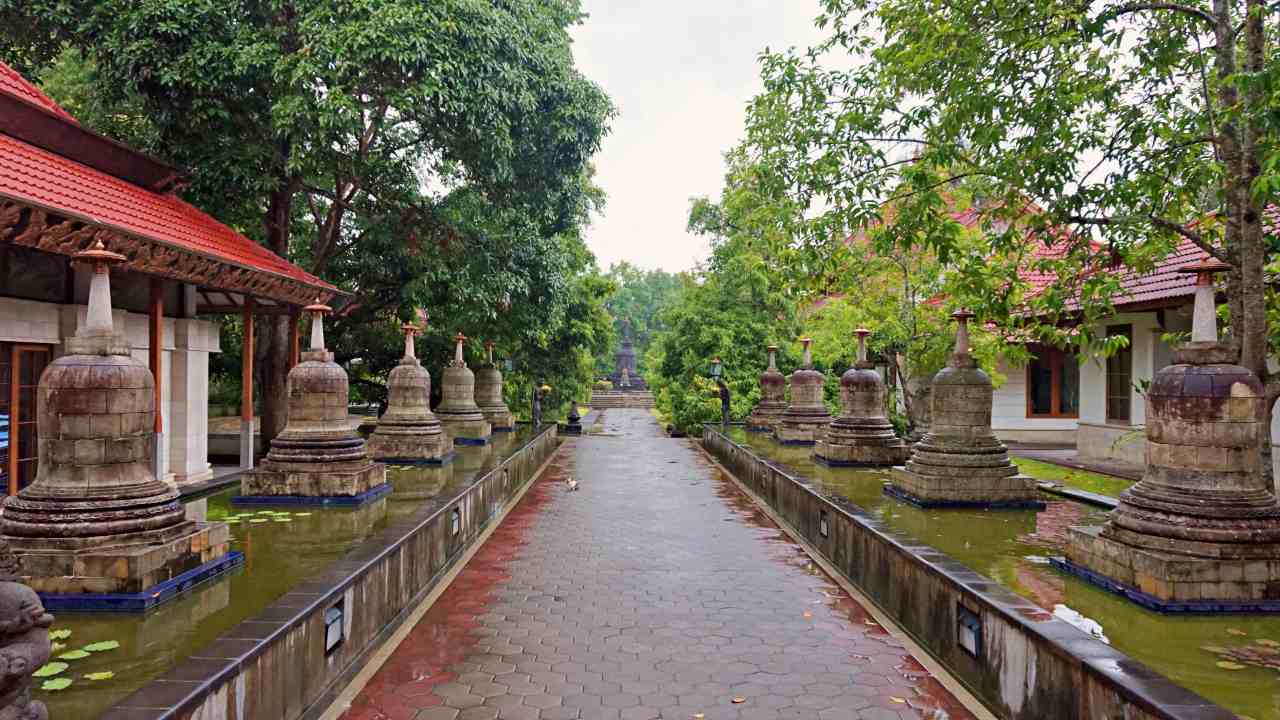 The most outstanding sculpture in the monastery is the reclining Buddha. A giant sculpture that portrays Buddha in his sleeping position. It looks much like Wat Pho, a legendary statue in Thailand. In Buddhism, reclining Buddha speaks for a story of Buddha's last illness before going to Parinirvana.
In addition to the sculptures, the monastery owns two meditation halls. Green trees and small lotus pounds surround the hall, creating a view that eyes can't escape. Also, for tourists coming for a longer visit, a room is available for rent. It has a small river nearby offering a calm, harmonious reverie of nature.
Vesak Day
The tranquility and ambiance of Mendut temple and its monastery do not merely come from its magnificent building and garden. But also religious vibes that seeded every time Buddhists come. Every year, Buddhist priests come to celebrate Vesak, or Buddha day. A day to commemorate the birth, enlightenment, and death of Buddha.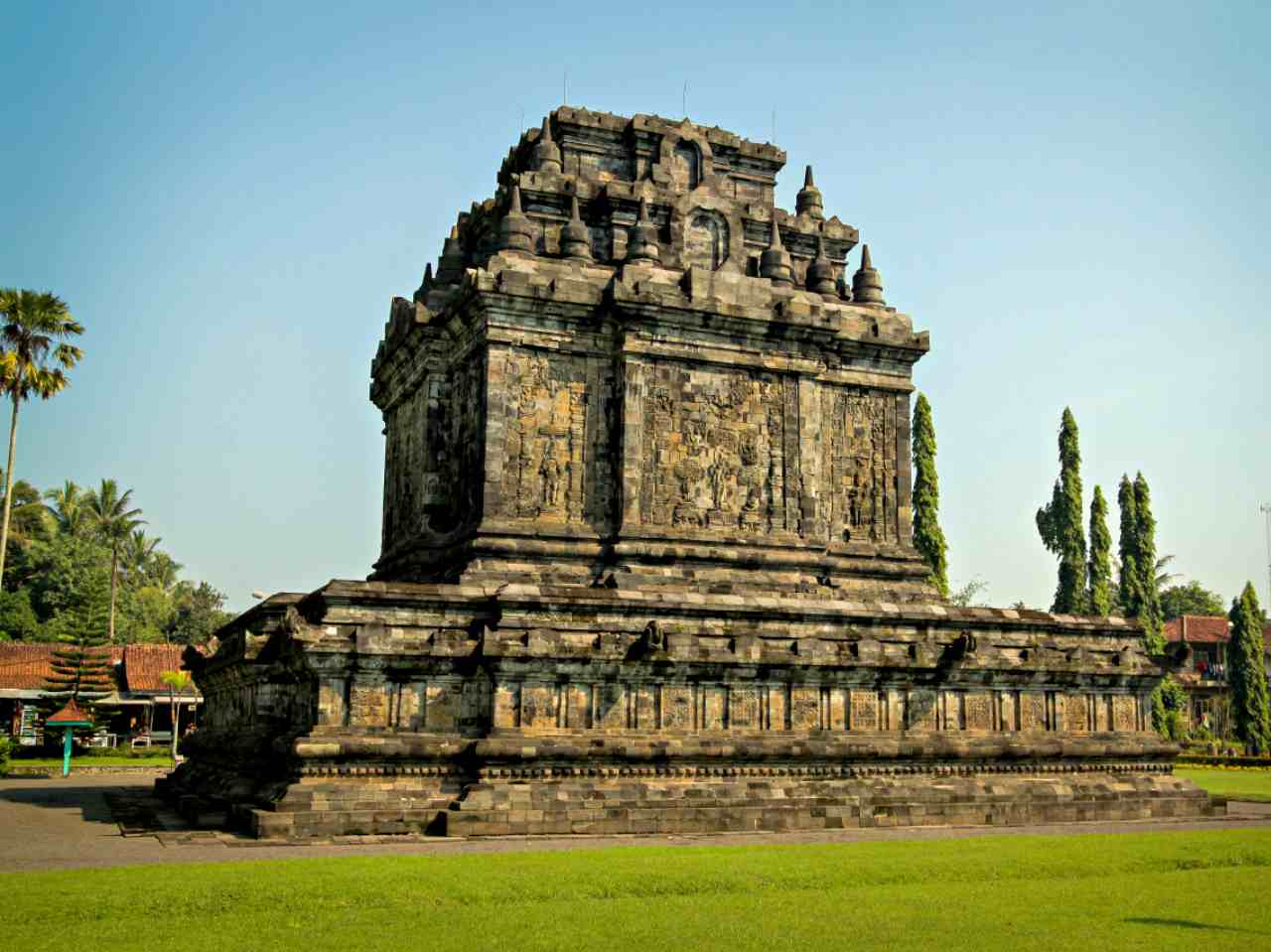 One sacred ritual done on Buddha day is firing fire. This ritual is set using fire brought from afar. Afterward, the fire is brought into the yard. Then, the sound of the holy parittas read will be filling up the noise. Fast forward, the priests round over the temple, making the temple packed in orange. Finally, the fire torch is set inside the temple.
This ritual is done for nothing but to gain a blessing from the goddess. The holy parittas read by the Buddhists speak for freedom from harm. Not only for Buddhists themselves, but also for the Buddha, country, and everyone.
See: Guide To Explore Cetho Temple & Top Attractions.
Facilities
Like other temples, Mendut temple has basic facilities like toilets and parking areas. The parking area is wide with a Banyan Tree in a corner. In this area, little shops are available, selling souvenirs for around Rp20.000. Also, several other shops sell foods, snacks, and fresh coconut drinks.
See: Choosing Indonesian SIM Card, Provider & Price Package.
How To Get To Mendut Temple
There are several options to reach the temple. Since Mendut temple is located 3 kilometers away from Borobudur temple. Tourists just need to go the same route to Borobudur is the most convenient way. To get there with public transportation, take the DAMRI bus from Tugu Train Station or Adisucipto International Airport.
The ride will take 1.5 hours and it costs Rp75.000 per person. When the bus rides, stop in Kleben street, right in t-junction before Mayor Kusen street. Turn right and walk straight for around 3 minutes. The temple area is on the left side of the road.
See: Yogyakarta International Airport (YIA) Public Transportation Guide.
Address & Location
Mendut Temple situated in Jl. Mayor Kusen, Mungkid, Magelang, Central Java 56501.